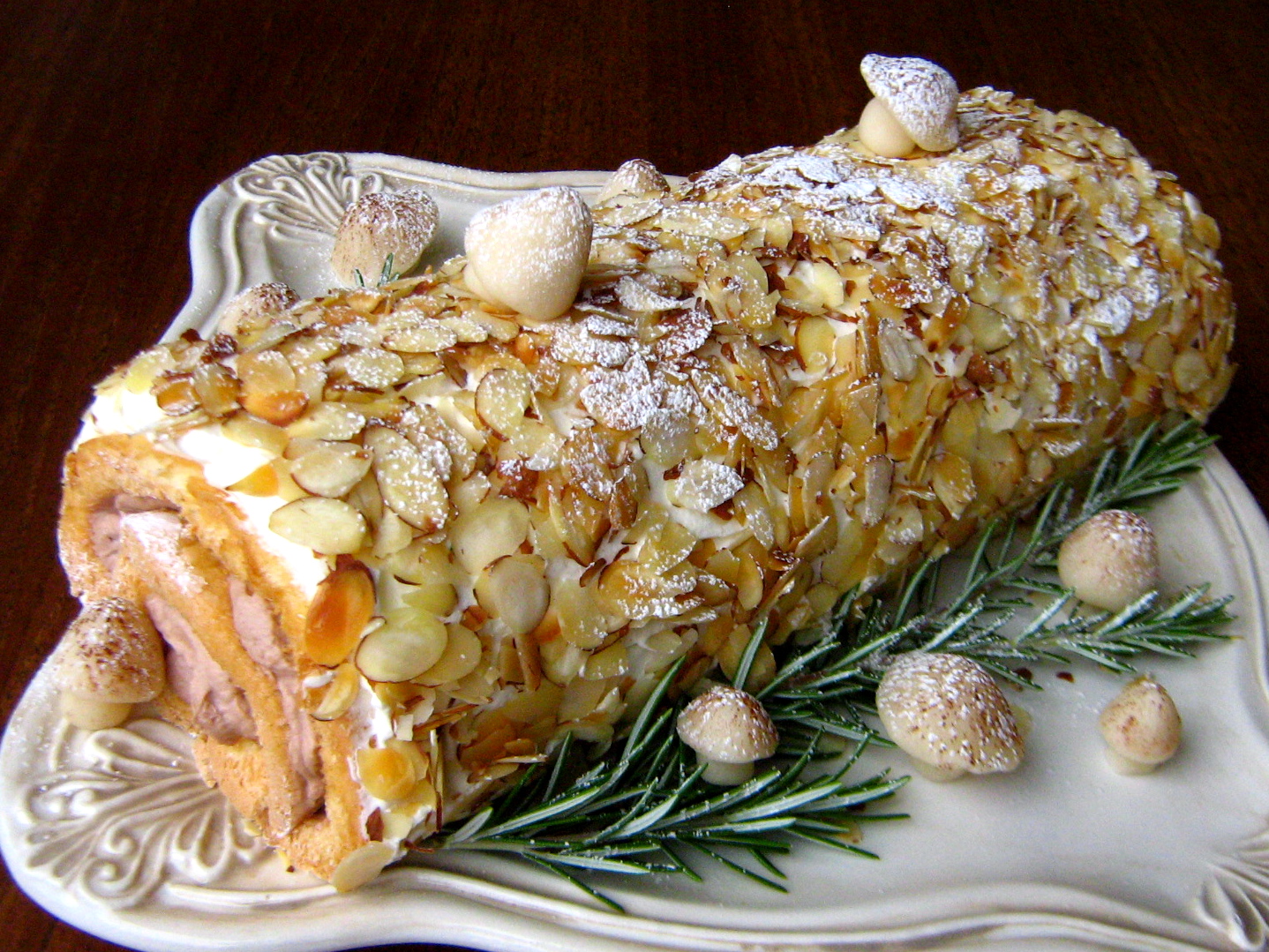 What does your family eat for dessert at Christmas dinner? In my family, our Christmas dessert for years and years was the traditional steamed Christmas pudding, served a-flame; however a few Christmases ago, we all admitted to ourselves that the only thing we really liked about Christmas pudding (other than setting it on fire) was the hard sauce that came with it. So, it was time for a new Christmas dessert. And dessert, in my family, is generally my department.
I cast about the internet and searched through my cookbook and magazine collection for a replacement dessert, and over the past few years I've made a few different things. On year it was poached pears with gingerbread (it had potential, but the pears were undercooked), and for two years now I've made a Yule Log (sometimes called a Bûche de Noël) – a sponge cake rolled around some kind of filling and decorated to look like a chunk of wood. I like it because it's traditional in the same way a Christmas pudding is traditional, but not stodgy and infinitely variable. I also like the acknowledgment, however slight, of a winter festival that doesn't include a fat man dressed in red or a baby born in a manger.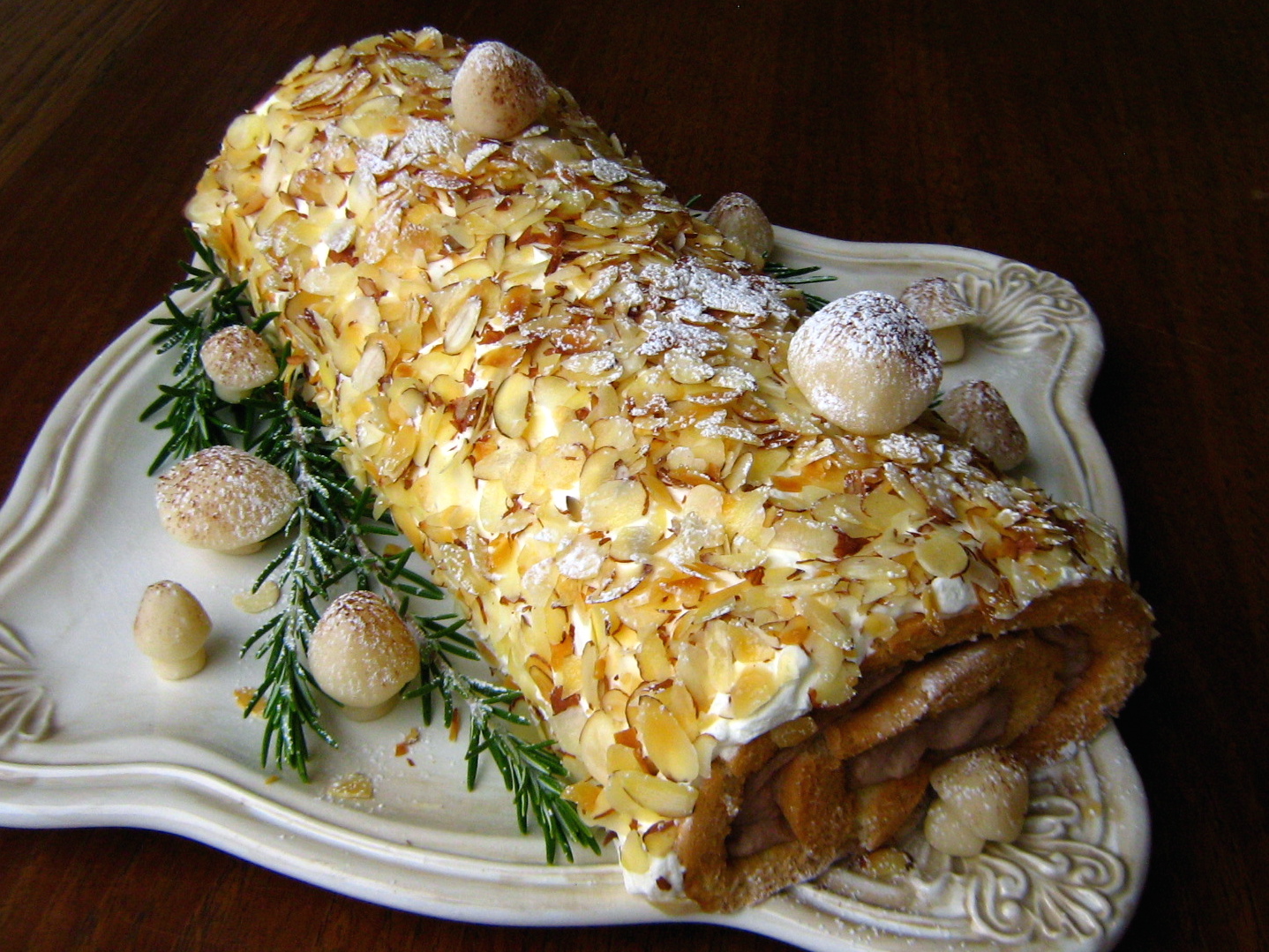 I made this Yule Log to take to Nate's parents for Christmas dinner this year. When I read the words "chocolate hazelnut spread" in the recipe, I was sold. I am a big fan of Nutella. BIG. And I'm a pretty big fan of this cake, as it turns out (we all were, actually!). It was light, creamy, and a great way to end a big turkey dinner. The almond sponge cake is subtly flavoured and nice and moist, and the whipped cream-Nutella filling is airy and creamy. And damn, are those marzipan mushrooms ever cute! (And totally optional if you don't like cute food or marzipan ;).)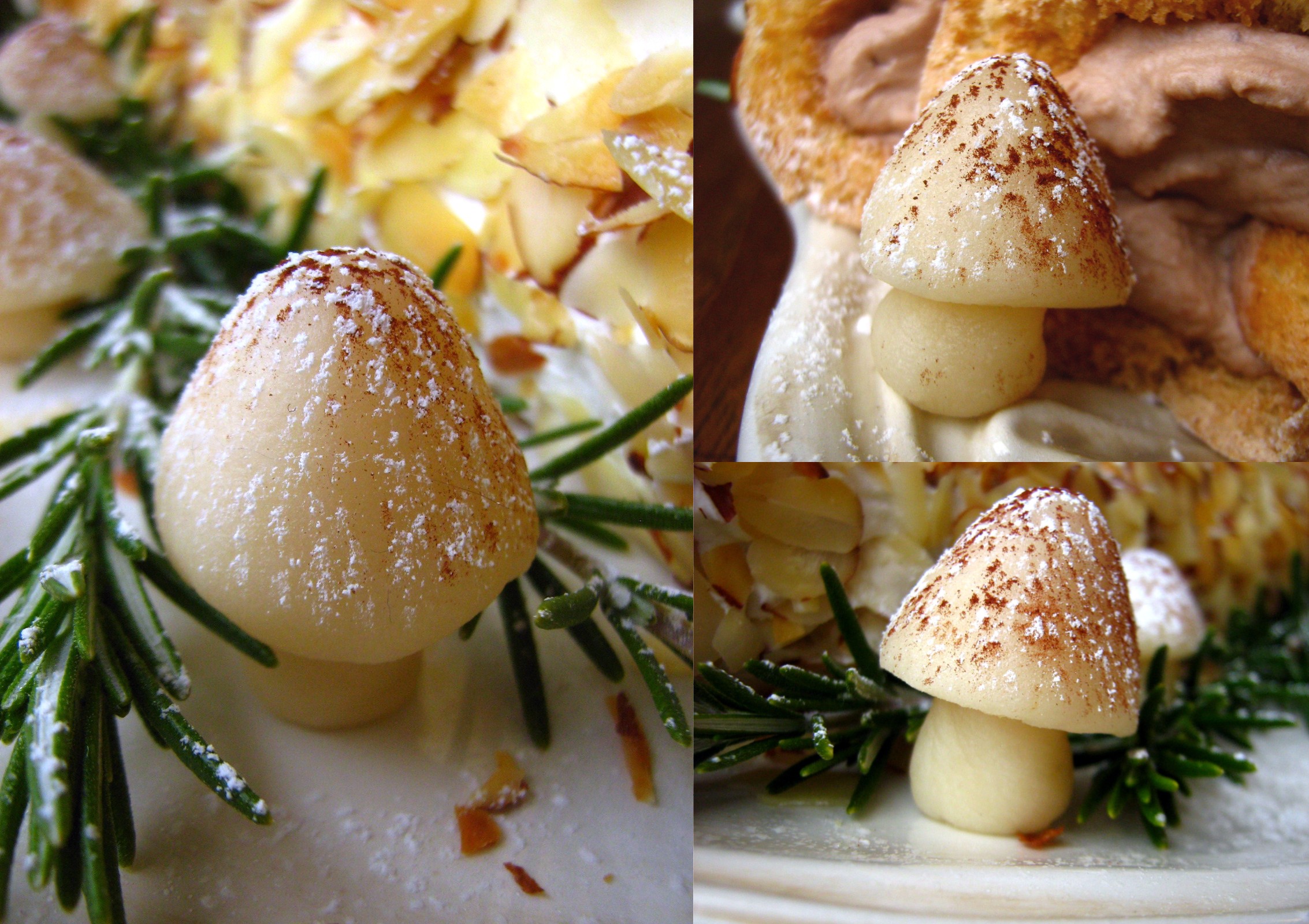 The only change I would make is to sprinkle on the sliced almonds just before serving, as they lost most of their crunch overnight in the fridge. Otherwise, it was really really good and I can think of a ton of ways to vary the flavours: chocolate sponge with whipped cream and cherries for a Black Forest Yule Log? Dulche de Leche instead of Nutella? Perhaps some citrus in the sponge cake?…
Too bad Christmas dessert only happens once a year! 😉
Chocolate Hazelnut & Almond Yule Log
Adapted ever-so-slightly from my trusted friend Martha. Serves 8-10.
Almond Sponge Cake
Preheat the oven to 350˚F and prepare a 10″ x 15″ jellyroll pan by spraying it with cooking spray, lining the bottom with parchment paper, and spraying the paper with more cooking spray. Set aside.
In a large bowl, combine:
4 egg yolks (keep the whites – you'll use them in a minute)
1/2 cup granulated sugar
Whisk until pale and thickened.

Whisk in:
1/4 tsp almond extract
1/4 tsp vanilla
Add:
1/2 cup all purpose flour
Whisk until just combined – don't over-mix. Set aside.

In a mixer bowl with the whisk attachment, combine:
4 egg whites
1/4 tsp salt
Beat until soft peaks form. Gradually add:
1/4 cup granulated sugar
Continue beating until stiff, glossy peaks form.
Whisk 1/3 of the egg whites into the egg yolk mixture to lighten it, then with a rubber spatula, carefully fold the rest of the egg whites into the batter – you want to combine it without completely deflating it.

Pour the batter onto the prepared pan and spread it out evenly.
Bake at 350˚F for 15-17 minutes, until lightly golden brown and the center of the cakes springs back when lightly pressed (I swear I took a picture of this stage, but my camera must have eaten it!). Immediately run a knife around the edge of the cake to loosen it from the pan, dust the cake with icing sugar, and invert it onto a sheet of parchment. Peel off the lining paper that is now on the top of the cake, and starting from the short end, roll the cake with the clean parchment paper into a cylinder. Let it cool completely, seam side down.
Meanwhile, prepare the filling and frosting.
Chocolate Hazelnut Filling & Whipped Cream Frosting
The whipped cream filling and frosting are stabilized with gelatin, which does not turn them into Jell-o, but rather prevents them from getting runny and also gives them a fluffy, mousse-like texture.
In a small saucepan, combine:
2 tbsp water
1 tsp unflavoured gelatin
Set aside to soften for a few minutes.
Meanwhile, in a medium bowl, mix together:
1/4 cup chocolate hazelnut spread, such as Nutella
1/4 cup whipping cream
Set aside.

Over low heat, warm up the gelatin mixture until it dissolves, then set aside to cool.
In a mixer bowl with the whisk attachment, combine:
2 cups whipping cream
1/4 cup granulated sugar
Beat until soft peaks form, then beat in the gelatin mixture all at once.

Fold a little more than half the whipped cream into the chocolate hazelnut mixture to make the filling.

The remaining plain whipped cream is the frosting.
To Assemble
Unroll the cooled sponge cake and spread it with the chocolate hazelnut filling, leaving a 1/2 inch border at the edges. Roll it up again from the short end, this time without the parchment paper.

Transfer the cake roll carefully to a serving platter. I found it easiest to lift it onto the plate using the parchment paper, then carefully slide it off the parchment onto the platter. Protect the platter with strips of waxed paper tucked under the cake, then spread the outside of the cake with the plain whipped cream. Cover it lightly with plastic wrap and refrigerate for at least 2 hours or overnight. Just before serving, sprinkle with 1 cup toasted sliced almonds.

Martha suggests slicing off the ends of the cake to reveal a cleaner cross-section of the inside of the roll, but I left it rustic. Decorate with marzipan mushrooms and rosemary foliage. Sprinkle with a light dusting of icing sugar "snow" and cut into slices to serve.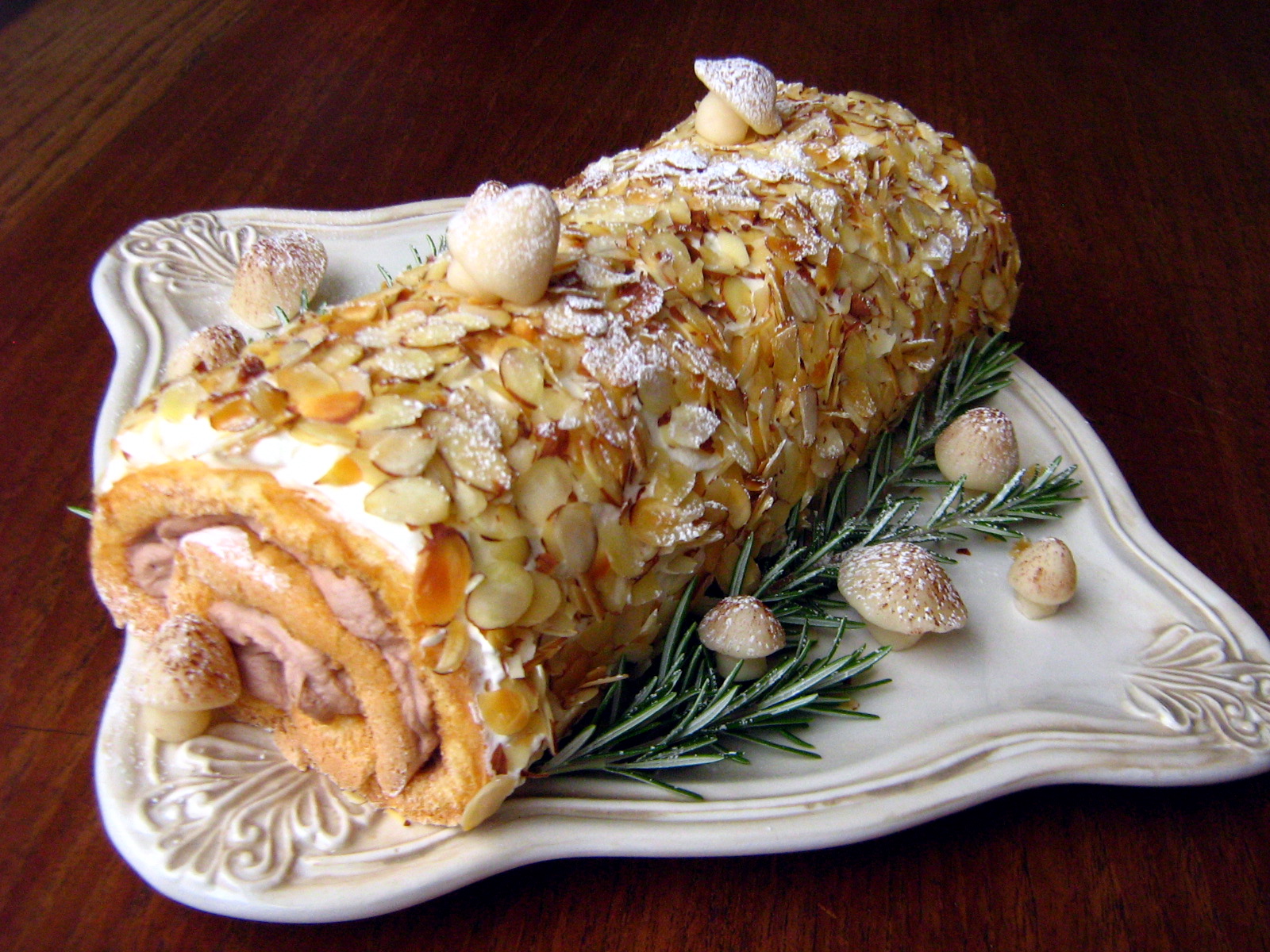 Marzipan Mushrooms
Roll a chunk of marzipan into a 3/4 inch ball. Cut about 1/3 off of the ball. Shape the large bit into a mushroom cap, and roll the smaller bit into a mushroom stem with a tapered point at one end. With the tip of a knife, bore a little hole in the underside of the mushroom cap; squish the tapered end of the mushroom stem into the hole to attach it (use a bit of water to make it sticky if necessary).

Place on a plate, dust very lightly with cocoa powder, and leave uncovered to harden a bit.

Store in an airtight container at room temperature. I used a little less than 100 grams (~3 oz) of marzipan to make about a dozen mushrooms.