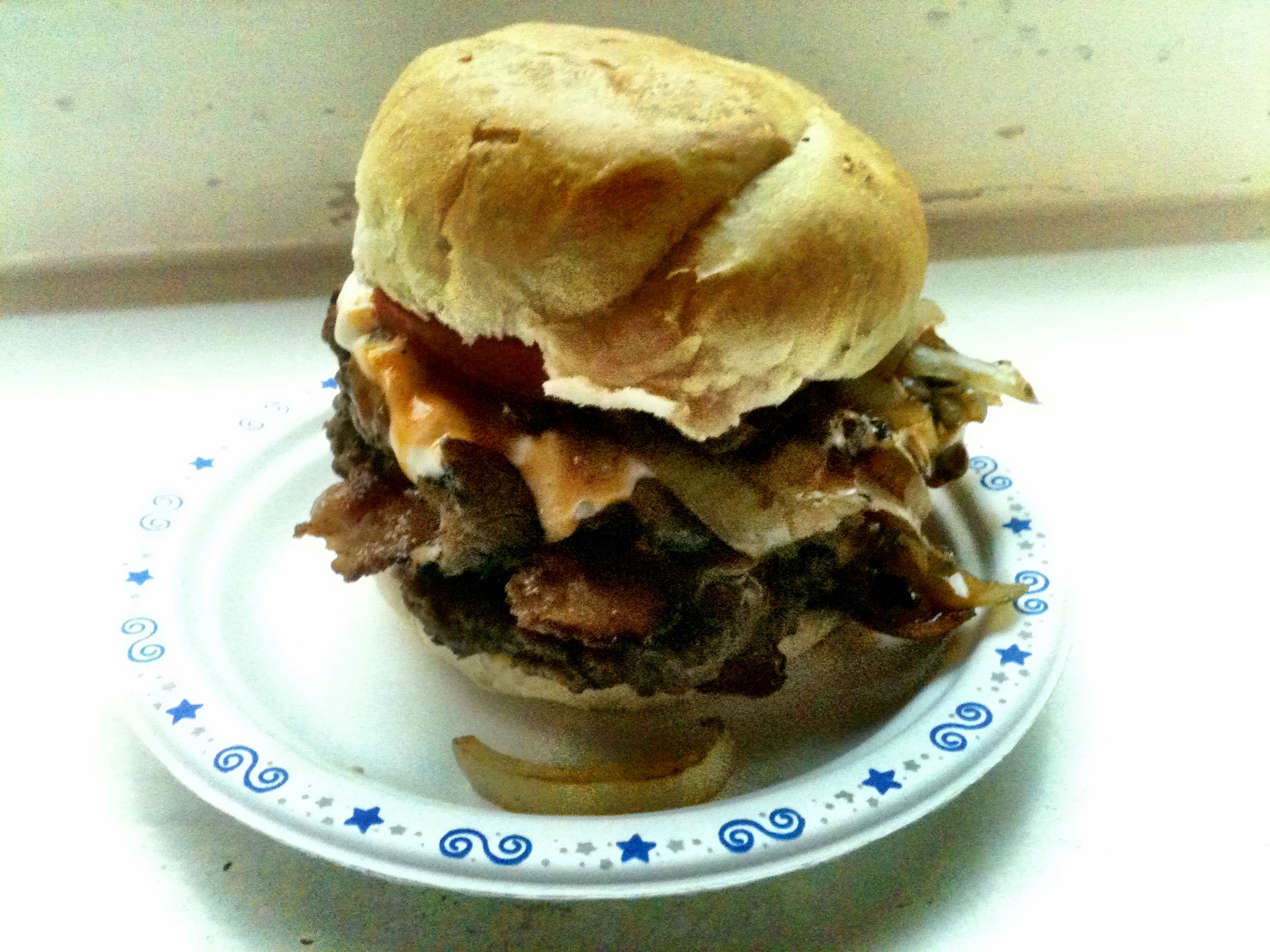 Typical winter in Victoria BC: dark at 4 pm, constantly windy, rains all the time. ALL THE TIME. Seriously nasty. Yesterday it was too nasty to make dinner, so Nate, Sam and I trekked across town in the dark, stormy evening to sample the burgers and poutine at La Belle Patate in Esquimalt.
La Balle Patate is the very definition of a hole-in-the-wall burger joint, but what makes it unique is the Québécois menu, consisting of several versions of poutine (fries, fresh cheese curds, and gravy), Montréal smoked meat, burgers, steamed hot dogs, and other diner food. Definitely not a restaurant for the faint of heart, or those with high cholesterol.
Nate and I split an order of the Boe Special (poutine with fried onions) and each had a La Belle Burger – a double patty, double cheese, double bacon monster loaded with fried onions and mushrooms and smothered in La Belle sauce. Oh, and a slice of tomato. When I ordered my burger, the guy behind the counter gave me an approving look and said I was a "brave lady". Heh.
The burger was massive (I only got through three-quarters of it) and it tasted pretty much as ridiculous as it sounds: beefy, bacony, juicy, burgerlicious. This is a roll up your sleeves, tie back your hair, grab a stack of napkins, and unhinge your jaw kind of burger (Guy Fieri, eat your heart out!). And then you'll need to have salad for the rest of the week to make up for it (but so worth it!).
The poutine was good too – squeaky cheese curds (which means they're fresh) mixed with slightly sweet spuds and rich gravy, plus grilled onions… you can't really go wrong here.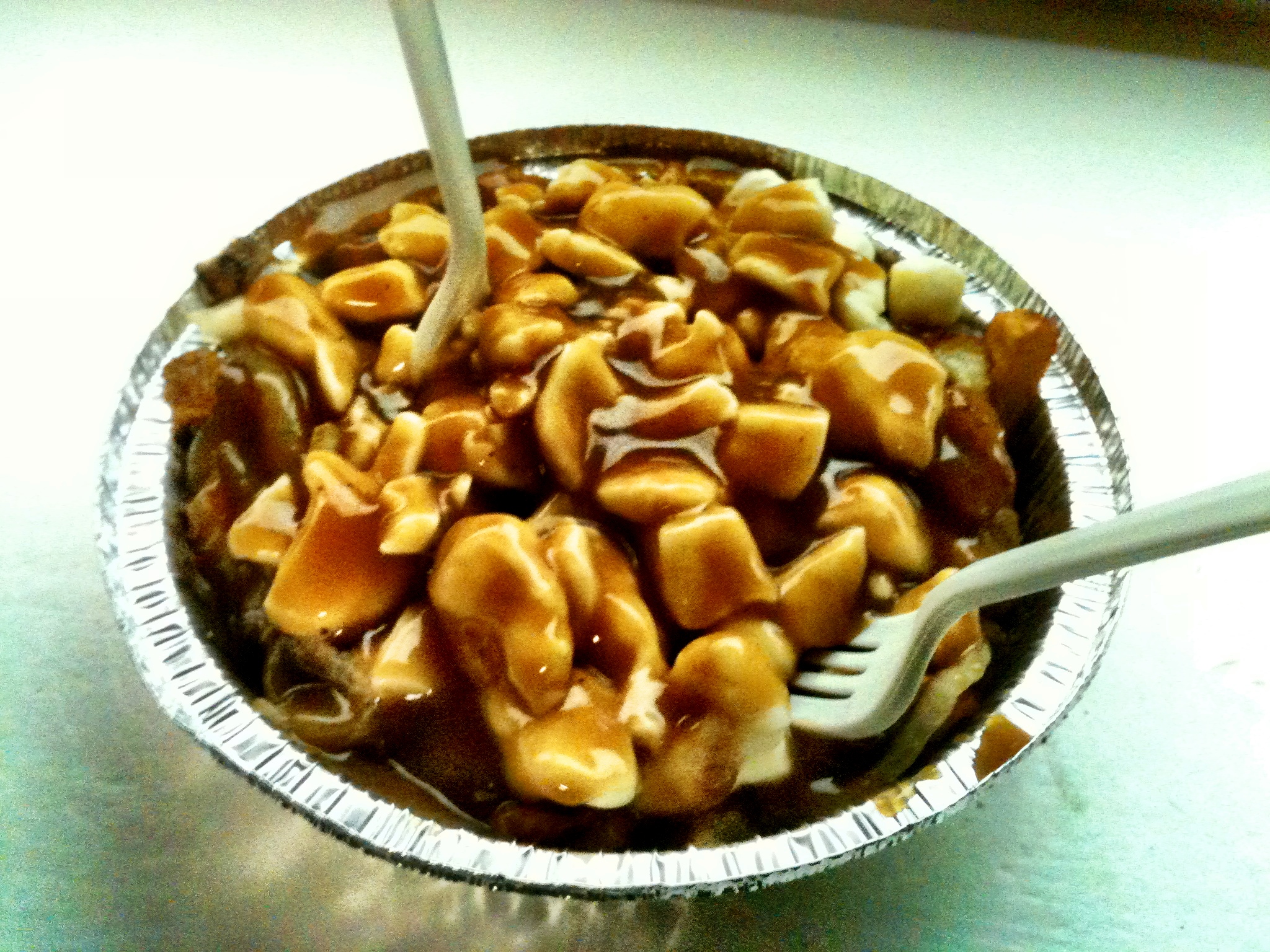 Sam ordered poutine and a "steamie", which is a steamed hotdog covered in sauerkraut. He ate in about four bites, so I guess it was good! I didn't get a picture because my hands were covered in burger juice. Mmmm.
We arrived just before 6 pm and the place was empty, but in the time it took for our food to be ready (about 20 minutes – it's all made fresh to order), it filled right up. The staff seemed to know almost every one of their customers, so obviously they have a pretty loyal following. There are a few chairs and tables where patrons can devour their poutine immediately instead of as take-out, but La Belle Patate is not exactly a sit down restaurant. If it were on Diners, Drive-Ins and Dives, it would definitely fit into the "dive" category: the "decor" includes chipped paint, old Québec license plates, and a chest freezer, and the food is served on paper plates and foil pans. This wouldn't discourage me from returning, but is something to be aware of in case you're expecting something else.
But if you like burgers, fries, gravy, and cheese curds, you should check this place out. It's perfect for a stormy November evening, because licking burger juice off your elbows will help you forget all about the nasty weather ;).