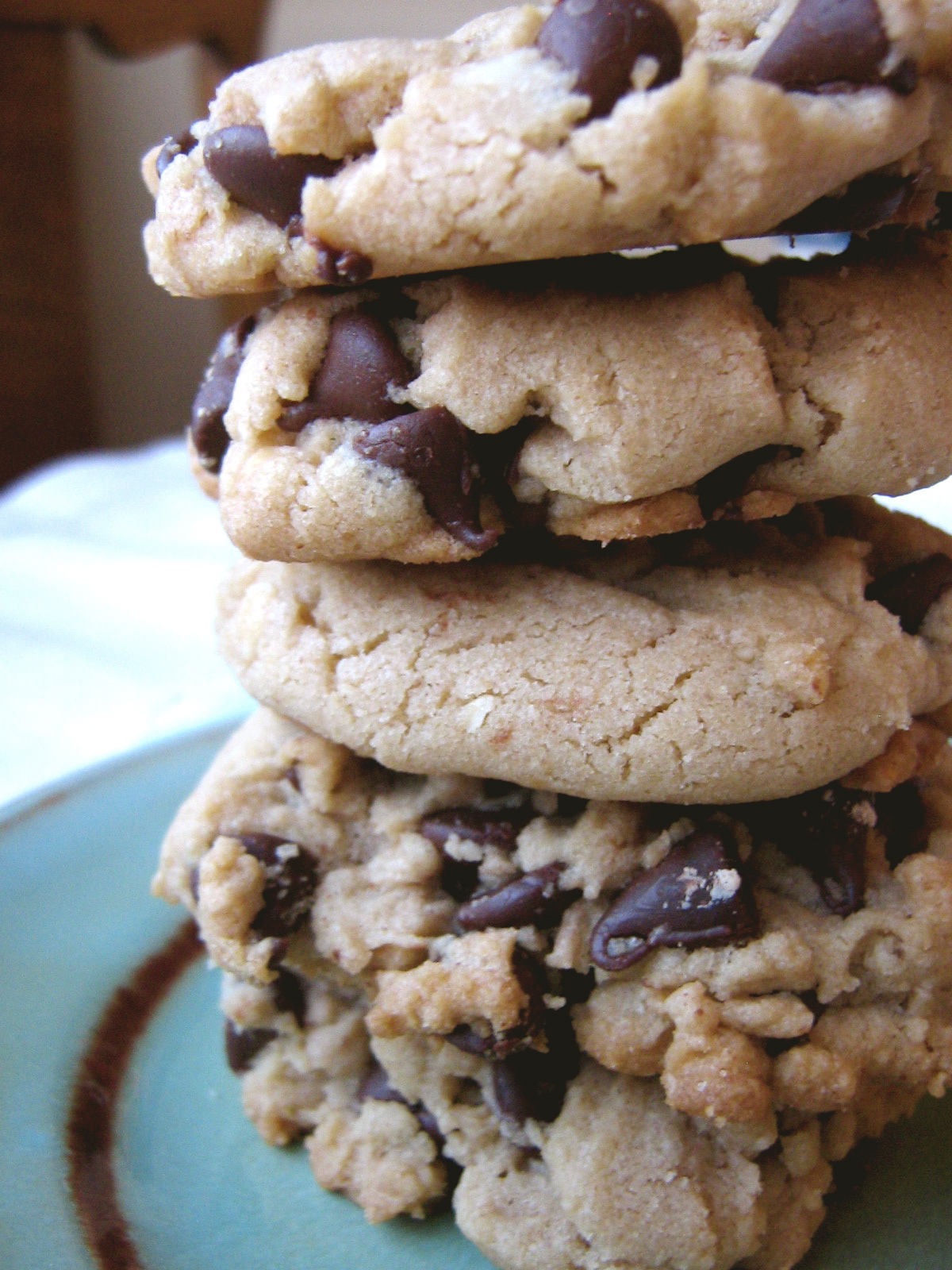 These are the perfect marriage between a peanut butter cookie and a chocolate chip cookie. Both are classics in their own right, and this recipe somehow manages to combine the tastes and textures that makes each one great. Good peanut flavour, slightly chewy like a good chocolate chip cookie, and full of chocolate chips. Seriously, these are the best peanut butter and chocolate chip cookies I've ever tried.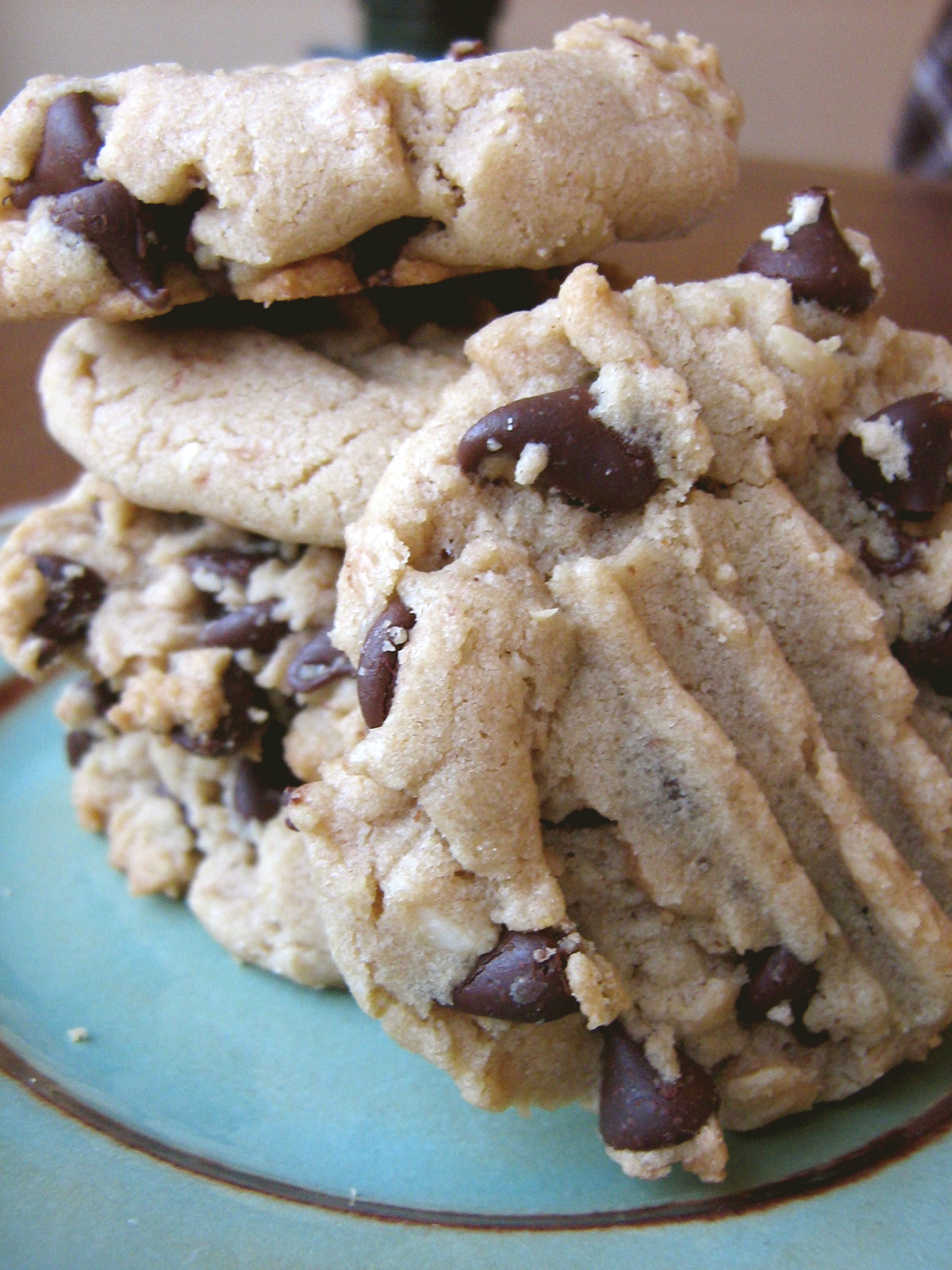 A friend made these a few weeks ago, and after inhaling one I immediately requested the recipe. Because they were so good to begin with, for once I didn't monkey around with the recipe. Actually, that's not entirely true: I reduced the amount of white sugar by 1/4 cup (no big deal, really) and used natural chunky peanut butter, instead of the "national" brand (shelf stable with hydrogenated oil). I have a tendency to over-bake cookies slightly so I baked these for the minimum amount of time (11 minutes) and took them out of the oven when they were barely golden brown and set around the edges only.
They were perfect – delicious straight out of the oven, but even better a few days later, after the peanut flavour had a chance to come out a bit more!
And I got to use a new kitchen gadget! I finally bought one of these spring-loaded dough scooper things, which was awesome for scooping out uniformly-sized cookies…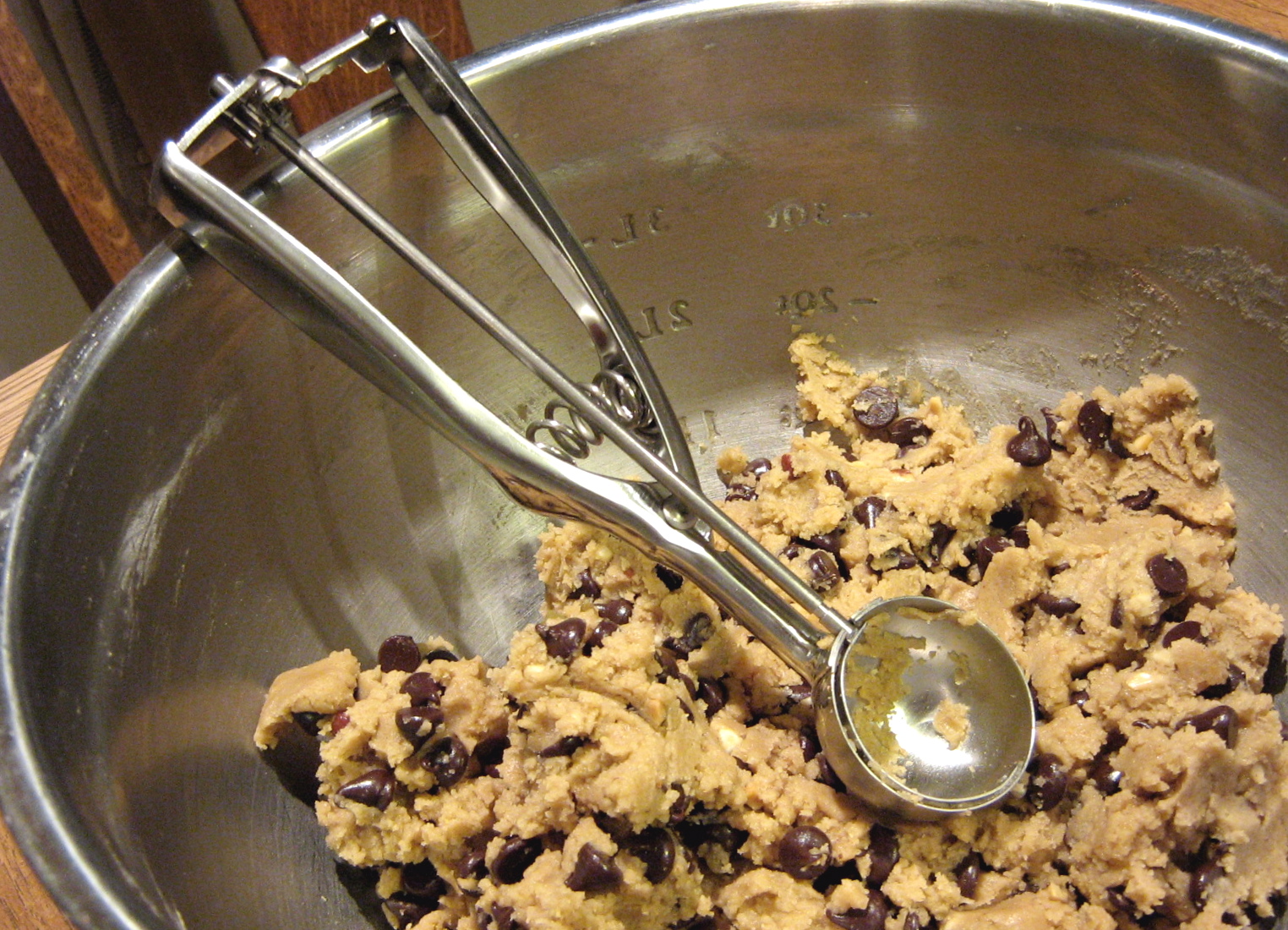 However the joy was short-lived because the stupid thing is already broken :(. Oh well, I have cookies to make me feel better and an excuse to visit the kitchenware store again :D.
Peanut Butter Chocolate Chip Cookies
Recipe adapted ever-so-slightly from Baking Bites. Makes about 3 1/2 dozen cookies.
Preheat the oven to 350˚F.
In a medium bowl, whisk together:
2 1/4 cups all purpose flour
1 tsp baking soda
1/2 tsp salt
Set aside.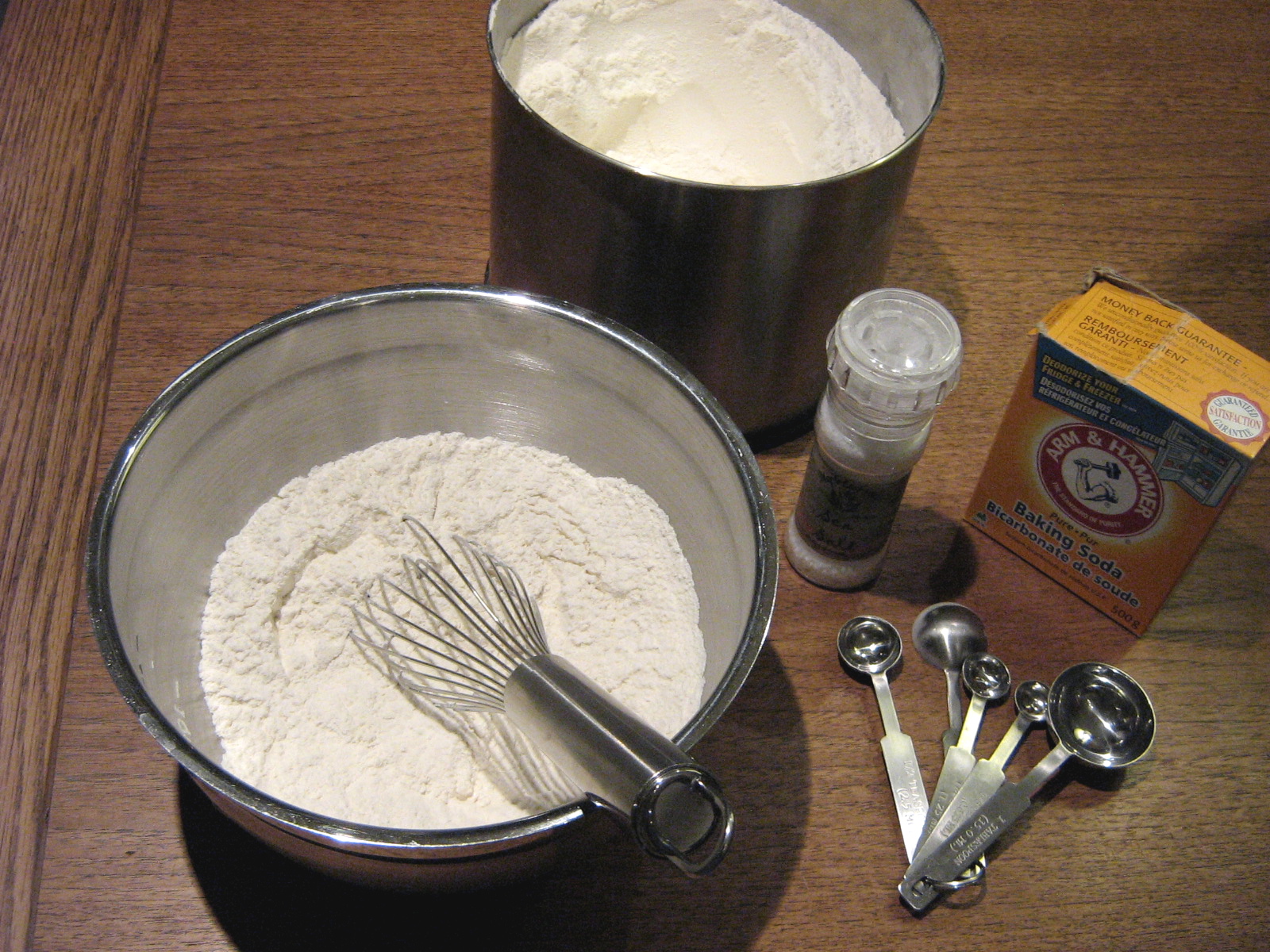 In a large bowl, cream together:
3/4 cup butter, room temperature
3/4 cup granulated white sugar
3/4 cup packed brown sugar

Mix in:
3/4 cup peanut butter (I used natural chunky PB, but whatever you have/prefer is fine)
1 egg
1 tsp vanilla extract
Stir until well-combined and creamy.

Add the flour mixture and stir until the dough comes together.

Add:
2 cups chocolate chips
Mix to combine.

Drop the dough by rounded tablespoons (or form into 1-inch balls) onto a baking sheet lined with a silicon baking mat or parchment paper with about 2 inches between each cookie. Press each cookie with the back of a fork to give it the classic peanut butter cookie look.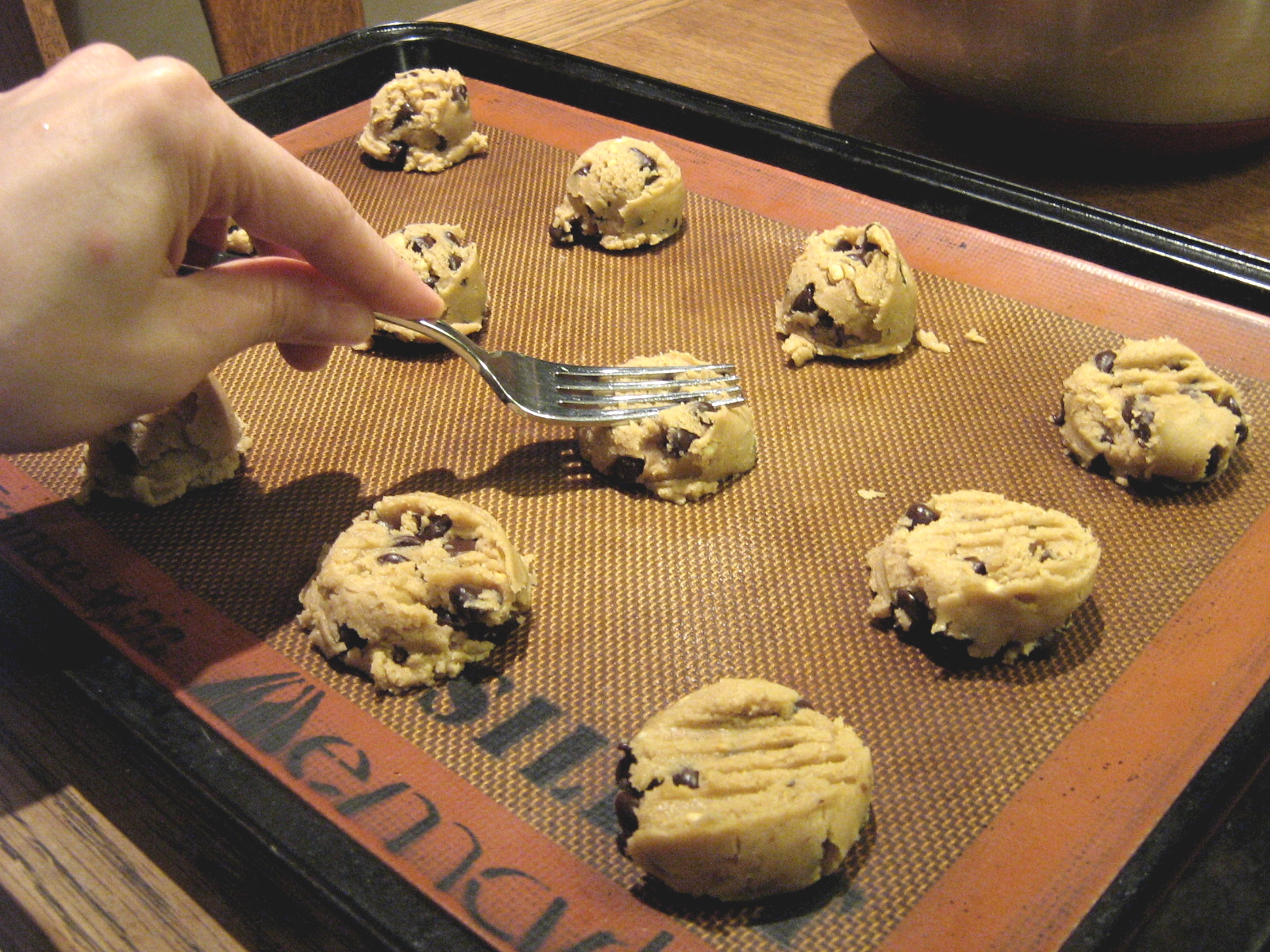 Bake at 350˚F for 11-12 minutes (slightly longer for a crispier cookie), or until the sides of the cookie are set and the edges are just starting to turn brown. Let cool on the pan for 3-4 minutes before removing to a rack to cool.