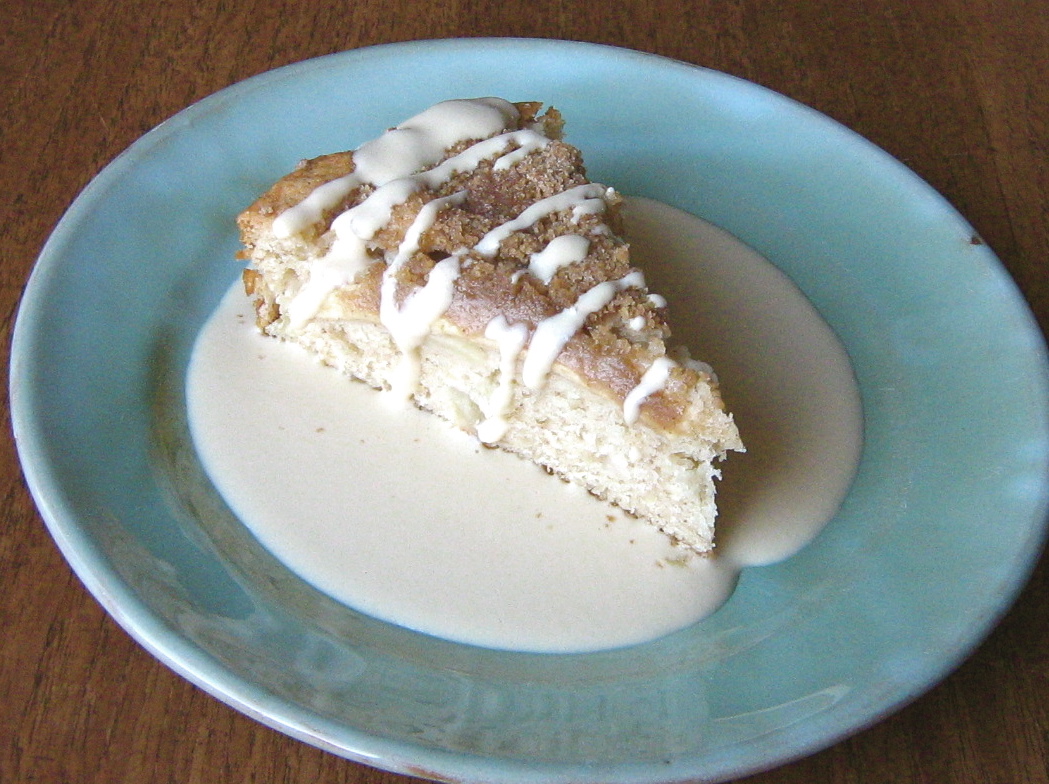 Last weekend my friend Katheryn had me and some friends over for a calamari feast – which actually meant that we had to disembowel and clean 5 lbs of raw squid! But really I loved every tentacle-y, slimy minute of it ;). I offered to bring dessert – which actually meant that I phoned Katheryn and announced, "I'M BRINGING DESSERT! … oh, you need lemons and parsley? Yeah, I guess I can bring those too…".
Anyway, we all know that dessert is the most important part of any meal, so let's focus on that: I made an apple cake using my favorite one-bowl butter cake recipe, topped it with brown sugar struesel, and served it with creme anglaise, which is pretty much the best sauce ever – it tastes just like melted vanilla ice cream only better. It was all super delicious, and the cake actually tasted even better the next day – I guess the apple and cinnamon flavours had more time to develop or something. It was also a nice cozy thing to eat in the fall – very comforting and homey.

So without any further ado, here's how to make it!
Apple Struesel Cake
Adapted from the "Melt-and-Mix Butter Cake" in Modern Classics Book 2 by Donna Hay (I love her!)
Preheat oven to 325˚F. In a medium bowl, stir together:
1 3/4 cups all purpose flour
1 3/4 tsp baking powder
2/3 cup granulated sugar
a pinch of salt
a few dashes cinnamon
1 apple, peeled and chopped

Add:
1/4 cup milk
2 eggs, lightly beaten
1/2 cup melted butter
1 tsp vanilla
Stir everything together until there are no dry patches. The batter will be quite thick – almost more like cookie dough than cake batter.

Spread the batter into a 9″ greased cake pan, lined with parchment paper. Arrange 1 peeled and sliced apple over the top.

To make the struesel topping, mix together:
1/4 cup flour
1/4 cup brown sugar
a few good dashes of cinnamon (about 1/2 tsp)
1 tbsp melted butter
Stir until crumbly.

Sprinkle over the cake (you probably won't need all of it).

Bake the cake at 325˚F for 40-45 minutes, until a toothpick inserted in the middle comes out with only a few moist crumbs sticking to it.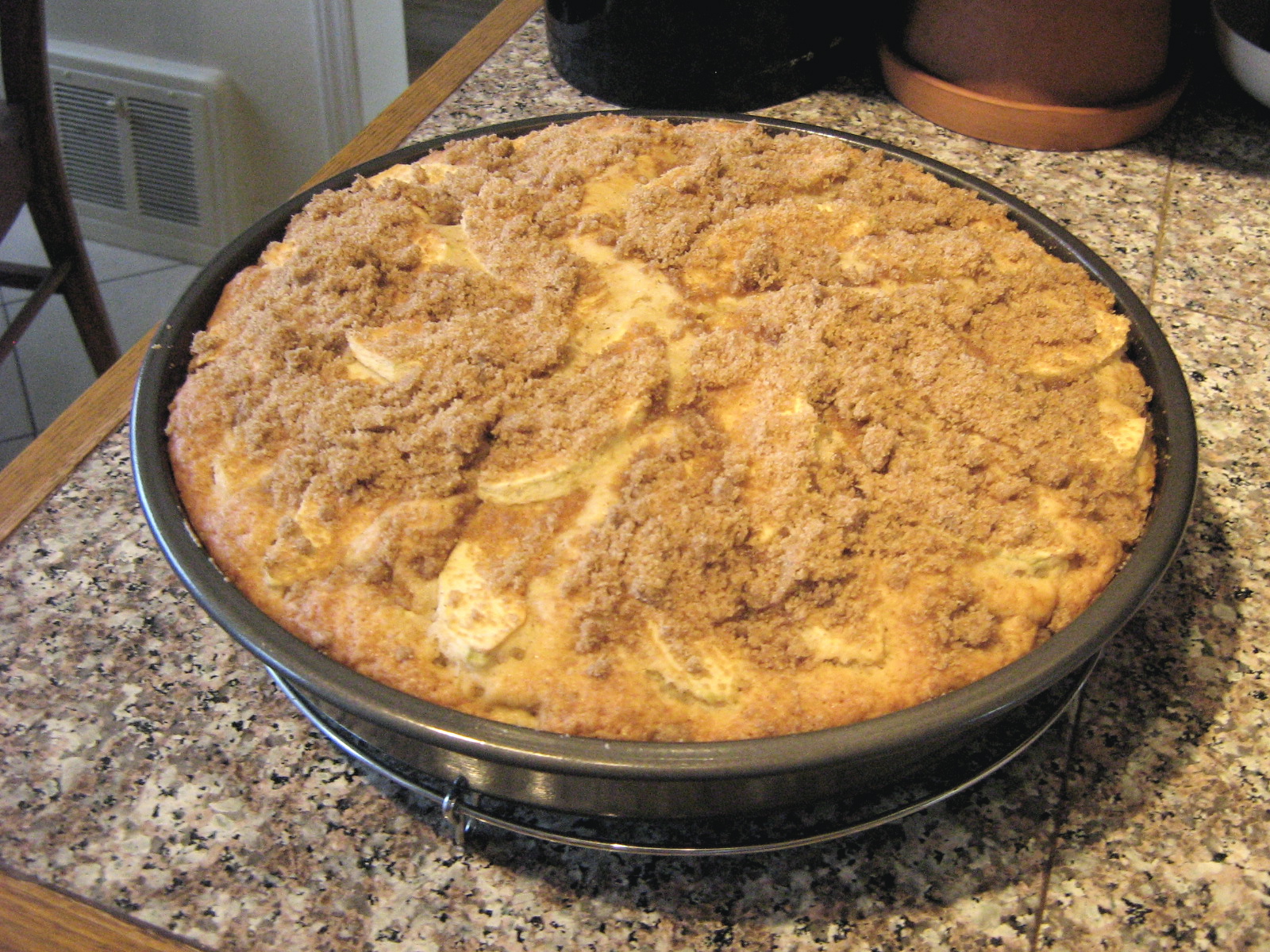 Allow to cool in the pan for a few minutes, then invert the cake onto a plate, remove the pan and parchment paper, and revert (re-invert? un-invert?) onto a cooling rack.

Slice into wedges and serve warm or at room temperature in a puddle of creme anglaise (recipe follows).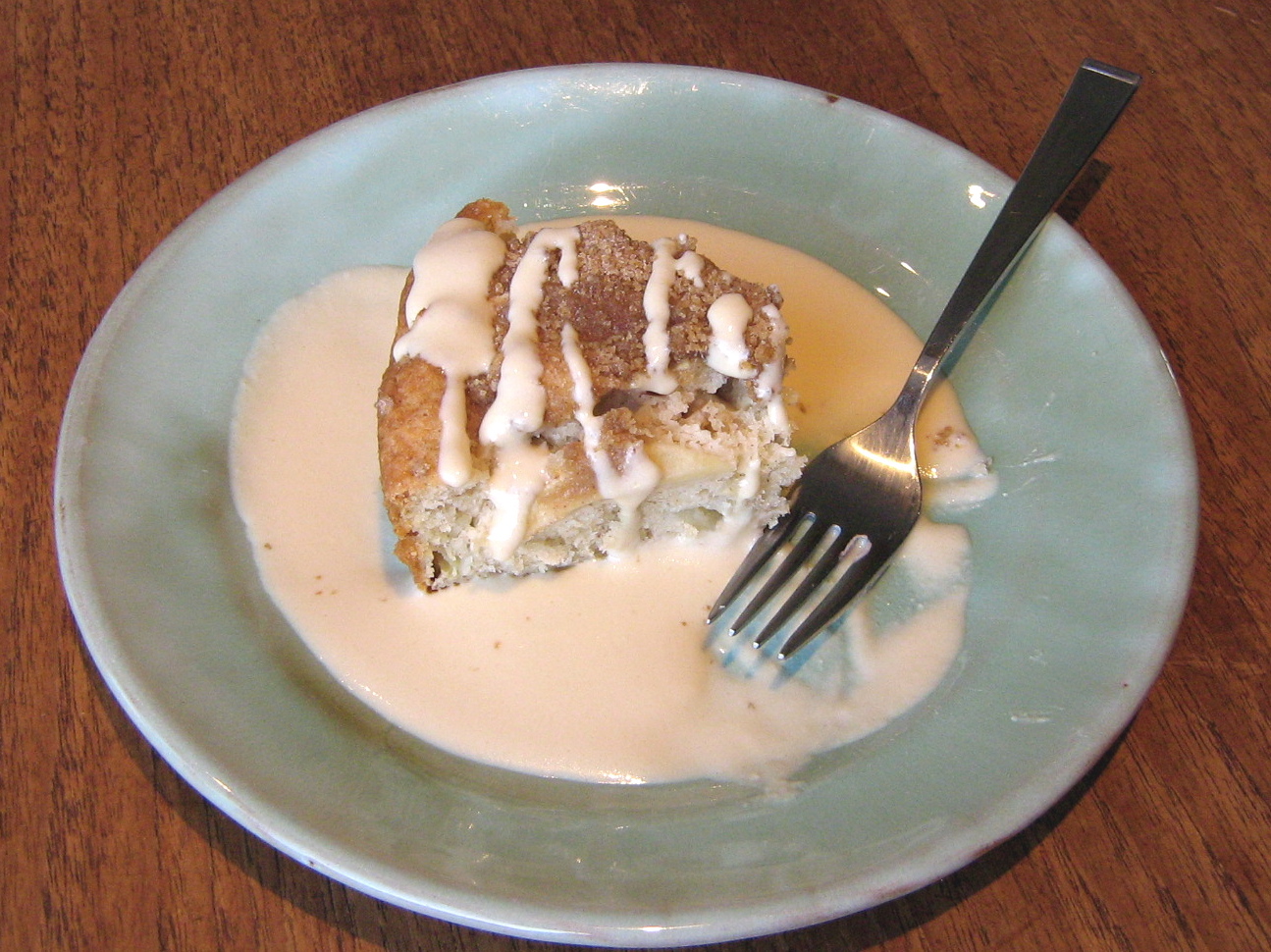 Creme Anglaise
This is a rich, delicious vanilla-scented pouring custard that is a great alternative for anything that you might want to serve with vanilla ice cream. I have no idea where I got this recipe from.
In a heat-proof bowl, whisk together:
3 egg yolks
2 tbsp granulated sugar
Beat with the whisk until very pale and thick, about 5 minutes (a good arm workout).
Meanwhile, in a small pot, scald:
1 cup whipping cream
1/4 cup milk
(or you can use all milk – whole or 2% probably for best results)
When the cream/milk is scalded (ie, almost-but-not-quite boiling), whisk a very small amount into the egg yolk mixture to temper it (ie, so it doesn't make scrambled eggs), then slowly add the rest of the milk/cream mixture, whisking constantly.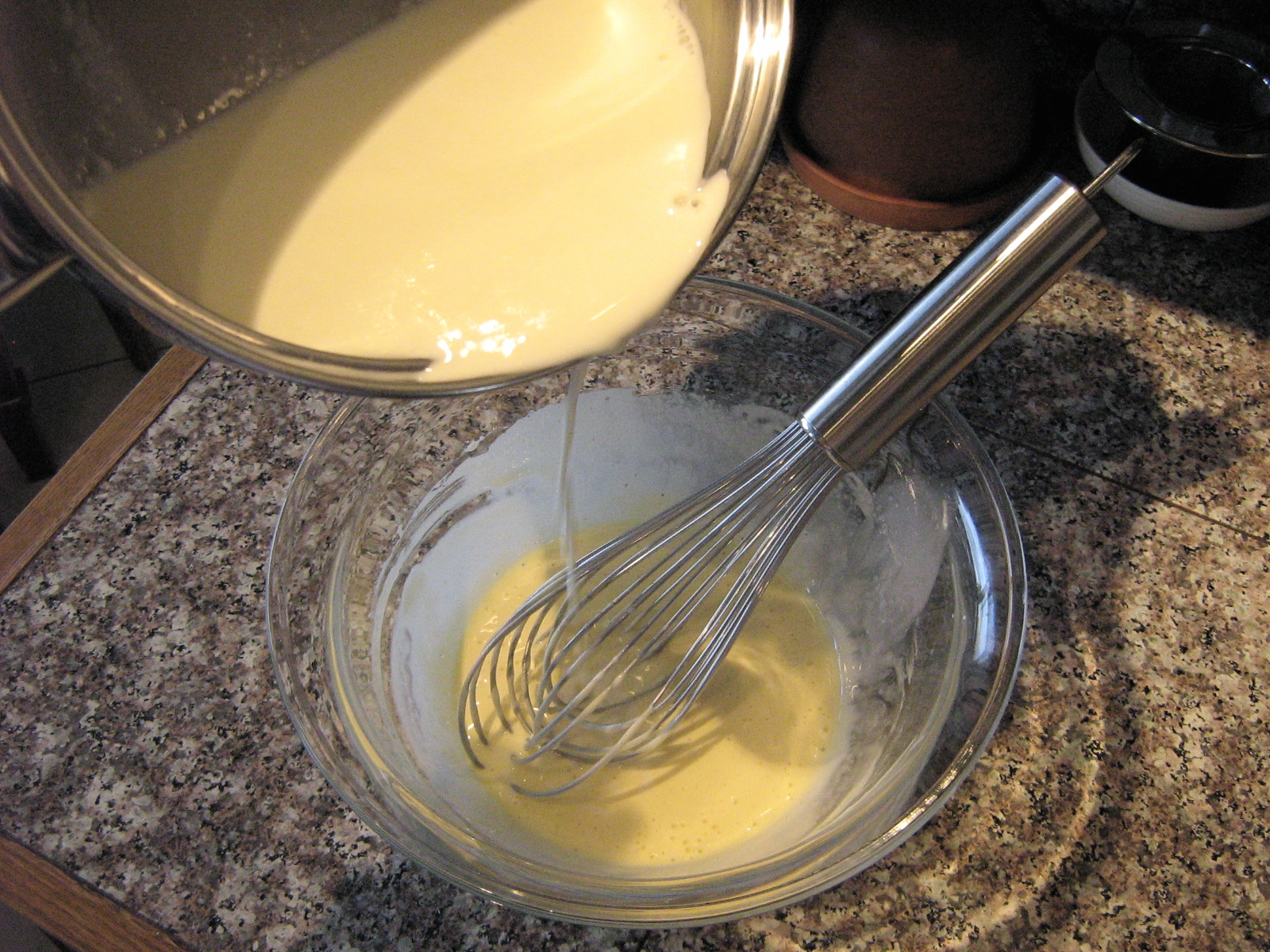 Pour everything back into the pot and heat over medium-low heat, stirring constantly in a figure-8 motion, until the mixture thickens enough to coat the back of a spoon (ie, you can drag you finger through it and it leaves a clean trail without the sides running into it). Don't let it boil!

While all this is happening, place a sieve over a small bowl that is sitting in an ice bath (ie, in a larger bowl of water and ice cubes). When the mixture has thickened, pour it through the sieve into the small bowl. This will make sure the creme anglaise is smooth and the ice bath will stop the cooking process.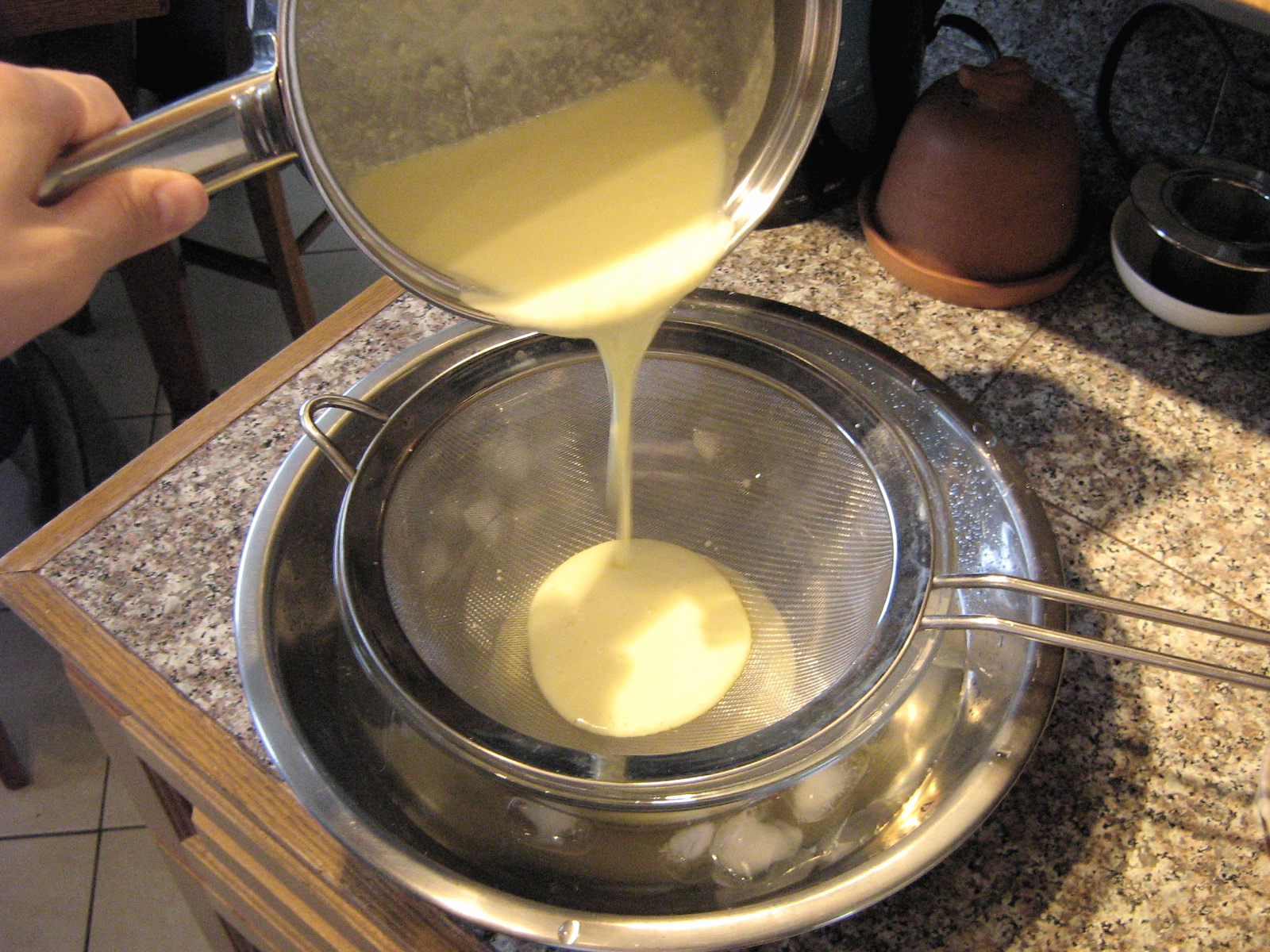 Stir in 1/2 tsp vanilla extract, then cover the creme anglaise with plastic wrap, pressing it right onto the surface so it doesn't form a skin.

Refrigerate until ready to serve.