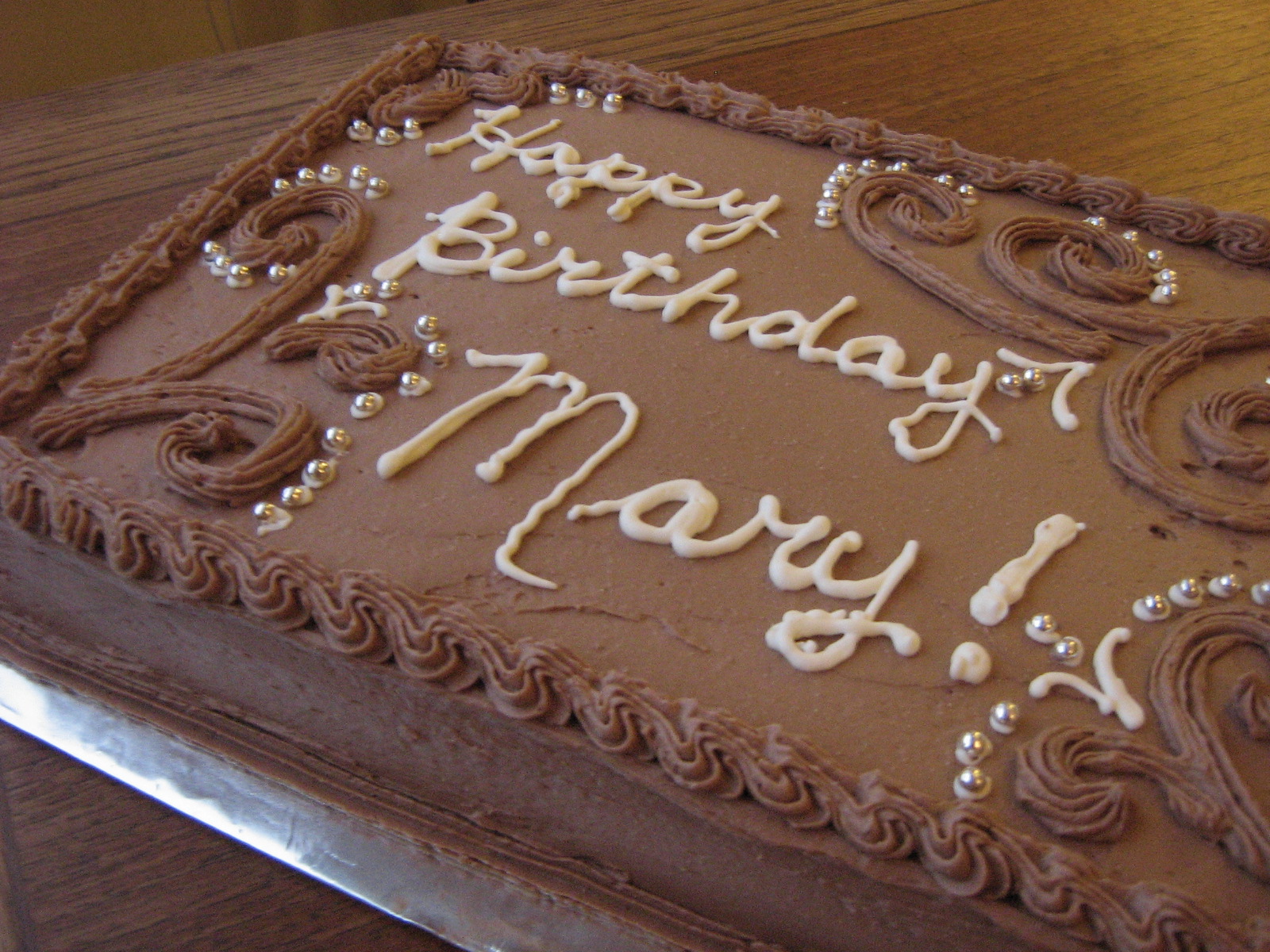 One of my co-workers recently had a birthday and a cake was requested, so I obliged with a vanilla cake filled with pears and frosted with chocolate buttercream. It went over really well at work (someone actually said, "This is the best cake I've ever had!" 🙂 ) so I have a feeling I'll be making more. This will continue the trend of me having made more cakes in the past six months than I have in the past six years, but that is totally fine with me ;).
This vanilla cake (aka yellow cake, because it contains egg yolks) is super easy to make and comes out fluffy, moist, and delicious. It's my favorite plain cake recipe because it doesn't require any fancy ingredients and it could easily be jazzed-up-up with lemon or orange zest or something. I baked it at a slightly lower temperature than the recipe stated and wrapped the pan in strips of damp towel to insulate it against getting a big domed top, and the cake came out perfectly baked and perfectly level. I wanted to fill it with something fruity, and over Thanksgiving my mum gave me a big bag of gorgeous pears from her pear trees, so I sautéed some in butter and brown sugar and spread it between the cake layers. I also wanted to try proper Swiss meringue buttercream frosting after the cream cheese frosting fiasco, and it came out awesome! Fluffy, buttery, and not too sweet. I can't wait for an excuse to make it again in another flavour. Plus it was really fun to decorate with :).
Pear-Filled Vanilla Cake with Chocolate Buttercream Frosting
Because of all the butter in the frosting, this cake should be stored in the fridge, but let it come to room temperature before serving – the texture of the filling will be much better, and cake tastes best when it's not cold anyway!
Yellow Vanilla Cake
Modified slightly from A Passion for Baking by Mary Goldman.
Can be baked as a sheet cake in a 9″x13″ pan, as a circular layer cake in two 9″ round pans, or as 24 cupcakes. The original recipe says to bake at 350˚F, but I had success with 325˚F.
Preheat oven to 325˚F. Spray/grease your pan(s) and line the bottoms with parchment paper.
In a mixer bowl, cream together:
1 cup unsalted butter, softened
1 1/2 cups granulated sugar
Mix until light and fluffy, then add:
3 eggs (one at a time, mixing after each)
1 tsp vanilla
Mix until well blended.

In a bowl, combine:
3 cups all purpose flour
4 tsp baking powder
1/4 tsp salt
Add the flour mixture to the butter mixture and mix on low speed while slowly pouring in:
1 1/2 cups warm milk
Blend until the batter is smooth.

Pour into prepared cake pan(s) and spread the batter evenly. Wrap the pans in a strip of wet towel to insulate the edges of the cake from cooking faster than the middle and creating a domed top.

Bake at 325˚F for 35-45 minutes, until lightly golden brown on top, slightly springy when touched, and a toothpick inserted in the middle comes out with no crumbs (check after 35 minutes). Cool for 10 minutes in the pan, then invert onto a wire rack, peel off the parchment paper, and cool completely.

Split, fill, and frost as desired (it's easier if the cake has been chilled before splitting it).
Pear Filling
In a large skillet over medium heat, melt:
3 tbsp butter
Add:
3 cups finely diced pears
Sauté until softened. Add:
3 tbsp brown sugar
a dash each of nutmeg and salt
Cook until the pears are very soft and the juice is syrupy. Stir in:
a squeeze of lemon juice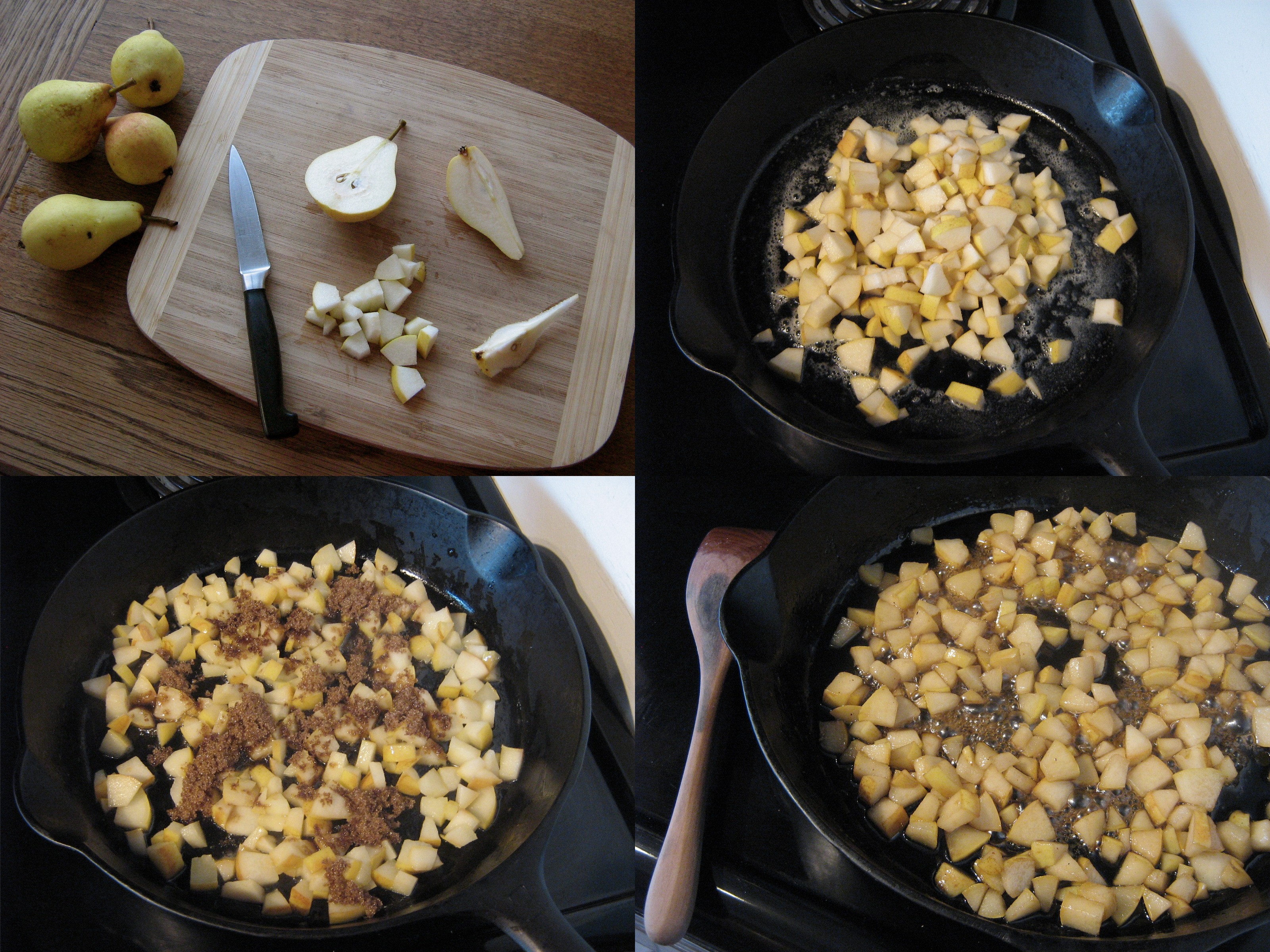 Remove from the heat and let cool before filling the cake. The butter in the filling will solidify if kept in the fridge, so serve the filled cake at room temperature (it's fine to store it in the fridge though).
Chocolate Swiss Meringue Buttercream Frosting
From Sweetapolita. For a detailed tutorial on making Swiss meringue buttercream, click here.
Makes about 5 cups of frosting, enough to frost the outside of a 9″x13″ cake, to frost and fill a 9″ round 2-layer cake, or to frost 24 cupcakes. Best made in a stand mixer because it requires a lot of beating!

Cut 1 pound (2 cups) of butter into cubes and leave at room temperature to soften slightly.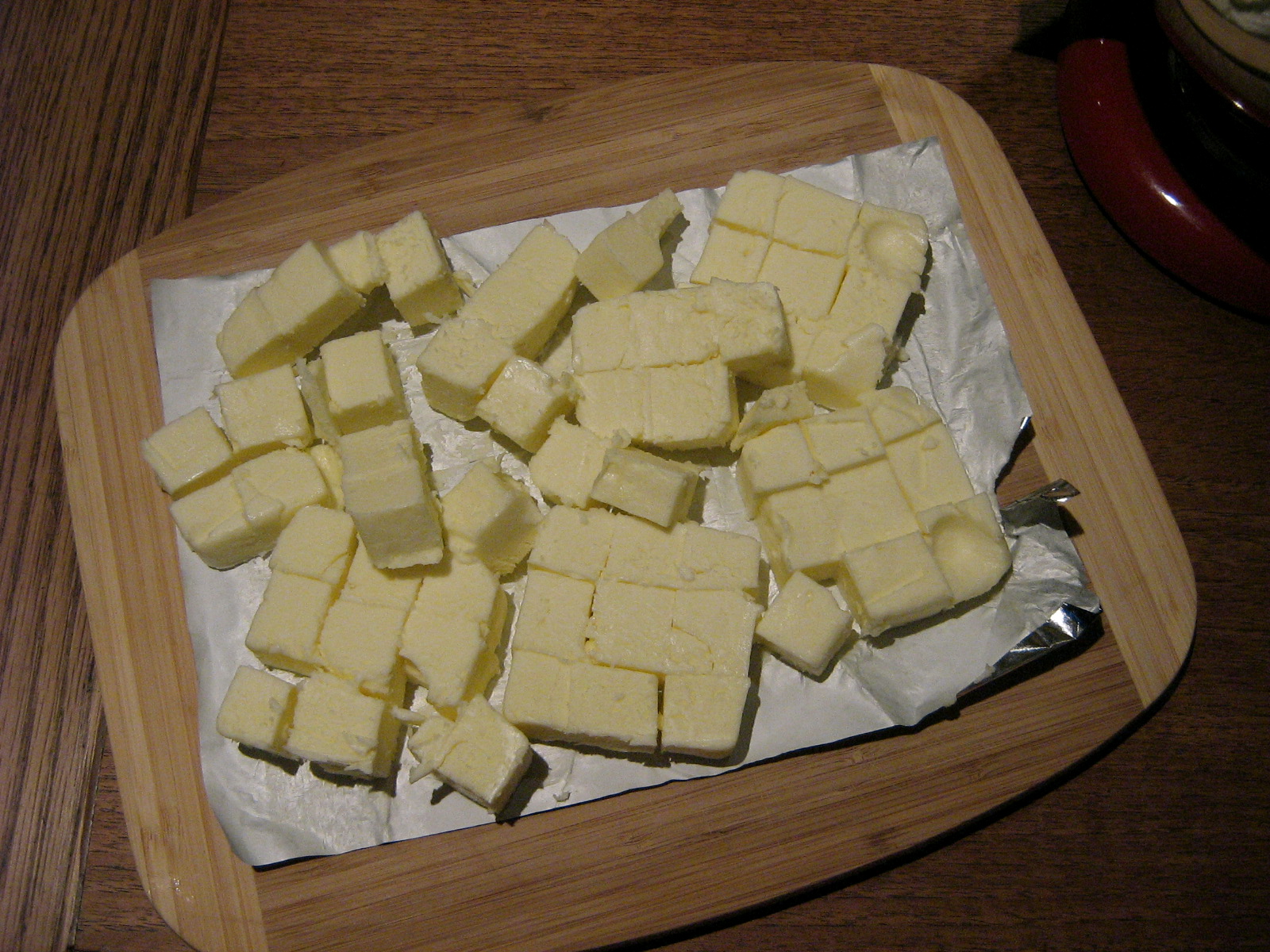 Pour a splash of vinegar or lemon juice in a mixer bowl and wipe out with a paper towel to remove any traces of oil. Also wipe down the whisk attachment with vinegar/lemon juice. This ensures that there is no oily residue that will prevent the egg whites from whipping up.
In the perfectly clean mixer bowl (not attached to the mixer), combine:
5 egg whites
1 cup + 2 tbsp granulated sugar
Make a bain marie/double boiler by placing the mixer bowl over a small pan of simmering water (make sure the bottom of the bowl is no touching the water). With the whisk attachment, stir the egg white-sugar mixture until it comes to 140˚F, or use your (clean) fingers to feel that the sugar is totally dissolved in the egg whites and the mixture is hot. Note that you are stirring to keep the mixture from turning into scrambled egg whites, not to incorporate air.

Attach the mixer bowl and whisk to the mixer and beat the egg whites at medium high speed until stiff peaks form. Continue stirring on low speed until the egg whites are COMPLETELY cool – the side of the bowl should be cool to the touch.

When the egg whites are cool, it's time to add the butter. Switch the whisk for the paddle attachment, and mixing on low speed, add in the cubes of butter, one at a time, allowing the butter to incorporate before adding the next cube.

The egg white meringue will fall and go through various stages of looking weird and curdled as you add the butter – this is all okay. When all the butter is added, the mixture will probably look quite clumpy, curdled, and thick.
Keep stirring on low and after a few minutes it will emulsify and smooth out into a thick, creamy, fluffy frosting.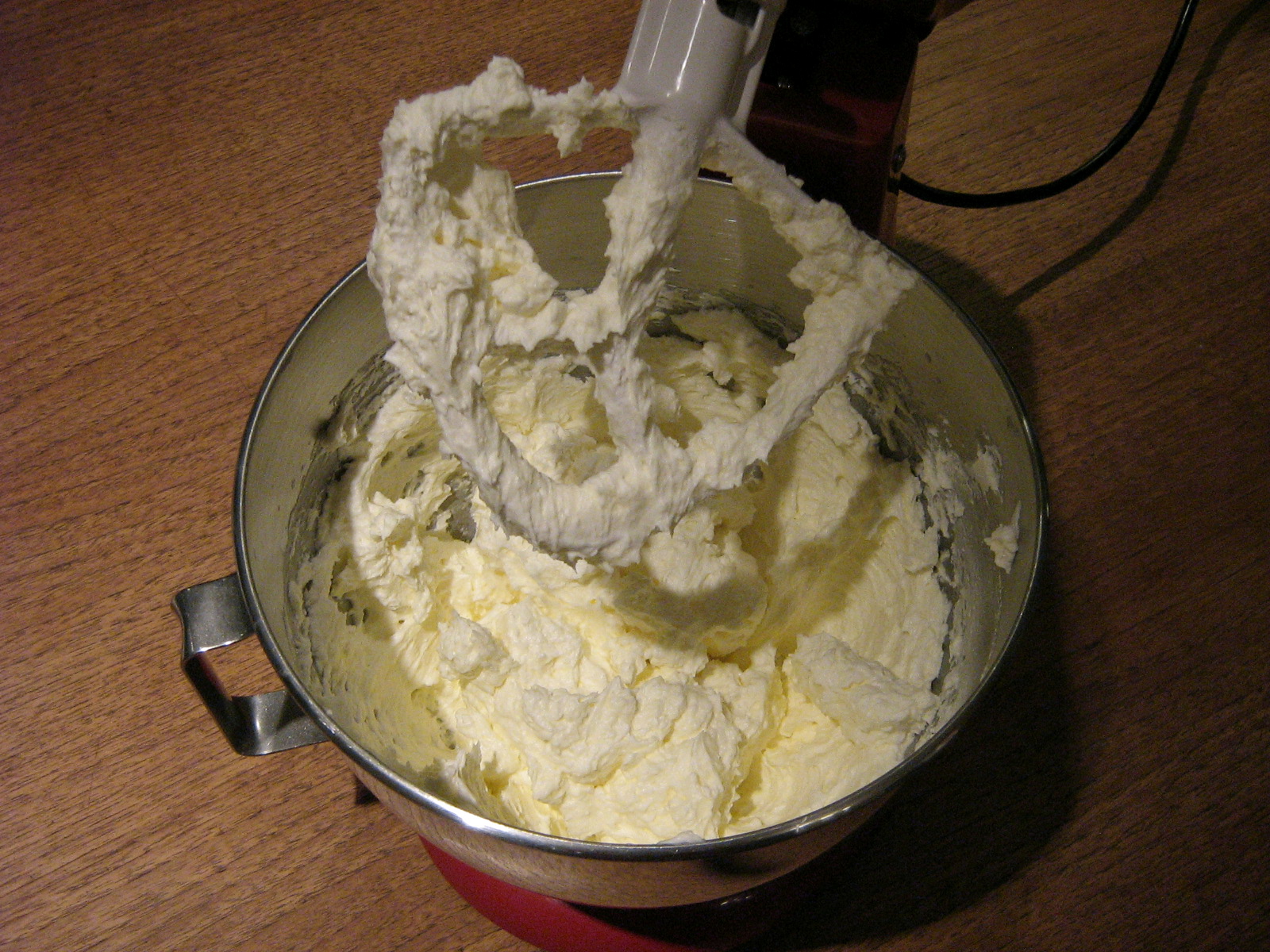 Add:
2 tsp vanilla
dash salt
3/4 cup chocolate chips, melted and cooled
Stir well to incorporate the chocolate.

Keep the frosting at a cool room temperature to frost the cake.
To Assemble the Cake:
Split the cooled cake in half horizontally and place the bottom layer on a cake board, protected by 4 strips of waxed paper. Pipe a wall of frosting around the edge of the layer, and spread the cake with the pear filling.

Place the second layer on top, and coat the cake with a thin "crumb coat" of frosting.

Refrigerate for about 15 minutes, until the frosting is set, then frost with a thicker layer. Decorate as desired – this frosting is great for piping.