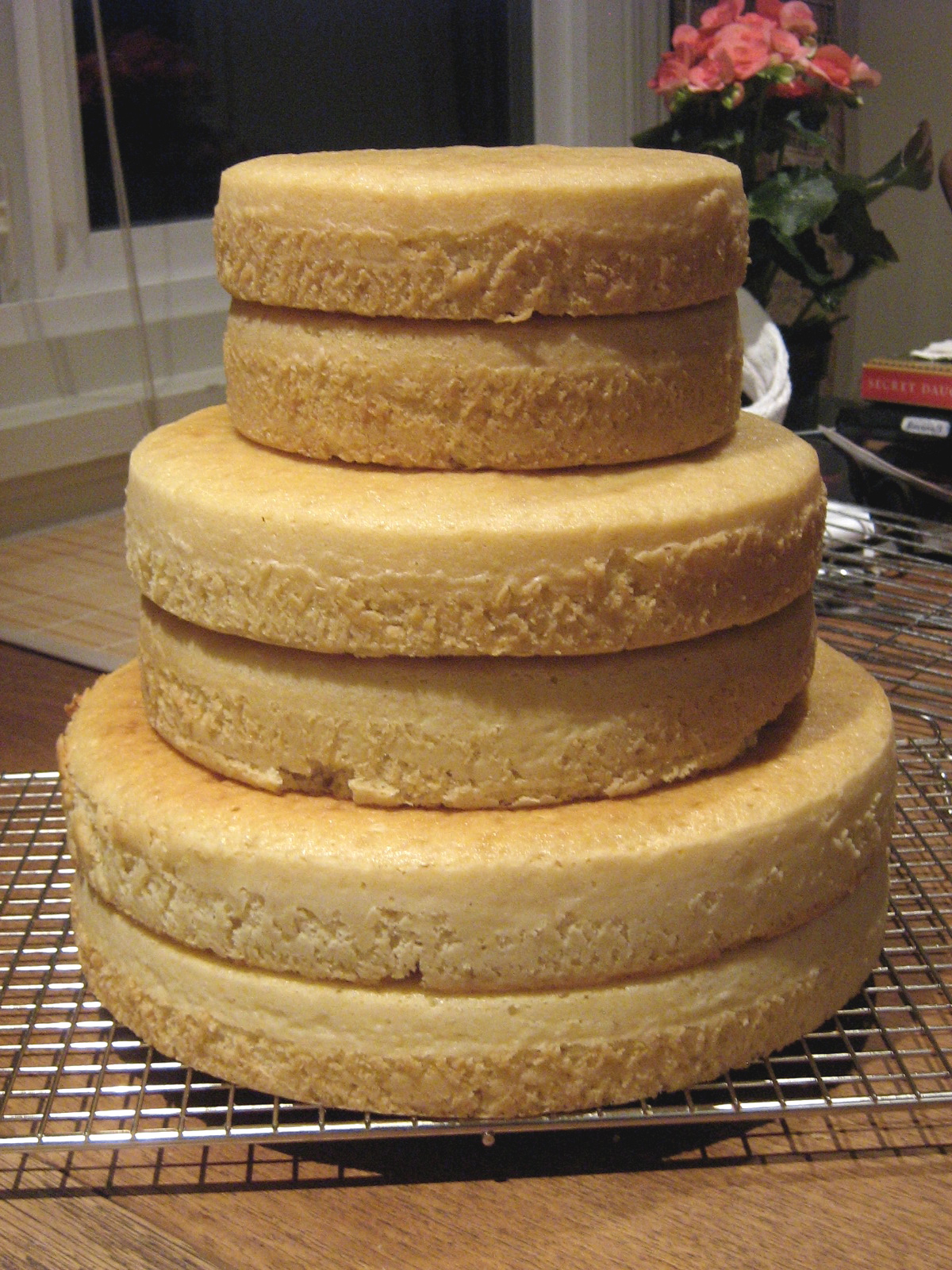 My friend's wedding is coming up this weekend, so the cakes were baked last week and are happily camping in the freezer, wrapped in plastic and tinfoil, awaiting transport to Vancouver in a few days. Baking the cakes was something I was a little worried about, despite the relative success of the trial run – would they bake evenly, would I have enough batter, would they taste good enough? Turns out all my fears were totally unfounded: the cakes turned out perfectly. They baked in flat, even layers (thanks so the wet towel/cake diaper trick) and they all baked in exactly 50 minutes, no matter which pan size. Even the big 10-inch baked evenly all the way to the middle without a heating core or anything.
Remember the confidence I had in my math skillz when I calculated how much batter I would need and how I would need to scale the recipe? I was fairly sure that I would end up with just shy of the right amount of batter, but I got that part totally wrong: I ended up with about 2 cups of extra batter, which is definitely better than 2 cups too little! This meant that I got to use the extra batter to make these sweet little shell-cakes: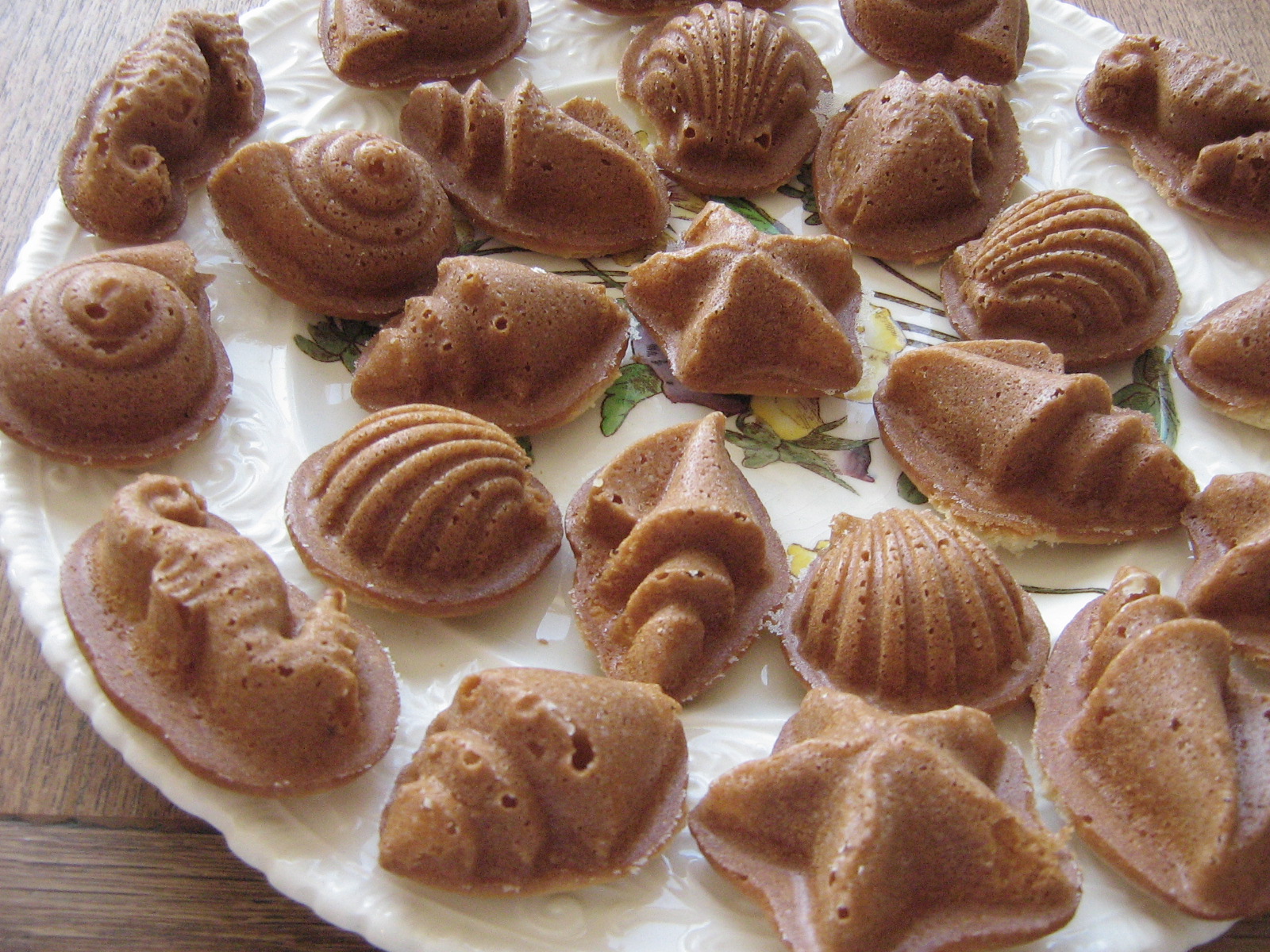 I made one-and-a half times the recipe below and ended up with about 16 1/2 cups of batter, enough for two 10-inch, two 8-inch, and two 6-inch rounds, each 1 1/2 inches high when baked, plus a bunch of little shell cakes 😉 I mixed the batter in three batches (a half recipe each), then mixed them all together in one big bowl to make sure the batter was uniform. Some of the batter sat for quite a while because I could only bake two cakes at once, and I was concerned that the baking powder and baking soda would lose their leavening power before they hit the oven, but it didn't seem to make any difference 🙂 Success!
Update: here's my tutorial for how to frost and assemble the wedding cake from start to finish.
Lemon Butter Cake
Adapted from Cakewalk by Margaret Braun
This cake is delicious and lemon-y and has a texture similar to pound cake. The yield is for two 10-inch round cakes (about 4 1/4 cups of batter each), but I found I could use less batter per cake, as follows:
6-inch round: 1 1/4 cups
8-inch round: 2 1/4 cups
10-inch round: 3 2/3 cups
May 2016 update: For a vanilla version of this cake (and the ingredients in weights) see this post.
Preheat oven to 325˚F. Butter and flour your cake pans, and line the bottoms with parchment paper (*see note at bottom).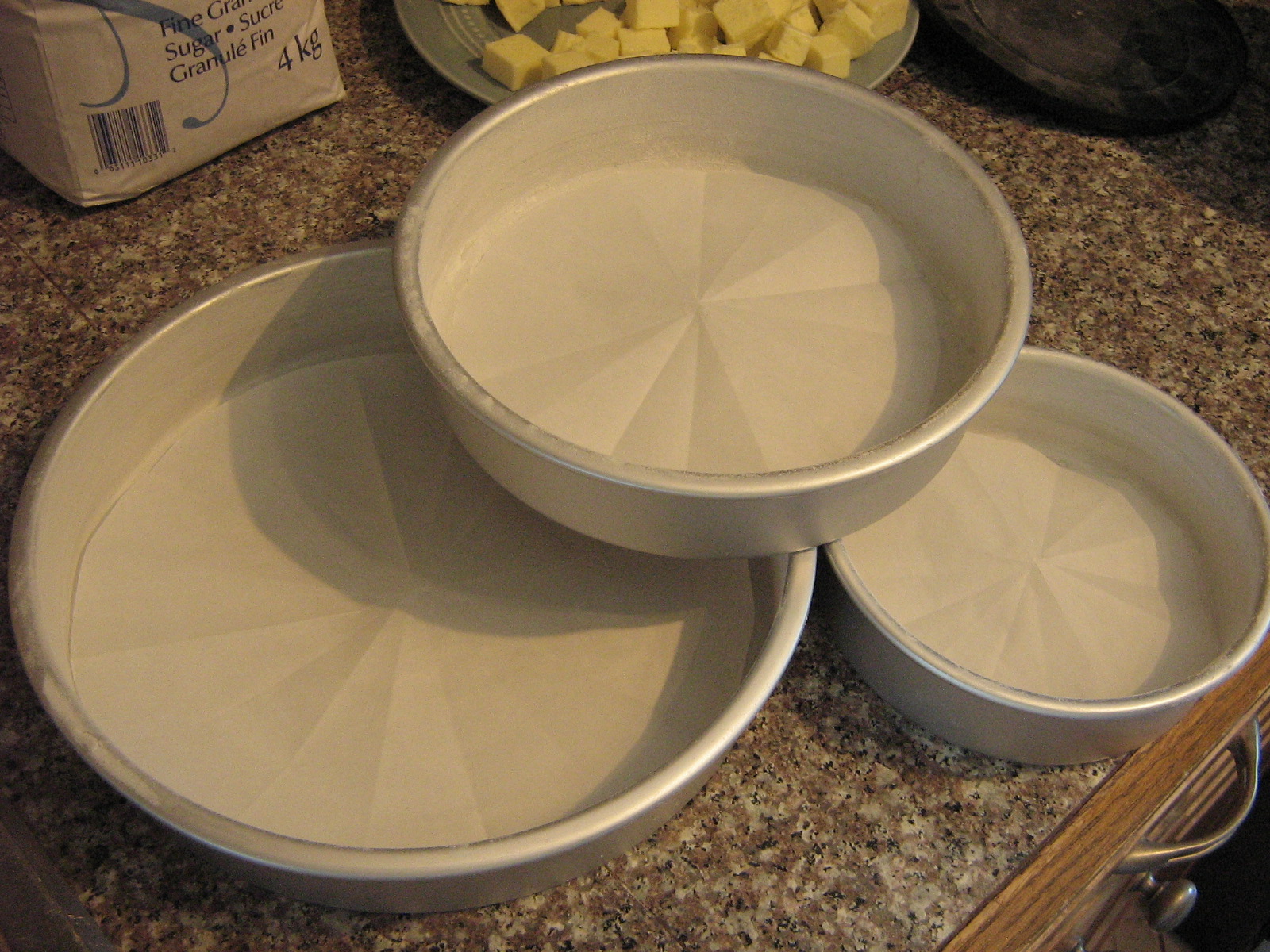 Sift together the dry ingredients:
5 cups all purpose flour
2 tsp baking powder
1 tsp baking soda
1 tsp salt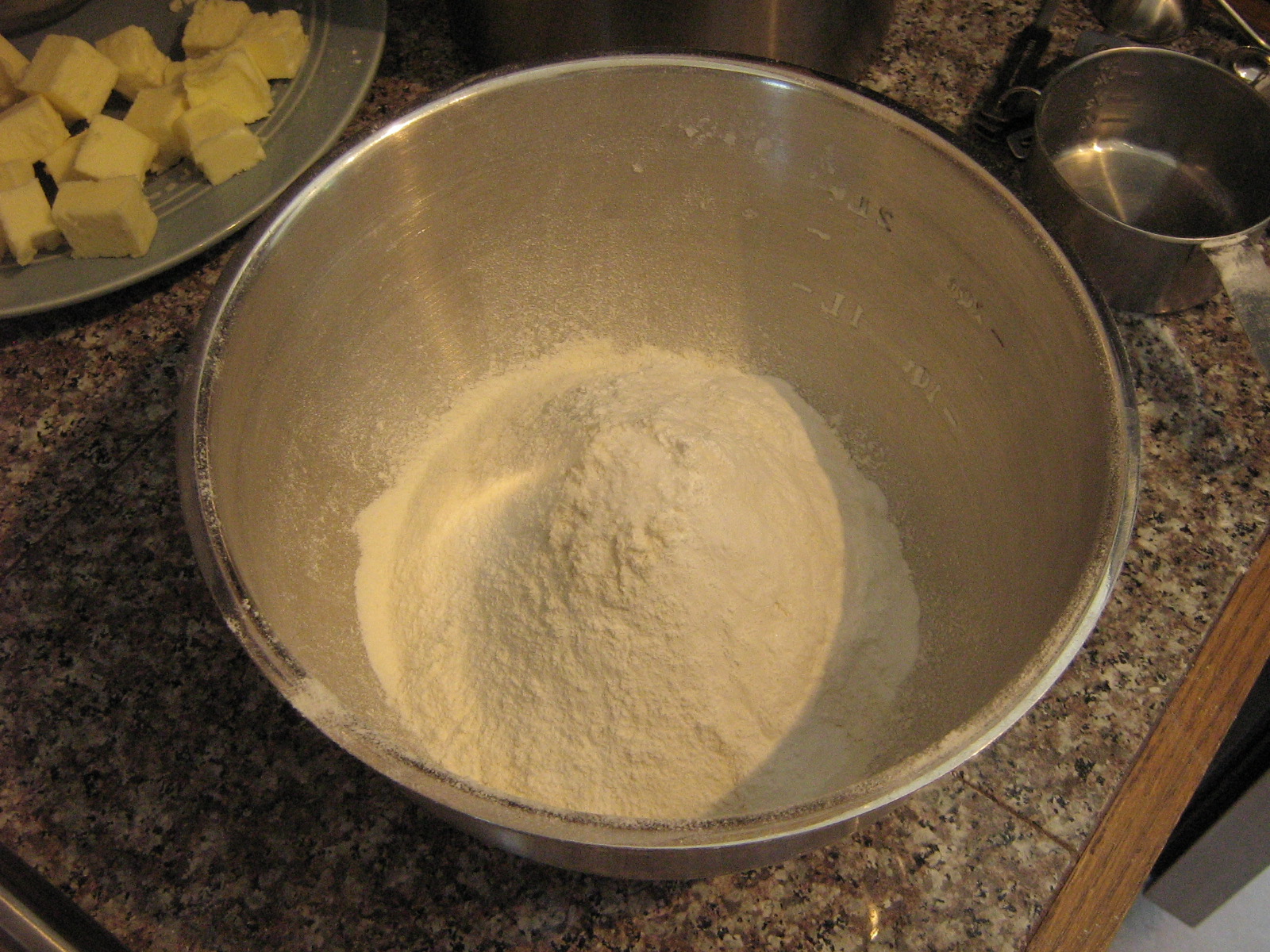 In a mixer bowl, cream together:
2 cups unsalted butter, softened
4 cups granulated sugar
Beat until light and fluffy, then add:
6 large eggs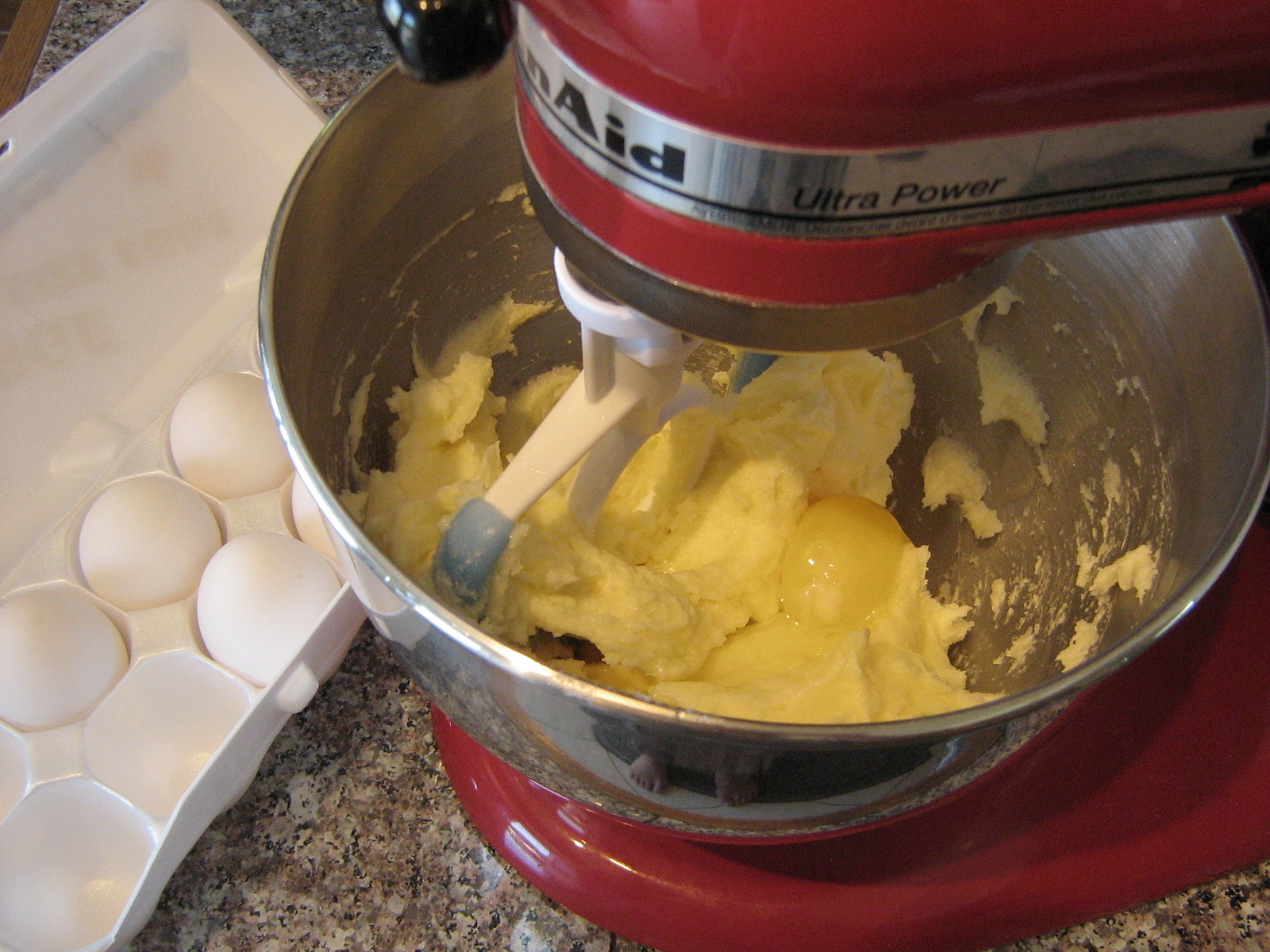 Add the eggs one at a time, beating well after each addition. When the eggs are incorporated, stir in:
2 tsp vanilla extract
grated zest of 4 lemons
juice of 1 lemon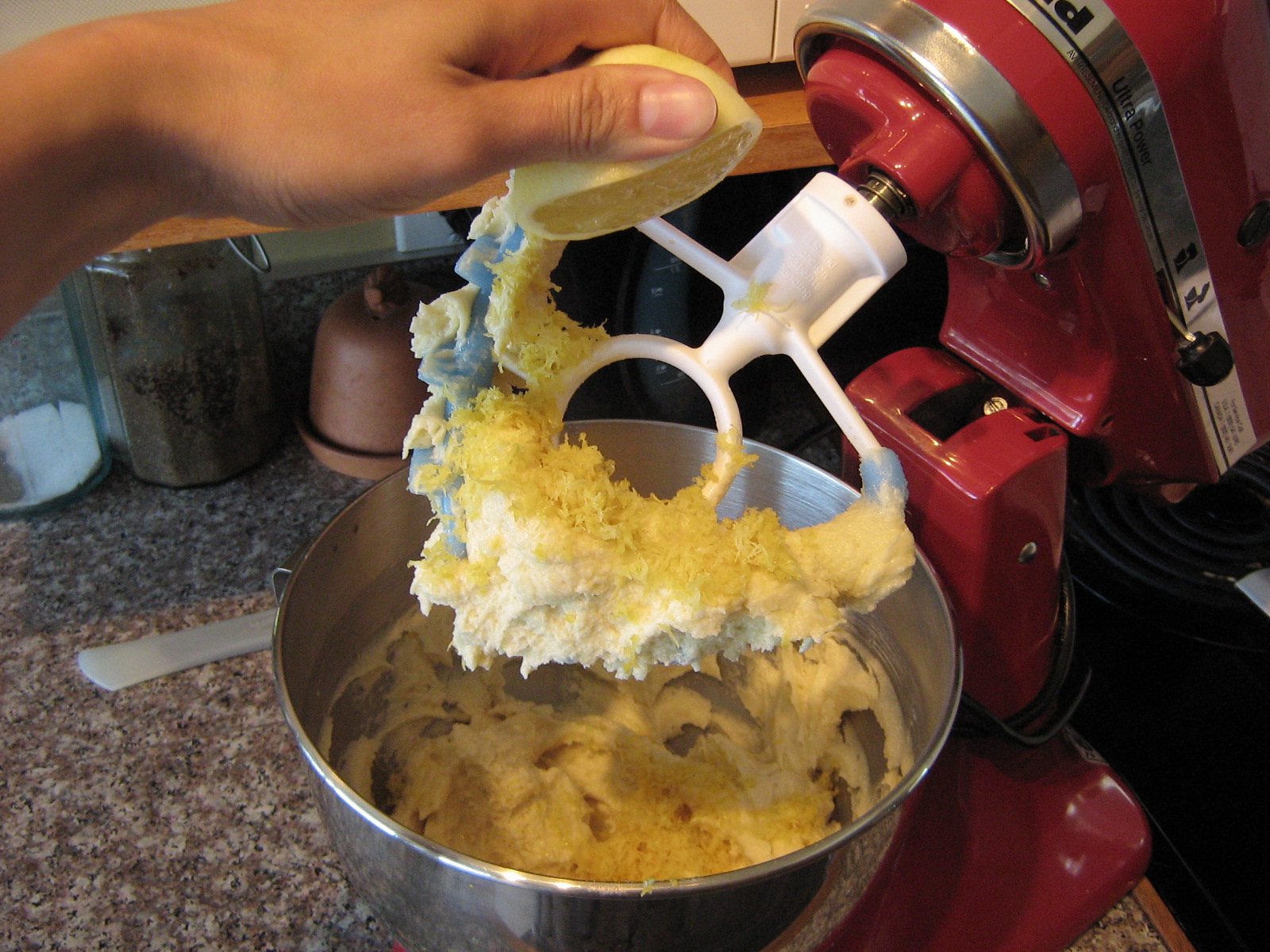 Add the dry ingredients to the butter mixture alternately with:
2 cups sour cream
(Start and end with the sour cream – sour cream in four additions, dry ingredients in three additions.)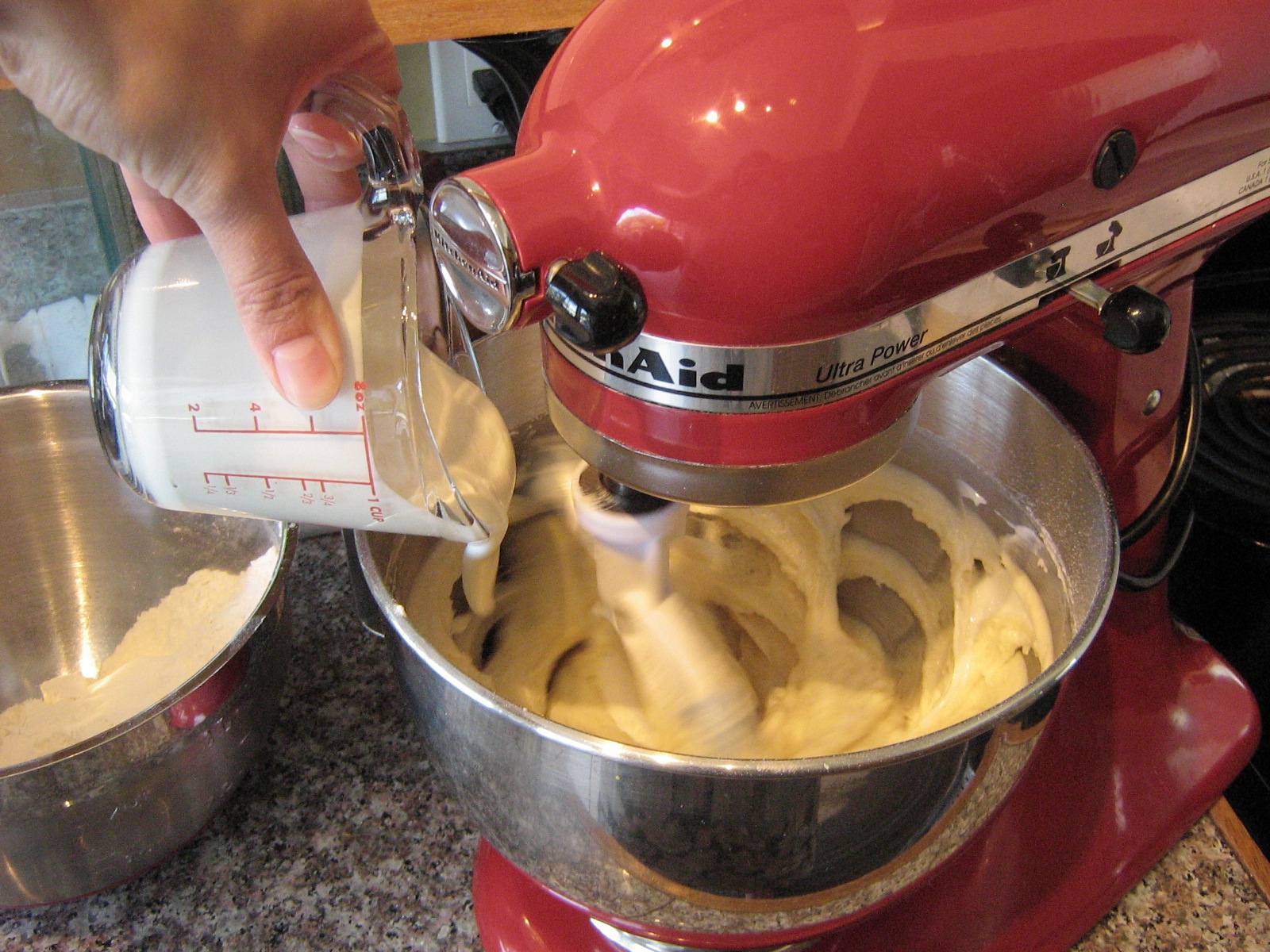 Scrape the bottom of the bowl periodically and stir until just mixed.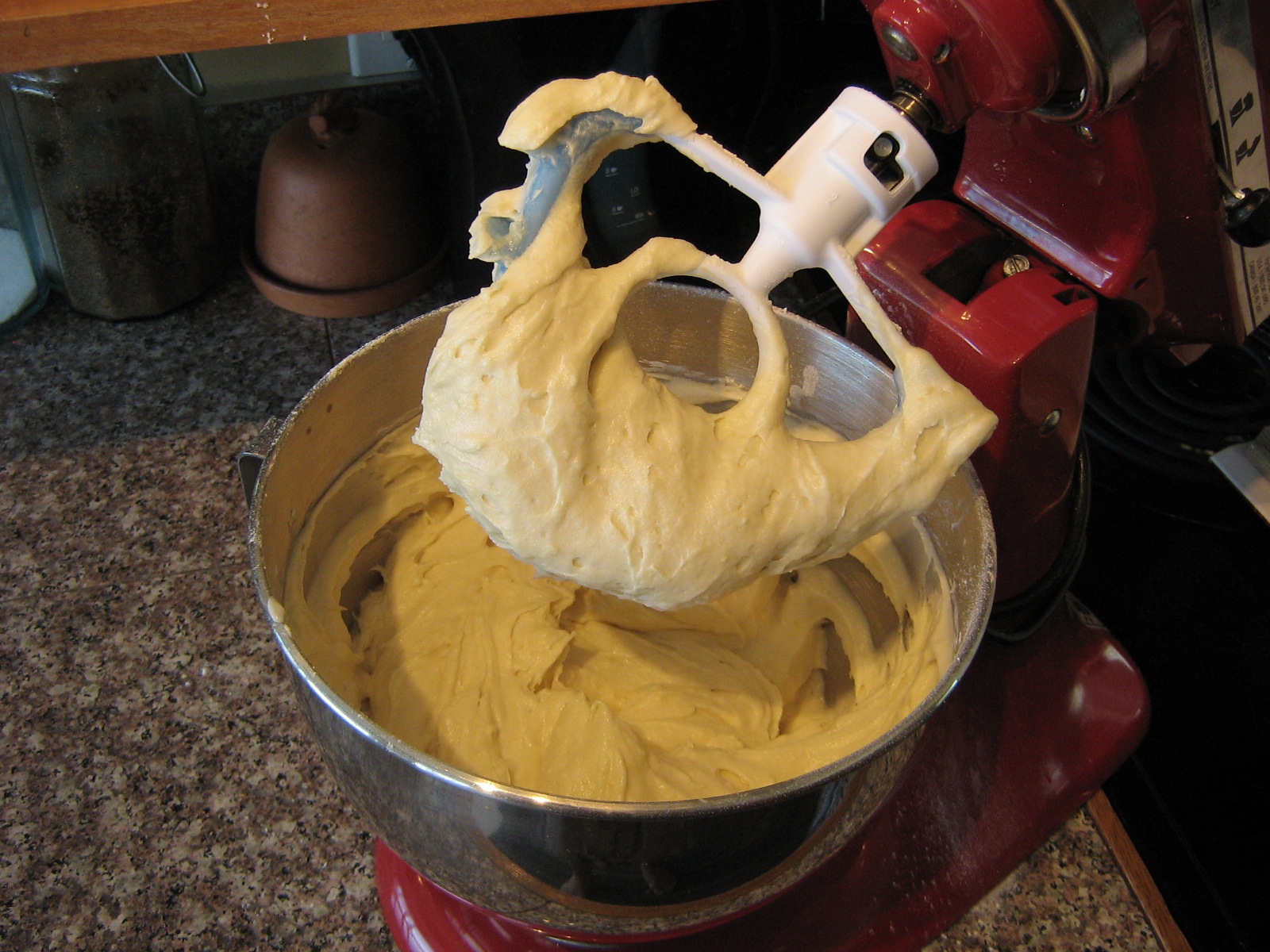 Pour the batter into the prepared pans and spread it level. Whack the bottom of the pan against the counter a few times to release any large air bubbles in the batter. Wrap the outside of each cake pan with a strip of wet towel.
Bake at 325˚F for 50 minutes, turning the pans half way through baking time, until golden brown on top and a skewer inserted in the centre of each cake comes out clean.
Let the cakes cool in the pan for about 15 minutes before removing from the pan, otherwise the cake will stick and you'll end up leaving chunks behind in the pan. Peel off the parchment paper from the bottom and let the cakes cool completely on a wire rack before decorating or freezing.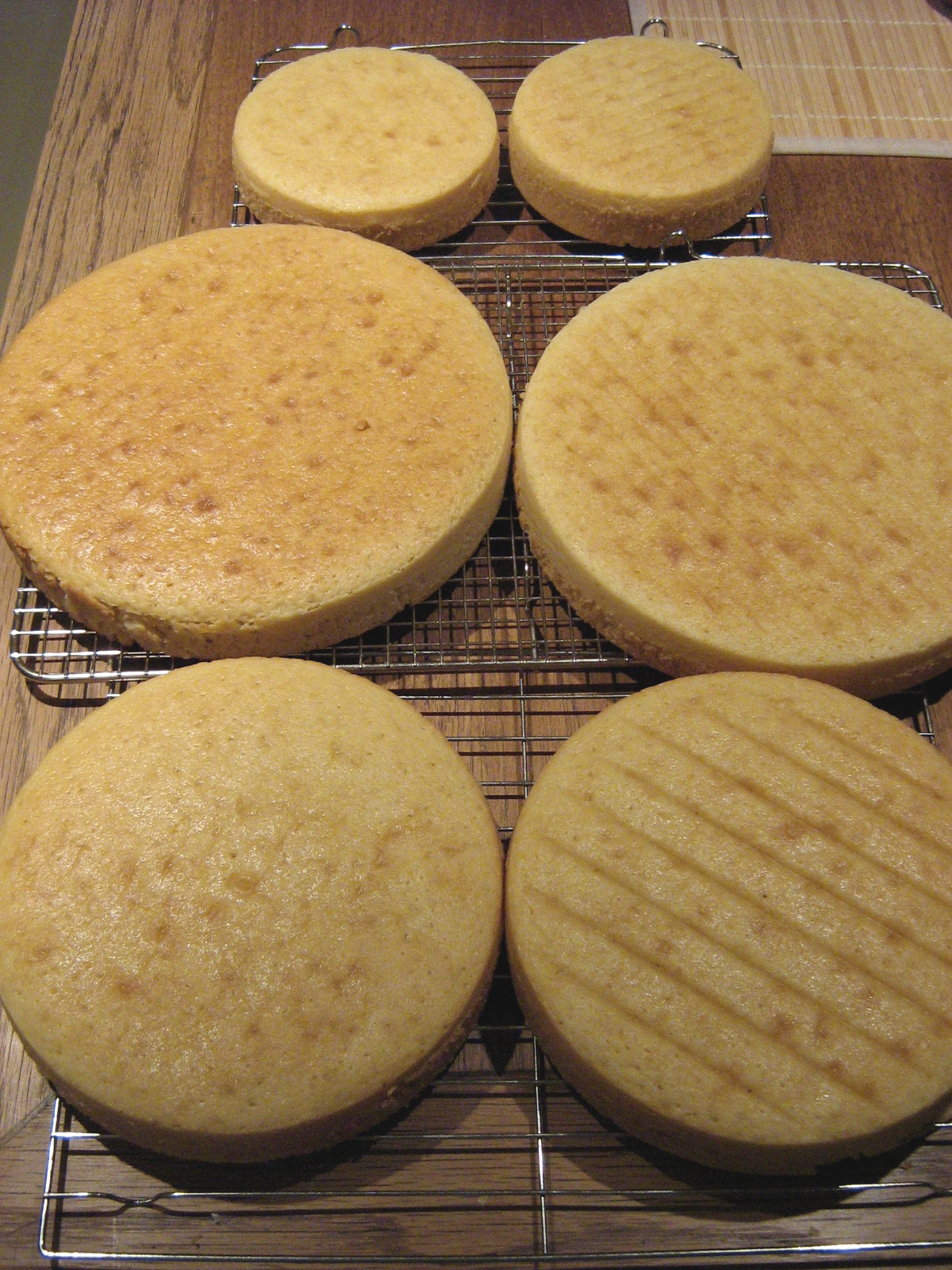 To freeze, wrap each cake individually in plastic wrap, then in aluminum foil to seal out the air completely. Should keep for up to 1 month in the freezer if properly wrapped. Allow to thaw before decorating.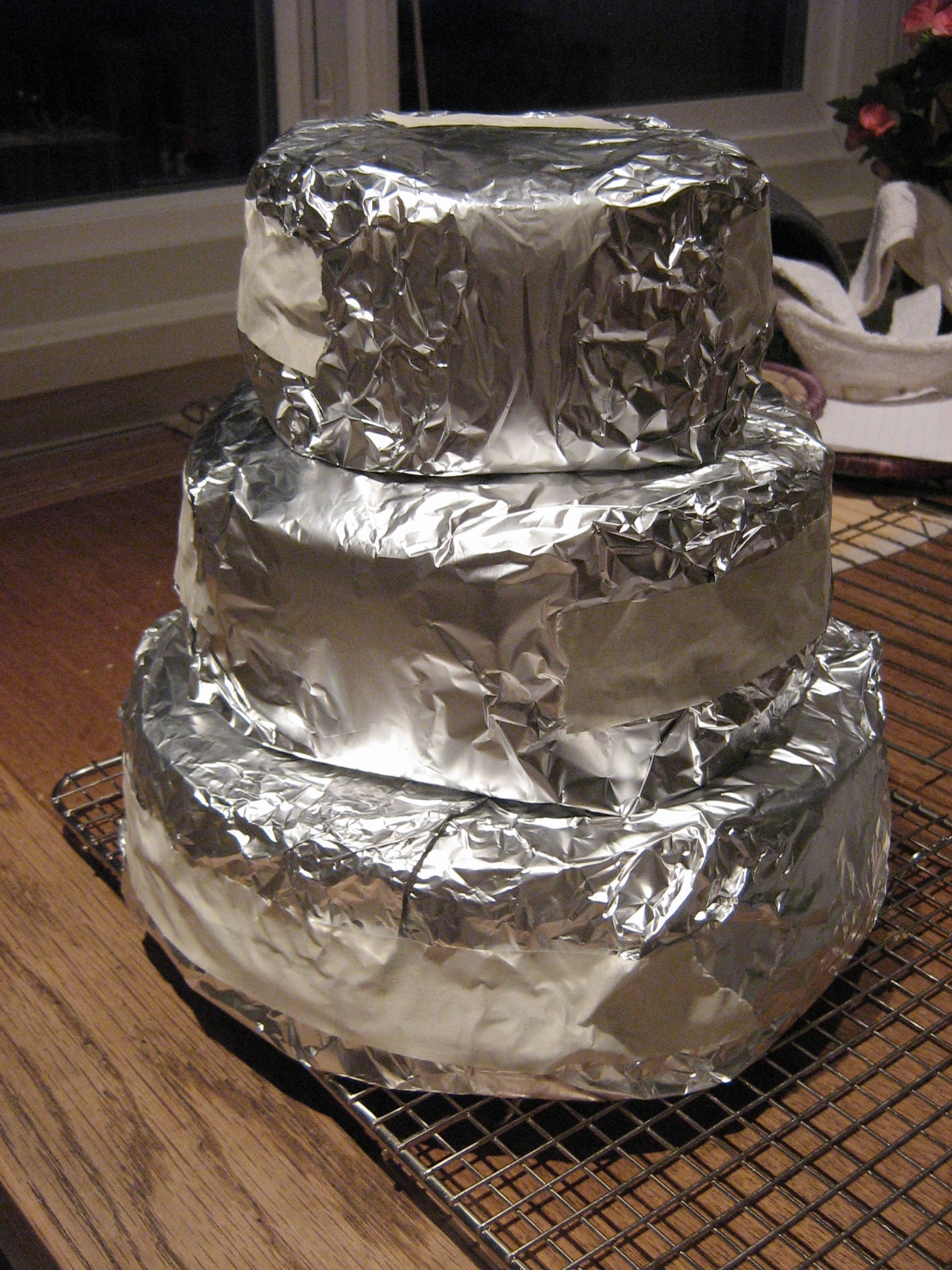 *To cut a perfectly-sized round of parchment paper for the bottom of your pan: (sorry for the terrible pictures – bad lighting!)

Fold your parchment paper in half then in half again to form a square.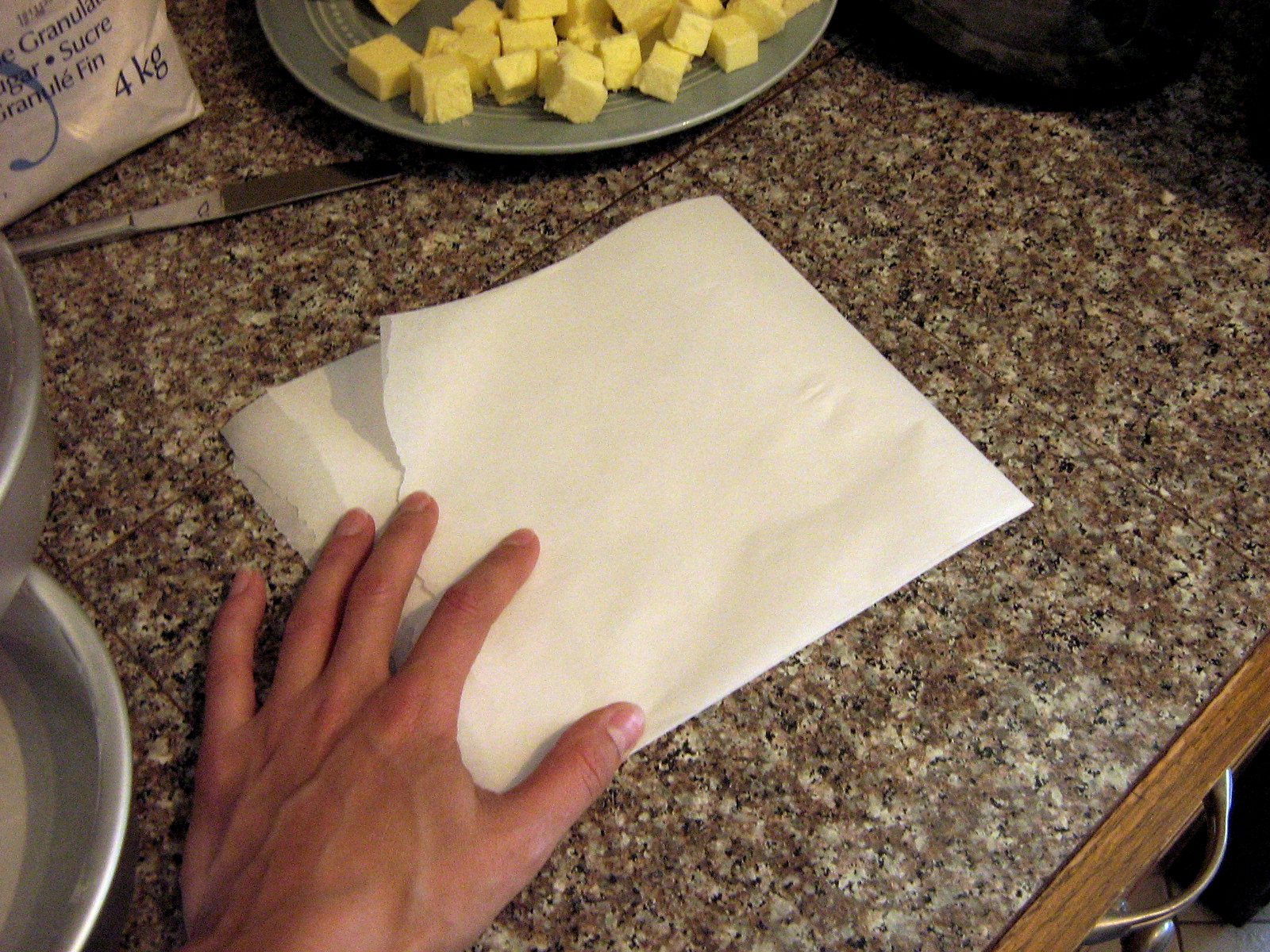 Fold the square in half on the diagonal…
then fold again to form a point.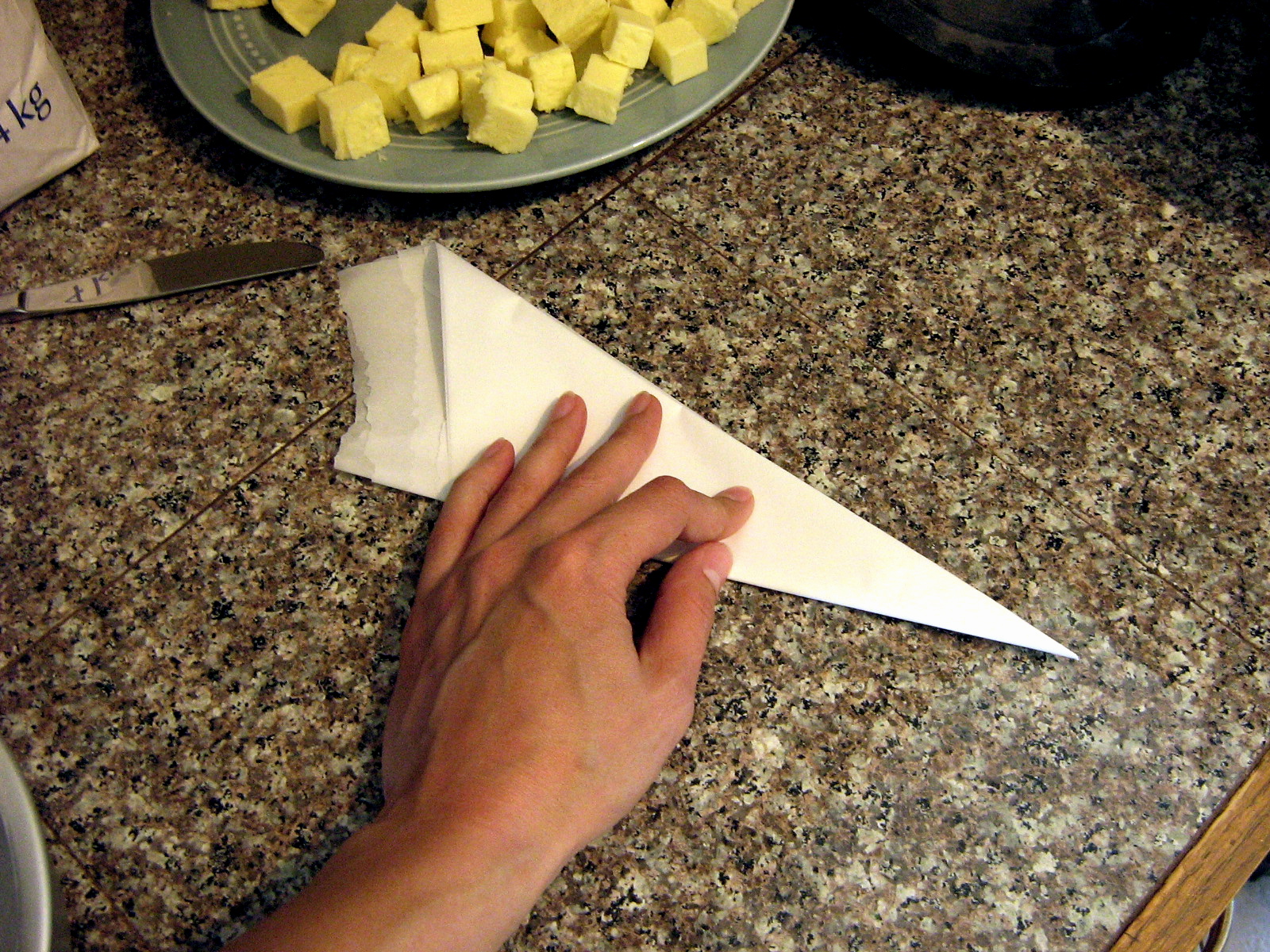 Turn your cake pan over and place the point of the parchment paper in the middle of the pan. Mark the edge of the pan, and cut the parchment paper.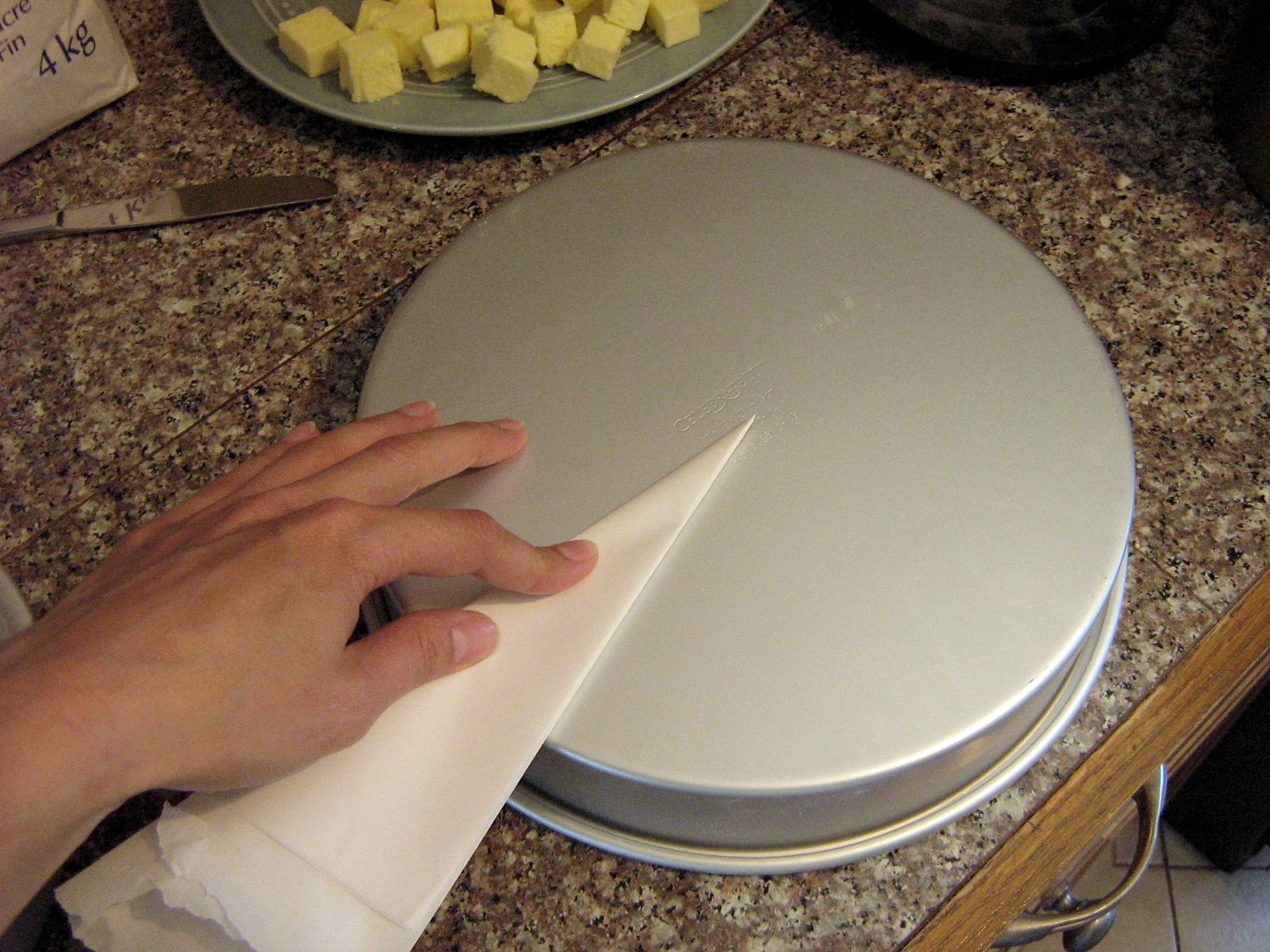 Unfold and you have the perfect circle for the bottom of your pan 🙂