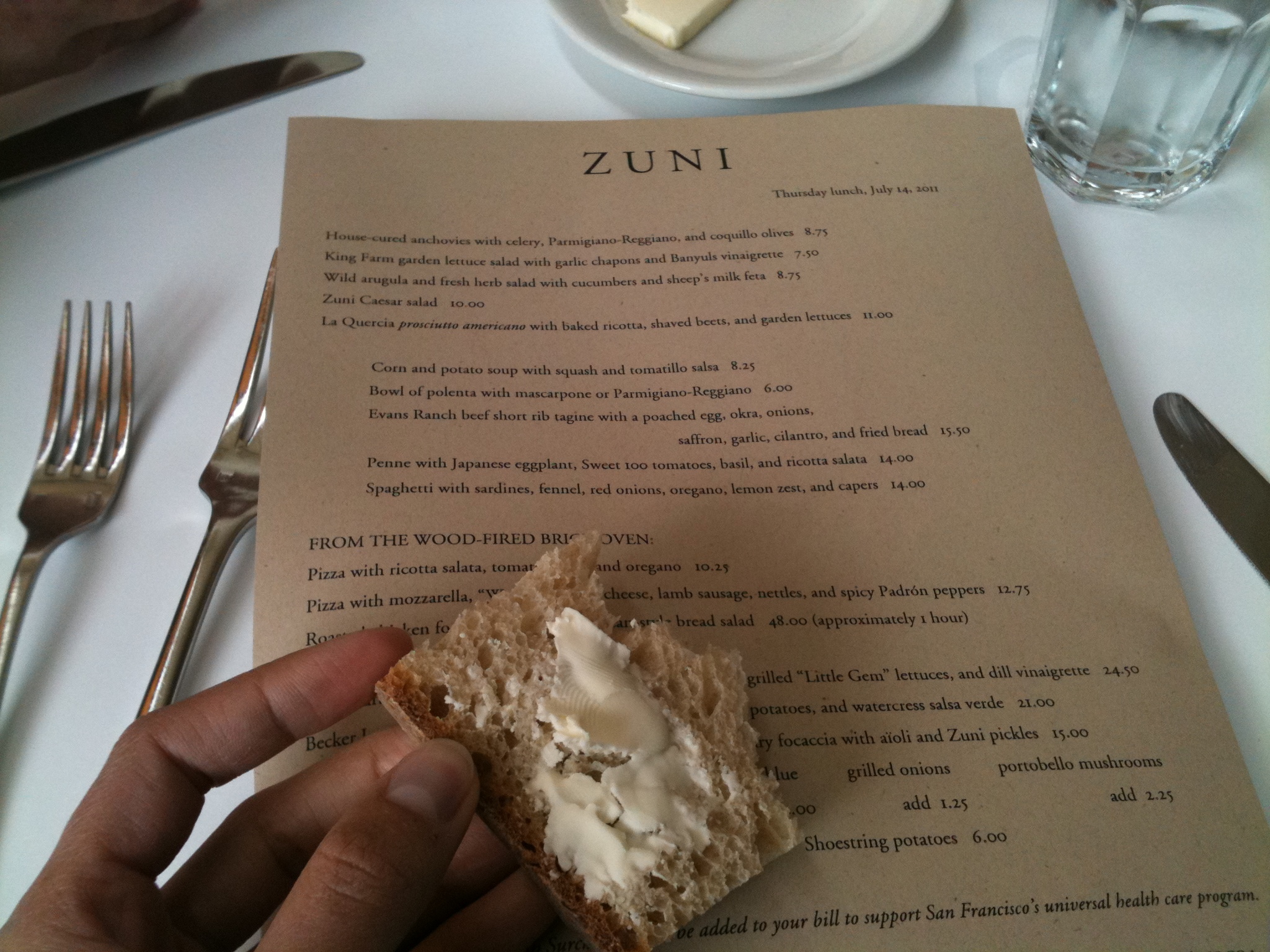 My recent trip to Pacific Grove/Monterey, California, to visit my aunt and uncle contained horrific travel (delayed flights resulting in missed connections in both directions, leading to one miserable overnight in the San Francisco airport on the trip down and another 8 hour "layover" in the same airport on the way home. Plus the airline lost my luggage. A word of advice: don't fly United!) and amazing restaurants. The day after I arrived, we drove up to San Francisco for a day of shopping (I needed a dress for the wedding I'm making the cake for ;)) and eating: we had lunch reservations at the Zuni Café, and dinner reservations at Millenium Restaurant. Both were highly anticipated, and I was pretty excited.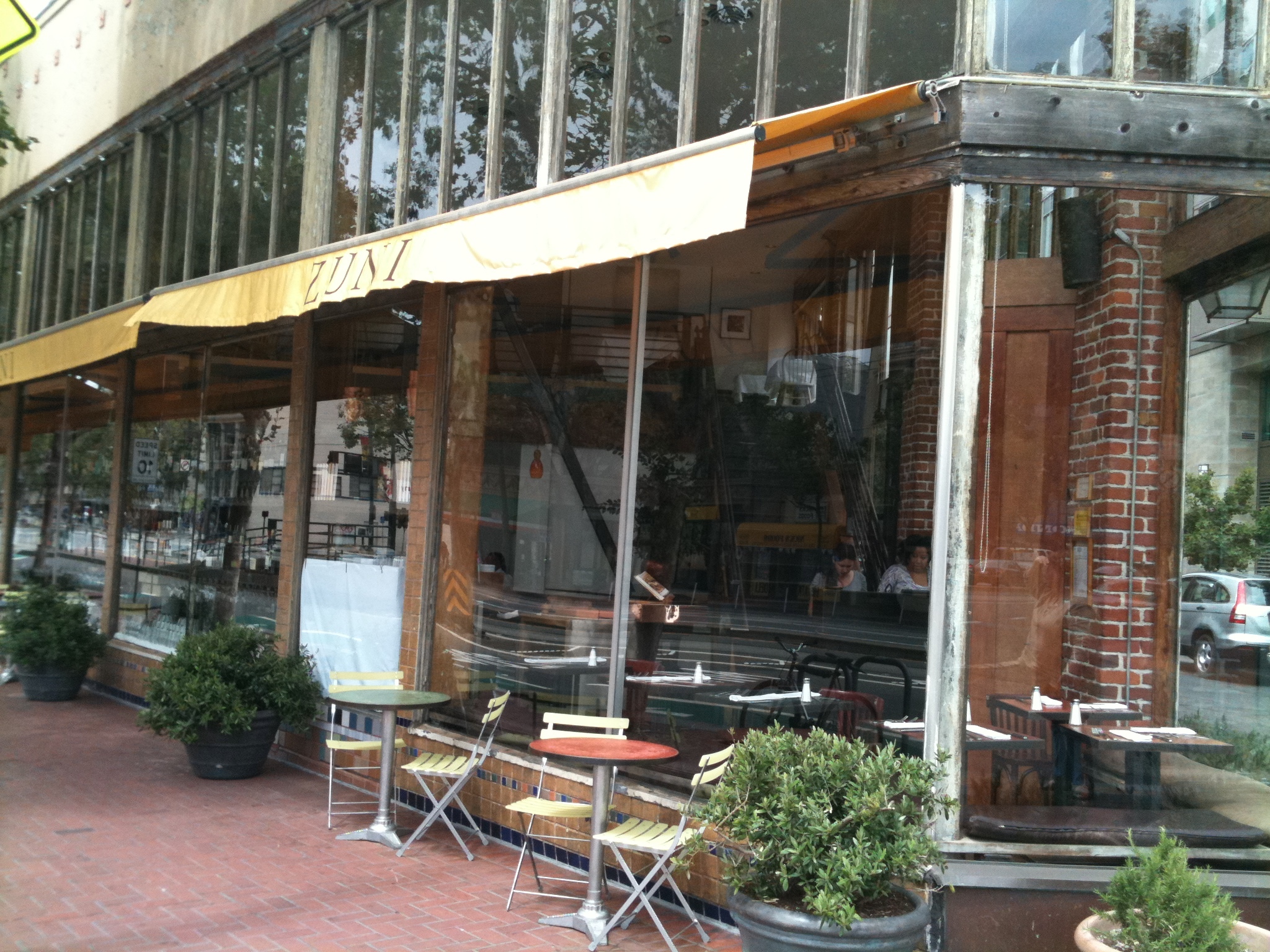 The Zuni Café is an award winning restaurant that has been around since the late 1970s (in a slightly different incarnation than it is now, involving a Weber grill and espresso machine that also doubled as an element to scramble eggs on?!) and as such is pretty well-known (at least in the San Francisco food scene, of which I am not a part!). In addition to their focus on seasonal ingredients from sustainable sources, and one of the things the restaurant is known for is their wood-burning brick oven, which is smack-dab in the middle of their open kitchen. They bake their own bread in that oven, and they also do a whole roast chicken, served on top of a bread salad, which has a reputation for being awesome, which is why we ordered it. But I'm getting ahead of myself.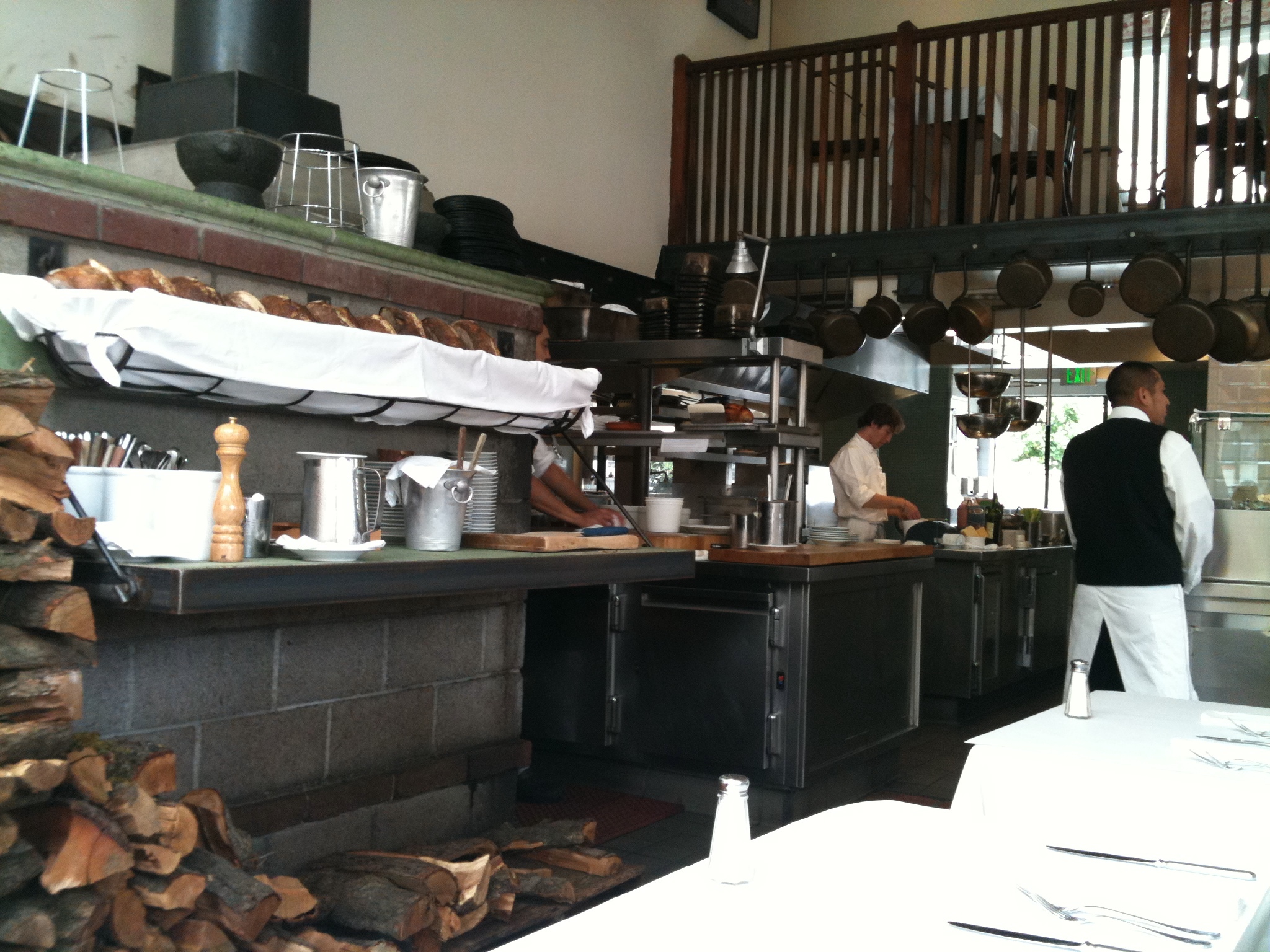 The restaurant is in a narrow triangular space, with lots of glass and exposed brick and high ceilings, giving it an airy and open feel. Our table was right by the brick oven, and I had a great view into the kitchen of the guy who was on appetizer duty – I watched him make endless orders of Caesar salad and shoe-string french fries, obviously two very popular dishes (they were on almost every table in the restaurant and we ended up ordering them, too). My Caesar salad was delicious: whole, tender Romaine lettuce leaves, lots of parmesan cheese, croutons made from the restaurant's bread (toasted so they were light and crunchy, not rock hard so you couldn't spear them with your fork), and anchovy-heavy dressing – I didn't think I liked anchovies, but I certainly liked this dressing.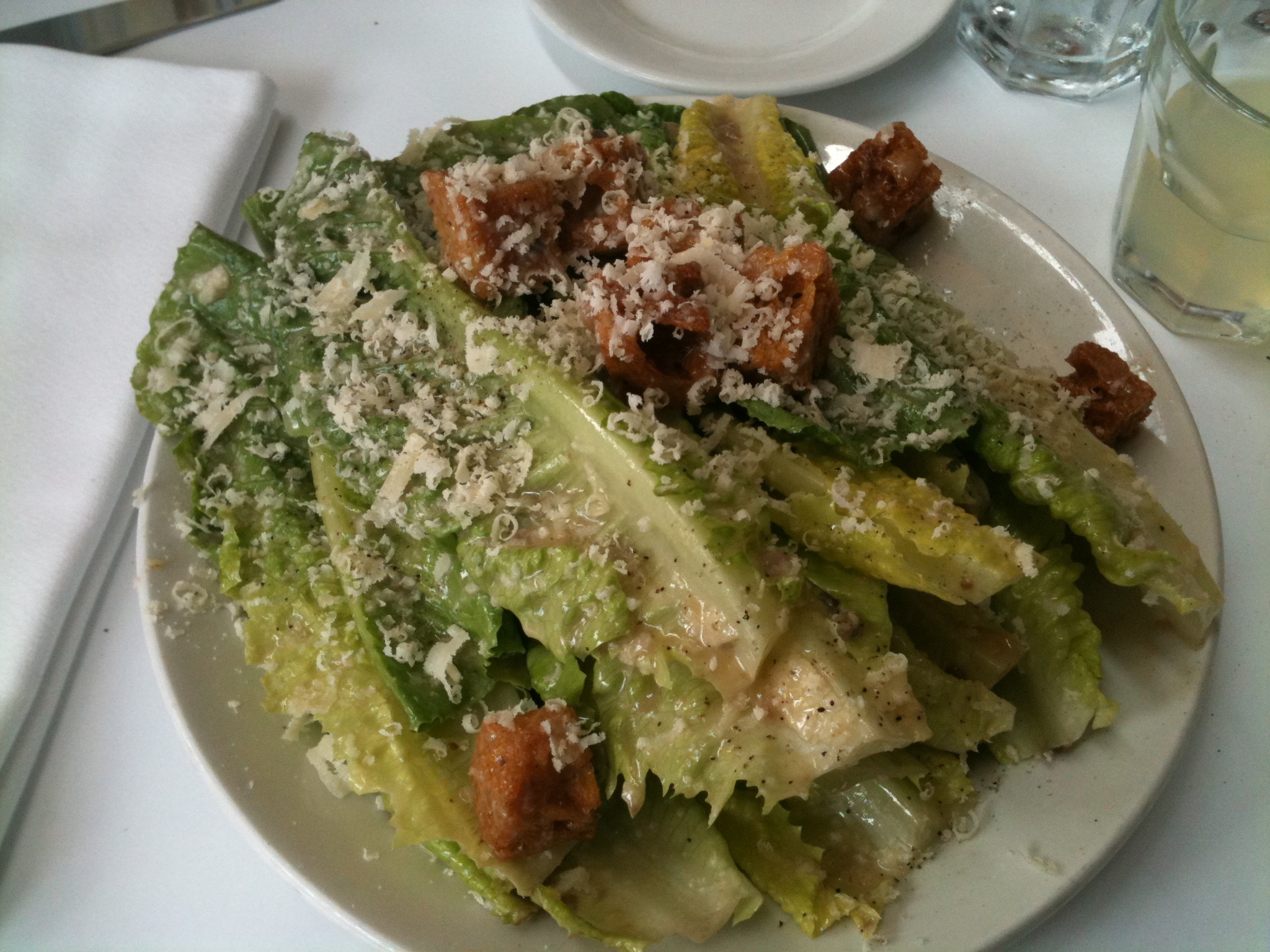 My aunt ordered the french fries, and they were addictive: thin and crispy and salty, piled high on the plate and served with what may have been house-made ketchup.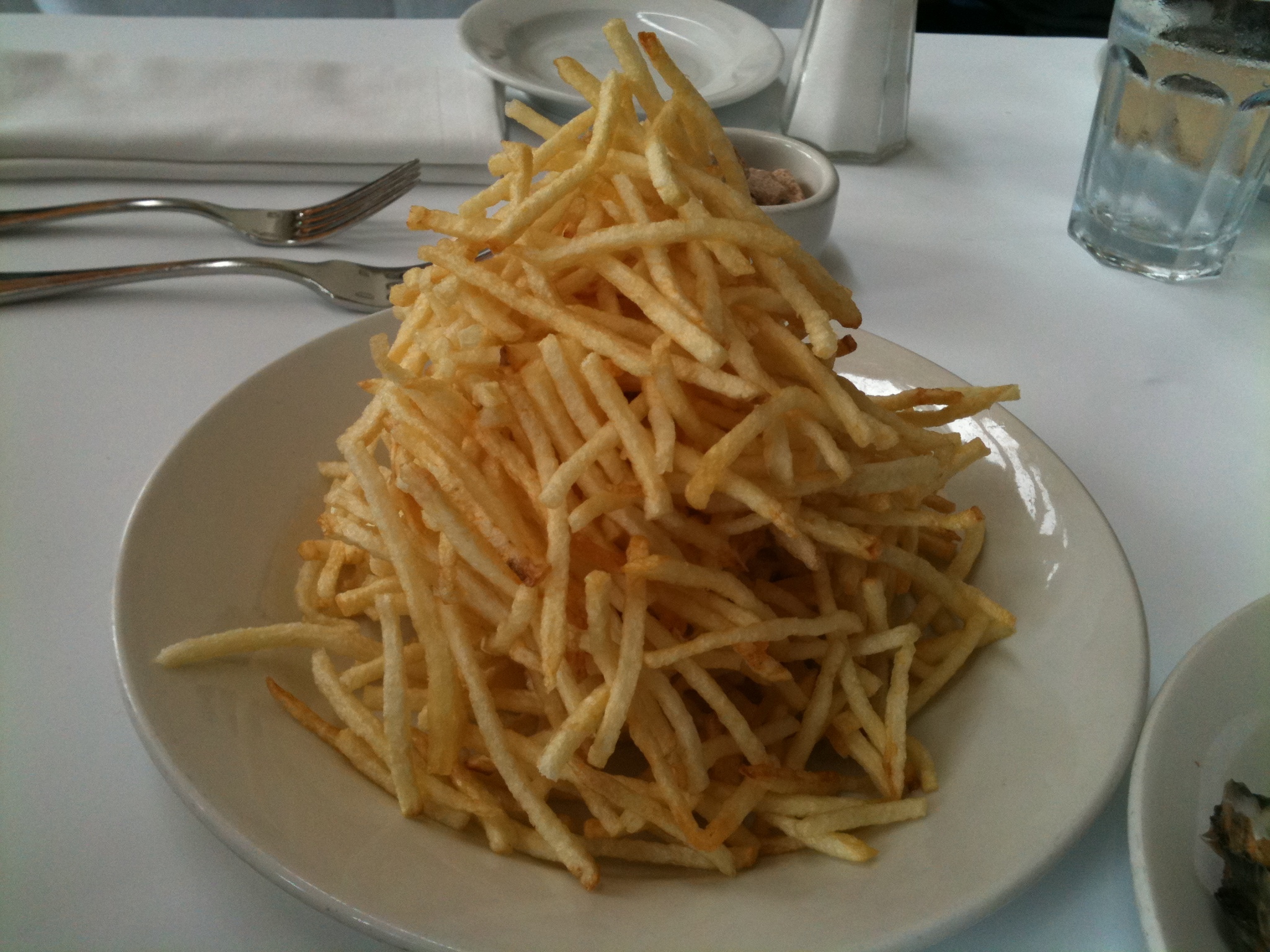 My uncle ordered oysters on the half shell, and they disappeared pretty quickly, so I think he enjoyed them 😉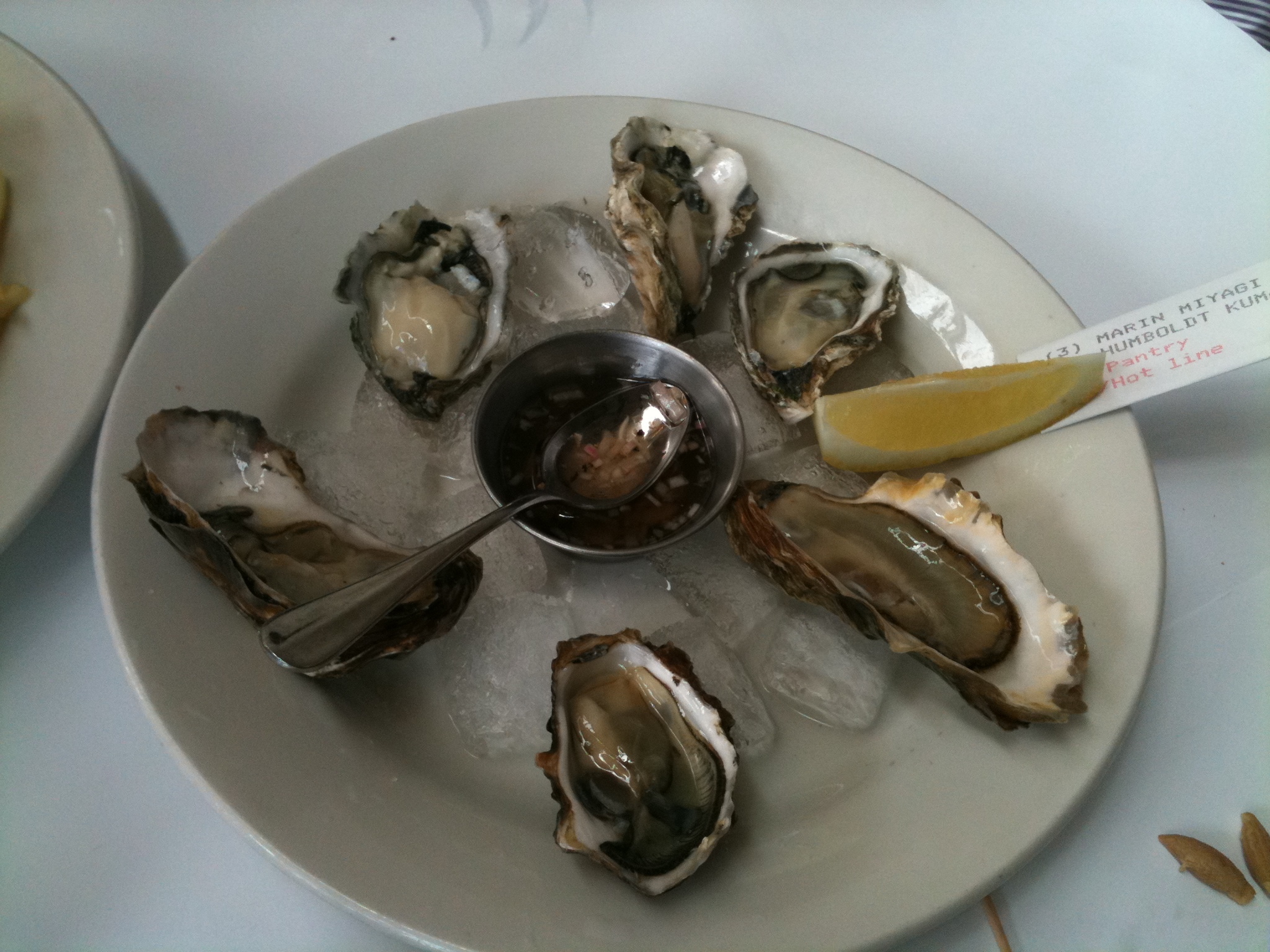 We were warned that the roast chicken would take an hour to cook, and I was really looking forward to tasting it by the time it got to the table. My aunt and I each snagged a thigh (the best part, IMHO) and dug in. I was not disappointed. The skin was well-browned and crispy, the meat juicy and flavourful (not like the bland conventional chicken you get in the grocery store), and the bread salad was a great pairing. The bread had been torn into chunks, lightly toasted, then tossed in a vinaigrette dressing with pine nuts and currants, and the cut-up chicken was piled on top so the juices could soak into the bread. This is definitely something I am going to have to try at home the next time I roast a chicken! The vinegar in the dressing was a little bit overpowering at times, but every so often I came across a chunk of bread with the perfect amount of dressing and just the right amount of chicken juices, and everything was right in my world. (PS, here's the recipe: Zuni Roast Chicken with Bread Salad.)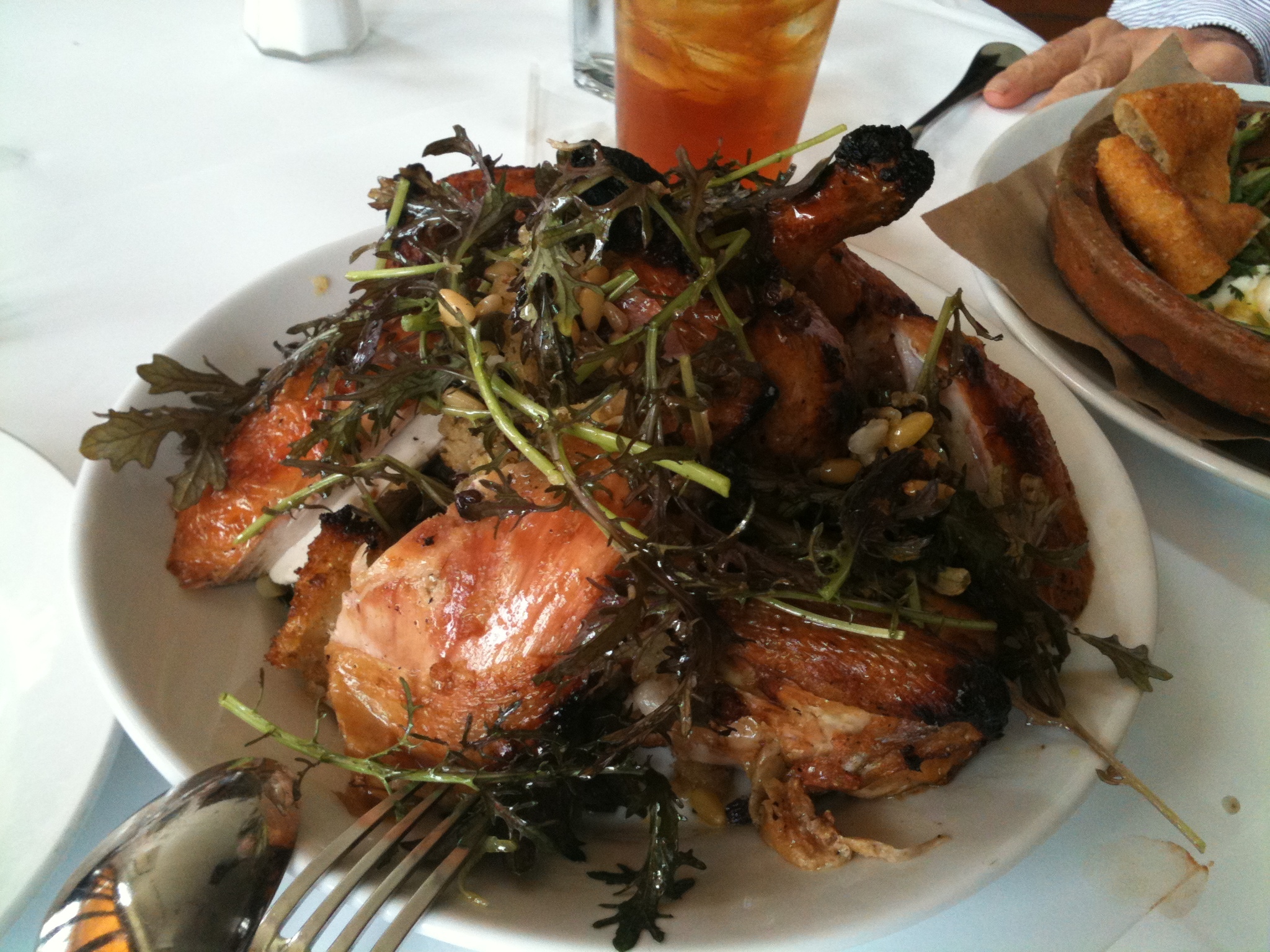 My uncle ordered a beef short-rib tagine (a Moroccan dish cooked in a special clay pot with a tall, cone-shaped lid), which looked delicious. I did have a taste, but I was preoccupied with the chicken so I can't really say much about it!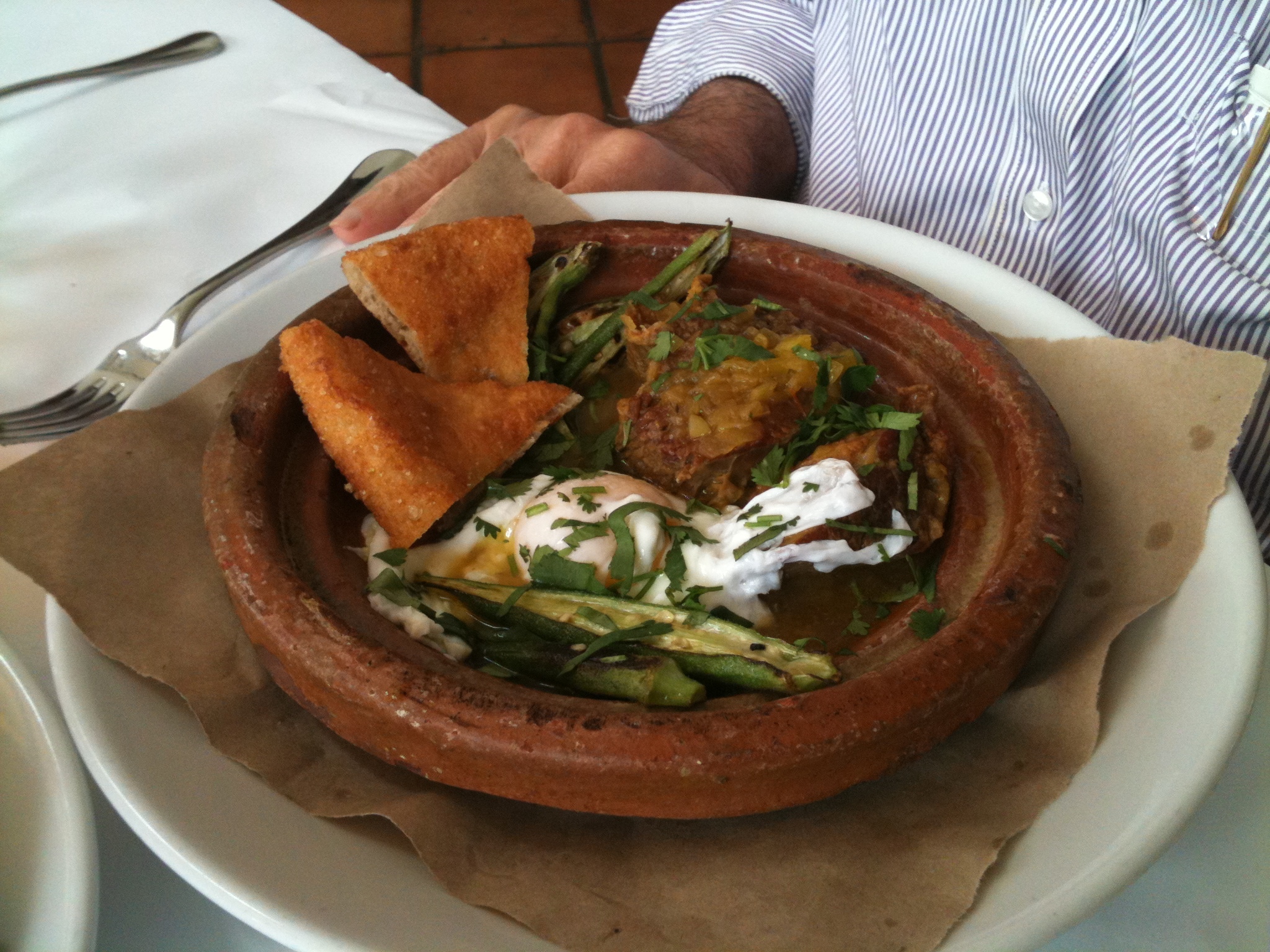 After the Caesar salad (which was huge), several pieces of chicken, and lots of bread salad, I was stuffed, so for dessert, we all shared a chocolate pot de crème, which tasted exactly the way I always want hot chocolate to taste, only cold.
It was a delicious end to a delicious meal, and I would highly recommend the Zuni Café to anyone looking for a great place to eat in San Francisco. I liked that the menu was small, because it was well-executed and unfussy, and they definitely put a lot of care and effort into making each dish extremely tasty.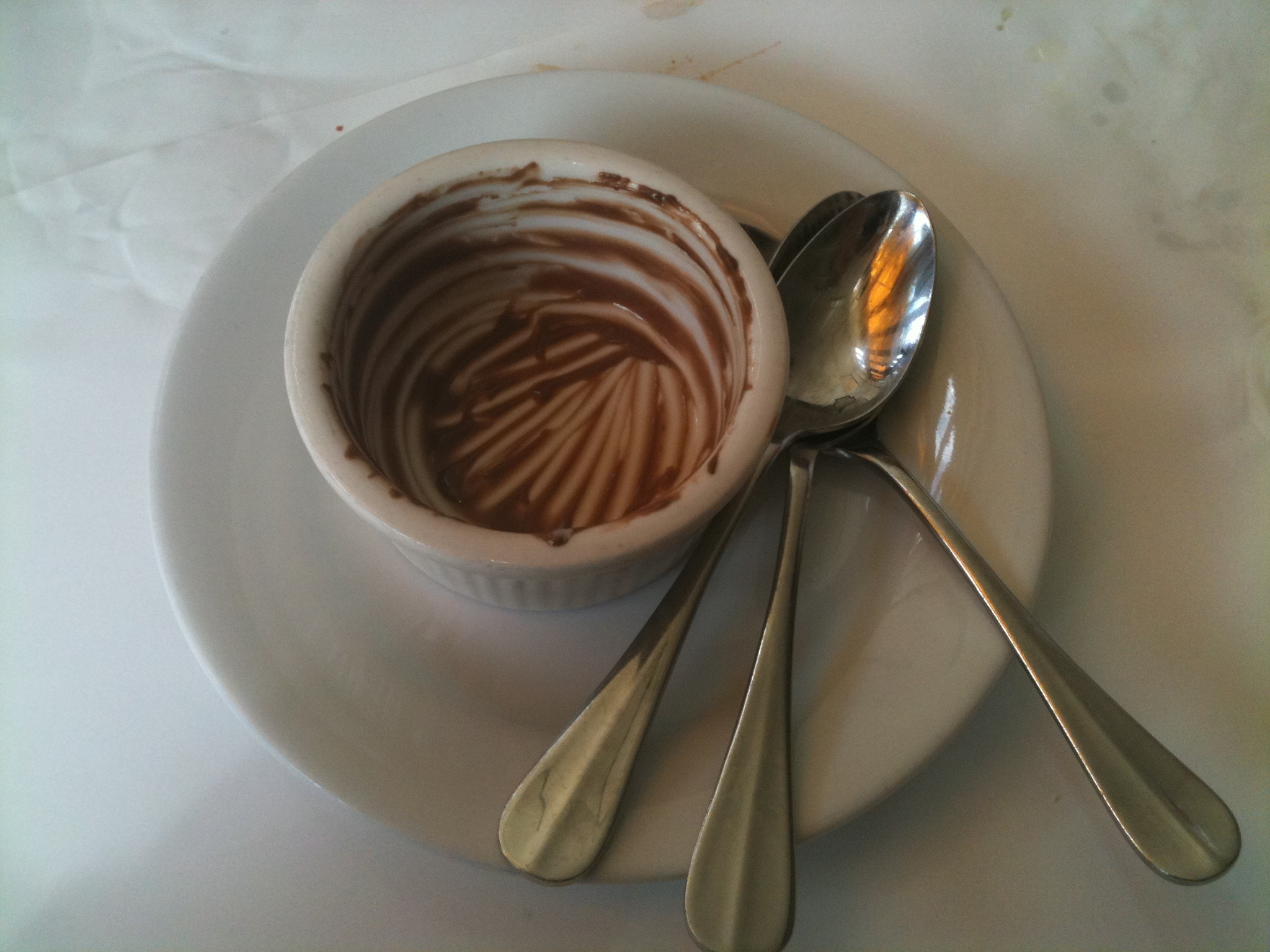 Oh yeah! One more thing: my aunt ordered a café au lait, which came in a bowl. Not being a coffee drinker myself, I thought this was cool 😉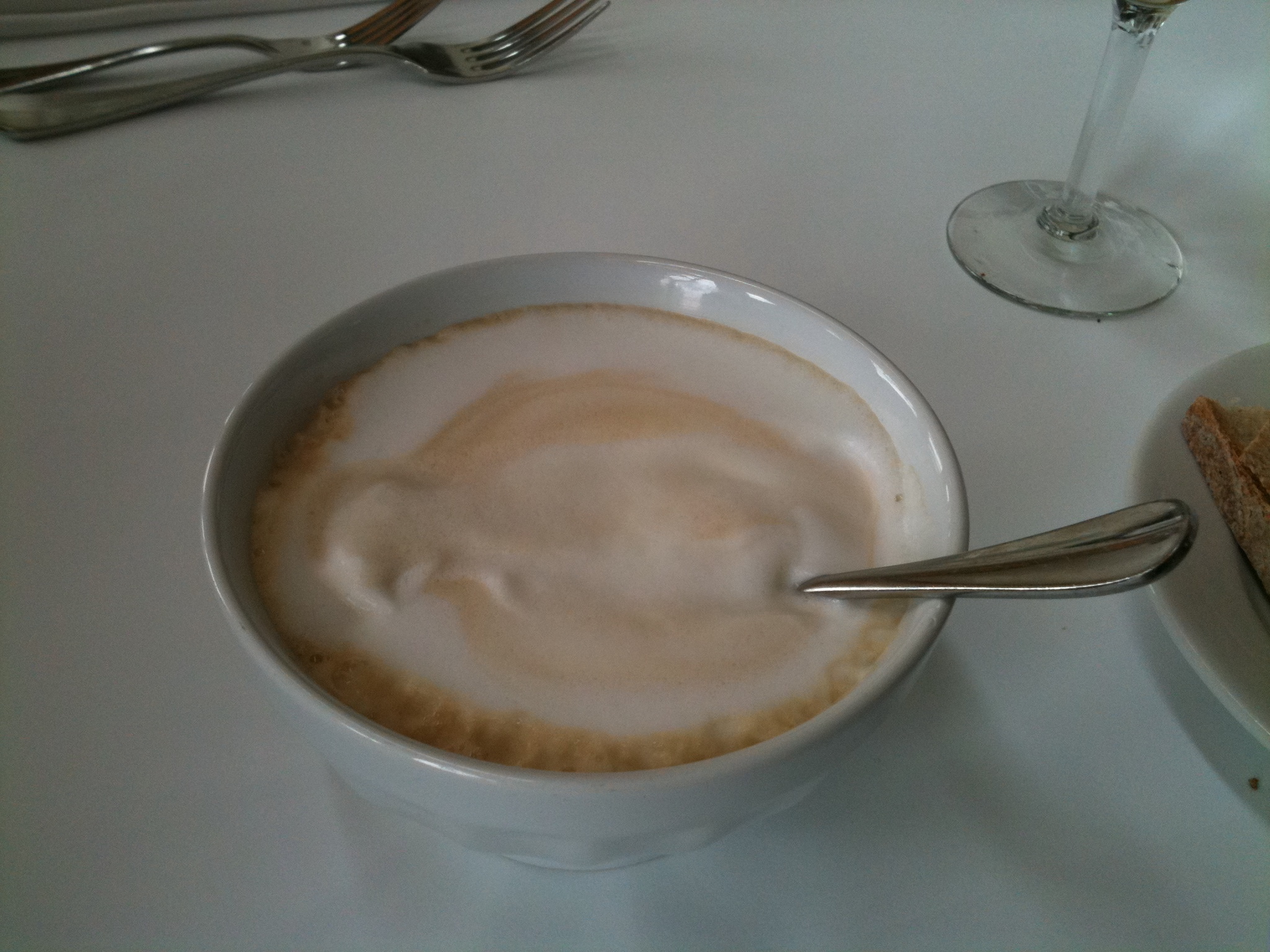 Stay tuned for Part II: Dinner at Millenium Restaurant!

Pacific Grove on Dwellable