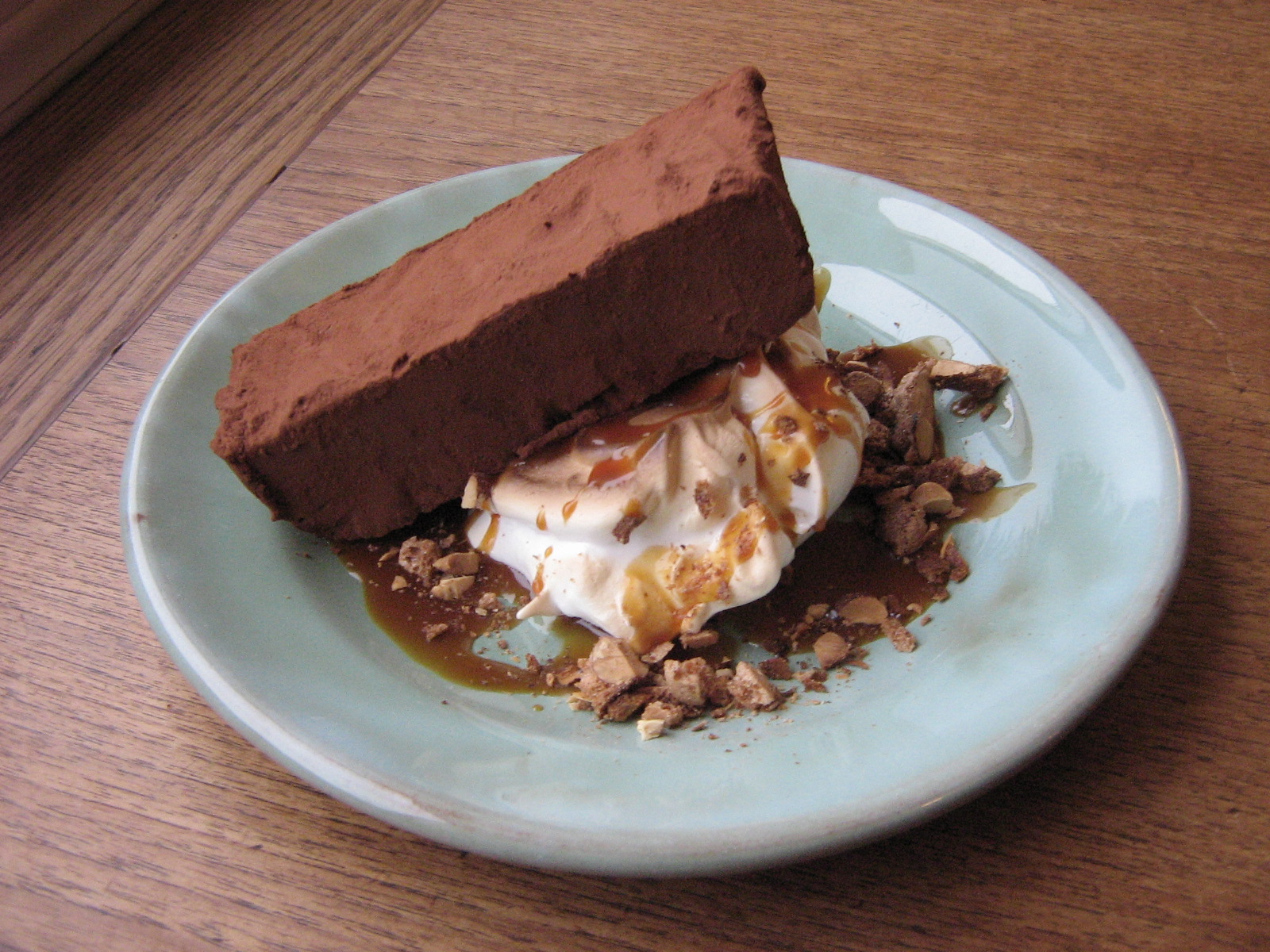 The May 2011 Daring Bakers' challenge was hosted by Emma of CookCraftGrow and Jenny of Purple House Dirt. They chose to challenge everyone to make a Chocolate Marquise. The inspiration for this recipe comes from a dessert they prepared at a restaurant in Seattle. Check out the challenge details and all the other Daring Bakers' interpretations of it at the Daring Kitchen.

Last week Nate and I agreed that we'd been eating like crap lately – too much sugary junk, not enough vegetables – and we made a pact to eat better. Then the next day I started making this Daring Bakers Challenge, which is definitely sugary and doesn't contain any vegetables, unless you count cocoa or tequila as a vegetable.
They were both vegetables/plants, once upon a time, right? Right?!
Oh well. Our fridge is overflowing with lettuce right now, so we'll make up for it in salads 😉
This is a complicated looking dessert that is actually fairly straight forward, once you get your ducks in a row. The original recipe comes from a restaurant in Seattle, and the yield was for 18 servings!! Thank you Audax Artifex for cutting it down to a more reasonable 6 servings – although this could have easily made 8 servings. It was so rich that only Nate and I managed to clean our plates – everyone else tapped out, so next time I'll definitely serve smaller portions!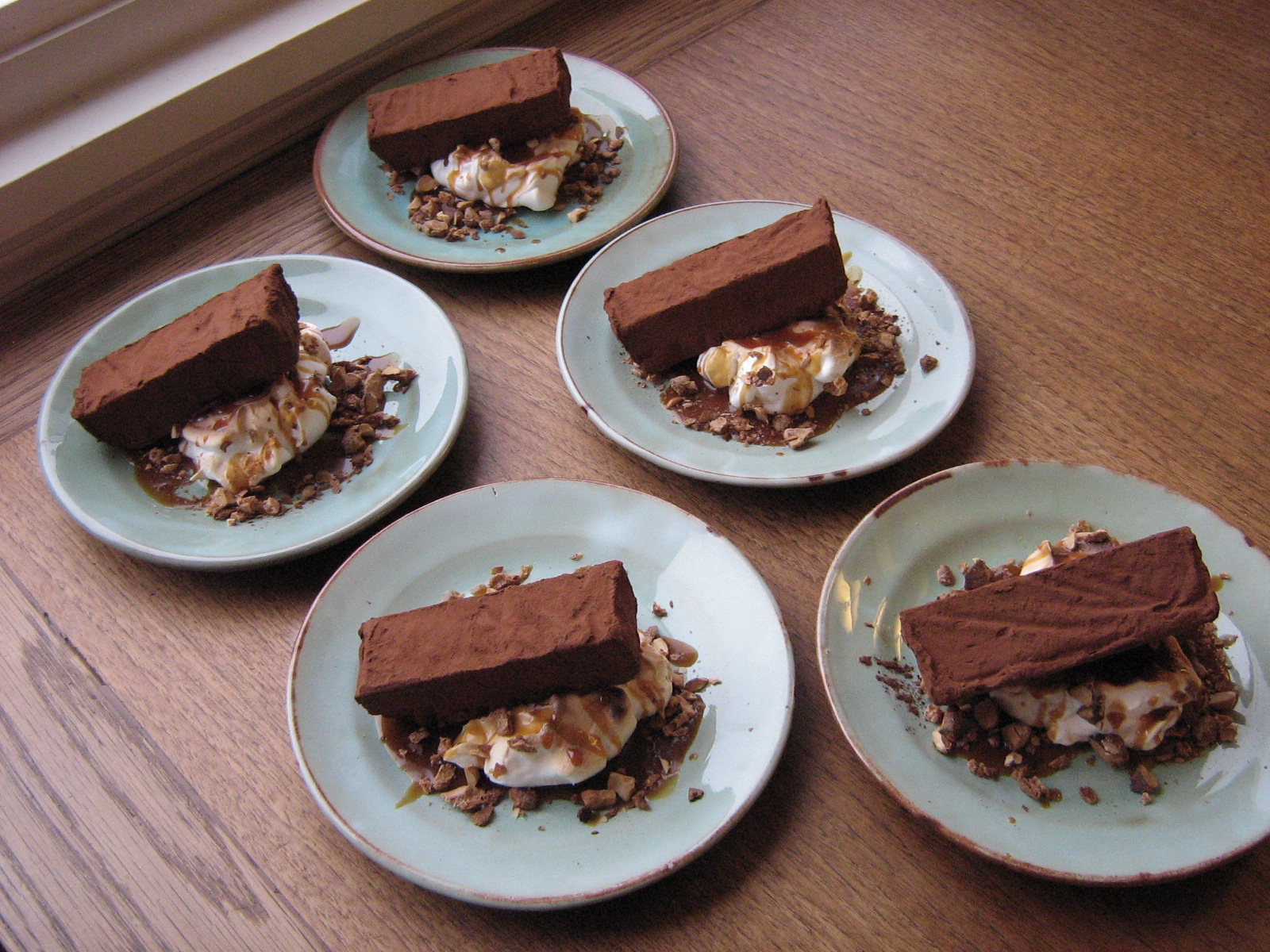 What you're doing here is making a flavoured chocolate ganache and mixing it with whipped cream and whipped egg yolks tempered with sugar syrup. You then freeze this magical concoction to make a frozen chocolate pudding-mousse. You cut it into slices, coat it in cocoa powder, and serve it in a semi-frozen state on top of torched meringue (like the topping on a lemon meringue pie) with caramel sauce and spiced almonds.
I stayed true to the original flavoring of tequila in the chocolate marquise and caramel, but I used chipotle powder instead of cayenne because I thought the slightly smoky flavour would compliment both the dark chocolate and the tequila. Next time I might add a bit of cinnamon to round out the Mexican flavours. I can also see how this would be amazing with coffee flavouring or Kahlua for a mocha marquise, and maybe a dark chocolate porter beer in the caramel. Or maybe hazelnut or Frangelico… So many delicious possibilities!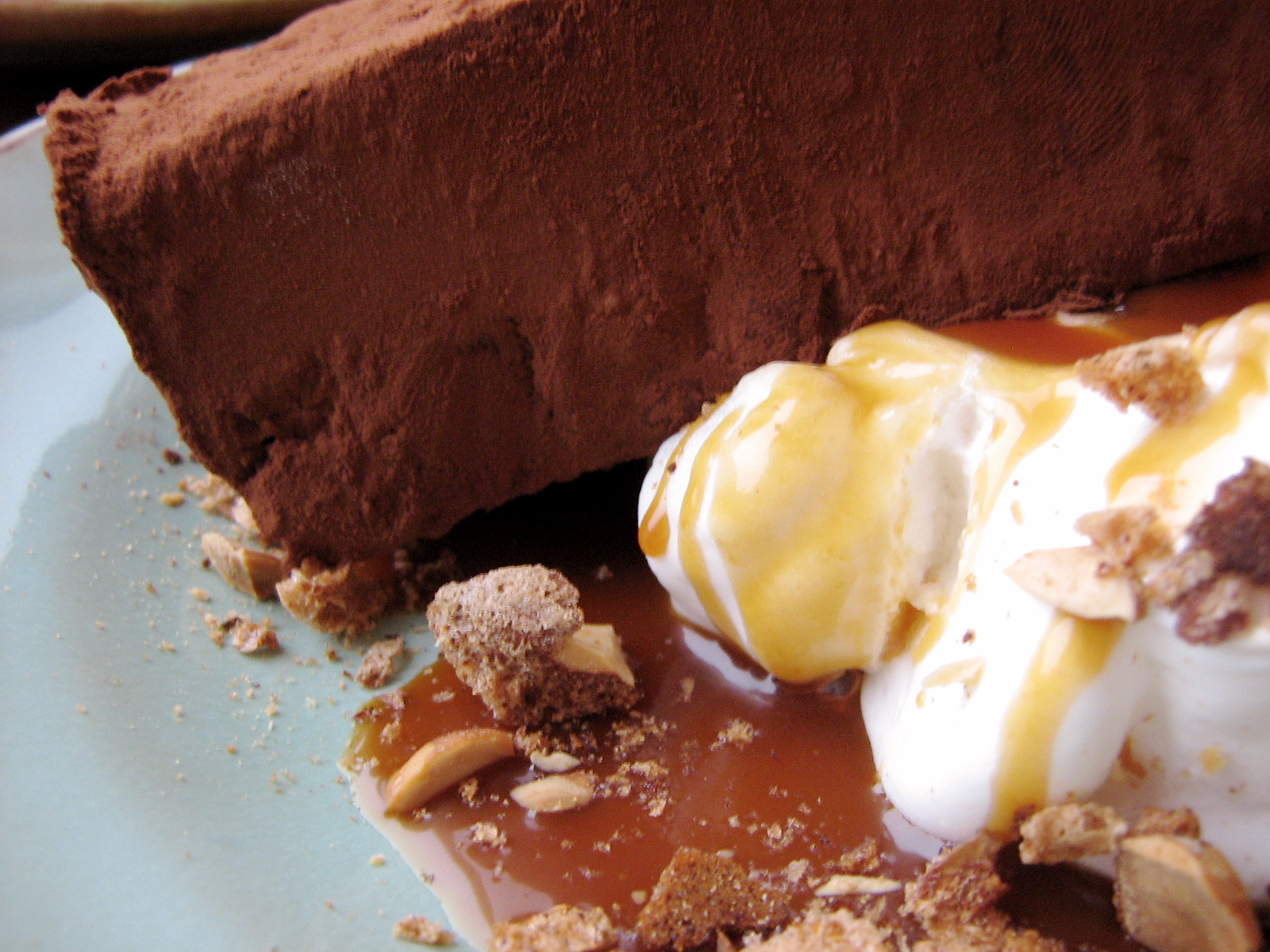 I took a lesson from my last Daring Bakers Challenge and did this over several days: I made and froze the marquise a few days before, and then on the day I was serving it, I made the caramel, nuts, and meringue. Much, much better than trying to cram it all into one day! (Which would be really hard to do anyway, because the marquise needs 6-8 hours to freeze.) Also, there is a LOT of whisking that goes into this recipe. I used my KitchenAid stand mixer, but you could manage just fine with a handheld mixer if you had someone else around to hold it while you do other things. Hats off to the brave Daring Bakers out there who made this whole thing with a hand whisk!
This recipe went off without a hitch, except for the spiced almonds: I must have over-beaten the egg white because I ended up with more of a spiced-almond-meringue-brittle. Thirty minutes was also too long in the oven, and the nuts around the edges got a little burnt, but I just broke them off and chopped the rest up to sprinkle on the plates. So in the end, success!
Mexican Chocolate Marquise
with Torched Meringue, Tequila Caramel Sauce and Spiced Almonds
This is 1/4 of the original recipe, and makes 6 generous servings (8 servings is probably more realistic).
Line a 9″ x 5″ loaf tin with parchment paper and set aside.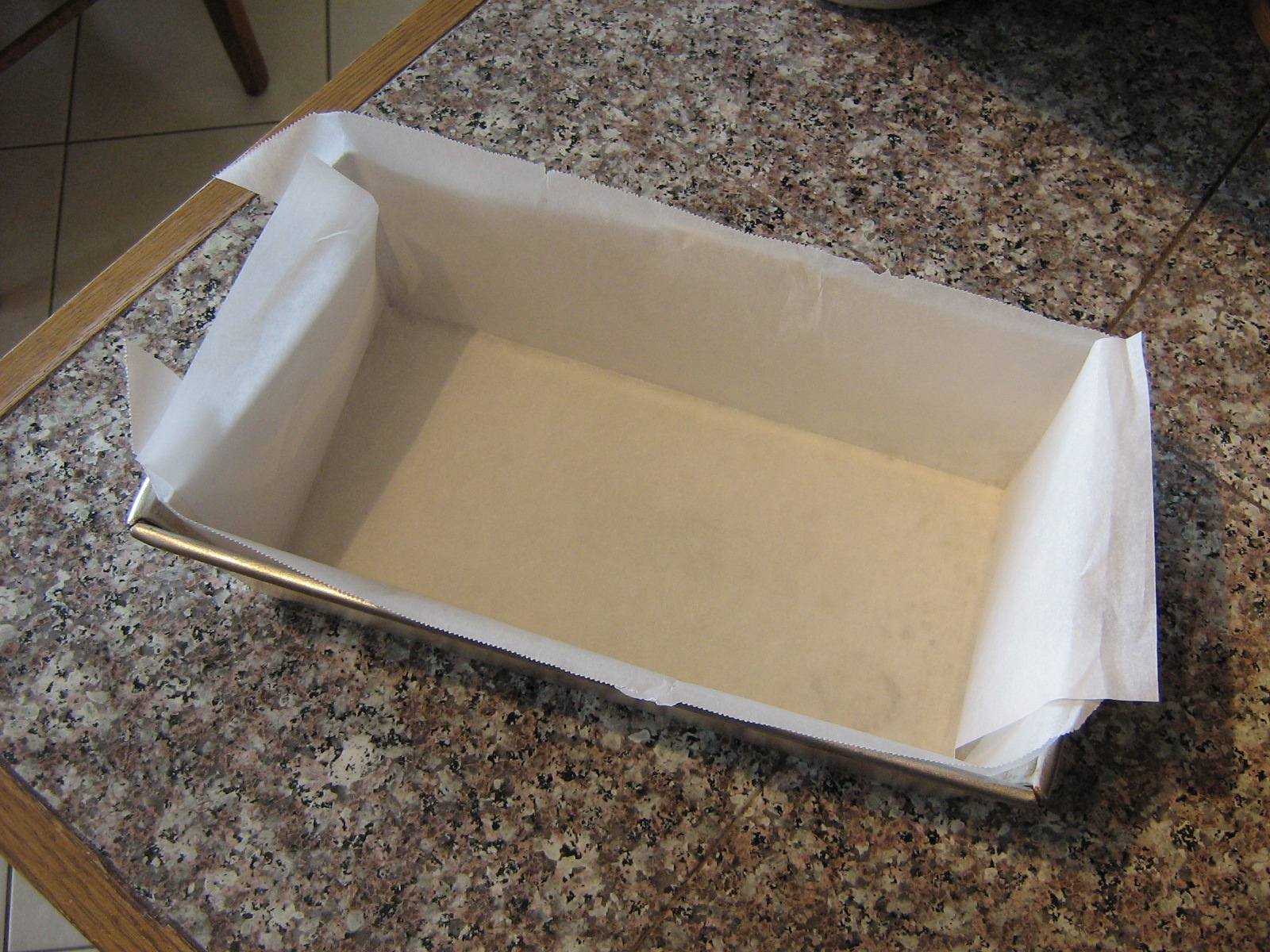 To make the chocolate ganache, heat 1/3 cup + 2 tsp whipping cream until hot to the touch but not boiling (this took two 30-second stints in the microwave, stirring between them). Pour the warm cream over:
3 oz chopped dark chocolate
1/2 tbsp soft butter
Stir until smooth. Add:
1/8 tsp salt
1/16 tsp chipotle powder
1/8 tsp cinnamon (optional)
1 tbsp tequila
1 tbsp corn syrup
1/4 tsp vanilla
1 tbsp Dutch process cocoa powder (not natural cocoa – Dutch process has a better flavour)
Stir until smooth. Set ganache aside to cool to room temperature. Do not refrigerate, as it needs to be liquid to add to the rest of the marquise ingredients. (At this point it smelled so good I had to stop myself from eating it by the spoonful!)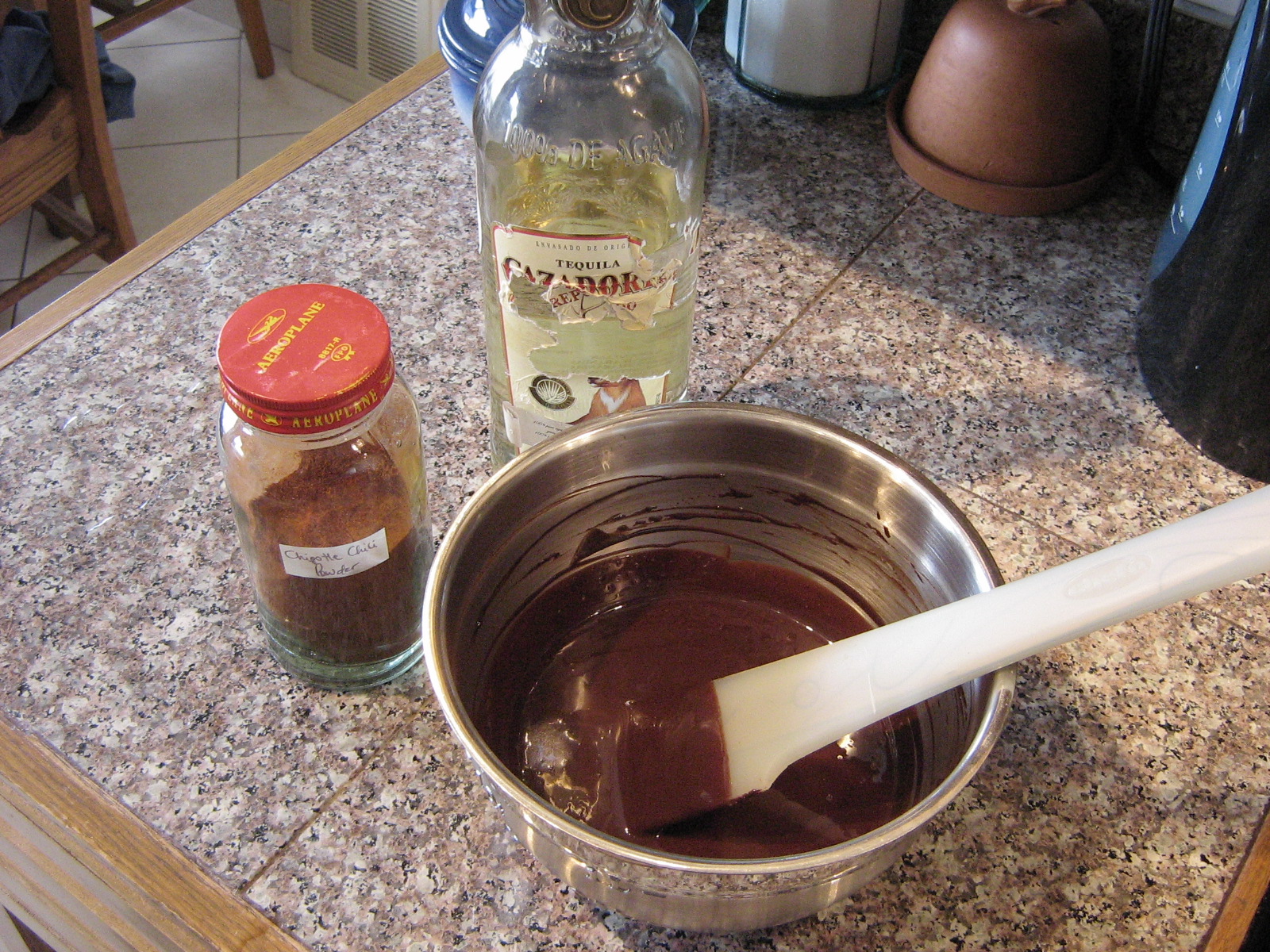 Place in the bowl of a stand mixer:
3 egg yolks (reserve the whites for the torched meringue)
1 whole egg
Beat on high speed until very thick and pale and tripled in volume, about 10 – 15 minutes.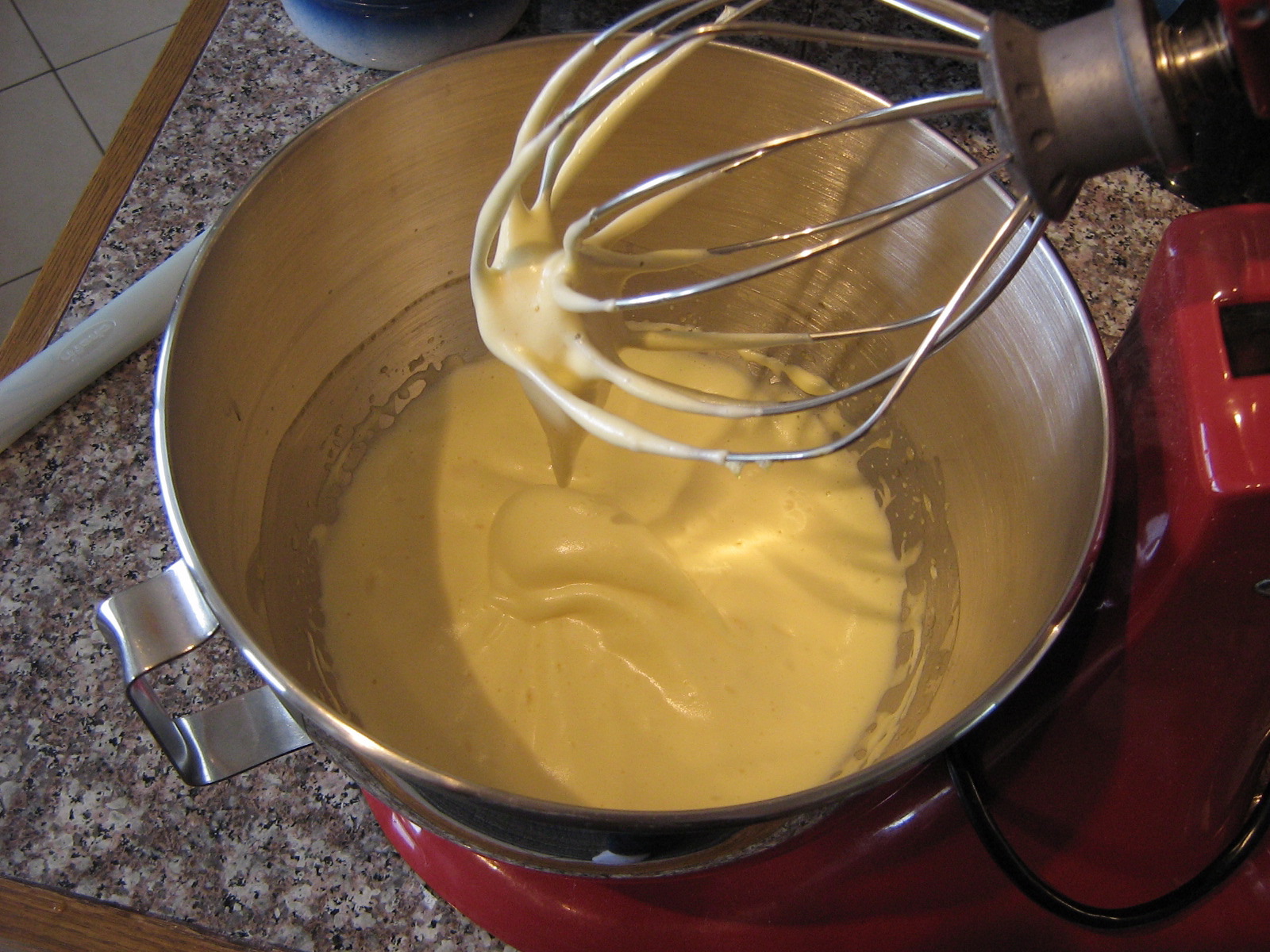 When the eggs are almost done, make the sugar syrup. In a small pot, combine:
2 tbsp + 2 tsp water
1 tbsp + 1 tsp sugar
Bring to a boil over medium-high to high heat, and boil the syrup until it reaches softball stage (235˚F/115˚C on a candy thermometer).
With the mixer running on low speed, quickly drizzle the sugar syrup in a thin stream into the eggs, trying to aim it between the mixer bowl and the whisk (otherwise the syrup will just harden on the side of the bowl or whisk).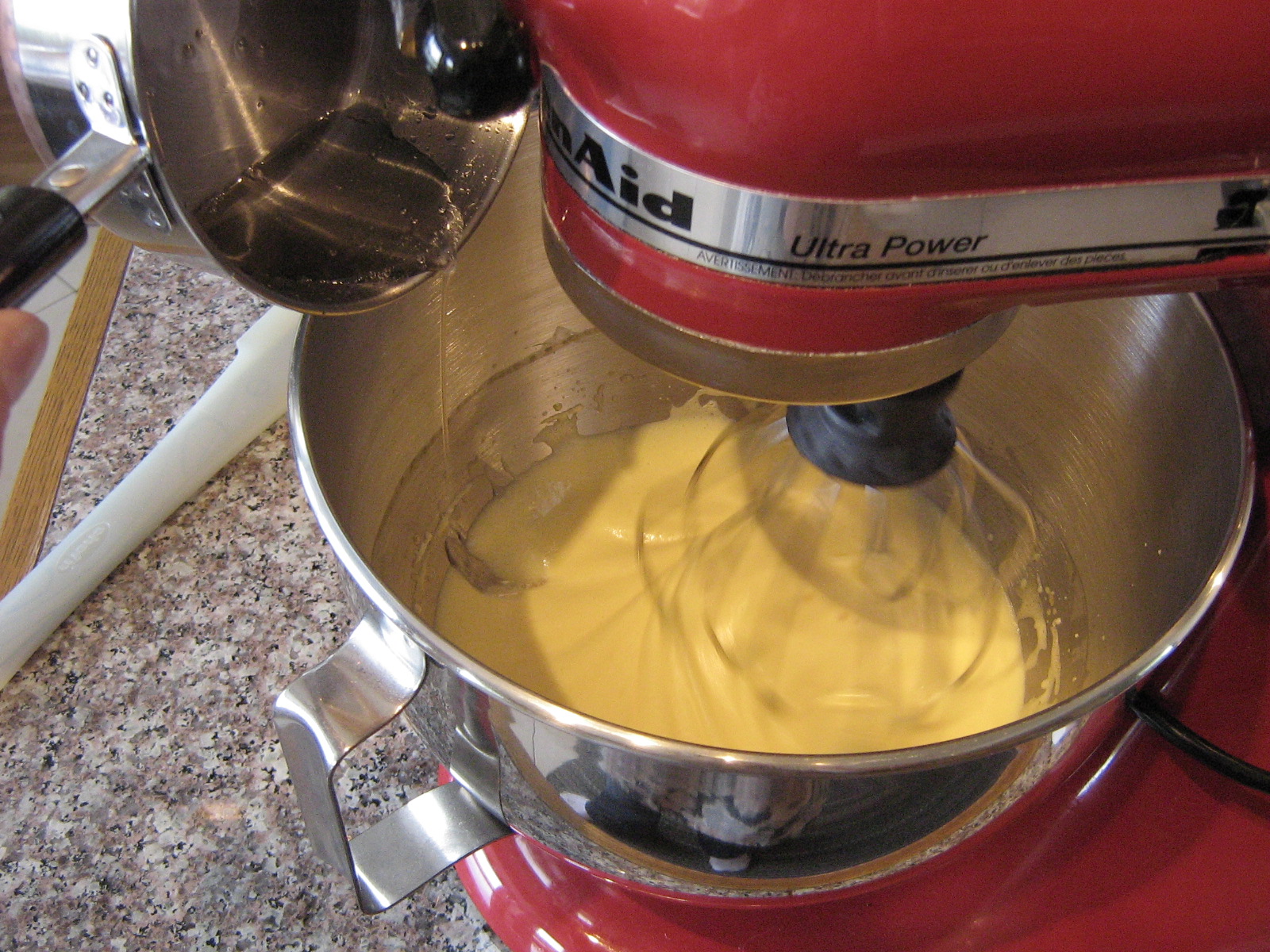 Turn the mixer back up to high and whip until the bowl is cool to the touch, about 10 more minutes.
Meanwhile, whip 1/2 cup whipping cream to soft peaks and set aside. (I did this by hand because my mixer was busy. It wasn't too hard, only took a few minutes, and gave me a good arm workout!)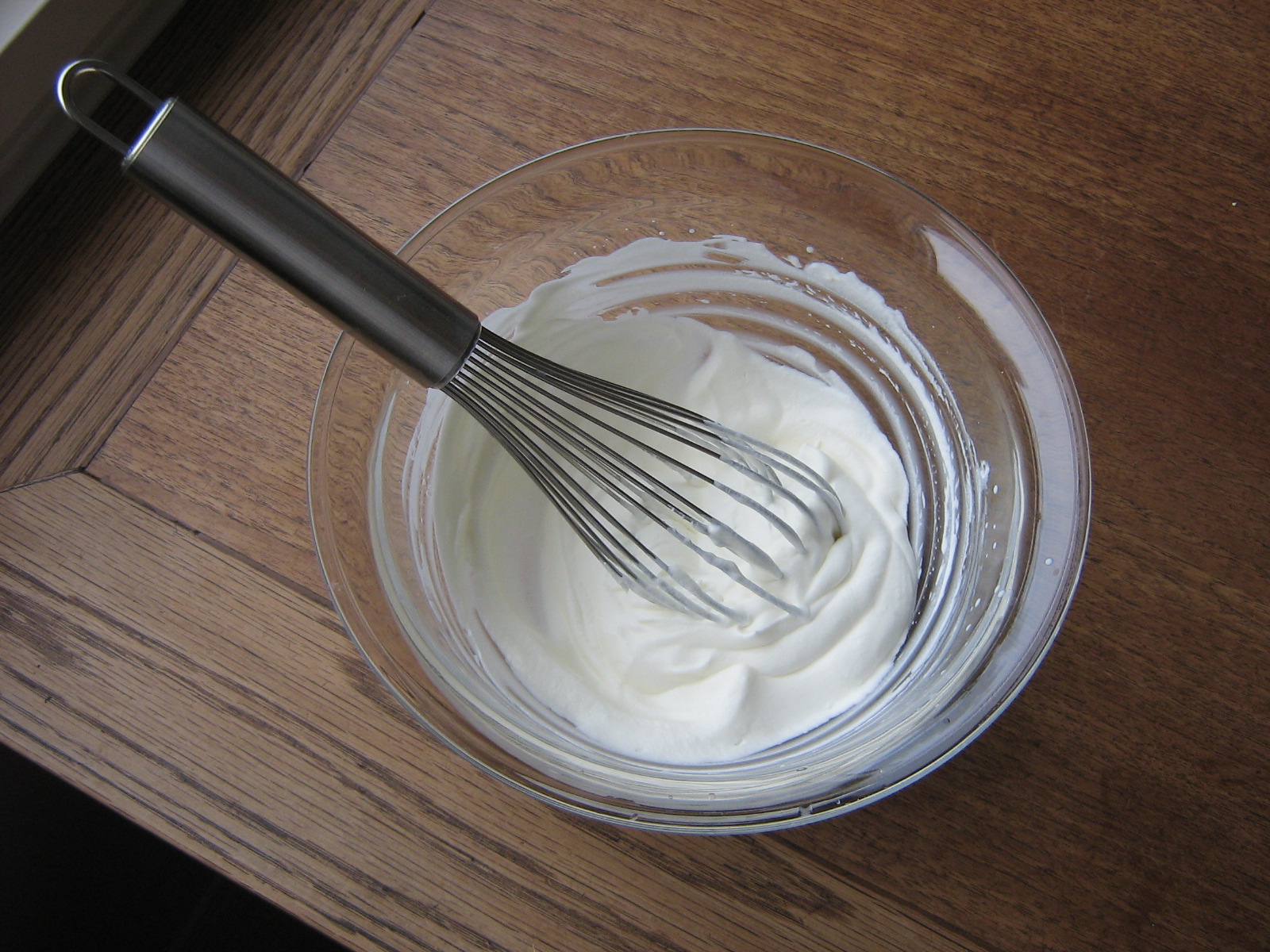 When the egg mixture is cool, gently fold in the chocolate ganache with a spatula or whisk, being careful not to lose all the air you've whipped into the eggs. Using a whisk, fold in 1/3 of the whipped cream to lighten the mixture, then fold in the rest of the cream.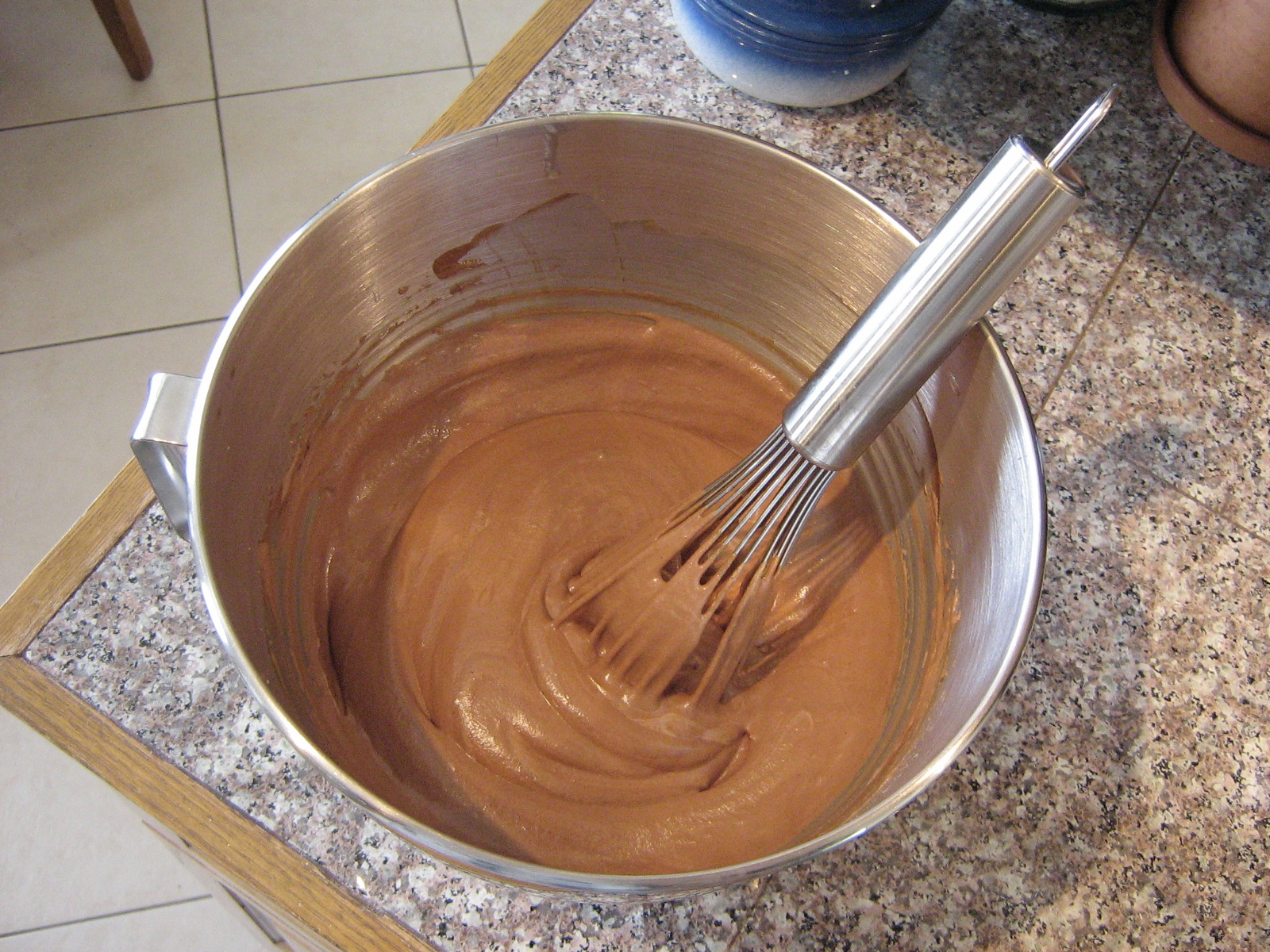 Pour the mixture into the prepared loaf tin and spread evenly. Cover with plastic wrap directly touching the mixture so that no air is allowed in.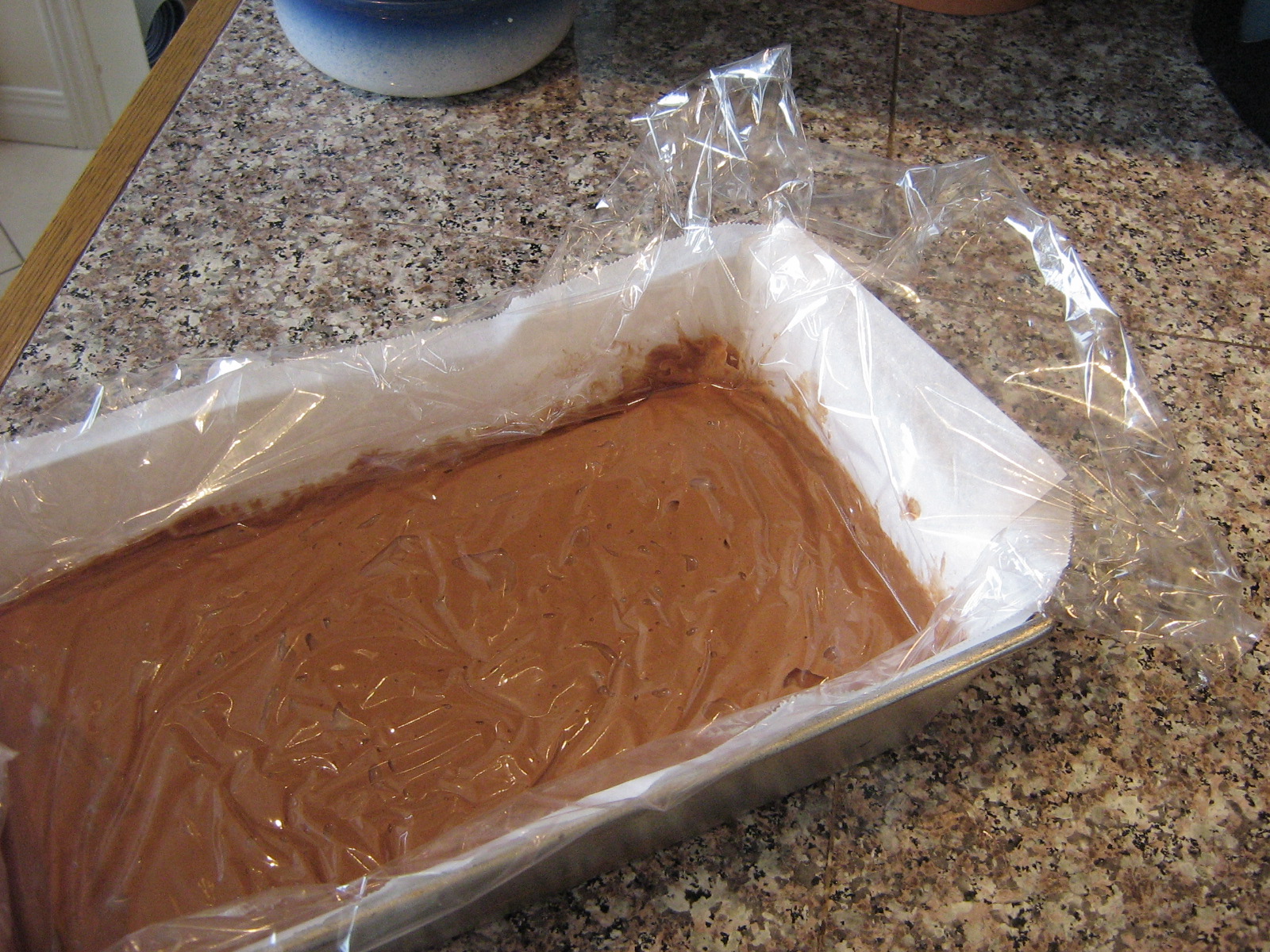 Freeze until very firm, at least 2-4 hours, and preferably 6-8 hours. (This can be kept in the freezer for a few weeks before serving.)
When ready to serve, take the frozen marquise out of the freezer, remove it from the pan, and peel off the plastic wrap and parchment paper. Cut the marquise into 6-8 slices…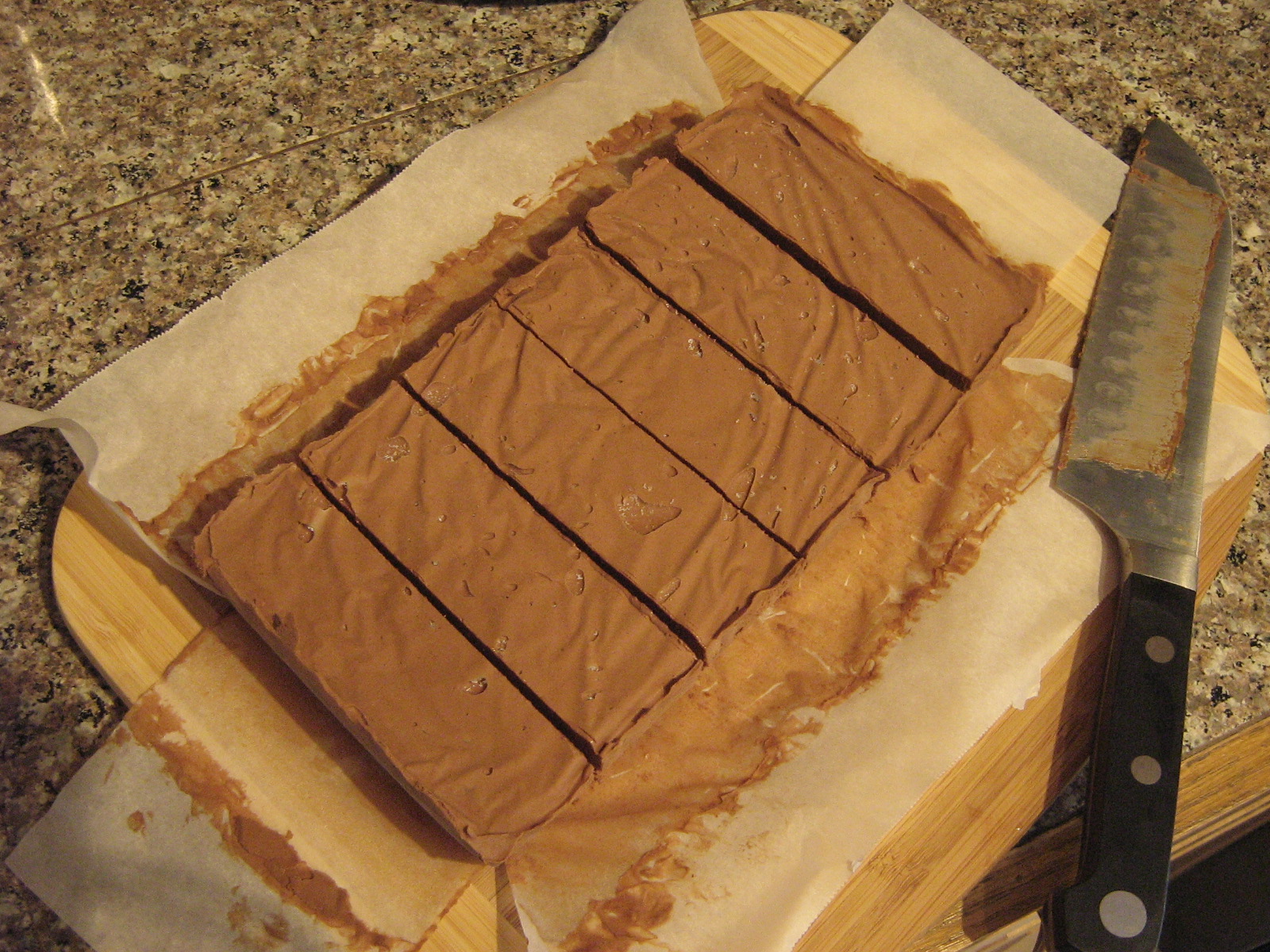 …and roll gently in 1/2 cup Dutch process cocoa powder (you will probably need more than 1/2 cup to accomplish this!).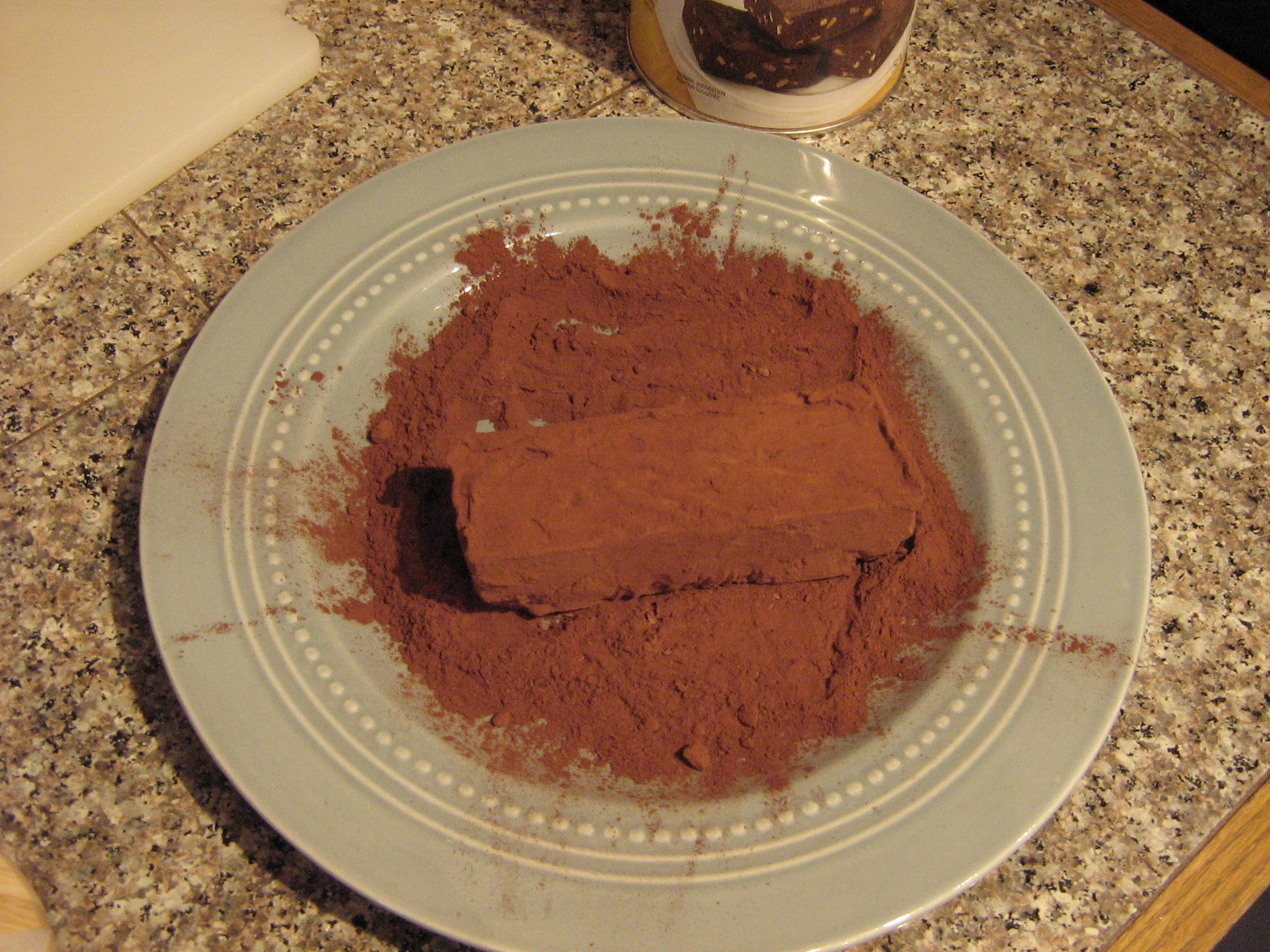 Place on a flat surface (like a cutting board) and set in the fridge to thaw slightly while you make the torched meringue and assemble the caramel and spiced almonds. The marquise can sit in the fridge for a while before it gets too soft, so don't worry about taking too long.
Serve atop the torched meringue, garnished with tequila caramel sauce and spiced almonds(recipes below). Use a spatula to move the marquise onto the plates.
Torched Meringue
This should be made while the marquise sits in the fridge.
This meringue has the taste and texture of a toasted marshmallow, so don't be afraid to char it if that's how you like your marshmallows! Makes 6-8 servings.
In the bowl of a stand mixer, combine:
3 eggs whites (left over from the marquise)
scant 1/2 cup sugar
very small dash apple cider vinegar
Mix by hand until the sugar is evenly moistened by the egg whites and they make a homogenous liquid. Set the bowl over a pot of simmering water. Stir the mixture continuously using your (clean!) hand, feeling for grains of sugar in the egg whites. As the mixture heats up, the sugar will dissolve and the egg whites will thicken. Continue stirring with your hand until you can no longer feel any sugar crystals and the mixture is uniformly warm.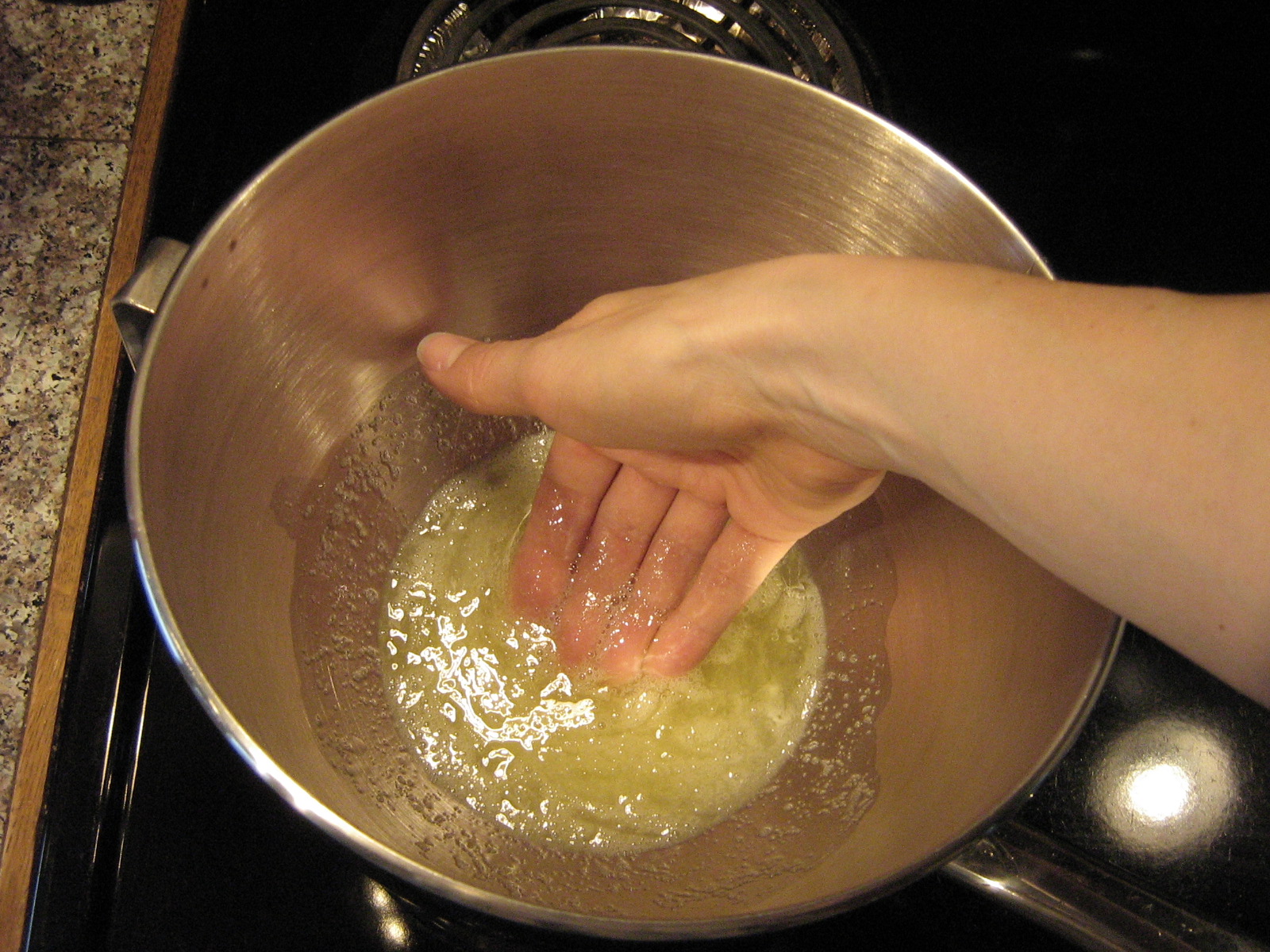 Remove the bowl from the heat and place it on the stand mixer with the whisk attachment. Whisk on high until you reach soft peaks (this doesn't take long – don't over-beat or the texture of your meringue will be dry and a bit grainy). In the last 10 seconds of mixing, add the vanilla to the meringue and mix thoroughly.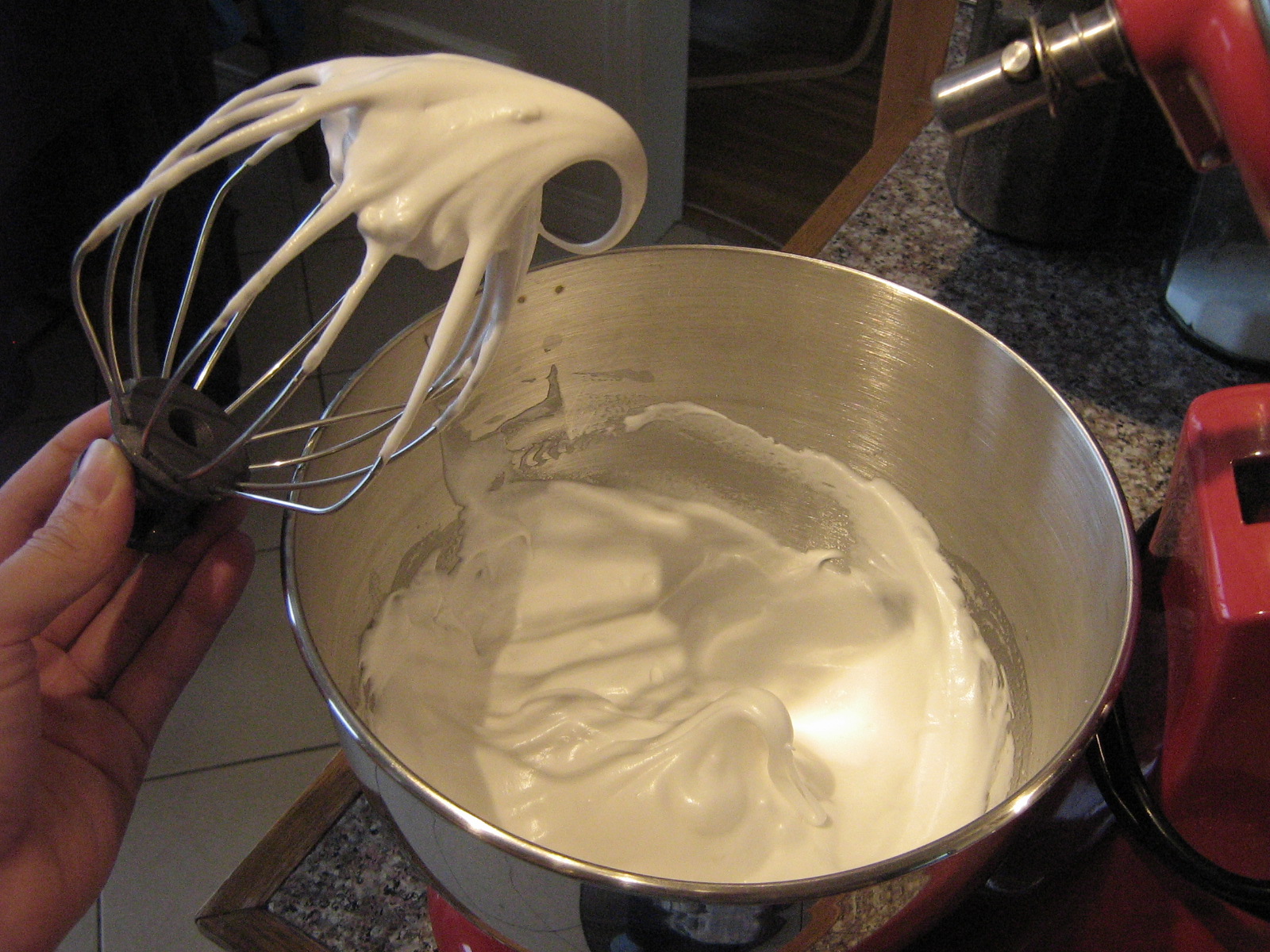 Line a baking sheet with aluminum foil and oil the foil lightly. Preheat the broiler element in your oven to high and move a rack to the highest position. Pipe/spoon 6-8 dollops of meringue onto the foil and toast under the oven's broiler element (I held the baking sheet and rotated it around under the broiler to get all the meringues evenly toasted).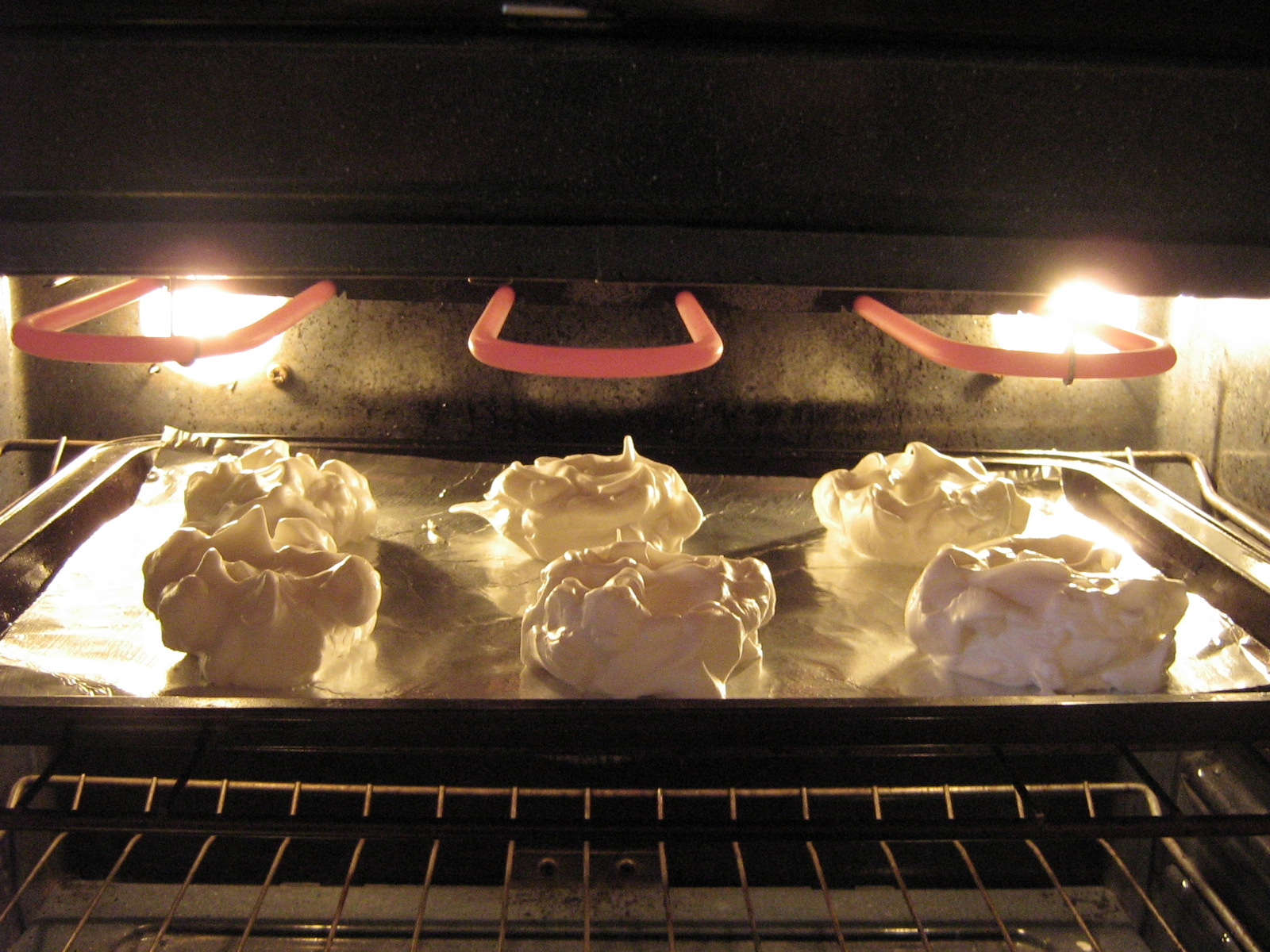 Use a lightly oiled, thin spatula to transfer the toasted meringues to the serving plates.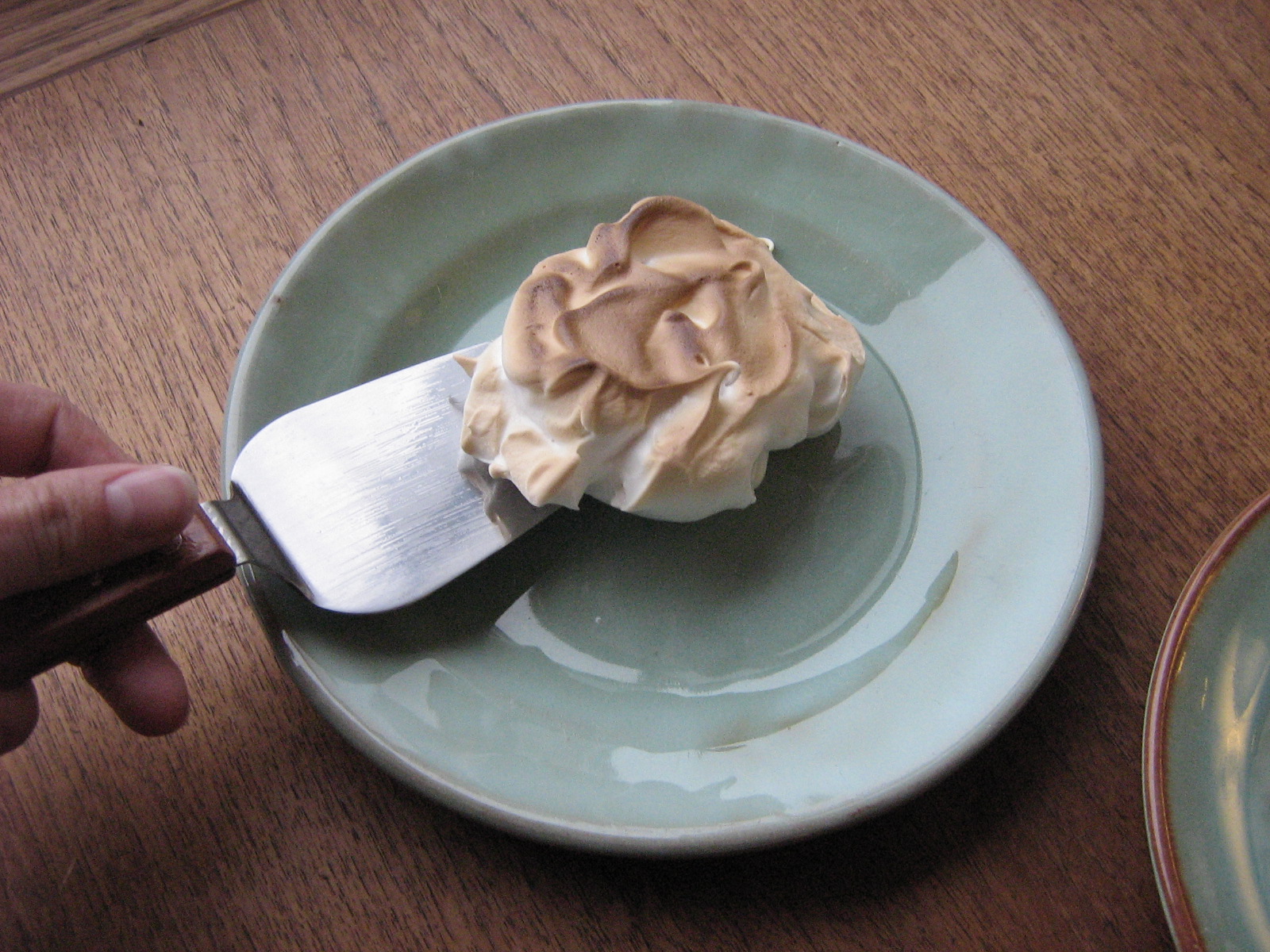 Alternately, if you have a blow torch, pipe or spoon the meringue into the serving plates and use the blow torch to toast it.
Tequila Caramel Sauce
This should be made ahead of time, and be ready to go while the marquise sits in the fridge.
I heard from other Daring Bakers that this caramel sauce was to die for, so I made the full amount (about 1 cup) so I'd have leftovers! This will make your kitchen smell like a candy shop 🙂 The caramel has quite a tequila kick on its own, but when combined with the marquise and meringue, it's not as strong. Makes about 1 cup.
In a heavy-bottomed pot, combine:
1 cup sugar
1/2 cup water
Bring to a boil over medium-high heat. Boil until the water evaporates completely and the sugar darkens and you can just start to smell a hint of burnt sugar (it might be really tempting to taste it at this point, but remember that it is VERY HOT and will burn/blister your fingers and/or tongue).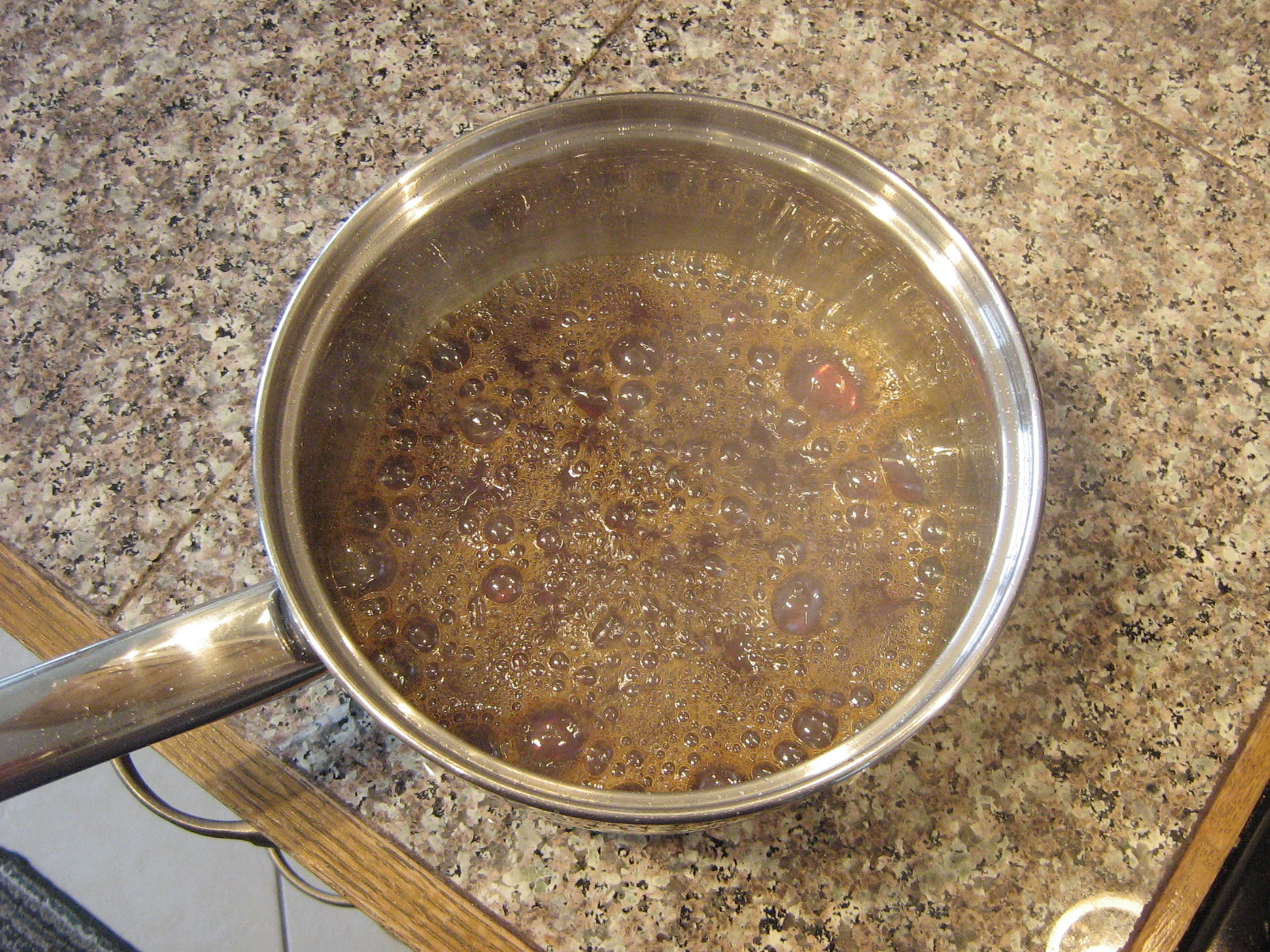 Remove from the heat and working quickly, add 1 cup of whipping cream to the darkened caramel. It will bubble and pop vigorously, so add only as much cream as you can without the pot overflowing.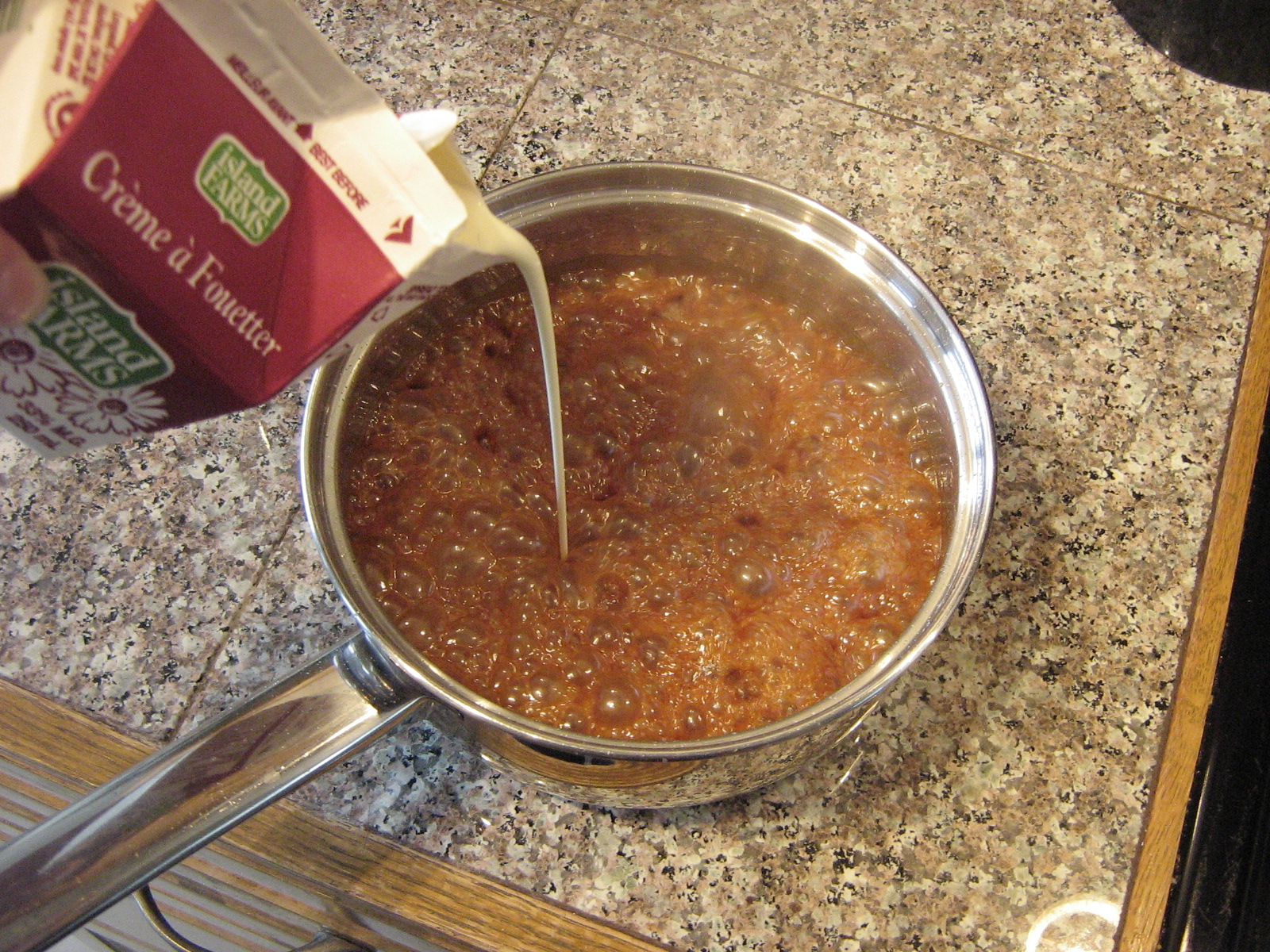 Return the pot to low heat and whisk gently to break up any hardened sugar. Add any remaining cream and continue stirring (if the mixture seems to be separating weirdly, just keep whisking). The hardened sugar will dissolve and the caramel will continue to darken. When it is as dark as you want it, remove from the heat. Stir in:
3/4 tsp salt
2 tbsp tequila
Allow to cool, then set aside until ready to serve.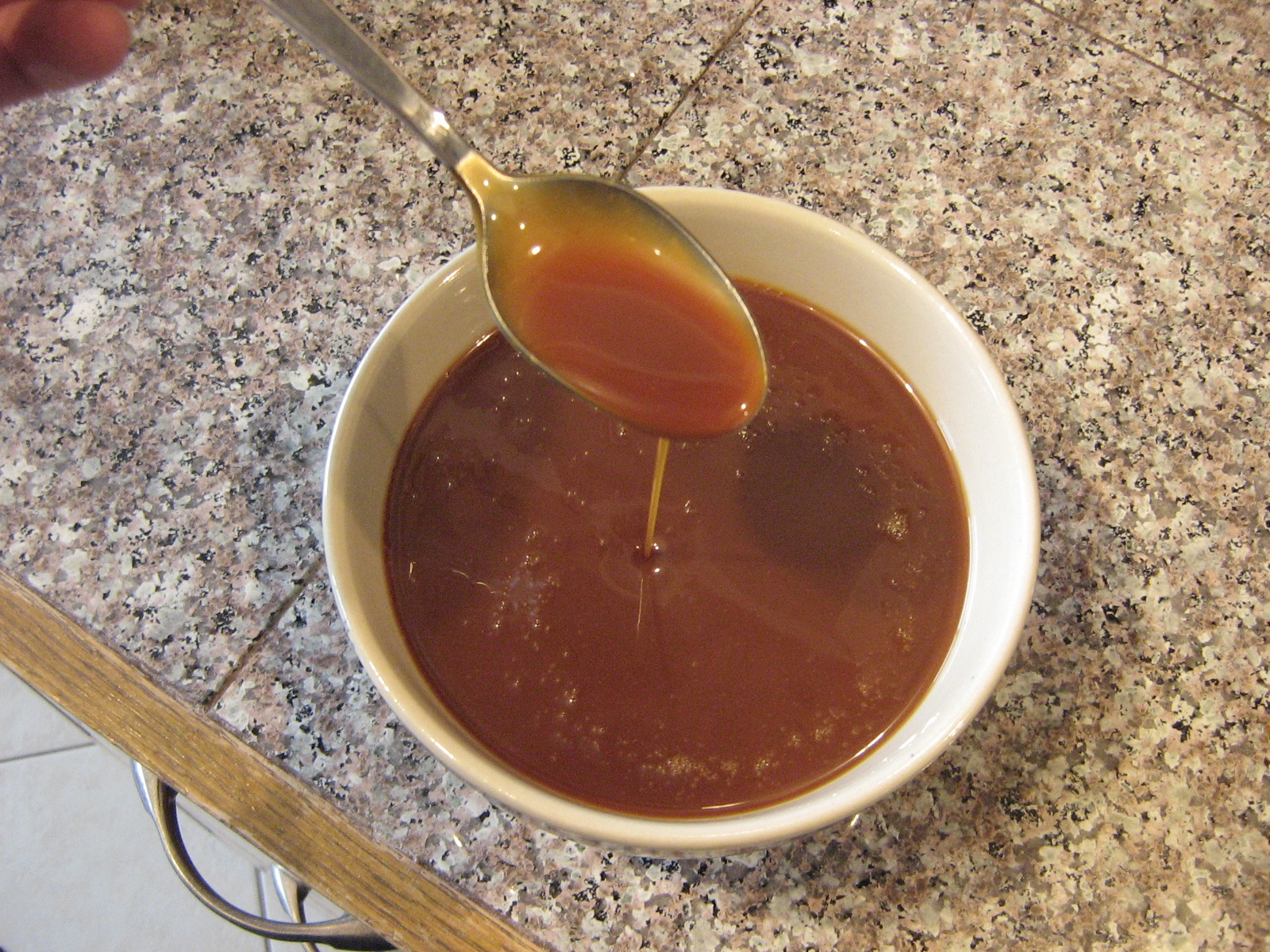 Spiced Almonds, aka Spiced-Almond-Meringue-Brittle
This should be made ahead of time, and be ready to go while the marquise sits in the fridge.
This makes more than you will need for 6-8 servings of marquise, but can be stored in an airtight container and used to sprinkle on things like ice cream… 😉 If you would rather end up with crunchy-coated almonds instead of a meringue-brittle, just don't beat the egg white as much.

Preheat the oven to 350˚F. In a medium-sized bowl, beat 1 egg white with a whisk until thick and fluffy. Whisk in:
1/2 cup sugar
1 tsp cinnamon
1/4 tsp chipotle powder
1/2 tsp salt
Stir in 1 cup almonds (blanched or with skin). Spread onto a parchment paper-lined baking sheet and bake at 350˚F for about 20 minutes, until puffed and golden brown.
Let cool, and then break into pieces and chop.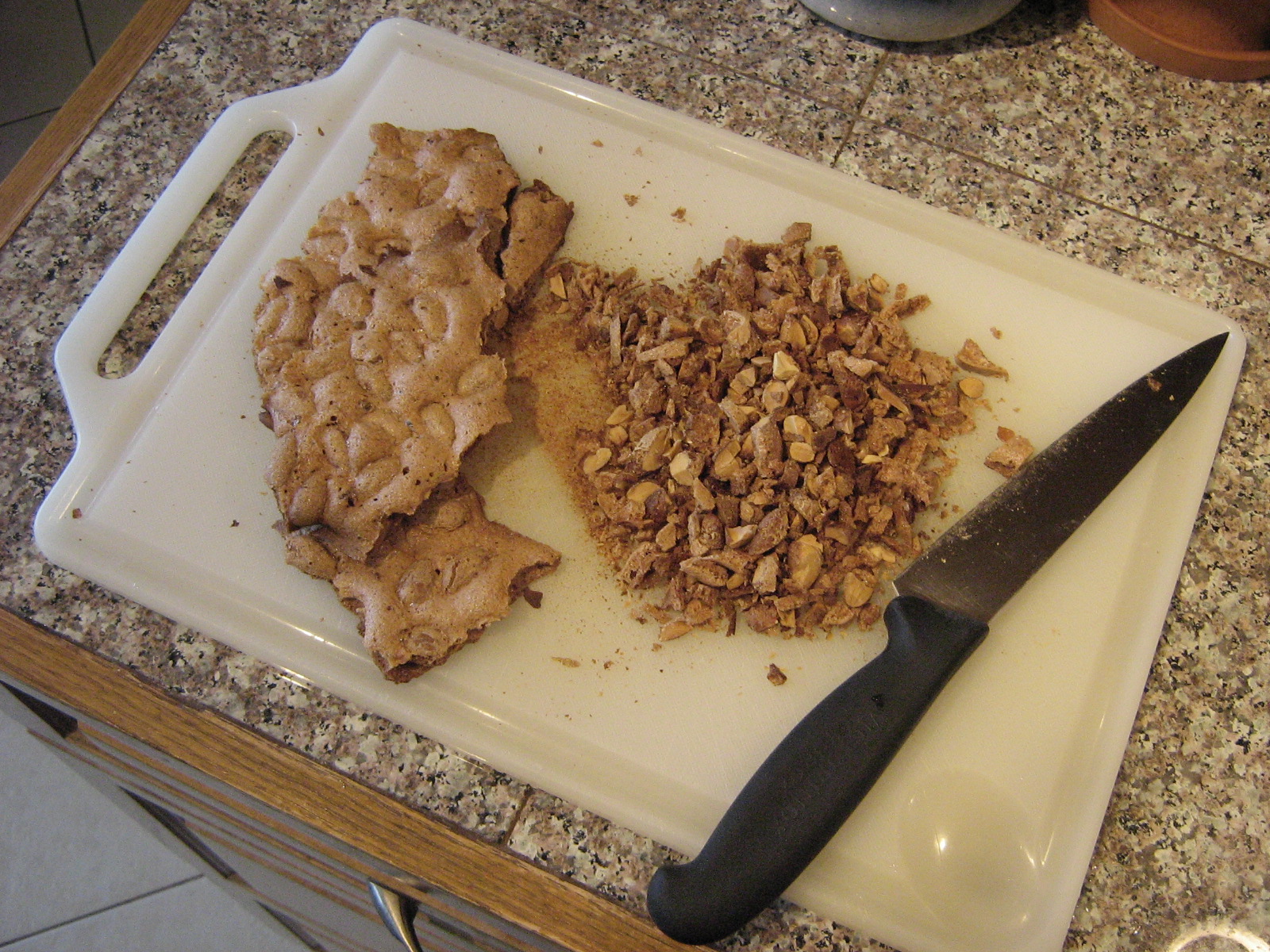 Thanks Jenny and Emma for such a delicious recipe and great challenge!
Save