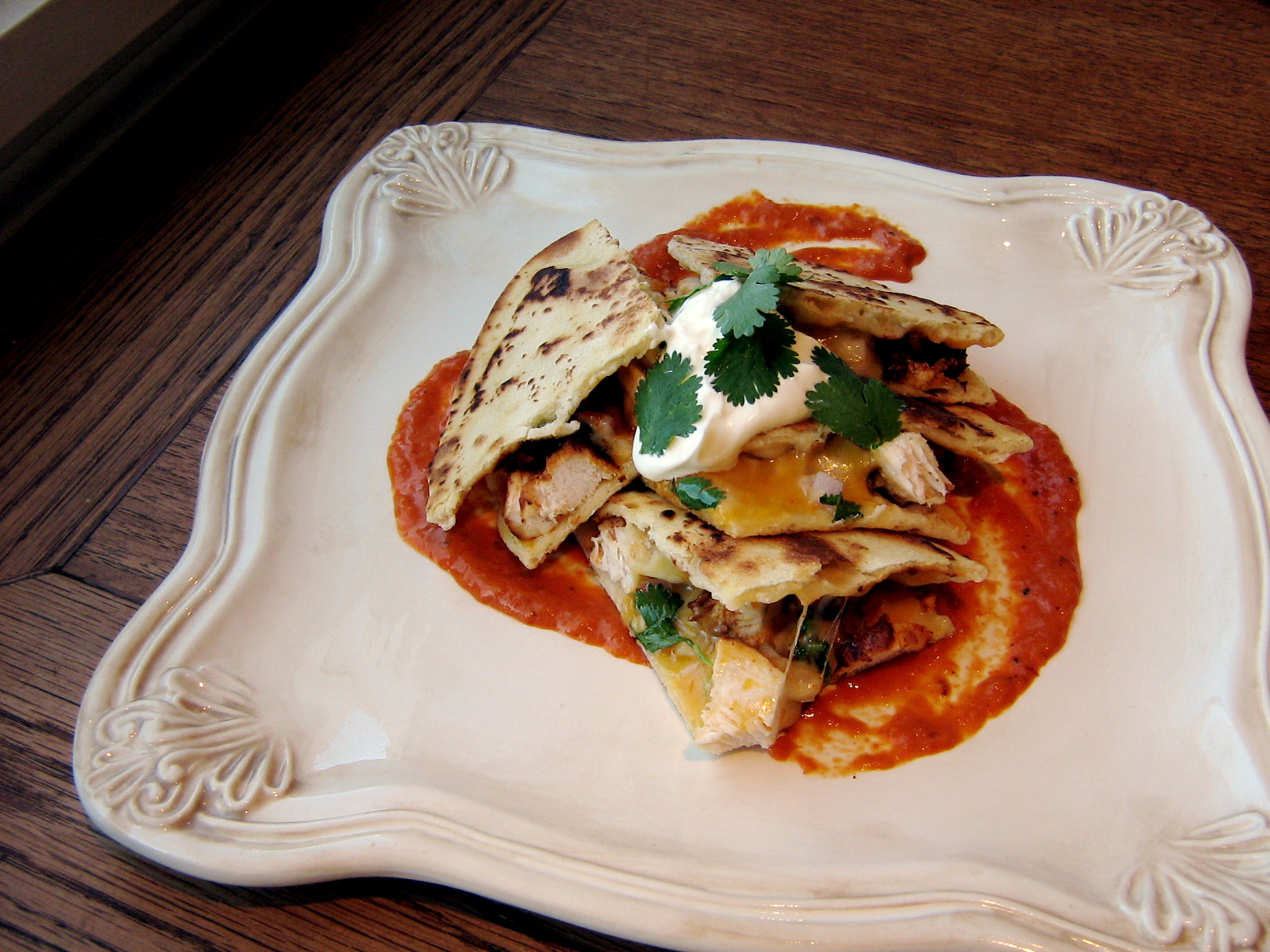 Last Thursday I had the day off work, so I decided to cross something off my "things to make" list: homemade flour tortillas. I've had a hankering for quesadillas ever since I read a post on the Frugal Flambé about chicken quesadillas with roasted red pepper sauce, so I figured this would be a good opportunity to kill two birds with one stone and make tortillas for quesadillas.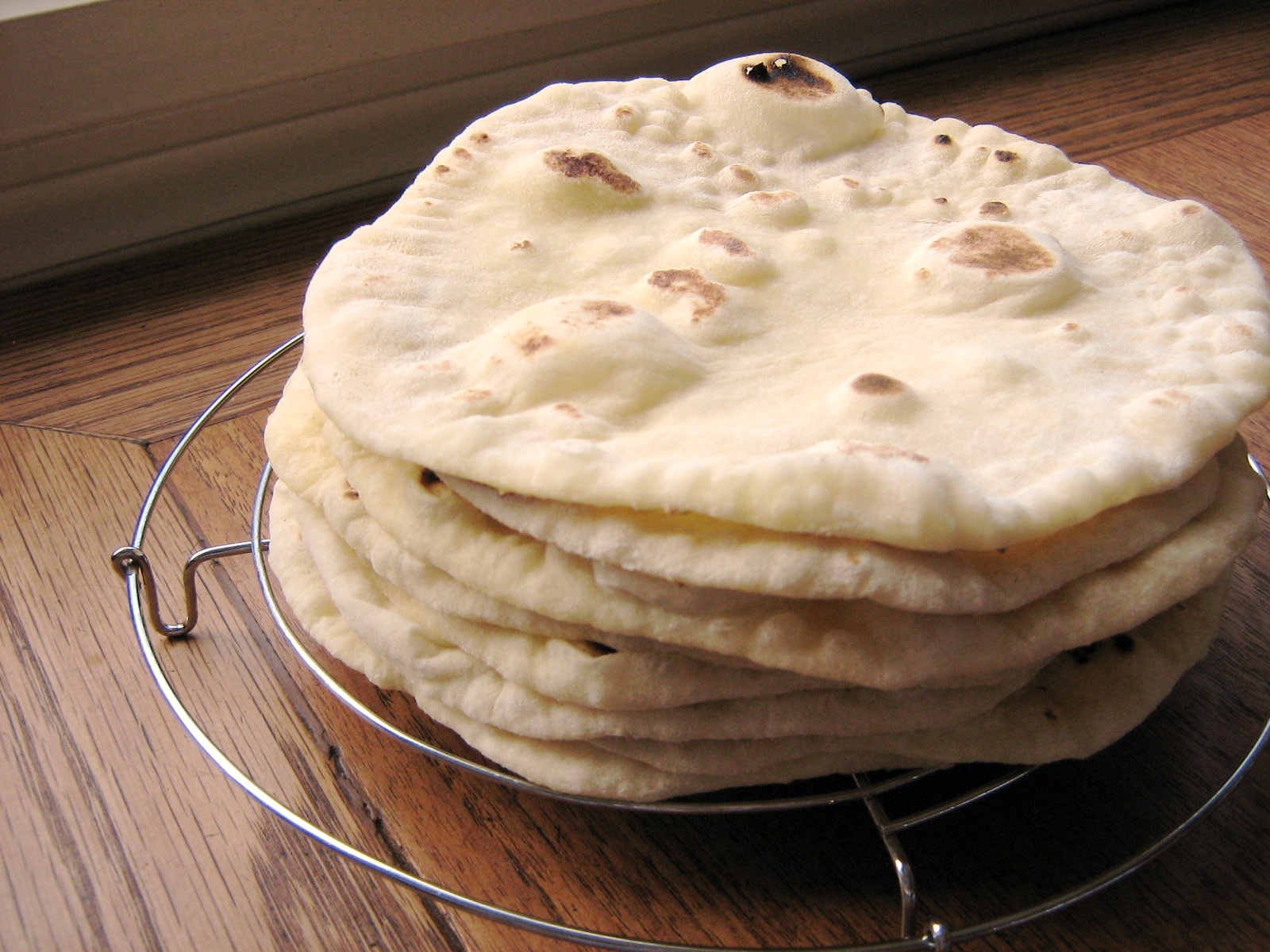 Apparently there are two main camps when it comes to flour tortillas: thicker, chewy, smaller Texas-style, or thin, crispy, larger Sonoran (Mexican)-style. After reading a post about the difficulties of trying to make the Sonoran-style, I opted for the Texas tortillas, using a recipe from the Homesick Texan blog. I also found a recipe there for Ancho-Chili Shrimp Quesadillas, which sounded so delicious that I ended up using the marinade for the chicken in my quesadillas.
Making these tortillas filled me with the same sense of accomplishment that I get when I make homemade scones – that feeling of having made something out of nothing. When the cupboards are bare of ready-to-eat foods, it's great to be able to take basic, staple ingredients – flour, baking powder, fat or oil – and make something delicious out of them, rather than just saying that there's no food in the house 😀
Homemade Texas-style Flour Tortillas
Recipe from Homesick Texan
Mix together:
2 cups all purpose flour
1 1/2 tsp baking powder
1 tsp salt
2 tsp vegetable oil
The flour will be slightly clumpy from the oil, but that's fine. Add 3/4 cups warm milk and stir until you get a ragged-looking dough that forms a ball.
Turn out onto a floured surface and knead for 2 minutes, until the dough comes together but is still fairly soft (don't add too much extra flour). Place the dough in a bowl, cover with a damp cloth/plastic wrap, and let rest for 20 minutes.
After resting, divide the dough into 8 pieces and roll each into a ball. Place on a plate (make sure the balls are not touching), cover again, and let rest for 10 minutes. The resting is important to let the gluten in the dough relax, otherwise it will be really difficult to roll out.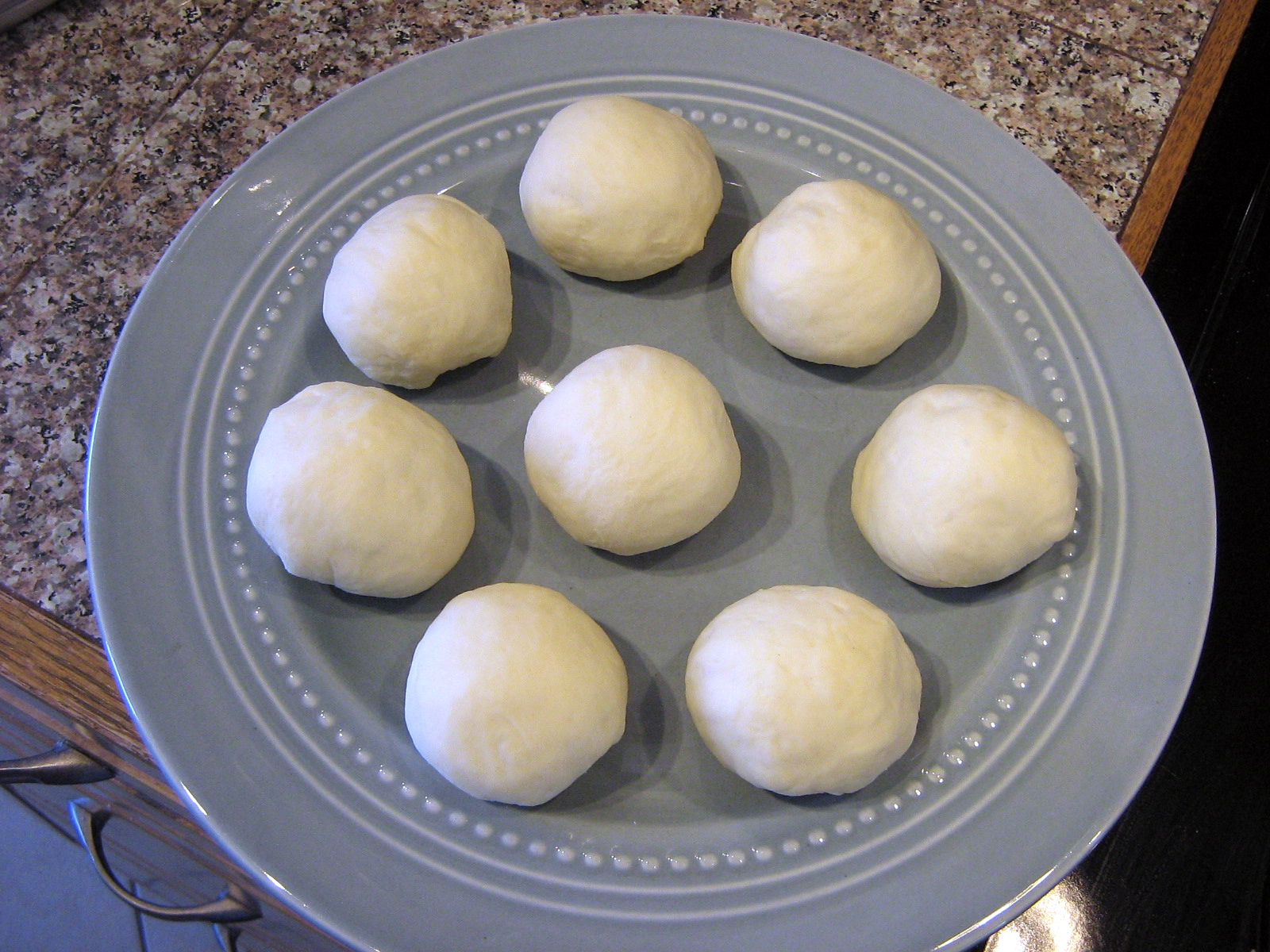 One at a time, pat each ball into a 4-inch circle with your fingers on a lightly floured surface. Roll with a rolling pin into an 8 inch circle (for some reason when I made them, I though the recipe said 6 inches, so feel free to make them smaller if you wish!).  Try not to overwork the dough or the tortillas will be stiff. If you're having trouble getting them to roll out, let the dough rest for a few more minutes. Keep the rolled-out tortillas covered until ready to cook.
Heat a cast iron skillet (or other heavy-bottomed pan) over medium-high heat. Cook each tortilla, one at a time, for about 30 seconds per side. They will cook quickly, so keep an eye on them and check the bottom for burning (slightly charred is OK!). The uncooked top will start to bubble up when it's time to flip it over.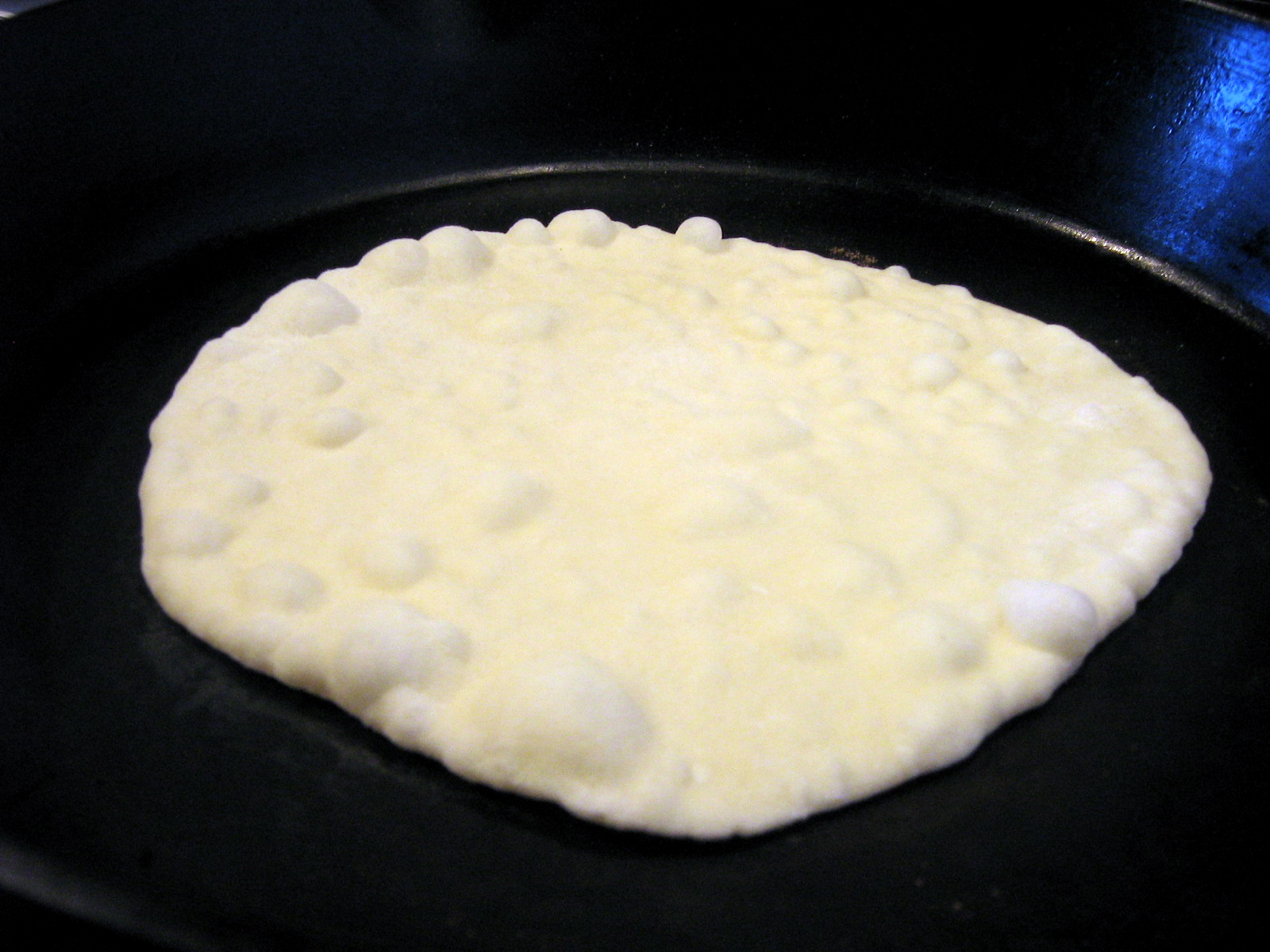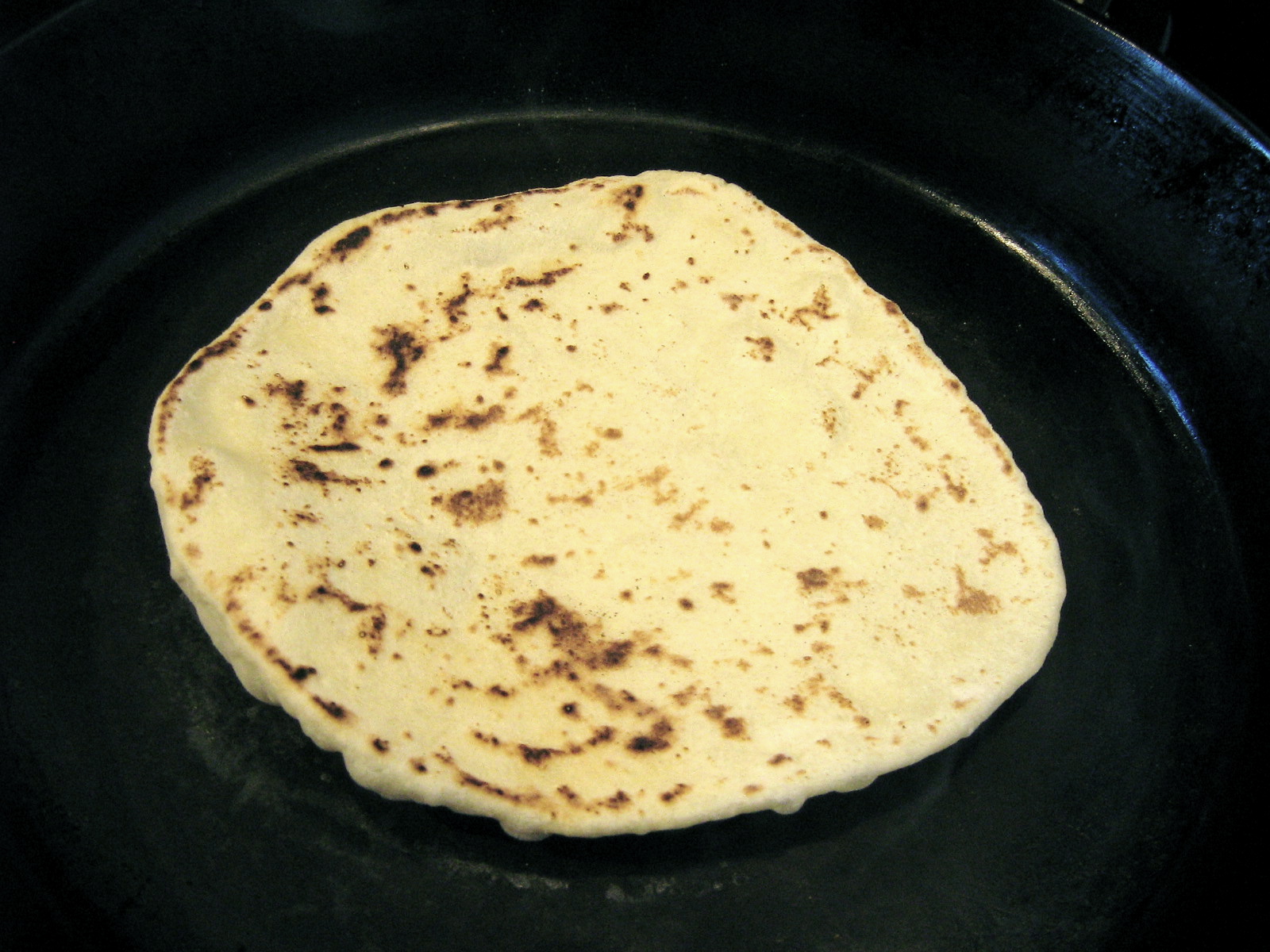 I spread the tortillas out on a rack to cool and then covered them with plastic wrap until I was ready to make the quesadillas. If you're eating the tortillas right away, wrap them in a cloth until ready to eat. They can also be reheated in a dry skillet, or wrapped in foil and placed in the oven. Makes 8 tortillas.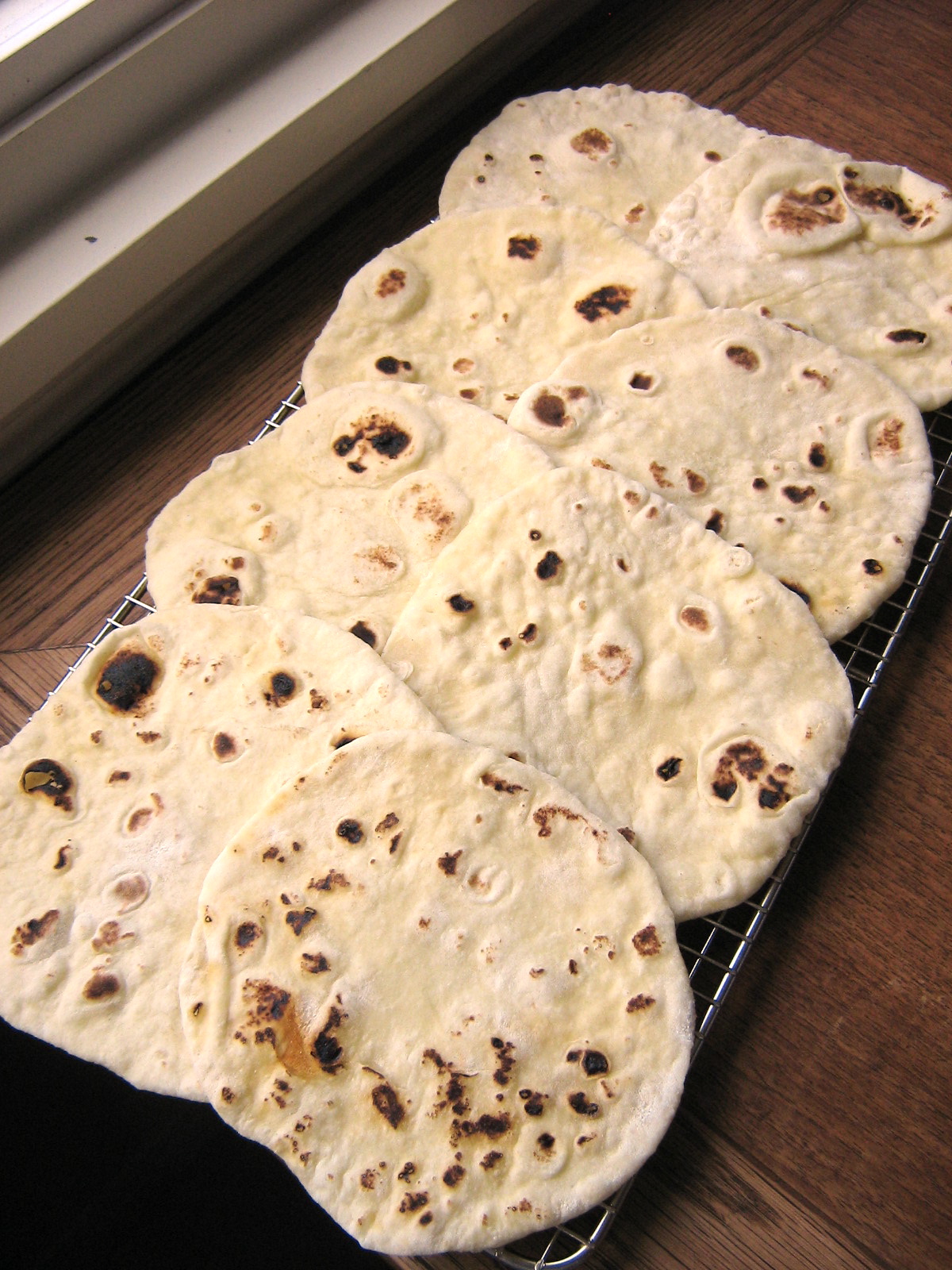 Ancho Chicken Quesadillas
Marinade adapted from Homesick Texan
This ancho chili-citrus marinade is delicious, so I have modified my method to reserve some of it to toss with the cooked chicken to enhance the flavour even more!
For the ancho chicken, blend the following in a blender:
2 tbsp ancho chili powder
1/4 cup orange juice
1 tablespoons lime juice
2 tablespoons olive oil
1/2 teaspoon ground cumin
1/4 teaspoon ground allspice
pinch of cayenne
2 cloves garlic, chopped roughly
salt (to taste)
Reserve 1/4 cup of the marinade. Pour the remainder over 2 boneless, skinless chicken breasts, turn to coat, cover with plastic wrap, and let sit in the fridge for 2+ hours.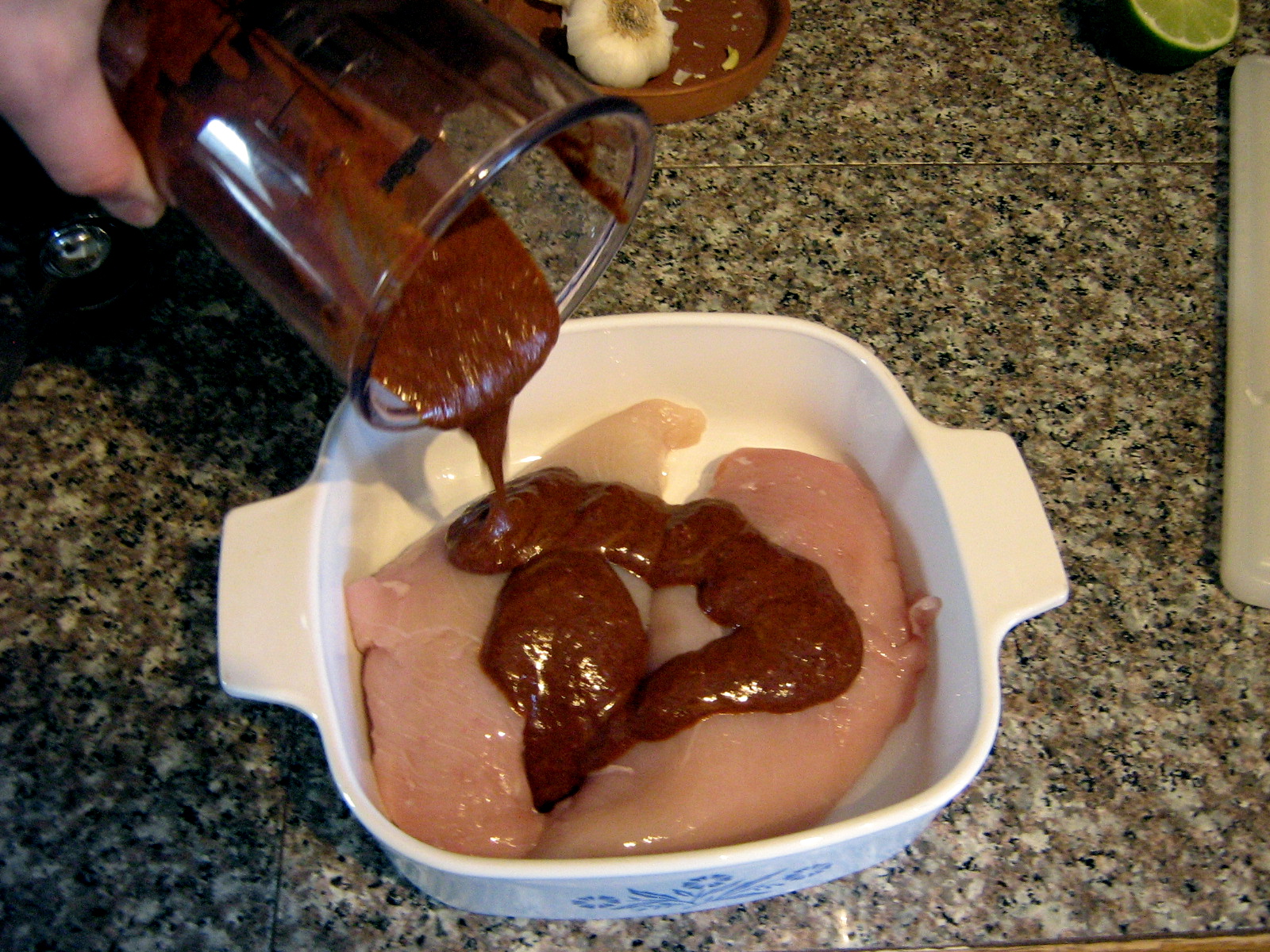 When the chicken is marinated, scrape off most of the sauce and grill/bake/broil it. Let it cool, and dice into small pieces. Toss with the reserved 1/4 cup marinade.
For the quesadillas:
8 flour tortillas
ancho chicken
1 to 1 1/2 cups grated cheese (Monterrey Jack, cheddar, anything that melts well)
1/4 cup chopped red onion
cilantro leaves
Heat a cast iron skillet (or other heavy bottomed pan) over medium-low heat. On a plate, assemble a quesadilla: lay a tortilla (blistered side up), sprinkle with 1/8 of the cheese, 1/4 of the chicken, 1/4 of the onion, 1/4 of the cilantro, 1/8 of the cheese.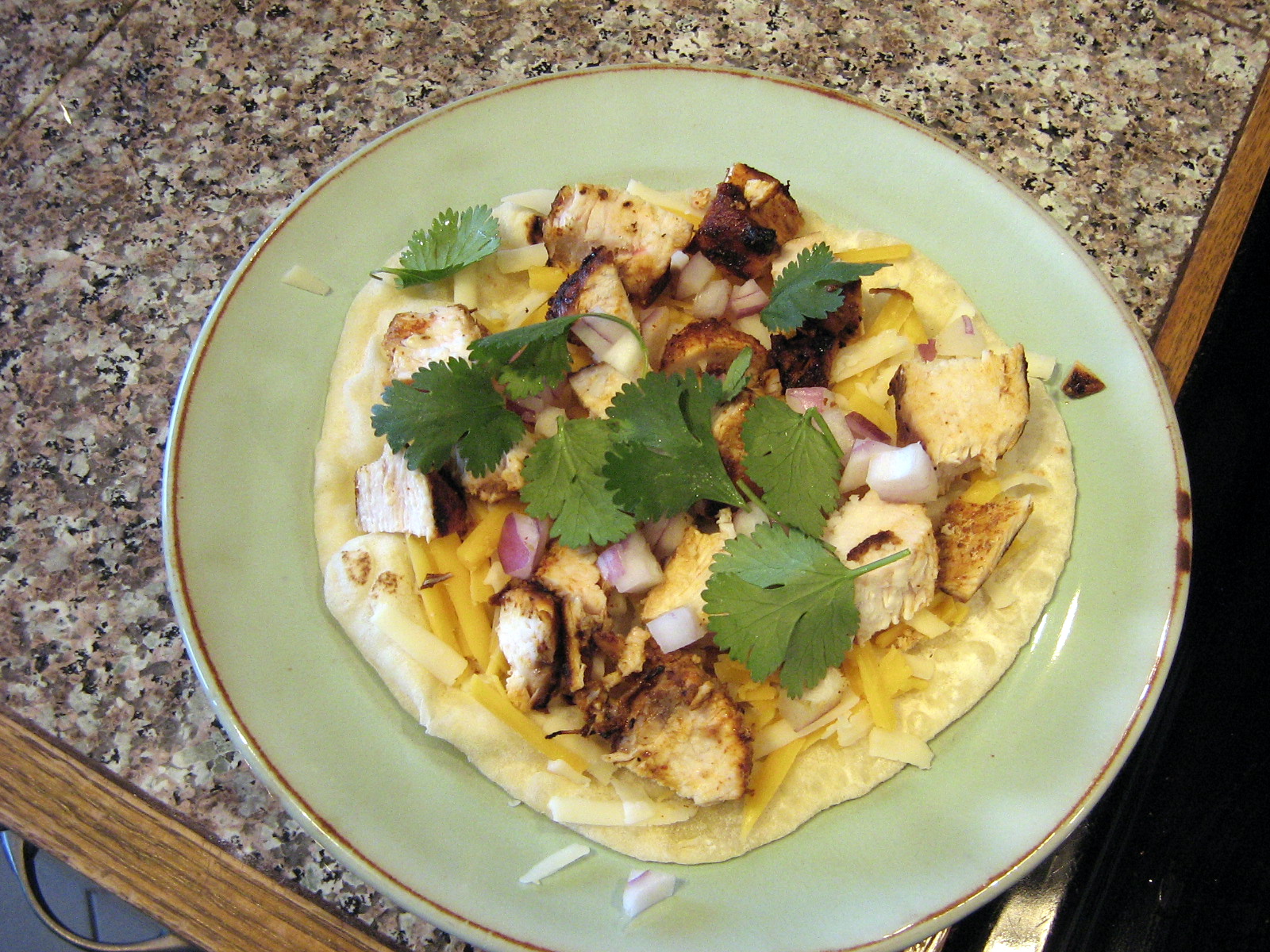 Melt a little butter in the skillet and gently slide the quesadilla into the pan. Top with a second tortilla, blistered side down. Cook until the bottom is golden brown and the cheese is melted. Flip using a spatula.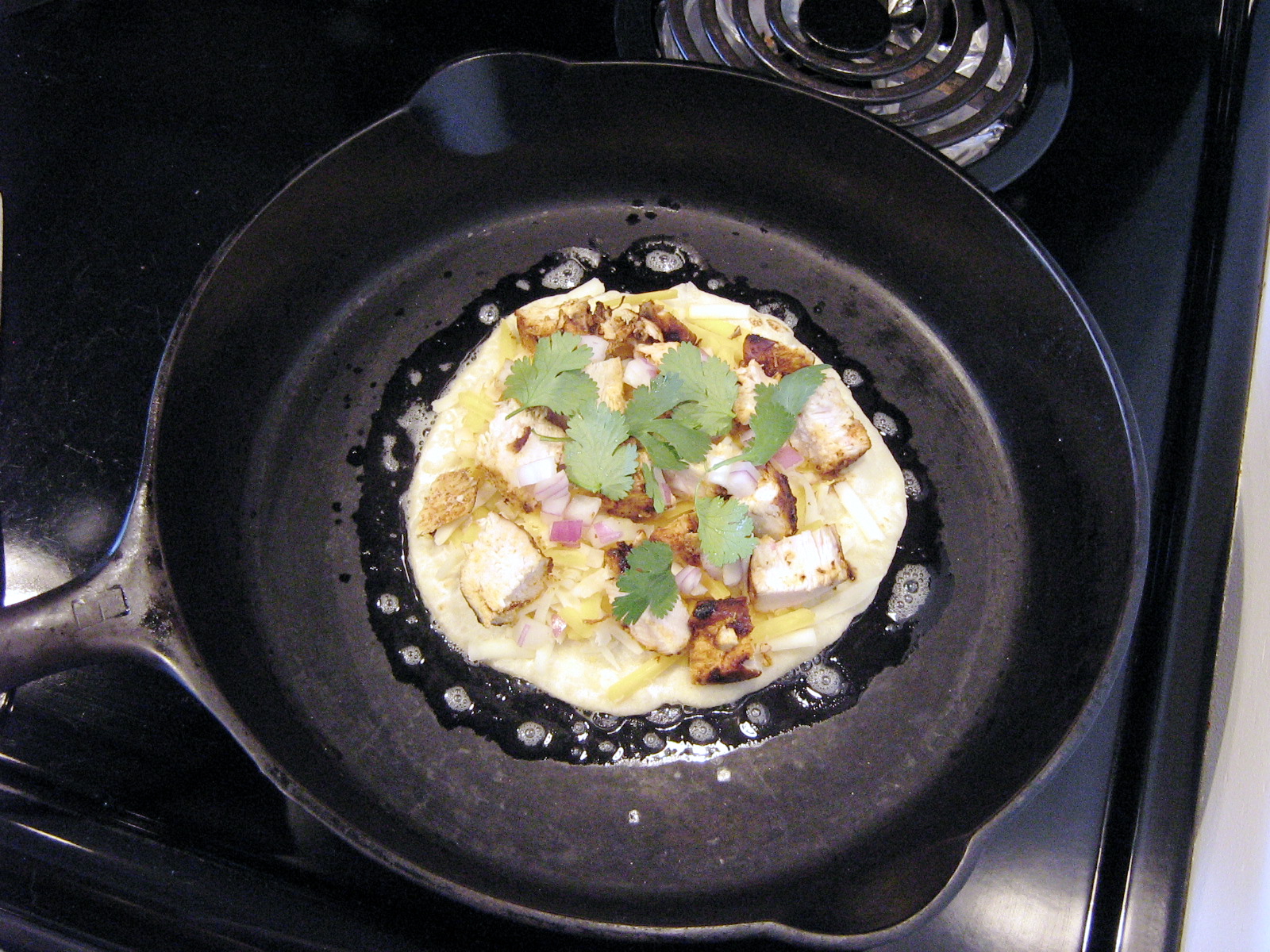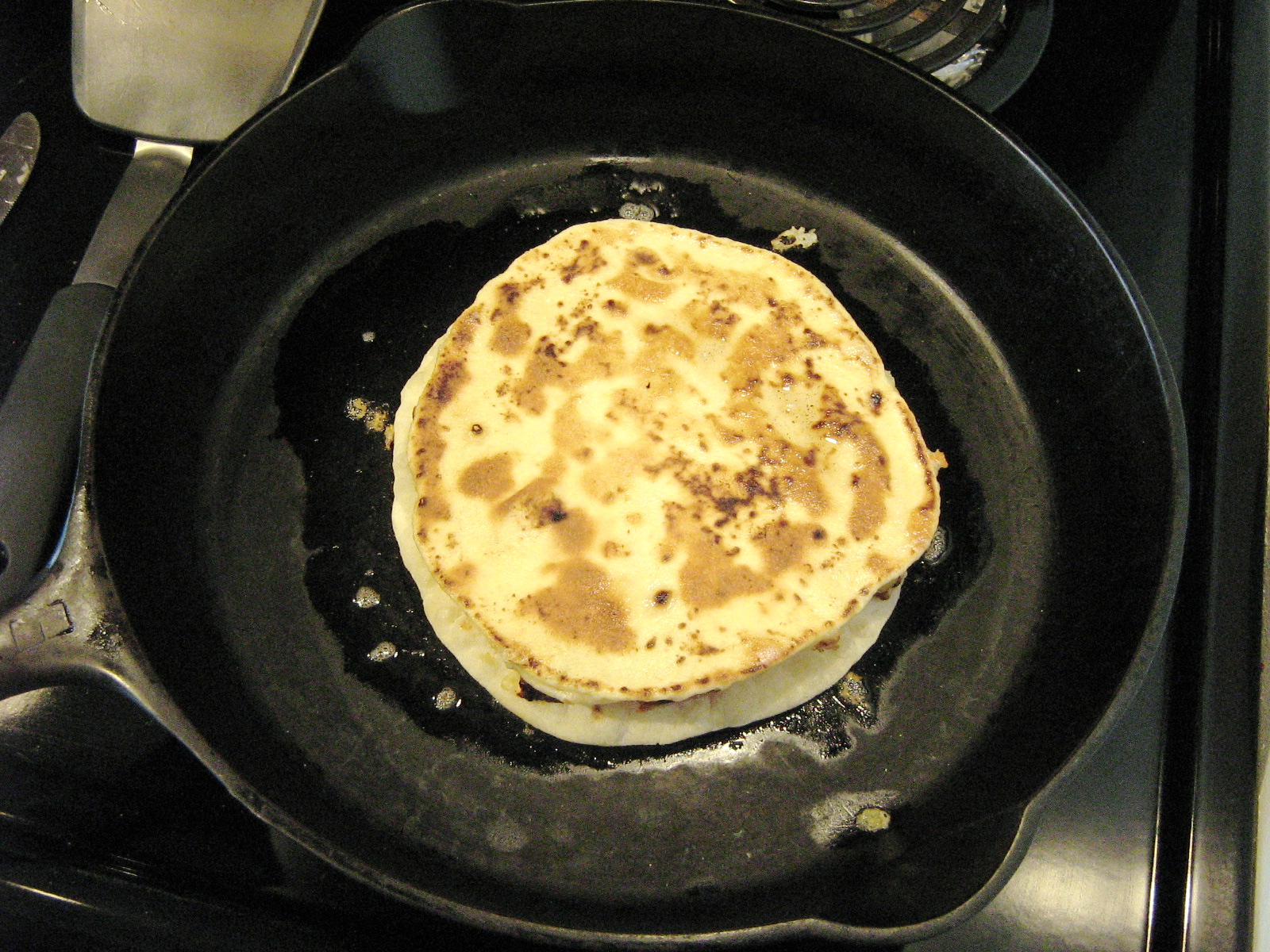 Cook the other side until golden. Remove to a cutting board and let sit for a few minutes before cutting into 4. Serve with sour cream and Roasted Red Pepper Sauce (see recipe below). Makes 4.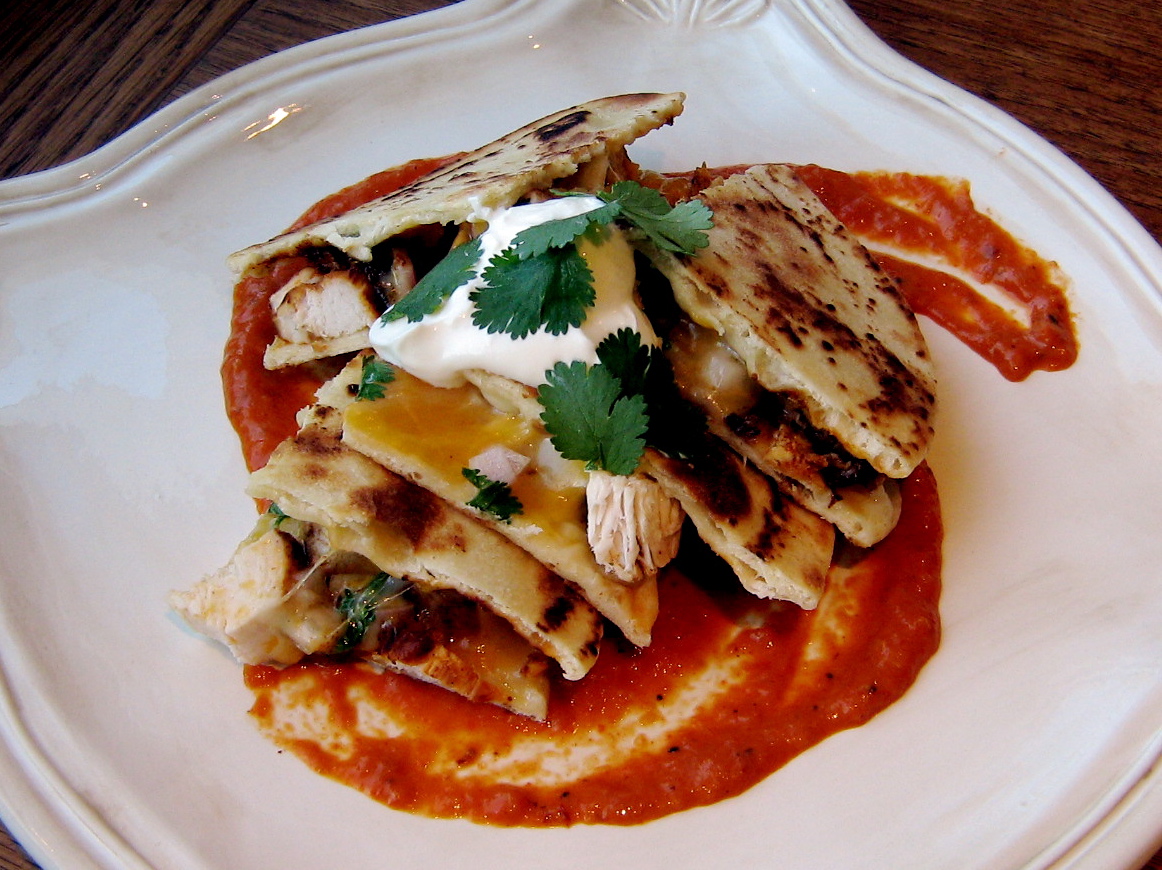 Roasted Red Pepper Sauce
Inspired by the Frugal Flambé; adapted from Bobby Flay's original recipe
In a blender, combine:
2 roasted red peppers, roughly chopped *
1/4 small red onion, chopped
2 cloves roasted garlic, peeled (or 1 clove raw garlic, chopped)
2 tbsp balsamic vinegar
1 1/2 tsp each honey, Dijon mustard, chipotle purée **
salt and freshly ground pepper
Add vegetable oil as needed to get desired consistency. Serve with Ancho Chicken Quesadillas. Makes about 1 1/4 cups.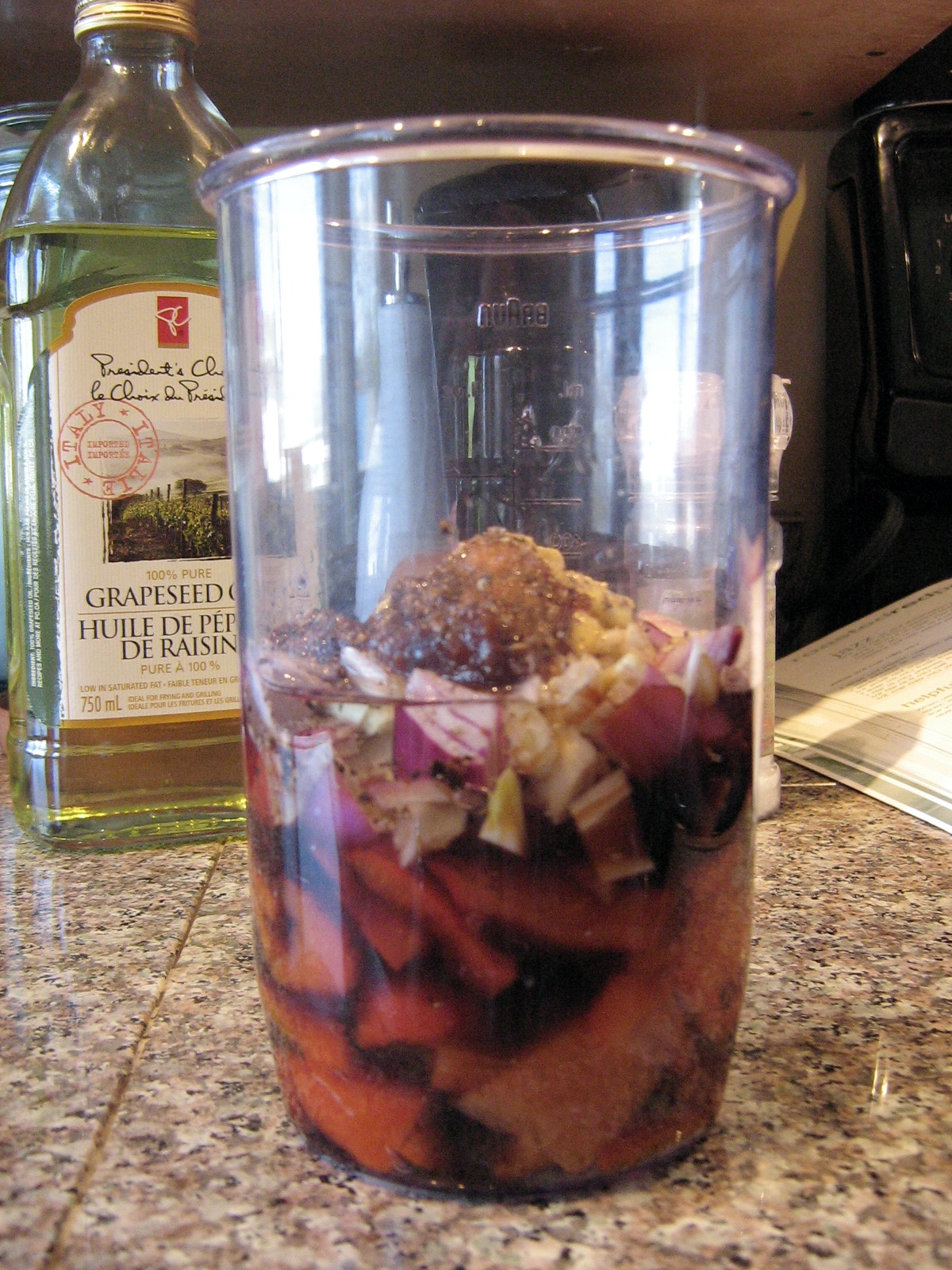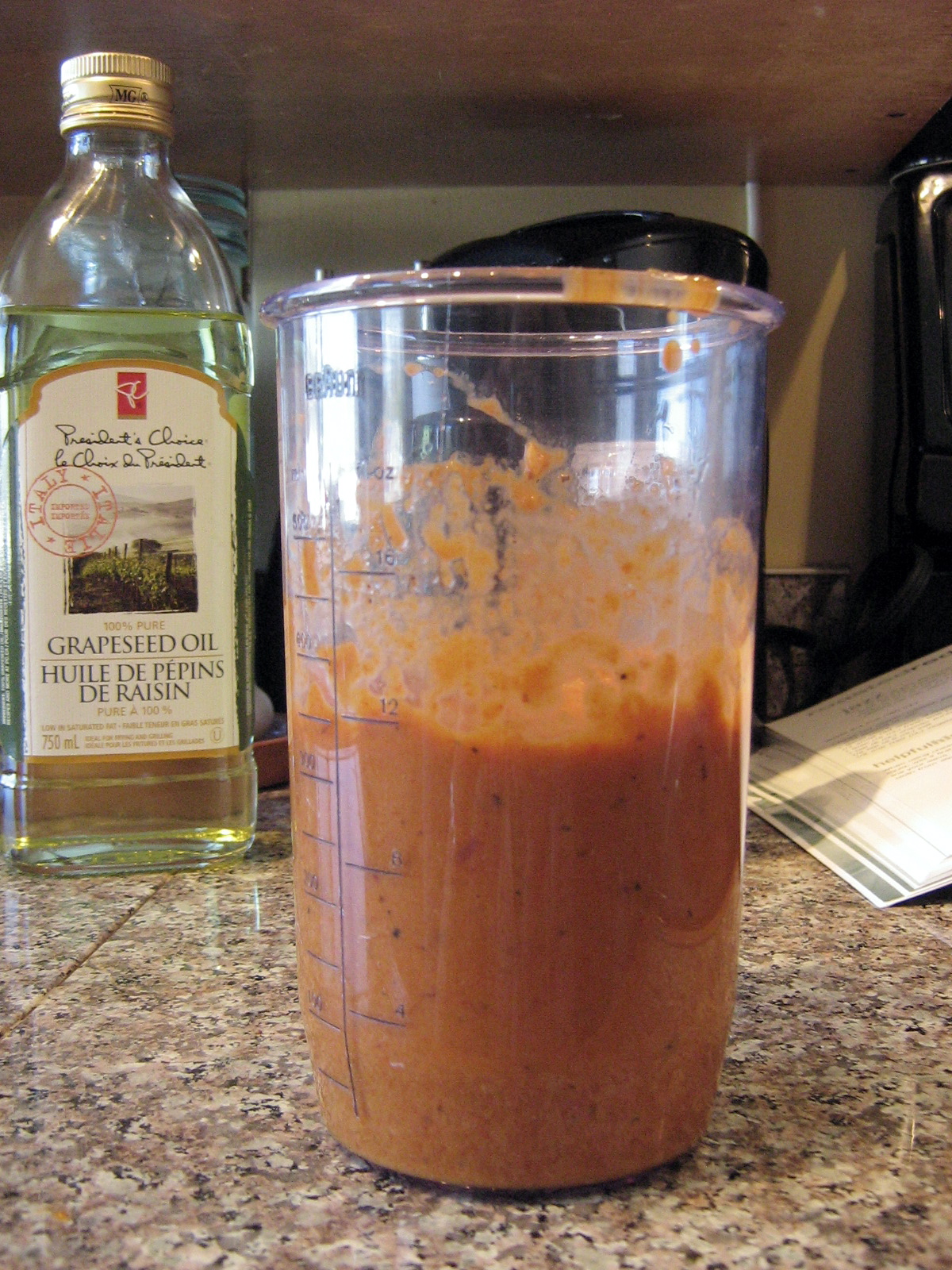 * Roasted peppers: cut each pepper in half and remove stem, membrane, and seeds. Place cut side down on a parchment paper-lined (or oiled) baking sheet. Bake in a preheated 425˚ F oven for 15 minutes. Turn on the broiler to high (500˚ F) and broil until the skin is charred and blistered (watch carefully). Remove from the oven, place in a bowl, and cover with plastic wrap. Set aside to steam for about 10 minutes. Remove the plastic wrap and when the peppers are cool enough to touch, peel off the skin and discard.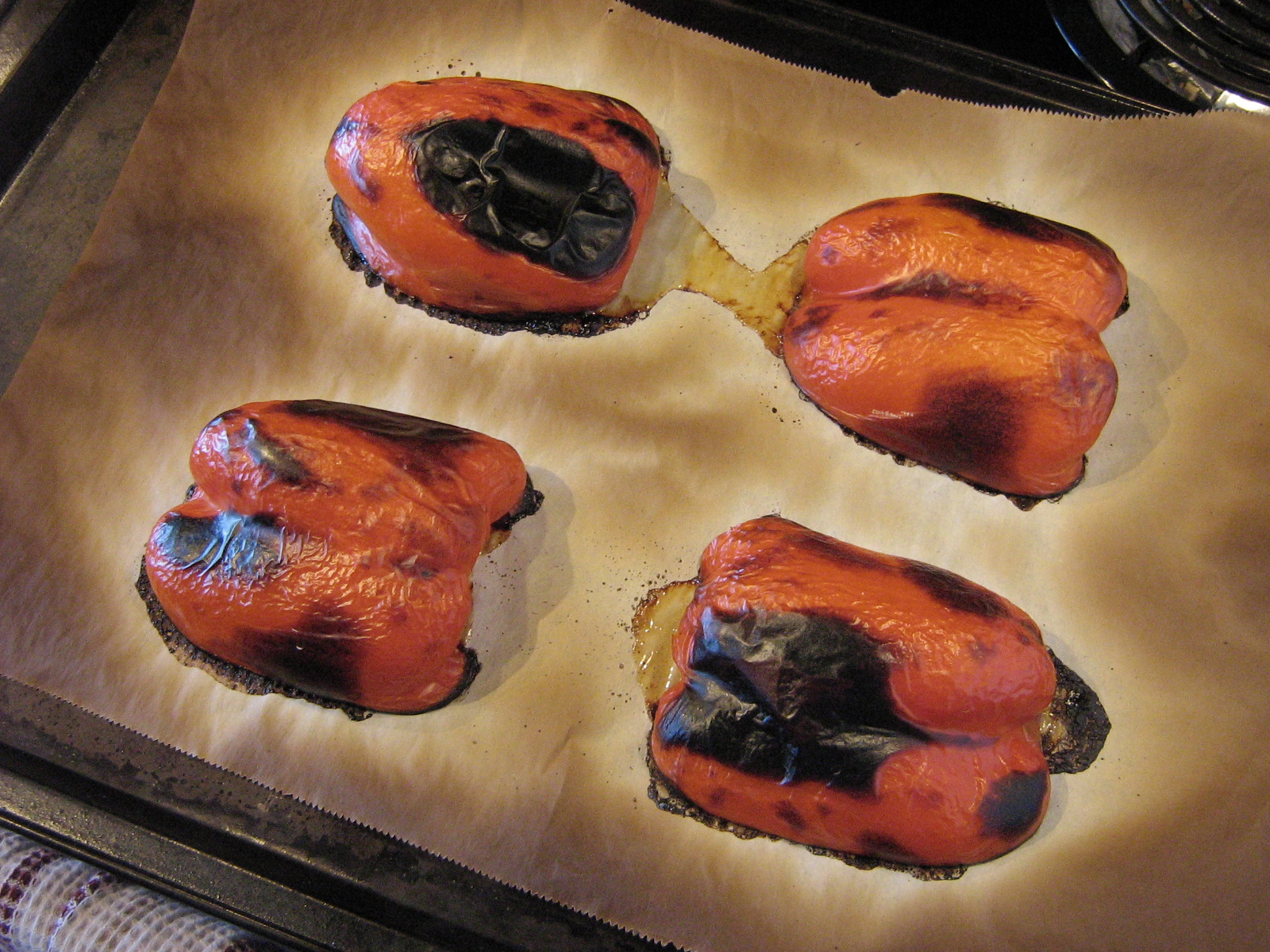 ** Chipotle purée: in a blender, purée the contents of a can of chipotle peppers in adobo sauce (available in the Mexican section of most grocery stores). Store in a jar in the fridge (can be frozen in small amounts (ice cube trays?) and thawed as needed).