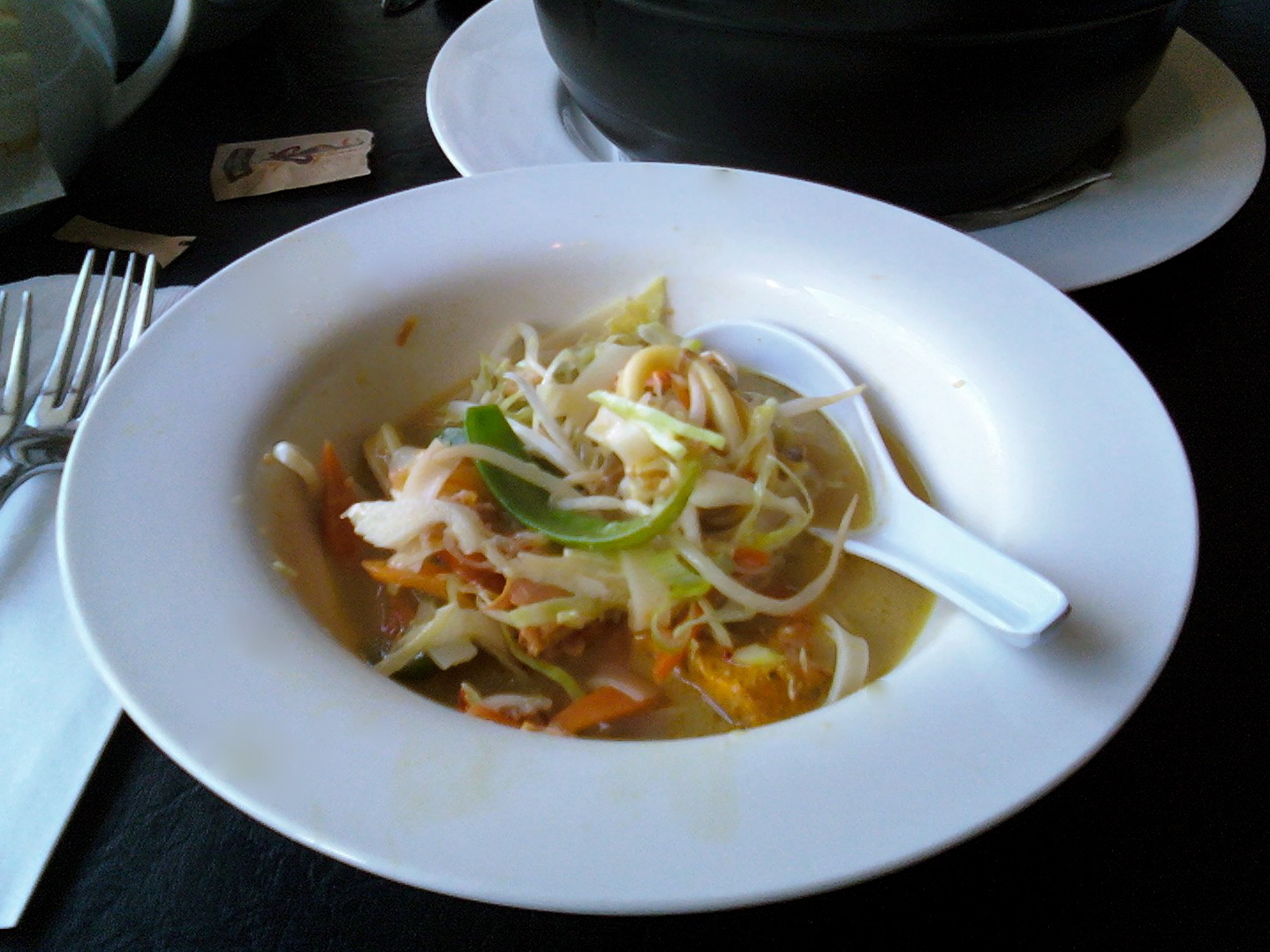 On Saturday, my mum came over to Victoria to visit for the day. We did some errands downtown, browsed through some kitchen shops and bookstores, and went out for lunch. We were planning on going to The Blue Nile, which is an Ethiopian restaurant in Esquimalt, but it turned out they weren't open for lunch. Instead, we went to Café Ceylon – and am I ever glad we did!
Café Ceylon serves Sri Lankan and Indonesian food, and after reading a favourable review of it – on Urban Spoon, maybe? – I had made a mental note of it as somewhere to take my mum, because she is an adventurous eater and loves trying out ethnic food (as do I!). Luckily I had the foresight to put the restaurant's location in my phone, so when we discovered that Ethiopian food wasn't going to happen, I had an alternative.
All of the menu items sounded tasty, and the restaurant itself smelled amazing. The blurb at the top of the menu stated that the food was cooked according to Ayurvedic principles, resulting in a harmonious and balanced taste. I don't know anything about Ayurvedic cooking, but I can tell you that that food we had was delicious – definitely harmonious and balanced! Mum and I shared a large order of the Bangkok Floating Market Seafood Pot, which came to our table in a big cast iron vessel full of fragrant broth, salmon, prawns, calamari, simmered vegetables, and rice noodles, topped with thinly sliced cabbage, green onions, bean sprouts, and crispy onion. It was SO GOOD. The broth was INCREDIBLY flavourful with coconut milk, lemongrass, ginger, chili, fish sauce, and kaffir lime leaves (which I don't think I had ever tasted before, and are very neat-looking with their double leaves). The seafood was perfectly cooked, fresh and delicious, and the crunchy sweetness of the raw cabbage on top of the savoury broth and slurpy rice noodles was a great combination. It seemed to be a very popular choice – almost every other table had ordered it too!
I was starving when we sat down, and we can both eat A LOT, but there was so much food that we couldn't even manage to finish it (and for less than $20!). Honestly, this was some of the best food I have had in a restaurant in quite a while. It was so fresh and so flavourful and felt very healthy (probably because of the Ayurveda! 😉 ). And not only was the food fantastic, but it came quickly and the servers were polite and attentive. I can't wait to go back and try something else on their menu – although the seafood pot was so good, I might just get it again!
Visit Café Ceylon's website for their location, menu, and information on Ayurvedic cuisine!