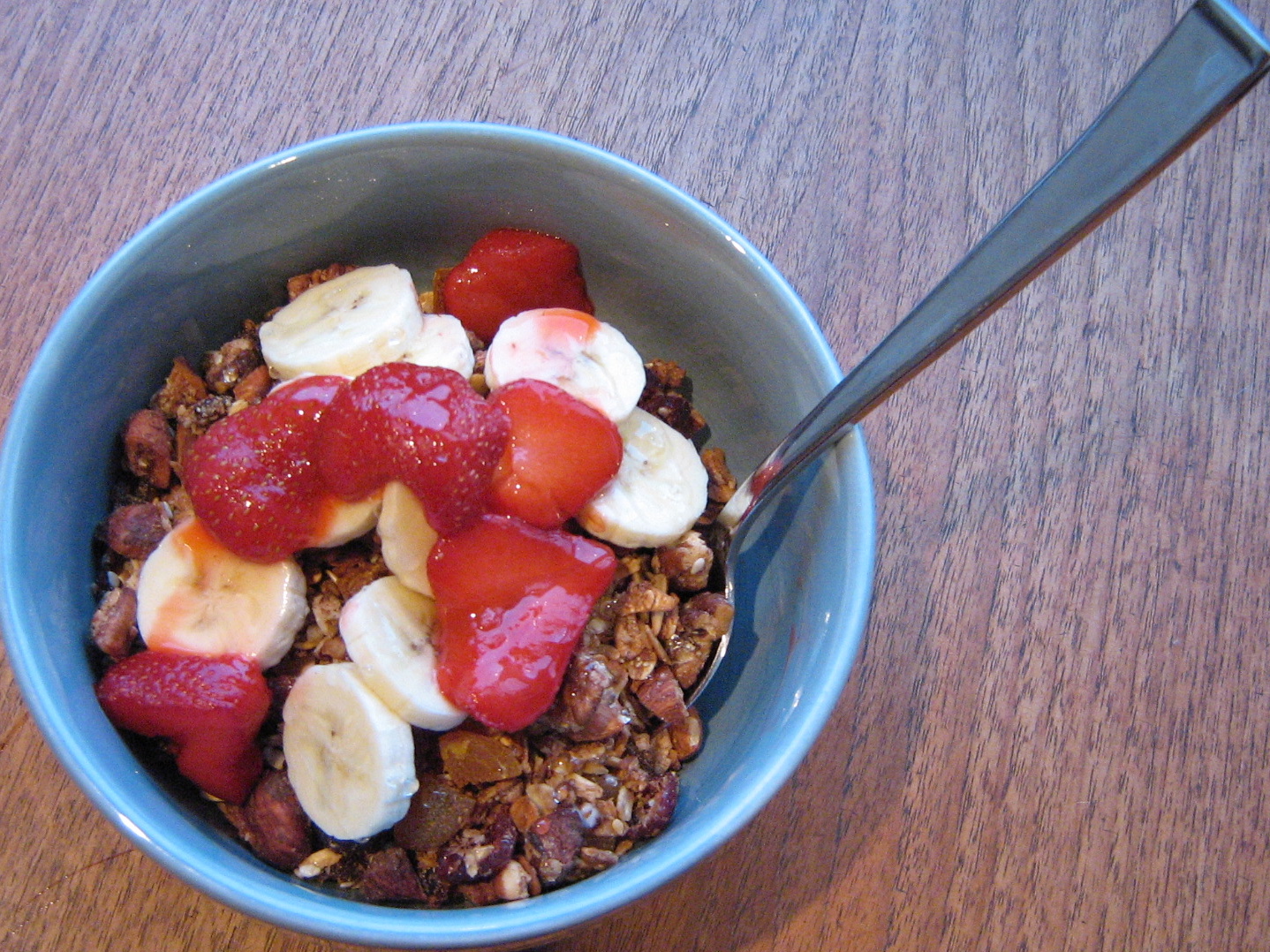 My Mum has made homemade granola for almost as long as I can remember. When I was a kid I wasn't a big fan – too grainy, too healthy – but in recent years I have come to appreciate just how delicious is it. My favorite part is the slightly sweet, toasted pecans, and Mum used to tell me off for picking them out of the freshly made granola cooling on the counter. Ahh, memories 😉 Anyway, I've had this recipe in my recipe box for a while now, but I only got around to making it for the first time this past weekend.
The recipe is very flexible and really easy to modify. I had a lot of fun browsing through the bulk food store looking for different ingredients. In addition to changing up some of the grains and seeds, I used honey and brown rice syrup instead of maple syrup, coconut oil instead of vegetable oil, and natural apple juice instead of brown sugar and water. This is the recipe as I made it, but as long as you keep the basic proportions of oats/flakes/grains, seeds, nuts, fruit, and liquid in check, you can be as creative as you want with substitutions and flavours!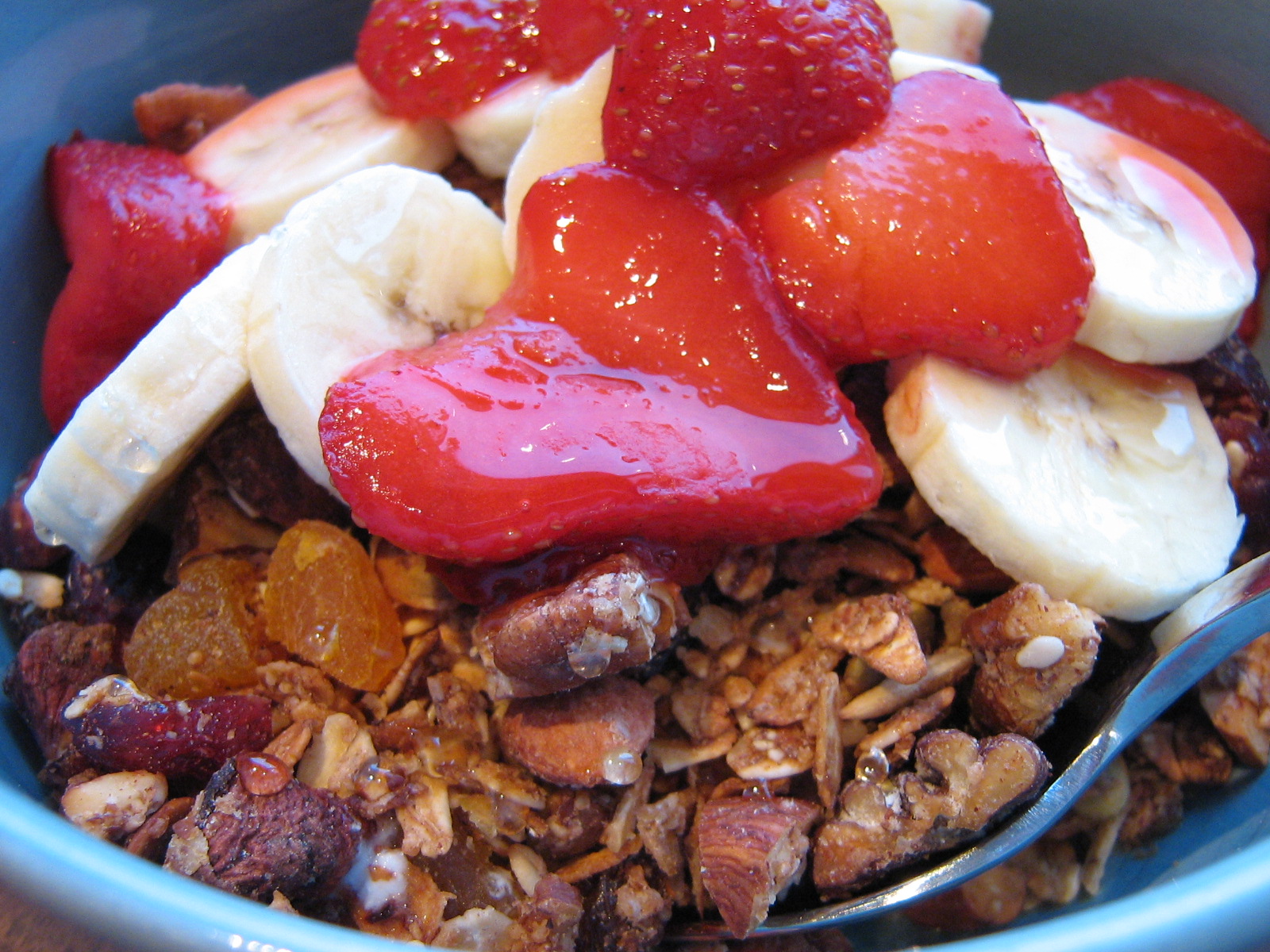 Homemade Granola
I have included the total amounts of each type of ingredient, so as long as you keep the amount roughly the same, feel free to substitute something different. I used brown rice syrup because I had some on hand – if you just want to use honey or maple syrup, increase to 1/2 cup. I also used apple juice to help sweeten the granola, which can be replaced with 1/4 cup brown sugar and a dash of water.
Dry:
2 cups rolled oats
1 cup each quinoa and triticale flakes (both high in protein) (2 cups total)
1/2 cup each spelt germ and wheat bran (1 cup total)
1/4 cup corn flour
1/2 cup each pumpkin seeds, sesame seeds, ground flax seeds (1 1/2 cups total)
1/2 cup unsweetened shredded coconut
1 heaping tbsp cinnamon
1/2 tsp salt
1/2 cup each almonds, hazelnuts, and pecans, roughly chopped (1 1/2 cups total)
1/2 cup each raisins, dried cranberries, and dried apricots (quartered) (1 1/2 cups total)
Wet:
1/4 cup honey (or maple syrup)
1/2 cup brown rice syrup
1/4 cup natural unsweetened apple juice
1/2 cup coconut oil, warmed to a liquid
1 tbsp vanilla
Preheat oven to 300˚ F. Mix together all dry ingredients in a large bowl, except for the dried fruit. Mix the wet ingredients together and combine with the dry, mixing well to coat. Spread out onto a large, rimmed baking sheet or roasting pan and bake for 45 minutes at 300˚ F, stirring every 15 minutes. Bake for 10 more minutes, stir in the dried fruit, and bake for another 5 minutes. Remove from the oven and allow to cool completely before storing in an airtight container.