My aunt recently spent a month in Paris (lucky!), and she sent me a box of culinary goodies, the contents of which included some crystallized sugar, sea salt "pearls" (which apparently form naturally into these large, pea-sized balls – I'm not too sure what to do with them, but they're cool!), green tea "dust" for sprinkling on baked goods, and – drumroll! – French macarons.
For those of you unfamiliar with the macaron, it is essentially an almond meringue petit four sandwich cookie, made of ground almonds, icing sugar, egg whites, and a delicious filling. The outside is crunchy, the inside is slightly soft and moist, and it all melts deliciously on the tongue. Macarons come in as many flavour and filling combinations as you could possibly think of, from ketchup (yes, ketchup!) to pistachio to chocolate. They are an essential French pastry, and I don't think I have had one since I was in Paris myself 9 years ago. They were pretty much my favorite part of the trip, and as I mentioned, they come in almost every flavour imaginable, so there is no way you can get tired of them. Or, at least, I can't.
Anyway. The macarons sent by my aunt were from Ladurée, a French tea salon that also has stores in London, Switzerland, Monaco, and Tokyo (just in case you are ever in those areas of the world and are craving a French macaron). The flavours in the box were Chocolate, Caramel with Salted Butter, Rose, and either Raspberry or Blackcurrant Violet – I'm not sure which. Despite the fact that they were a tiny bit stale and a tiny bit crumbly from being mailed, they were delicious. The Caramel was devine – the salted butter was just the right note against the sweet and toasty caramel flavour – and I also really liked the Raspberry/Blackcurrant Violet one – it was the most amazing purple colour. The Rose was interesting – I bit into it thinking it would be strawberry, and then got this floral aroma on my tongue that took me a minute to place, as rose isn't usually something you taste. And the Chocolate… well, I love chocolate. That's about all that needs to be said.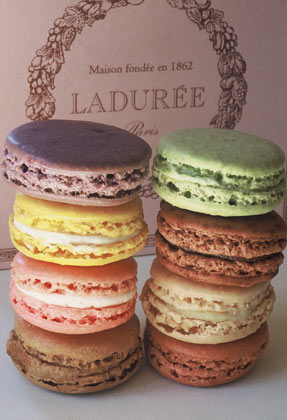 Oh, and did I mention that I'm still doing this 30 days of no refined sugar thing? Yeah, that went out the window for the macarons. They wouldn't keep for another week (when the 30 day challenge ends), and there was no way I wasn't going to eat them!
There are tons of websites and blog posts dedicated to perfecting the art of the macaron, which apparently can be quite tricky. David Lebovitz has an extensive resource list for macaron making on his blog, along with a delicious-sounding recipe for chocolate macarons. My trusted friend Martha also has a basic recipe with several flavour variations (such as saffron with chocolate ganache, black tea with sweet mango filling, pistachio with orange floswer cream, and chocolate with lavendar ganache) in the 2010 Martha Stewart Holiday Cookies magazine. So there is lots of inspiration floating around…
I'm planning on making them myself some day. Stay tuned.