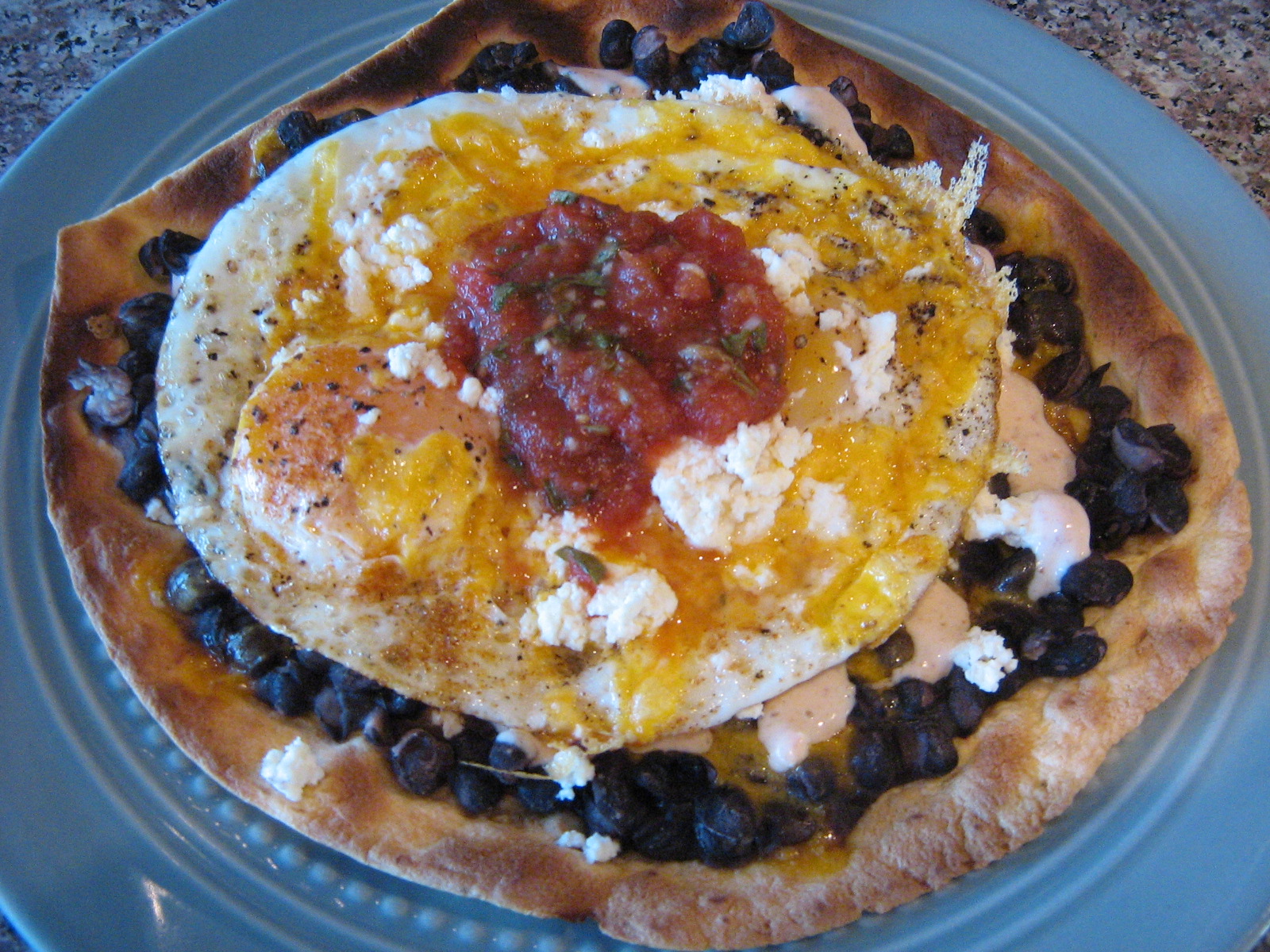 Last night we had burritos with pork picadillo filling (recipe here), and this morning for breakfast I made huevos rancheros with the leftover beans and tortillas. This is a take on the version of huevos that is served at our favorite breakfast place, Spoons Diner. Nate orders this about 90% of the time we go there, and the other week I finally tried it myself – delicious! I have no idea how authentic it is (probably not very!) but it is sure good, and very filling.
Huevos Rancheros
In a cast iron pan over medium-high heat, brown a flour tortilla on one side. Flip it over in the pan and remove the pan from the heat. Spread beans (I used whole black beans spiced with cumin, but you could use refrieds or whatever you want) over the tortilla and sprinkle with cheese. I used cheddar and a Mexican-style fresh farmer's cheese. Place the pan under the broiler until the tortilla is browned and the cheese is melted.
Meanwhile, in a small non-stick, oven-safe pan, melt a little butter and fry 2 eggs (or just one, depending on how hungry you are). Season with salt and pepper, but do not flip over – instead, sprinkle with more cheese and place under the broiler until the cheese is melted and the yolks are still a little bit jiggly.
Place the tortilla on a plate. Stir together about 1 tbsp of sour cream and 1 tsp of chipotle puree (or chipotle powder, or regular chili powder) and drizzle over the tortilla. Top with the cheesey eggs and dollop with salsa. Guacamole would also be good. Dig in.
Serves one.