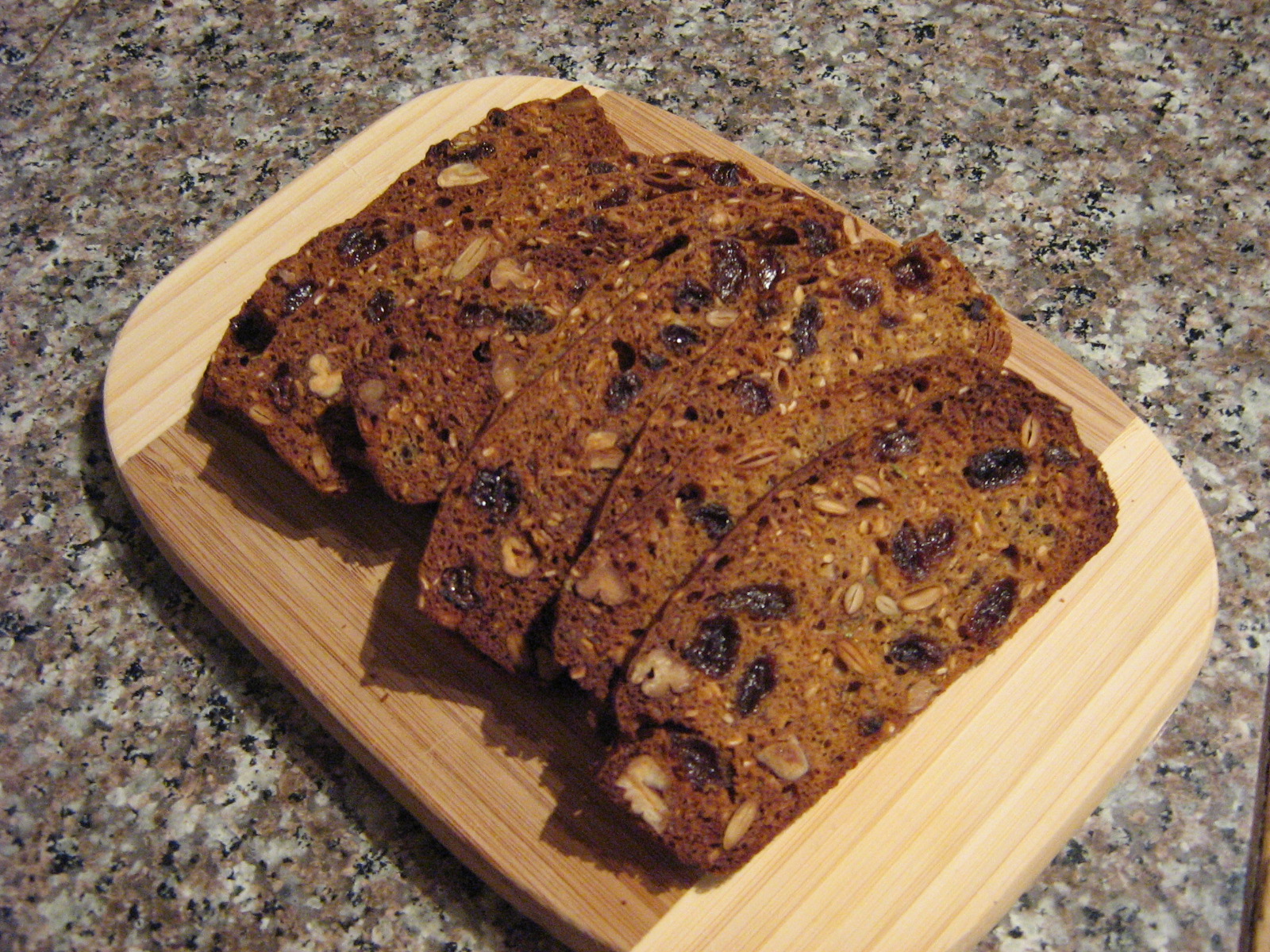 Have you ever had Lesley Stowe's Rosemary Raisin Pecan Raincoast Crisps? Would you agree that they are among the best things you have ever tasted?
I came across a recipe for these amazing crackers at Dinner with Julie a few months ago, and made a mental note to try them out. I am currently doing a 30-day no-refined-sugar challenge with a friend of mine, and I wanted to experiment with using alternative sweeteners in baking. Seeing as the recipe for these crisps calls for only a small amount (1/4 cup) of brown sugar, I thought it would be a good place to start experimenting, and it would also give me a delicious snack to nibble on so that I wouldn't miss refined-sugary treats so much!
There are lots of tips on the web for substituting liquid sweeteners in place of dry sugar in baking, but the resource I used was this one. You need to add more or less sweetener depending on how sweet it is compared to regular sugar, and also to reduce the liquid in the recipe to adjust for the added moisture. Following this advice, I used 1/3 cup of brown rice syrup plus about 1 tablespoon of blackstrap molasses in place of the brown sugar, and decreased the amount of buttermilk by a smidgeon (probably about 2 tablespoons). I also substituted 1 cup of whole wheat flour for 1 cup of all purpose.
These crackers are sort of like biscotti, in that you bake them once (in a loaf pan), then slice them thin and bake again until crisp. When the loaves were baking, they smelled incredible – just like the originals. I was a bit worried about the colour, as they seemed very light, but I just put a batch through their second baking, and they look, smell, and taste exactly like the real thing!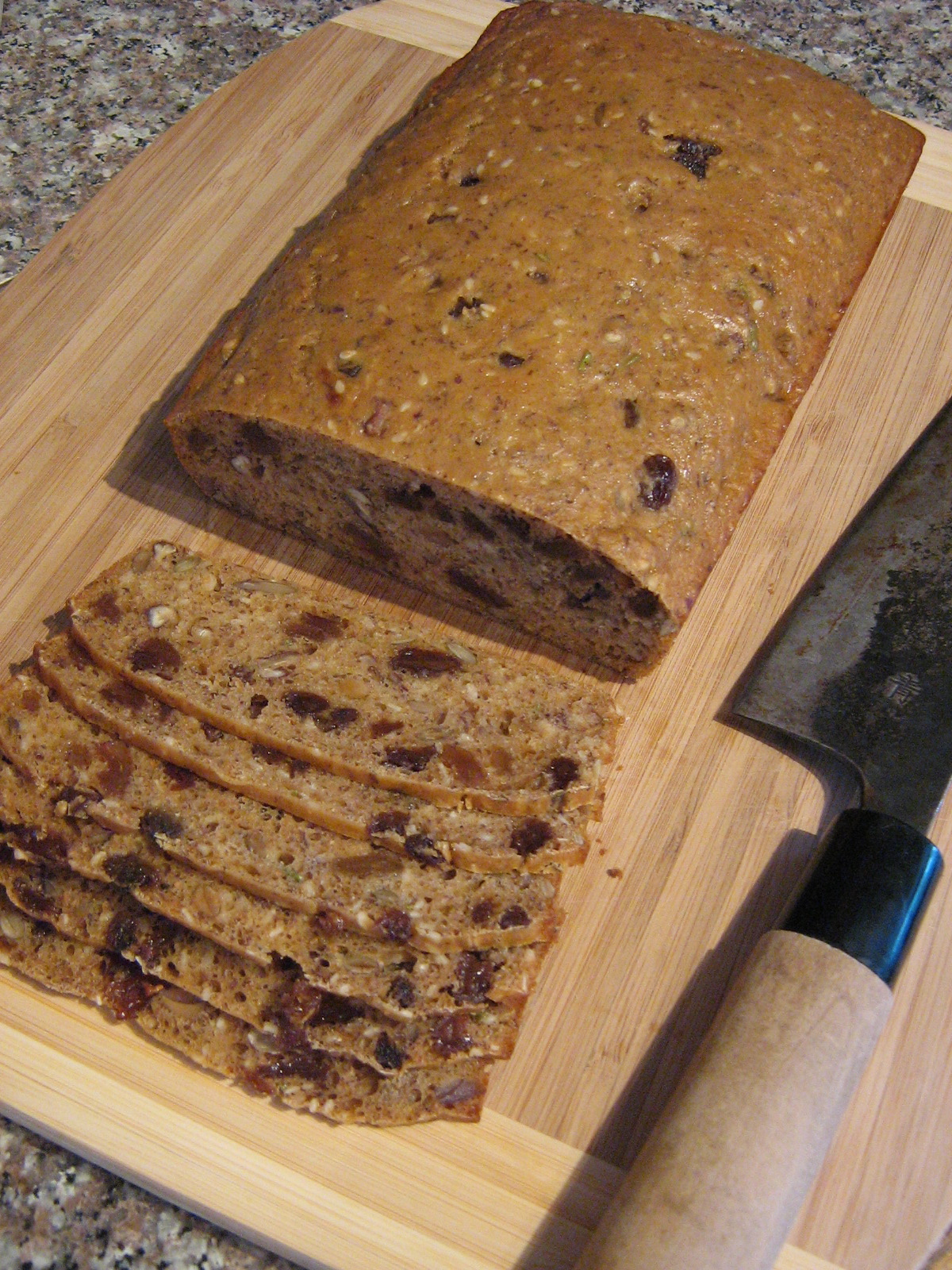 Here's the recipe, with my edits to make it refined-sugar-free. Enjoy!
Rosemary Raisin Pecan Crisps (no refined sugar!)
Original recipe from Dinner with Julie can be found here.
1 cup all purpose flour
1 cup whole wheat flour
2 tsp. baking soda
1/2 tsp. salt
2 scant cups buttermilk
1/3 cup brown rice syrup
1 tbsp. blackstrap molasses
1/4 cup honey
1 cup raisins
1/2 cup chopped pecans
1/2 cup roasted pumpkin seeds (optional)
1/4 cup sesame seeds
1/4 cup flax seed, ground
1 tbsp. chopped fresh rosemary
Preheat oven to 350˚ F. Grease two 8×4 inch loaf pans or spray with cooking spray.
In a large bowl stir together flours, baking soda, and salt. In a smaller bowl whisk together buttermilk, brown rice syrup, molasses, and honey. Stir into the flour mixture using only a few strokes (it should still be lumpy like muffin batter). Add the remaining ingredients and stir until just blended.
Pour into the prepared pans and bake for 35 minutes, until golden and springy to the touch. Remove from the pans and cool completely.
When the loaves and completely cool, slice as thin as possible and place the slices in a single layer on an ungreased cookie sheet (I used parchment paper, just in case!). The original recipe suggests freezing the loaves to make slicing easier, which is what I did, and I would recommend it. It also means you can bake one loaf at a time, and leave one loaf frozen for later! To slice, I used a freshly-sharpened straight-edge knife, rather than a serrated knife.
Bake the slices in a 300˚ F oven for about 15 minutes, flip, and bake another 10 minutes, until crisp and dark brown (be careful not to burn them – it's a fine line!). Cool on a rack. Warning: these are addictive – good thing you have another loaf in the freezer for later, hey? 😉
Makes about 8 dozen crisps.