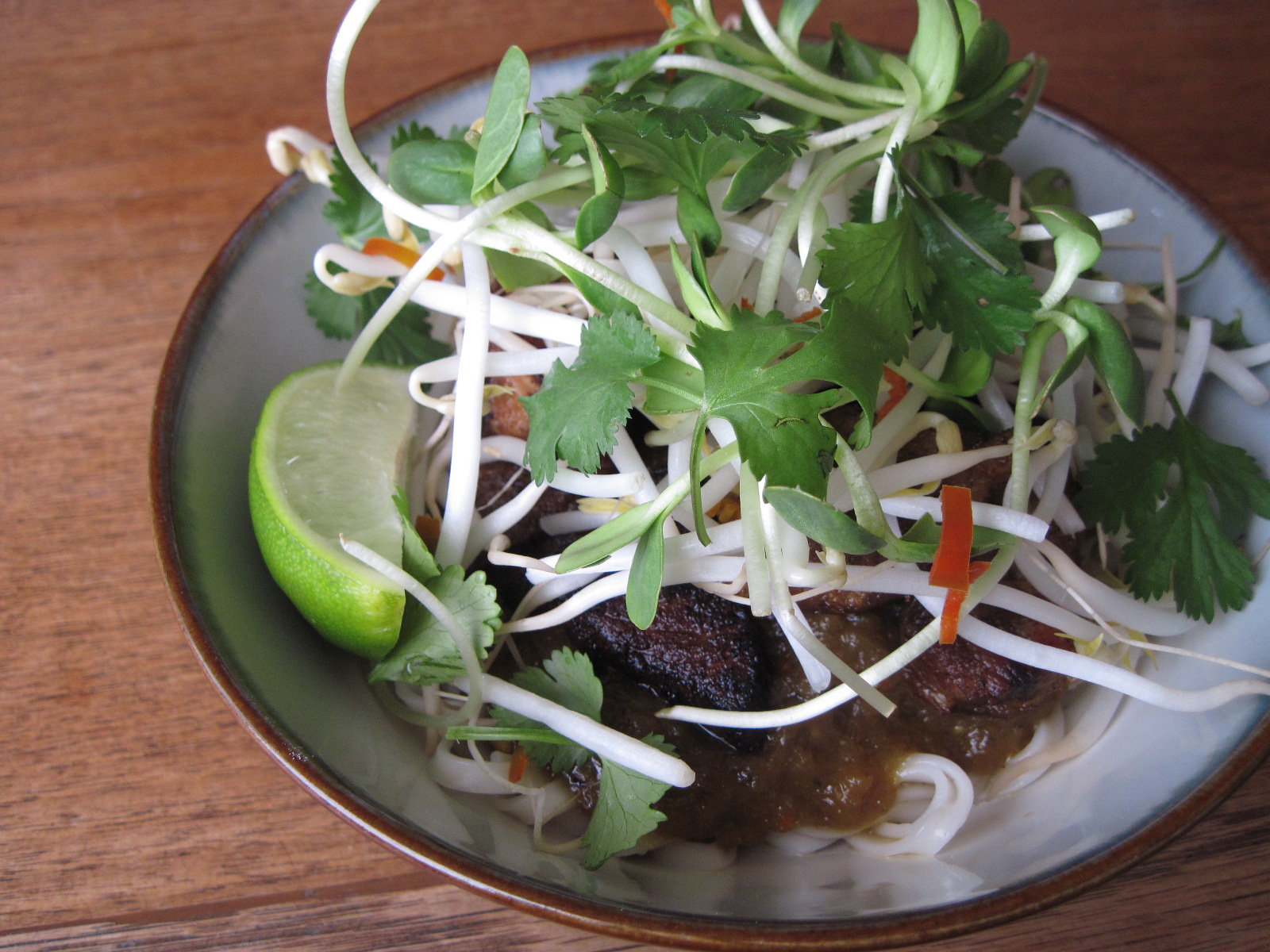 I usually think of rhubarb as a really great companion to strawberries in a pie or crisp, but its slightly acidic, slightly sweet flavour lends itself well to applications other than dessert. I have a freezer full of rhubarb from last year, and seeing as rhubarb season is almost upon us once again, I figured I had better use some of it up. Inspired by the rhubarb meatballs in Kate's weekly meal plan at Venison for Dinner, I did a Google search for a sweet and sour sauce made with rhubarb and came across a recipe by Jamie Oliver for "My Favorite Hot and Sour Rhubarb with Crispy Pork and Noodles". Being at home sick for a few days last week, I ended up watching a lot of Jamie on the Food Network, which cemented my gigantic crush on him and made me only too happy to try this recipe. Pieces of pork are baked in a sauce of pureed rhubarb, chilis, honey, and Asian flavours, then the pork is shallow-fried until crispy and served with the sauce over noodles, topped with what Jamie calls "interesting cresses". I think what he means by this is micro greens, however my local grocery store isn't so posh, so I ended up using bean sprouts and sunflower sprouts.
Jamie uses pork belly in his recipe, but I used pork shoulder instead (pork butt would work too). This was SO GOOD! The rhubarb sauce is tangy and flavourful, the pork is tender yet crisp, and the "interesting cresses" add a good dose of freshness and crunchy texture. It requires a bit of foresight to make because the pork takes at least an hour in the oven, but it's definitely going on the "make again" list!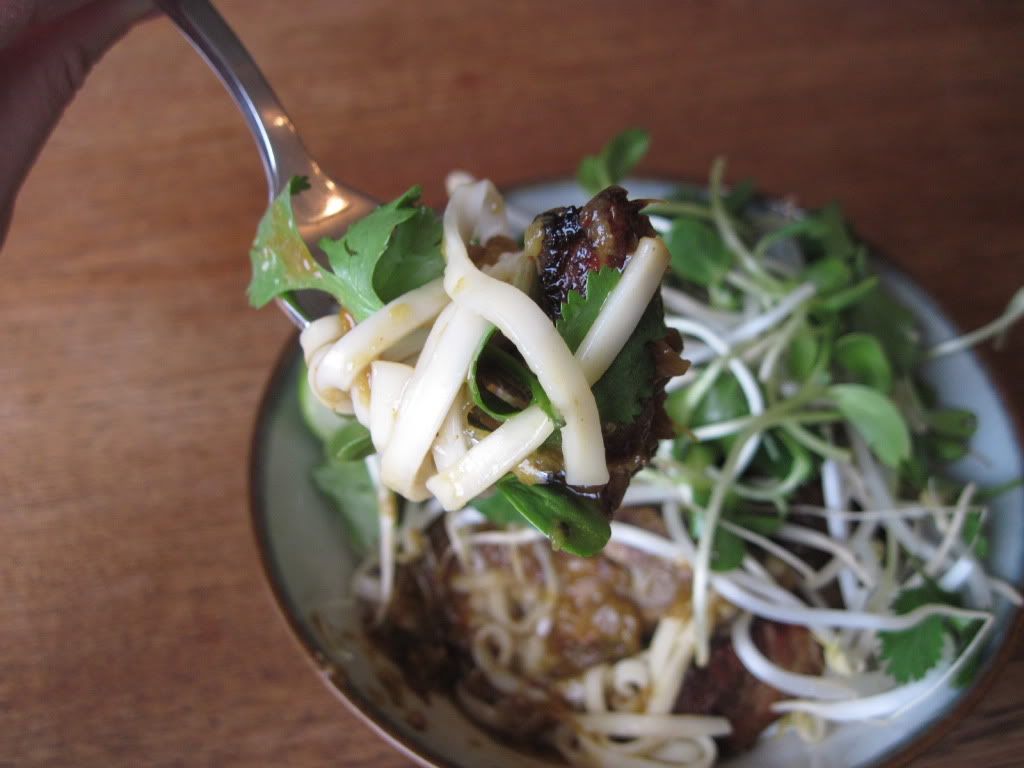 Crispy Pork and Hot & Sour Rhubarb Sauce with Noodles
Adapted from Jamie Oliver. Serves 2.
Preheat the oven to 350˚F. In an 8-inch square roasting pan, place:
500 grams boneless pork shoulder or butt, cut into 1 1/2-inch pieces
Sprinkle the pork with salt and pepper and set aside.
In a food processor, combine:
200 grams chopped rhubarb (fresh or frozen and thawed)
2 tbsp liquid honey
2 tbsp soy sauce
2 cloves of garlic, roughly chopped
1/2-inch chunk of ginger, peeled and roughly chopped
1 fresh red chili, de-seeded and chopped, OR 1 tsp chili paste (such as sambal oelek)
heaping 1/2 tsp Chinese 5-spice powder
Process until smooth (or as Jamie says, "wazz it up!").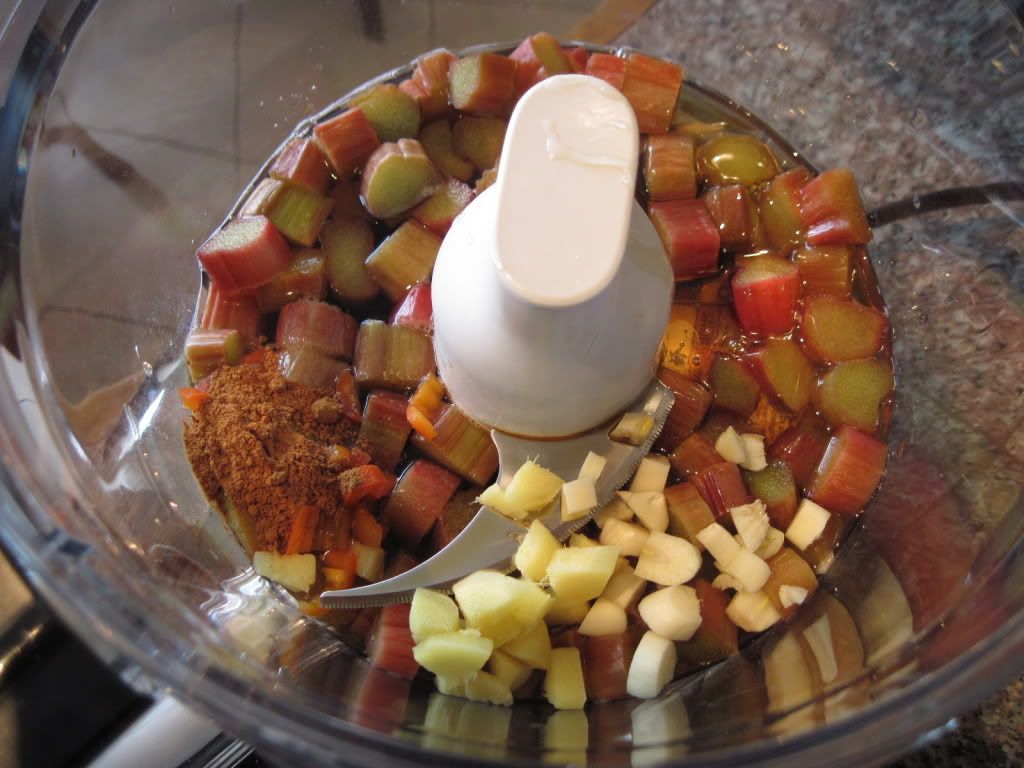 Pour the rhubarb mixture over the pork and cover the pan with foil.
Bake in a 350˚F oven for 60-90 minutes, until the pork is tender.
Remove the pork from the pan and scrape off as much rhubarb sauce as you can.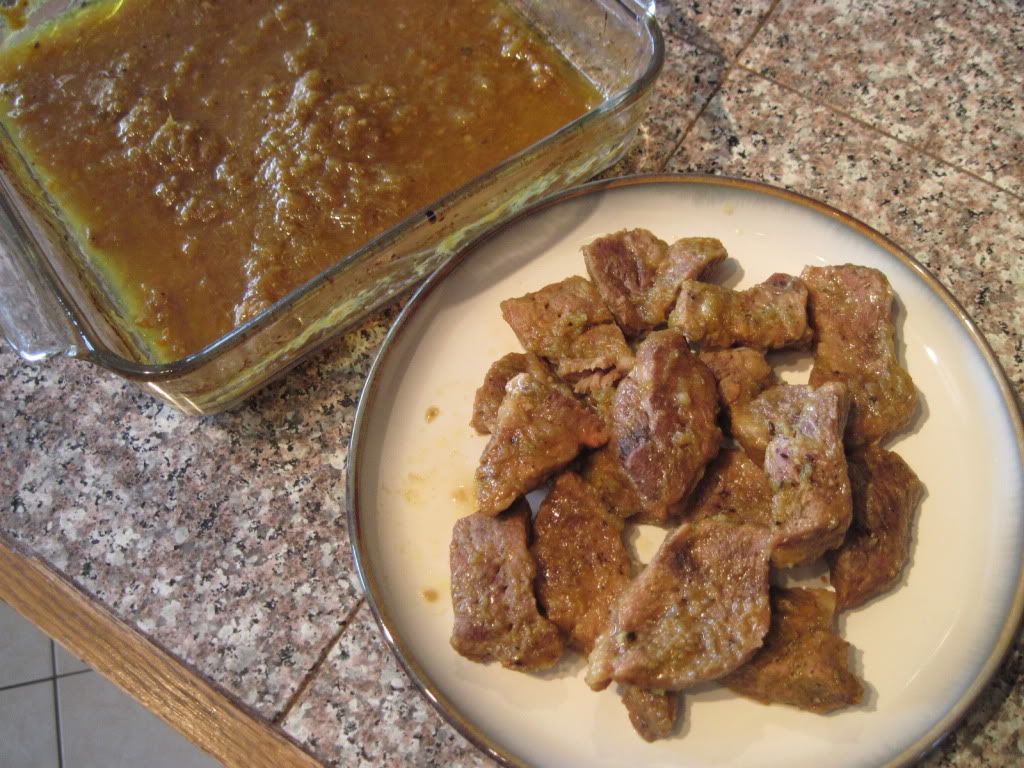 Place the rhubarb sauce in a pot and bring to a simmer to thicken if needed. Adjust the seasoning to taste – I added a little more honey and soy sauce and a dab of chili paste.
For the crispy pork, pour enough vegetable oil in the bottom of a wok or large pan to cover it 1/4-inch deep, and heat it over medium. When the oil is hot, add the pork pieces (I did this in two batches so as not to crowd the pan). Fry on both sides until brown and crispy, then set aside on paper towels to drain.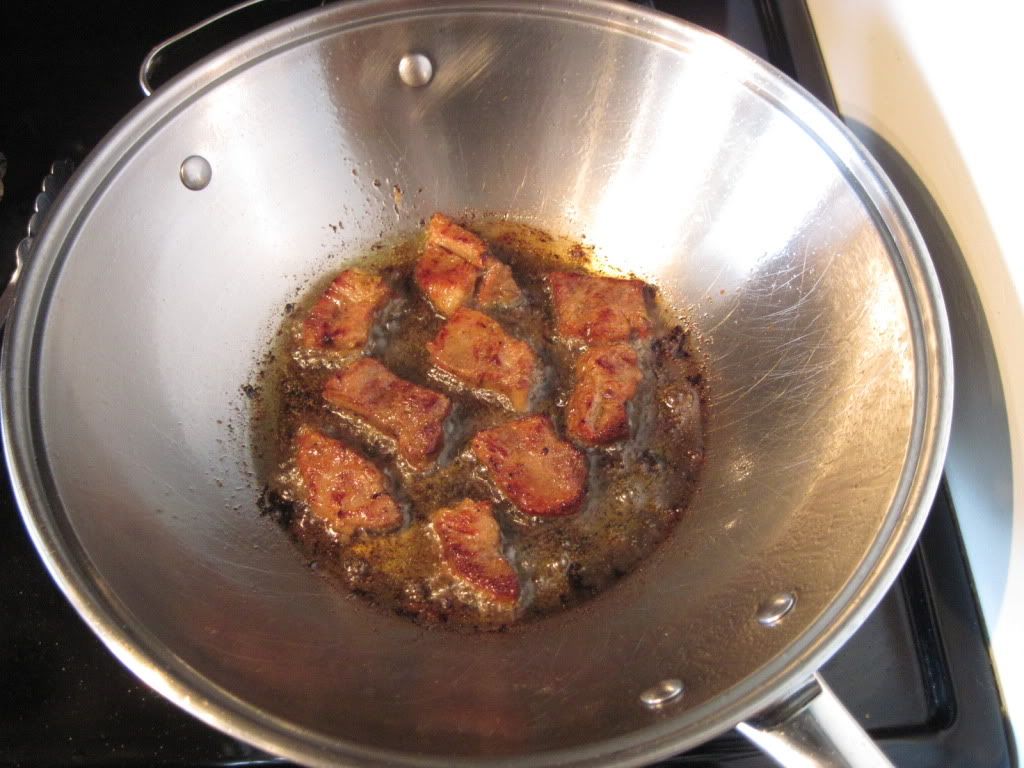 For the noodles, put a large pot of water on to boil while the oil heats. When you fry the pork, place about 175 grams of dry Asian egg noodles in the boiling water and cook until al dente.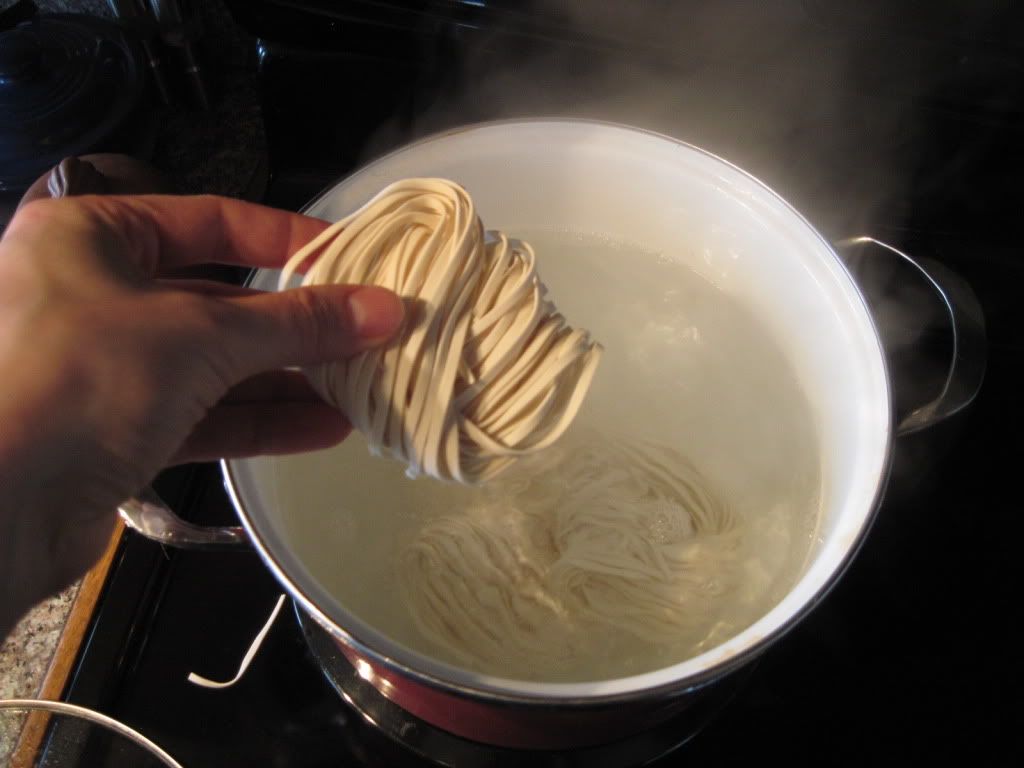 To serve, divide the noodles between two bowls and spoon over the rhubarb sauce and crispy pork.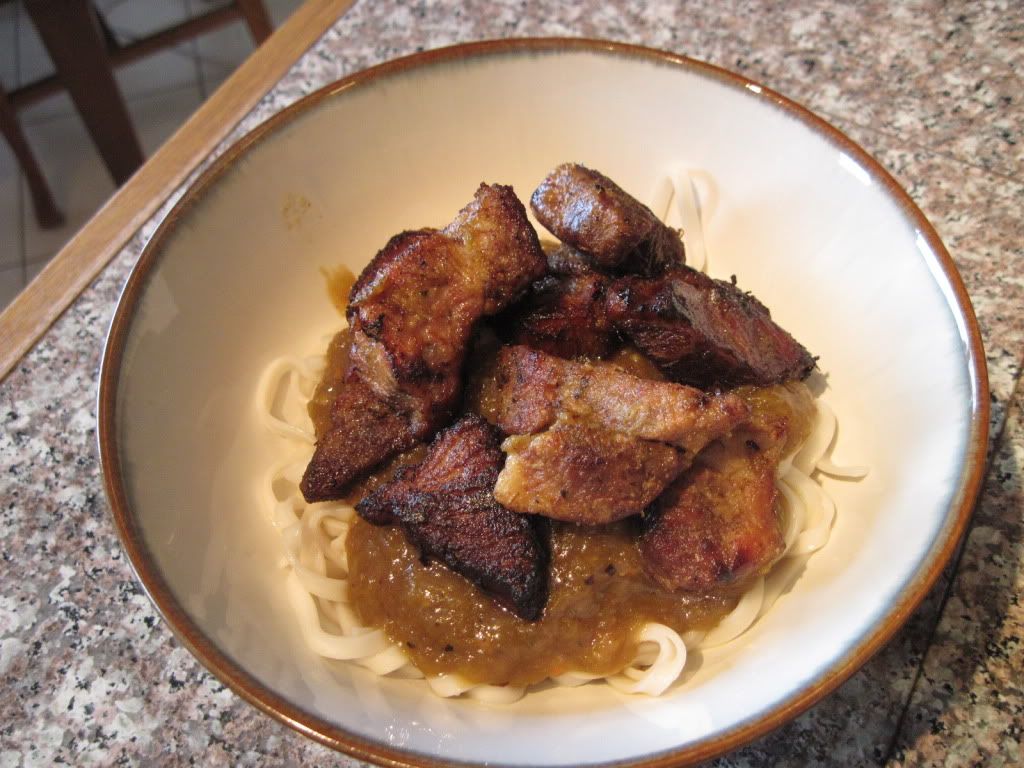 Top each bowl with:
a handful of "interesting cresses" such as bean sprouts and sunflower sprouts
sliced green onions (I forgot these)
seeded and chopped red chili
cilantro leaves
lime wedge
Mix it all up and dig in!