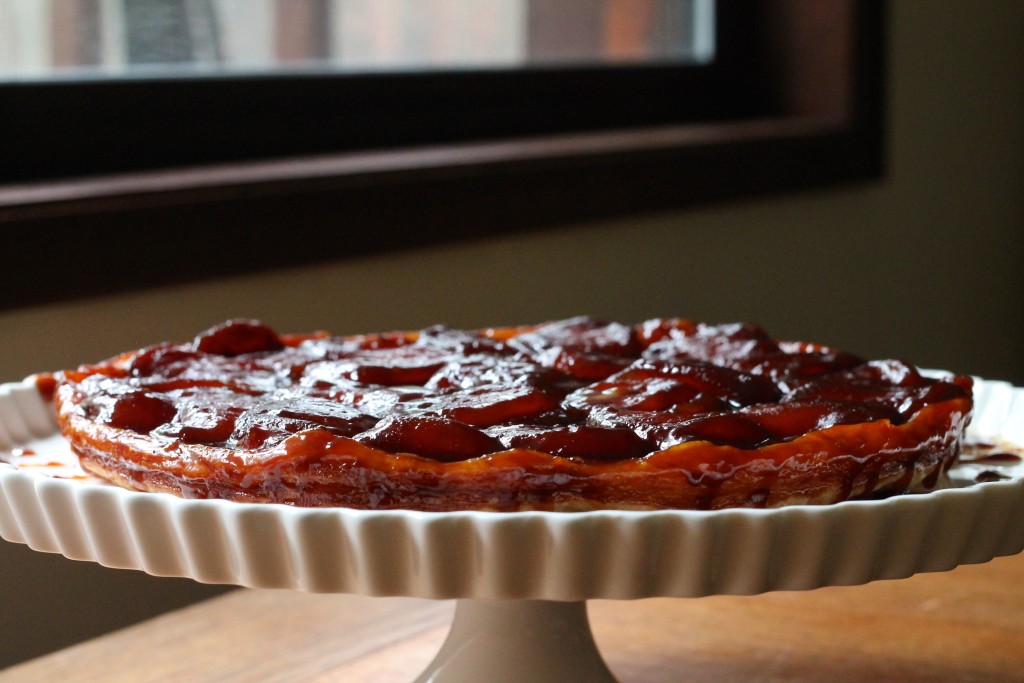 For the March Daring Bakers' Challenge, Korena from Korena in the Kitchen taught us that some treats are best enjoyed upside down. She challenged us to make a tarte Tatin from scratch.
This month I was excited to host another Daring Bakers' challenge, for which I chose the tarte Tatin. This classic French dessert is basically the apple pie version of an upside-down cake: apples are caramelized in sugar in a saucepan, covered with pastry and baked, and then inverted on a plate to serve. It's a great example of the magic of caramelized sugar: the apples take on a deep, rich mahogany colour and become infused with the complex flavours of a well-cooked caramel, and the crisp puff pastry base also becomes practically candied with caramel at the edges, resulting in a fantastic mix of soft, crunchy, and chewy textures.
The tart is named after the Tatin sisters, who ran a hotel near Paris in the 1880s. Apparently, one day one of the sisters forgot to put a bottom crust on her apple pie, but instead of the disaster she was expecting to pull out of the oven, she ended up with a dessert so loved by the hotel guests that it became the hotel's signature dish. However, this sweet story conflicts with the fact that a similar upside-down apple tart called tarte Solognotte (named after the Sologne region in France) existed long before the tarte Tatin, suggesting that the Tatin sisters' creation was actually just an updated and improved version of the tarte Solognotte. Either way, it is a stunningly delicious yet simple and rustic dessert….