(Besides eating them with butter and jam, of course.)
One of my favorite ways to enjoy an English muffin is in eggs benedict with soft poached eggs and lots of hollandaise sauce. However, in my experience, making hollandaise at home can be a bit of a pain – you need a lot of egg yolks, a ton of butter, and a fair amount of patience, which I don't always have in the morning when I'm craving a decadent breakfast. So instead, I like to make cheese sauce to smother everything with. It's not exactly eggs benedict anymore, but it's delicious.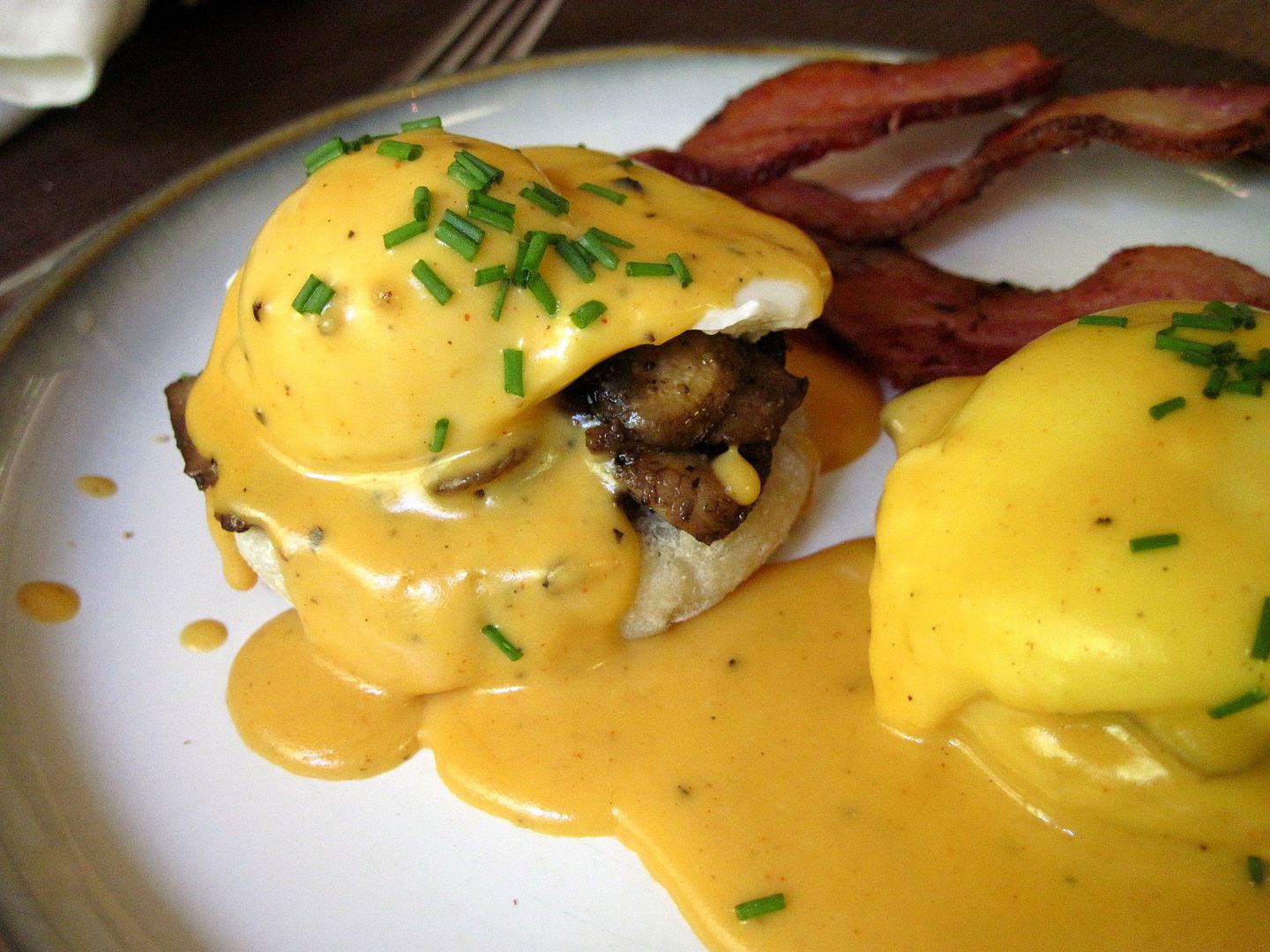 My Dad taught me how to make this cheese sauce and pour it over eggs. I like to add sautéed mushrooms because it reminds me of mushrooms and cheese on toast, which is another of my favorites. Other good things to layer under the poached eggs include ham or bacon, sliced tomato, sautéed spinach – pretty much anything you might want to put in eggs benedict. This was great with homemade English muffins, but any kind of toasted bread will work. Cheese sauce is kind of like chocolate that way – you can put it on practically anything and it will be good!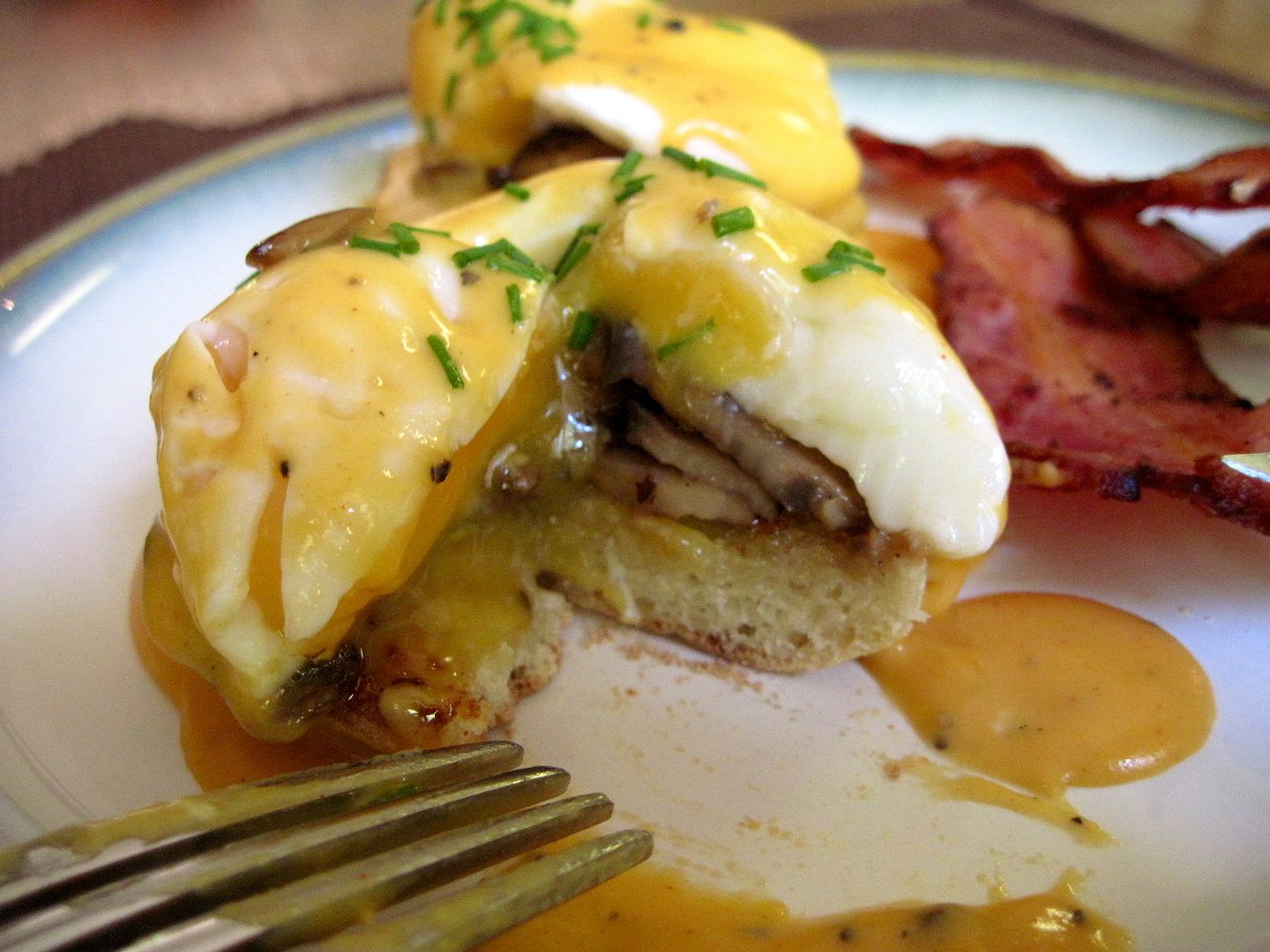 Not-Exactly-Eggs-Benedict
Serves 2.
Easy Cheese Sauce
In a small saucepan, combine:
a good handful of grated cheese (any kind – I used orange cheddar)
a small teaspoon of all purpose flour
1 – 2 tbsp milk (you can always add more to thin it out later, but it's hard to thicken up if you add too much milk to start)
Put the saucepan over medium heat and stir the sauce with a whisk as the cheese melts. When it starts to bubble and get smooth, season it with salt, pepper, and cayenne or hot smoked paprika (I love the smokey flavour it has) and remove it from the heat.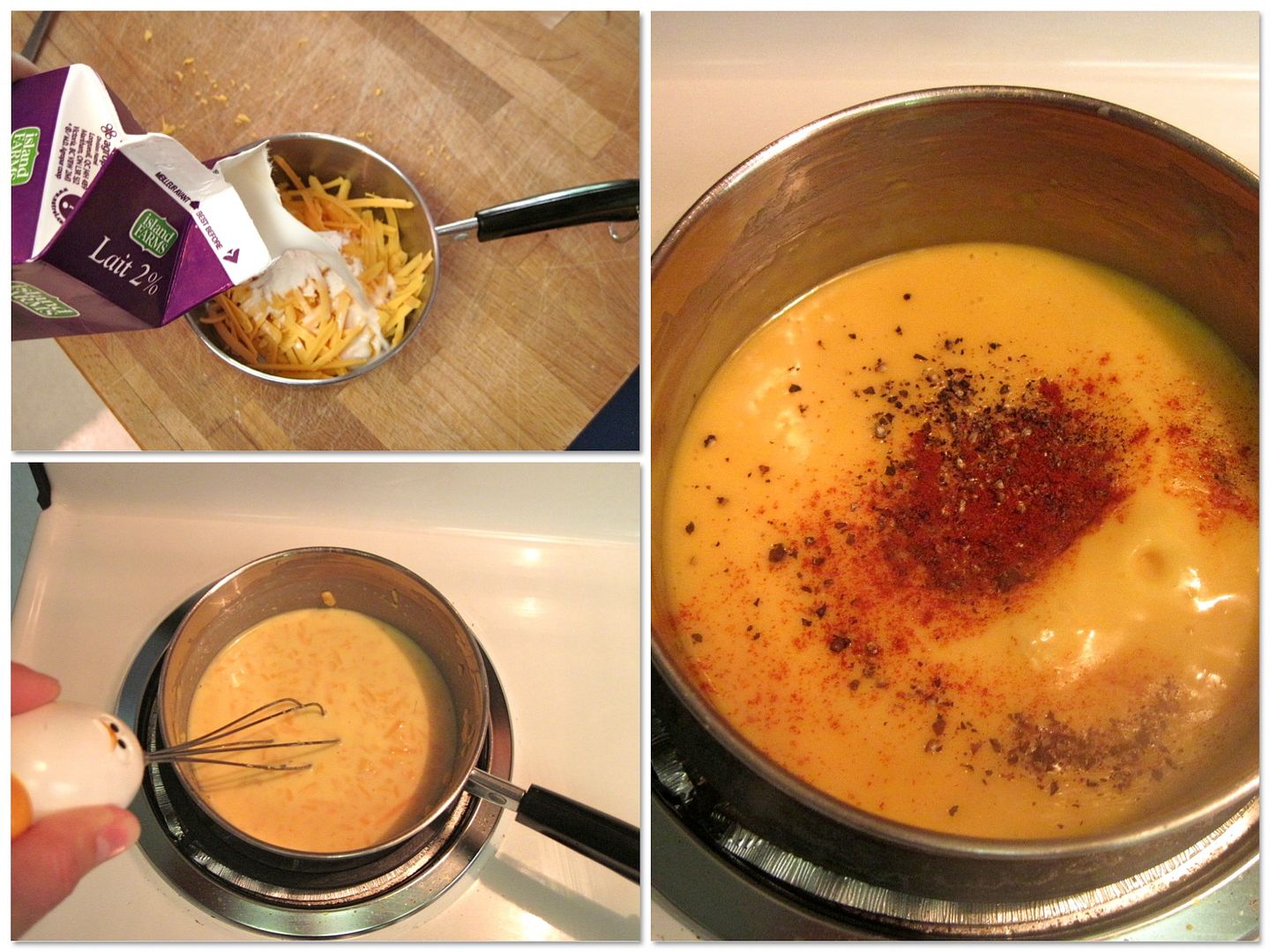 I usually make the cheese sauce first and then sauté the mushrooms, poach the eggs, and toast the muffins. Then when I'm ready to assemble, I warm the sauce up over low heat and add a little milk to thin it if necessary.
Assembly
You will need:
2 English muffins, split and toasted
sliced mushrooms sautéed in butter with salt, pepper, garlic powder and Worchestershire sauce (and/or whatever else you want to use)
4 poached eggs (I love this method for poaching eggs)
Butter the English muffin halves. Top them with the mushrooms and poached eggs. Pour a big spoonful of cheese sauce over the top and garnish with chives if you're feeling fancy.