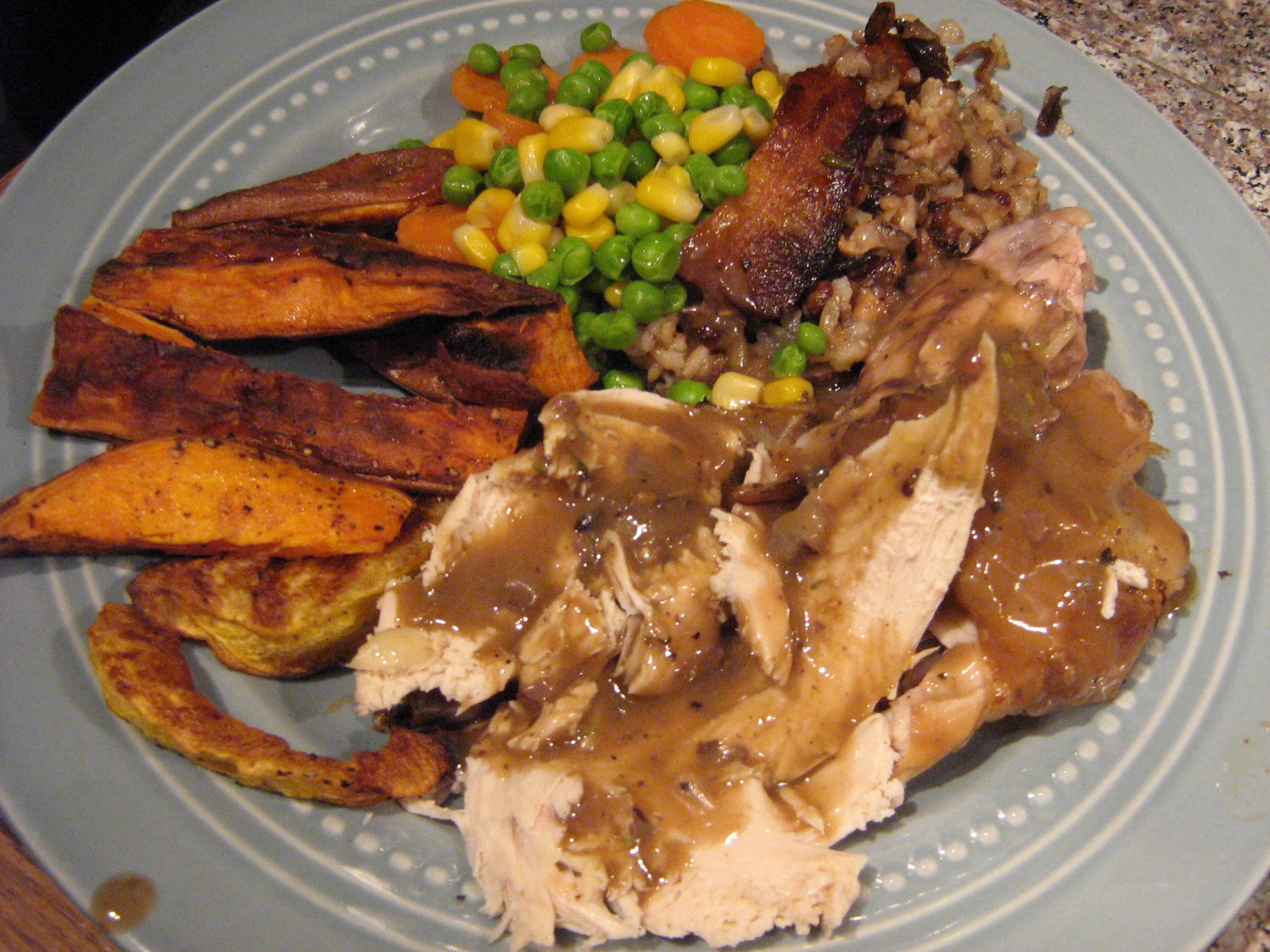 Last weekend, Nate bought me a car stereo as an early Valentine's present, and he and Sam installed in on Sunday. I made a roast chicken dinner for them to show my appreciation – nothing like comfort food to say "thank you"!
There are a bazillion different methods for roasting a chicken, and this one is a pretty standard variation: start with a high heat, turn it down slightly when the bird goes is, rub the skin with oil to make it crispy, season the outside and stuff the cavity with aromatics. I have found that best roasting vessel is a large cast iron frying pan with the chicken on a circular rack, because that way you can simply remove the chicken and rack from the pan and use it to make gravy, without losing any of the drippings or pan juices.
What makes a roast chicken special is the gravy, and I can confidently say that I make a mean gravy. Mostly I owe this to my Dad, whose secret ingredient in chicken and turkey gravy used to be finely chopped dried, salted, Chinese blackbeans. I know that sounds totally weird and gross, but the salty, umami flavour that they imparted to the gravy was SO GOOD. I've taken that idea and run with it, only now my secret ingredients are soy sauce, Marmite, Worchestershire sauce, and balsamic vinegar instead of black beans. The soy sauce adds saltiness and umami and more flavour than just salt would. It also adds colour, which I think is just as important as flavour – a nice, rich, brown gravy is way more appetizing to me than a pale, thin-looking one. The Marmite also adds a bit of salt and a meaty, almost yeasty flavour. Even if you don't like Marmite, you will like what it does for gravy. Worchestershire is a pretty standard ingredient and adds good flavour, but be careful not to add too much, as it can be overpowering. My uncle Mike gave me the idea of adding a small amount of balsamic vinegar to the gravy at the end, to brighten the flavours and cut through the richness with a touch of acidity.
The most important thing to remember when making gravy is to keep tasting it and to add liquid and seasonings in small amounts, as it is always easier to add more than it is to subtract!…