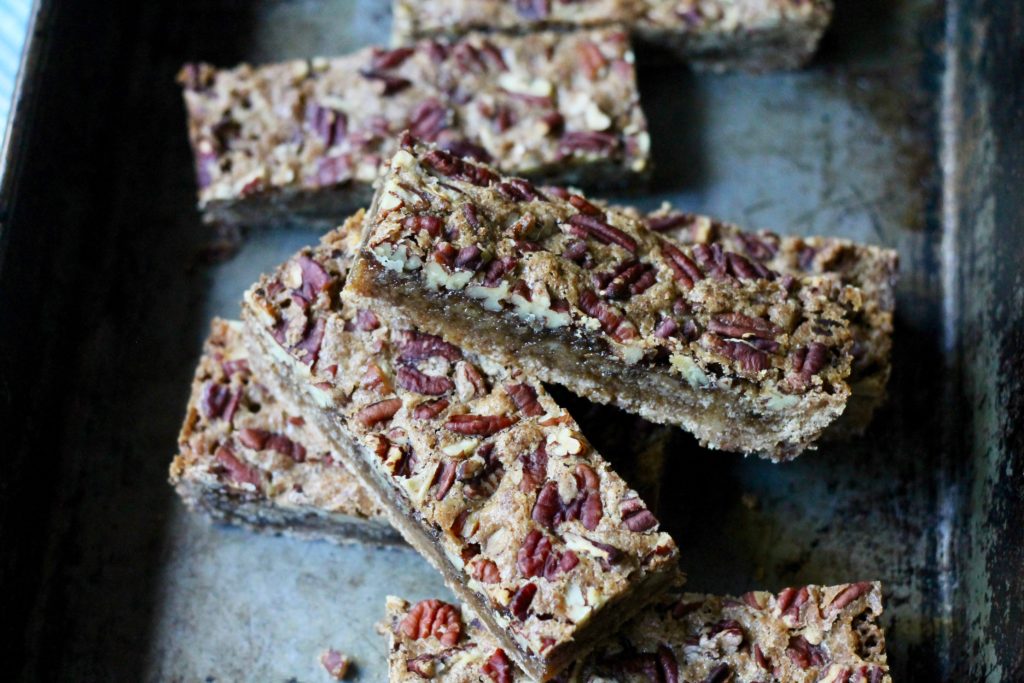 Our American neighbours have a certain important holiday involving turkey and pie coming up tomorrow, and I wanted to share these maple pecan shortbread bars because they would make the perfect last minute addition to a Thanksgiving (or other) dinner menu. I actually made these for Canadian Thanksgiving back in October (along with this pumpkin roulade) because I wanted something like pie but I couldn't manage rolling out a pie crust with my busted elbows (which have both now healed and I'm back to full force in the kitchen – now there's something to be thankful for!).
These bars have a simple press-in shortbread crust, a quick filling of maple syrup, brown sugar, eggs, and butter, and the whole thing is topped with pecans. It couldn't be easier or more delicious – and it couldn't make your house smell any more like heaven while they are baking (butter, toasting nuts, AND maple syrup? COME ON). The bars really do end up tasting like a cross between buttery shortbread and gooey maple-pecan pie, only better because they have more sticky, caramelized edges and you can eat them off a napkin – no plates or forks required. They were absolutely demolished by my Thanksgiving companions and I think yours would do the same!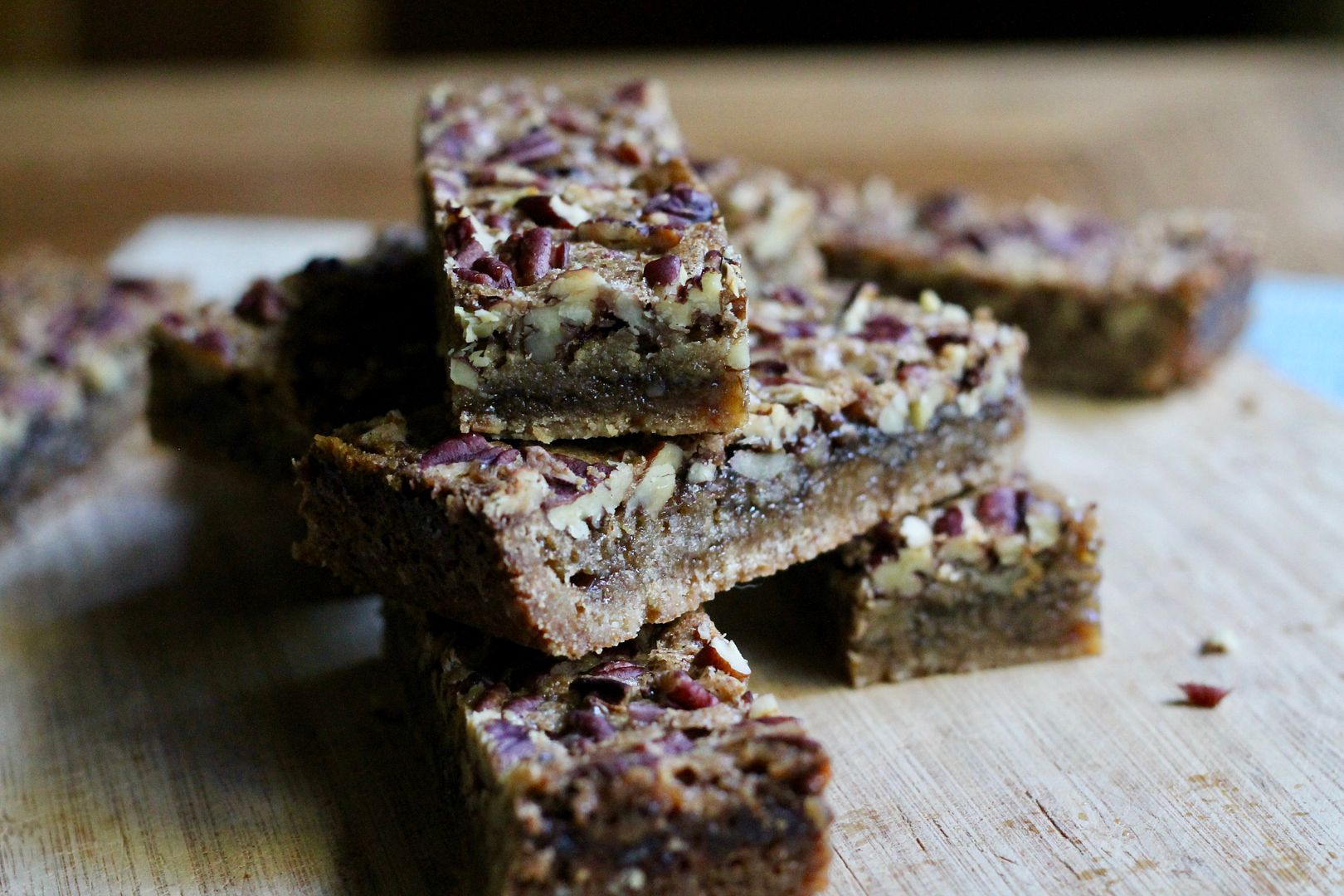 Maple Pecan Shortbread Bars
Adapted (very slightly) from the New York Times, via Kitchen on Fourth. Makes 16 large or 24 small bars.
Preheat the oven to 350˚F (325˚F convection) and line a 9″ x 13″ pan with parchment paper.
In the bowl of a food processor, combine:
2 cups flour
1/2 cup sugar
1/2 tsp salt
1 cup chilled unsalted butter, cut into small pieces
Process until the mixture is crumbly.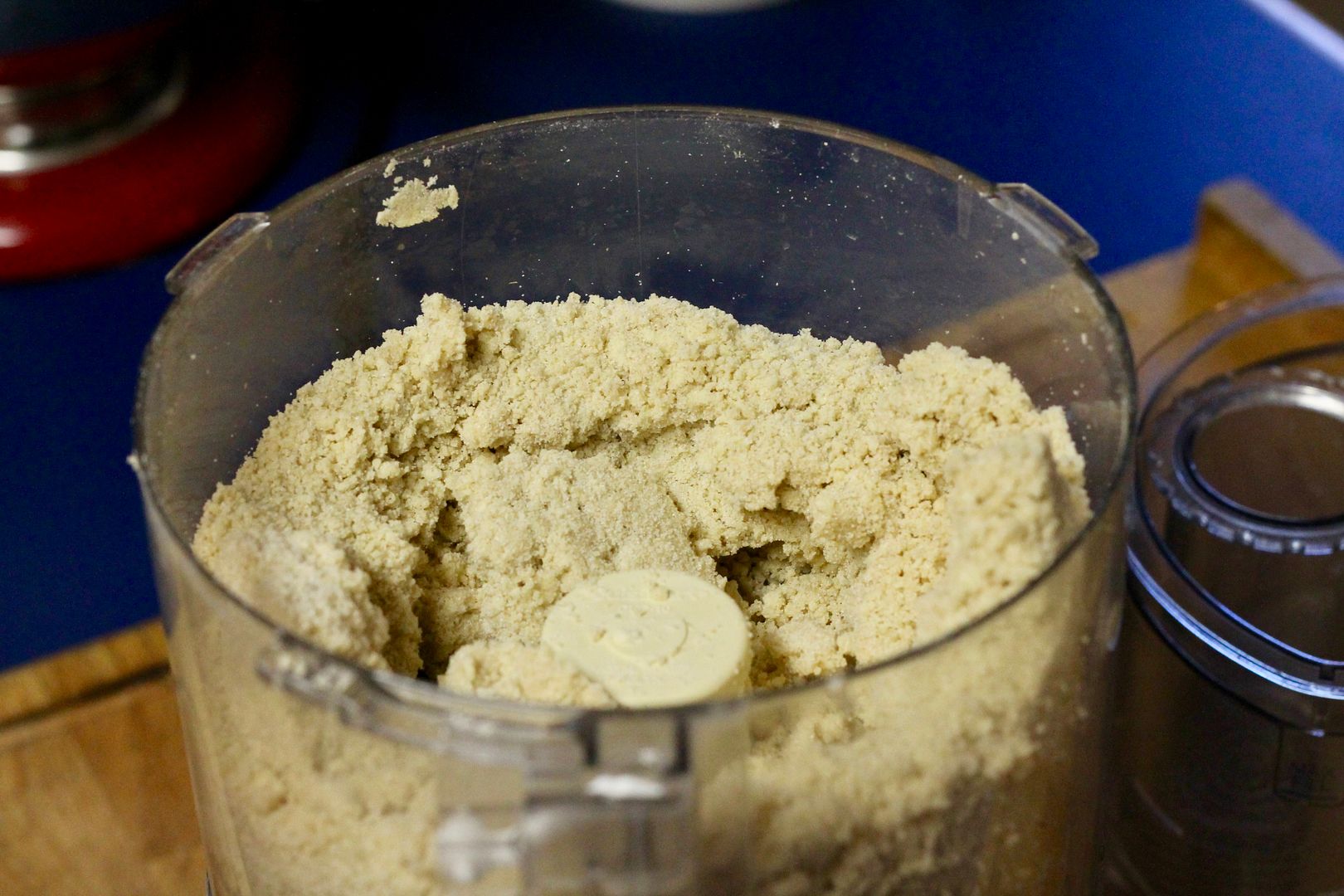 Press firmly into the bottom and half an inch up the sides of the prepared 9″ x 13″ pan, then prick all over with a fork.
Bake in the preheated 350˚F (325˚F convection) oven for about 20 minutes, until just beginning to turn golden brown at the edges. Set aside to cool on a rack.
In a medium bowl, whisk together until smooth:
1 1/2 cups packed brown sugar
2/3 cup real maple syrup (the darker, the better)
2 eggs
4 tbsp melted unsalted butter
1 tsp vanilla
1/2 tsp fine sea salt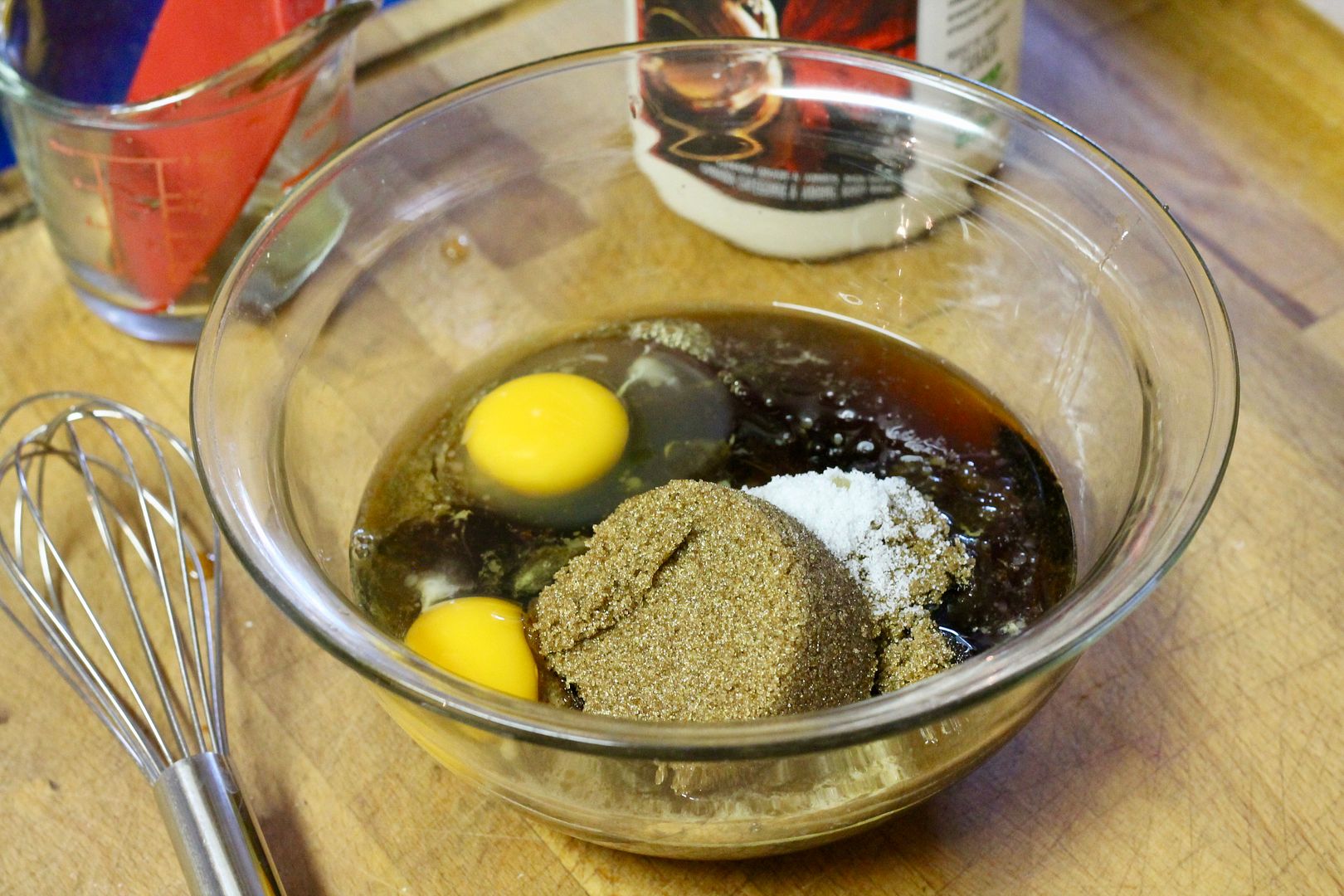 Pour over the cooled crust, the sprinkle evenly with 2 cups coarsely chopped pecans.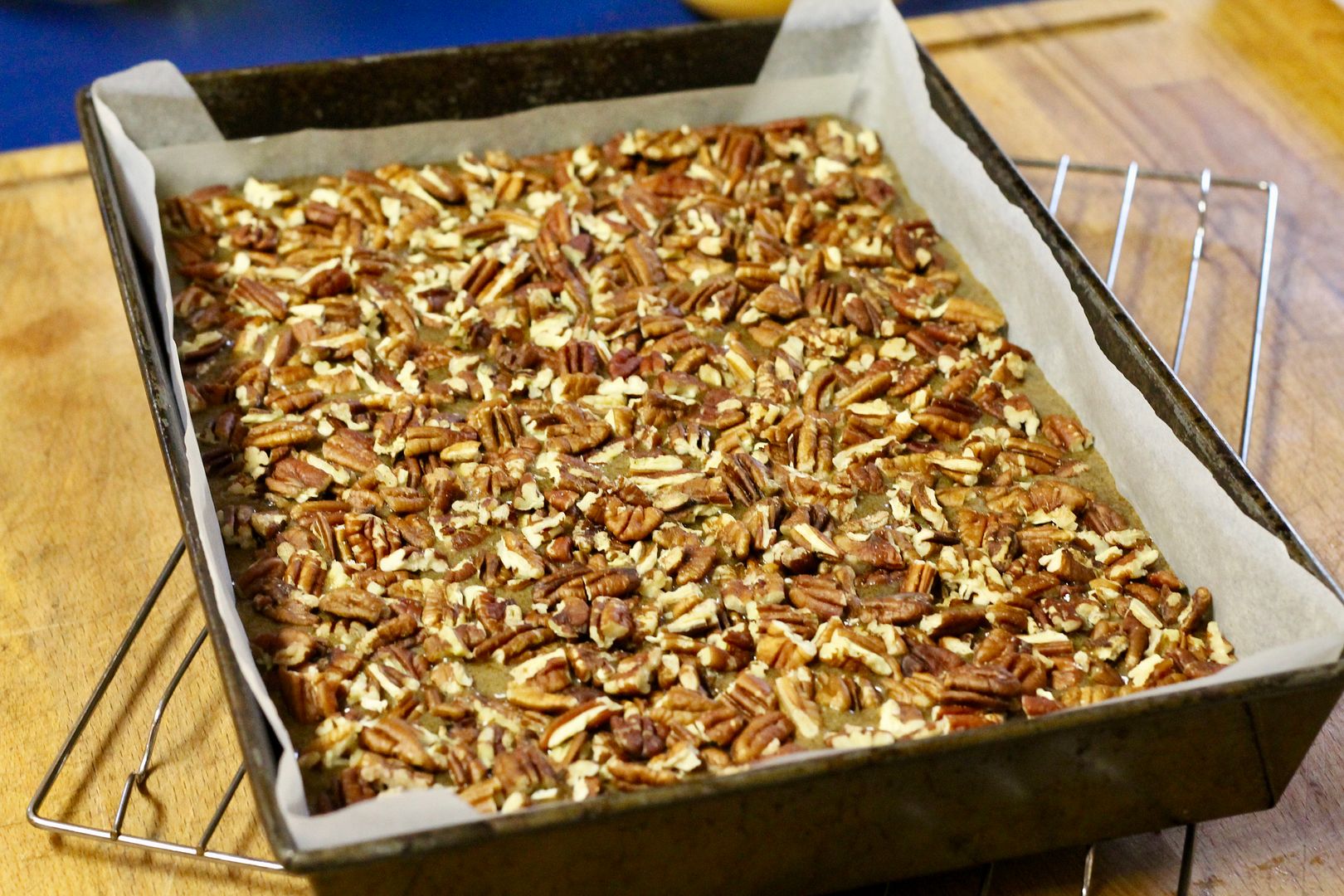 Bake in the preheated 350˚F (325˚F convection) oven for about 30 minutes, until the filling is set.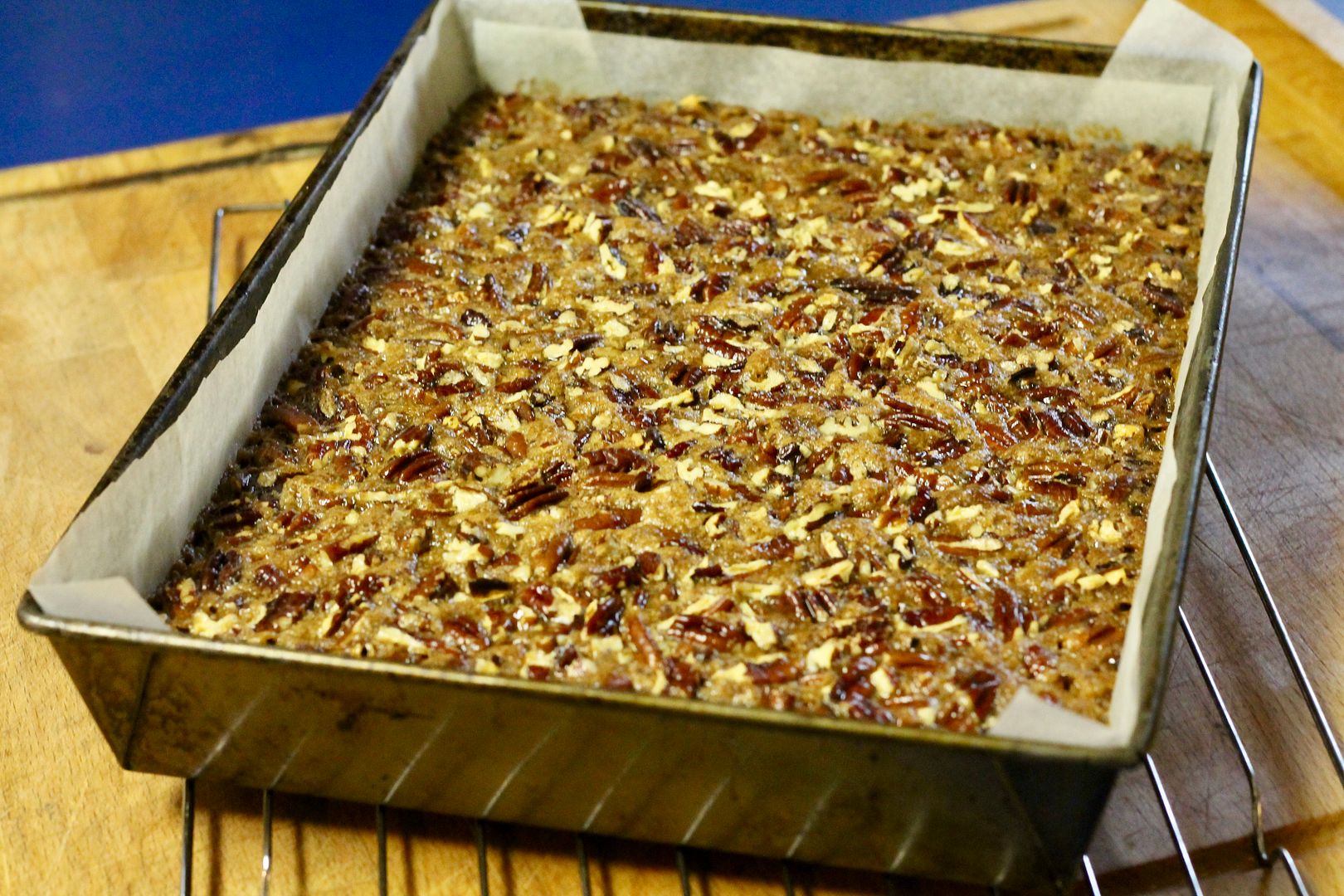 Cool completely on a rack, then transfer to the fridge to chill before cutting. If the parchment paper is stuck to the pan, preventing you from lifting the baked bar out, run a dishcloth under hot water, wring it out, and press it against the underside of the pan for a few minutes – this will warm up the baked-on butter and sugar and help release the bar. Use a large, sharp knife to cut into pieces. Serve at room temperature or slightly chilled.