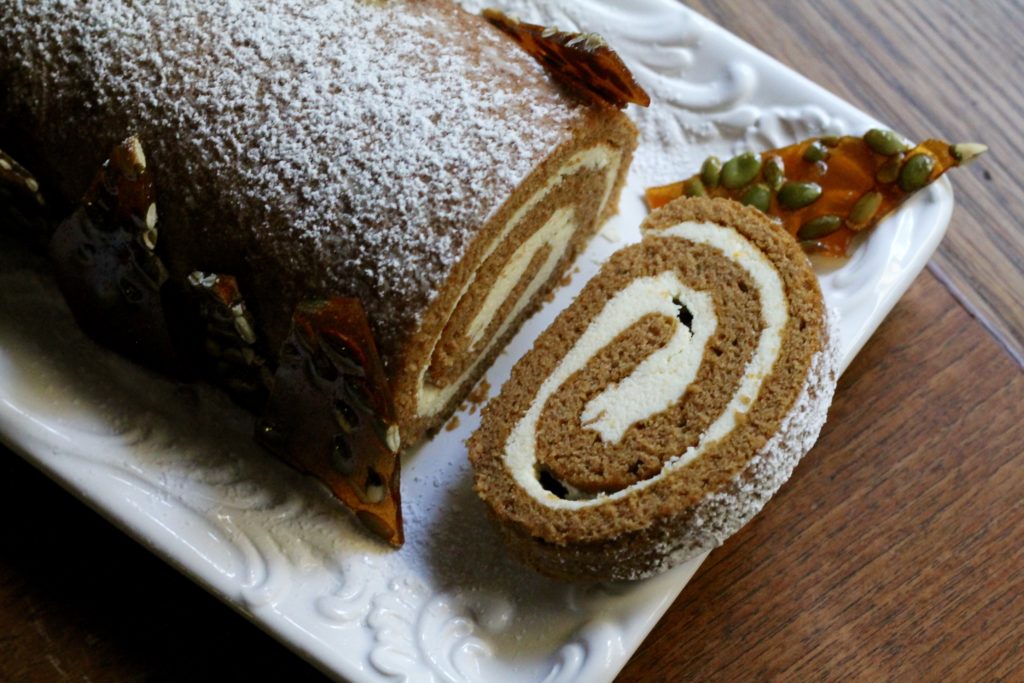 Nate and I usually host our families for Thanksgiving dinner, but with my bum elbow making it a little difficult to stuff a turkey – let alone maneuver it in and out of the oven – my parents took on the hosting duties this year, and I brought dessert. Pumpkin pie is traditional of course, but I don't actually like it all that much. The slightly wet, heavy filling manages to make even the flakiest pastry soggy and just doesn't get me excited about eating it. However I was very excited about eating this pumpkin roulade the minute I saw the recipe.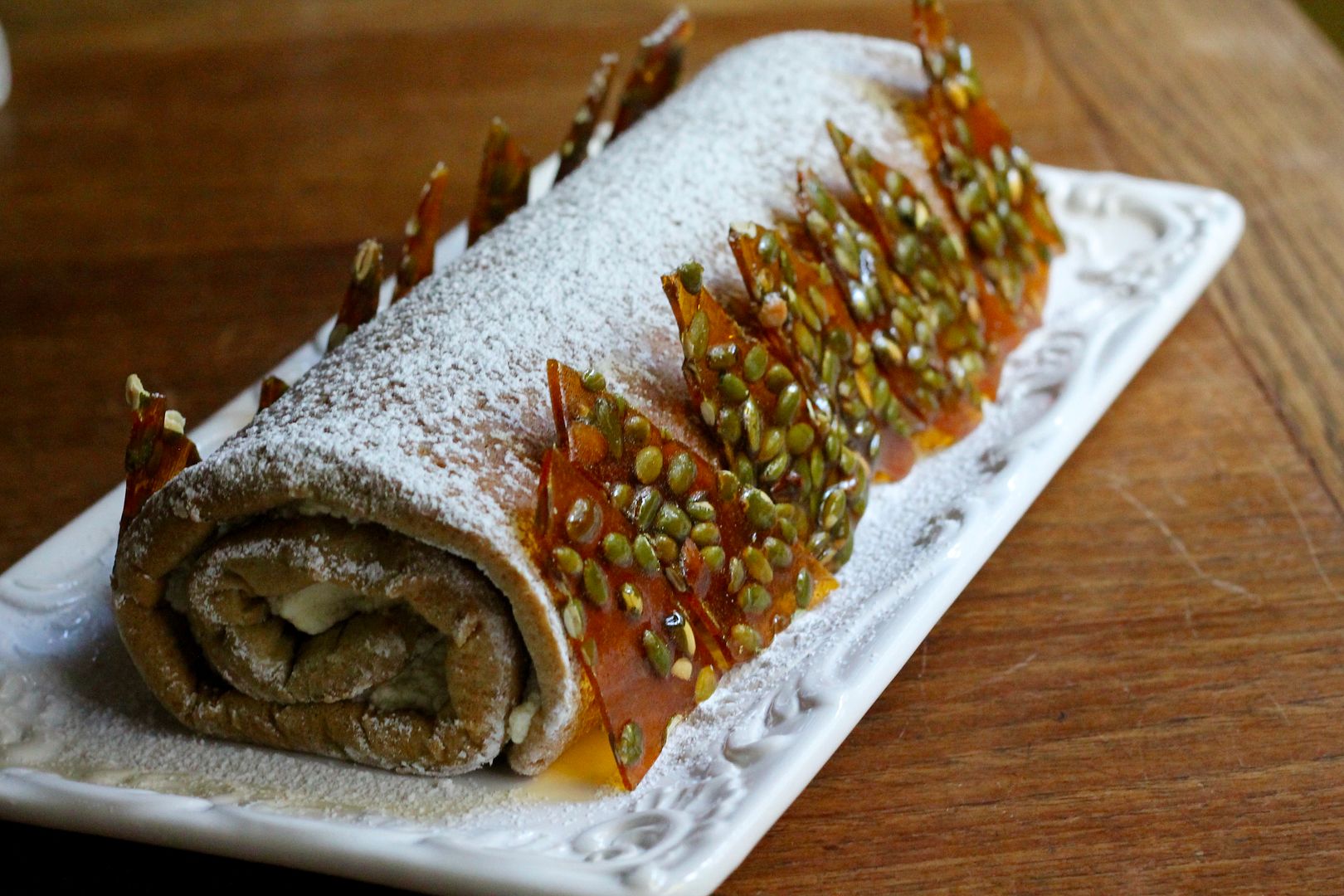 Resembling a Yule log or Bûche de Noël but with autumnal flavours (and without the decorative marzipan mushrooms), this is a light sponge cake with all the flavour of pumpkin pie rolled up around a delicious filling of white chocolate and mascarpone cream with a hint of orange. At first, I planned to stop there and serve the roulade "rustically" with just a dusting of confectioners' sugar, but then I found a second version of the recipe that included shards of pumpkin seed caramel as a garnish, which makes the whole dessert look really impressive (without resorting to decorative marzipan mushrooms), especially when you cut the roulade into slices and reveal that wonderful spiral cross section.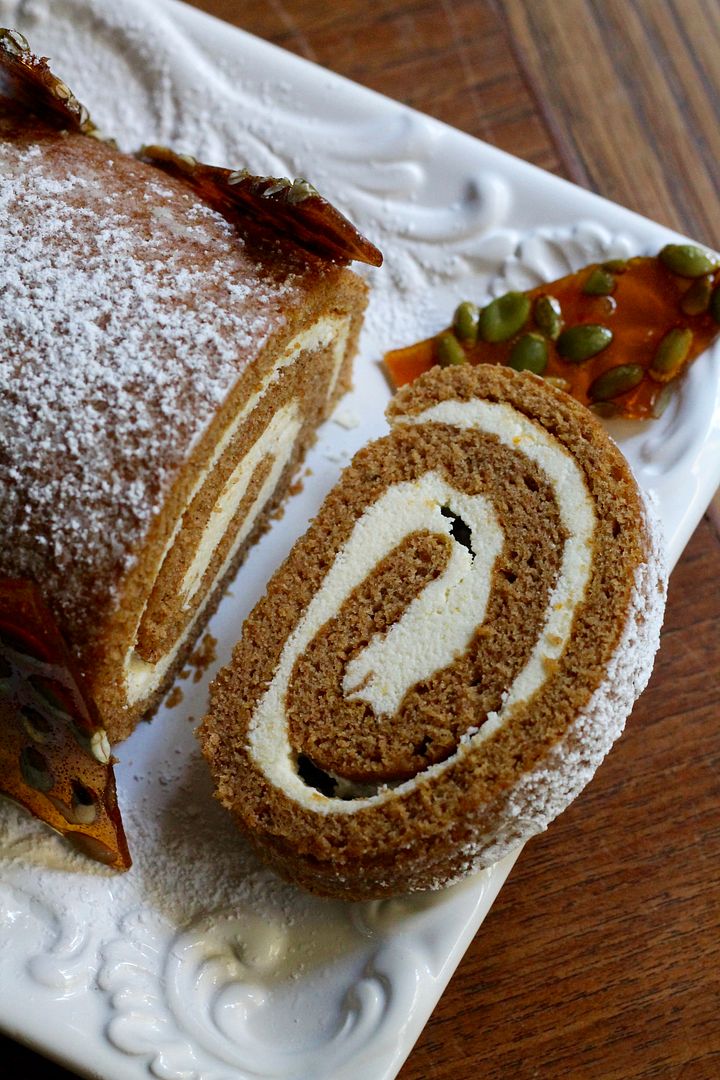 But most impressive of all is the taste. Fluffy yet moist sponge, creamy filling, and the perfect not-too-heavy and not-too-sweet end to a turkey feast with your nearest and dearest. This got an enthusiastic thumbs up from everyone around our Thanksgiving table, and I highly recommend it if you, too, are ready to venture beyond pumpkin pie!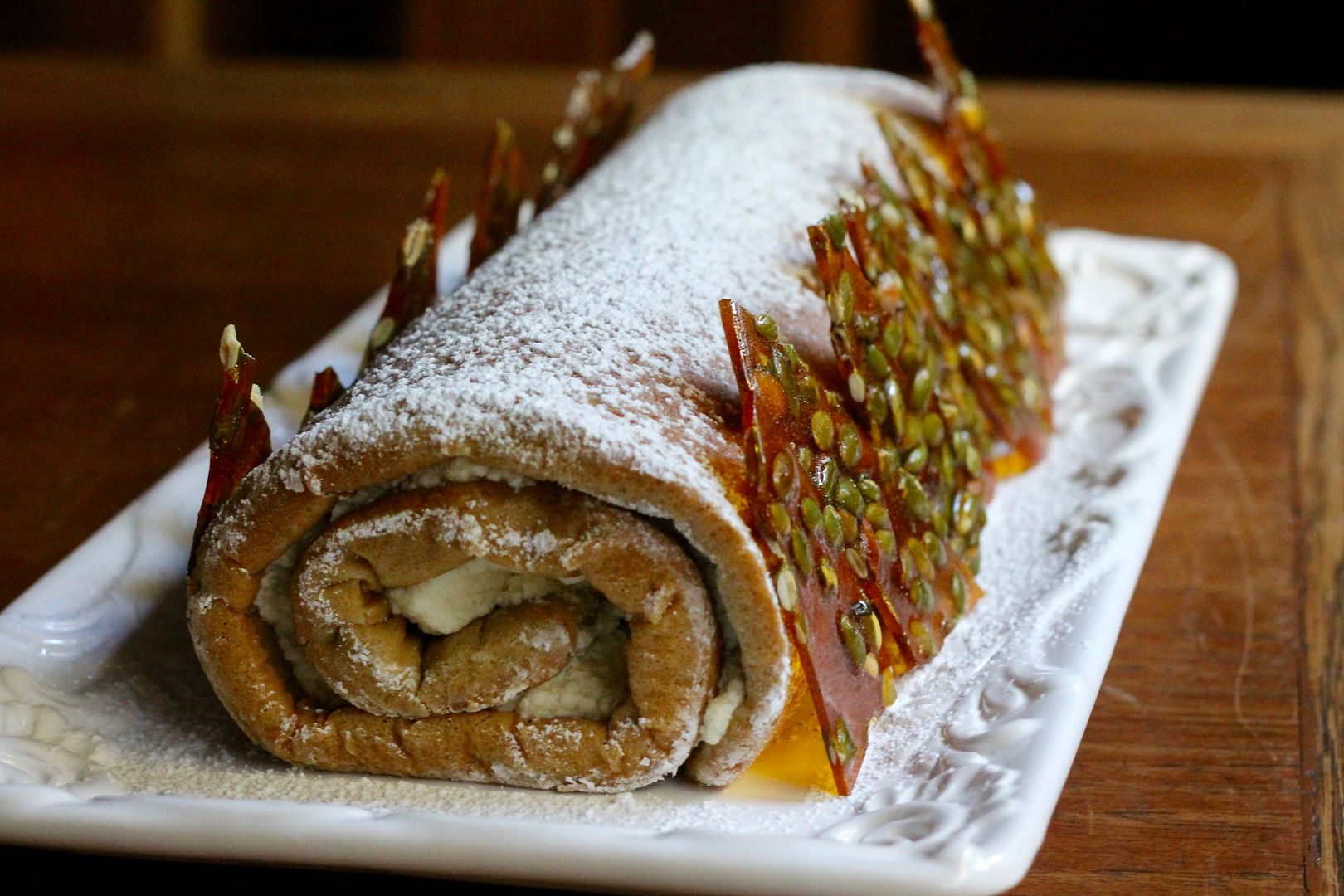 Spiced Pumpkin Roulade with White Chocolate & Mascarpone
Adapted very slightly from Martha Stewart. Makes about 12 servings.
Spiced Pumpkin Sponge Cake
Preheat the oven to 375˚F (350˚F convection) and line the bottom and sides of a 13″ x 18″ rimmed baking sheet with parchment paper. Grease (butter or baking spray) and flour the paper and set aside.
In a medium bowl, whisk together:
3/4 cup all purpose flour
1 tsp ground cinnamon
1/2 tsp ground ginger
1/4 tsp nutmeg
1/2 tsp baking power
1/2 tsp salt
1/4 tsp baking soda
Don't worry if the spices are a little lumpy – you will be sifting this mixture later.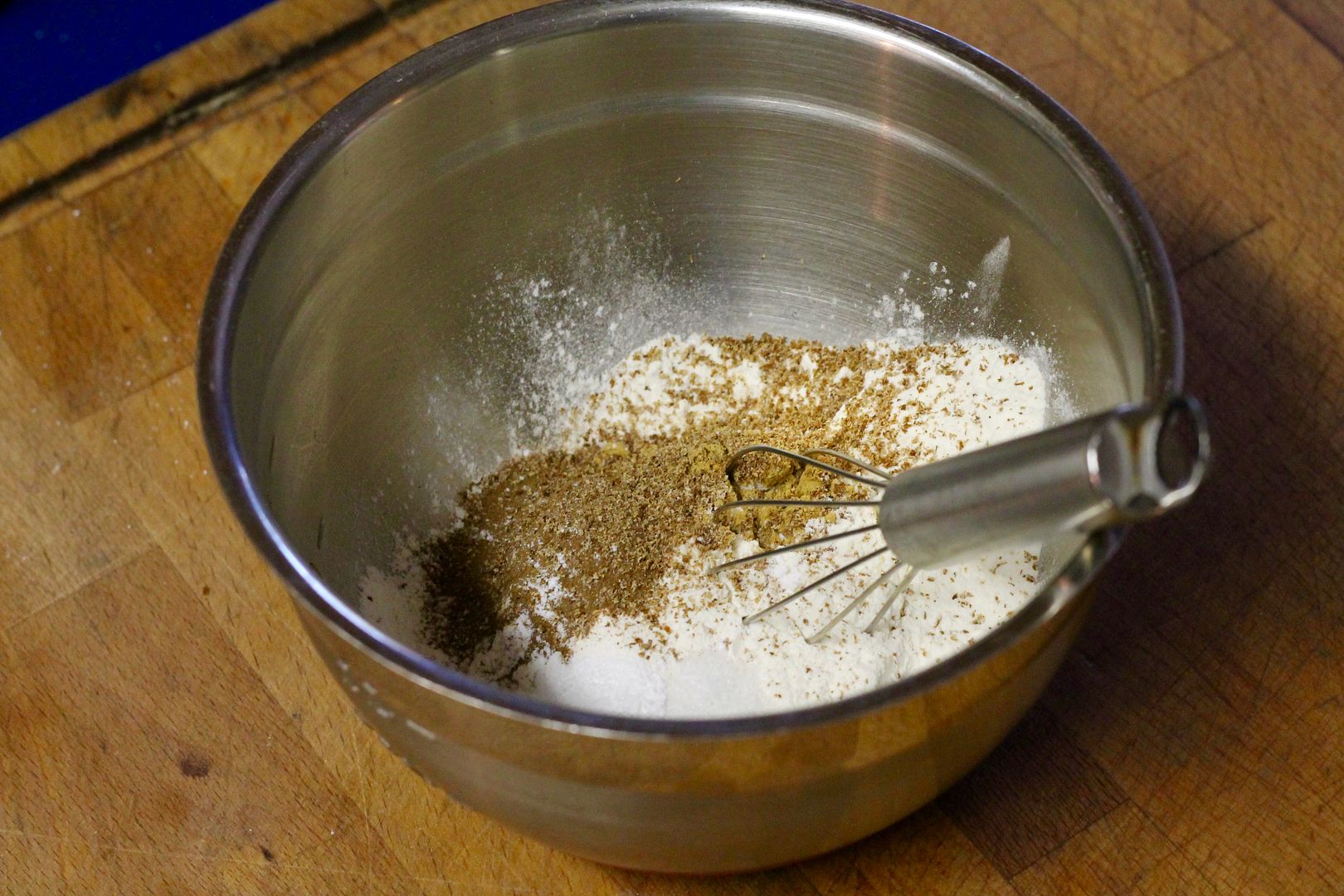 In the bowl of an electric mixer with the paddle attachment, combine:
3 large eggs, room temperature
1 cup granulated sugar
Cream together on medium-high until very very pale, fluffy, and tripled in volume (about 10 minutes). They should fall from the raised beater in a thick ribbon.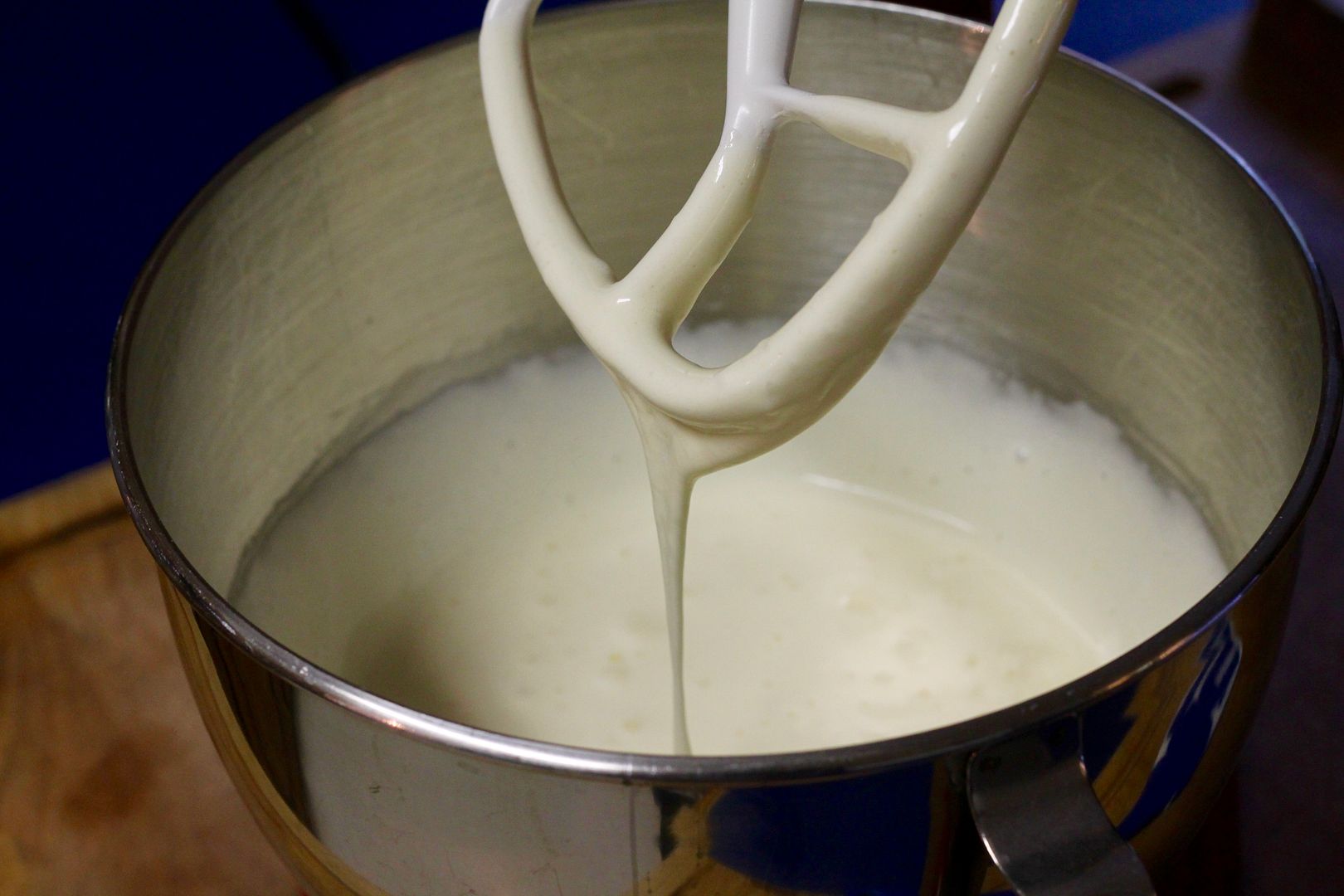 Reduce the speed to low and stir in 2/3 cup pumpkin purée, mixing gently until combined (scrape the bowl with a spatula to make sure everything is evenly mixed).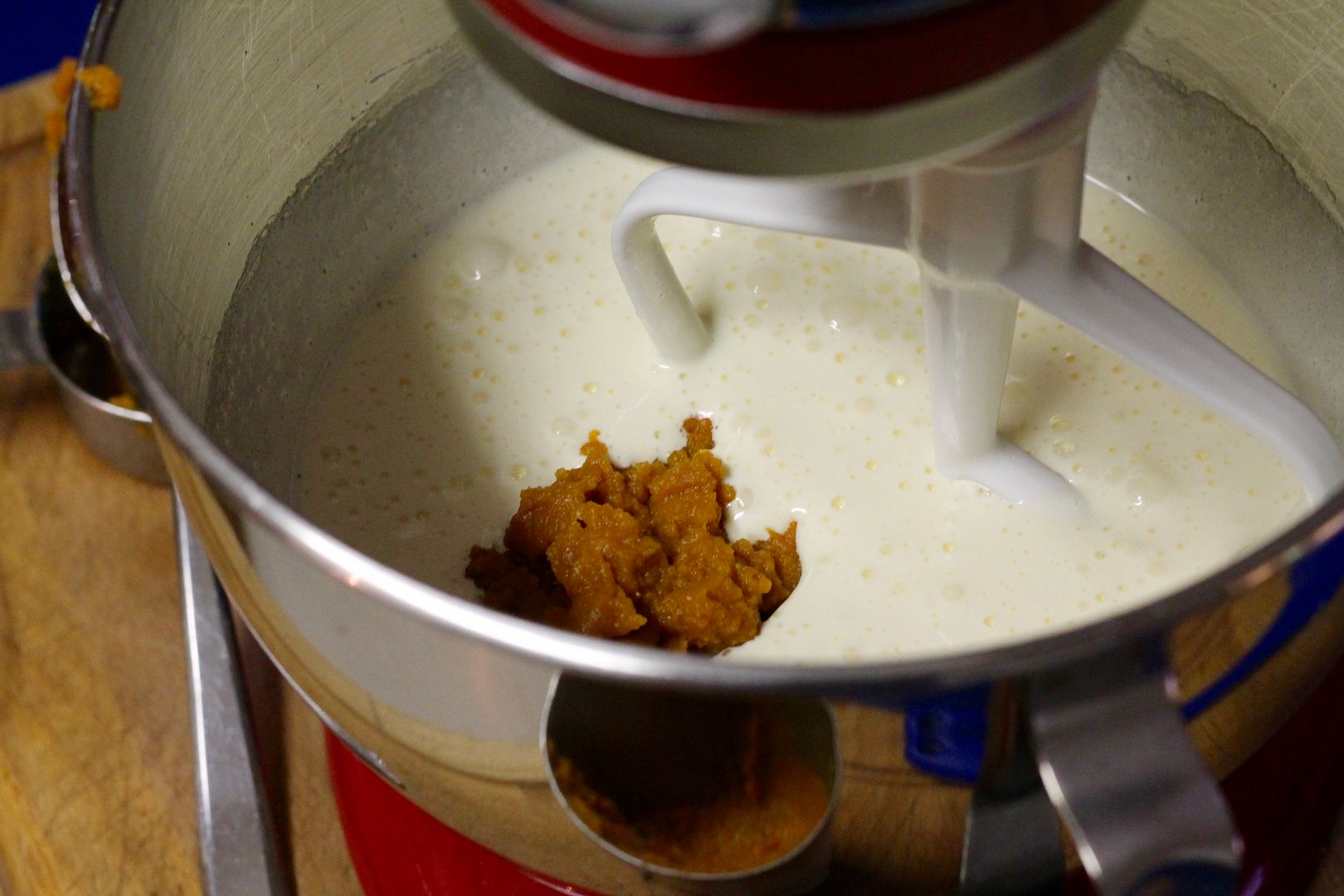 Turn off the mixer and sift half the flour mixture over top of the pumpkin-egg mixture. Fold in gently with a balloon whisk, then repeat with the remaining flour mixture. You want the final batter to be as light and fluffy as possible but still lump-free, so be gentle but thorough.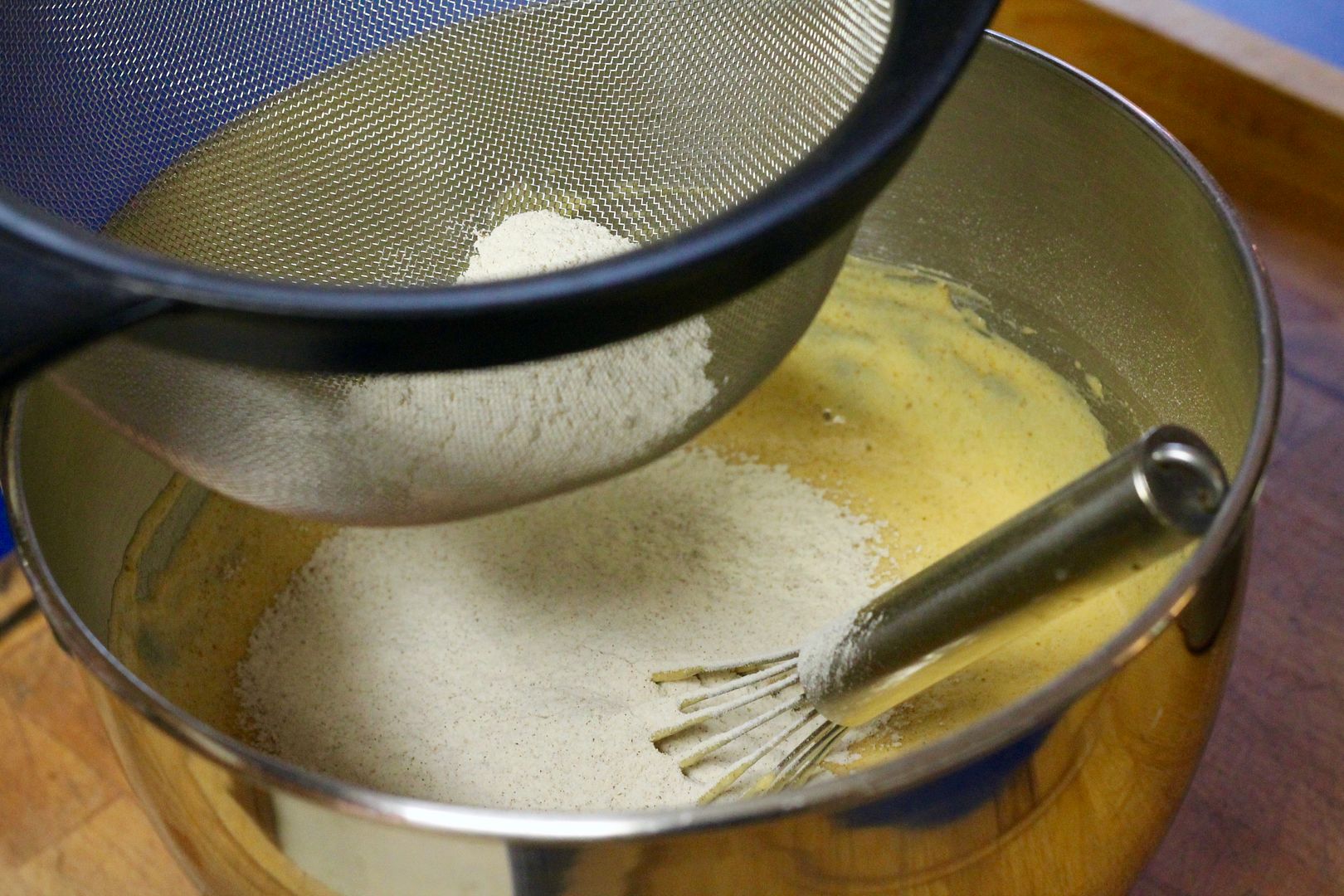 Pour the batter into the prepared baking pan and spread it out evenly with an offset spatula.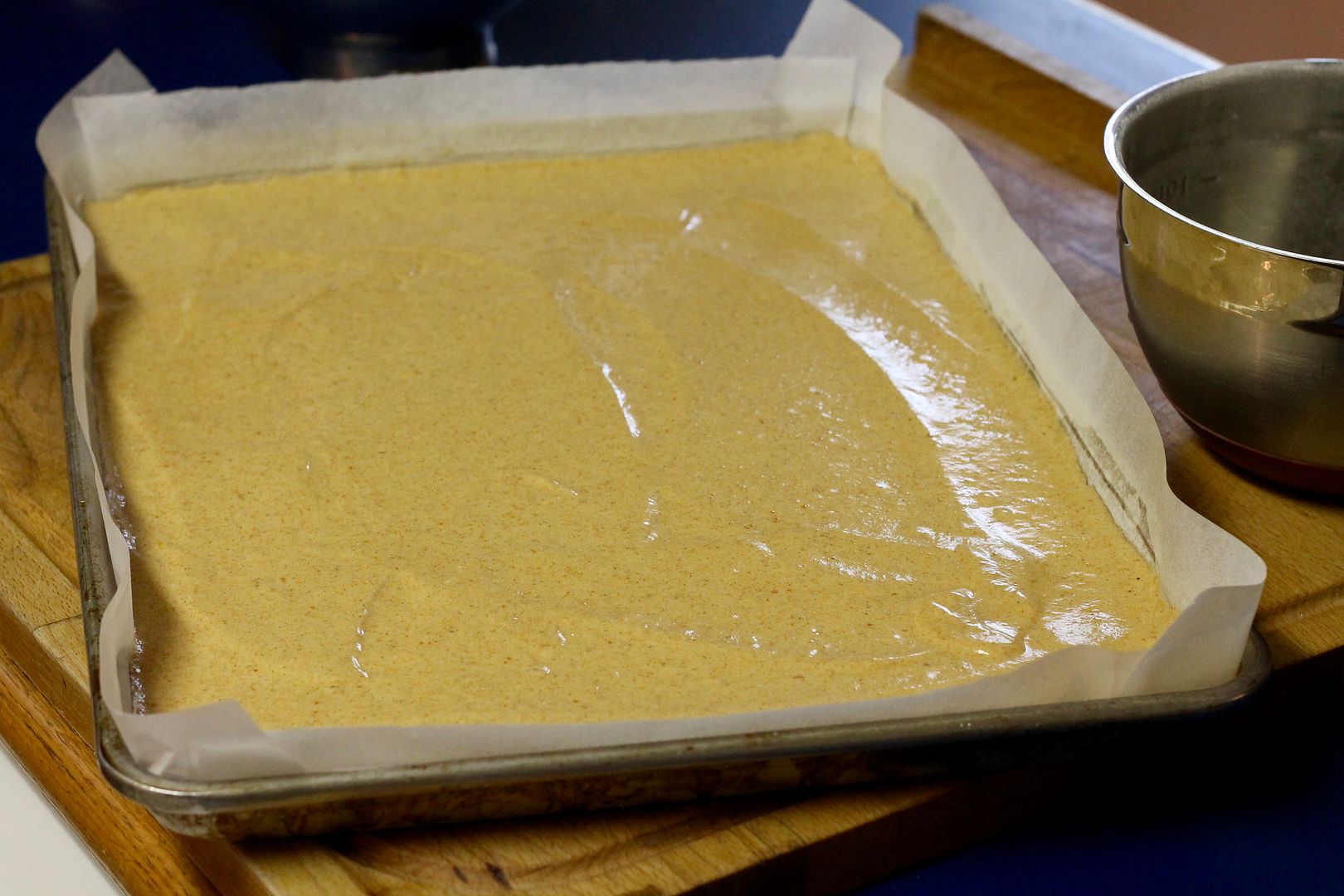 Bake in the preheated 375˚F (350˚F convection) oven for 10-12 minutes, just until the cake springs back in the middle when pressed lightly and is barely starting to pull away from the parchment paper at the sides. Watch it carefully so as not to over-bake it – this is a very thin cake without any additional oil or fat for moisture, and you don't want it to be dry or it will crack when you roll it.
Let the cake cool for about 10 minutes. Put 1/4 cup confectioners' sugar in a small sieve and dust it over the entire surface of the cake, making sure to cover it completely (this prevents it from sticking to the tea towel in the next step).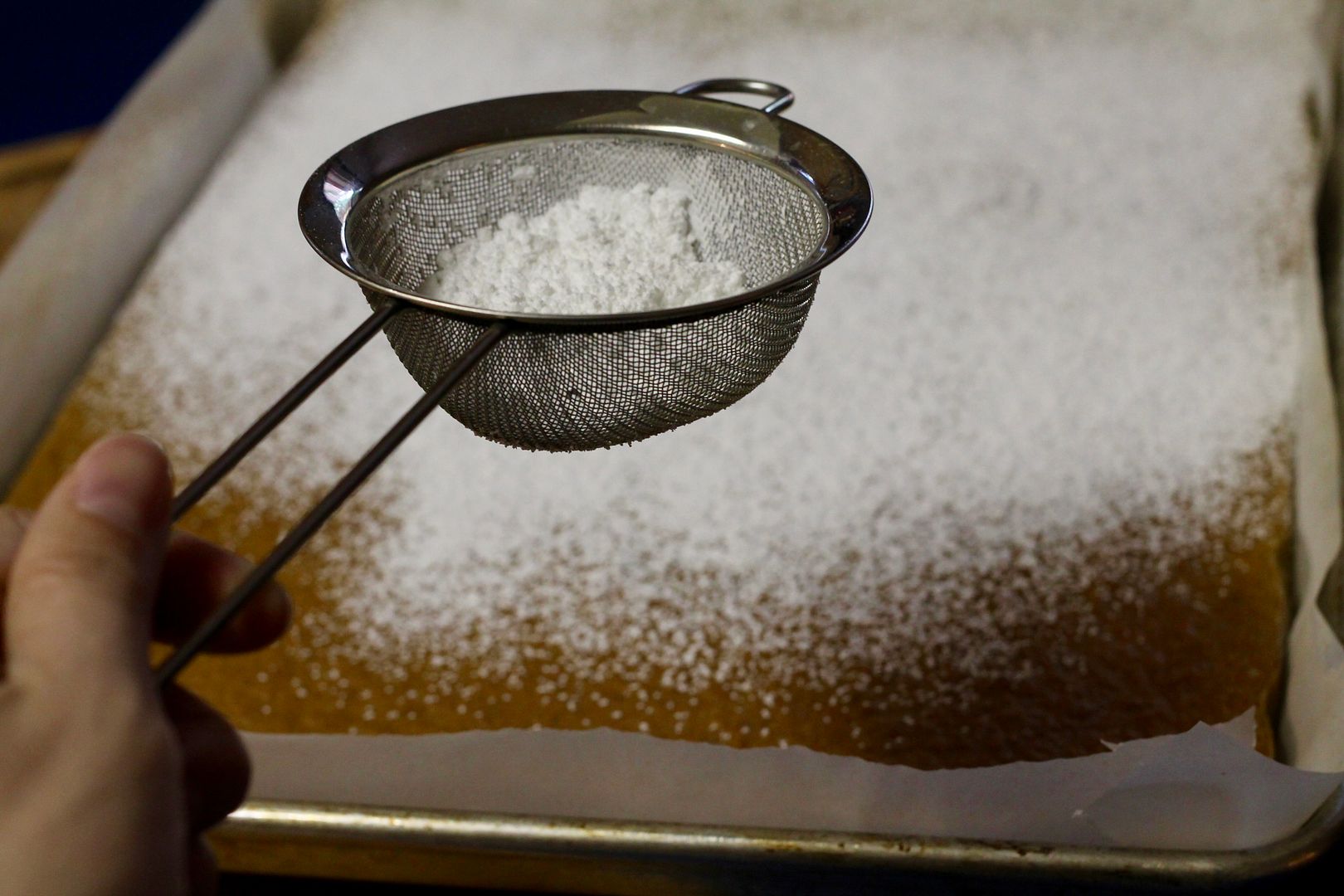 Place a clean tea towel on top of the cake, followed by a large cooling rack or some other similarly large, flat item.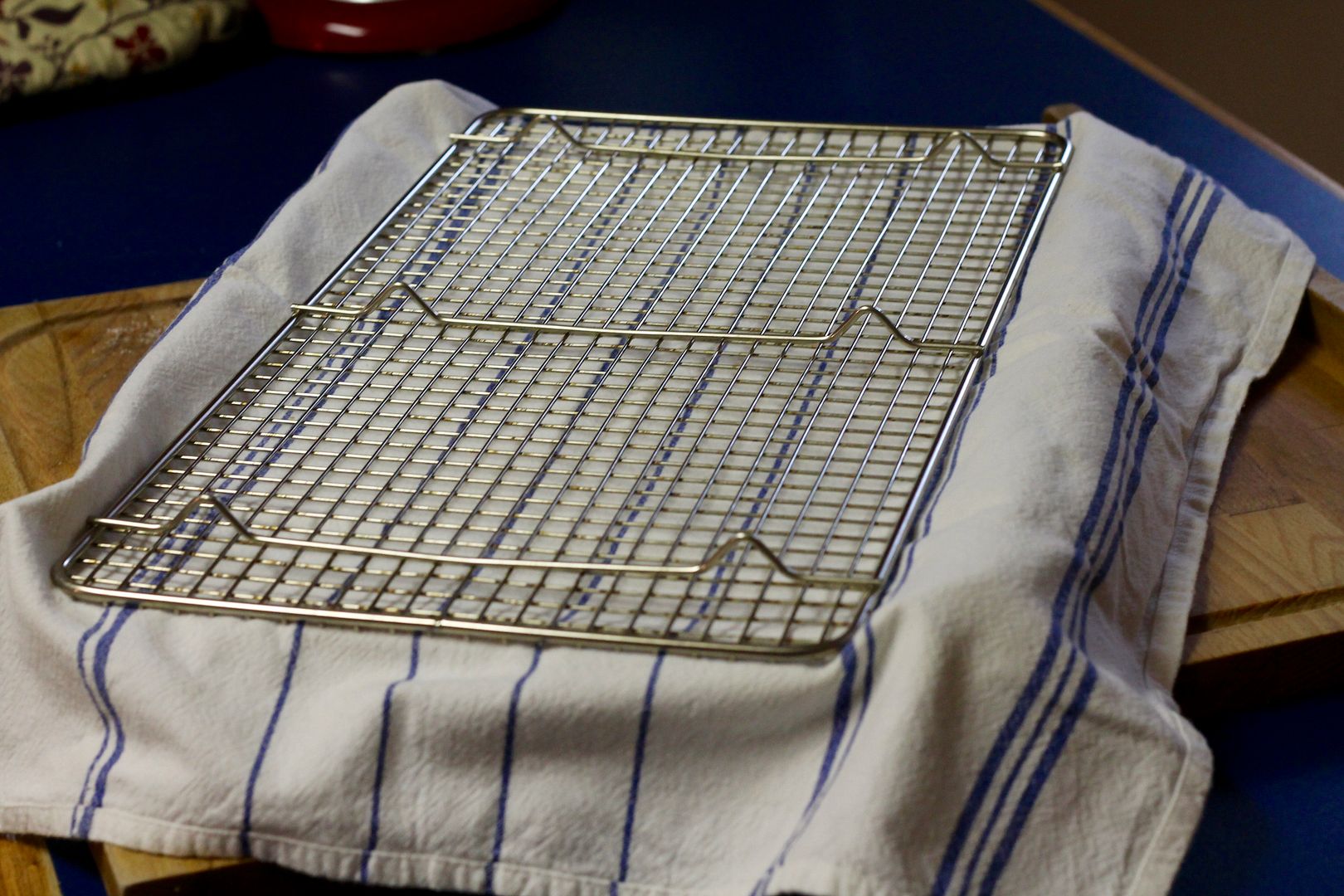 Flip the whole thing over to invert the cake out onto the tea towel. Lift off the baking sheet and gently peel back the parchment paper.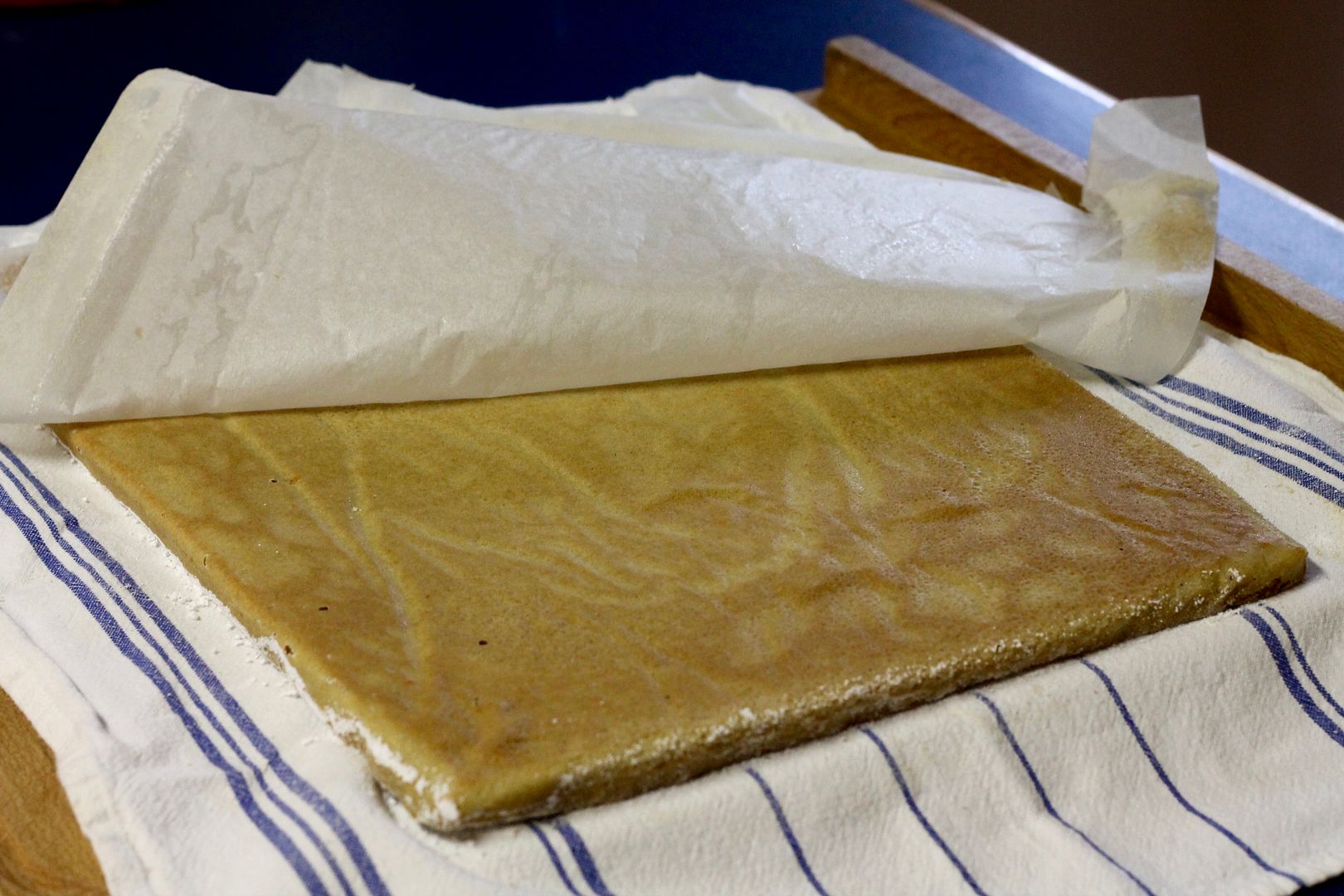 Starting at a short end, immediately roll the cake and tea towel up into a neat, compact roll. Set aside and let the cake cool completely, about 30 minutes at least.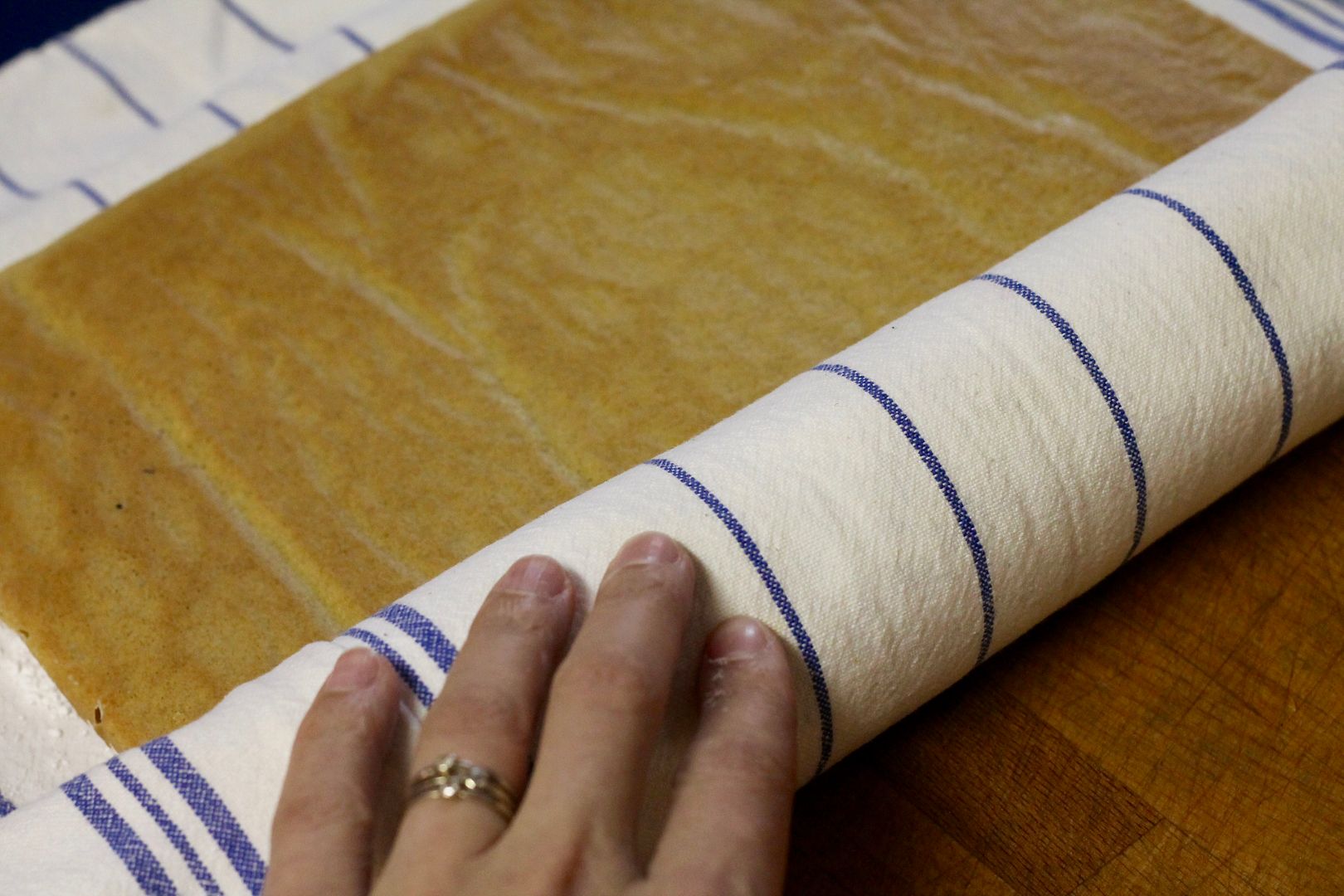 White Chocolate Mascarpone Cream
In a small bowl, place 6 oz coarsely chopped white chocolate. In a microwave-safe measuring cup, bring 1/2 cup cream to a boil in the microwave (or you can do this on the stove in a pot, but for such a small amount of liquid, I prefer the microwave). Pour the cream over the white chocolate and let sit for 5 minutes to melt, then whisk until it becomes a smooth ganache.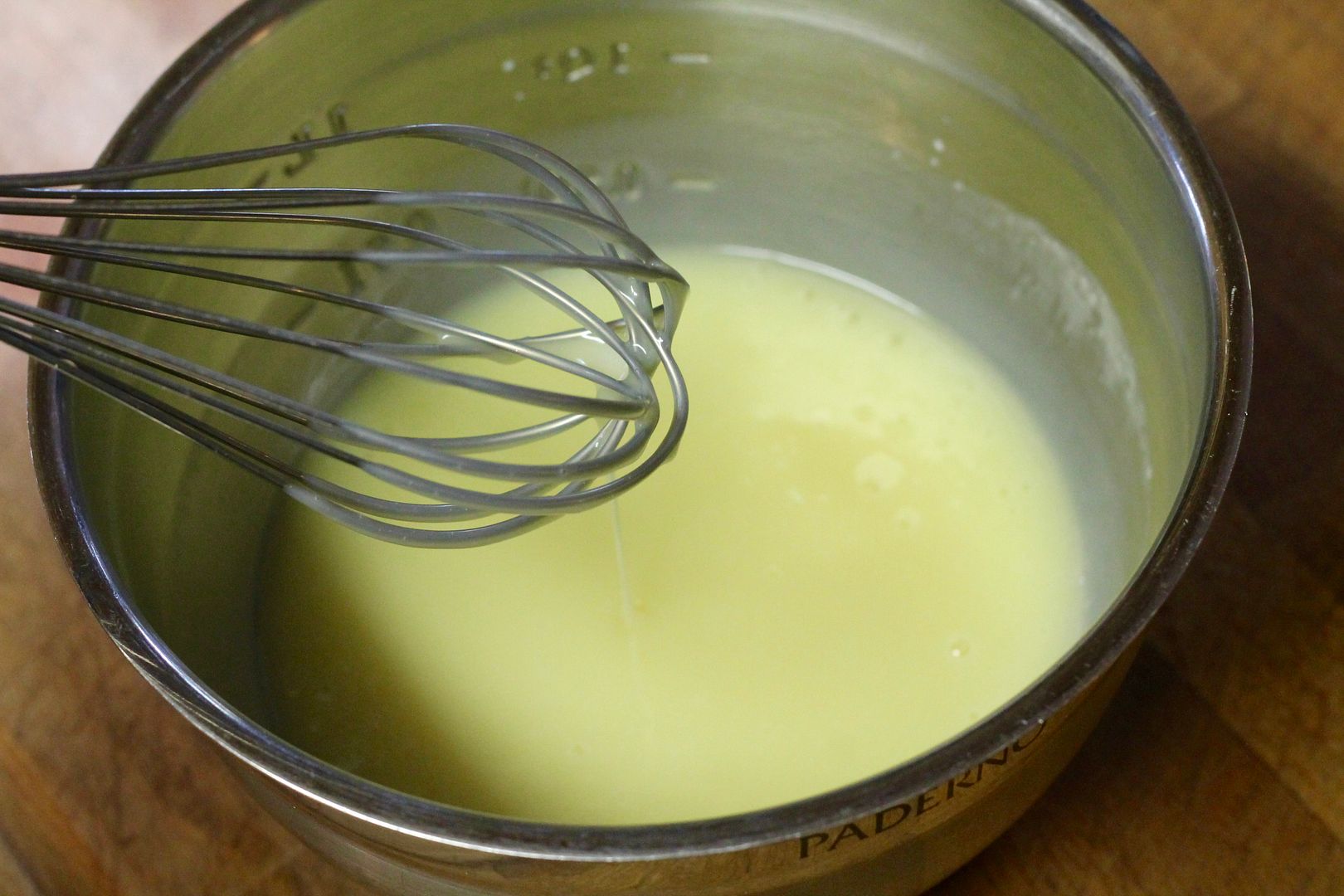 Place 8 oz cold mascarpone cheese in the bowl of an electric mixer and stir it with a rubber spatula until smooth. Add half the ganache and stir with the spatula to combine. Add the remaining ganache and stir.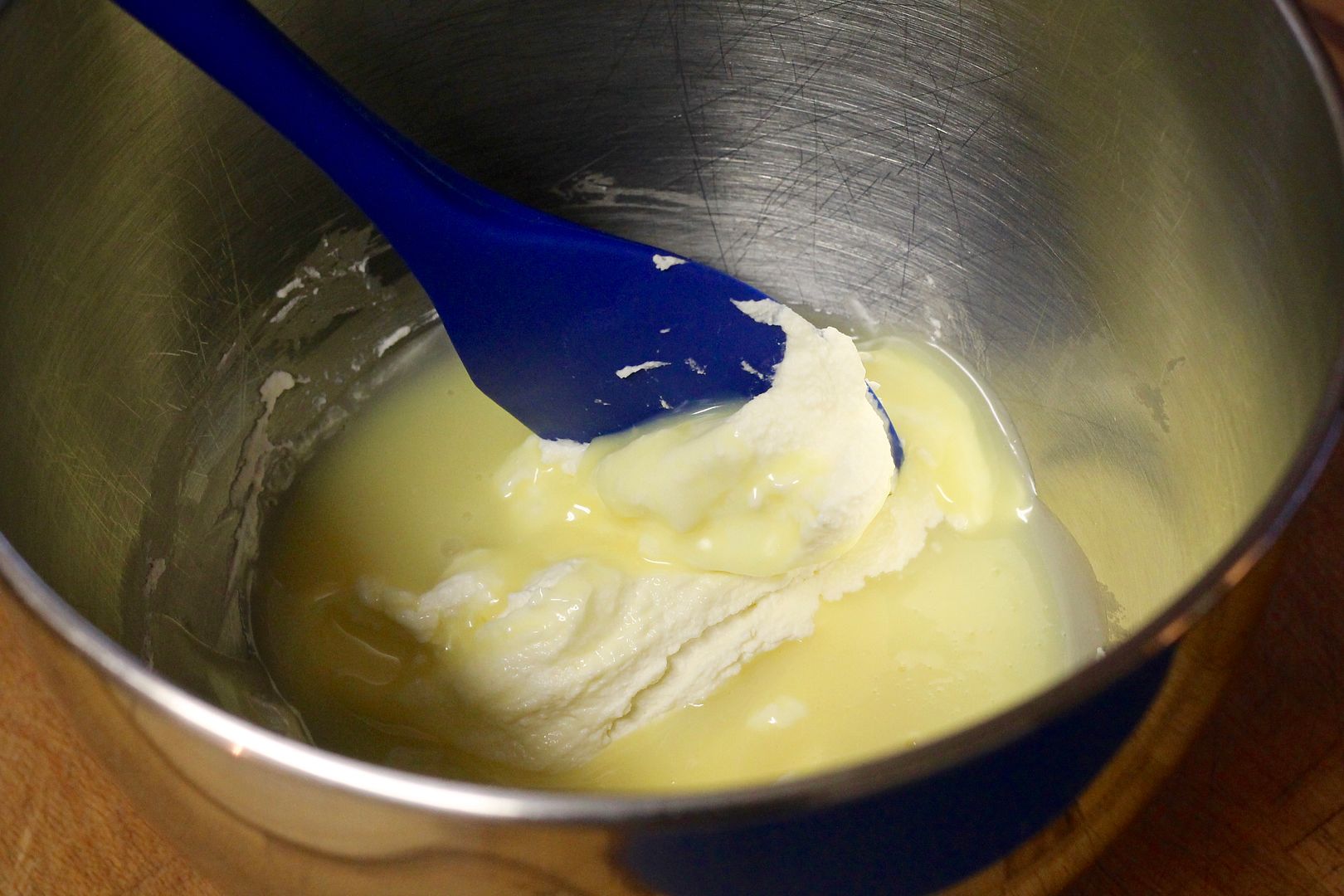 Attach the bowl to the mixer with the whisk attachment and add 1/2 tsp grated orange zest.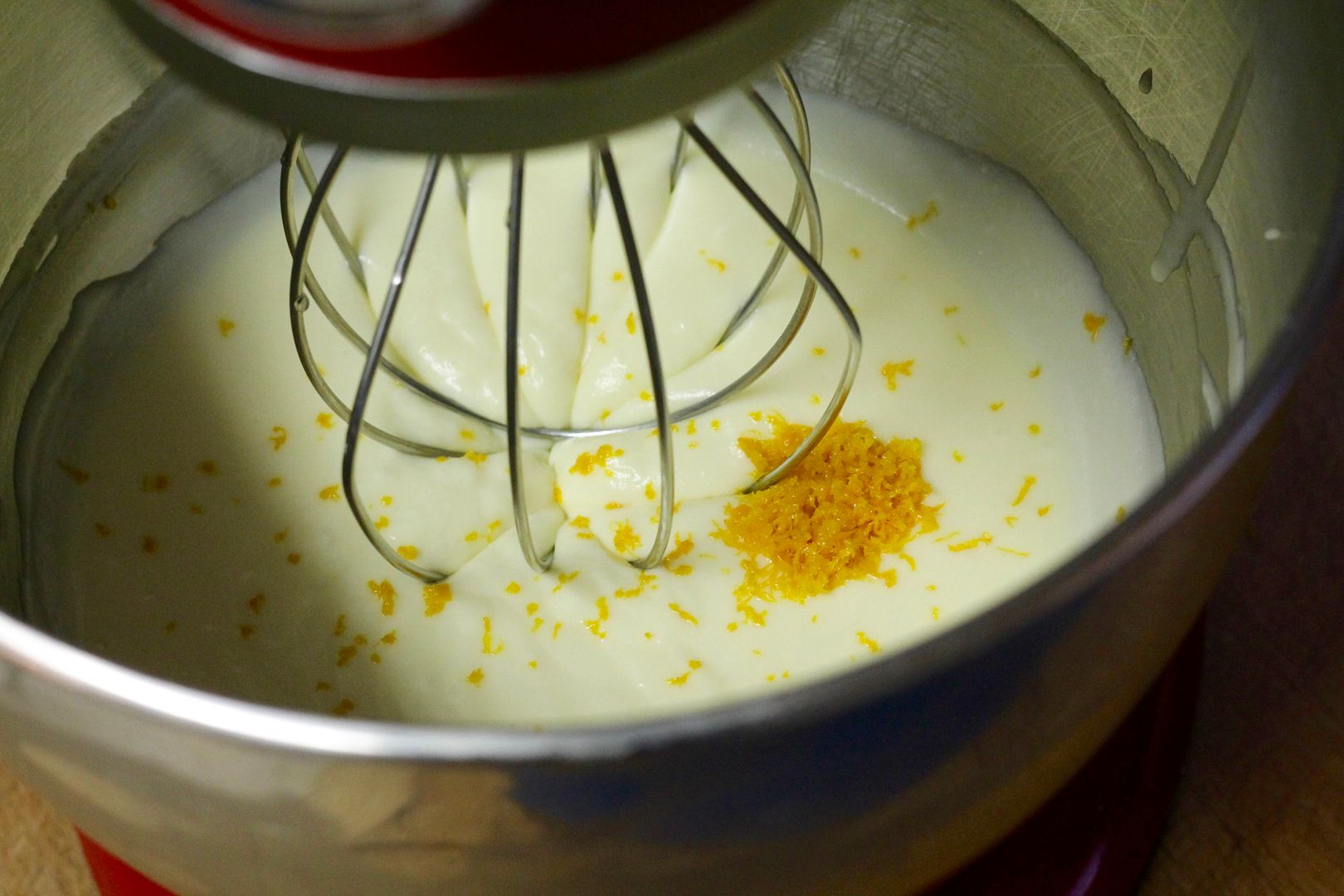 Beat the mixture on medium speed until it holds medium peaks and looks spreadable. It may look a little grainy but this is fine.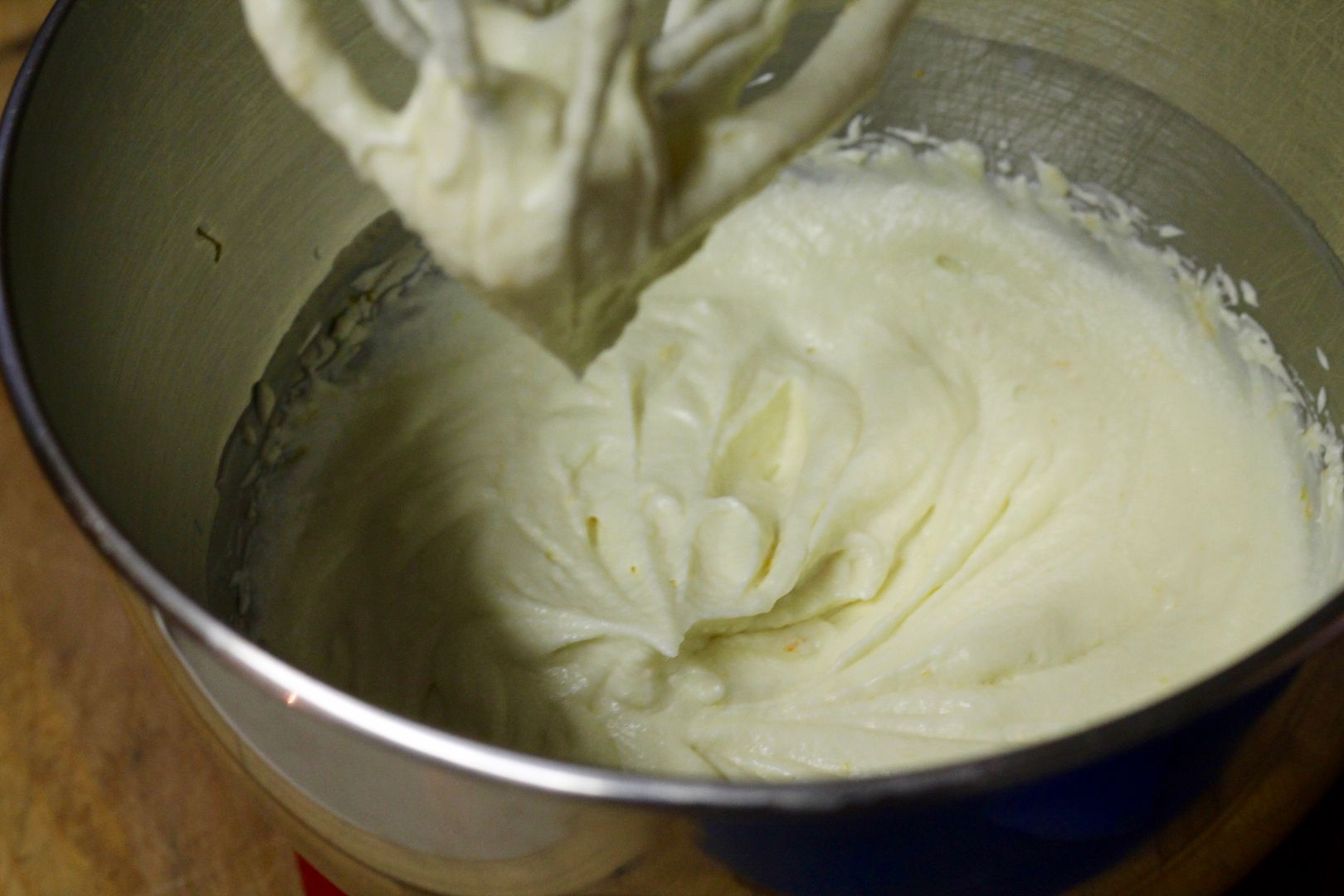 Unroll the cake from the towel (make sure it is 100%, completely cooled) and spread it with 2 cups of the white chocolate mascarpone cream, leaving a 1/2 inch border around all the edges (you will have a little bit of filling left over – baker's treat!).
From the short edge, re-roll the cake with the filling, using the tea towel on the outside to help keep the roll compact but not so tight that the filling squishes out.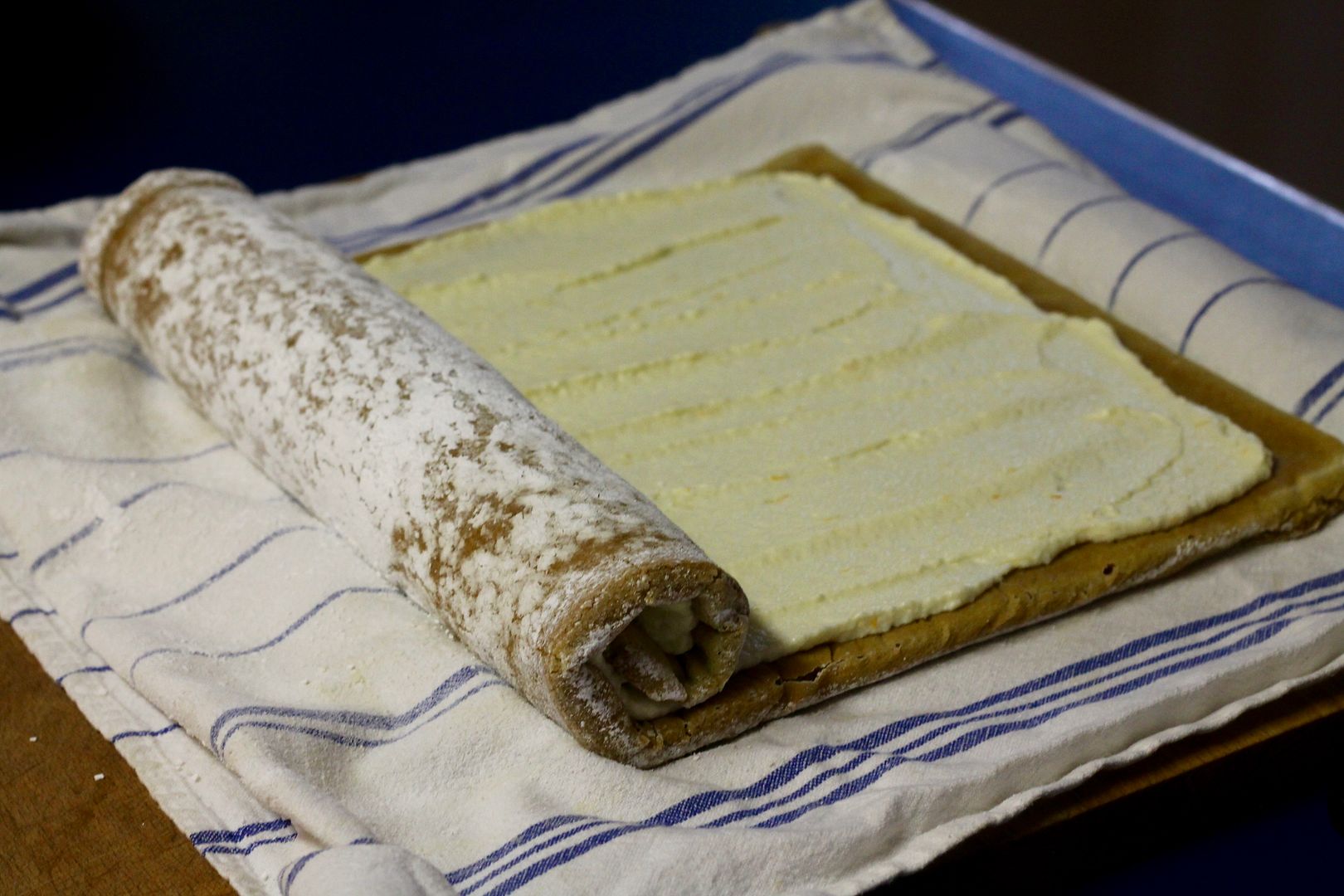 Place the cake roll on a serving platter and cover loosely with plastic wrap. Chill for at least 2 hours and up to 24.
Pumpkin Seed Caramel Shards
Line a baking sheet with a silicon mat and set aside. In a small non-stick pan, mix together:
1 cup granulated sugar
3 tbsp water
Bring the sugar-water slurry to a boil over medium-high heat without stirring, about 5 minutes (if you must, you can swirl the pan gently a few times while it cooks).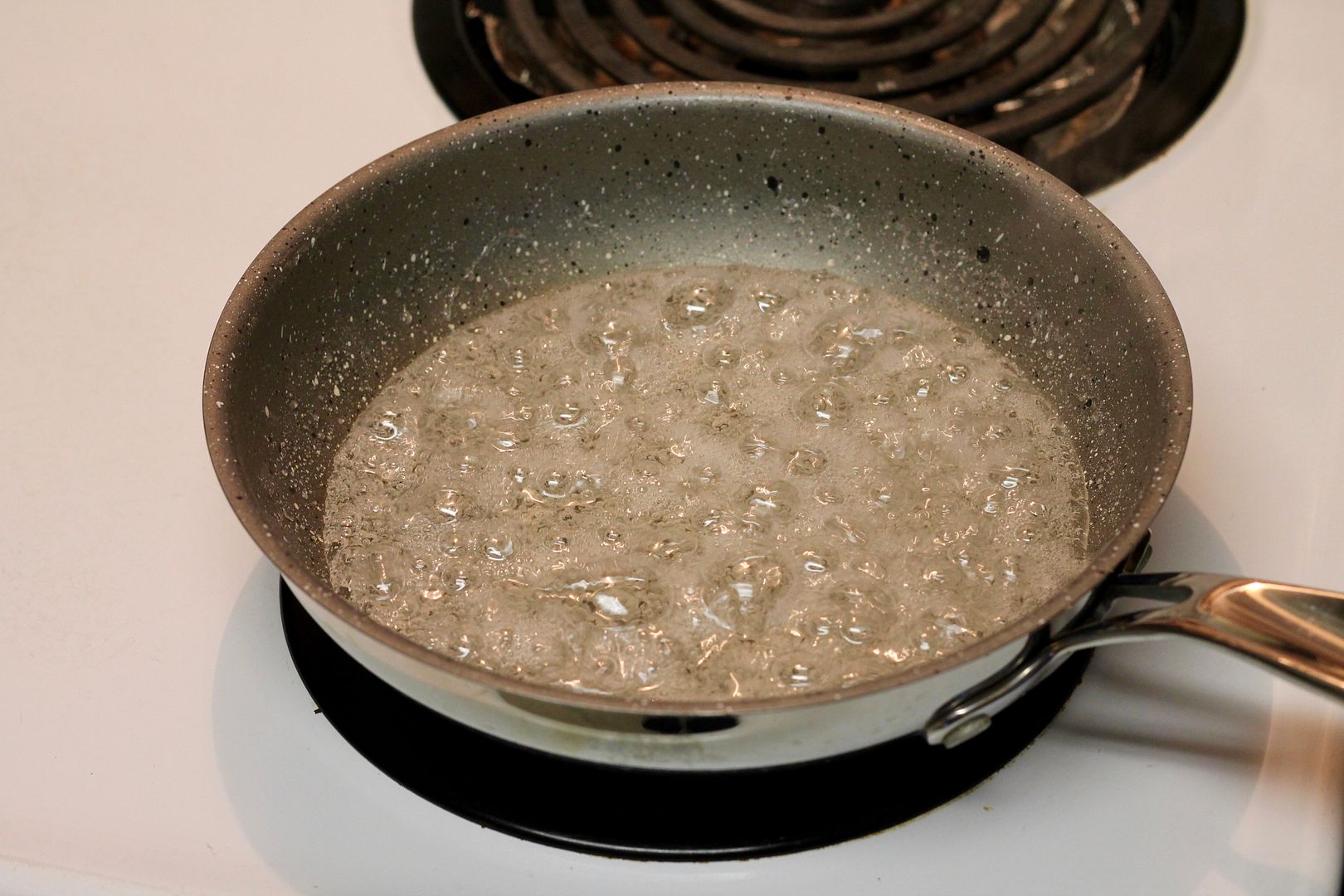 Continue boiling until the sugar melts and caramelizes and turns amber-coloured, about another 6 minutes, again occasionally swirling the pan if you must.
Stir in 1/2 cup shelled pumpkin seeds.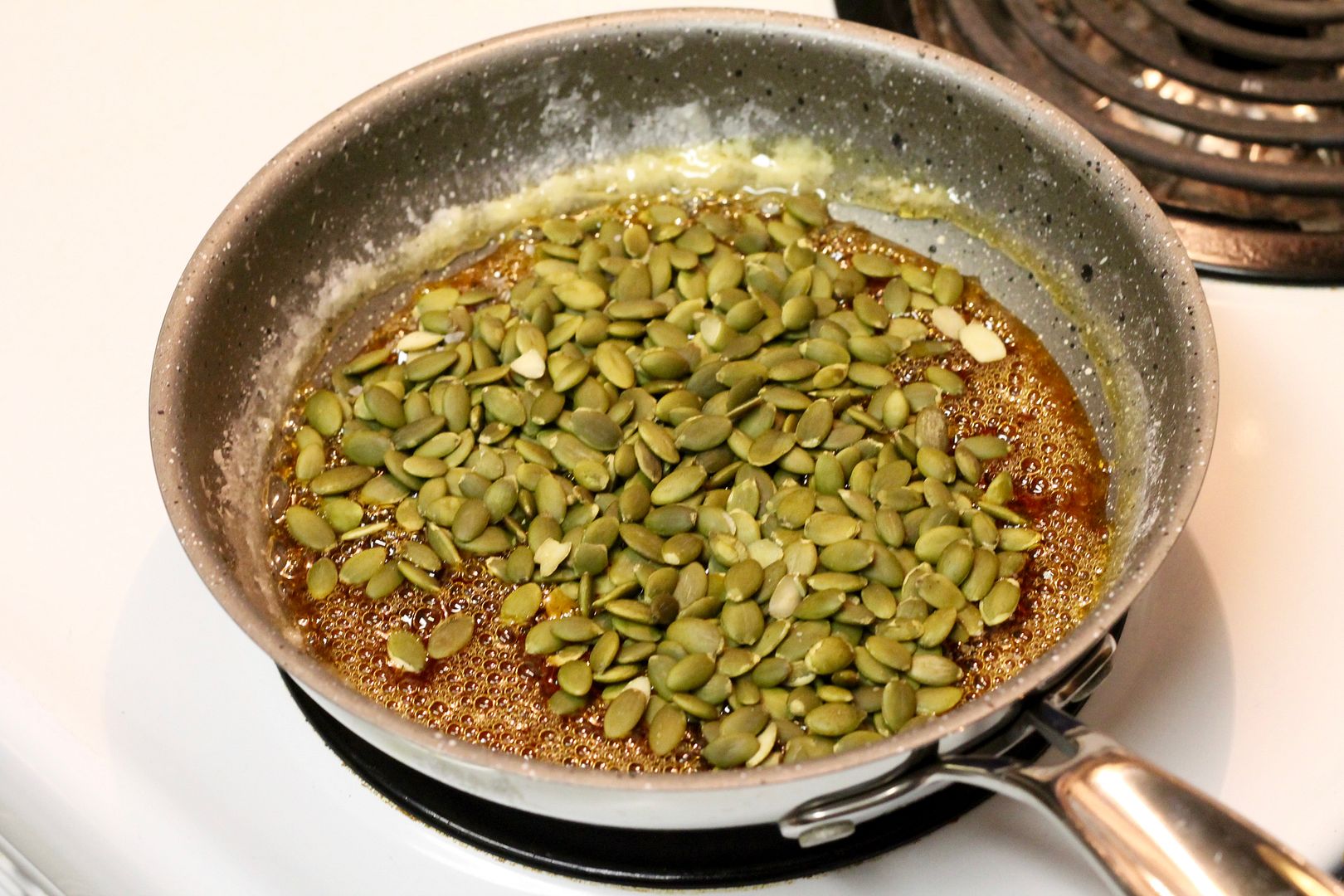 This might cause the caramel to cool and harden a bit, in which case return the pan to the stove over low heat and cook gently until it melts into liquid again.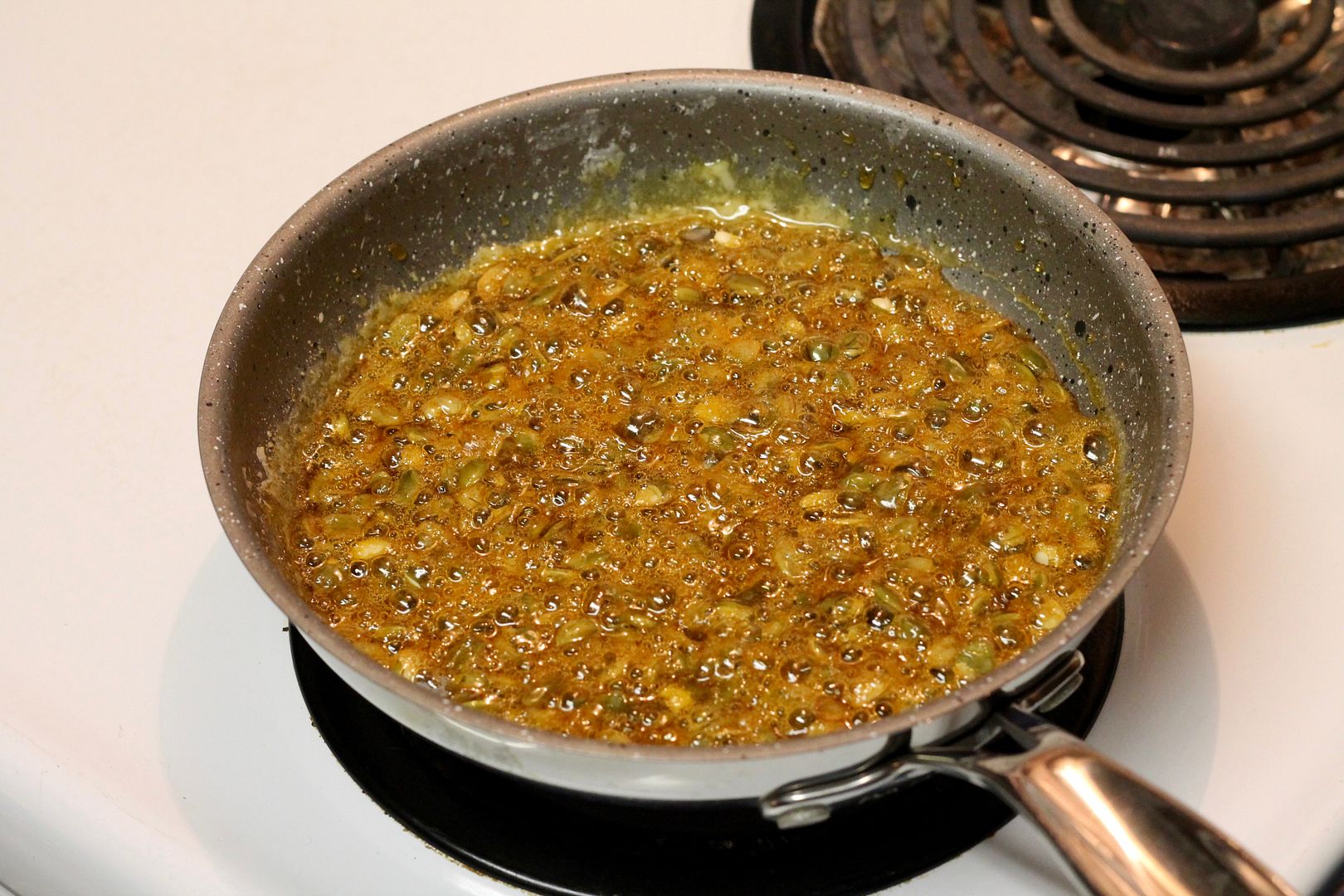 Pour the caramel onto the silicon mat and shake the pan gently to spread it out flat. Allow to cool completely.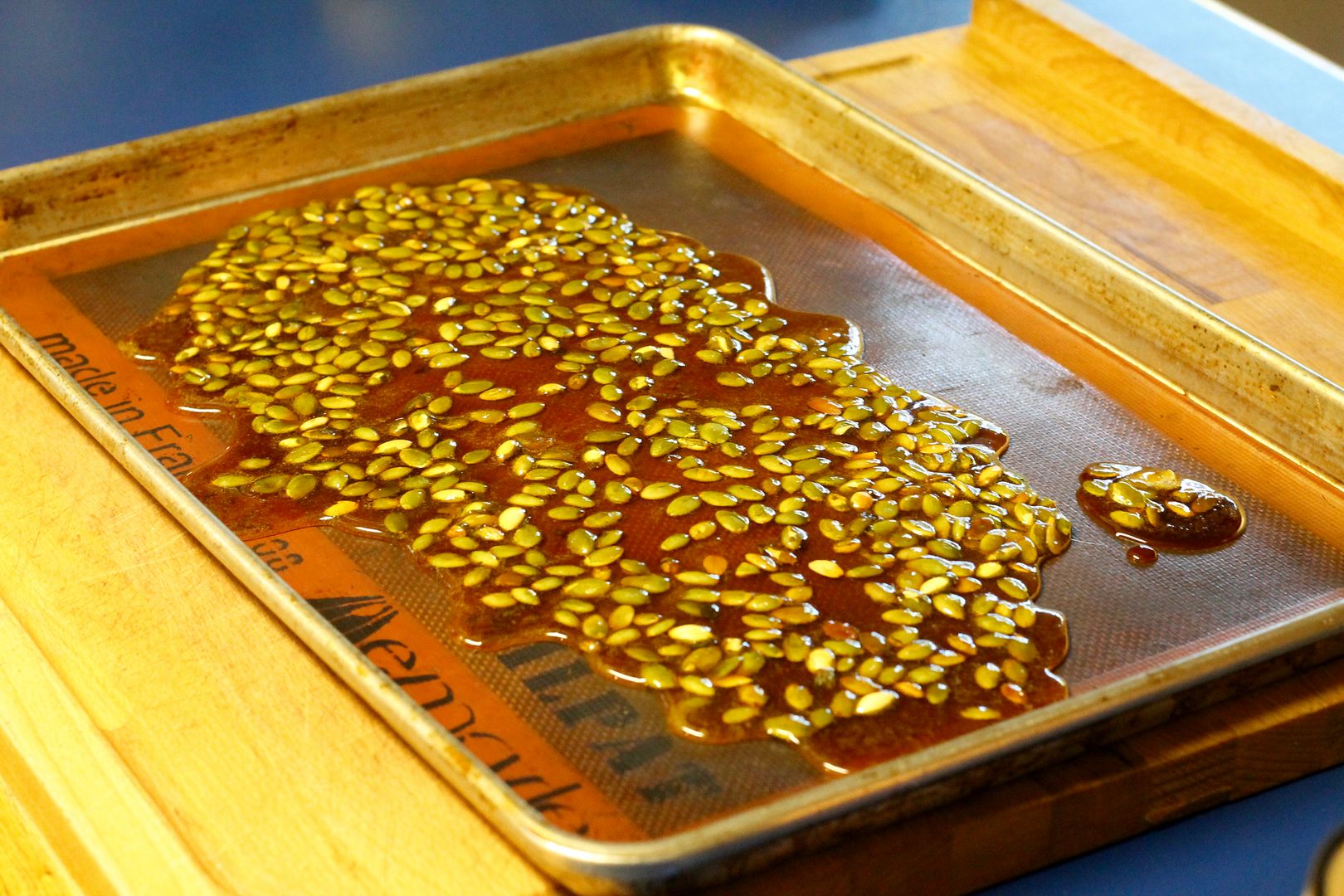 Once cooled, break into 2 or 3 inch shards.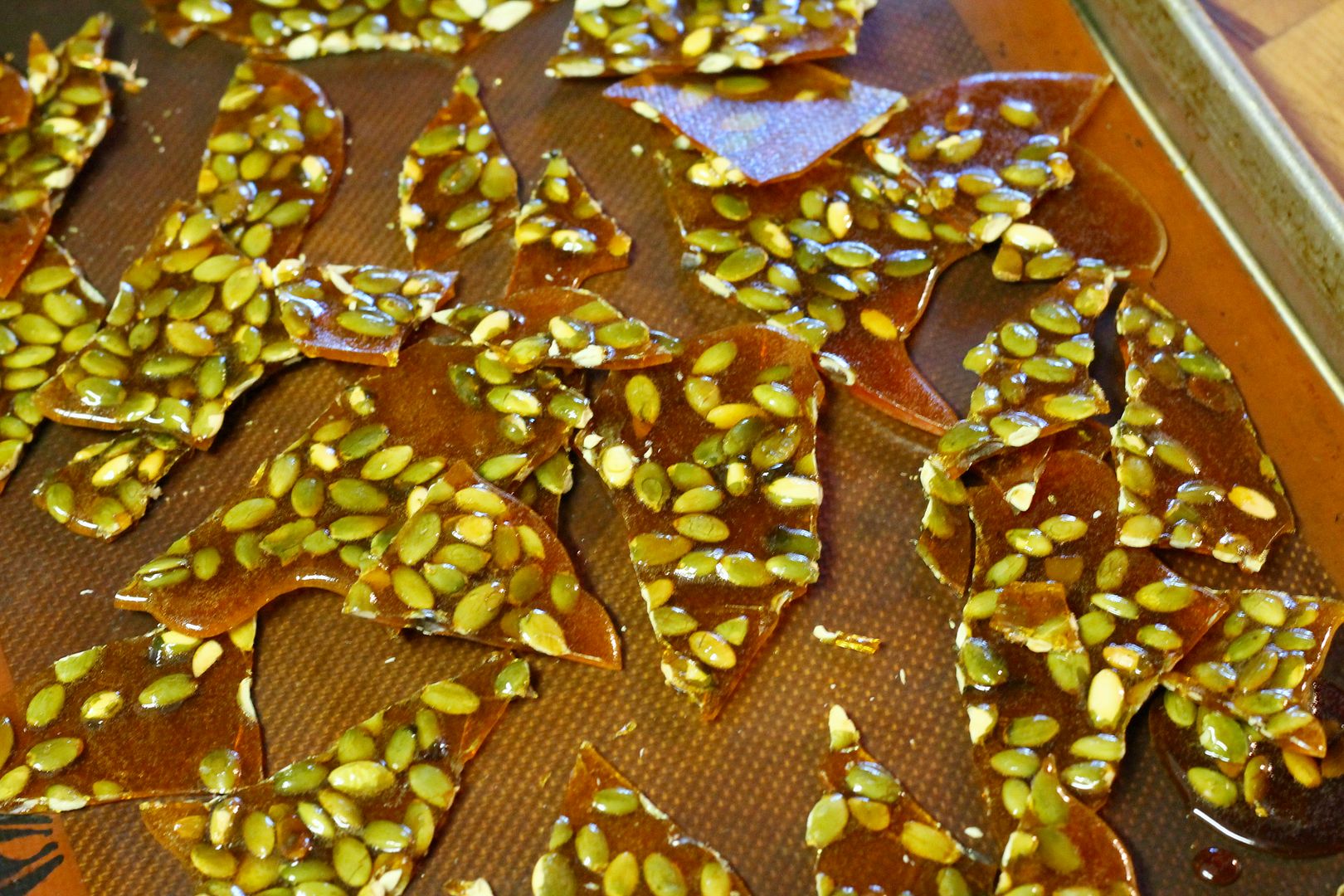 To Serve
Dust the top of the chilled roulade with confectioners' sugar and garnish the sides with the caramel shards.
Slice the roll into 1-inch thick slices and serve with a spoonful of lightly sweetened whipped cream and a piece of caramel.