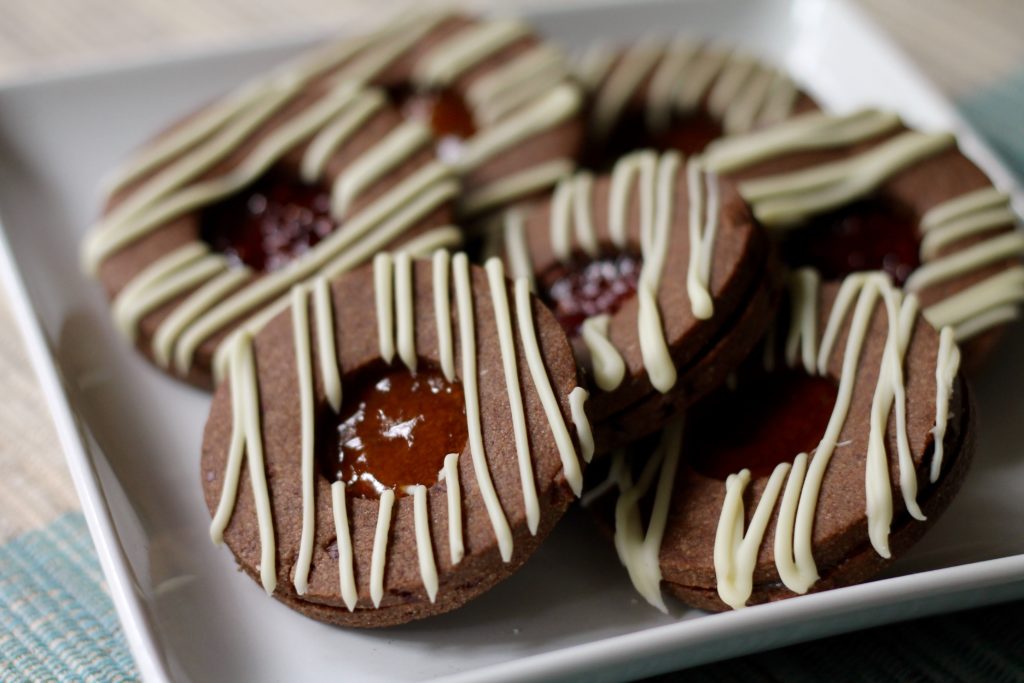 I should really bake more cookies.
They are basically the perfect baked good: portioned as a single serving (not that it stops me from eating five in one sitting), endlessly variable in flavour, texture and shape, and they can be a simple or as complicated as you could possibly want. Yet other than the annual Christmas cookie madness and the occasional (and necessary) batch of chocolate chip, I don't actually bake cookies very often. So I set out to remedy this, and my solution was these pretty little cocoa linzer cookies.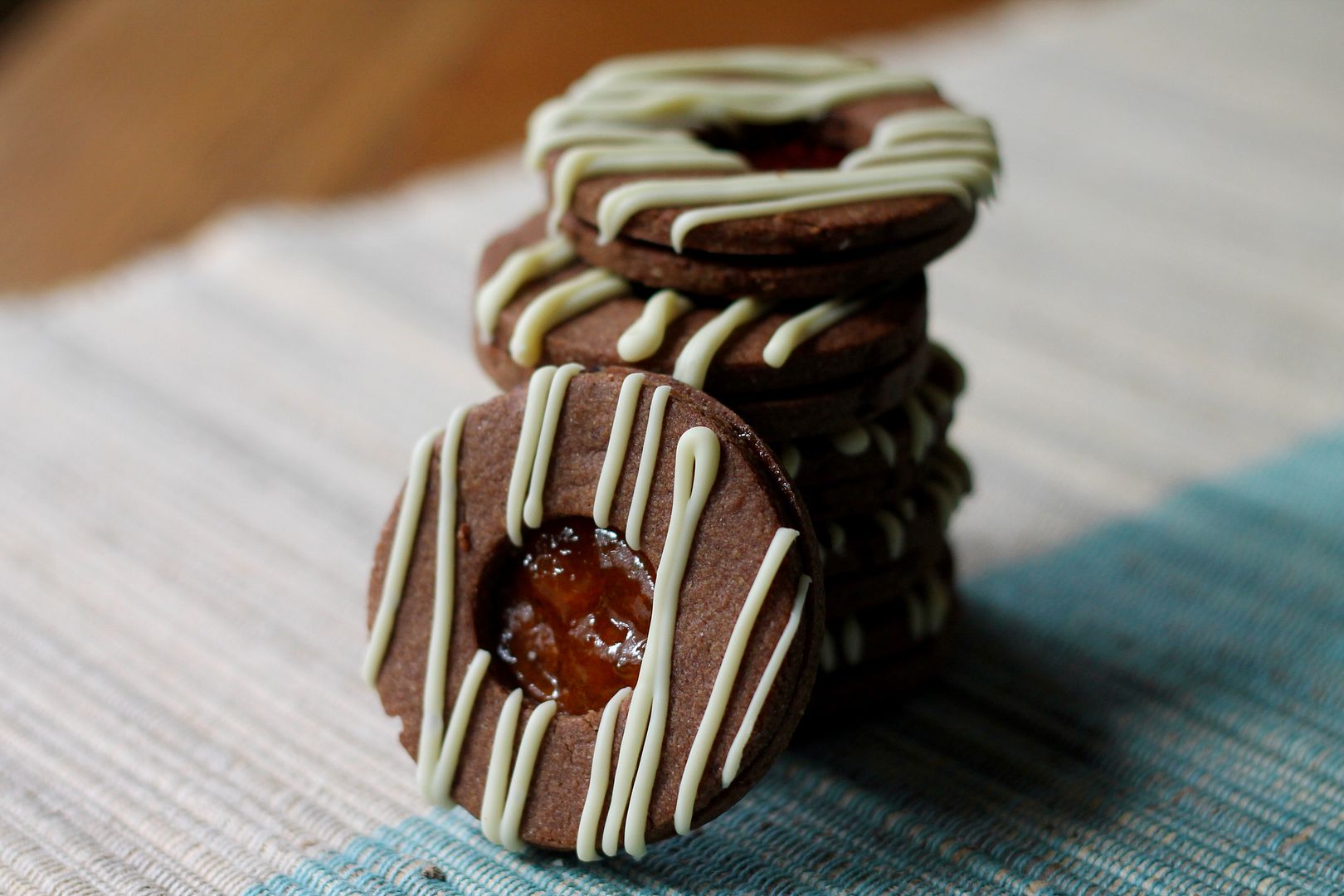 The brainchild of cookie maven Dorie Greenspan, these are rather adult cookies with their bittersweet cocoa powder, nutty cacao nibs, and hint of spicy cinnamon, black pepper, allspice, and cloves. Their sandwich construction makes them just fussy enough to satisfy my inner pastry chef, and the jam in the middle gives them a little bit of tartness and causes the cookies to soften deliciously after a day in a cookie tin. I filled half with apricot jam and half with raspberry, and Nate and I changed our minds with every cookie about which jam we liked best ("I think I like raspberry the best. No wait, apricot. I mean… let me try another one."). Both were excellent.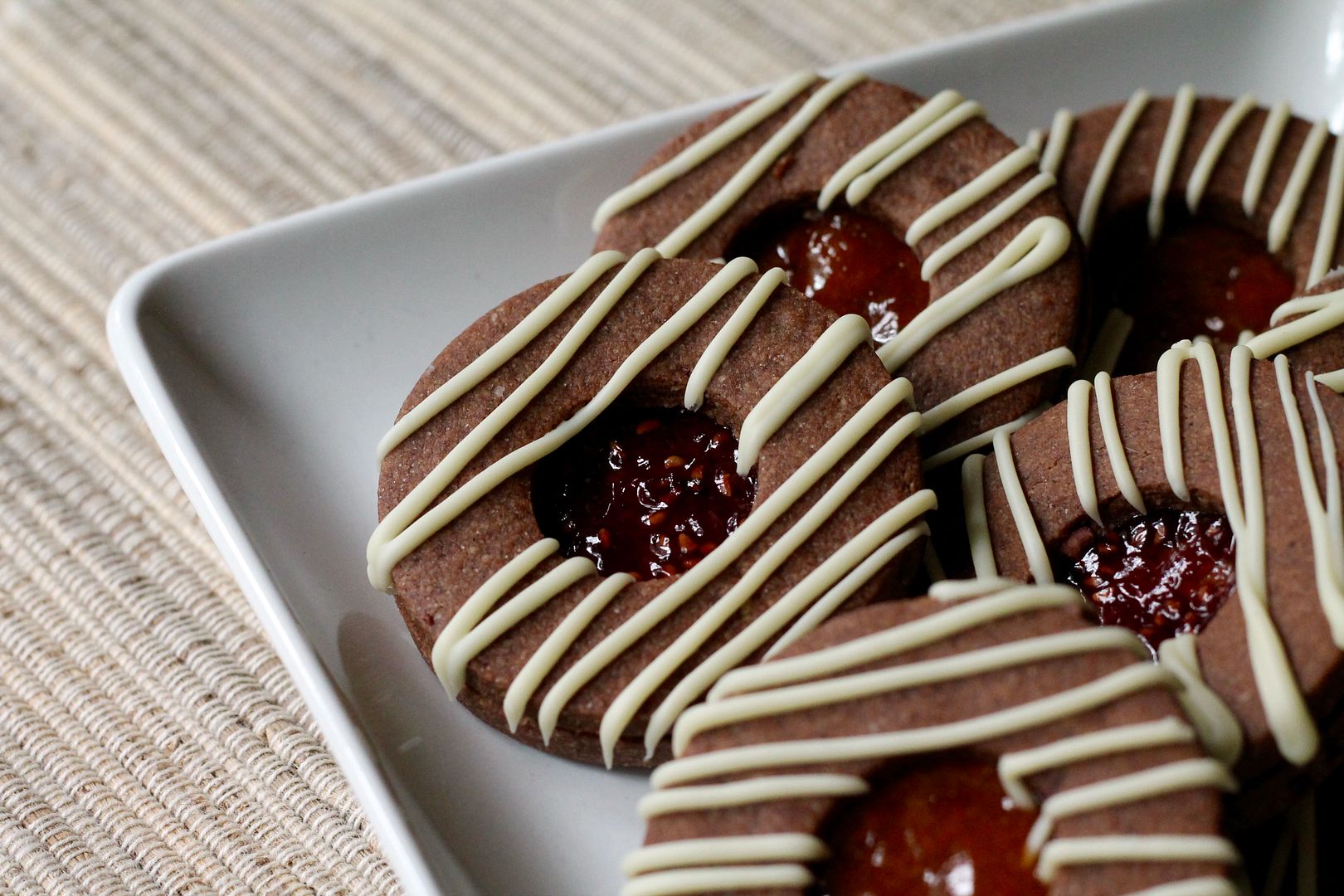 The only change I made to the recipe was to drizzle the cookie tops with melted white chocolate for some "pizzaz" – not that they really needed it, but they look extra pretty. Dorie has a genius technique for rolling out the just-mixed dough between two sheet of parchment paper and then chilling it, which also means that your cookies cut out nice and cleanly, and if you keep them chilled until you are ready to bake, they will hold their shape in the oven as well. I'm not going to lie, these cookies are a bit time consuming with all the rolling and cutting out and filling and sandwiching and drizzling, but they were pretty worth it, too!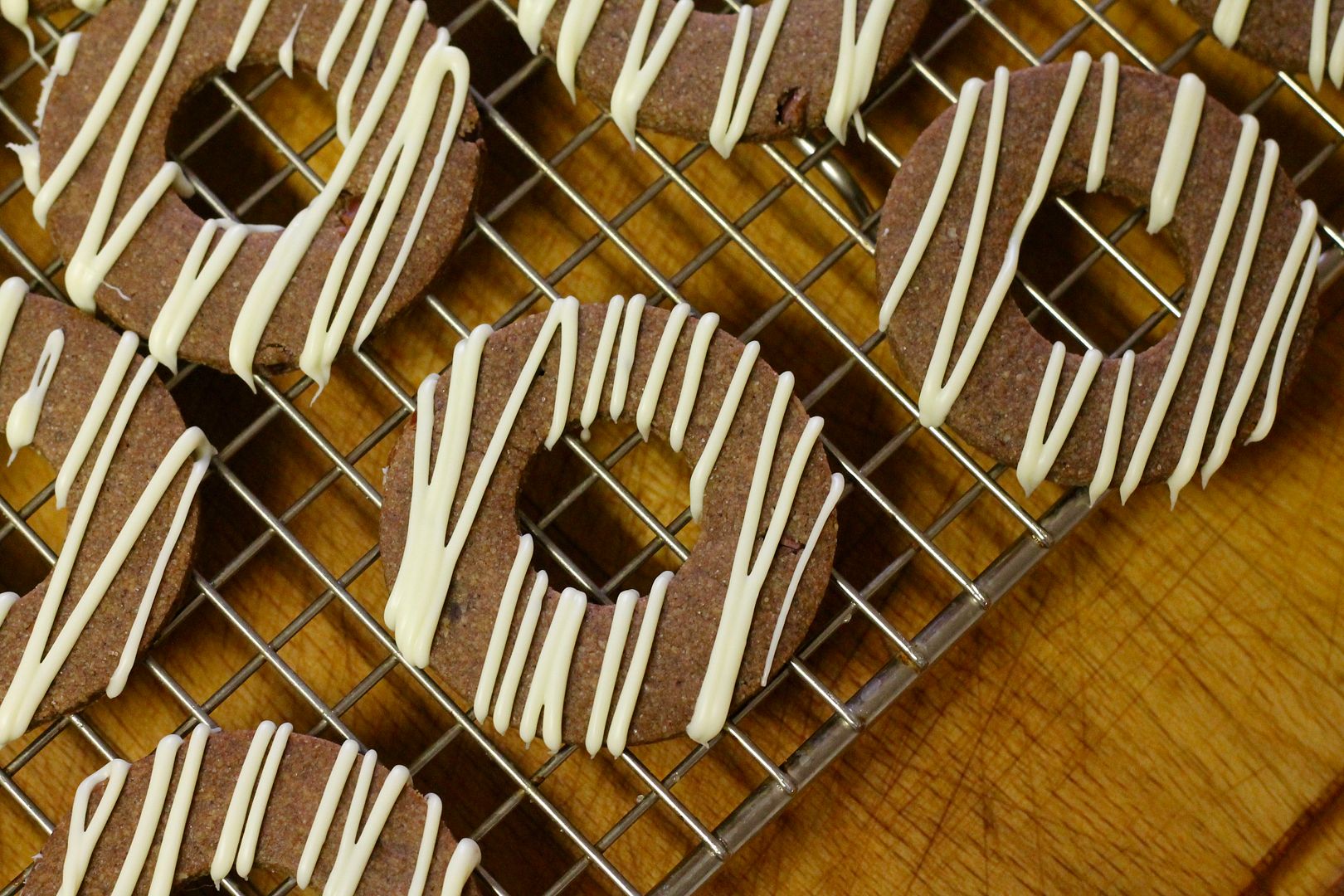 Cocoa Linzer Cookies
Adapted ever-so-slightly from Baking Chez Moi by Dorie Greenspan. Makes about 2 dozen sandwich cookies.
In the bowl of a food processor, pulse together:
1 3/4 cups (175 g) almond flour
1 1/3 cups (181 g) all purpose flour
3 tbsp unsweetened cocoa powder
1 tsp ground cinnamon
1/2 tsp ground allspice
1/4 tsp freshly ground black pepper
tiny pinch ground cloves
1/2 tsp fine sea salt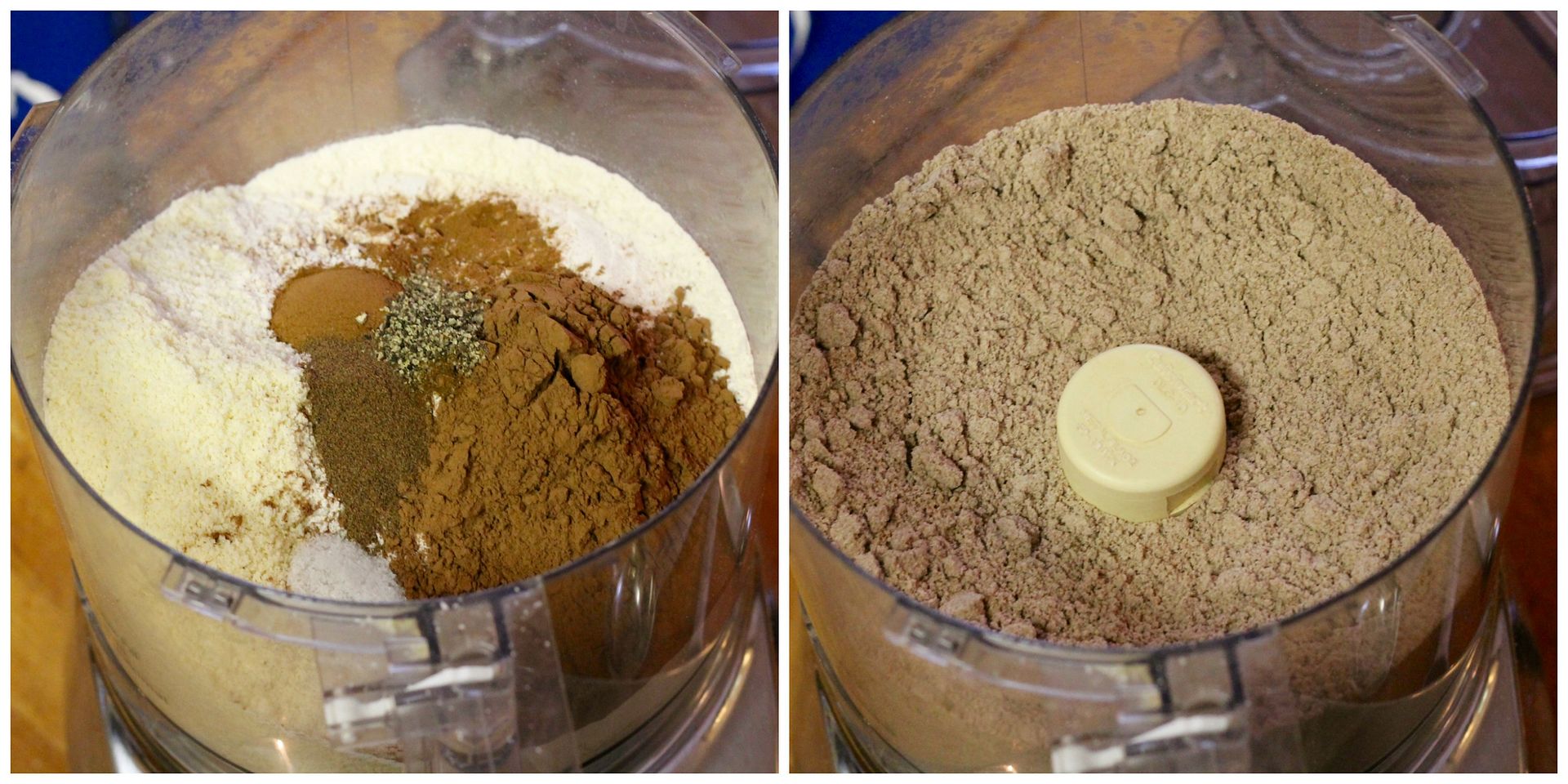 Pour the flour mixture out of the food processor into a bowl.
In the food processor, blitz together until blended:
1/2 cup (113 g) unsalted butter, at room temperature
2/3 cup (132 g) granulated white sugar
Add:
1 large egg, at room temperature
1/2 tsp vanilla extract
Process until smooth and well-blended (scrape down the sides of the food processor bowl a few times to make sure).

Add the flour mixture to the butter mixture and pulse about 20 times, until it starts to comes together in clumps and curds – it should hold together when squeezed.
Add 2 1/2 tbsp cocoa nibs and pulse just until combined.

Turn out the dough onto a large piece of parchment paper and knead and squeeze it a few times with your hands to bring it together, then divide it in half.
Roll each half of the dough out between two pieces of parchment paper until it is about 1/8″ thick. Make sure to turn the dough over and peel off the parchment paper a few times during rolling so that the dough/paper doesn't end up wrinkled. Slide the rolled-out dough, still between the parchment paper, onto a cookie sheet and chill in the freezer for at least 1 hour or in the fridge for at least 3 hours, until very firm.

When you're ready to bake, preheat the oven to 350˚F (325˚F convection) with the oven racks in the top and bottom thirds of the oven.
Use a 2″ cookie cutter to cut out rounds of the chilled dough and place them on a parchment paper-lined baking sheet with about 1 1/2″ of space between them. Using a very small round cutter or a large frosting piping tip, cut out little peekaboo holes in half of the cookie rounds. Reserve all the dough scraps and roll them out again, then chill and repeat the cutting.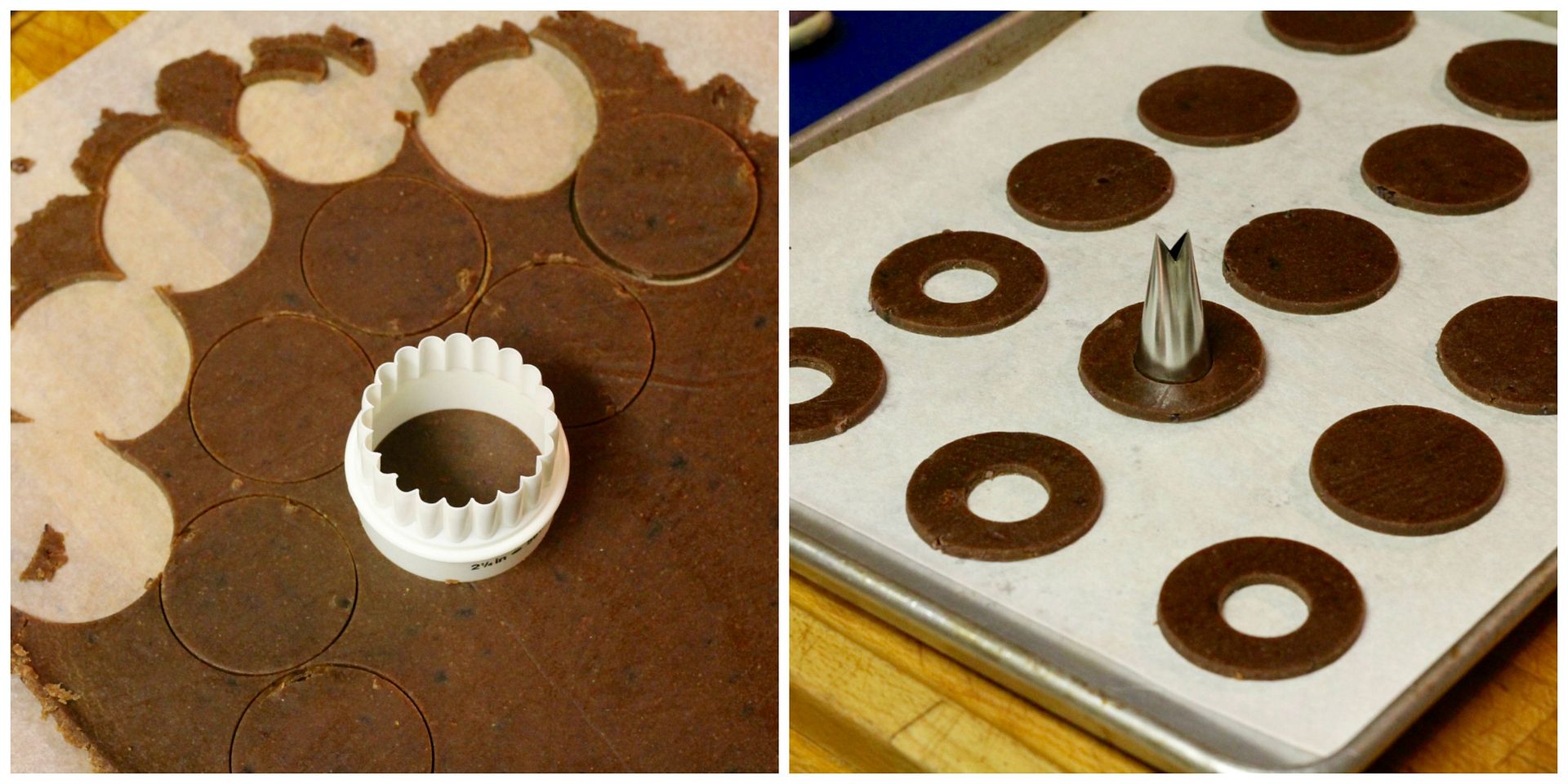 Bake the cookies 2 baking sheets at a time for 11-13 minutes, rotating the cookie sheets top to bottom and back to front halfway through baking. The cookies should appear dry on top and feel almost firm to the touch. Cool on the cookie sheets for 5 minutes before transferring to a rack to cool completely. Repeat with the remaining cookies, allowing the cookie sheets to cool between batches.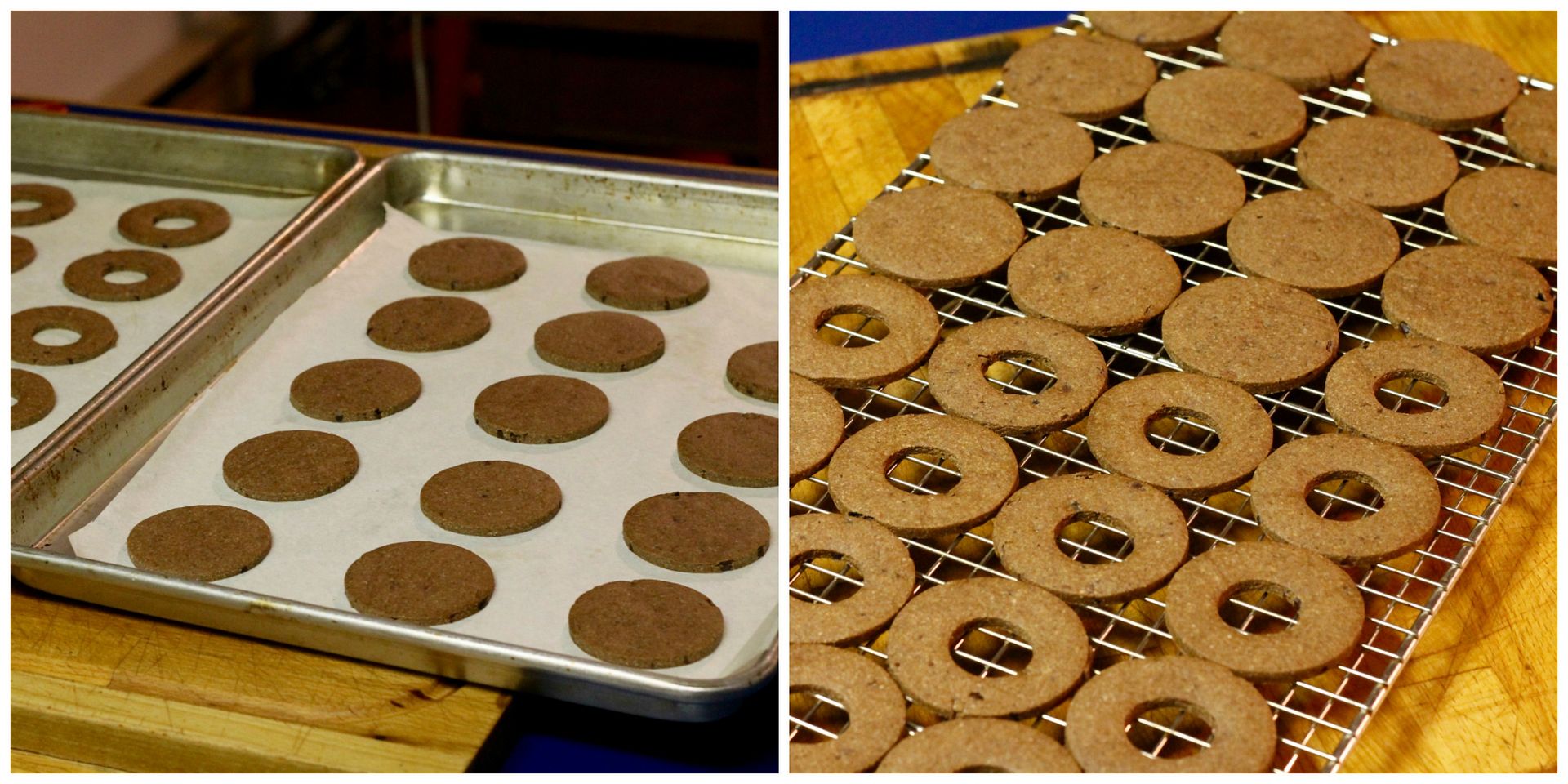 Arrange all the cookie tops with the holes in the middle on a sheet of waxed paper, to protect your work surface. Melt 75 g white chocolate and put it in a piping bag (or a ziplock bag with the corner snipped). Drizzle the chocolate over the cookie tops, then before it has a chance to set, move the cookies to a rack to dry (this will prevent the cookies from having chocolate drizzle overhanging past their edges).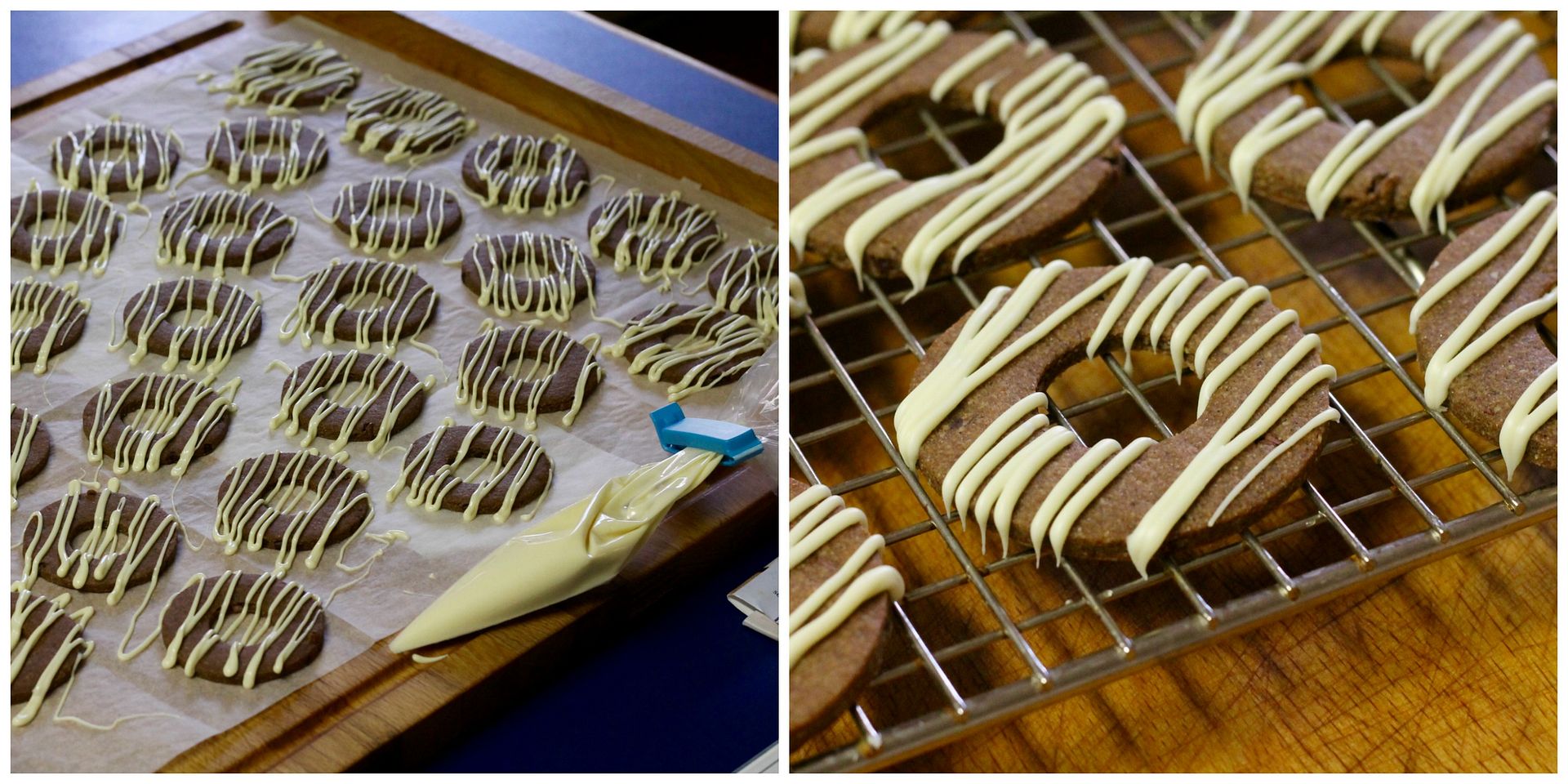 Arrange all the whole cookies bottom-side up on your work surface. Spread spread each cookie with about 1/2 tsp raspberry or apricot jam (1/2 cup total), then sandwich with a white chocolate-drizzled cut-out top.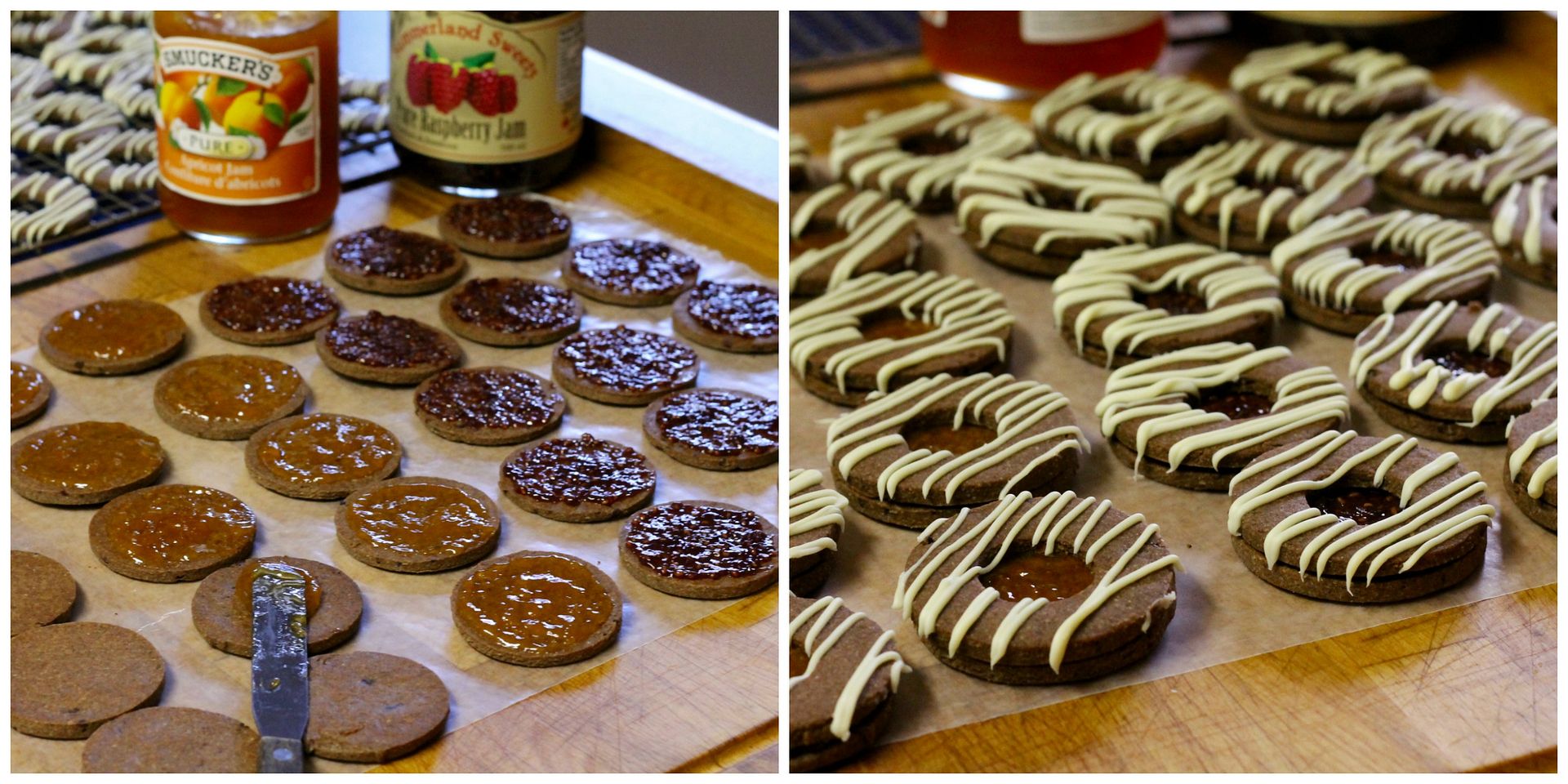 Store the cookies in an airtight container at room temperature for up to a few days.
Save
Save
Save