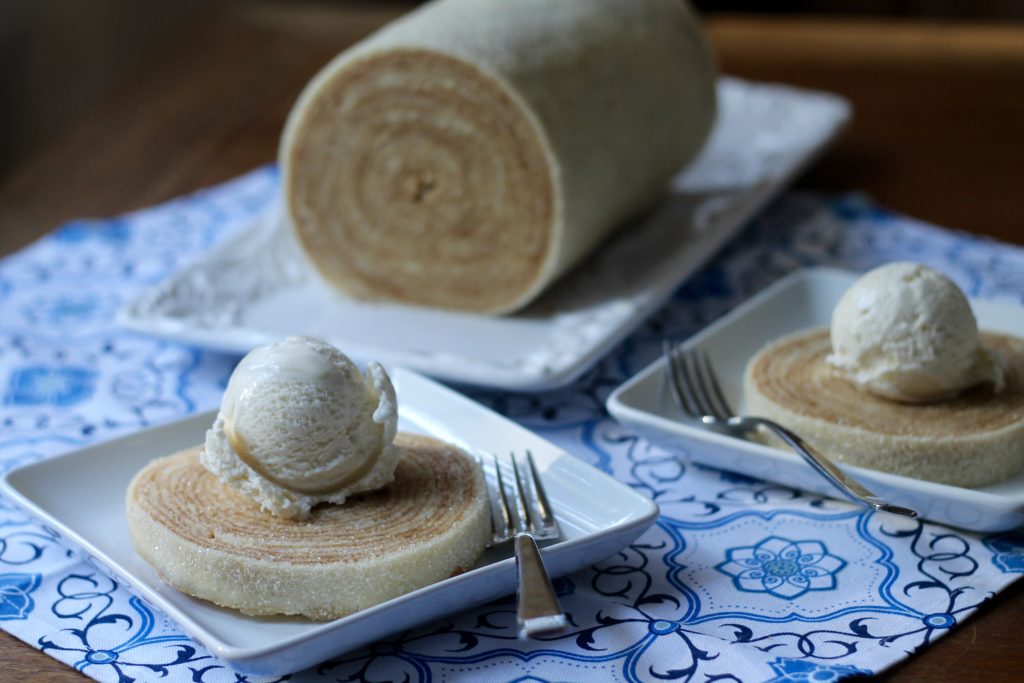 When Gabby announced that February's Around the World in 12 Plates destination was Brazil, I quickly realized that I knew absolutely nothing about Brazilian cuisine. I ended up on a Wikipedia page listing common Brazilian foods so that I could figure out what to Google, which is how I found out about bolo de rolo, a jelly roll-like cake from the Pernambuco state of Brazil, traditionally filled with guava paste and boasting EIGHTEEN extremely thin layers of rolled cake. As soon as I read that, my Daring Baker's heart leapt and I knew I had found my recipe for this month.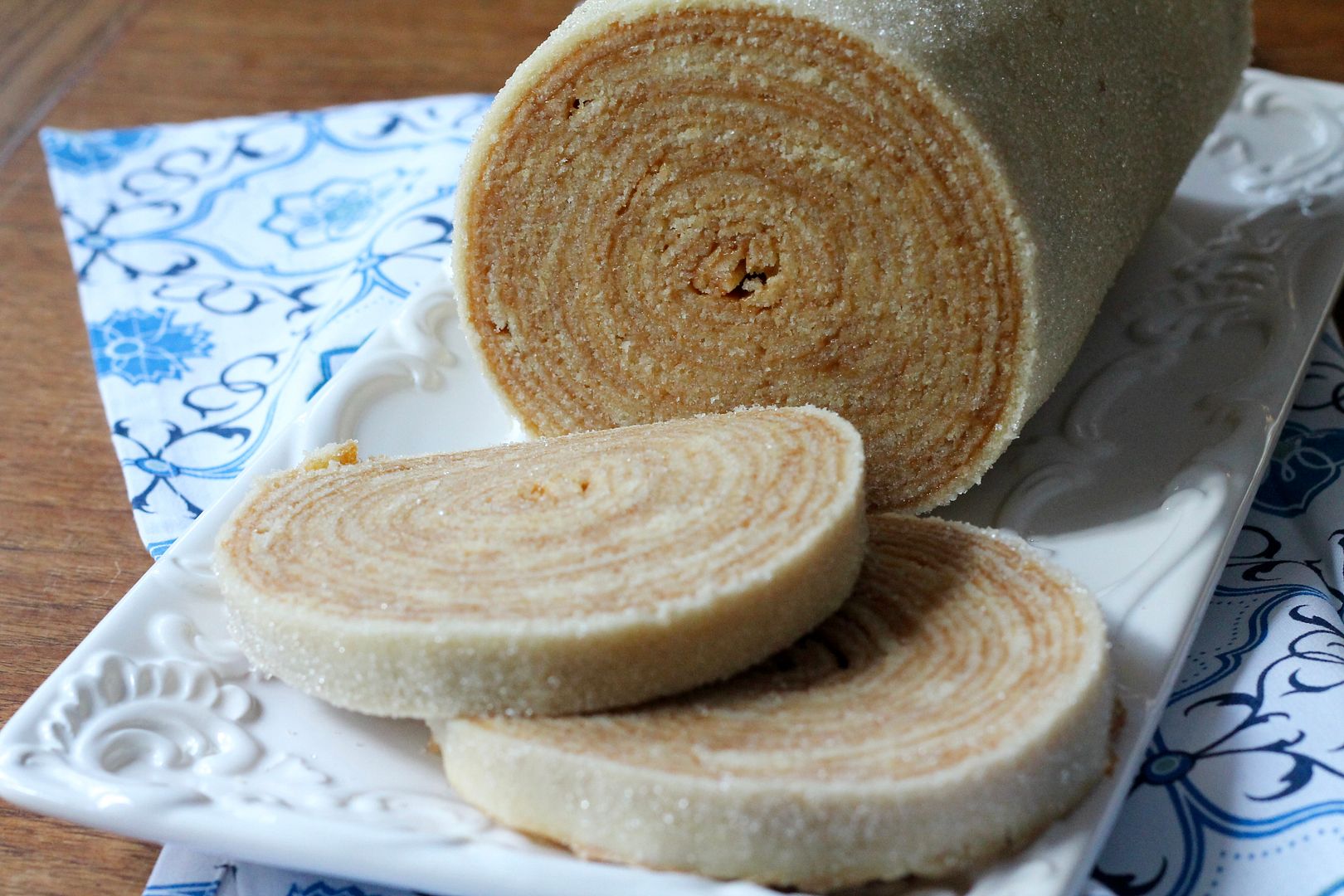 Apparently this cake is a result of the Portuguese colonization of Brazil, with the Portuguese ladies trading the nut filling in their traditional sponge cake, the colchão de noiva (translated as "bride's mattress"), for local guava. Somehow the sponge cake became a rolled cake, and the layers eventually got thinner and thinner, and now thanks to modern baking techniques and manufacturing, they've landed on eighteen as the magic number. Needless to say this cake isn't often made at home anymore, but it is possible.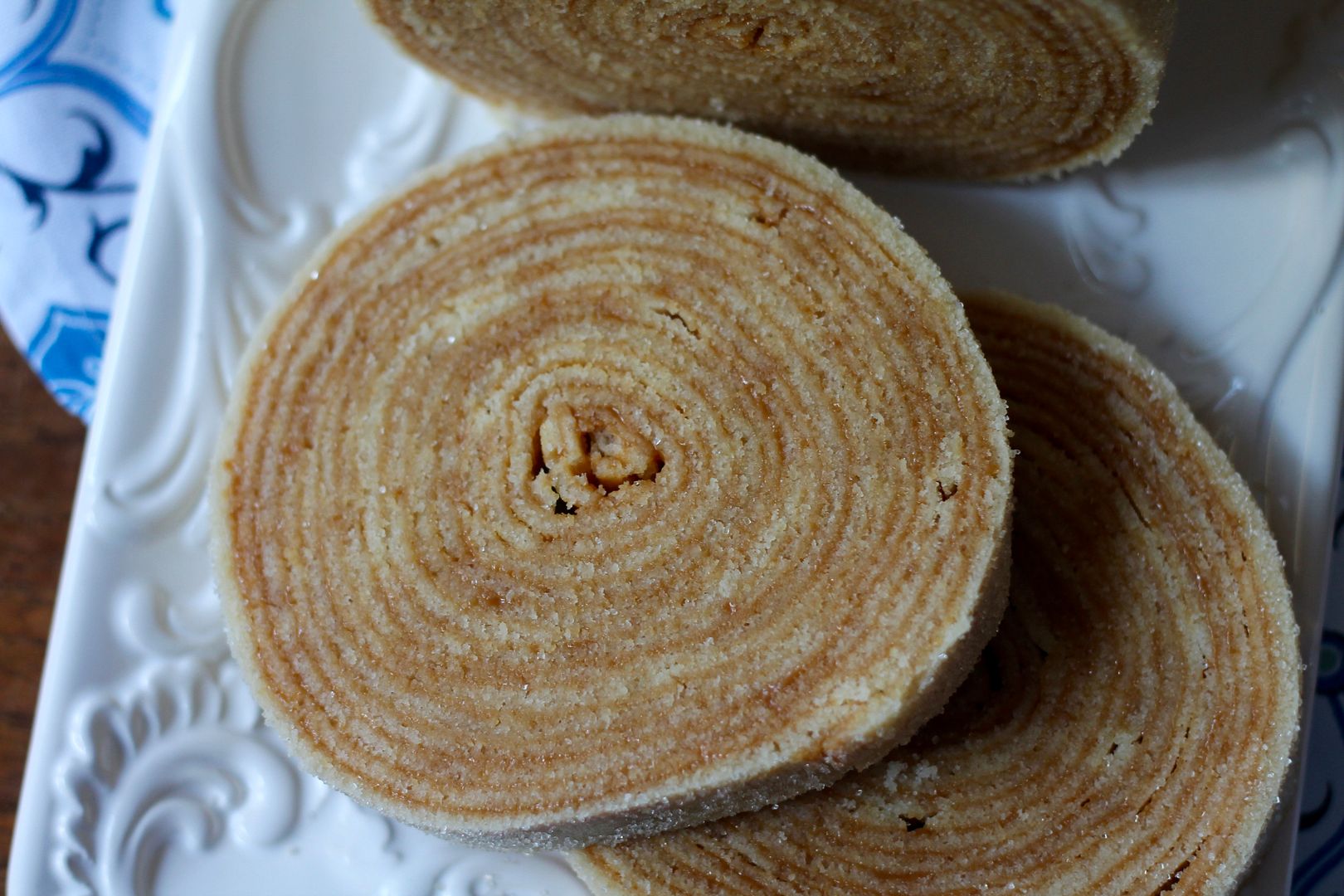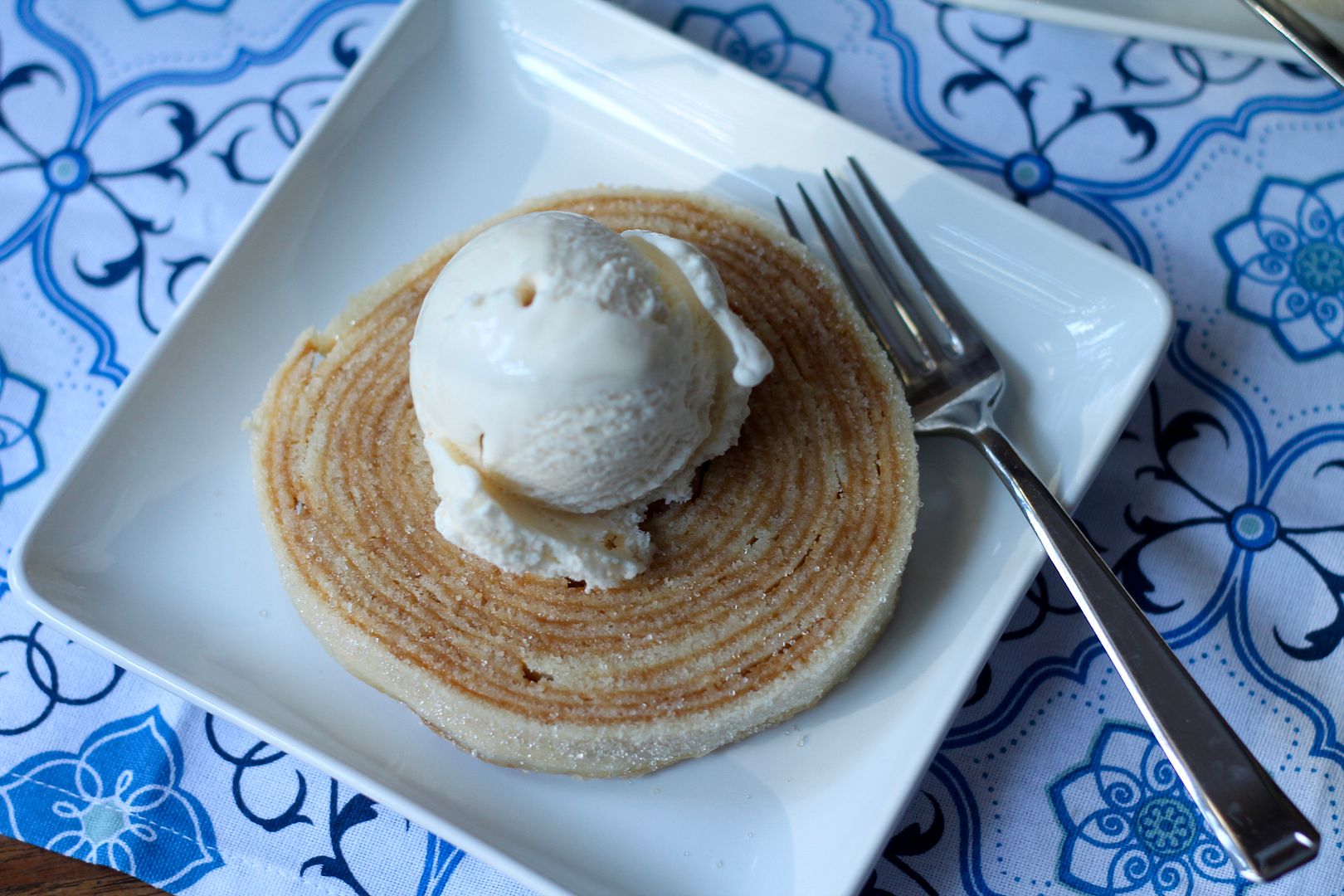 Those eighteen layers weren't the only challenge I encountered though. First up was trying to locate guava paste, which is a thick, jellied puree of guava, sugar, and pectin that is popular in Latin cuisine. The recipe I followed suggested that guava paste could be found in Latin markets or the Latin aisle of most supermarket chains, including Walmart. Without a significant Latin demographic in my neck of the woods, there are no Latin markets nearby, but nevertheless I went to every single specialty foods and grocery store in town – all eight of them. However, when the international aisle of the grocery store is labeled "Mexican/salsa", the probability of guava paste is approximately zero. Even (especially?) at Walmart. Luckily, an acceptable substitute for guava paste in a bolo de rolo is doce de liete (aka dulce de leche, or milk caramel) which is easily made using sweetened condensed milk plus a little patience, which is what I ended up doing.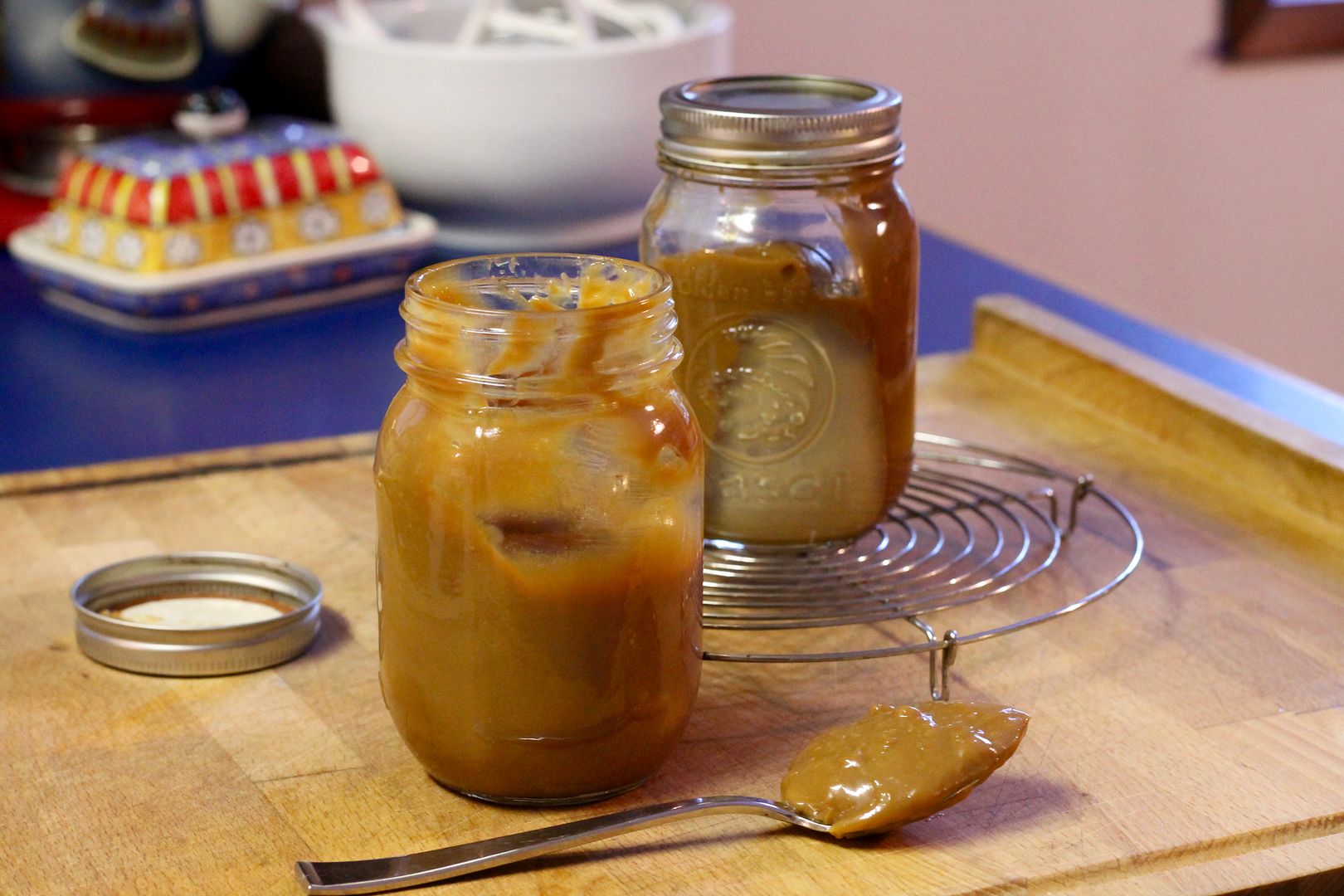 With the filling taken care of, my attention turned to the rest of the cake. The process of making the eighteen layers in a bolo de rolo involves baking a small amount of batter in a thin sheet on a jelly roll pan, spreading it with the filling and rolling it up tightly. Repeat eight more times, rolling each cake layer around the cylinder of already-rolled cake. I managed to do all of this using a single jelly roll pan, and yes, it is time consuming, and yes, it requires nine eggs and over a pound of butter. But this isn't an everyday recipe – this is a challenge, remember?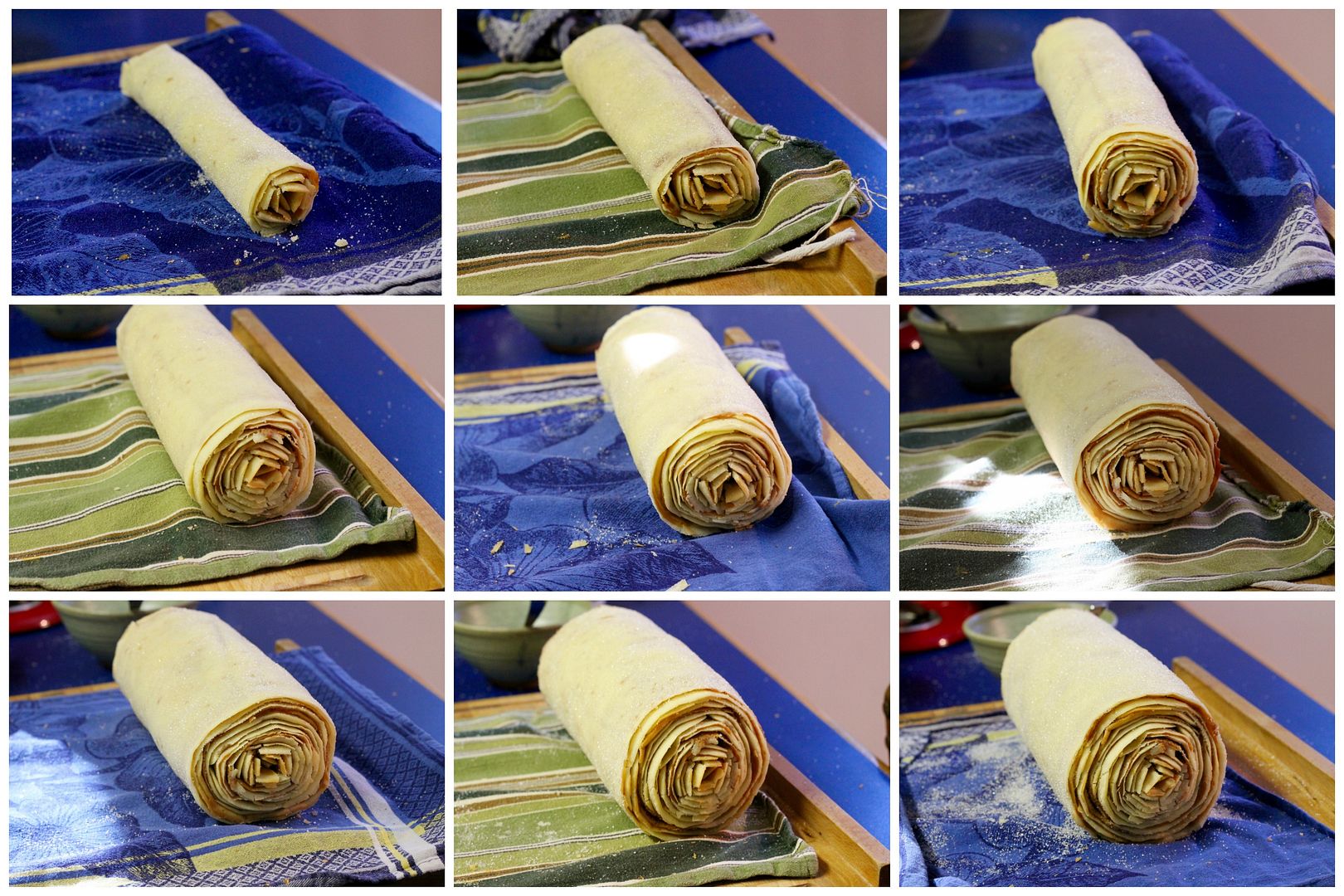 And also? The result is really really delicious (and gigantic) but holy mama is it ever a sugar bomb! The guava bolo de rolo is traditionally eaten with either a slice of cheese or a scoop of vanilla ice cream and a cup of strong coffee. For my doce de liete version, I went with ice cream and we enjoyed it followed by a sugar coma (worth it)… and then my coworkers took care of the rest of it (did I mention this cake was gigantic?).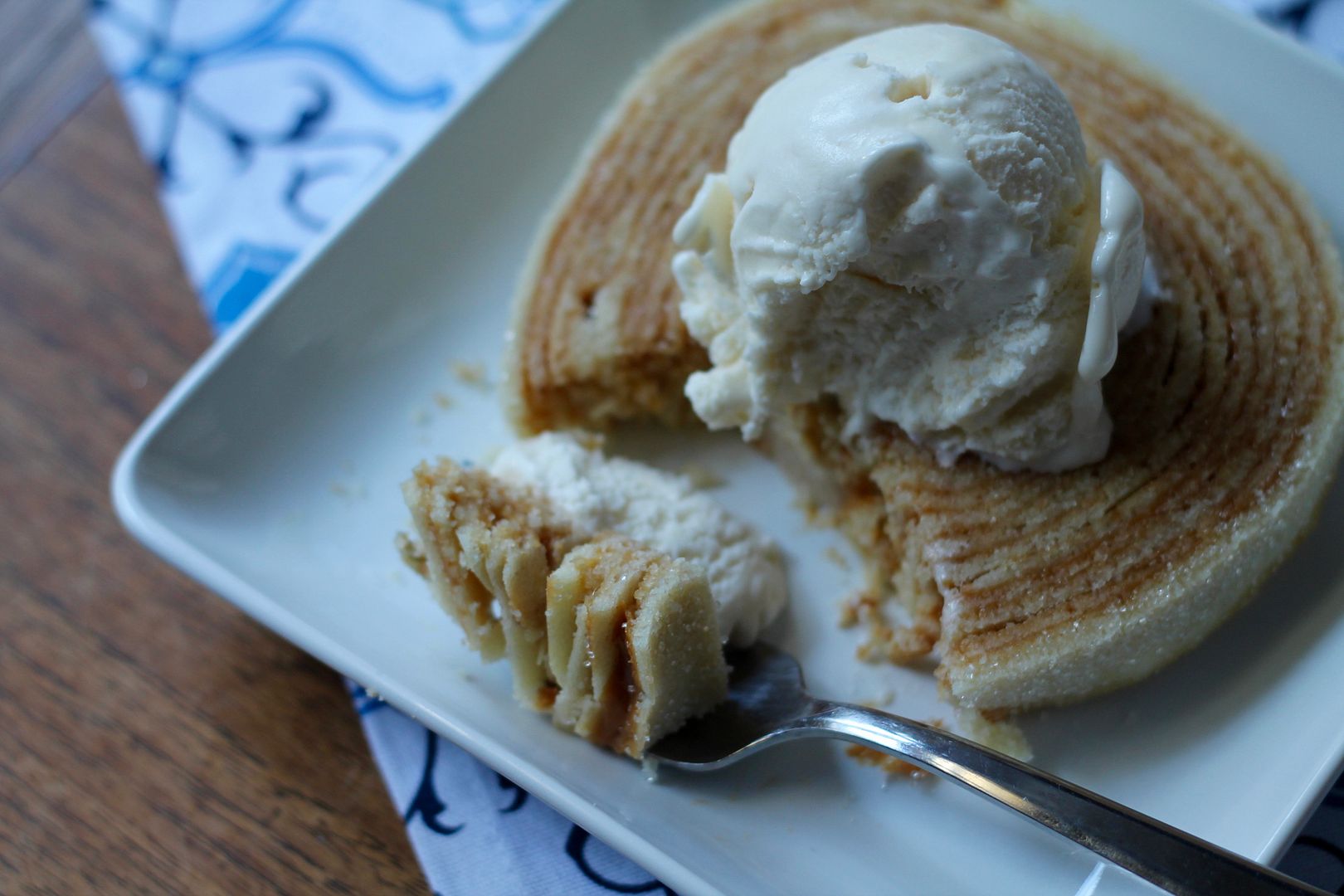 Want more Brazilian cuisine? Check out what the other #ATW12P bloggers made!
Bolo de Rolo with Doce de Leite
Cake adapted from Food52. Doce de liete method from Epicurious. Makes one gigantic cake roll, about 12 servings.
Filling
If you can get your hands on guava paste, congratulations! Check out the Food52 recipe for how to make the guava filling.
To make doce de liete, pour the contents of 2 14 oz cans of sweetened condensed milk into 2 glass canning jars and tightly screw on the lids.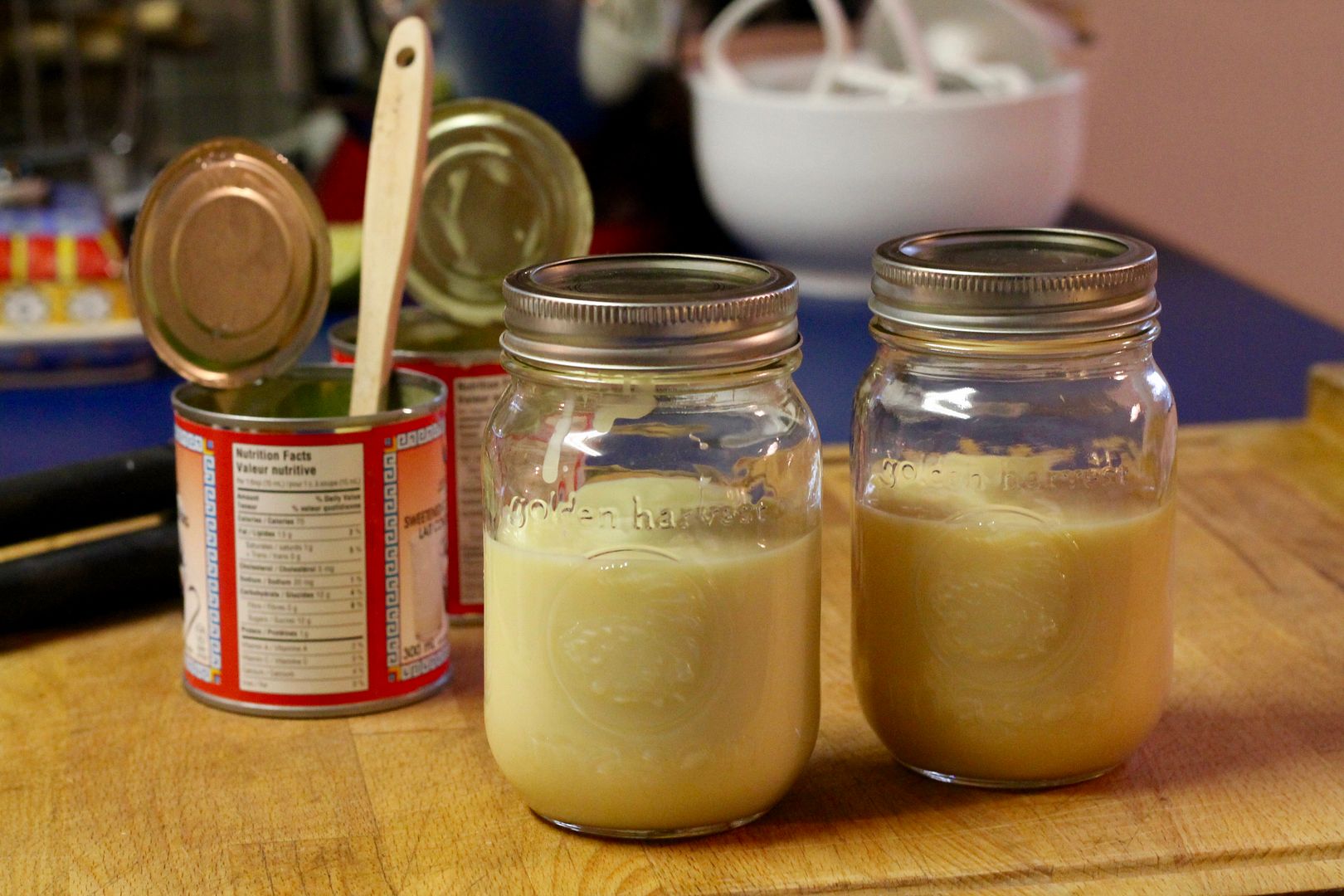 Place the jars on their sides in the bottom of a slow cooker and add enough water to completely cover the jars.
Cook on low for 7-8 hours (I let it cook overnight), until the milk in the jars thickens and turns a deep golden brown. Remove from the slow cooker with tongs and place the jars on a rack to cool to room temperature.
Once cool, stir the caramel until it is smooth (it may be rather gelatinous and lumpy at first) and season it with a generous pinch of flaky kosher salt. Store in the fridge for up to 10 days.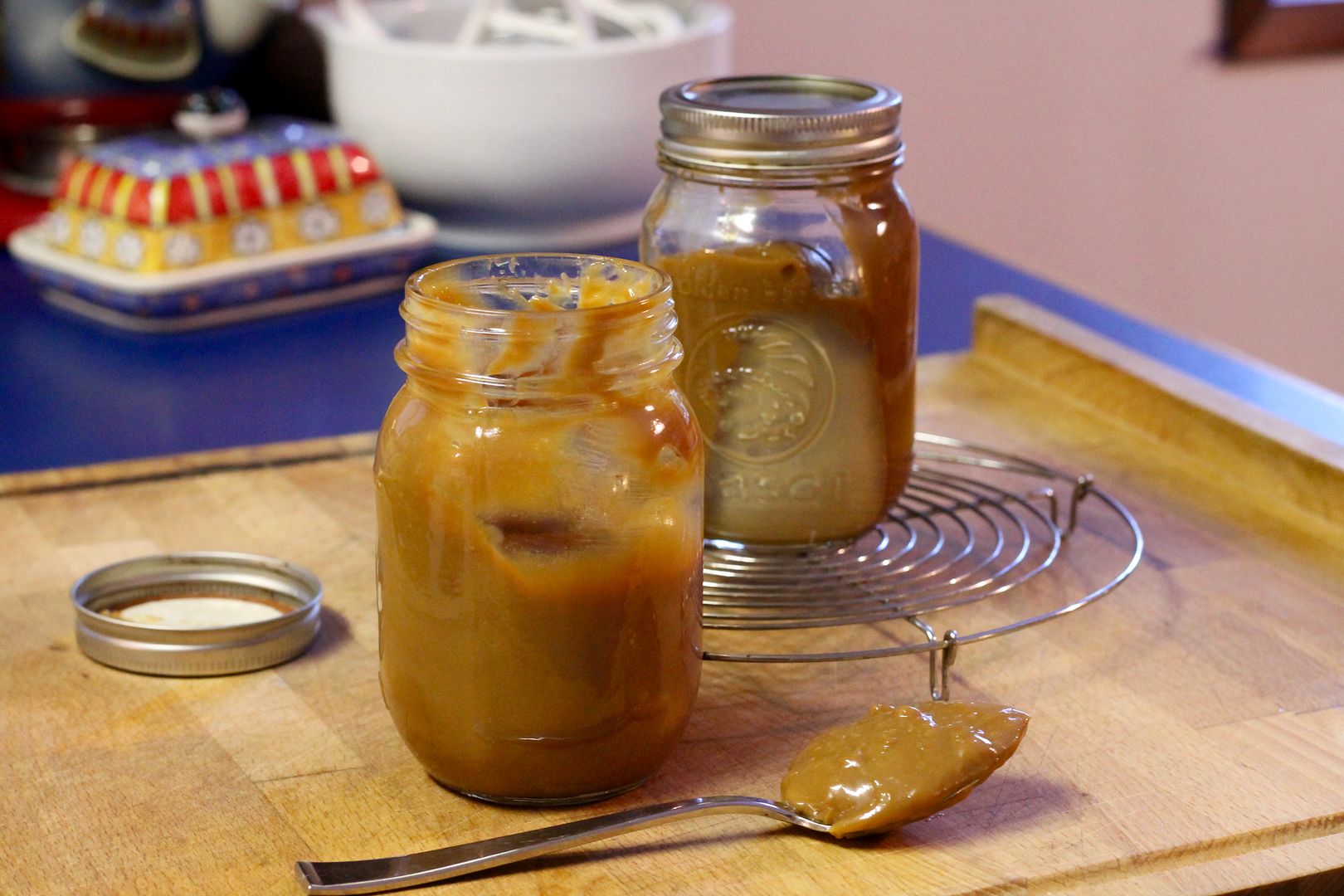 If you don't have a slow cooker, you can also make doce de liete / dulce de leche by boiling a can of sweetened condensed milk in water on the stovetop for 2-3 hours – just beware of the potential for exploding cans…!
Cake Batter
Some notes:
This makes a massive amount of batter. Just the butter and sugar alone nearly overwhelmed my mixer bowl, so be ready to scrape down the sides of the bowl LOTS.
This is not a typical sponge cake batter. Before you add the egg whites, the butter, sugar, egg yolk, and flour mixture is more like sugar cookie dough than batter, and once you've incorporated the whipped egg whites, the batter resembles French tuile cookie batter more than anything.
To help make the batter a little more manageable, make sure your butter is nice and soft. My kitchen was cold and my butter was probably more firm that it should have been, meaning that the resulting batter was quite stiff.
If I was to make this again, I would scale it down to two-thirds, ie: using only 6 eggs and decreasing the rest of the ingredients in proportion, to result in six pans-worth of cake layers and a slightly more manageable cake roll. Nine was a bit… excessive 😉
Preheat the oven to 350˚F (325˚F convection). Line a 10″x15″ jelly roll pan with a piece of parchment paper. Set aside.
In a very clean bowl, place 9 large room temperature egg whites and a pinch cream of tartar (optional but good egg white-whipping insurance). With the whisk attachment, beat on medium speed until foamy, then increase the speed to medium-high and continue beating until stiff peaks form. Scoop the egg whites into another bowl and set aside.
In the mixer bowl, combine:
635 g very soft (but not melted) unsalted butter
620 g granulated white sugar
pinch fine sea salt
Cream together with the paddle attachment until fluffy.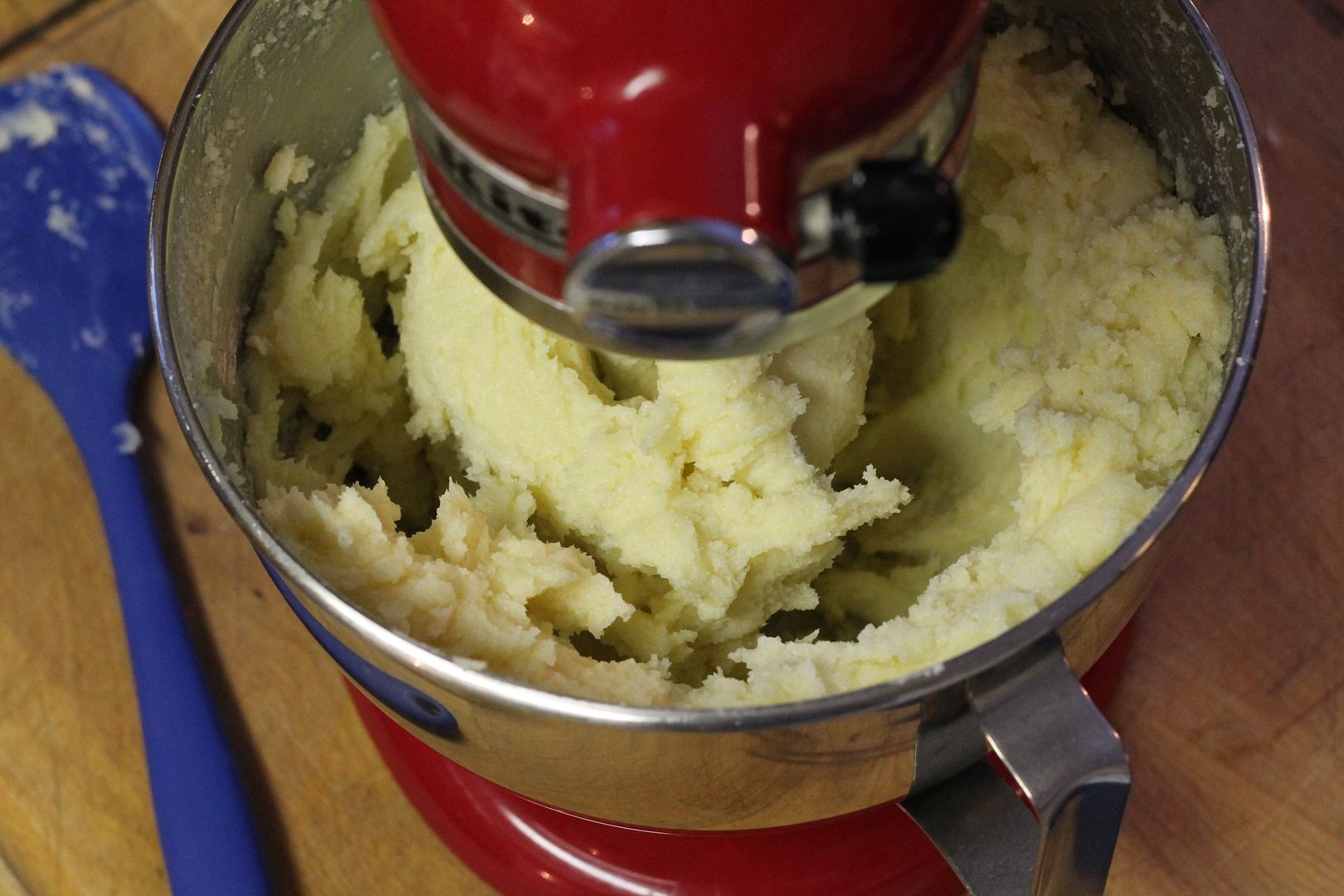 Add 9 large room temperature egg yolks, one at a time, mixing well after each yolk is added and scraping down the sides of the bowl as needed.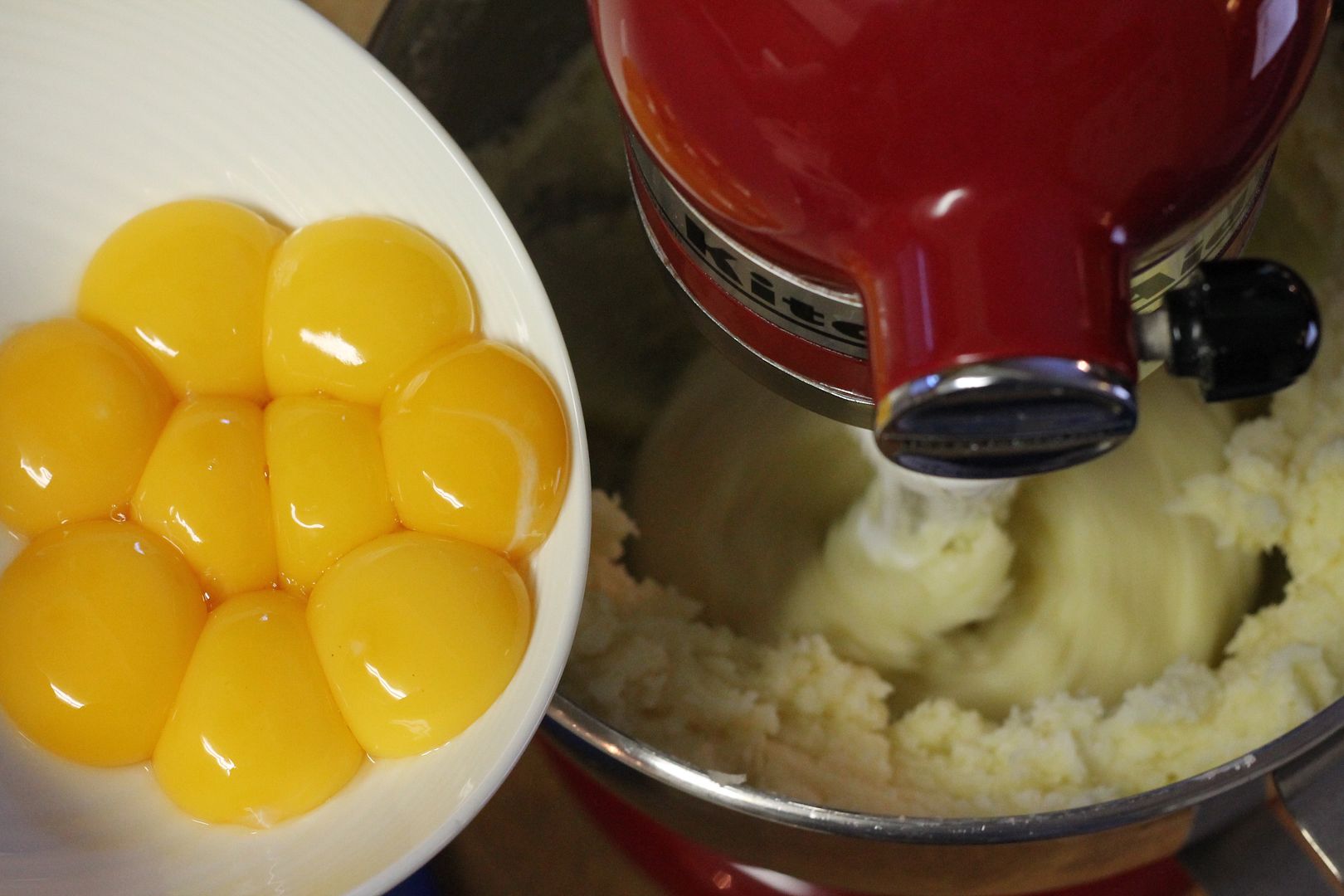 A little bit at a time, mix in 540 g all purpose flour. Scrape down the sides of the bowl and the beat as needed until the flour is fully incorporated.
The batter will be like cookie dough at this point.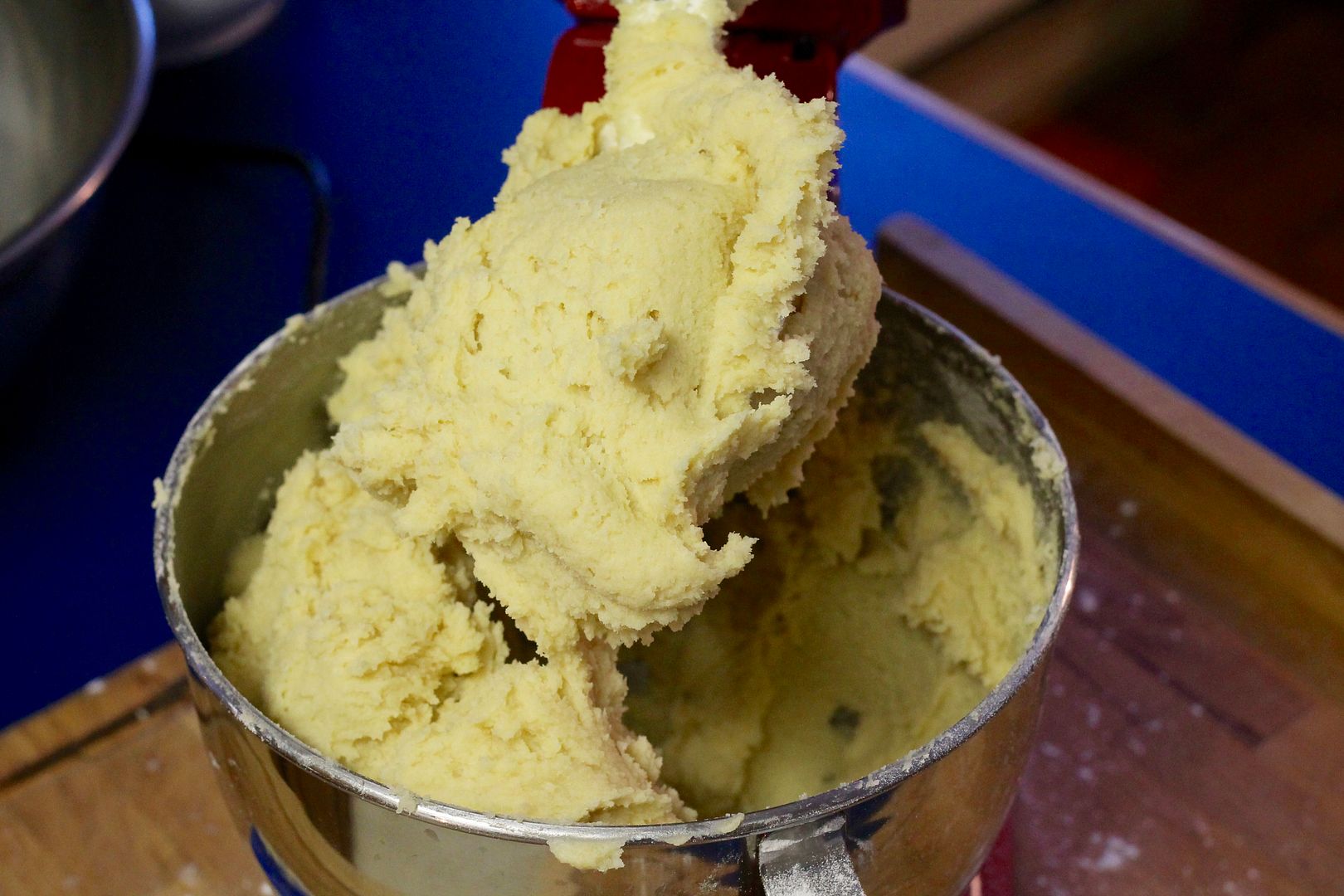 Transfer the batter to a very large bowl and begin folding in the whipped egg whites, one third at a time, with a spatula. I'm not going to lie – I ended up using my hands to very gently fold everything together because the batter was so thick and I was getting nowhere with a spatula, so do what you gotta do – just do it as gently as possible so as not to completely squish all the air out of the egg whites.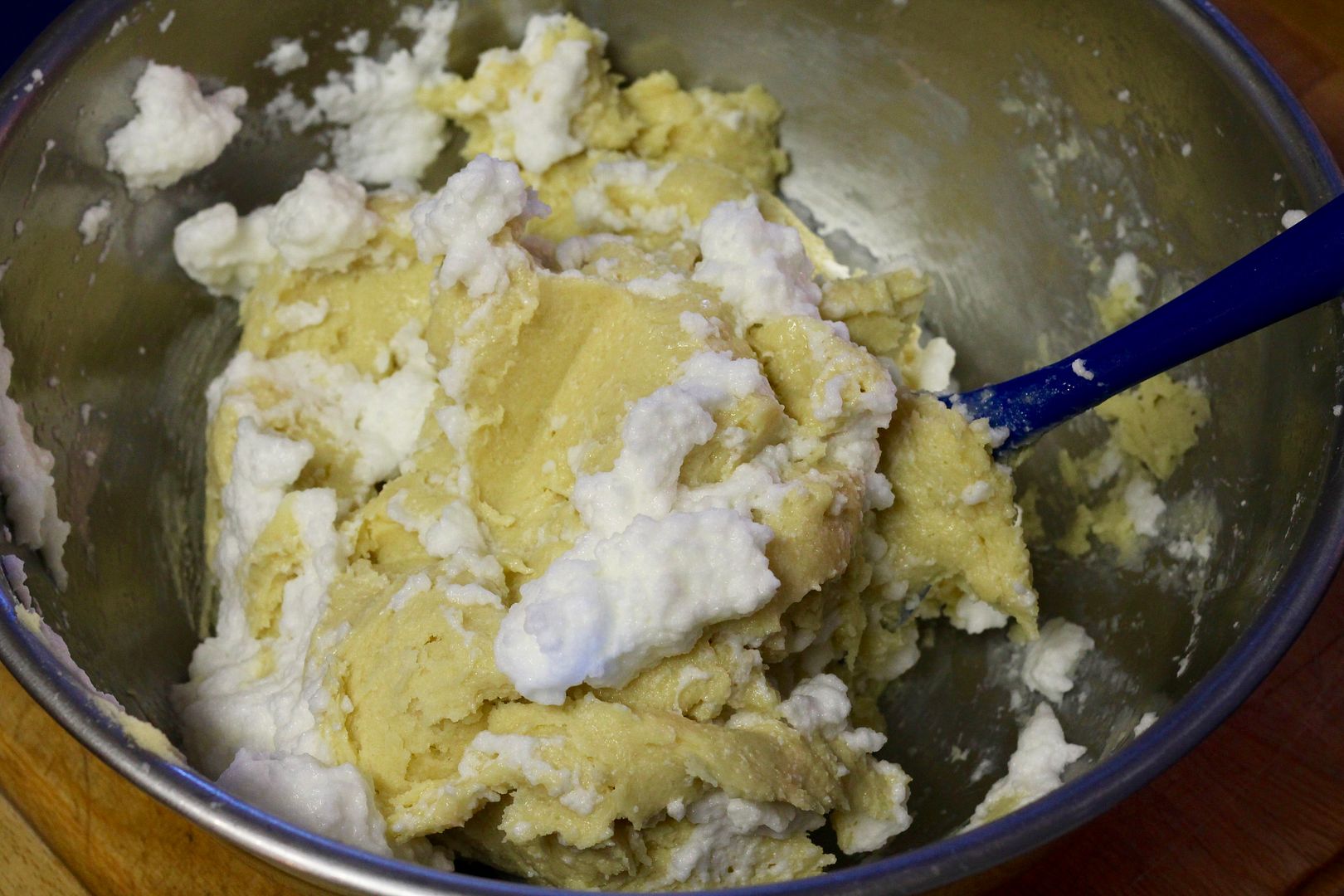 The end result should be a thick, smooth, spreadable batter.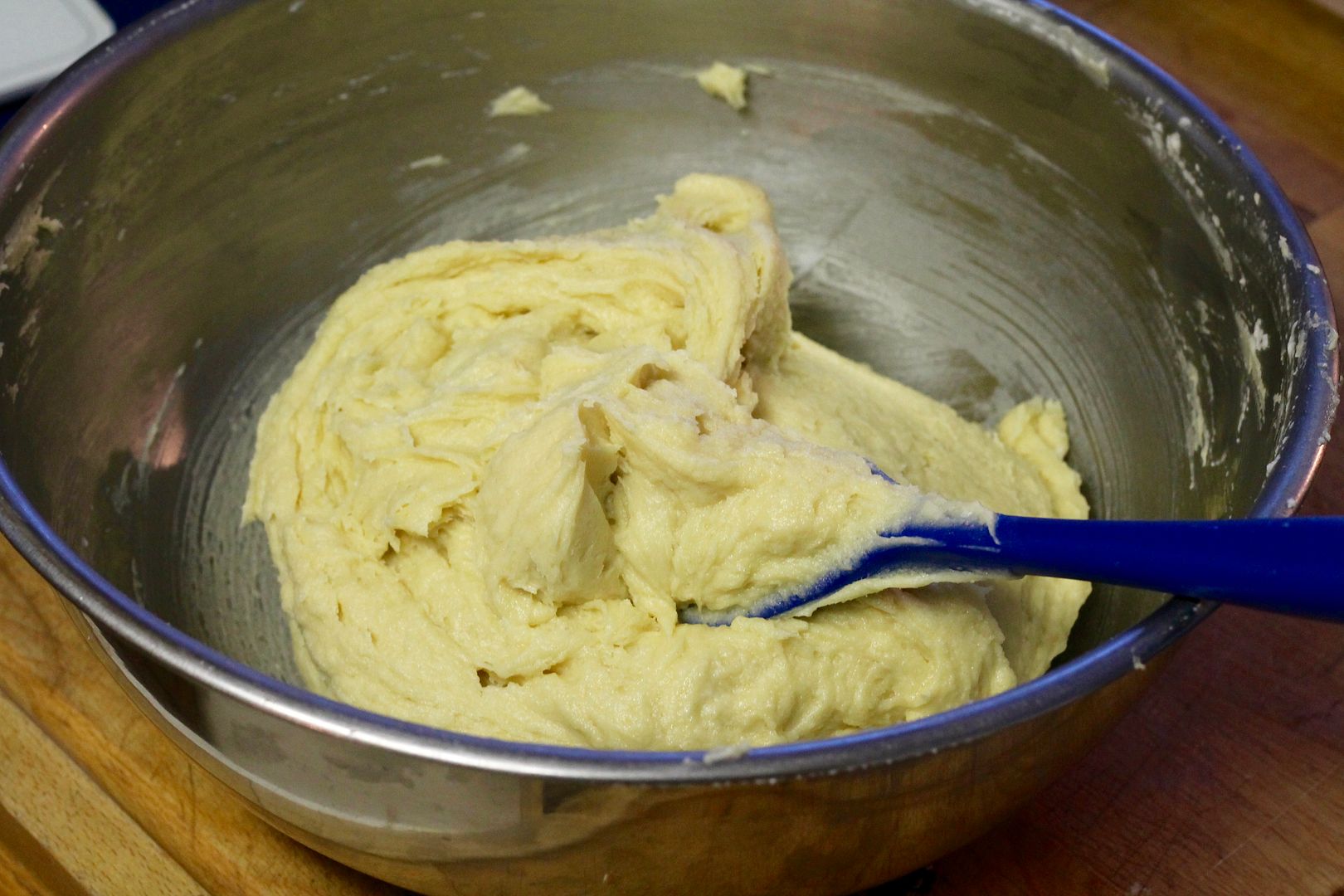 Next, weigh the batter (you may need to scoop it into another bowl) and then divide the weight by nine – this will give you the amount you need for each layer. For me it was about 240 g per layer.
Baking & Assembly
Before you start baking, get your filling and rolling tools ready. You will need:
doce de liete
20 tbsp granulated white sugar
2 lint-free tea towels
large cooling rack
Scoop one ninth of the batter into the prepared pan and spread it out very thinly with an offset spatula. This is a little tricky to do on the parchment paper – you'll have to hold down one side/corner while you spread the batter in the opposite direction.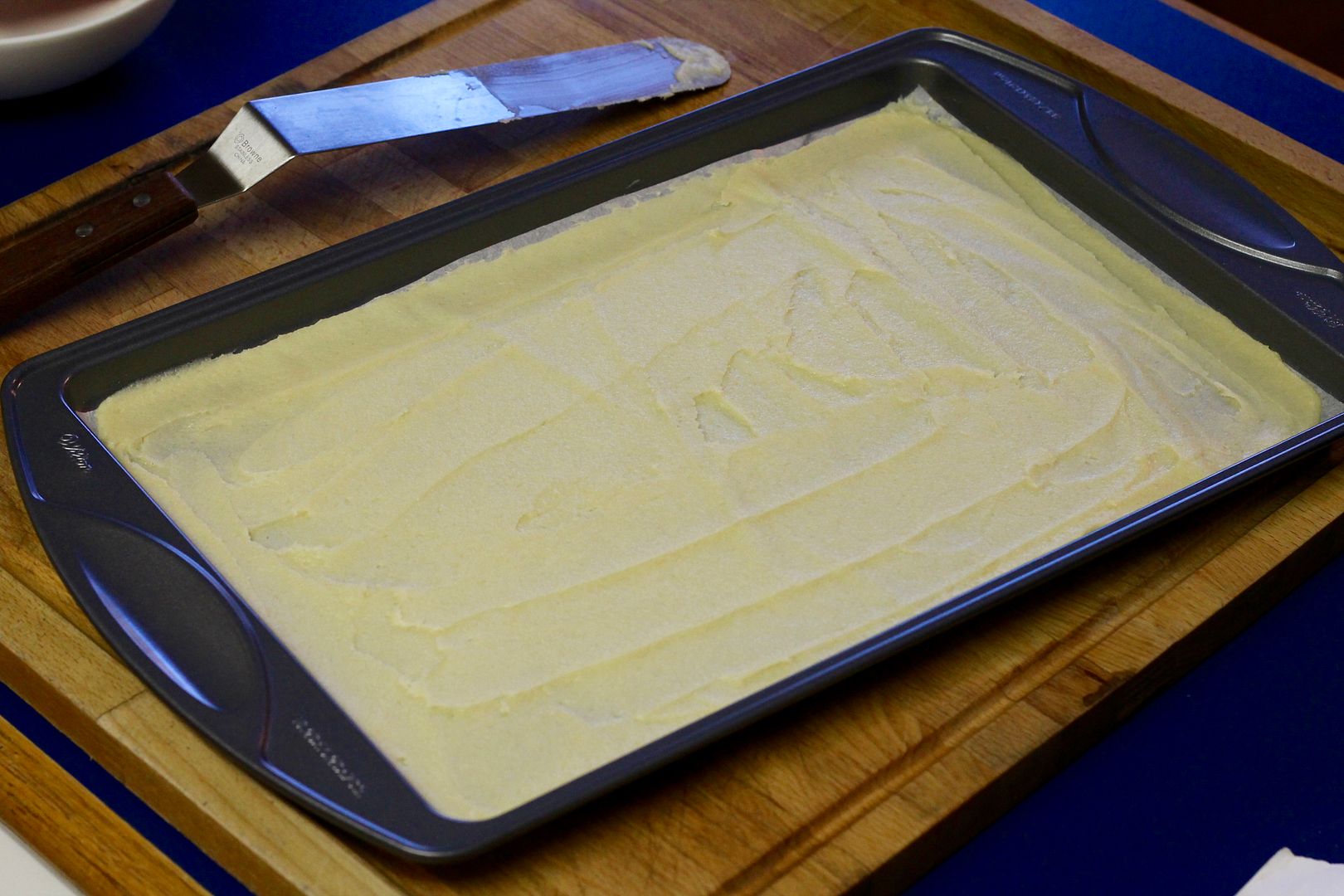 Bake in the preheated 350˚F (325˚F convection) oven for 3 – 4 1/2 minutes, just until the entire top is set. Now, you have to work quickly as the cake will be come hard to roll as it cools down. Remove the cake from the oven and immediately sprinkle the top with about 2 tbsp granulated white sugar.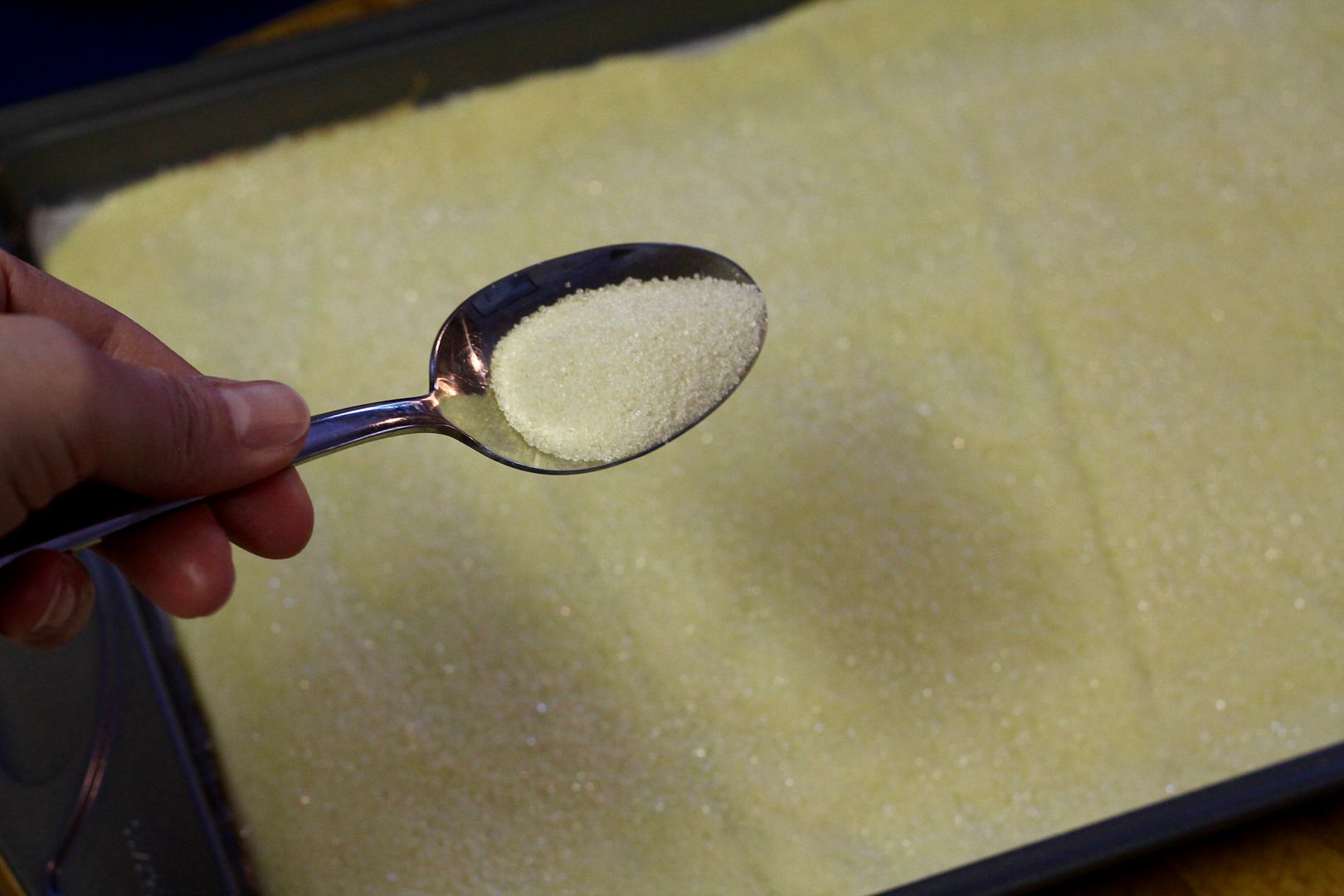 Cover the cake with a tea towel and an upside down cooling rack.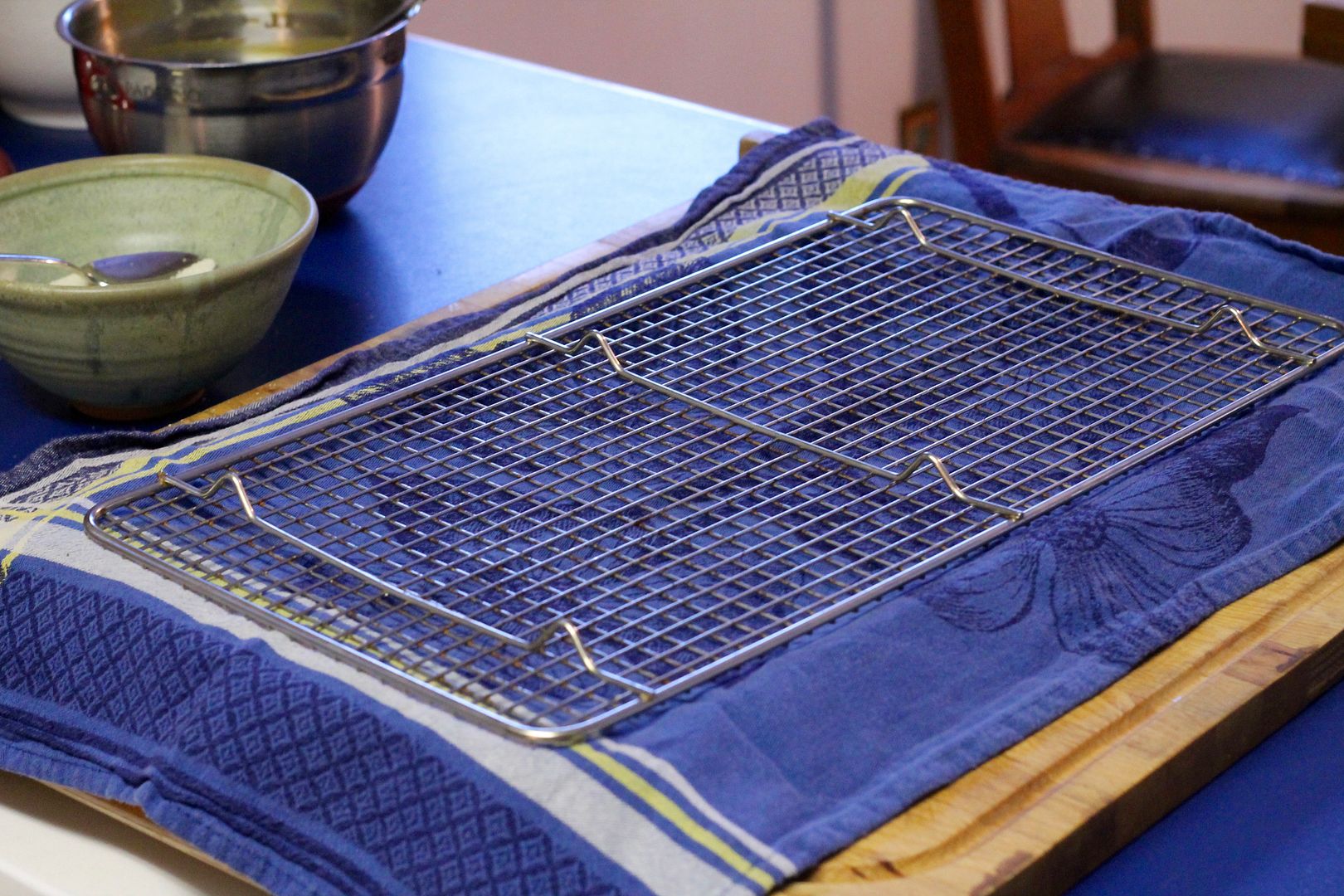 Flip the whole thing over and lift off the pan, then peel off the parchment paper (and reserve it for the next cake). Remove the rack from underneath the towel.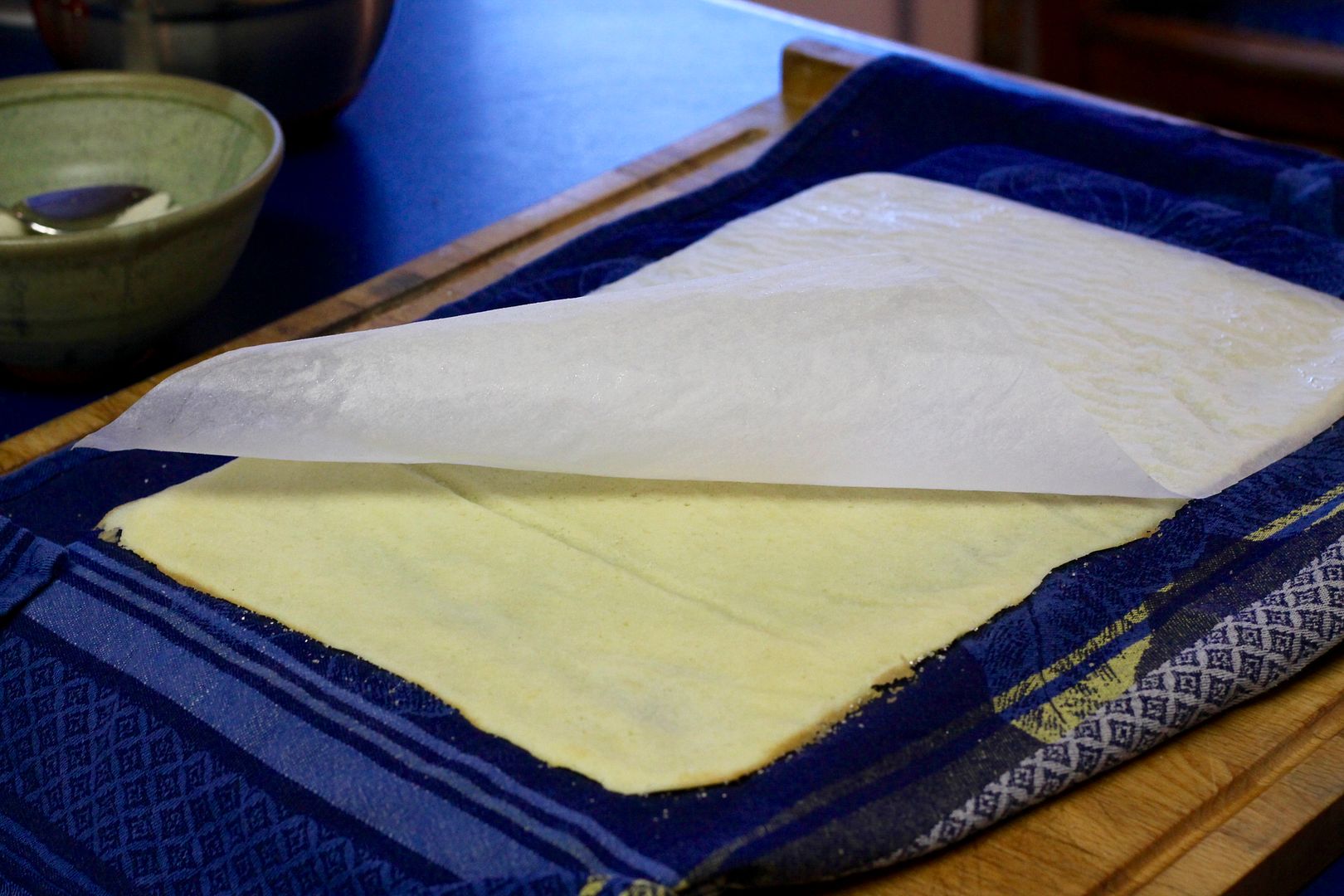 Scoop a heaped spoonful (about 3 tbsp) doce de liete onto the still-warm cake and spread it out very thinly with an offset spatula.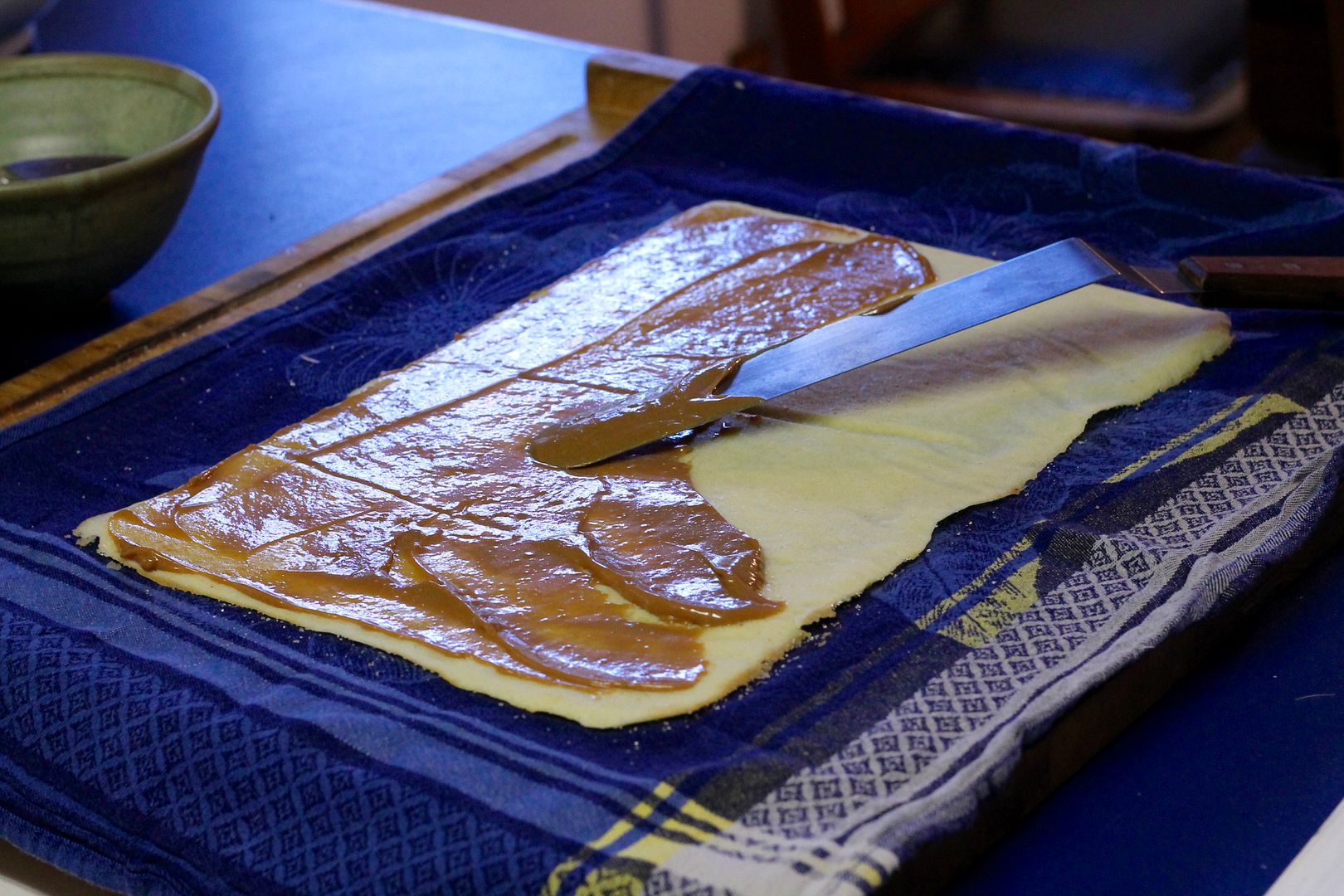 From one of the sort ends, begin rolling up the cake layer very tightly, lifting the tea towel to help you roll. Don't worry if it cracks during the first few rolls.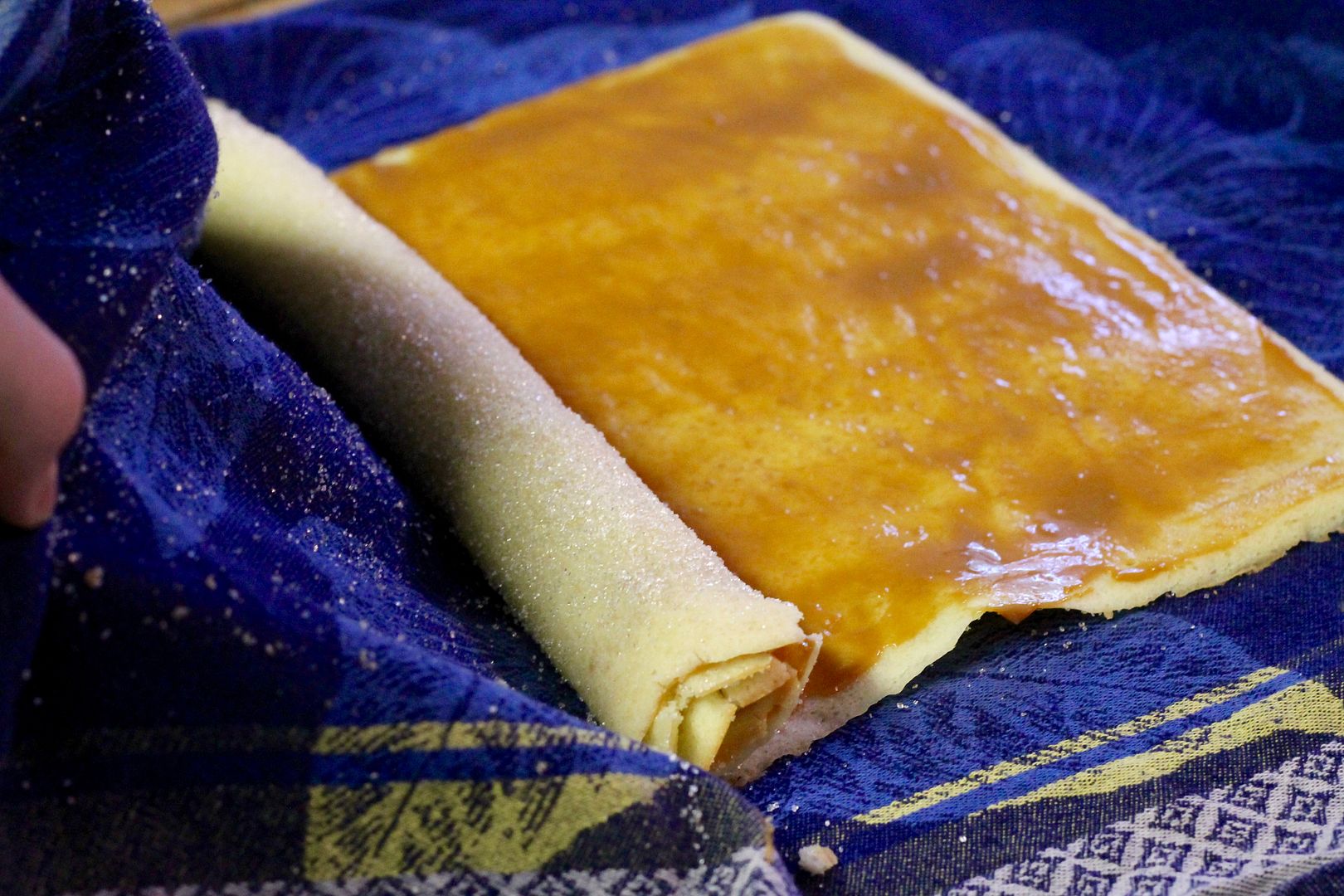 Roll up the cake securely in the tea towel and set aside while you bake the next layer.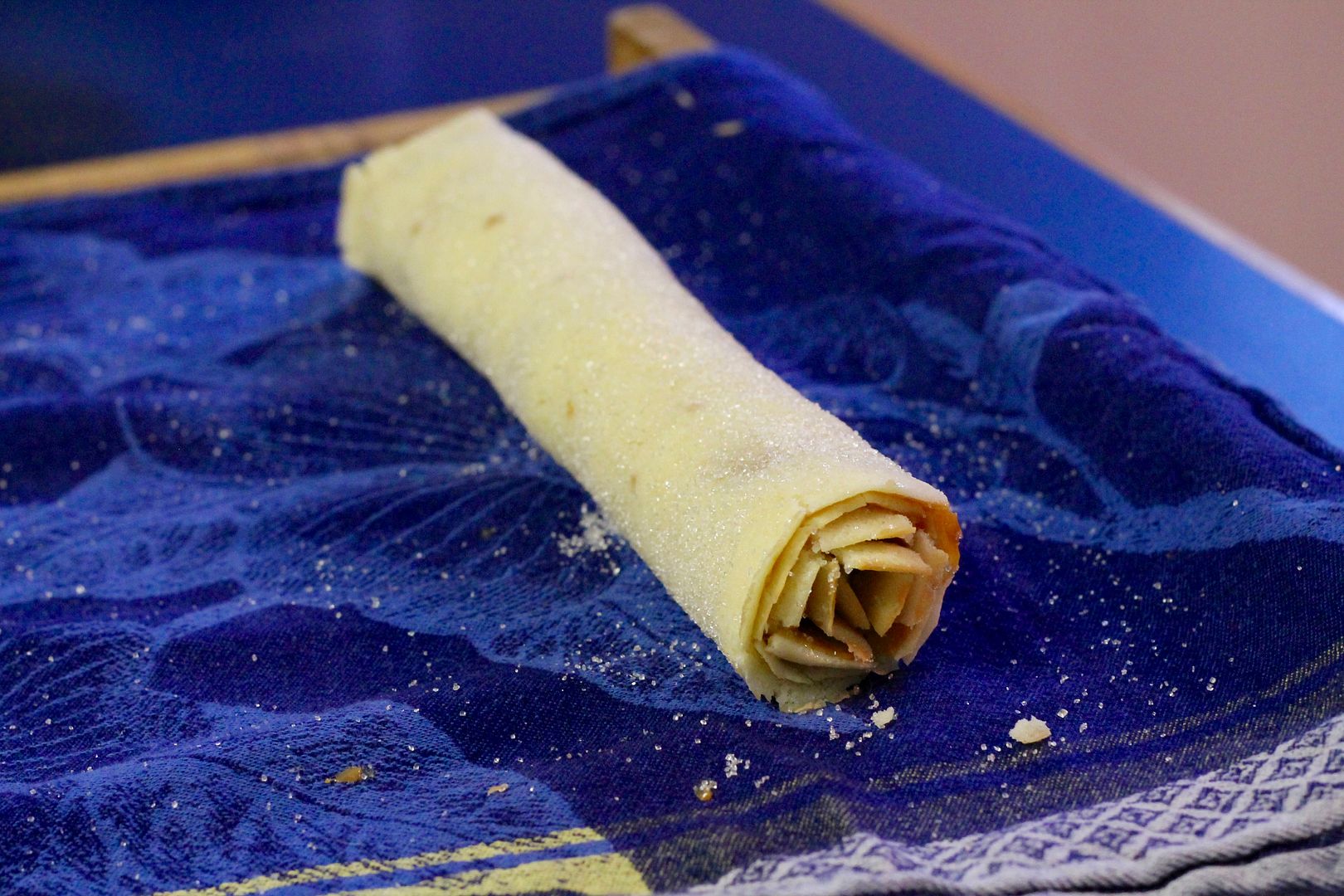 Repeat the batter-spreading, baking, sugar-sprinkling, flipping, and filling-spreading with the next cake layer. Once the filling is spread, line up the already-rolled cake at one end and roll up the freshly-baked layer tightly around it.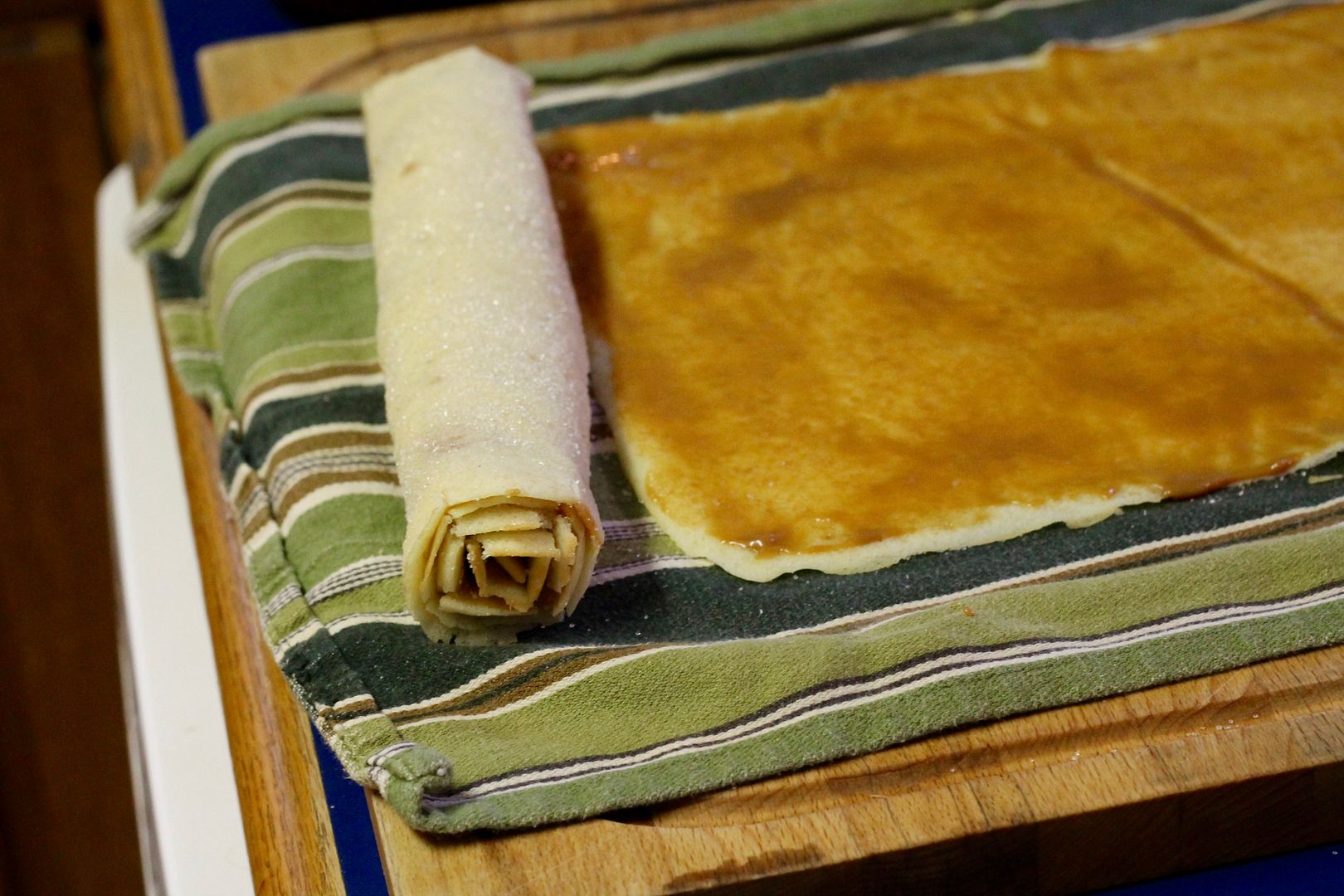 Again, keep the cake roll wrapped in the tea towel while you bake the next cake layer. Repeat until you run out of batter and you have a cake roll that is about 5 inches in diameter.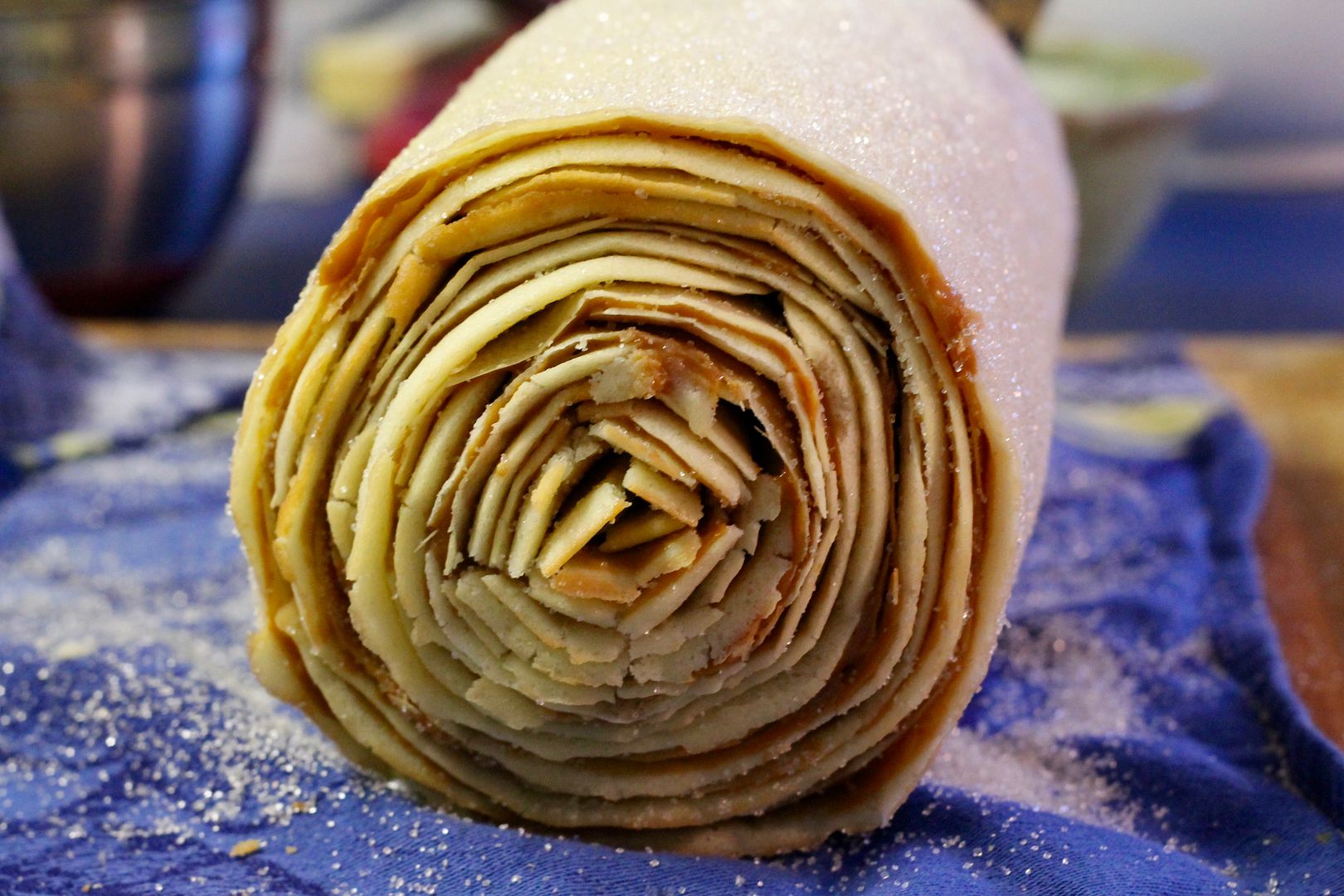 On the final cake layer, sprinkle the granulated sugar a little more thickly before flipping it – this will give the outside of the cake a nice sugared look.
With a serrated knife, trim off each end of the cake to make then even, and then cut into 1/2″ slices to serve. If you're serving it with ice cream (do it!) I recommend warming up each slice for a few seconds in the microwave, as the cold of the ice cream will make the doce de liete filling firm up quite a bit.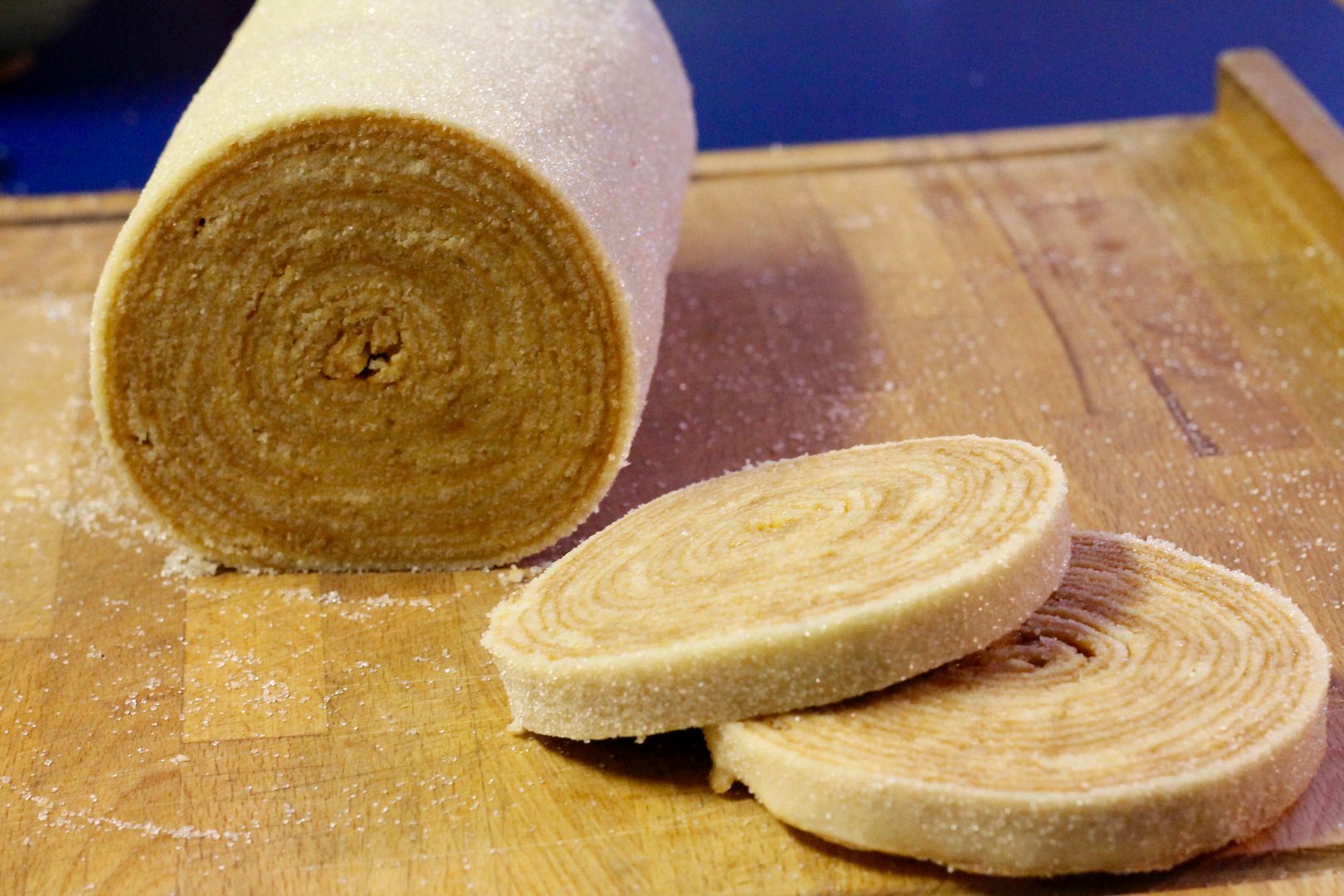 Store the cake at room temperature, wrapped in plastic wrap, for up to 3 days.
Save
Save
Save
Save
Save