From the depths of winter, I am particularly grateful to my past self for having cut up and frozen the bag of rhubarb that I recently unearthed from the back of my freezer. My normal go-to for rhubarb is a crisp or crumble of some kind, but I remembered the custard-topped rhubarb pie I'd seen Julie make. Rhubarb and custard are a classic pairing, and this particular pie combines them with a cinnamon and brown sugar-kissed oatmeal cookie crust. So basically all the best parts of a rhubarb crisp with vanilla ice cream – aka frozen custard – composed in a such a way that when you cut slices you end up with these lovely layers.
To get the best of the layered effect, ideally you want your rhubarb mixture – cooked down with sugar and a little cornstarch to thicken – to be that wonderful ruby-pink colour. I realized during cooking that my rhubarb was more green than pink and was looking kind of muddy. Still absolutely tasty, but not nearly as pretty – so I added a handful of frozen blueberries and turned this into a blue-barb custard pie. I discovered the blueberry-rhubarb combination this summer when both were fresh and in season and it is pretty spectacular – the piney blueberries go really well with zingy rhubarb, and the colour of the two of them together is a winner.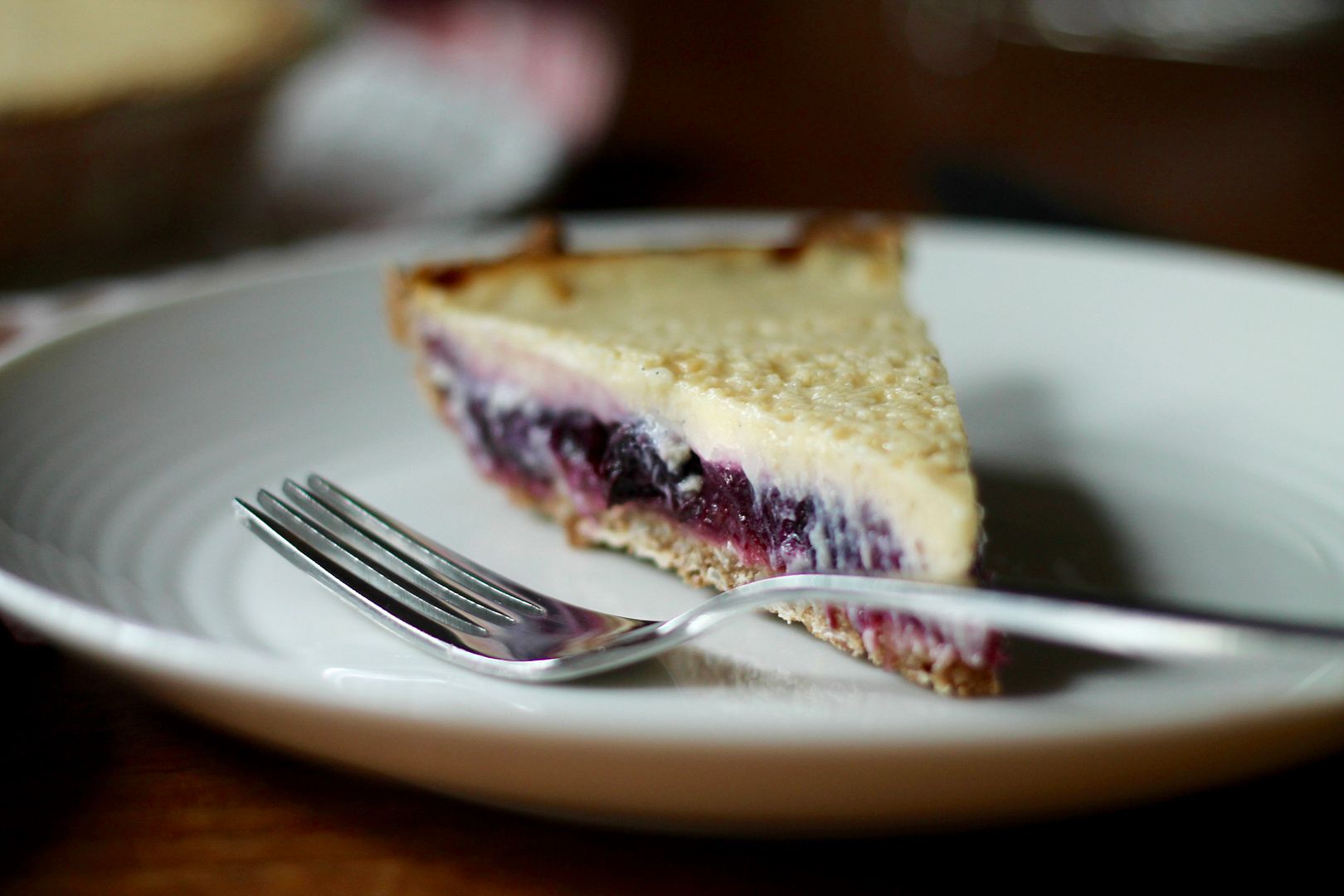 And sure, it looks pretty, but does it taste good? The answer is an emphatic yes, evidenced by Nate's increasingly enthusiastic versions of, "Mmmm, this is good!" after each bite. And I have to agree – this is a really, really good pie, equally suitable for a dinner party dessert or a just-because snack on a wintery afternoon.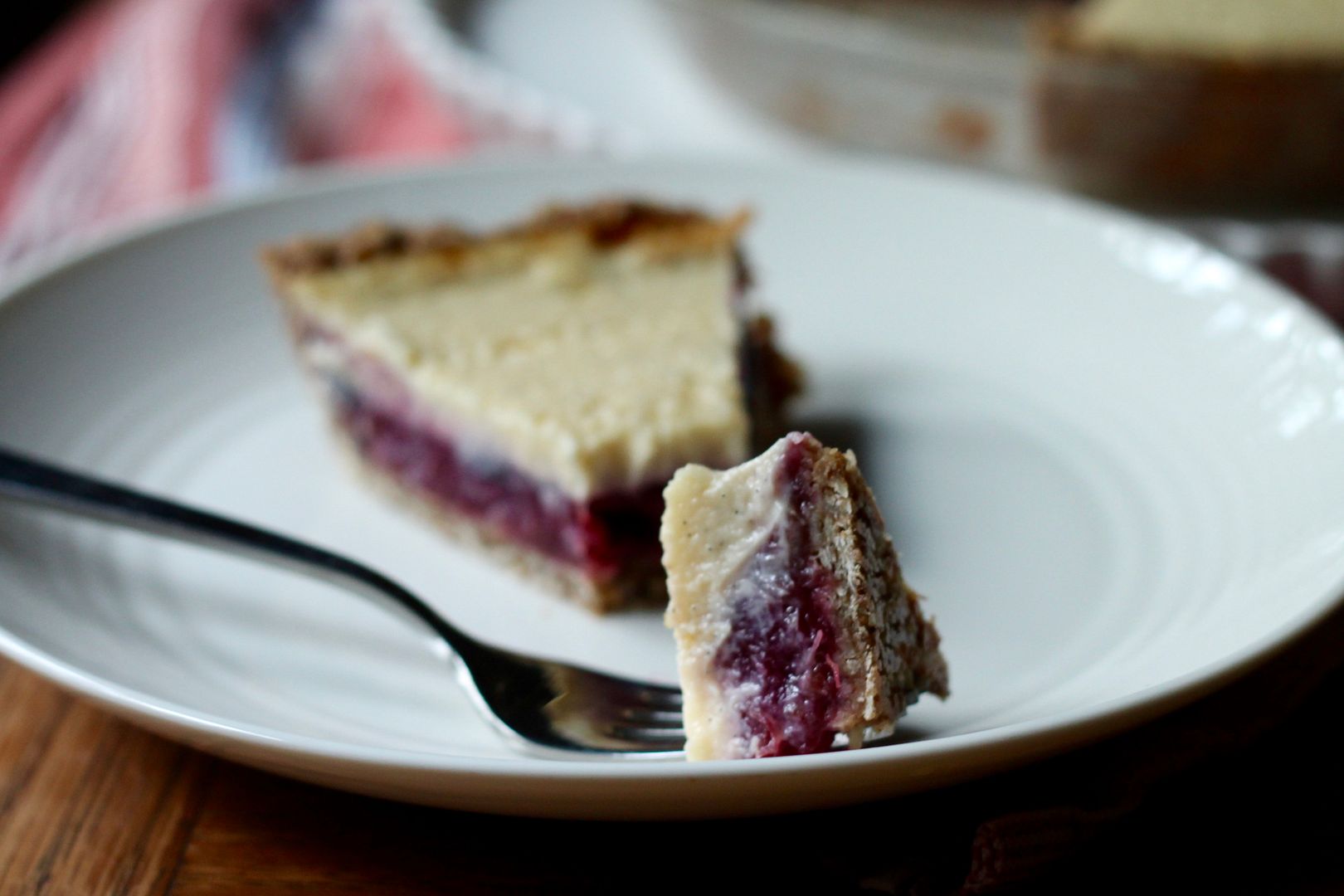 Blue-Barb Custard Pie with Oatmeal Cookie Crust
Makes one 9″ pie, about 8 servings. Adapted from The Four & Twenty Blackbirds Pie Book, via Dinner with Julie.
Preheat the oven to 350˚F (325˚F convection). In a medium bowl, mix together:
3/4 cup old fashioned rolled oats
1/3 cup all purpose flour
1/3 cup packed brown sugar
1/4 tsp cinnamon
big pinch kosher salt
Grate in 1/4 cup cold unsalted butter and then get in there with your hands, squeezing the butter into the oat mixture with your fingers until it comes together like cookie dough.
Press the oatmeal mixture evenly into the bottom and sides of a 9″ pie plate. Bake in the preheated 350˚F (325˚F convection) oven for 15 minutes, until pale and golden. If the pie crust shrinks down the sides at all, use a fork to gently press it back up.

Meanwhile, cook the blueberry-rhubarb filling. In a medium saucepan, combine:
2 1/4 cups chopped rhubarb, fresh or frozen
3/4 cups blueberries, fresh or frozen
3/4 cup granulated white sugar
3 tbsp cornstarch
a splash of water
Simmer over medium heat until the fruit breaks down and the mixture thickens. I used a potato masher to make sure everything was good and macerated, but you could leave the fruit chunkier if you prefer.
Spread the blue-barb mixture over the bottom of the baked pie crust – you should have about 1/2 an inch of space left in the pie crust above the fruit mixture – if necessary, scoop a little bit out and eat it swirled into yogurt.
In a medium bowl, whisk together the custard until smooth:
3/4 cup sour cream
1/4 cup half and half or heavy cream
1/2 cup granulated white sugar
2 eggs
1 tsp vanilla extract
seeds scraped from 1 vanilla bean
pinch fine salt
Pour the custard over the rhubarb mixture in the pie crust.
Transfer to the 350˚F (325˚F convection) oven and bake for 30-40 minutes, until the custard is puffed and slightly golden around the edges but still a bit jiggly in the middle. Cool at room temperature for several hours, then chill before serving.
Save
Save
Save
Save
Save
Save