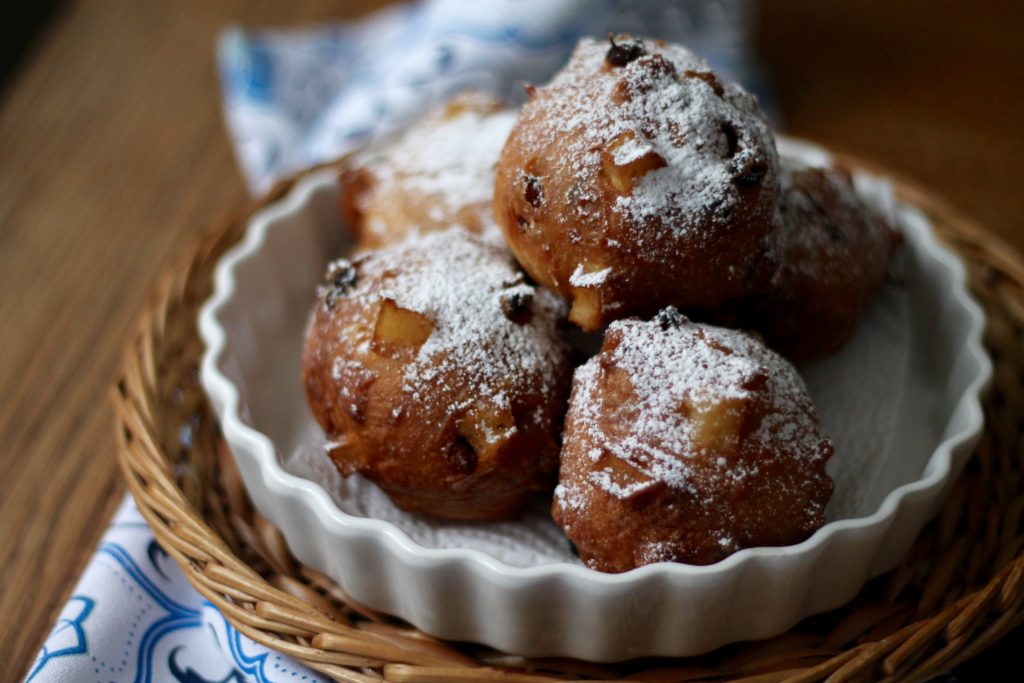 Made from a yeasted dough filled with apples, raisins, and currants, these little deep fried balls of delicious known as Dutch oliebollen were the December Daring Kitchen challenge, and yes, as per usual, I'm several weeks behind. I'm actually a little sad to be posting this challenge, because it is the very last one: participation in the Daring Kitchen has been on the decline for the past few years, so the group is shutting down and it's time to move on. Since joining the group in 2011, I have made so many delicious desserts and baked goods that I never ever would have tried on my own, from the Mawa cake to the Esterhazy torte, homemade phyllo pastry to ensaimadas, sfogliatelle ricci and lobster tail pastries to Armenian nutmeg cake and nazooks. Not the mention the Battenberg cake, povitica, and sourdough bread, which started a whole other sourdough journey. The Daring Kitchen was one of the main reasons I started this blog, so while I understand and support the reasons for ending the challenges, it's a little bittersweet.
However it's kind of fitting that oliebollen is the group's final challenge – these doughnuts are traditionally eaten at the New Year, their round shape meant to represent a completed circle with the previous year having run its full course. I guess you could say that the Daring Kitchen has run its full course, having inspired hundreds (thousands?) of home bakers and cooks to tackle new recipes each month and learn new skills. And the fact that we are ending on a Dutch challenge – which have been some of my very favourite ones – is pretty cool. Big thanks to Francijn for hosting this one.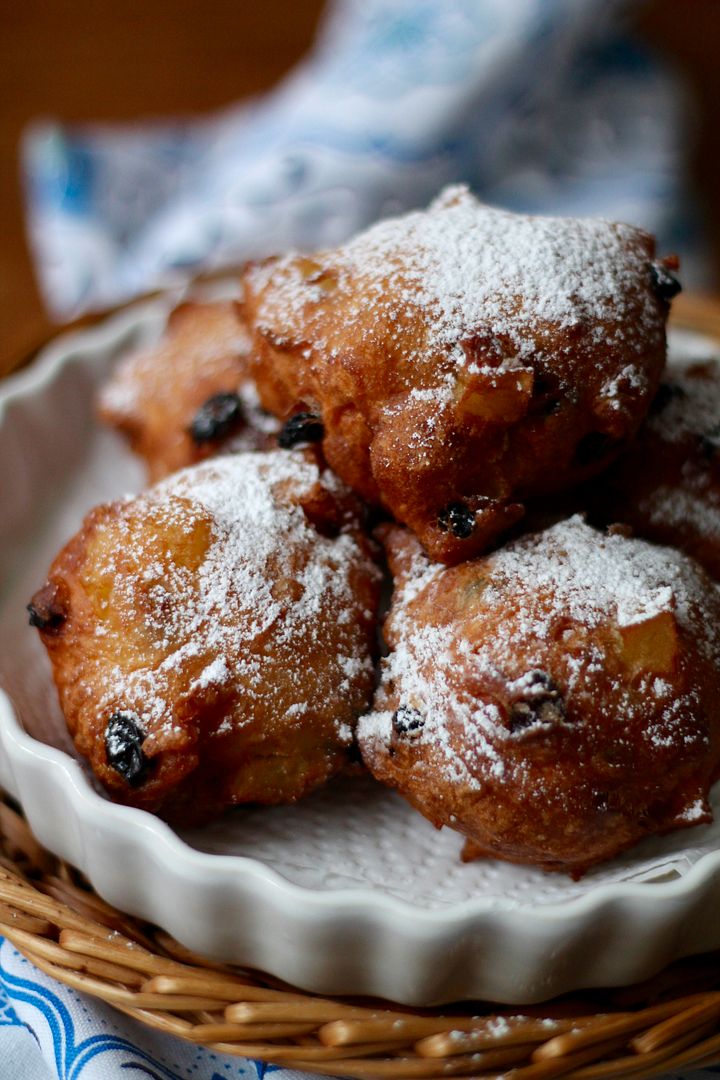 In terms of actual difficulty, this is a relatively easy challenge. Olibollen are made with a simple yeasted dough that you just mix together and let rise, then scoop into hot oil and fry until golden brown. Francijn provided a recipe using whole wheat flour and beer, which I imagine is delicious, but I went with a more traditional recipe that was easier to scale down to make a small batch of nine oliebollen. Sprinkled with powdered sugar while the are still warm from the deep fryer, oliebollen are pretty freaking awesome and definitely a good way to ring in a New Year!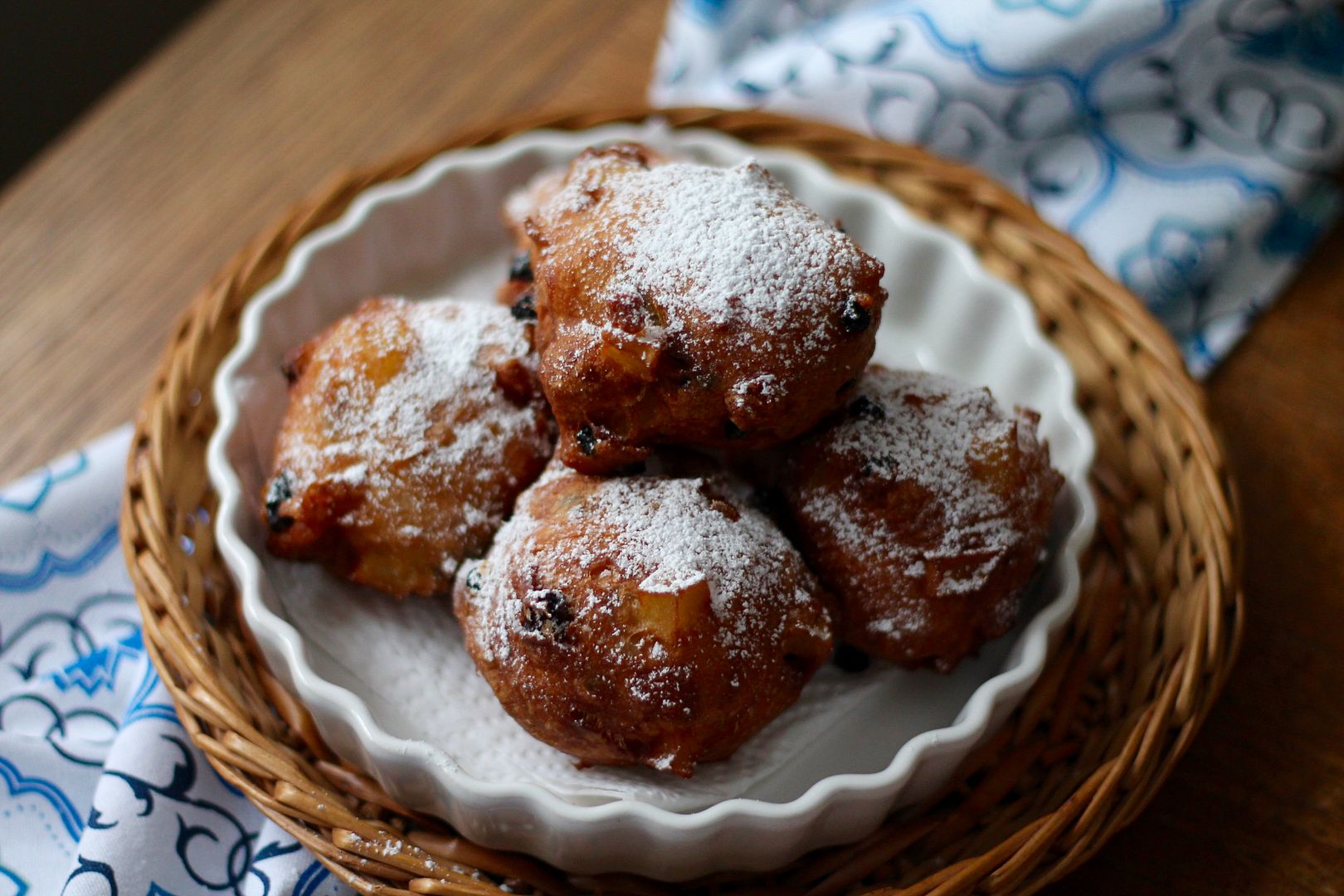 Oliebollen
Adapted from SBS Food. Makes about 9 doughnuts.
In a small bowl, combine:
7 g granulated white sugar
7 g active dry yeast
60 ml lukewarm water
Stir to dissolve the yeast and sugar, then set aside to proof for about 10 minutes, until the yeast is foamy.
In a medium bowl, stir together:
250 g all purpose flour
20 g granulated white sugar
pinch fine sea salt
Make a well in the middle of the flour and add:
1 egg, lightly beaten
125 ml barely warm milk
the proofed yeast mixture
Stir well to combine with a dough whisk or wooden spoon.

Add:
50 g currants
40 g golden raisins
1/2 an apple, peeled and chopped into small pieces (I used a Pink Lady apple – any baking apple is fine)

Stir again to evenly distribute the fruit, then cover the bowl and leave the dough to rise at a warm room temperature for 1 hour or until doubled in size.

Once the dough has risen, heat a few inches of vegetable oil (I used canola oil) in a deep pan over medium heat, until it reaches 355˚F on a candy/deep fry thermometer. Set up a cooling rack covered in paper towels to drain the doughnuts after they are fried, and have a slotted spoon nearby.
Use two soup spoons (or, if you have one, a metal ice cream scoop with a lever) to carefully scoop a 5-6 cm ball of dough into the hot oil. Repeat with as many balls of dough as you can fit in the pan without overcrowding (3 at a time was perfect for me), then set the timer for 5 minutes and watch the dough carefully as it fries. The oliebollen should turn over on their own about halfway through cooking – if not, give them a nudge. Monitor the temperature of the oil and turn the heat up or down to maintain the temperature at 355˚F.

Once the 5 minutes are up and the oliebollen are a deep golden brown, use the slotted spoon to remove them to the paper towel-covered rack to drain.

Once they are all fried, sprinkle generously with powdered sugar and dig in!
Oliebollen can be kept in an airtight container at room temperature and reheated in a 350˚F oven for 5 minutes. They can also be frozen for several months and reheated after being thawed.
Save
Save
Save
Save