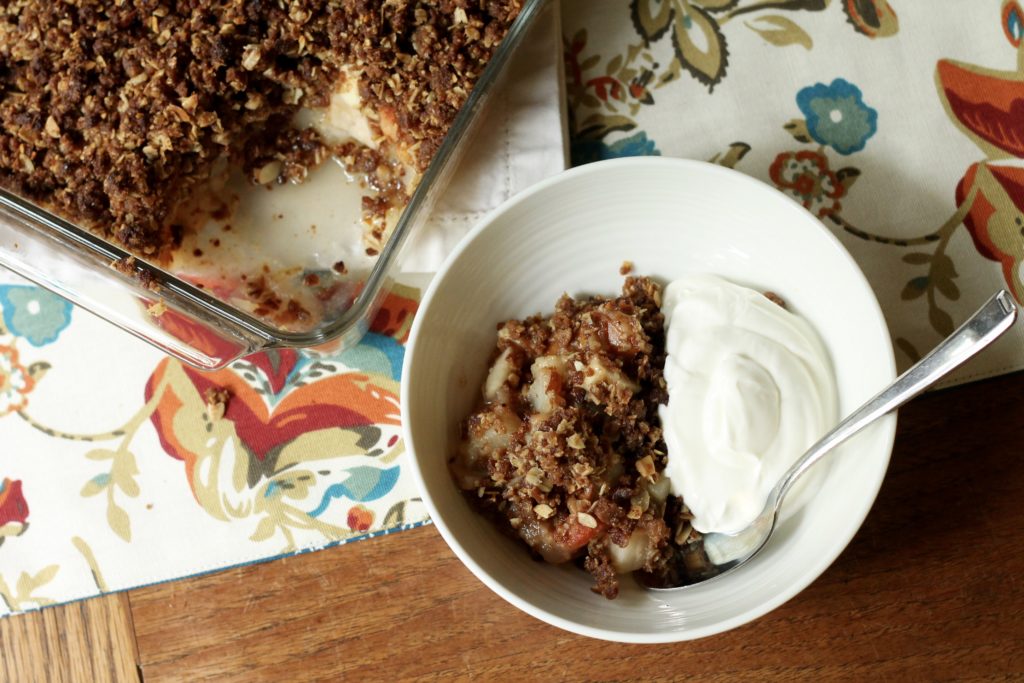 I got Dorie Greenspan's Baking Chez Moi for my birthday this summer and spent about three days straight reading it from cover to cover. By the time I was done, I had bookmarked so many recipes that it looked like this: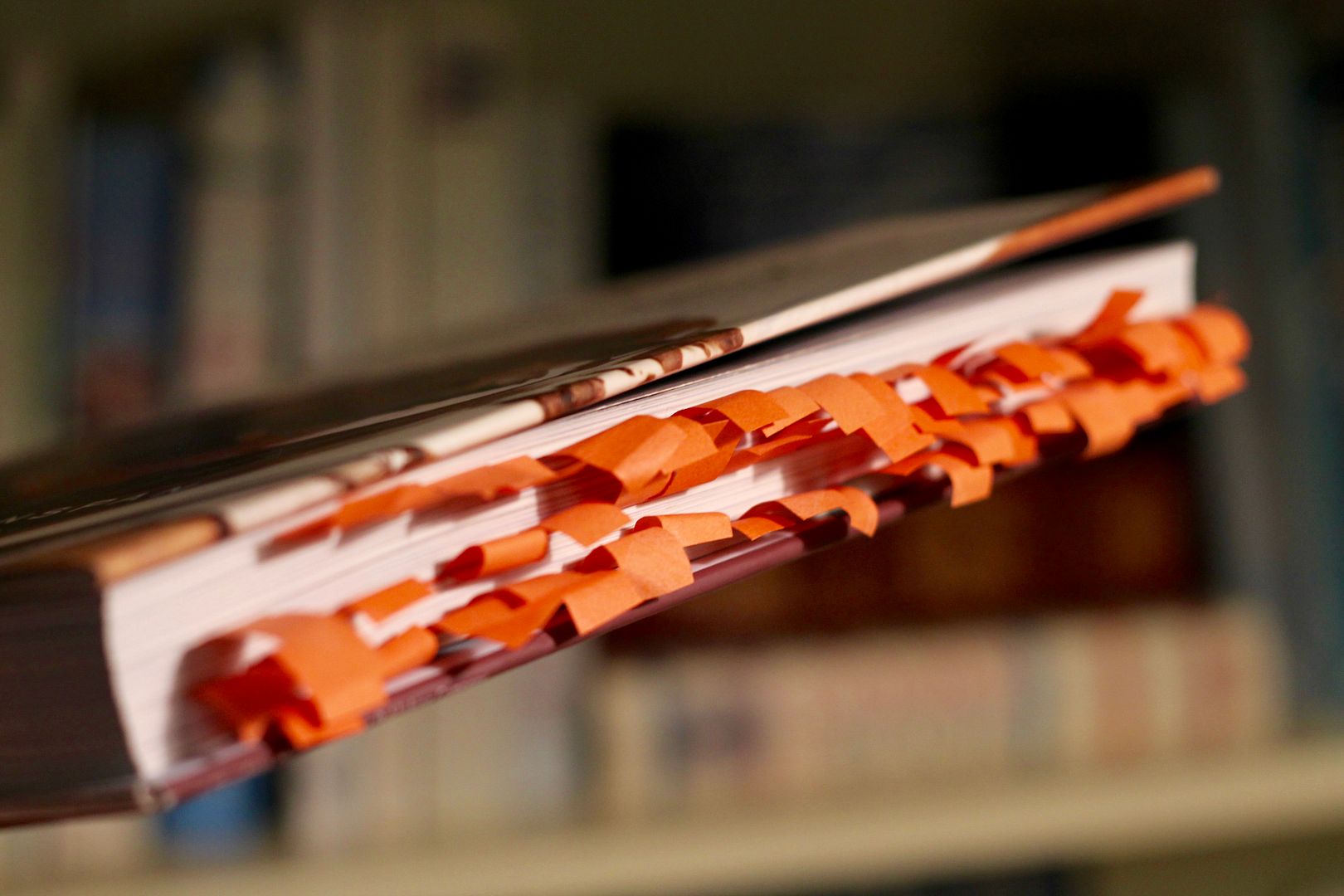 One of those recipes was for an apple crumble made with a topping of crushed speculoos cookies, the Belgian version of the Dutch speculaas, which are some of my favourite cookies. I thought of this crumble when I was looking for ways to use up the apples, pears, and newly-poached quince in my kitchen – not only did an apple-pear-quince crumble sound great, but it was also a great excuse to try Dorie's speculoos recipe.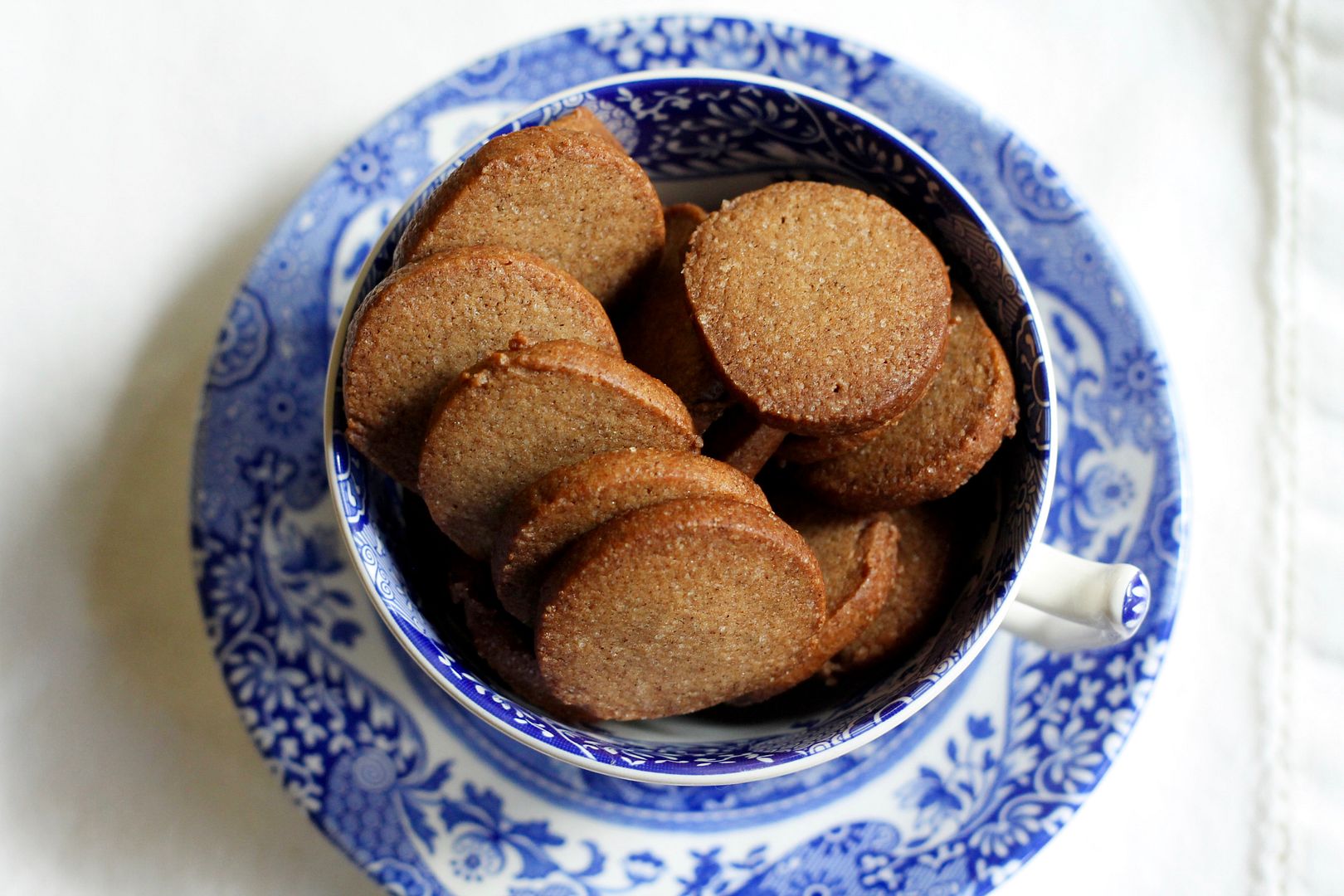 The speculoos turned out quite crisp and nicely spiced, and their tiny size made them very, very easy to eat on their own. But they made a spectacular crumble topping. I added rolled oats and sliced almonds to Dorie's topping of straight-up crushed cookies and butter, and I think it turned out to be the best crumble I've ever eaten.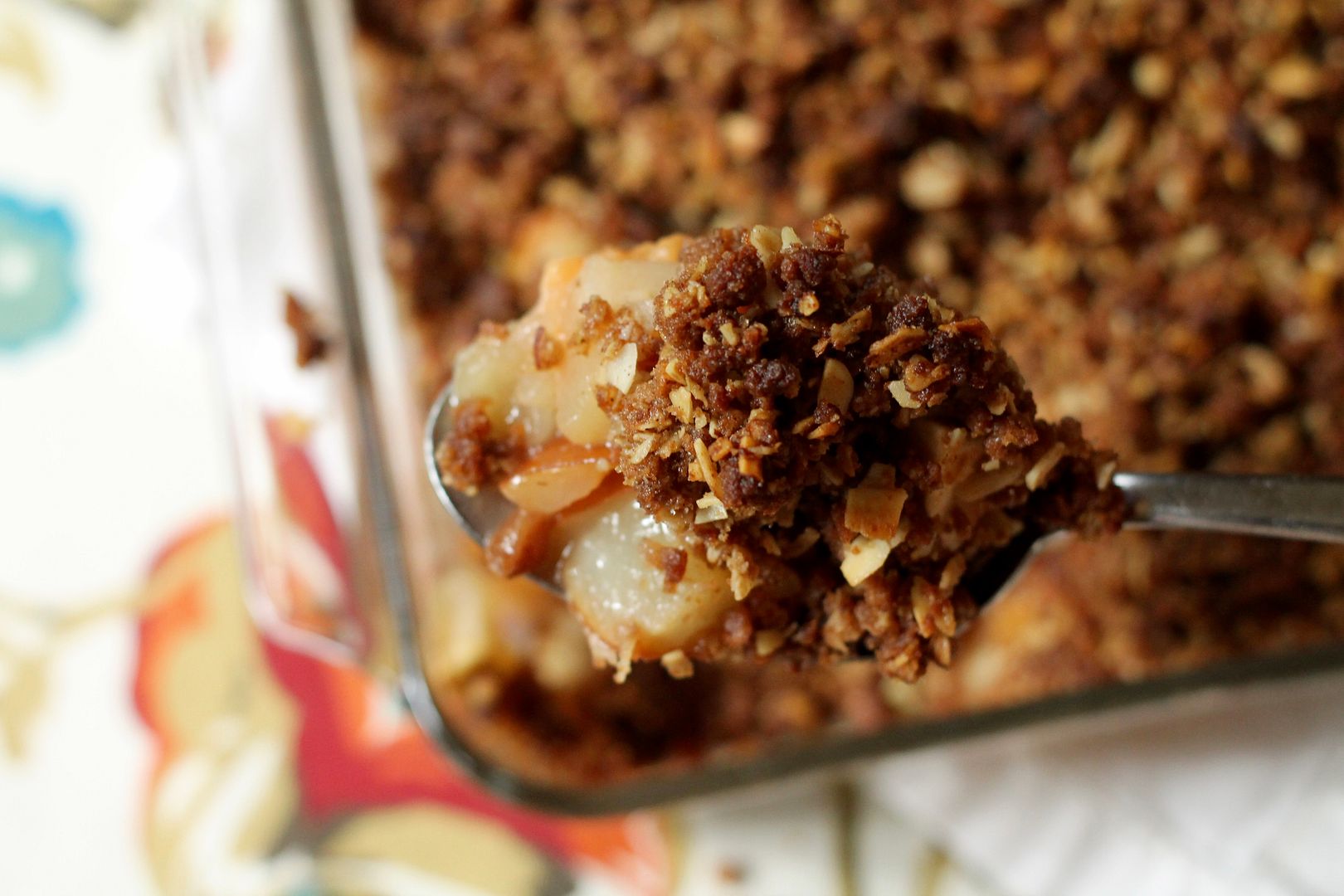 Not only was the topping amazing, but the combination of apples, pears, and quince (light on the quince, as I find it can be a little over-powering) was wonderful. We would have eaten it with vanilla ice cream but we didn't have any, so we ate it with honey-sweetened Greek yogurt instead – which conveniently made it feel more virtuous than decadent, until we remembered that the topping was made of cookies 😉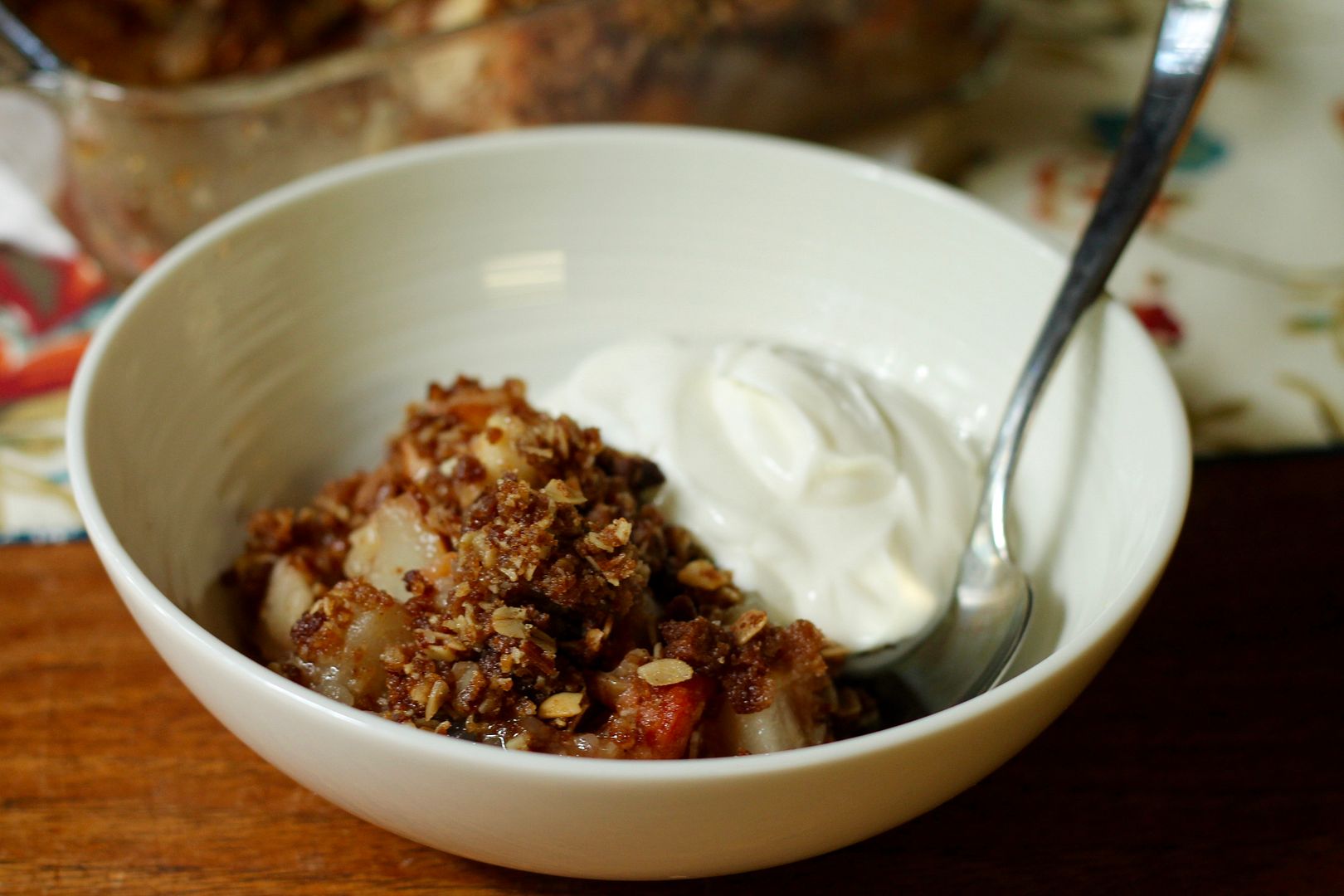 Apple, Pear and Quince Speculoos Crumble
Inspired by Dorie Greenspan's Baking Chez Moi. Serves 6-ish.
Preheat the oven to 350˚F (325˚F convection).
Put 200g speculoos cookies (recipe below) in a Ziplock bag and crush them with a rolling pin until they are in coarse crumbs.
Pour the cookie crumbs into a medium-sized bowl along with:
1/2 cup old-fashioned rolled oats
1/2 cup sliced almonds
1/2 cup cold unsalted butter, cubed
1/4 cup brown sugar
pinch salt
Combine with your hands, pressing and squeezing to rub the butter into the mixture until evenly combined – it will sort of clump together. Set aside.
In a large bowl, combine:
3 cups chopped peeled apples
3 cups chopped pears (I didn't bother peeling)
1 cup chopped poached quince
1/4 cup granulated white sugar
1 tbsp corn starch
juice of 1/2 lemon
Toss gently with your hands, then pour the fruit mixture into a 9″ square baking dish.
Sprinkle the speculoos mixture evenly over top of the fruit, breaking up any large clumps.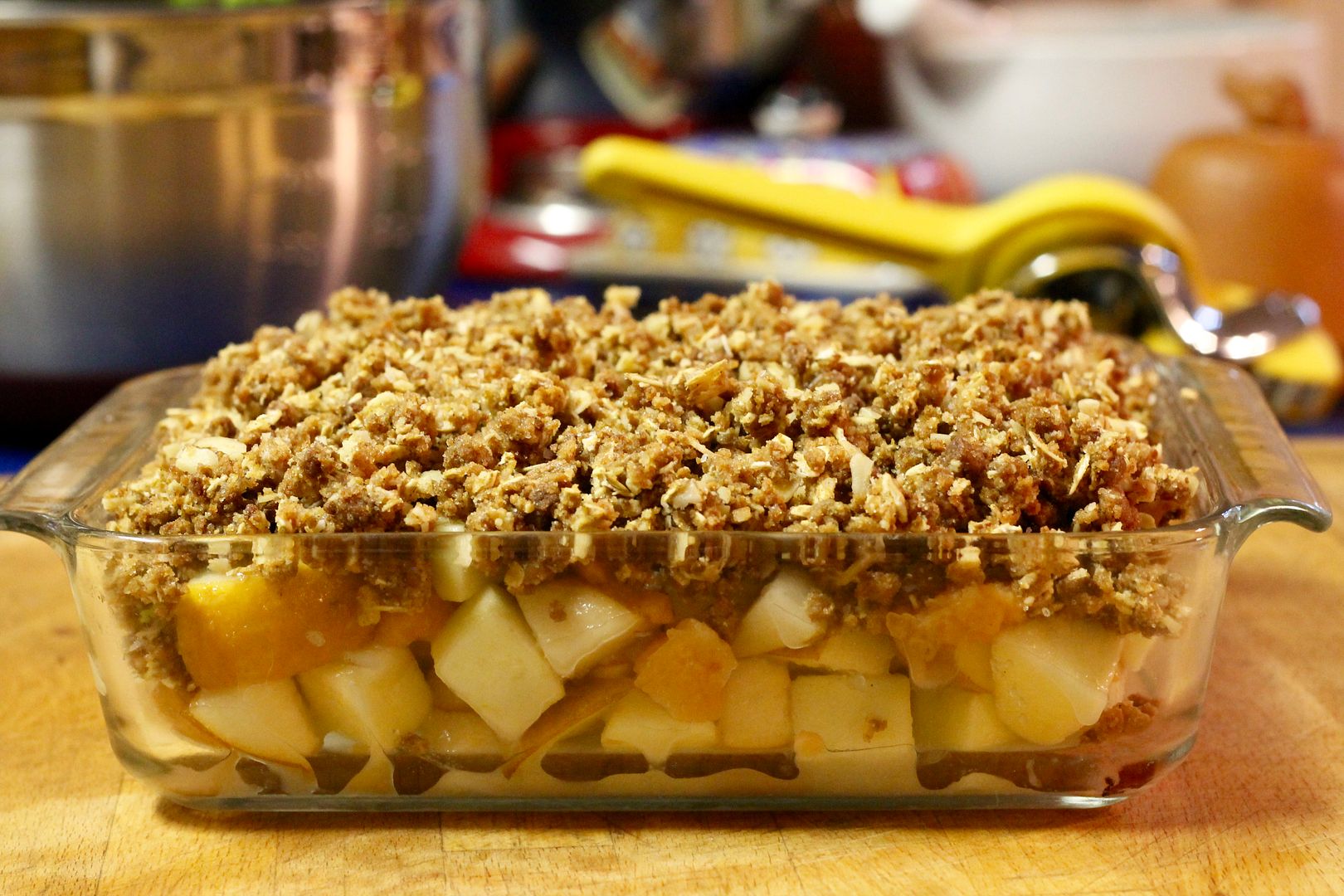 Bake in the preheated 350˚F (325˚F convection) for about 40 minutes, until the fruit filling is bubbling and the topping is dark and crisp. Cool on a rack at least until the filling stops bubbling, and serve warm or at room temperature with a scoop of something sweet and creamy (vanilla ice cream, whipped cream, yogurt…).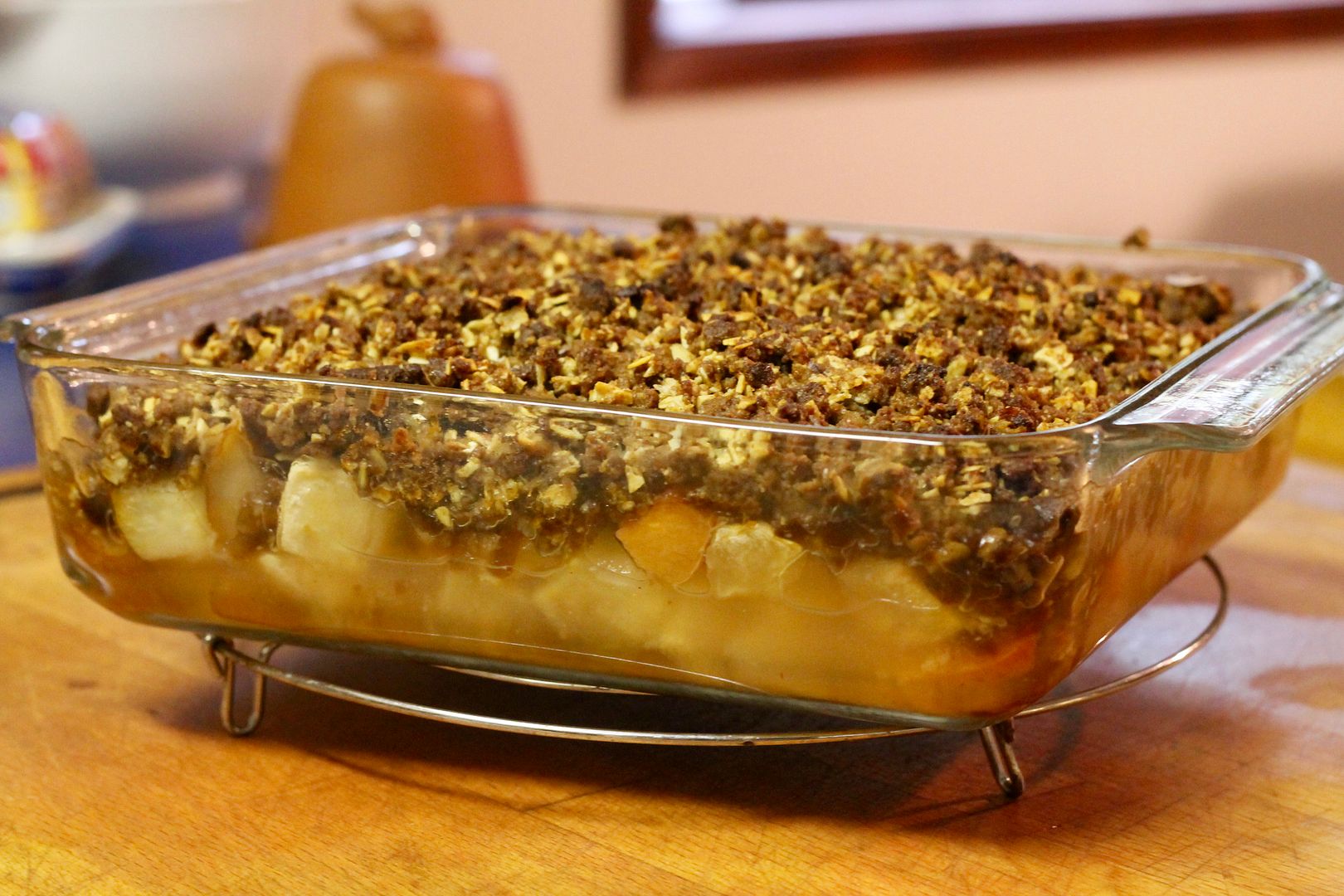 Dorie's Speculoos
Adapted slightly from Dorie Greenspan's Baking Chez Moi. Makes about 90 small cookies.
In a medium bowl, whisk together:
2 cups (272 g) all purpose flour
1 tbsp ground cinnamon
3/4 tsp ground ginger
1/2 tsp freshly grated nutmeg
1/8 tsp ground cloves
1/2 tsp fine sea salt
Set aside.
In a mixer fitted with the paddle attachment, cream 1/2 cup (113 g) softened unsalted butter until light and smooth, then add:
1/2 cup (100 g) dark brown sugar
1/4 cup (50 g) granulated white sugar
2 tbsp golden syrup
Beat until smooth and creamy, then beat in:
1 egg
1 tsp vanilla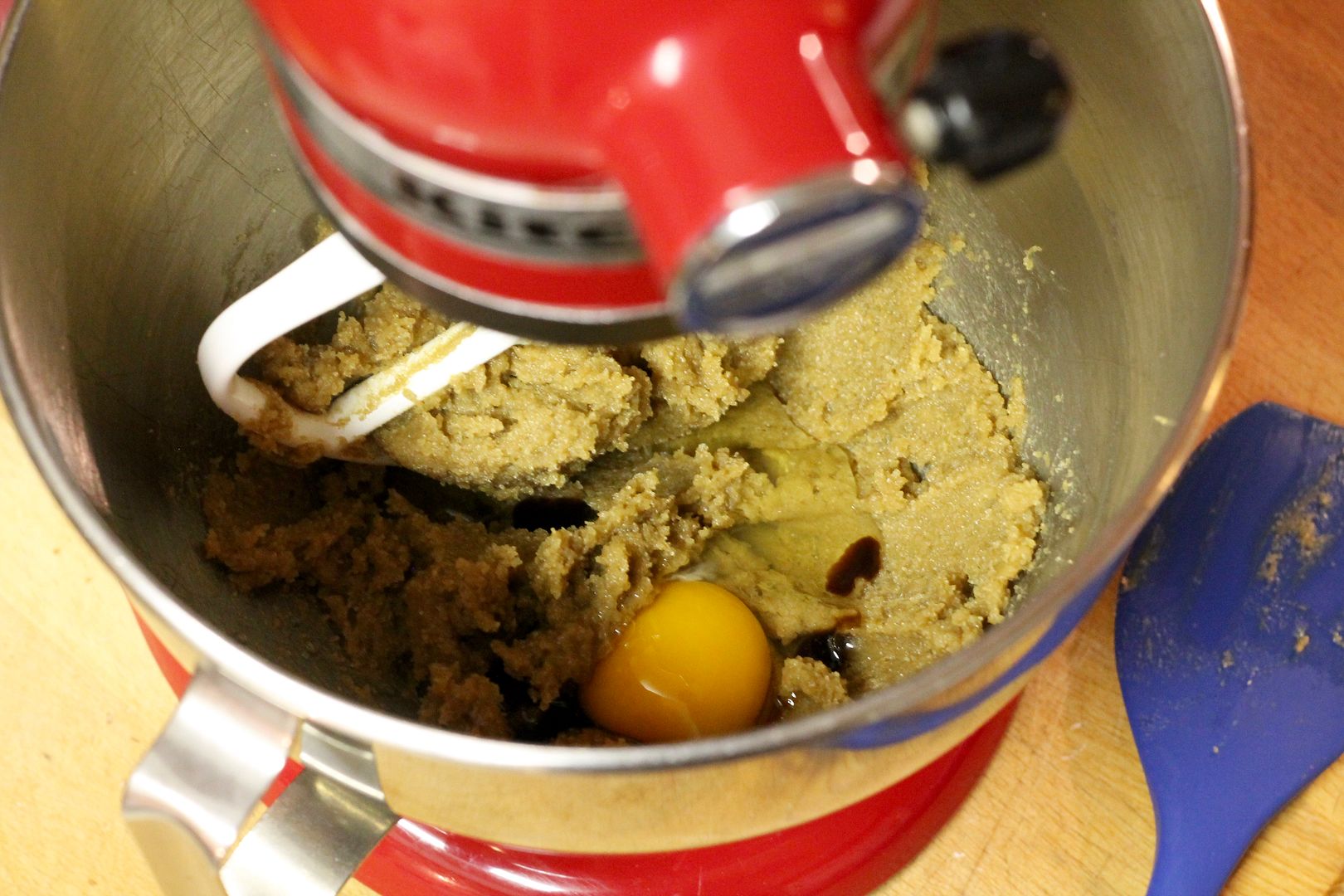 Add the flour mixture all at once, pulsing a few times at first to combine.
Mix on low speed until the flour disappears and the dough just cleans the sides of the bowl.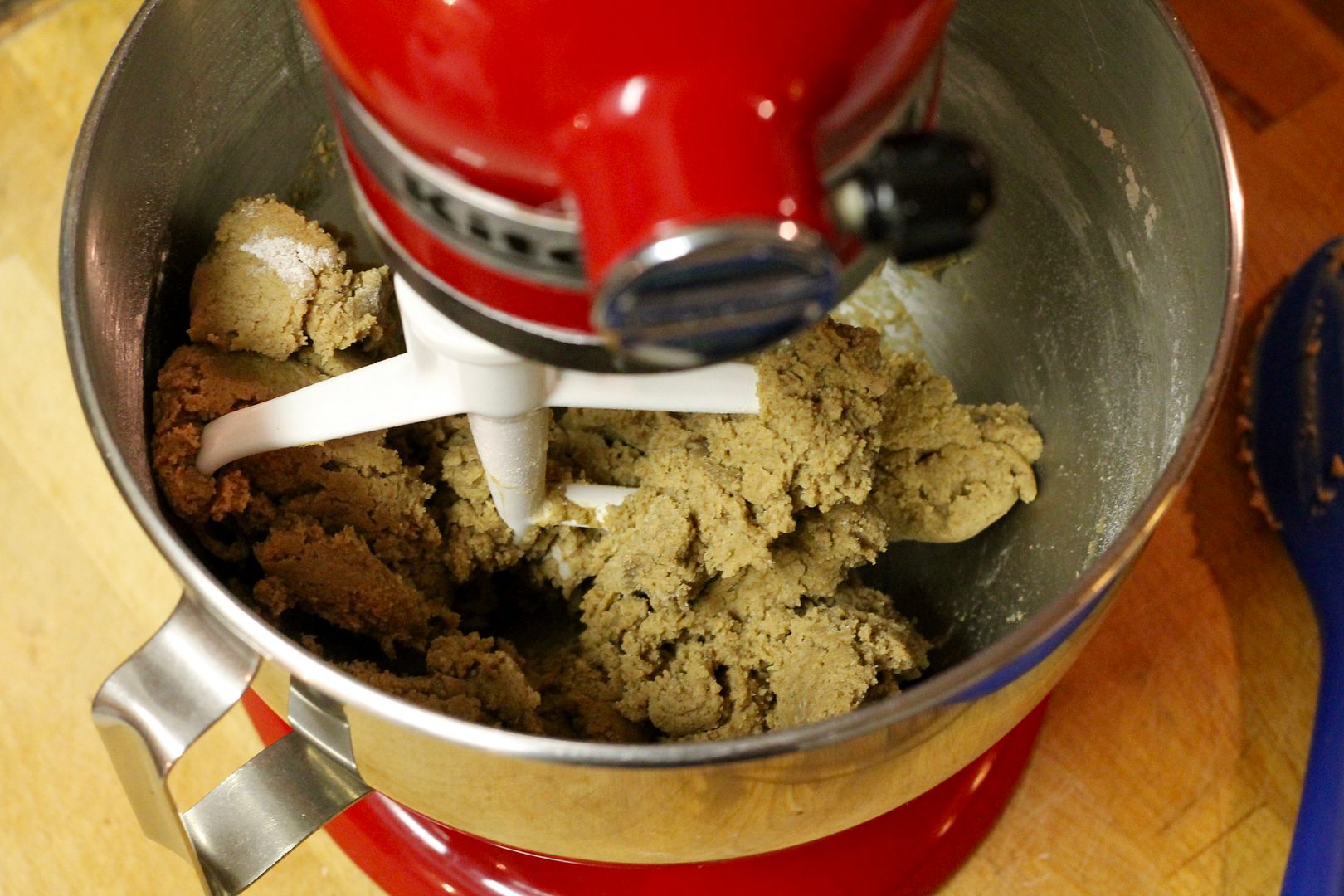 Scrape the dough out onto a work surface and divide it into 3 equal portions. Form each into an 8″ log and wrap tightly in plastic wrap. Freeze for a least 3 hours before baking (can be frozen for up to 2 months).
When ready to bake, preheat the oven to 375˚F (350˚F convection). Line a baking sheet with parchment paper, then slice the frozen logs of dough into 1/4″ thick rounds.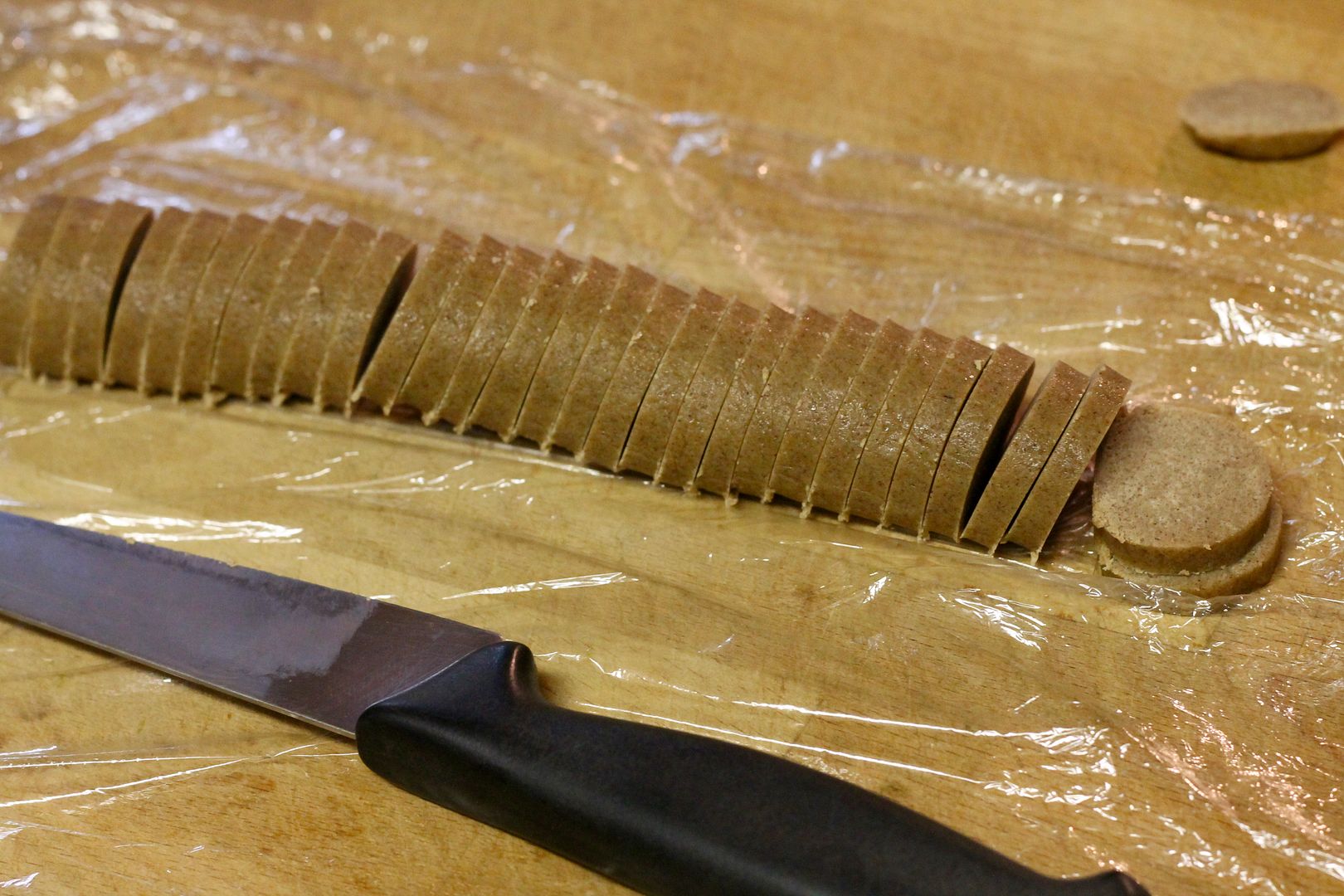 Arrange on the baking sheet about an inch apart.
Bake in the preheated 375˚F (350˚F convection) oven for 11-13 minutes, rotating the pan halfway through baking, until the cookies are evenly golden brown and almost firm in the middle. Transfer to a rack to cool, then store in an airtight container.
Save
Save
Save
Save