I got all proactive and made September's Daring Kitchen challenge recipe – an almond and walnut cake called "hrapocusa" – at the beginning of the month, and then of course didn't get my act together to post about it on time. Like, at ALL. Sigh. ANYWAY. Back in September, Jason of Daily Candor challenged us to make this regional specialty of the tiny town of Dol on the Dalmatian island of Brac. The torta hrapocusa is a two-layer cake primarily composed of nuts, with a bottom layer of orange and cherry liqueur-scented almond sponge cake and a sugared walnut topping that is meant to resemble the rocky shores of the island. This is certainly a unique cake and one that I never would have come across without the Daring Kitchen!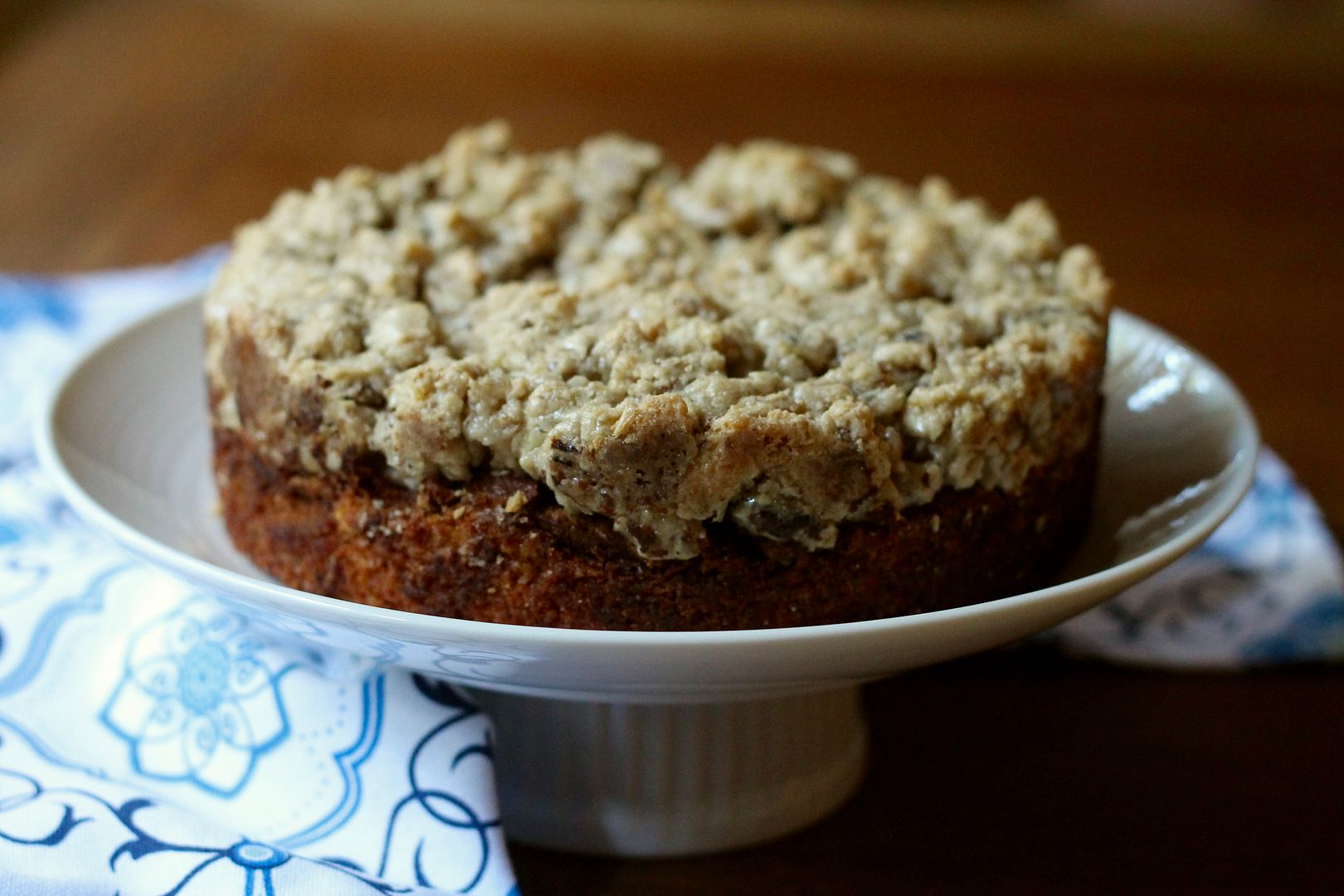 The original recipe that Jason based the challenge on uses a dozen eggs, a pound of almonds, almost two pounds of walnuts, and nearly three pounds of sugar. As you might suspect, it makes a GIANT cake. I ended up making only a quarter of that recipe in a six inch round pan, which I would say was about 75% successful. The bottom layer was delicious – moist and almond-y with a little hint of orange – and the topping was essentially delicious walnut brittle, although I'm not entirely sure that's how it was supposed to turn out. Said topping is made by cooking walnuts in egg whites and sugar on the stove top until slightly caramelized, then you pour it over the baked almond layer and bake again until golden and crisp on top. Note the operative word, "pour": because I was making such a small amount, the topping cooked much more quickly and actually started to solidify before I could even get it on the cake. I can't say for certain but I suspect that when done properly, the topping is not as rock hard (but still tasty) as mine turned out. So, a partial success, and I've modified the instructions below to show how I should have done it for a better result.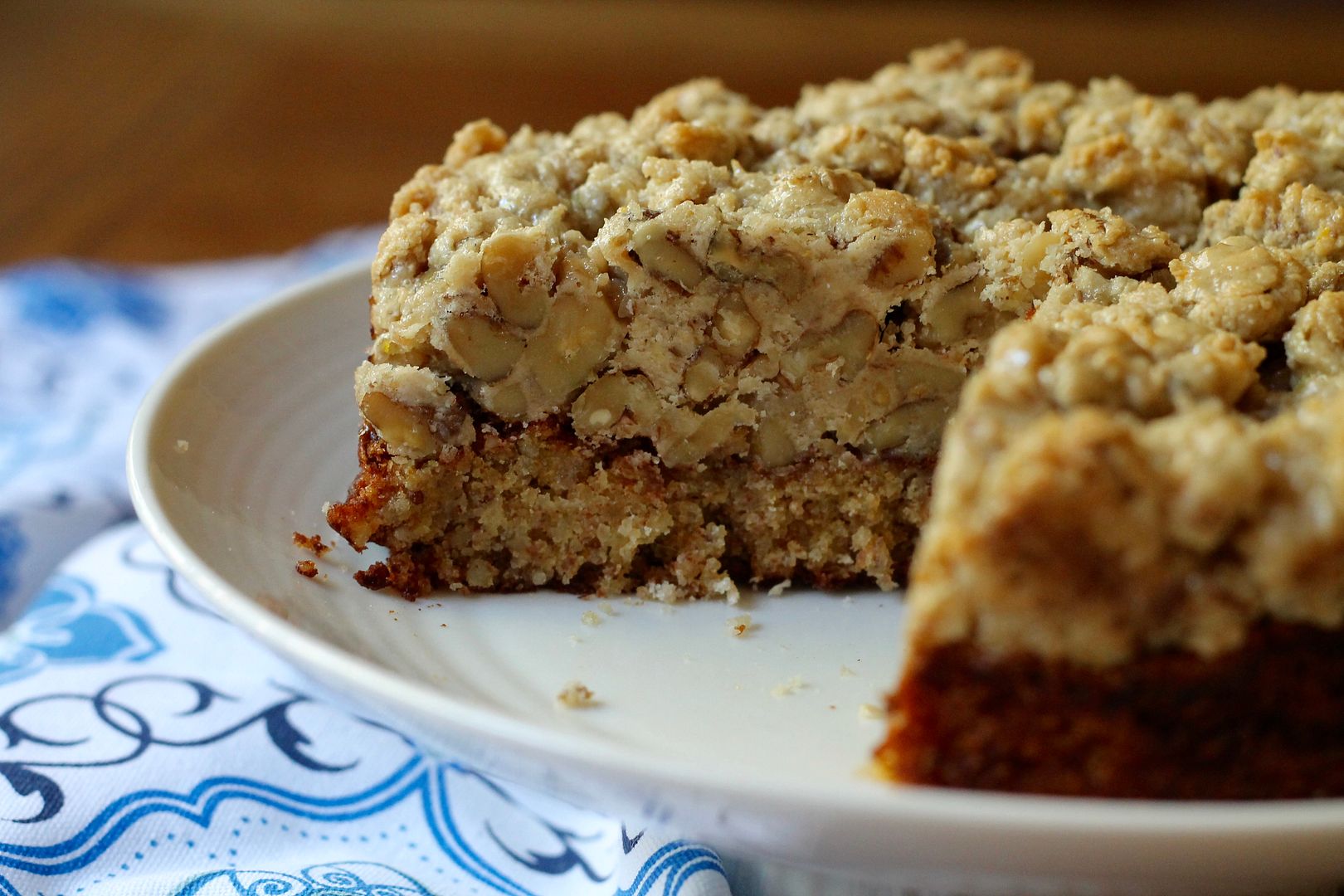 Even with the harder-than-expected topping, this cake was really yummy – albeit a bit of a sugar bomb! The tiny cake I made was perfect cut into tiny slices for a tiny afternoon pick-me-up, though 🙂 Thanks Jason for another interesting challenge!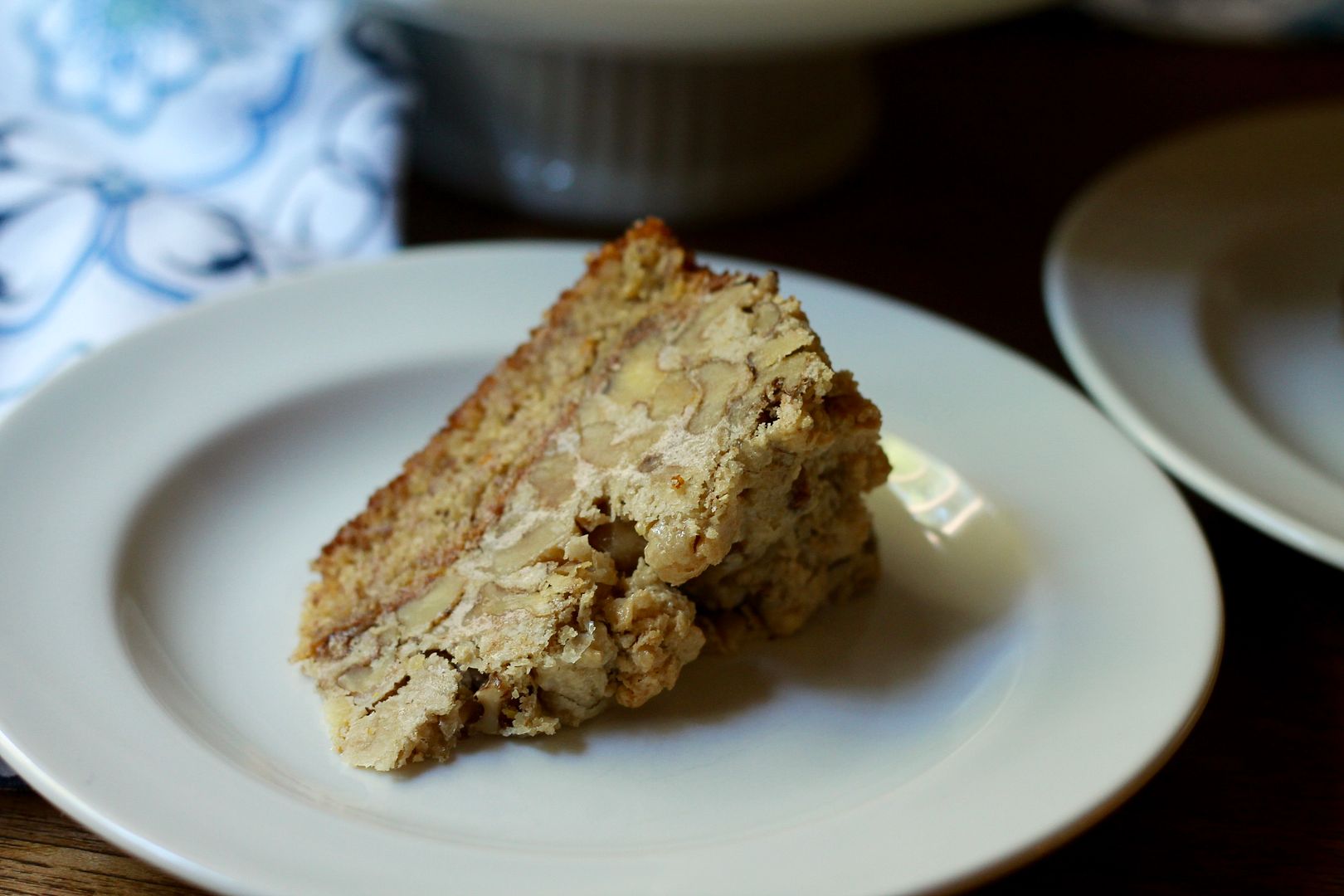 Torta Hrapocusa
Adapted from Jason's challenge and The Recipe Hunters. This is a mini version that makes one 6″ cake.
Almond Sponge Cake
Preheat the oven to 480˚F (455˚F convection). Line the bottom of a 6″ pan (with removable sides or a springform pan) with parchment paper. If the sides of the pan are low, make a collar of parchment paper that is at least 3″ high – this is a tall cake. Set aside.
In a food processor, process 125 g whole natural almonds until they are a fine meal. Pulse in a pinch of salt, and set aside.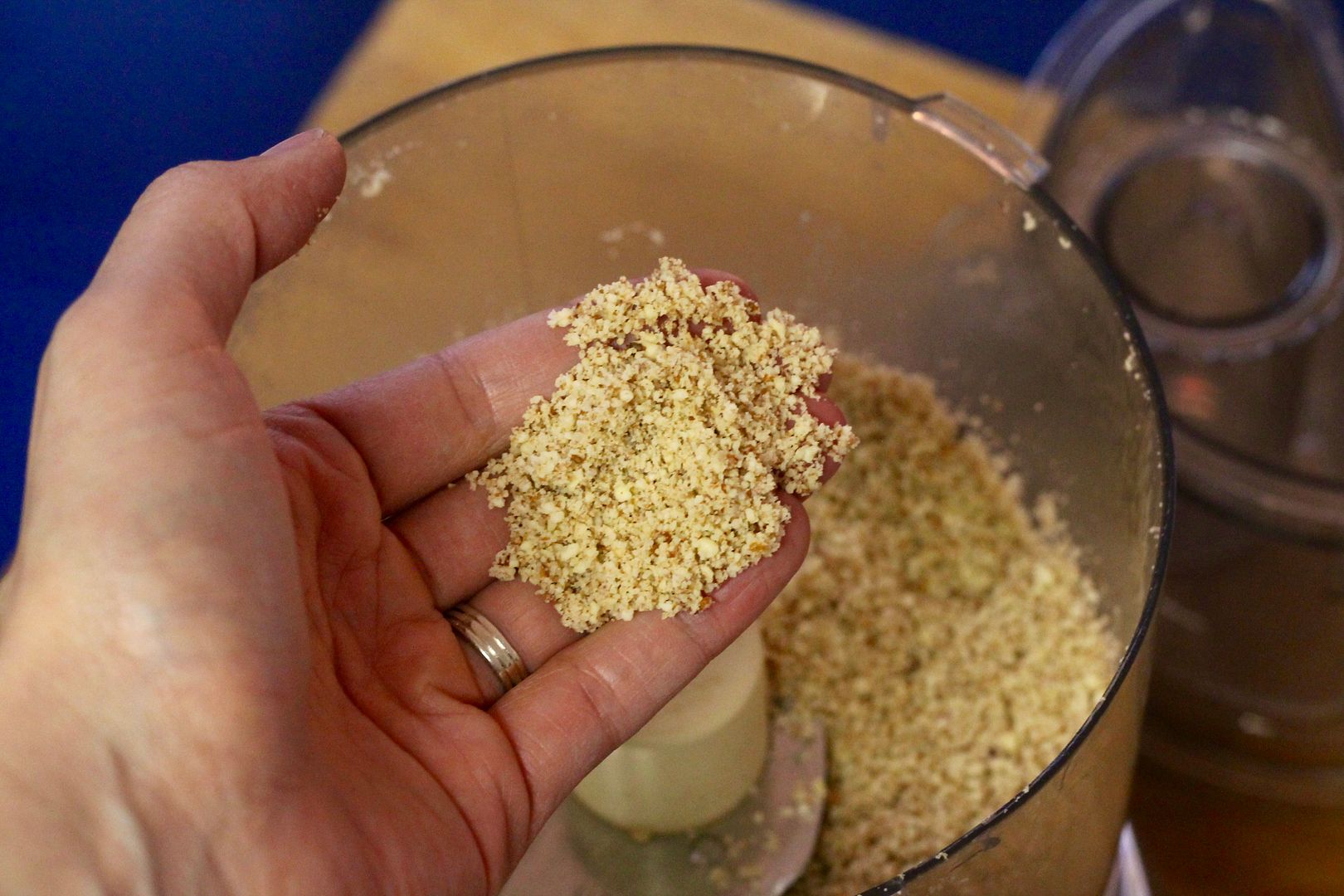 In a medium bowl, combine 100 g granulated white sugar and the zest of 1/4 orange. Rub the zest into the sugar with your fingers to help release the oils.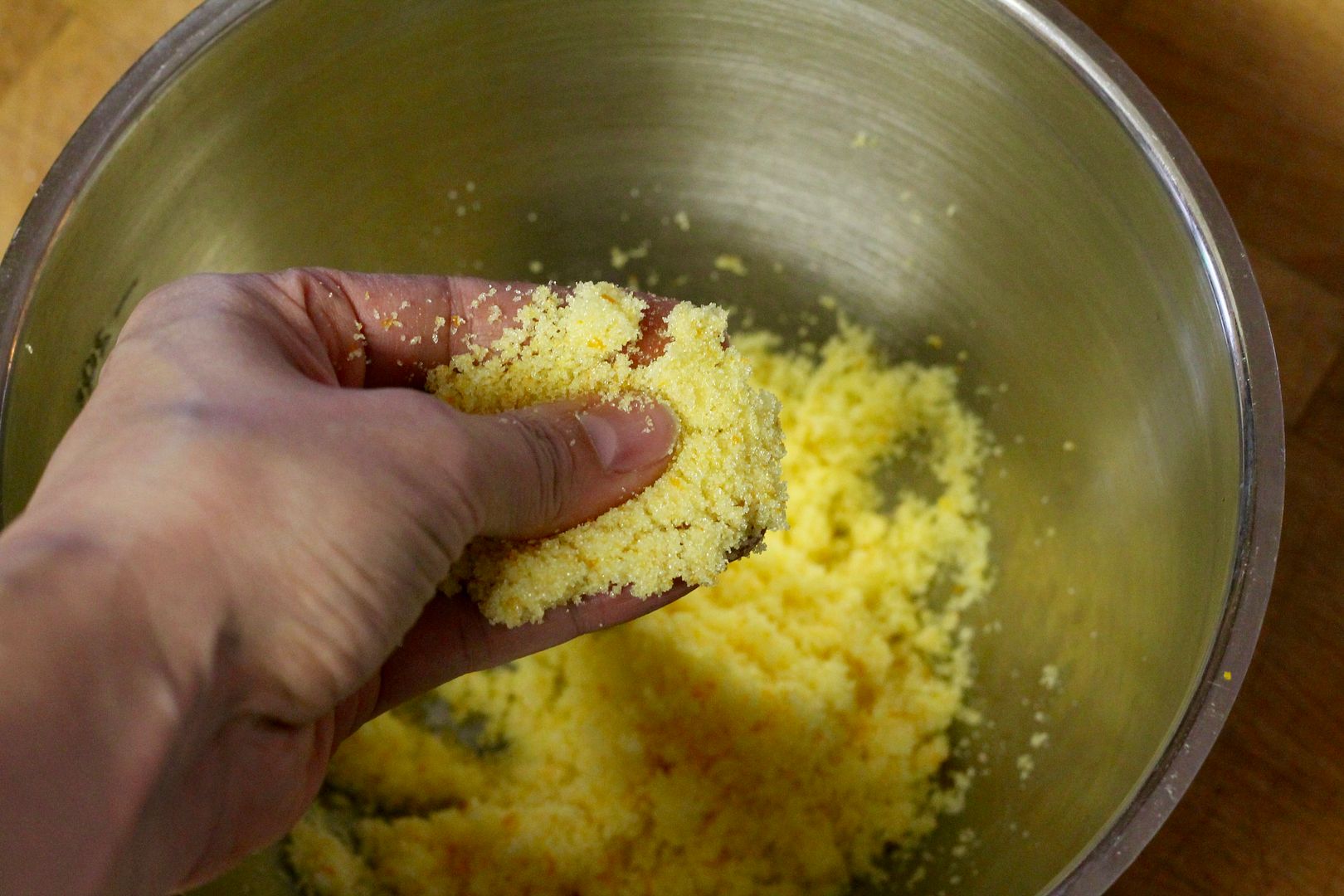 Add:
juice of 1/4 orange
1/4 tsp vanilla
2 tbsp Kirsch or cherry-flavoured liqueur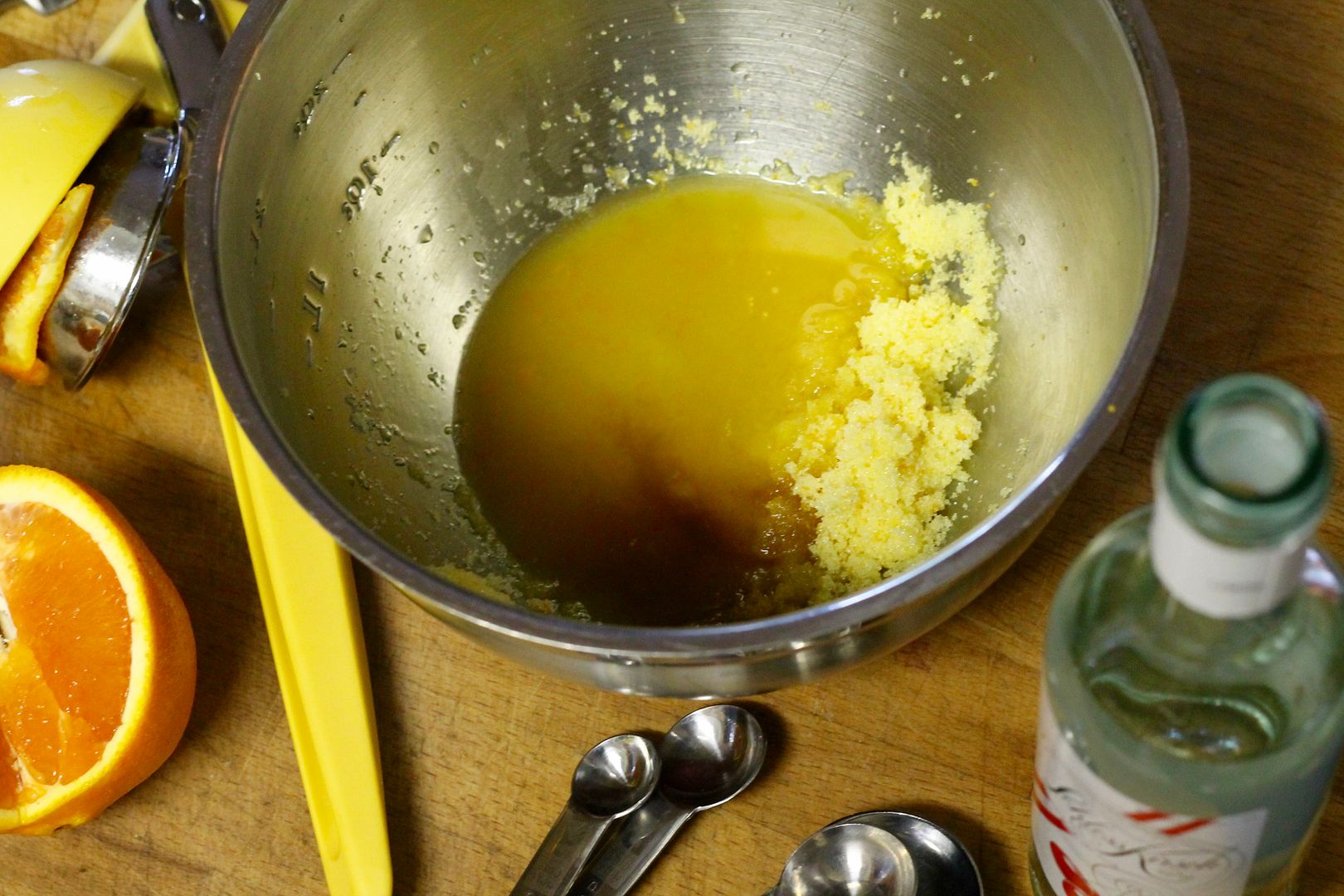 Separate 3 eggs and divide the whites and yolks as follows:
3 yolks in the sugar mixture
1 white in a small bowl (set aside)
2 whites in a saucepan (set aside for the walnut topping – see recipe below)

Using an electric beater, beat the sugar-egg yolk mixture for several minutes, until pale and light. Set aside and clean off the electric beater.
Add a pinch of cream of tartar to the single egg white, and with a very clean electric beater, whip to a barely stiff peaked meringue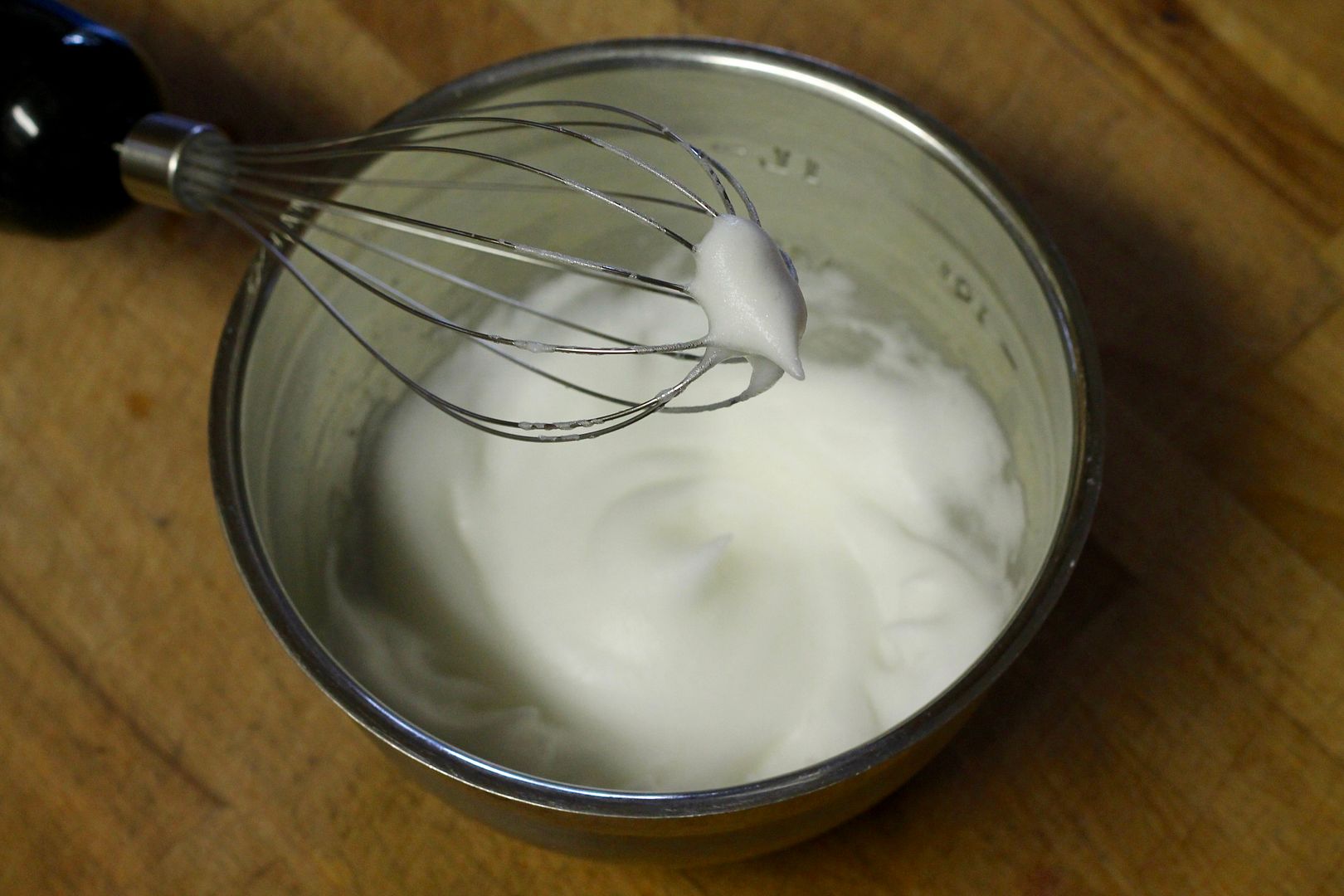 Add half of the meringue and half of the ground almonds to the egg yolk mixture and fold gently with a spatula to combine. Repeat with the remaining meringue and almonds to obtain a smooth, light batter.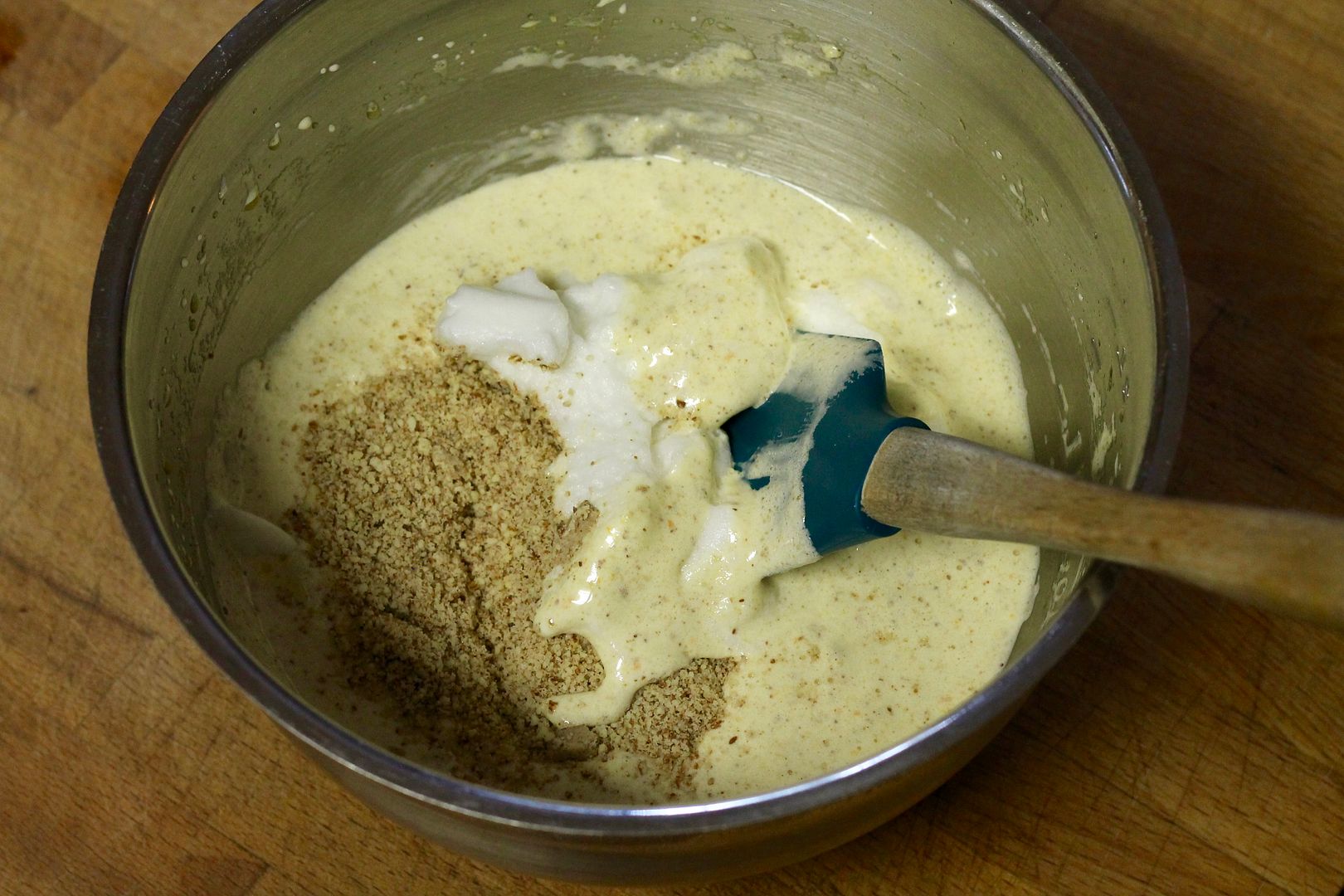 Pour the batter into the prepared cake pan and place in the oven.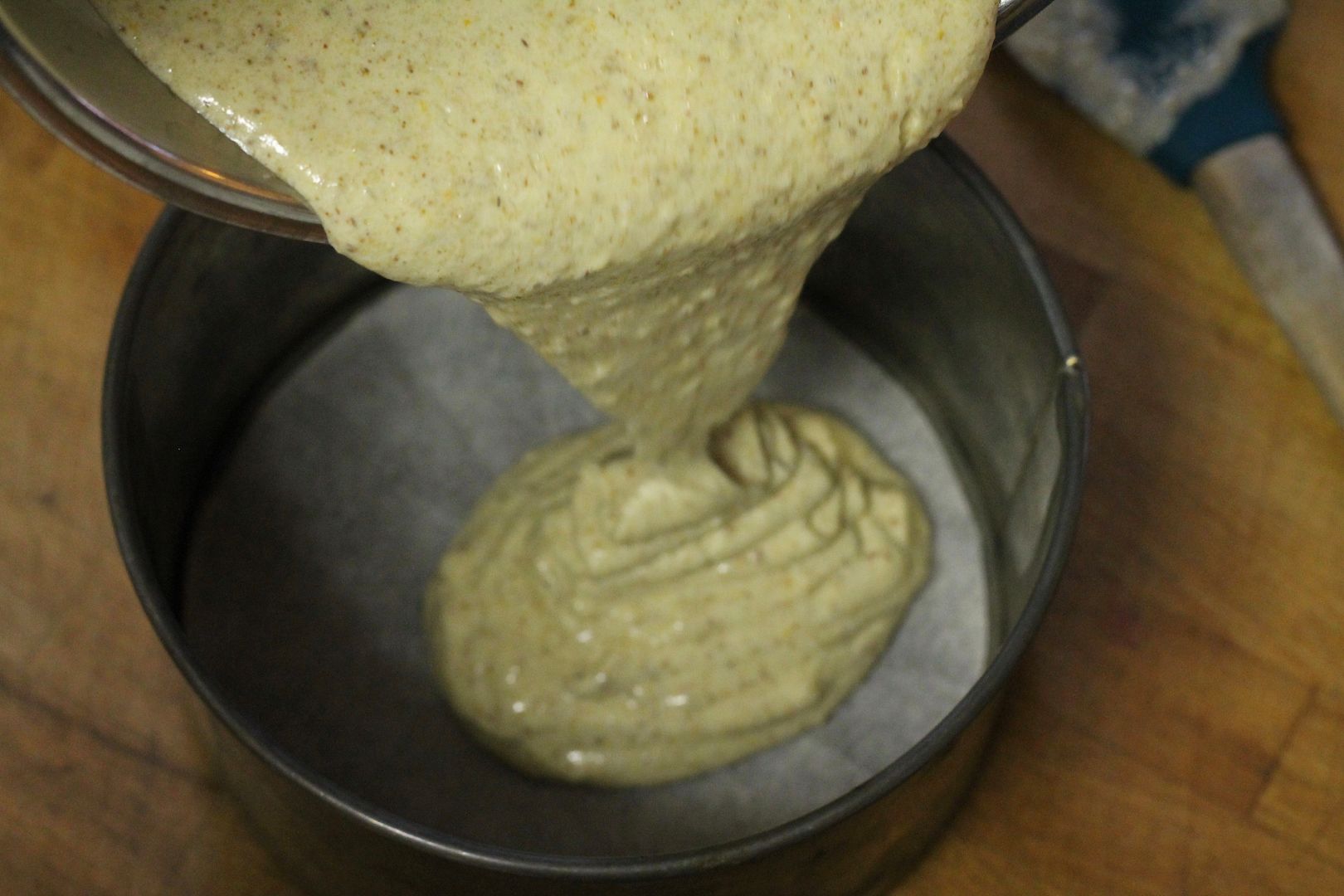 Immediately lower the oven temperature from 480˚F (455˚F convection) to 390˚F (365˚F convection) and bake for 5 minutes. Lower the oven temperature to 350˚F (325˚F convection) and bake 15 minutes, then finally lower the oven temperature to 320˚F (295˚F convection) and bake an additional 15 minutes. Check the cake with a toothpick in the final 5 minute of baking time – if it comes out clean, the cake is done. Remove the cake, but leave the oven on at 320˚F (295˚F convection).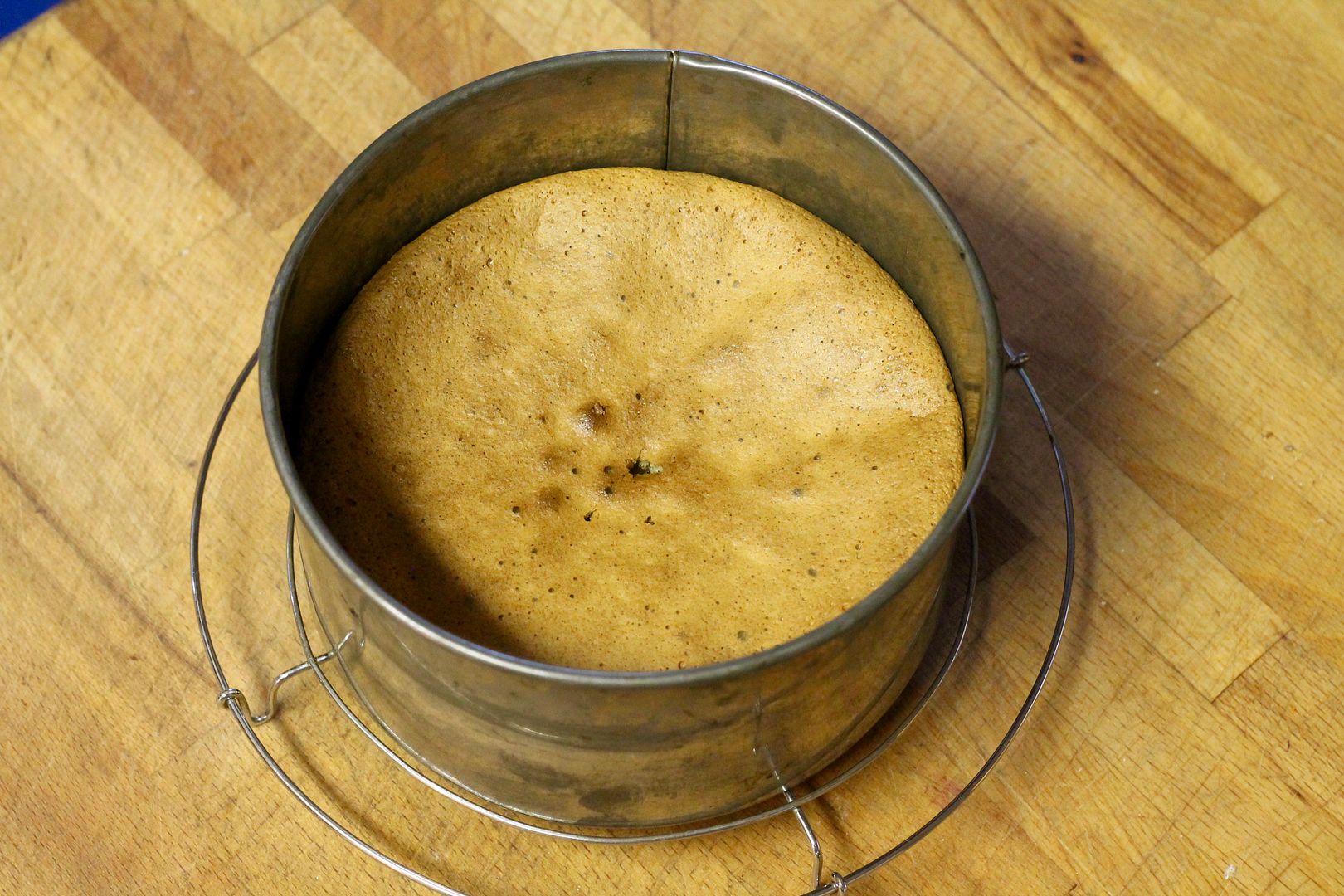 Place the cake on a rack and use the back of a wooden spoon to gently press down the edges of the cake, to create a "moat" for the walnut topping around the edges. Set aside while you make the walnut topping.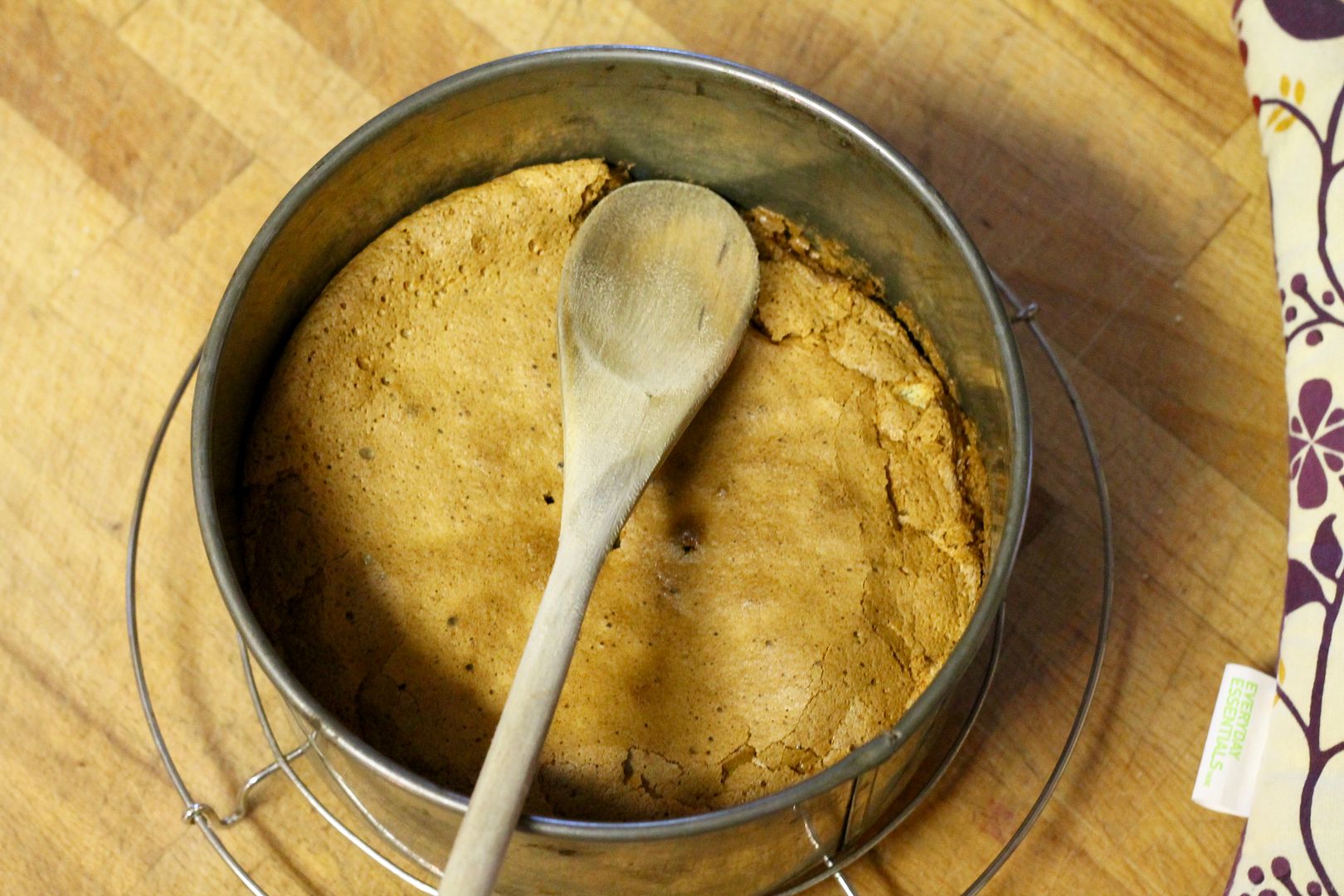 Walnut Topping
To the saucepan containing 2 egg whites, add:
200 g granulated white sugar
200 g walnut pieces
Stir to combine and place over medium heat on the stove, stirring vigorously with a spatula.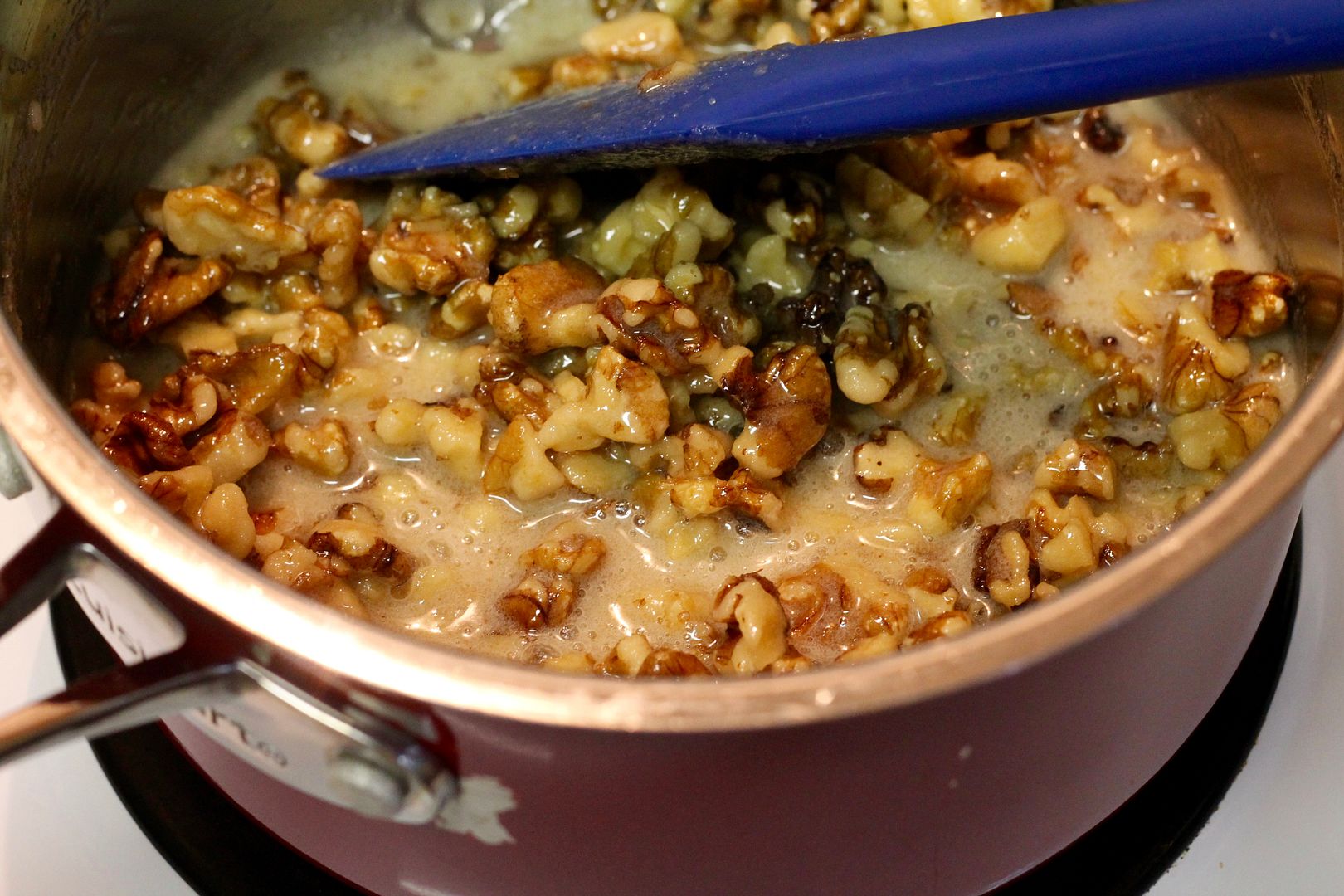 Cook for about 15 minutes, until the liquid in the saucepan turns a light beige caramel colour – it should still be quite wet and loose. If it starts to thicken up and /or seize, remove from the heat and continue with the recipe as quickly as possible.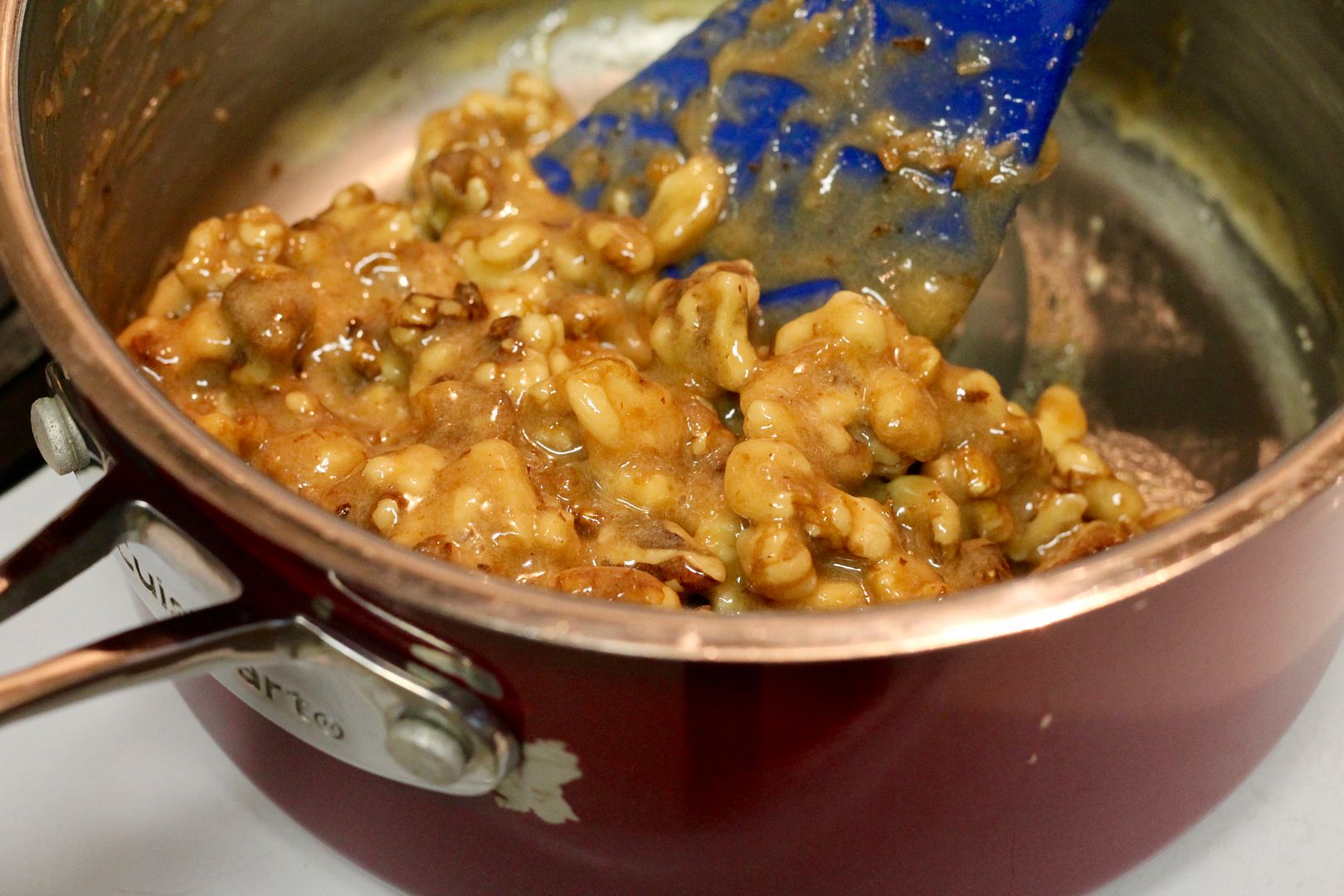 Stir in:
zest and juice of 1/4 lemon
1/4 tsp vanilla
pinch salt
Pour the topping evenly over the baked almond cake, smoothing it out with the back of a spatula. If the topping has thickened too much to pour, just scoop it on and spread it out as best you can.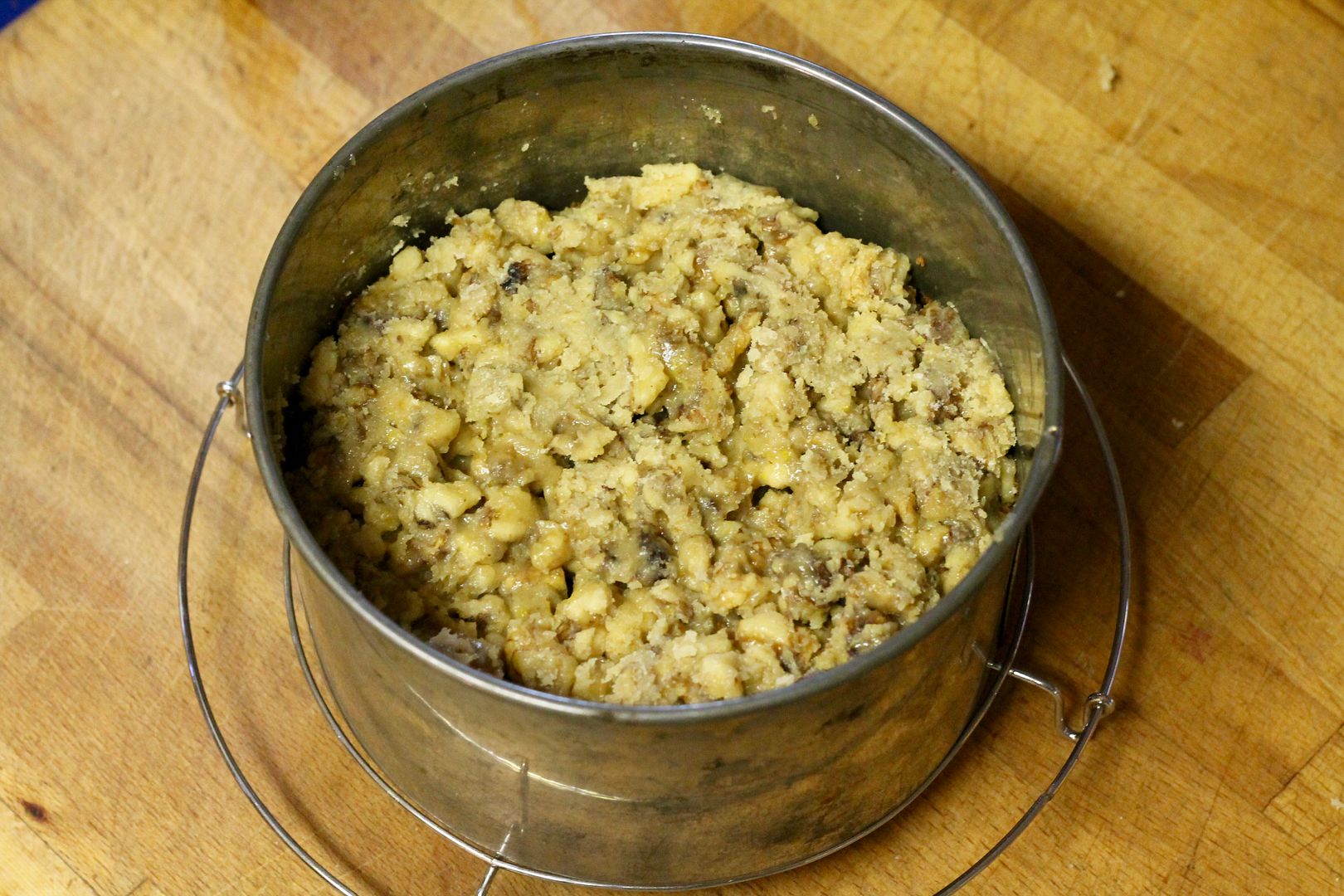 Return the cake to the 320˚F (295˚F convection) oven and bake for about 15 minutes, until the walnut topping is golden on top.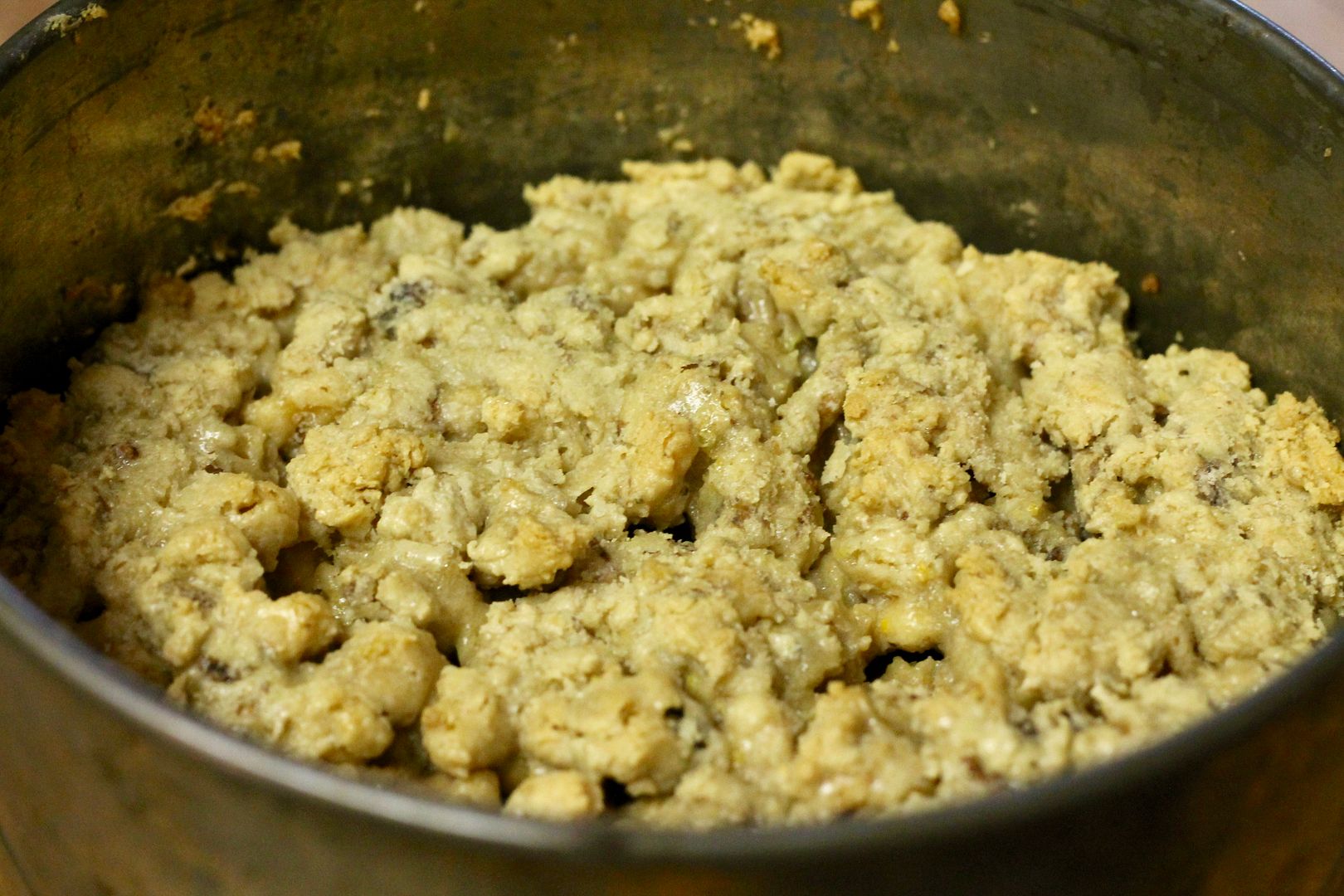 Allow the cake to cool completely before running a knife around the edges and either removing the sides of the pan, or inverting it out of the pan. Allow to cool before cutting into wedges to serve.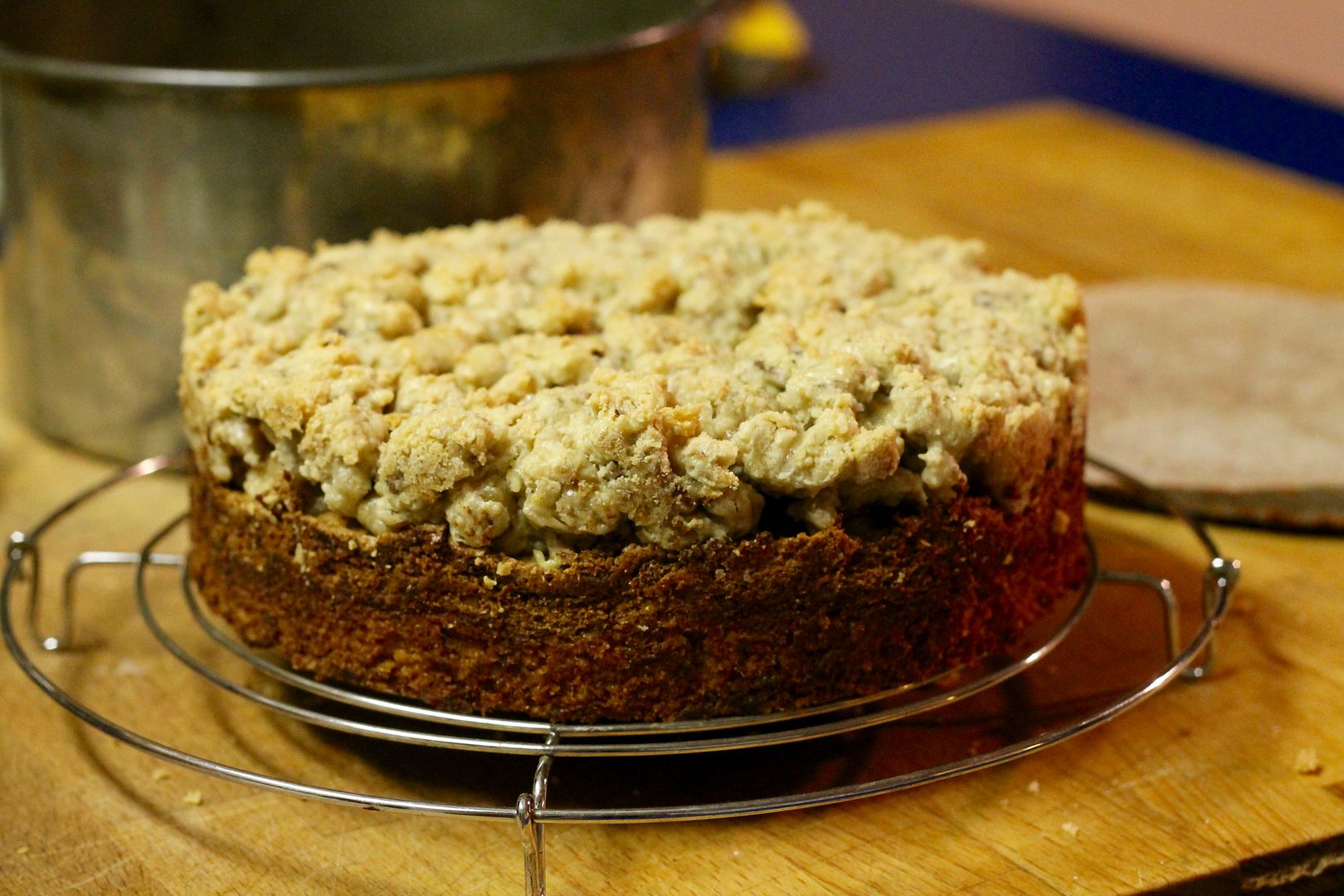 The cake can be kept a room temperature for up to 5 days, wrapped tightly in plastic. To store longer, the wrapped cake can be frozen for up to 3 months. To serve from frozen, just slice and let each piece come to room temperature for 10 minutes before serving.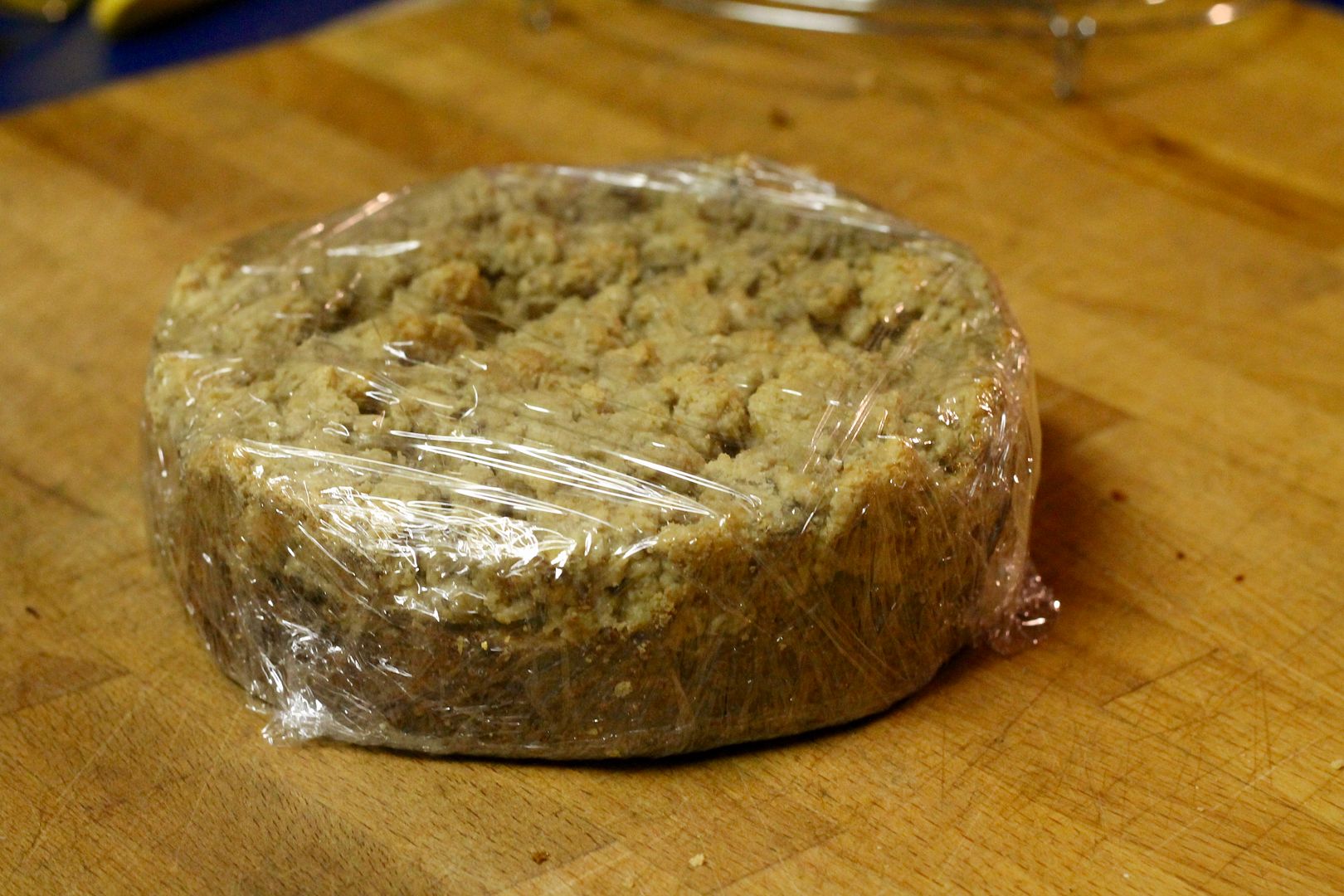 Save
Save
Save
Save