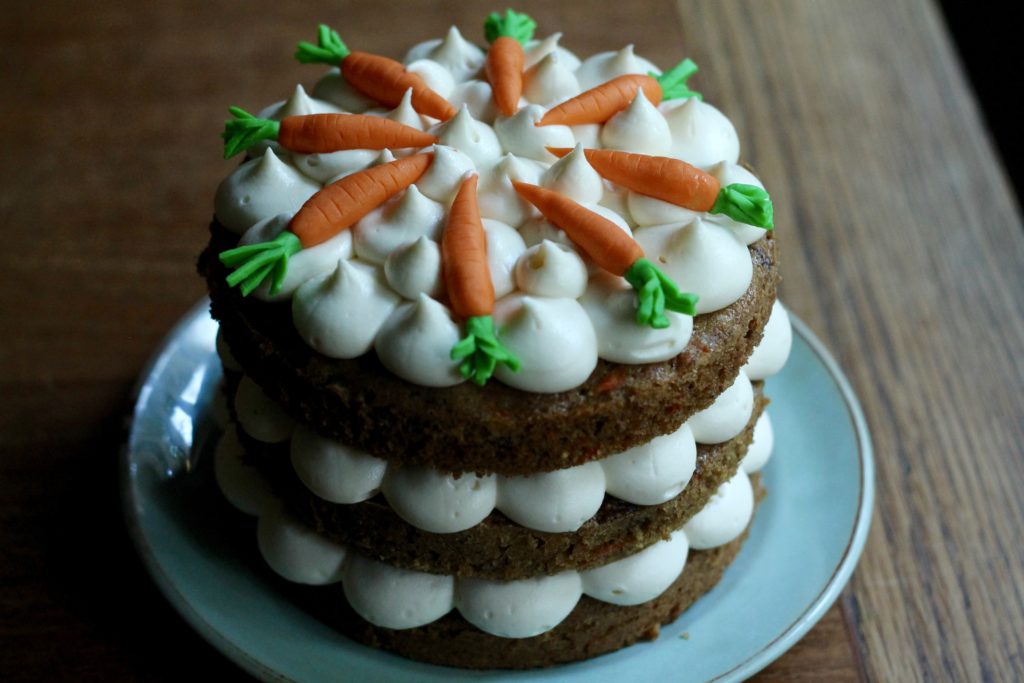 When it comes to carrot cake, there are a few non-negotiables: there must be carrots, nuts, spices, and cream cheese frosting. From here, carrot cake fans seem to be divided into two camps: those who prefer their cake "without stuff", ie: no additions to the list above, and those who like their cake "with stuff": raisins, pineapple, coconut, dates, etc. I discovered this divide when doing carrot cake research (it's totally a thing) after a friend asked me to make her a carrot wedding cake. I already knew of a fantastic carrot cake "with stuff" (courtesy of the rebar cookbook), so I needed one "without stuff" to compare. It just so happened that Nate needed a birthday cake, and carrot cake is his favourite. Recipe testing win!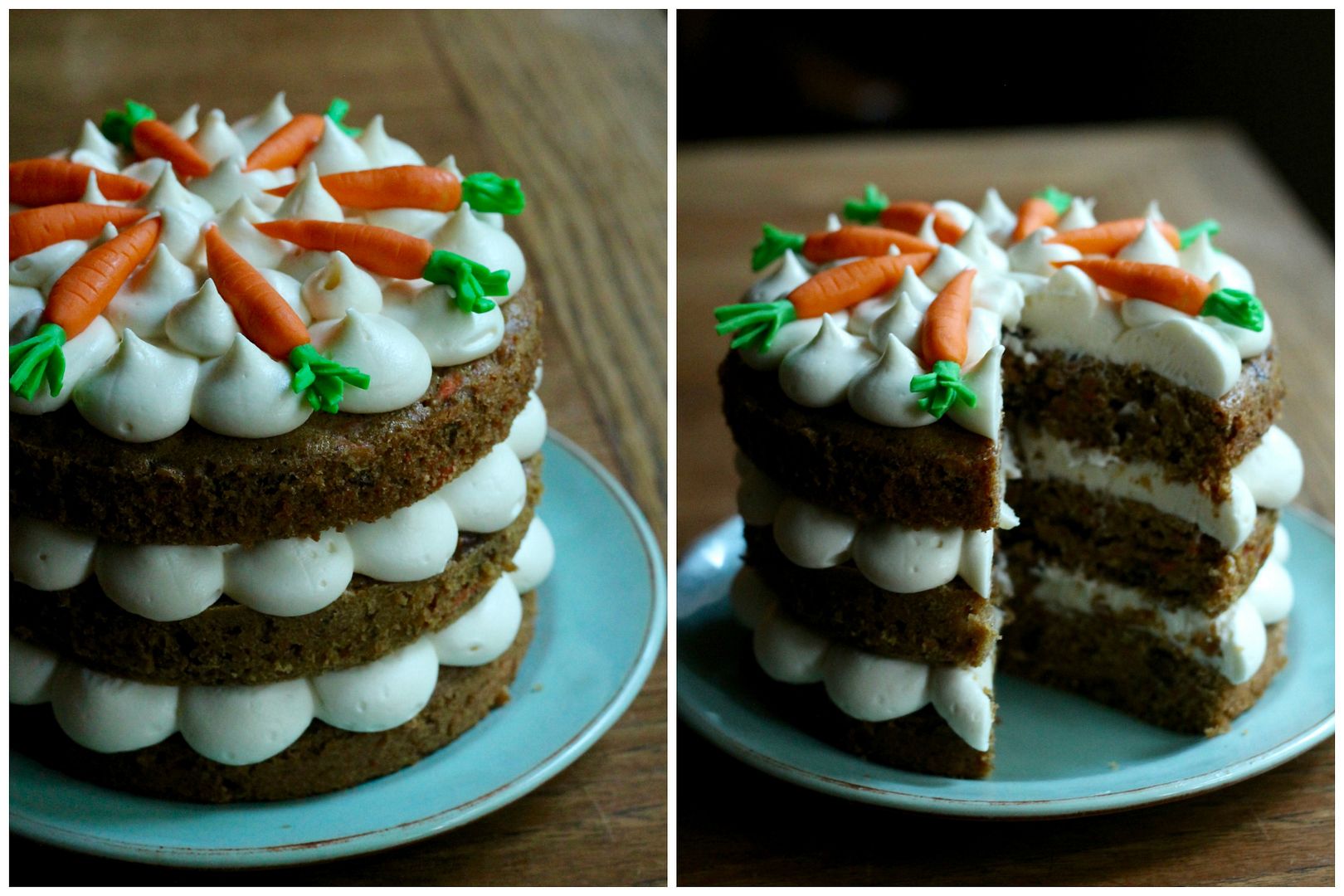 I trust Martha Stewart (I haven't been calling her "my trusted friend Martha" all these years for nothing), so I picked her carrot cake recipe to try. It contains both cinnamon and ginger but the predominant spice that you taste is nutmeg, which is totally delicious in a carrot cake. In addition to the mandatory shredded carrots, the batter is laced with pecans for an extra rich, deep flavour. The cake layers are sturdy – perfect for stacking – yet still moist and somehow also light and yielding to your fork, which is especially important when they are sandwiched with fluffy cream cheese frosting.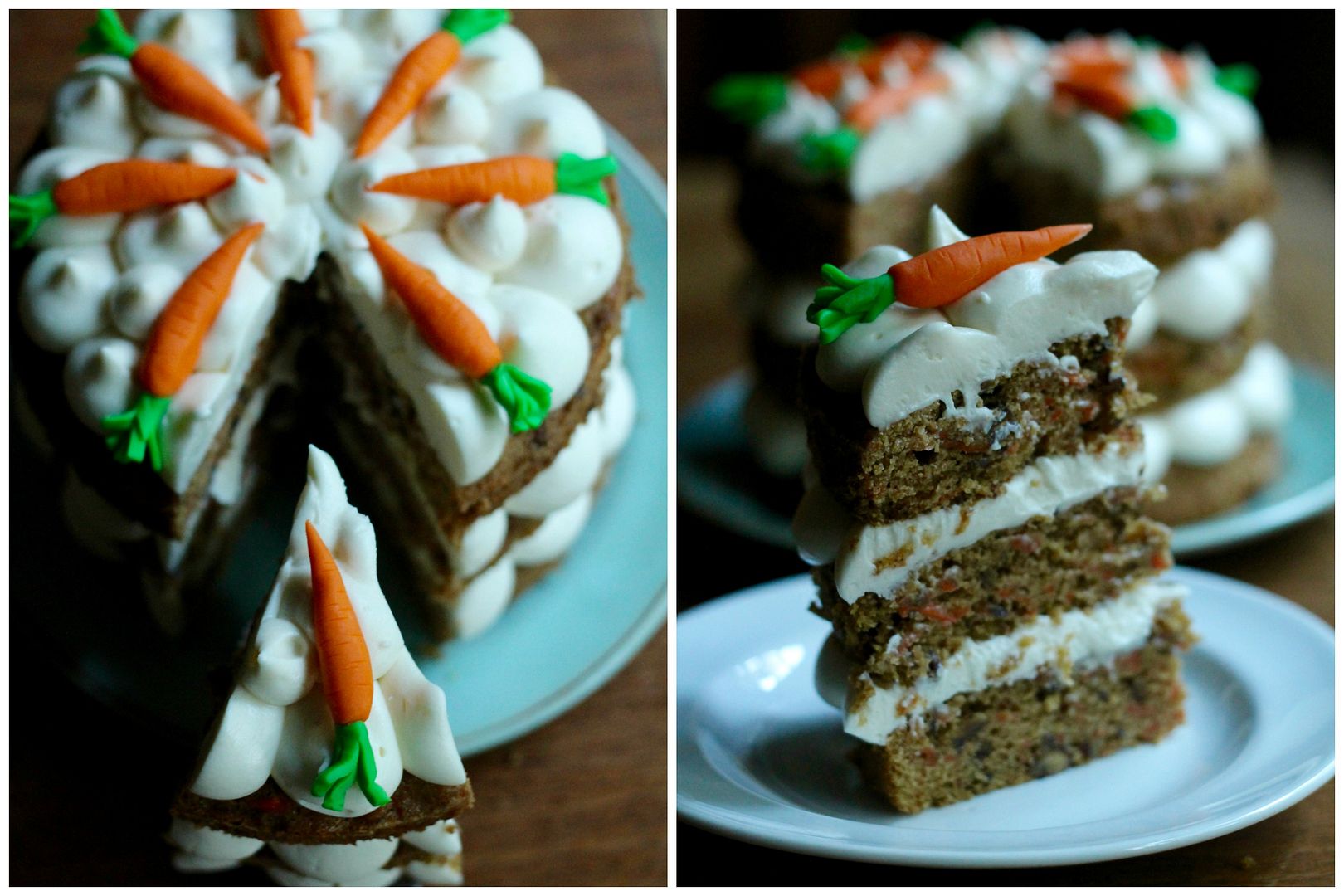 And speaking of cream cheese frosting: this one is particularly good. My track record with cream cheese frosting has been iffy, because I tend to shy away from confectioner's sugar-based frostings (except for this one), and cream cheese can be a tricky beast: it contains a fair amount of moisture, and it can become irreversibly runny if you over-beat it or look at it the wrong way. The method in this frosting recipe manages to combat (or at least minimize) the runniness issue, giving you a frosting that is thick and perky enough to pipe. I also added white chocolate, which is not only delicious with cream cheese but I have a feeling that it helps to stabilize the frosting.
All in all, both of these recipes would make a great wedding cake – sturdy and stackable cake layers, reliable and tasty cream cheese frosting – however the bride and groom ended up wanting their carrot cake "with stuff", and I'm a glutton for punishment so I made another (successful, this time!) attempt at Swiss meringue buttercream for the actual wedding cake. But that is a different story for a different post. In the meantime, I leave you with this perfectly lovely carrot cake "without stuff".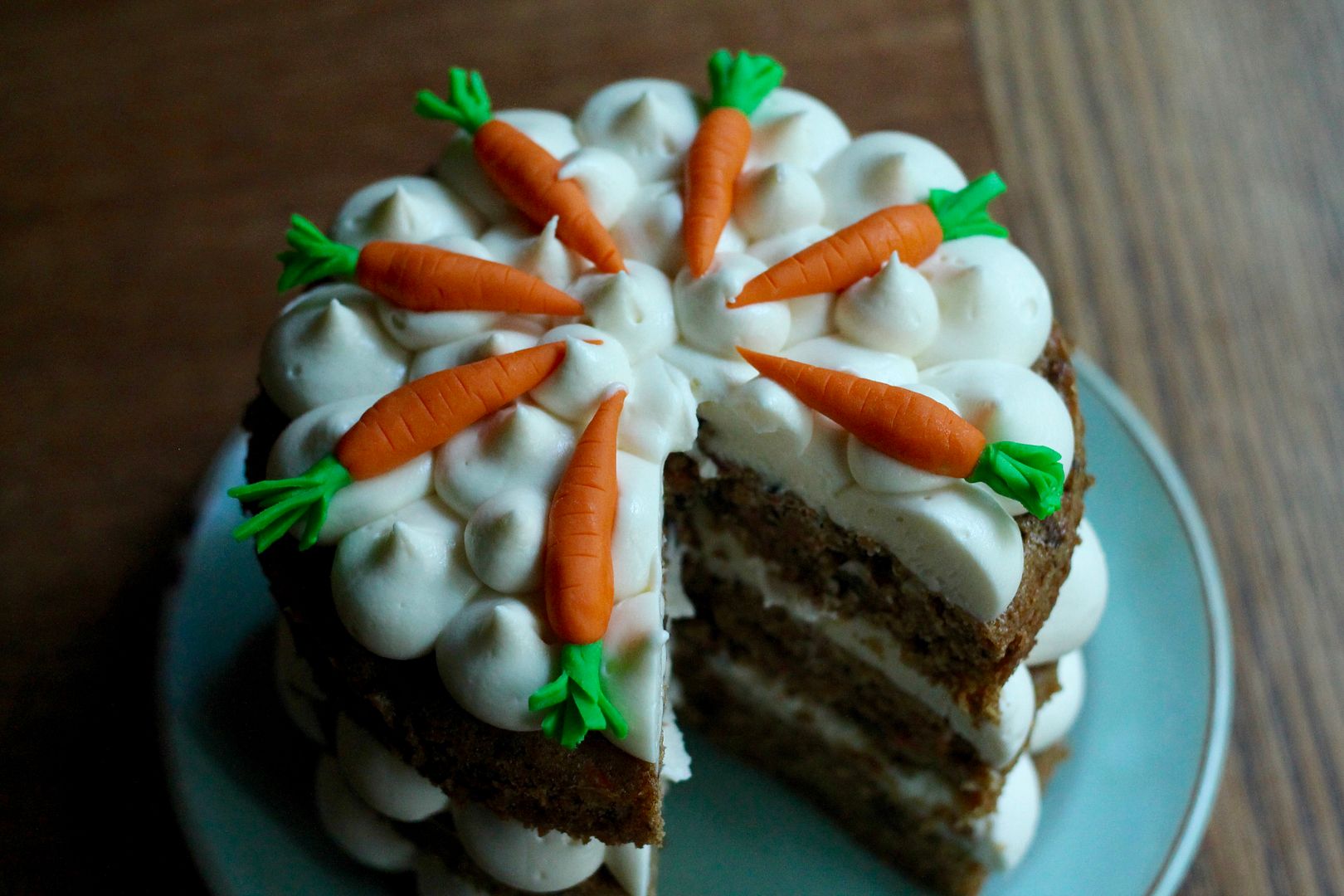 Martha Stewart's Carrot Cake
From Martha Stewart's Cakes. As written, this recipe makes one 9-inch triple layer cake – I halved the recipe to make the 6-inch cake pictured above.
Preheat the oven to 350˚F (325˚F convection). Butter and flour the sides of 3 x 9″ round cake pans and line the bottoms with parchment paper. Set aside.
In a bowl, whisk together:
2 1/2 cups all purpose flour
1 tsp baking powder
1 tsp baking soda
3/4 tsp coarse salt
1 tsp ground cinnamon
1/2 tsp ground ginger
1/4 tsp freshly grated nutmeg
Set aside.
In the bowl of an electric mixer fitted with the paddle attachment, cream together until very light and fluffy:
1 1/2 cups unsalted butter, soft
1 cup brown sugar
1/2 cup granulated white sugar
One at a time, beat in 3 eggs, beating well after each, until very light and creamy.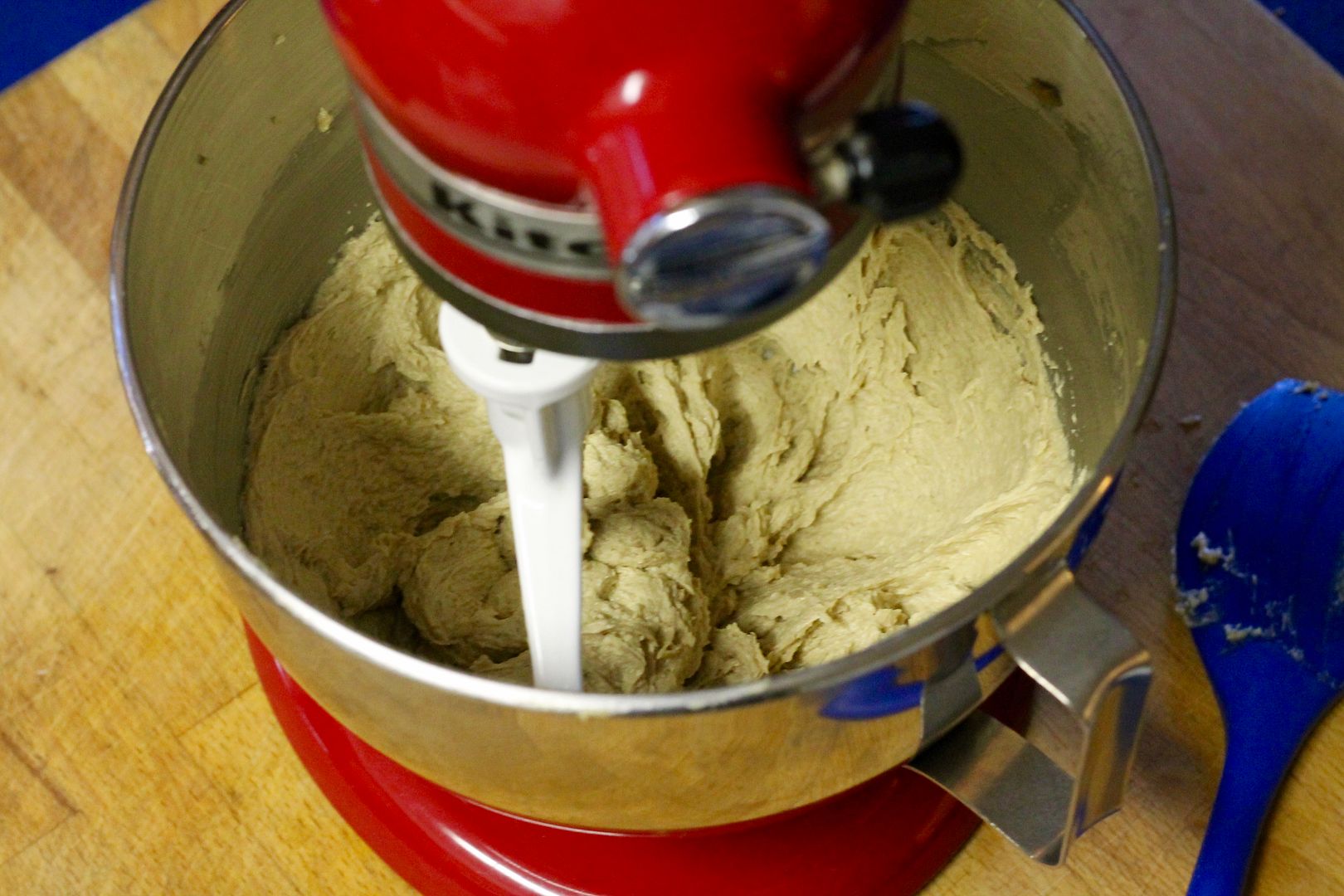 Add:
2 tsp vanilla
1/2 cup water
2 3/4 cup grated carrots (about 1 pound whole carrots before peeling and grating)
The mixture will curdle when you mix in the water and carrots – don't worry, just mix it as best you can and it will all work out when you add the dry ingredients.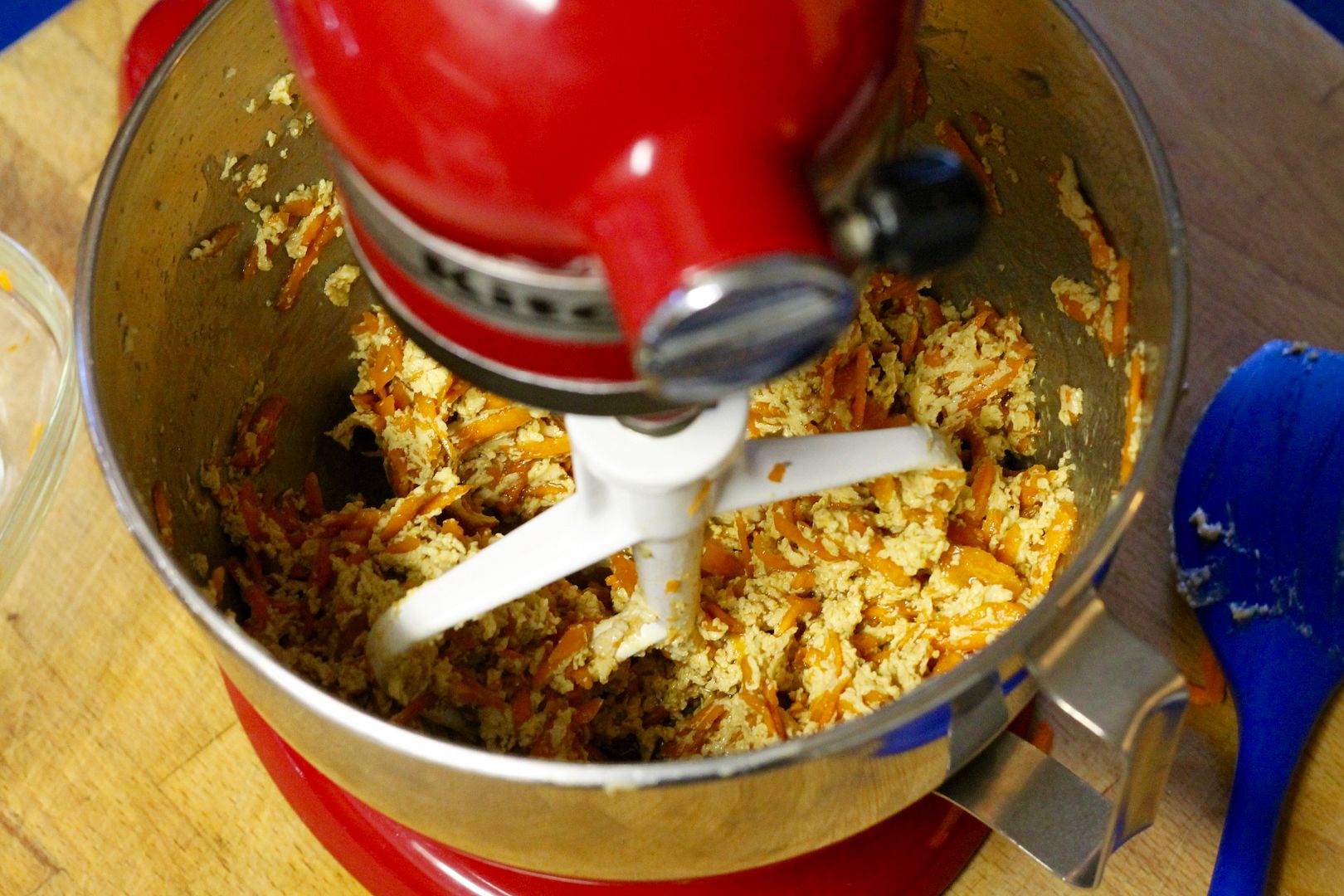 Reduce the mixer speed to low and stir in the flour-spice mixture along with 1 cup toasted pecans, finely chopped.
Divide the mixture evenly between the 3 prepared pans. Wrap the outside of the pans with a strip of wet towel to help insulate the cakes (this will make them bake perfectly level) and bake in the preheated 350˚F (325˚F convection) for about 30 minutes, rotating the pans halfway through baking.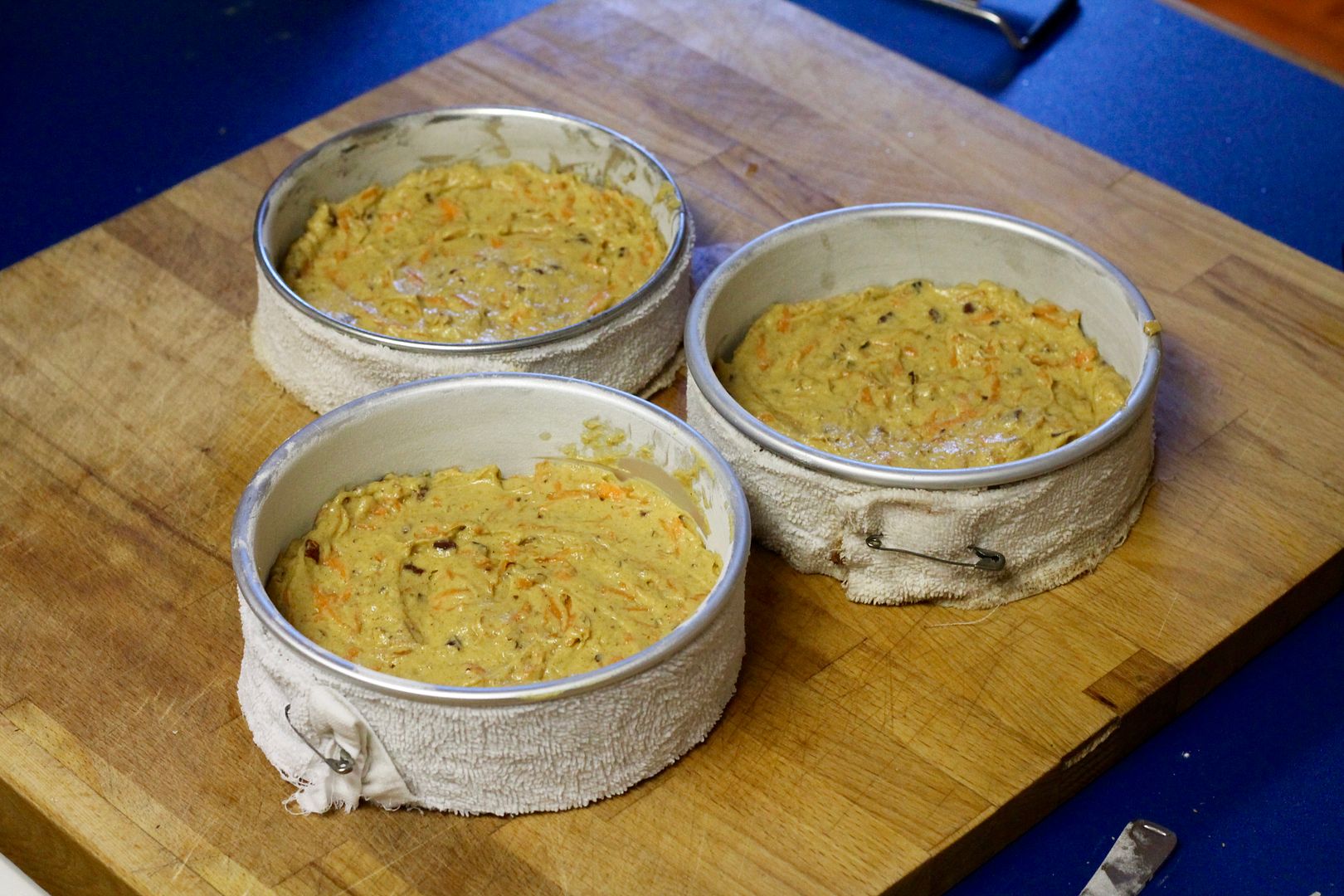 Cool on a wire rack in the pans for about 15 minutes, then run a knife around the edge and turn out of the pans. Cool completely on the rack.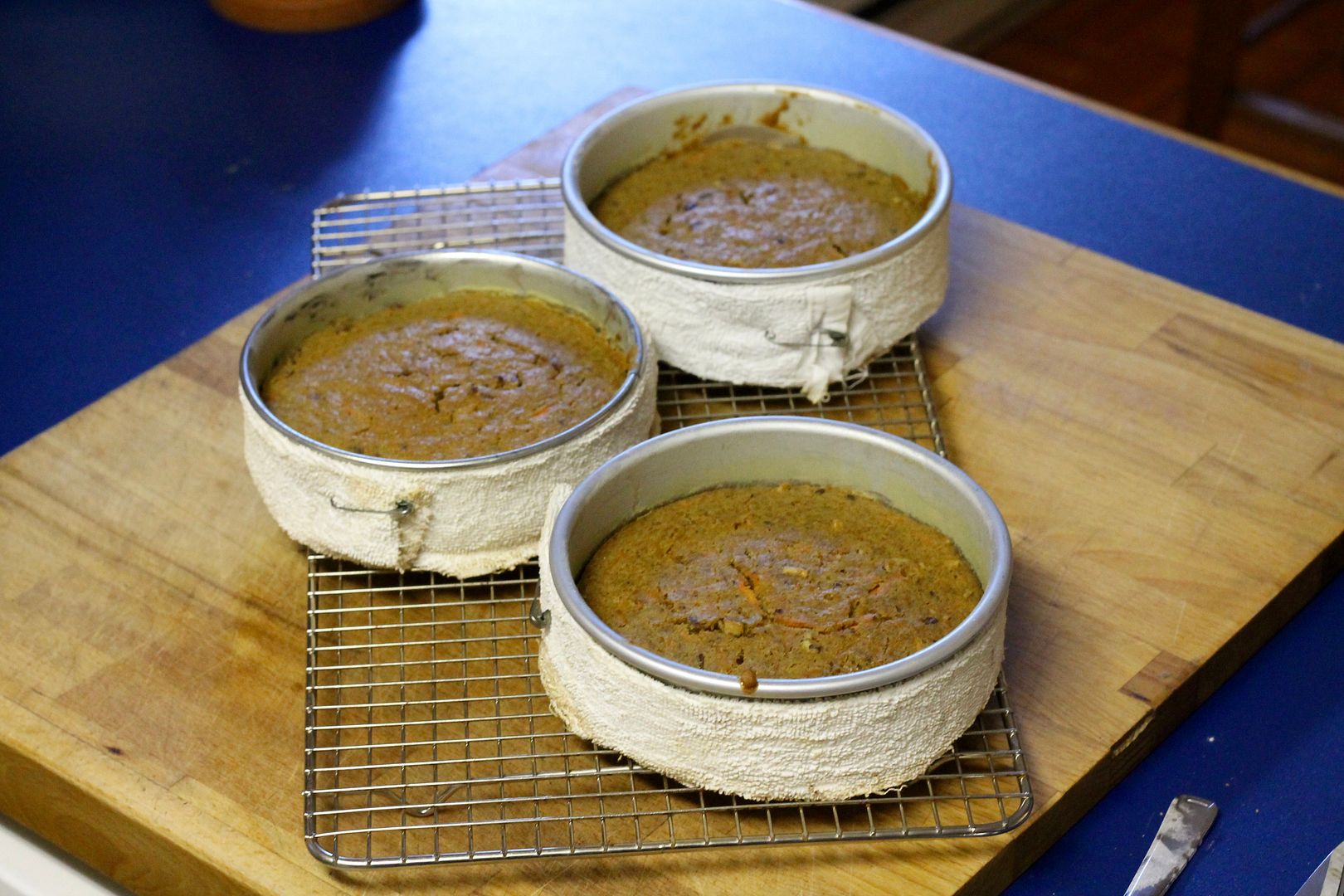 White Chocolate Cream Cheese Frosting
Method adapted from The Pink Whisk. I made the frosting recipe by weight and the volume measurements are approximate, so use them at your own risk. My best advice is to buy a scale!
In the bowl of an electric mixer with the paddle attachment, beat 140 g (2/3 cup) softened unsalted butter until light and creamy. Add 400 g (14 oz) cubed cold cream cheese and beat into the butter until just combined. Don't over-beat it, or the cream cheese can get too runny.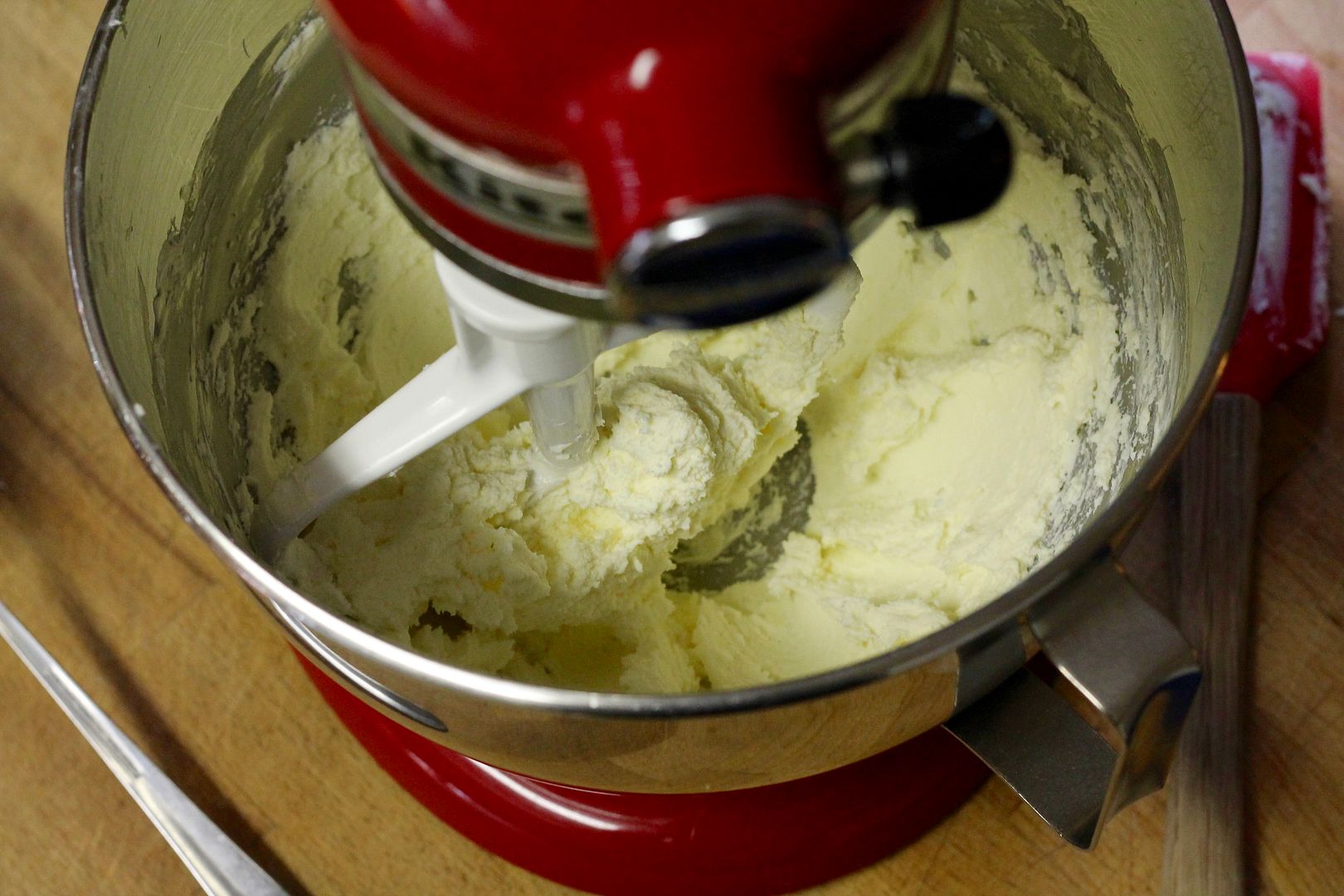 Mix in:
180 g (1 generous cup) melted white chocolate, cooled until it is not at all warm to the touch
pinch salt
1 tsp vanilla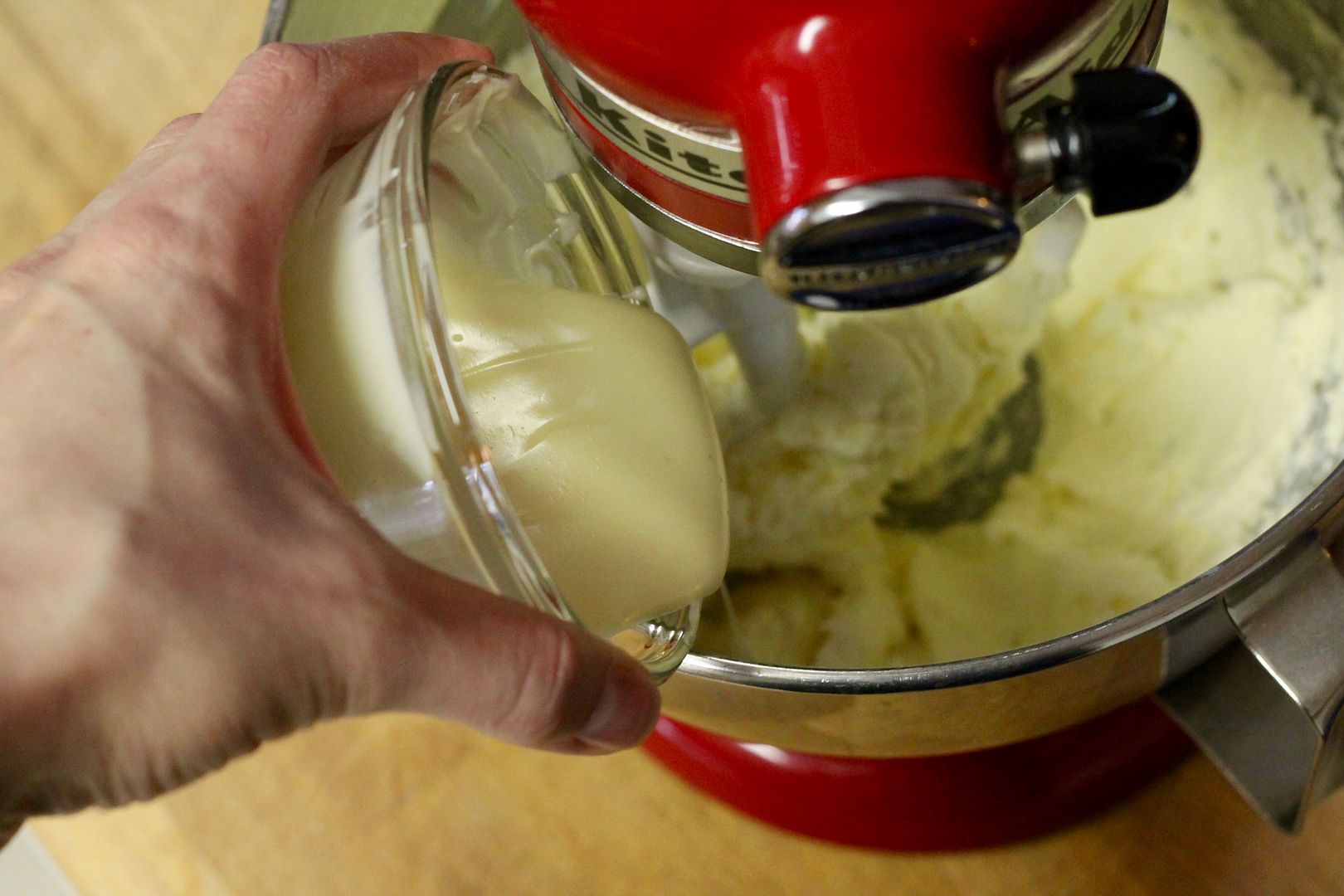 Finally, sift in 400 g (~3 1/2 cups before sifting) powdered sugar.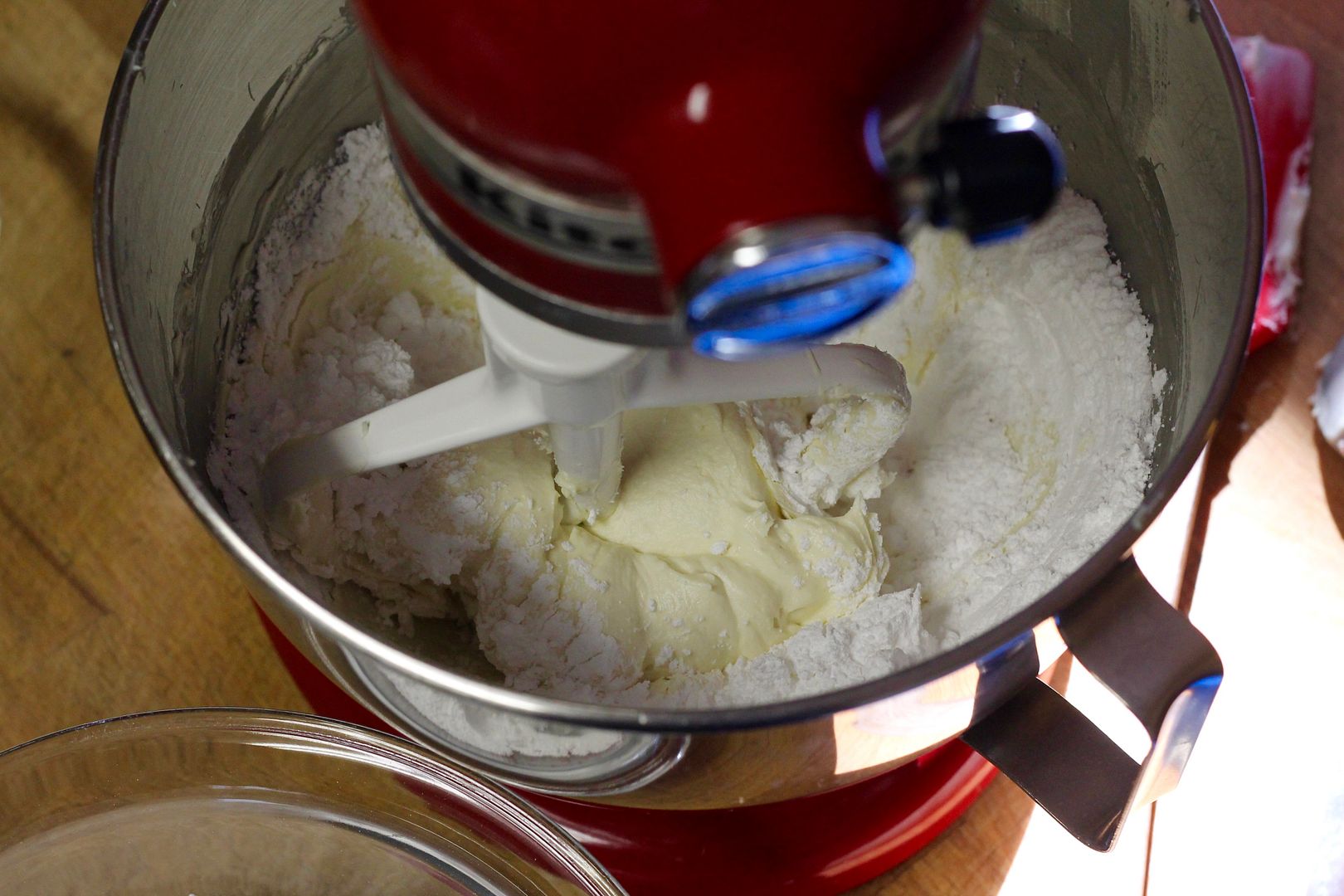 Beat briefly until creamy and pipeable.
Cake Assembly and Decoration
Scoop the frosting into a piping bag fitted with a large round tip (I just used the plain coupler). Place one of the cooled cake layers on a serving platter and pipe the frosting in large concentric dots to cover the surface of the cake.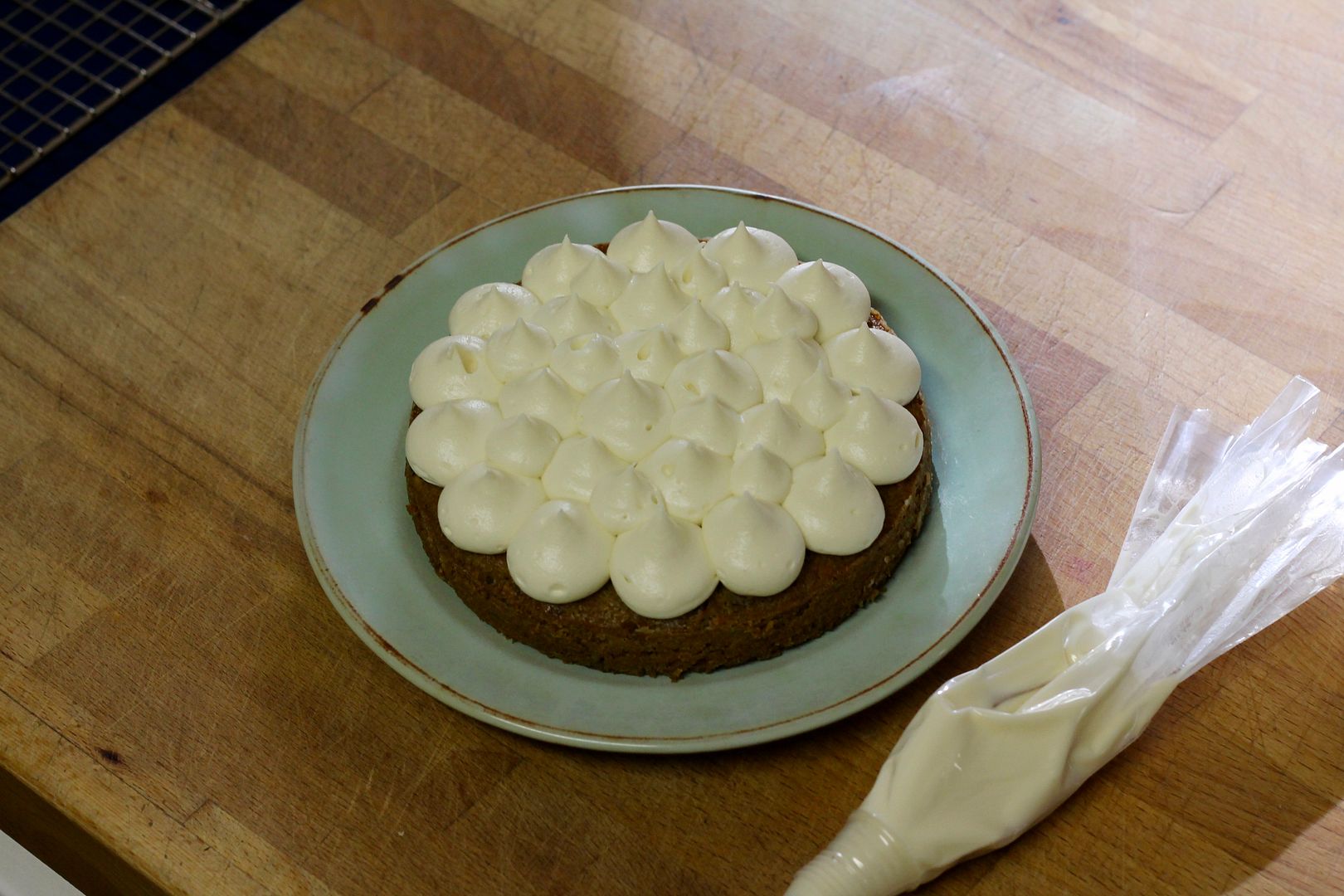 Top with the second layer and repeat.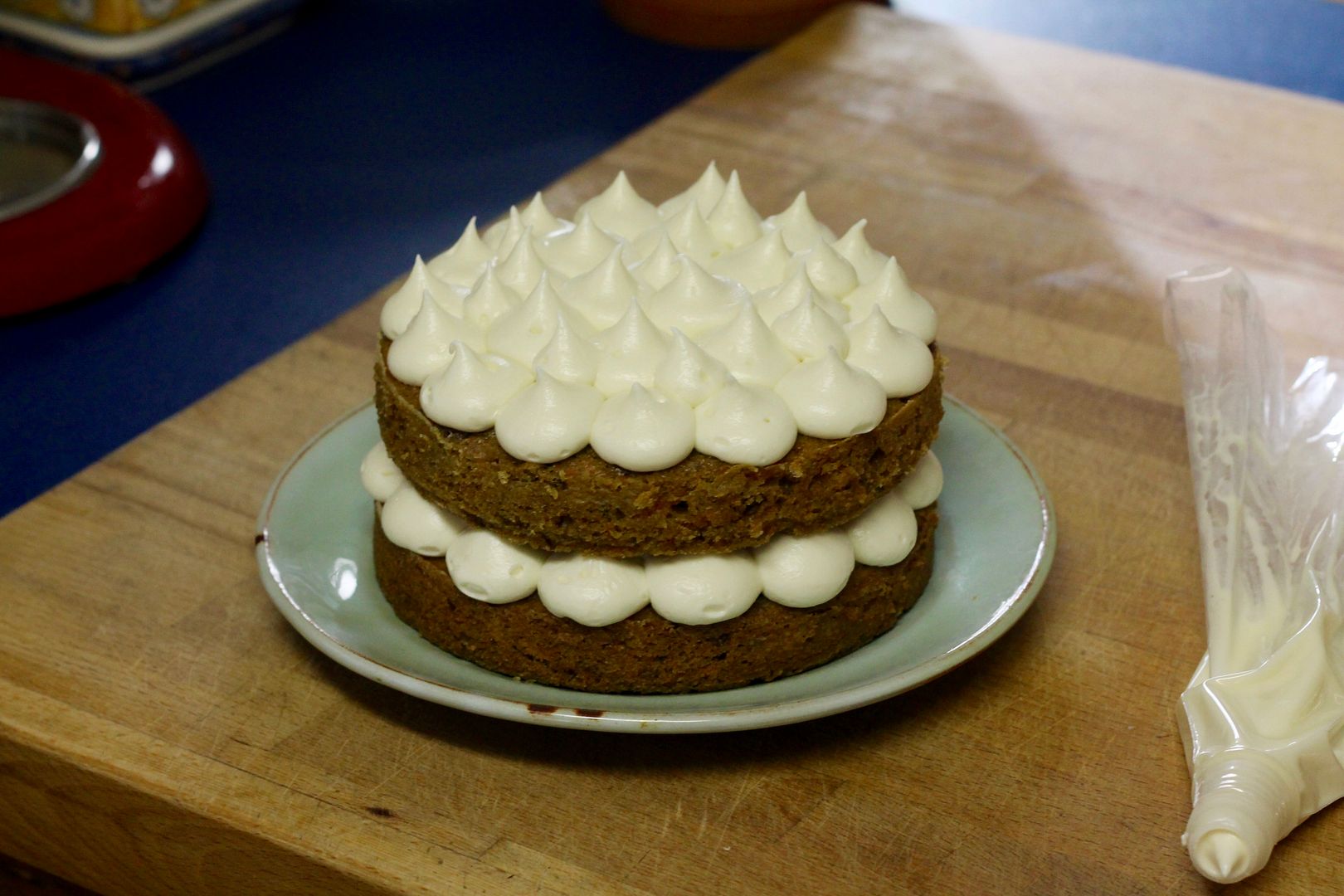 Top and repeat once more with the third layer. Make sure that the top of the cake is completely covered in frosting.
A carrot cake isn't complete without little carrot decorations. I used white modeling chocolate to make these little carrots, like so:
Tint one little chunk of white modeling chocolate green with food colouring, and a slightly larger chunk orange.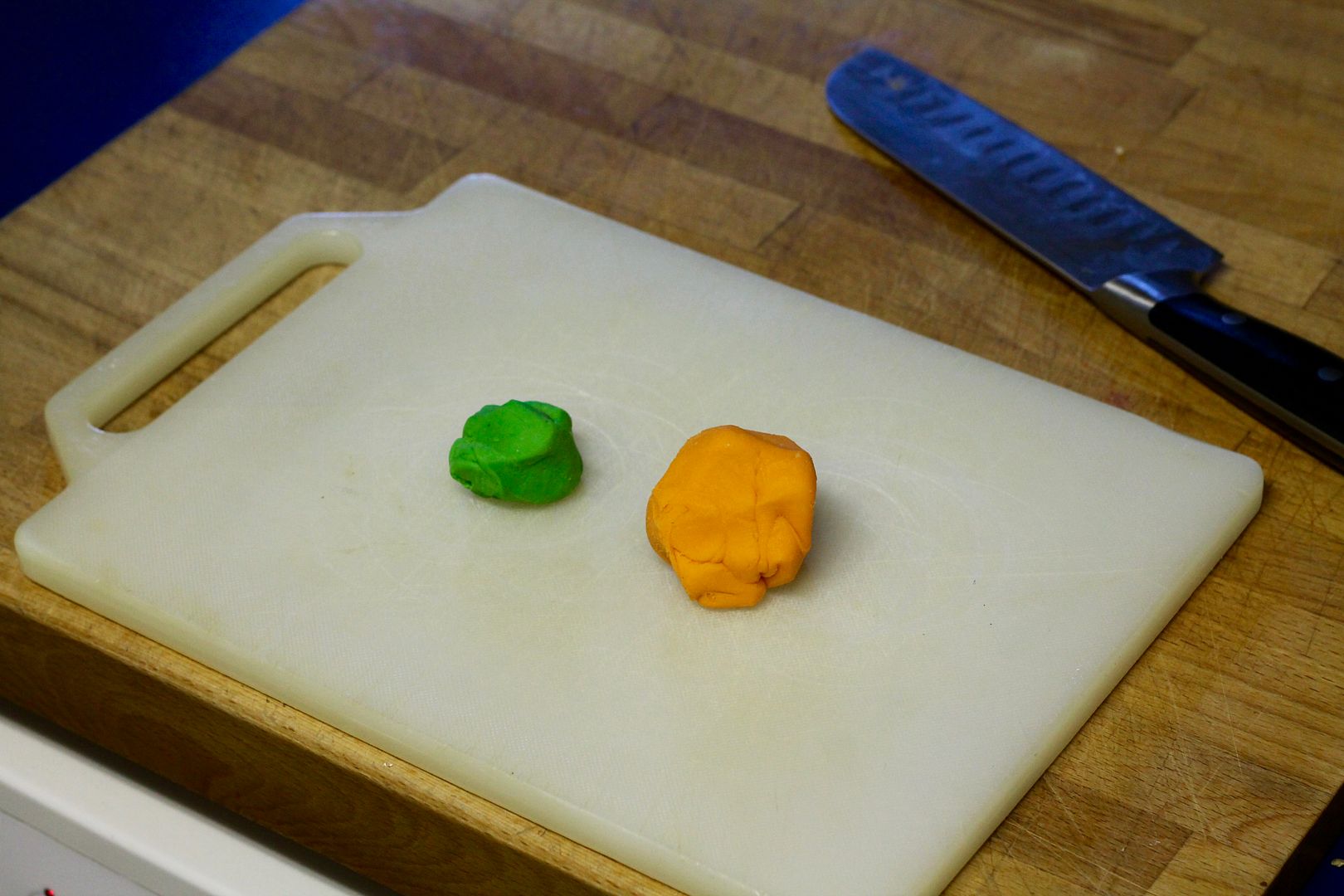 Divide the orange chunk into 8 little chunks and roll each one into a little log with a taper at one end. Use a paring knife to make wrinkle lines on each one.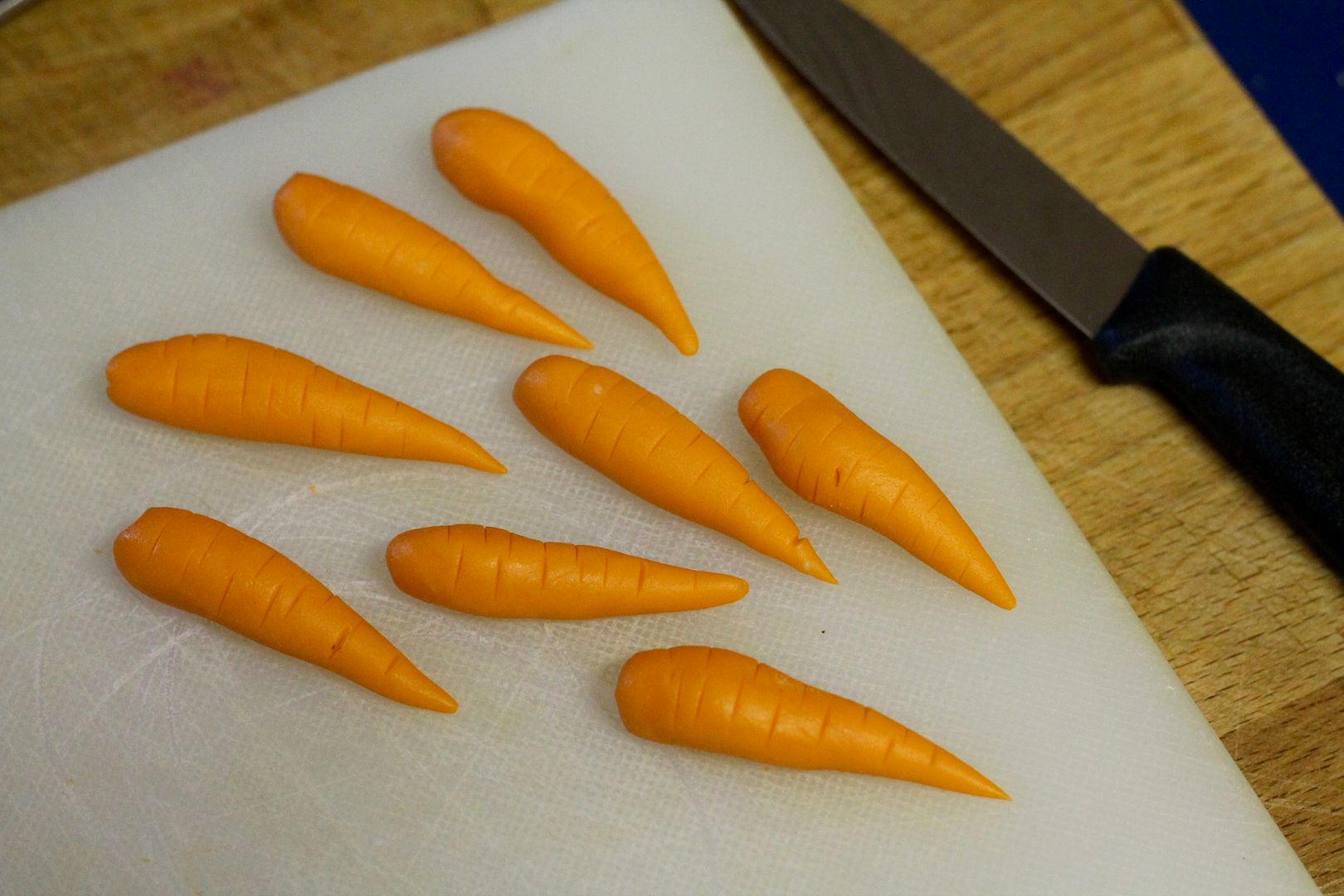 For the carrot tops, press a very small chunk of green modeling chocolate into a flat oval, then score it into a little fringe, leaving it all attached along one side.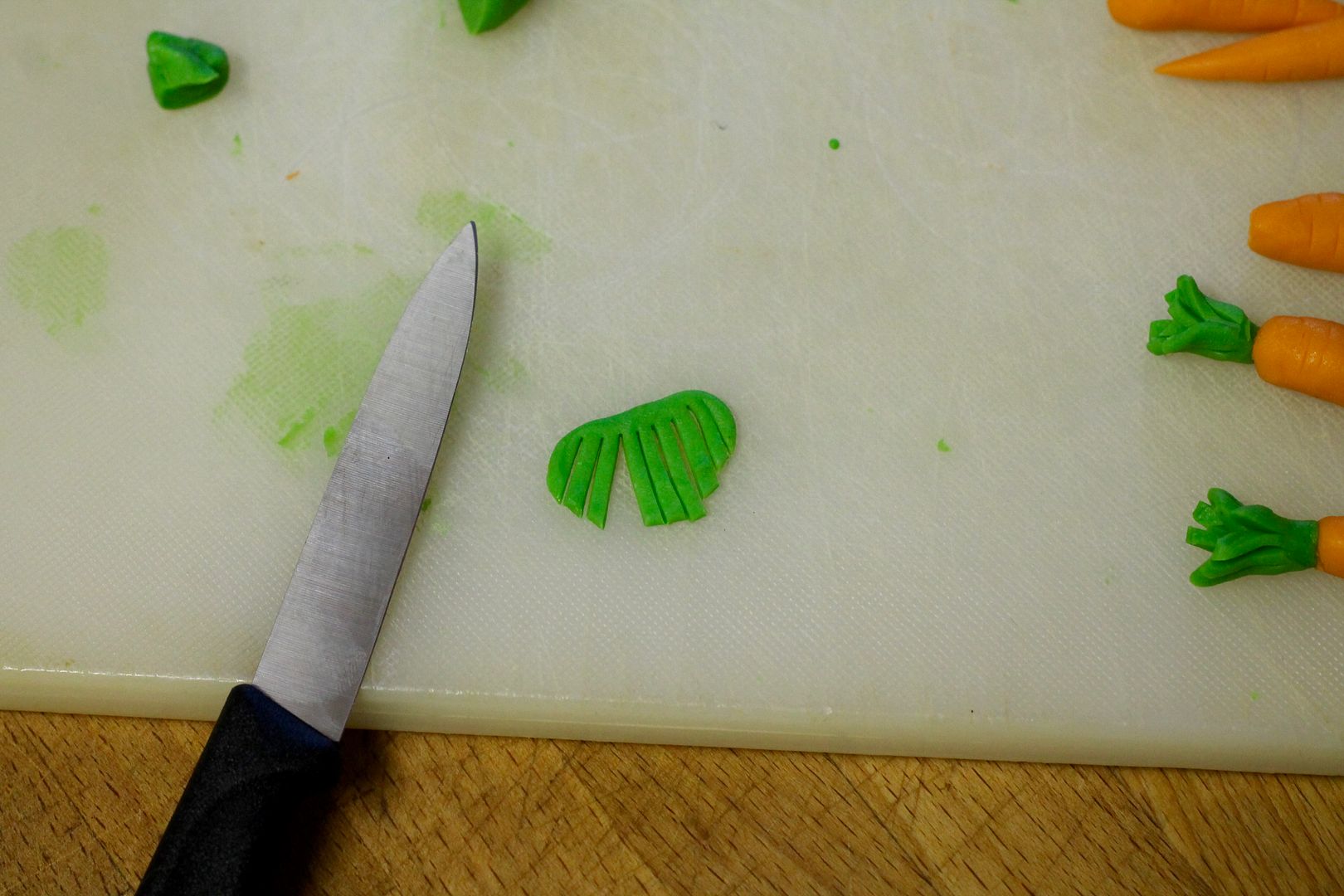 Roll up the fringe to make a sort of tassel.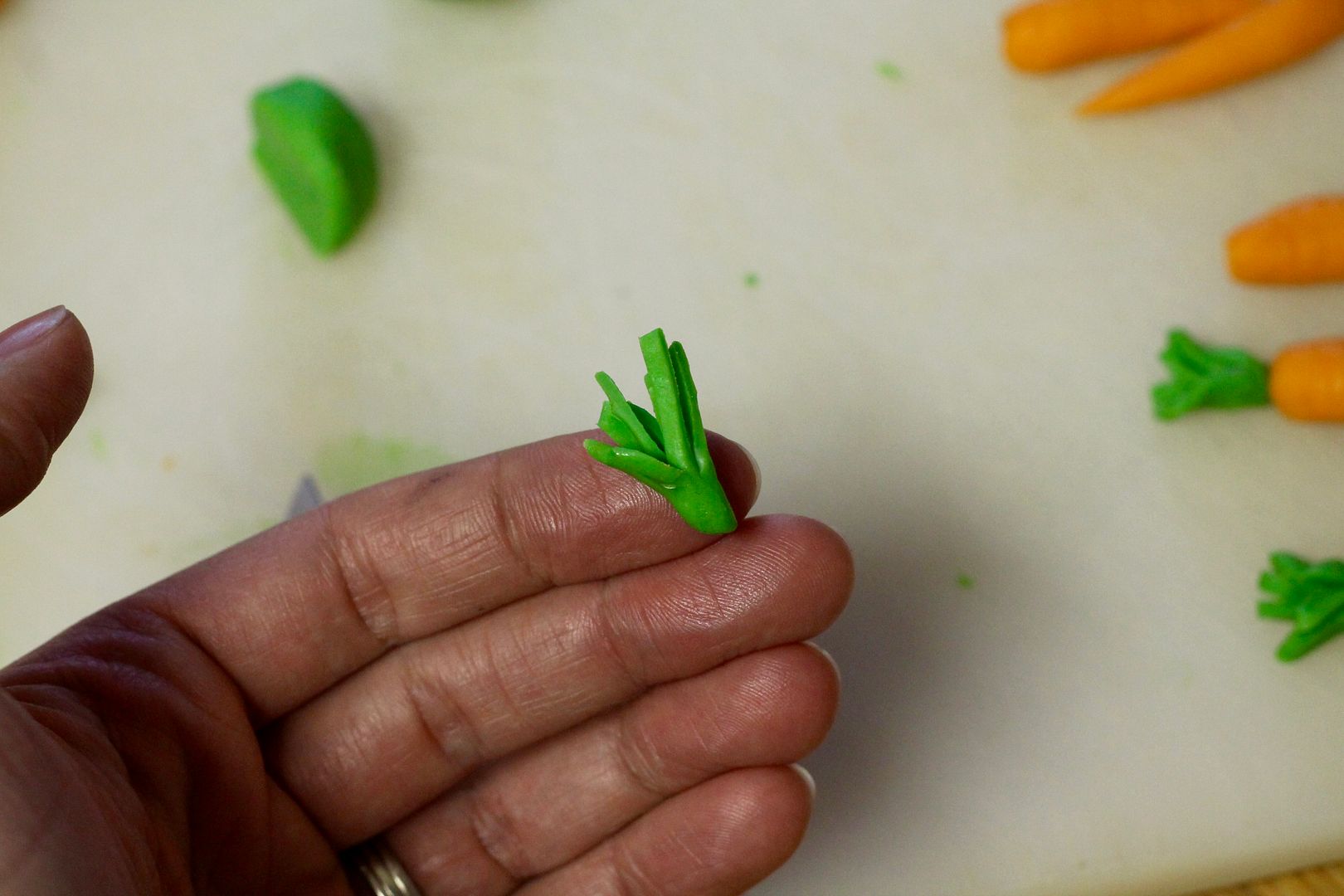 Use the tip of a paring knife to make a little divot in the non-tapered end of the carrot and insert the non-fringey end of the tassel. Press to secure, and splay out the carrot fronds if necessary.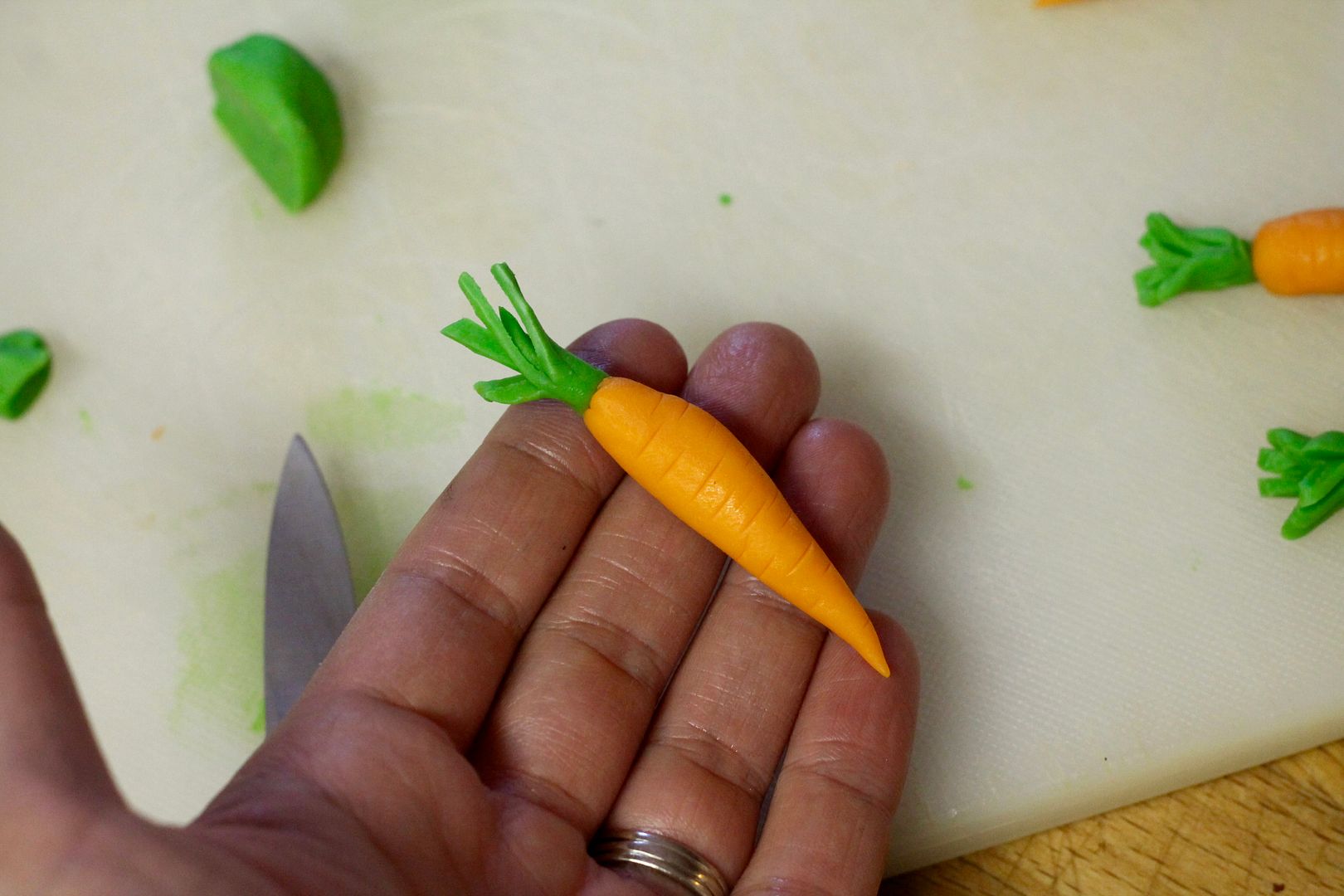 If the modeling chocolate gets too soft while you are working with it, just chill it for a few minutes.
Arrange the carrots on top of the cake, then chill the cake for at least an hour before serving.