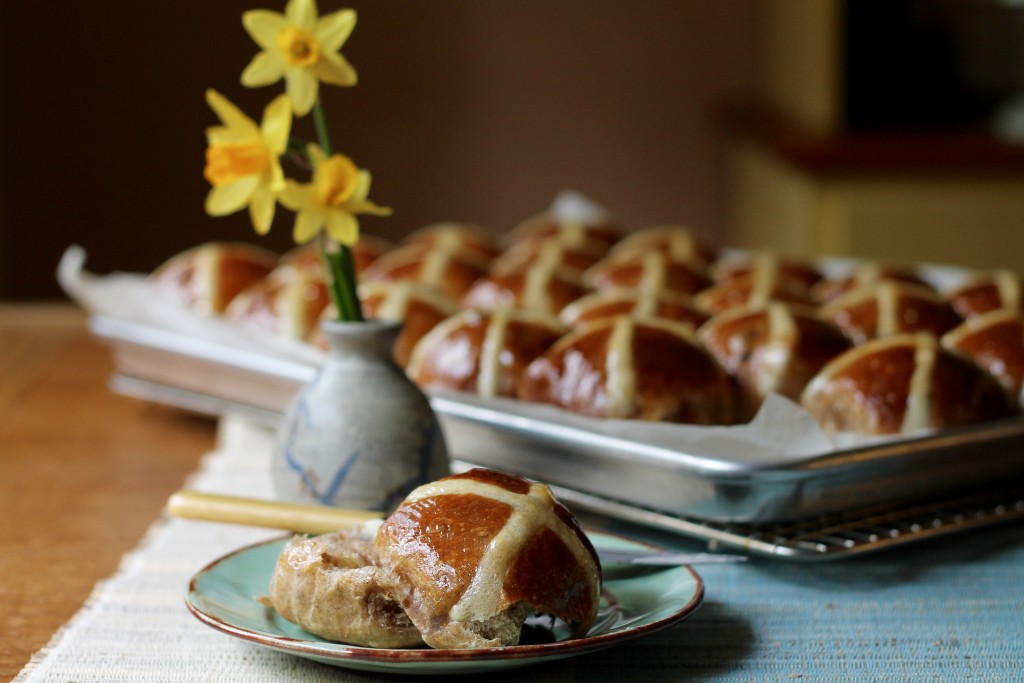 On the Saturday of Easter weekend, we painted our living room. Painting a room doesn't seem like a big job until you start, and then it becomes apparent just exactly how huge of an undertaking it really is – or rather, just how much prep work there is, what with all the buying of tools and prep and sanding and taping and cutting-in of edges before you even get to the actual painting. All this to say that by Saturday night, I was so exhausted I could barely see straight – yet somehow I still managed to be shaping spicy, citrusy, dried fruit-laden dough into hot cross buns at 11:30 at night, as one does when one doesn't think Easter is Easter without hot cross buns. So yes, like last year, we are talking about hot cross buns two weeks after the fact.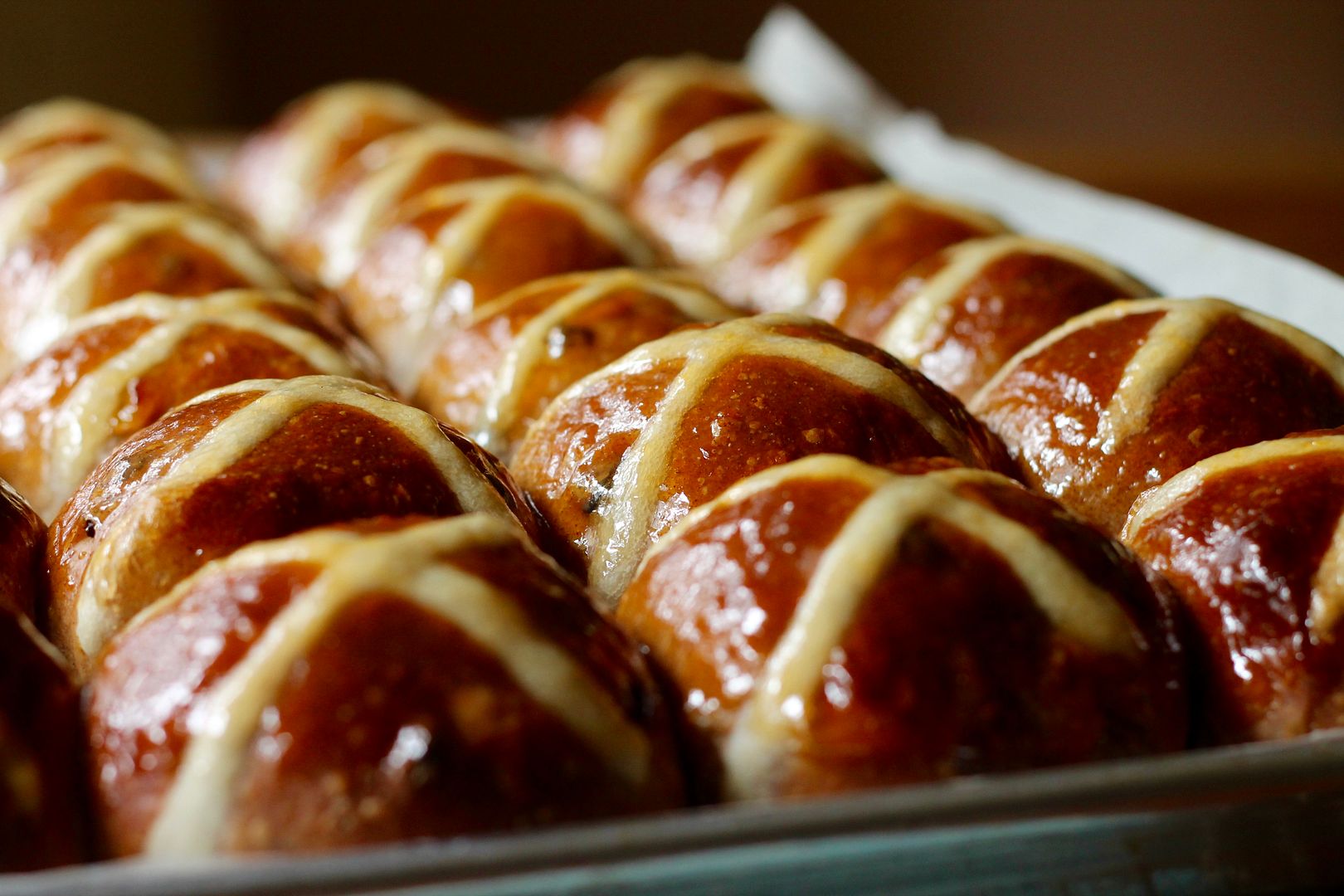 Previously, I've gotten pretty fancy with hot cross buns, however this year because of my aforementioned stupor, I kept these classic and simple. In fact, I revisited the very first hot cross buns I ever made, simplifying the process a little and making a full twenty-four buns, which is a lot of buns, even for someone who likes them as much as I do. This version can easily be made in a single day, or you can proof the shaped buns overnight somewhere cool and pop them in the oven in the morning for fresh hot cross buns for breakfast (this is what I did, hence the late-night bun shaping session). They contain grated lemon and orange zest rather than candied citrus peel, a hefty dose of cinnamon along with cloves, nutmeg, and cardamom, plus currants, golden raisins, and tart dried cherries. My favourite part is perhaps the sticky apricot glaze on top, which makes them very delicious and rather messy to eat. I hope you'll try them… next year!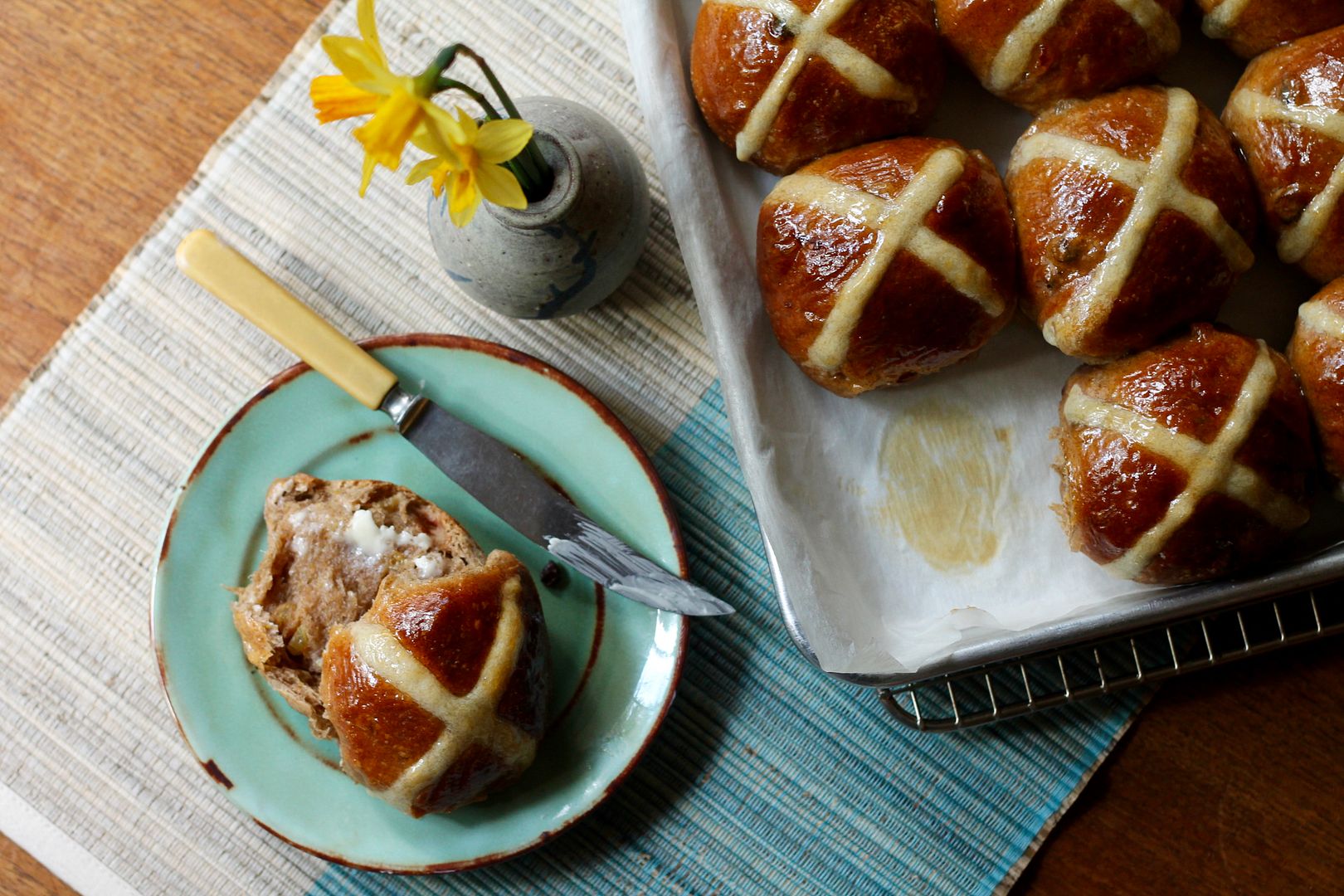 (The living room turned out great, by the way, only now we are a little afraid to put anything on the walls in case we ruin the paint job, so the room is a little bare-looking at the moment…)
Hot Cross Buns
Adapted from Martha Stewart. Makes 24 buns.
In a saucepan, combine:
1 cup whole milk
3/4 cup unsalted butter, cubed
Place over low heat until the butter melts and the mixture reaches about 110˚F. Pour it into the bowl of an electric mixer and stir in 4 1/2 tsp active dry yeast. Set aside for several minutes until the yeast blooms and becomes foamy.

Add:
1/2 cup granulated white sugar
4 large eggs, lightly beaten
grated zest of 1 lemon
grated zest of 1 orange

Stir with a whisk to combine, then switch to the dough hook attachment.
In a medium bowl, combine:
5 3/4 cups all purpose flour (make sure you spoon it into the cup and then level off the top with a knife when measuring)
3 tbsp cinnamon
1 1/2 tsp nutmeg
1/2 tsp cardamom
1/4 tsp ground cloves
Gradually mix the flour into the yeast mixture on low speed, scraping down the side of the bowl as necessary, until you have a soft, sticky dough. Turn off the mixture and let the dough autolyse for about 20 minutes – essentially, this will help activate the gluten.

After the autolyse, add 1 tbsp coarse salt to the dough and knead for about 5 minutes on medium speed until smooth and elastic. Knead in:
1/2 cup currants
1/2 cup chopped tart dried cherries
1/2 cup golden raisins


Turn the dough out onto an unfloured surface and fully knead the dried fruit in by hand. Shape it into a ball, place it in a large bowl, and cover with plastic. Place the dough in a warm place (a cold oven with a bowl of hot water is a good spot) and let rise until doubled in size, about an hour and a half.

Turn the dough out of the bowl and divide into 24 equal portions (about 75 g each), shaping each portion into a ball. Arrange the balls of dough on a parchment paper-lined baking sheet (18″ x 13″) about 1 inch apart, cover loosely with plastic wrap, and let rise somewhere warm until the buns are touching and doubled in size, about 1 1/2 to 2 hours. Alternatively, you can put them in a cool place (ie, the fridge) and let rise overnight (you may need to let them finish rising fully in a warm place for a bit though).

While the buns rise, mix together the cross paste. In a medium bowl, whisk together:
1/2 cup flour
1 tbsp vegetable oil
pinch salt
1/4 cup water
The mixture should be like thick pancake batter – add a splash or two of water if it is too thick. Let rest for about an hour to relax and become more pipeable.
Preheat the oven to 375˚F (350˚F convection). Put the cross paste in a piping bag, cut off the tip, and pipe thin Xs on top of the risen buns. Bake the buns for 18-25 minutes, until golden brown.

Meanwhile, heat 1/2 cup apricot jam in a small pot over medium heat until it boils. Press through a sieve, then brush over the baked buns while they are still hot.

Transfer the buns to a cooling rack and serve warm or at room temperature. Buns keep for several days in an airtight container, or can be frozen – revive them by splitting and toasting.