This post is two days late for International Waffle Day, and is not exactly your traditional Easter Sunday fodder (Happy Easter! Hot cross buns forthcoming!), however today is Daring Kitchen reveal day, and I've been waiting to share these babies for weeks. This month, the Daring Kitchen made stroopwafels, a sweet treat of Dutch origin in which a waffle cookie ("wafel") is sandwiched together with buttery caramel syrup ("stroop"). Honestly, with a concept like that you can't possibly go wrong, however if I didn't already have such a soft spot for Dutch baked goods (see: plain and gevulde speculaas, peperkoek, and schichttorte), I might have let this challenge pass me by, because stroopwafels require the use of a rather specific piece appliance that I do not own and didn't really want to purchase: a waffle cookie iron or pizzelle iron. But, having been introduced to exactly how delicious stroopwafels are by my half-Dutch friend Lynette, I made the effort to take a ferry to Salt Spring Island to borrow a waffle cookie iron from her dad just so that I could make them myself!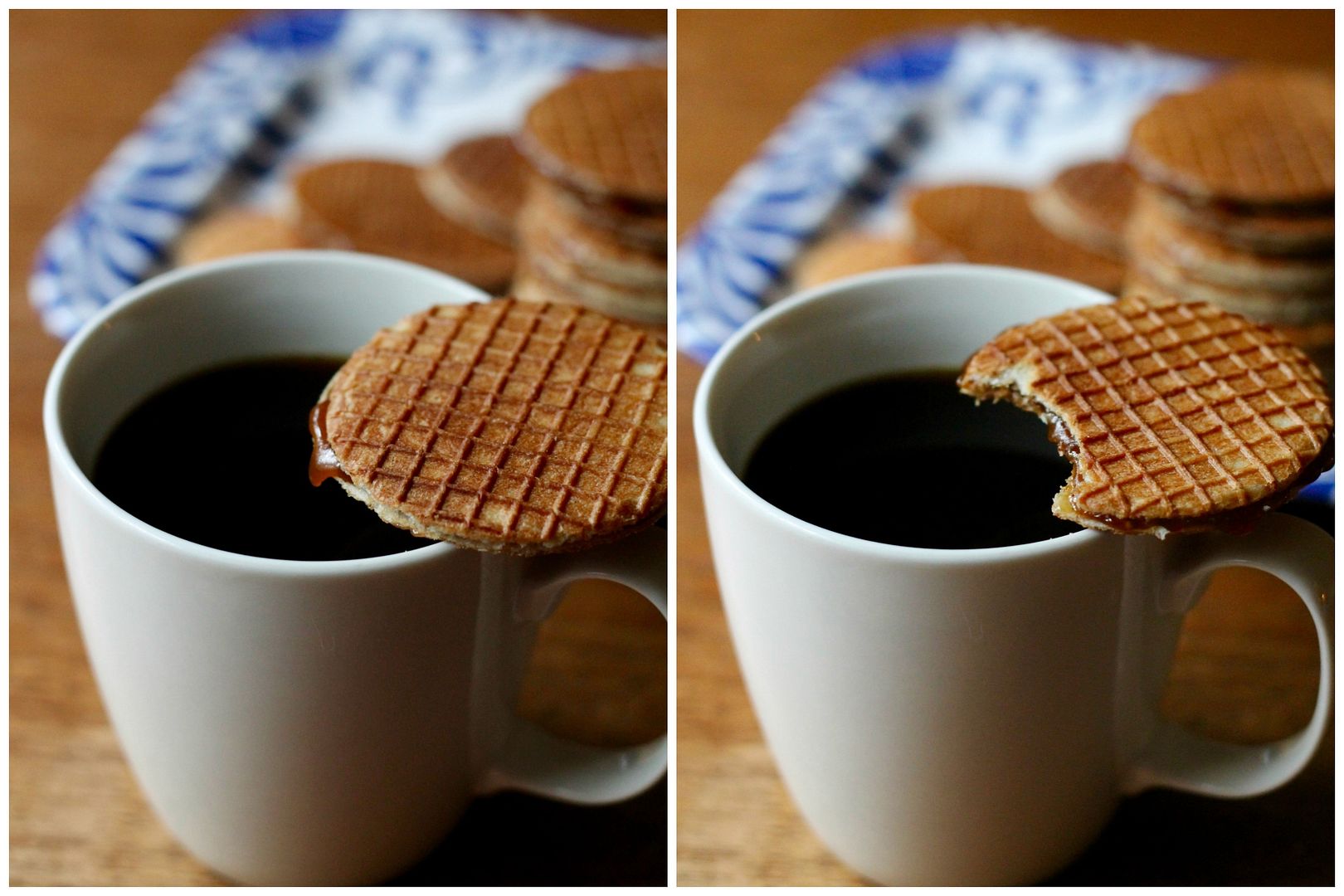 Stroopwafels can be crisp and chewy or soft and gooey, depending on whether you eat them warm or cool. If you prefer them warm and gooey, the best way to warm a cooled stroopwafel is to set the cookie over top of a steaming mug of coffee to let the heat soften the stroop. There's no getting around the fact that these cookies are SWEET, so they go very nicely with coffee – sort of like coffee and doughnuts, only more European.
Making stroopwafels is a bit of a production but it's worth every buttery, gooey, syrupy minute. You first cook a yeasted dough in the waffle cookie/pizzelle iron to get a thin cookie that is deep golden brown on both sides, then while it is still warm, you cut off the edges with a round cookie cutter and split it in half. You slather on a buttery, homemade, cinnamon-spiked caramel syrup, sandwich it back together, and then you dig in and proceed to get the sticky syrup all over yourself. The stroop is exactly like the caramel that you'd expect to find on the very best sticky bun. Like I said though: totally worth it. I departed a little bit from tradition by letting the yeasted dough ferment overnight in the fridge to develop maximum flavour, and I also added a little maple syrup to the stroop – because these are Canadian stroopwafels 😉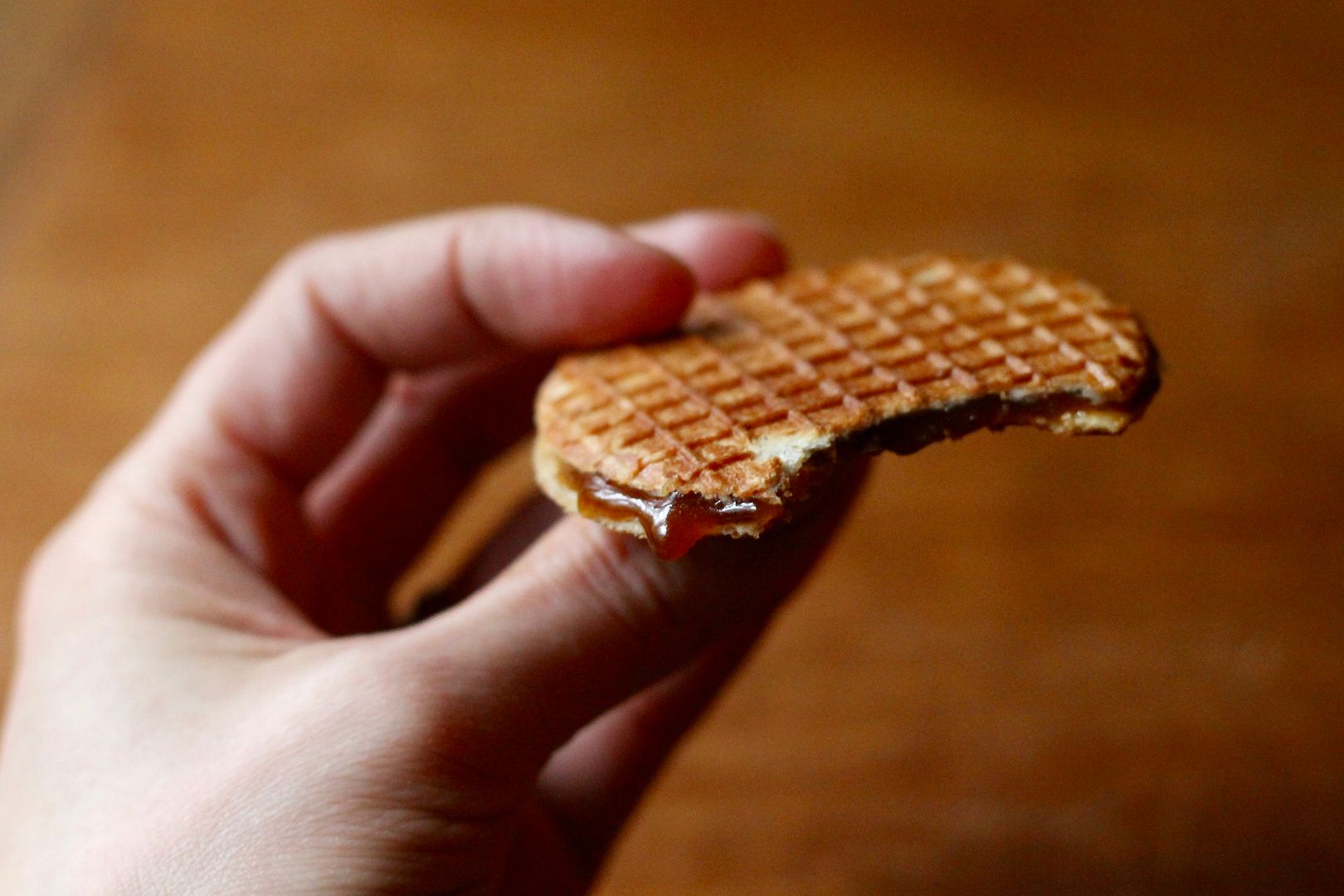 Maple Stroopwafels
Adapted from Diana's Desserts. Yield depends on the size of your waffle iron – I made 46 x 2″ cookies.
Dough
In the bowl of an electric mixer, combine:
120 ml (1/2 cup) warm water (about 105-100˚C)
7 g (2 1/4 tsp) active dry yeast
Let the yeast proof for several minutes, until foamy.

With the paddle attachment, mix in:
100 g (1/2 cup) granulated white sugar
226 g (1 cup) melted unsalted butter
2 large eggs

In a separate bowl, combine:
500 g (4 cups) all purpose flour
1/2 – 1 tsp cinnamon
pinch salt
Slowly stir the flour mixture into the butter-yeast mixture, scraping down the sides of the bowl as necessary, until well combined. The mixture should be more like a soft cookie dough than bread dough.

Cover the dough with plastic wrap. At this point, you can either refrigerate the dough overnight to ferment and develop flavour, or if you're in a hurry for stroopwafels, you can let it rise at room temperature for about 45 minutes while you make the stroop, then continue.
Maple Stroop
In a medium size, heavy bottom pot, combine:
300 g (1 1/2 cups, packed) brown sugar
225 g (1 cup) unsalted butter
80 ml (1/3 cup) dark maple syrup (the darker the colour, the more flavourful it is)
1 tsp lemon juice
big pinch salt
Place the pot over low heat and allow the butter and sugar to melt, stirring as needed. Once they have melted and the mixture is smooth, turn up the heat slightly to medium-low and bring to a boil without stirring. Attach a candy thermometer to the side of the pot and continue to boil the mixture without stirring until it reaches 234-240°F (112-115°C), aka soft ball stage. Remove the pot from the stove and set the stroop aside cool and thicken slightly while you make the waffles.
Assembly
Preheat your waffle iron or pizzelle iron. Meanwhile portion your dough into about 46 x 22 g balls for 2″ cookies, or about 24 x 42 g balls for larger ones.

When your waffle iron is ready, put a ball of dough in each little waffle compartment and close the lid. With the mini waffle cone maker that I used, I found that cooking only 2 at a time gave me the best results, and I had to off-set the placement of the dough to compensate for the fact that they would get squished outwards when I pressed the lid down.
Cook the dough for 1-3 minutes, depending on your iron, or until the waffles are a deep, golden brown. There will be lots of sizzling butter coming from the dough, and the steam coming out of the iron should decrease when the cookies are ready. Mine took about 90 seconds, but I found the best way to gauge their doneness was to watch the edges until they were just pale golden.

Remove the cookies from the iron as soon as they are cooked and let them cool for about 10 seconds – just long enough to put some more dough into the iron and close the lid. Now, while the cookie is still warm, use a round cookie cutter to cut off the edges, then with a knife, slice each cookie in half horizontally. You have to press pretty hard with the cookie cutter, so I used a silicon pot trivet to protect my palm from the metal cookie cutter.

Spread the inside of one half of each cookie with a generous dollop of stroop, and sandwich it with the other cookie. You can either do this immediately after splitting each cookie, or you can cut and split them all first, and then fill them later. If you're not eating them immediately, allow to set at room temperature before storing in an airtight container for up to a week.