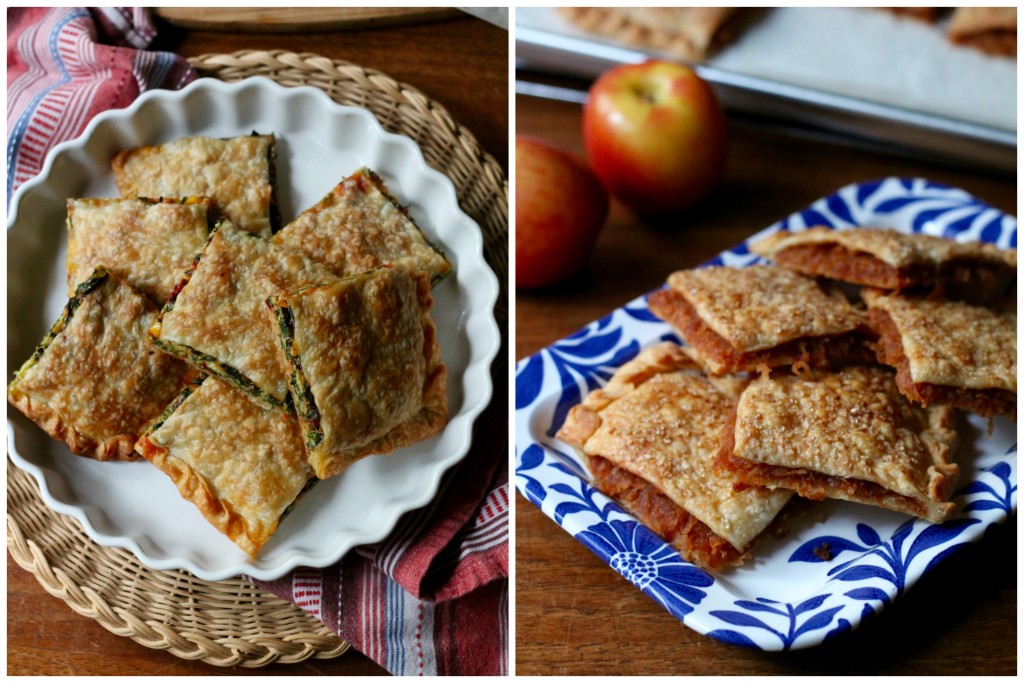 I've made a lot of different kinds of flaky pastry, and this month with the Daring Kitchen challenge, I made yet another. This version, shared by Milkica of Mimi's Kingdom, comes from Serbia where it is used to make a dish called katmer pie. The pastry for katmer pie falls into the same sort of category as phyllo or strudel: thin sheets of dough brushed with butter, wrapped around a sweet or savoury filling.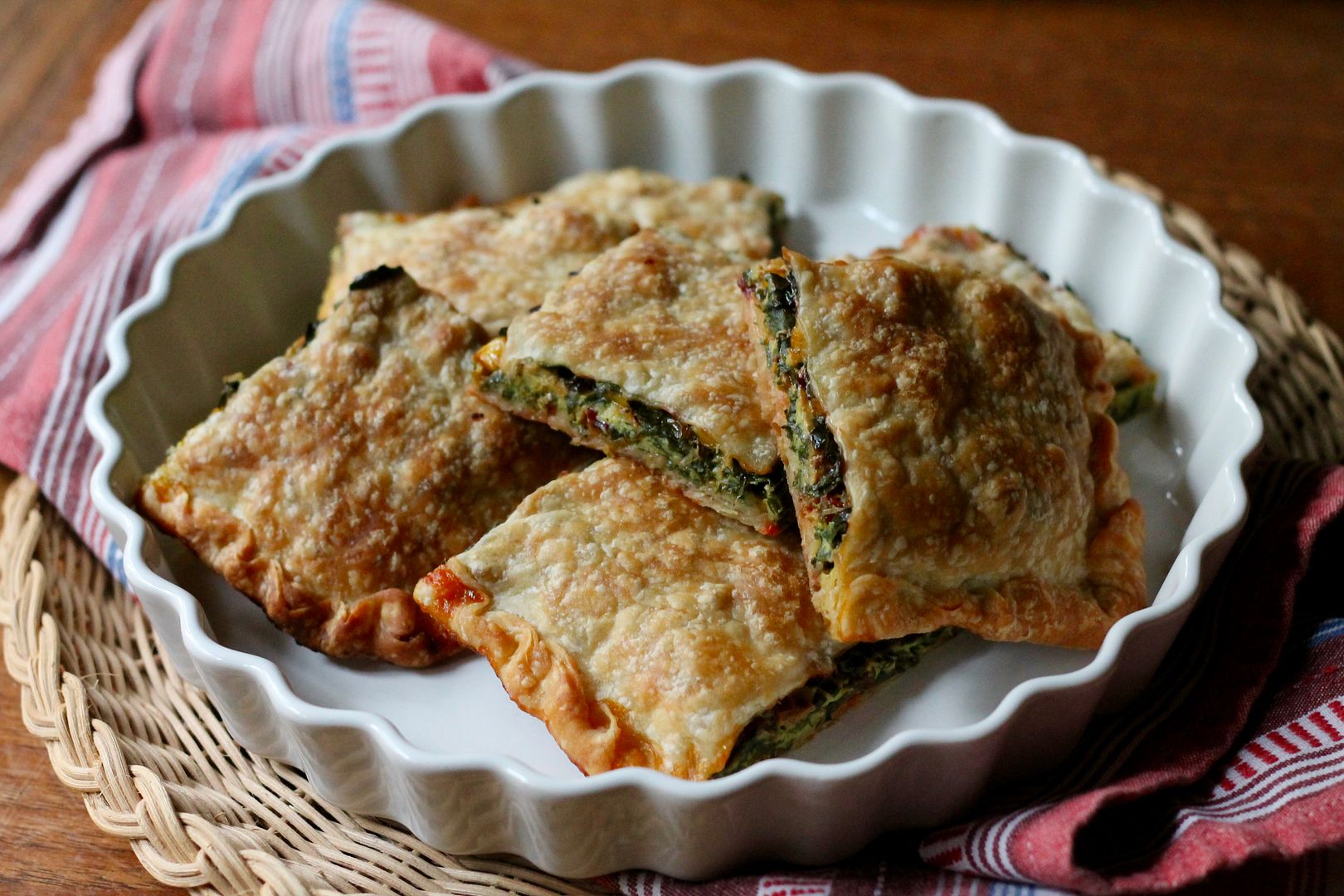 What makes katmer pie unique is the way in which the pastry is made. Of all layered pastry varieties that I've attempted, this is perhaps the easiest and quickest: there is no chilling required, no enclosing a block of butter between sheets of dough, no repeated rolling and folding, no rolling and stretching the dough to an impossibly large size. You first stack three round sheets of a simple flour-water dough, brushing each with butter (or, if you're being a stickler for authenticity, lard), then cut eight "petals" around the edge of the circle and fold each into the middle, giving you twenty-seven layers. You roll out the dough nice and thin and use it to surround your filling. It bakes up flaky, crispy, and crunchy, and makes the perfect hand-held snack.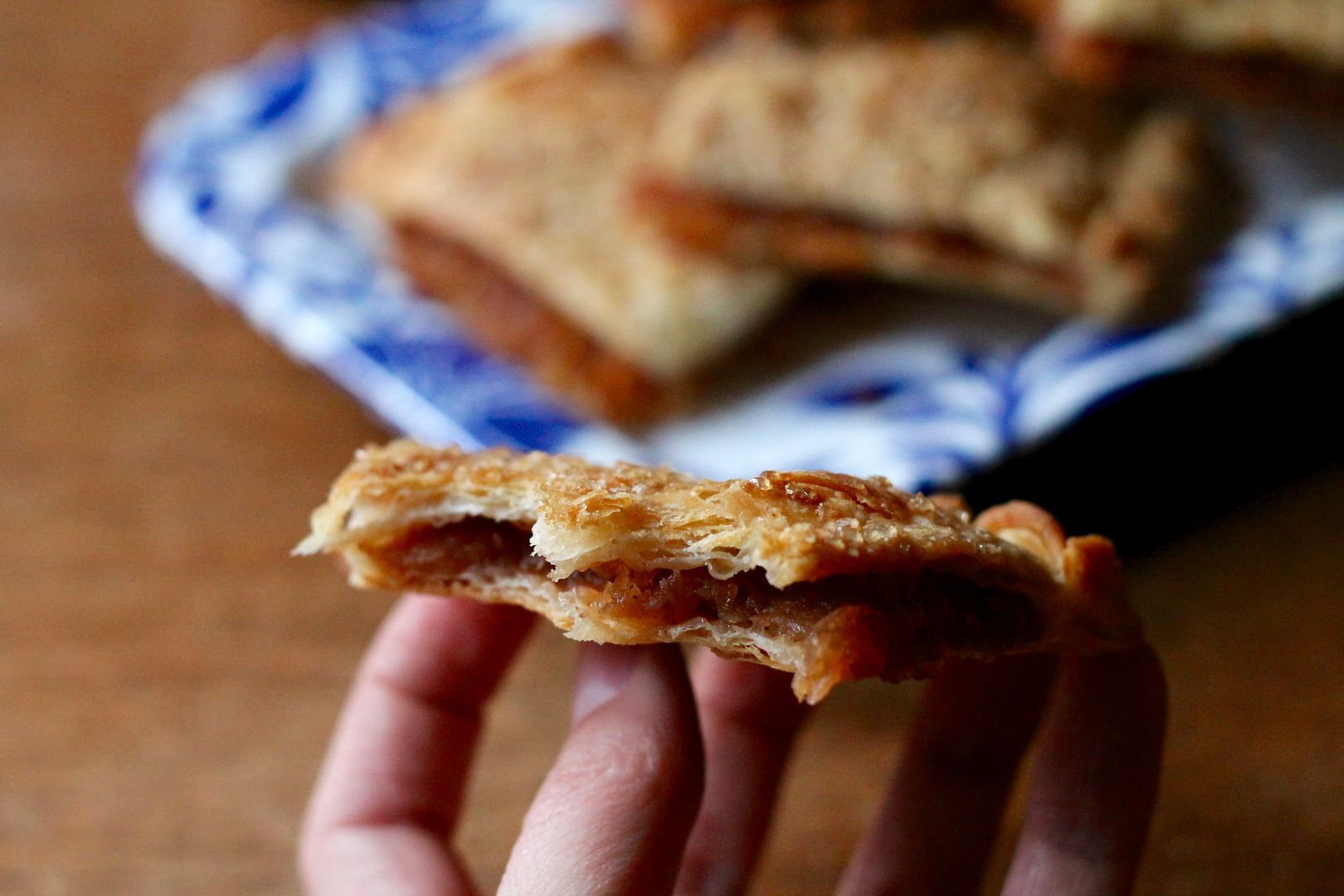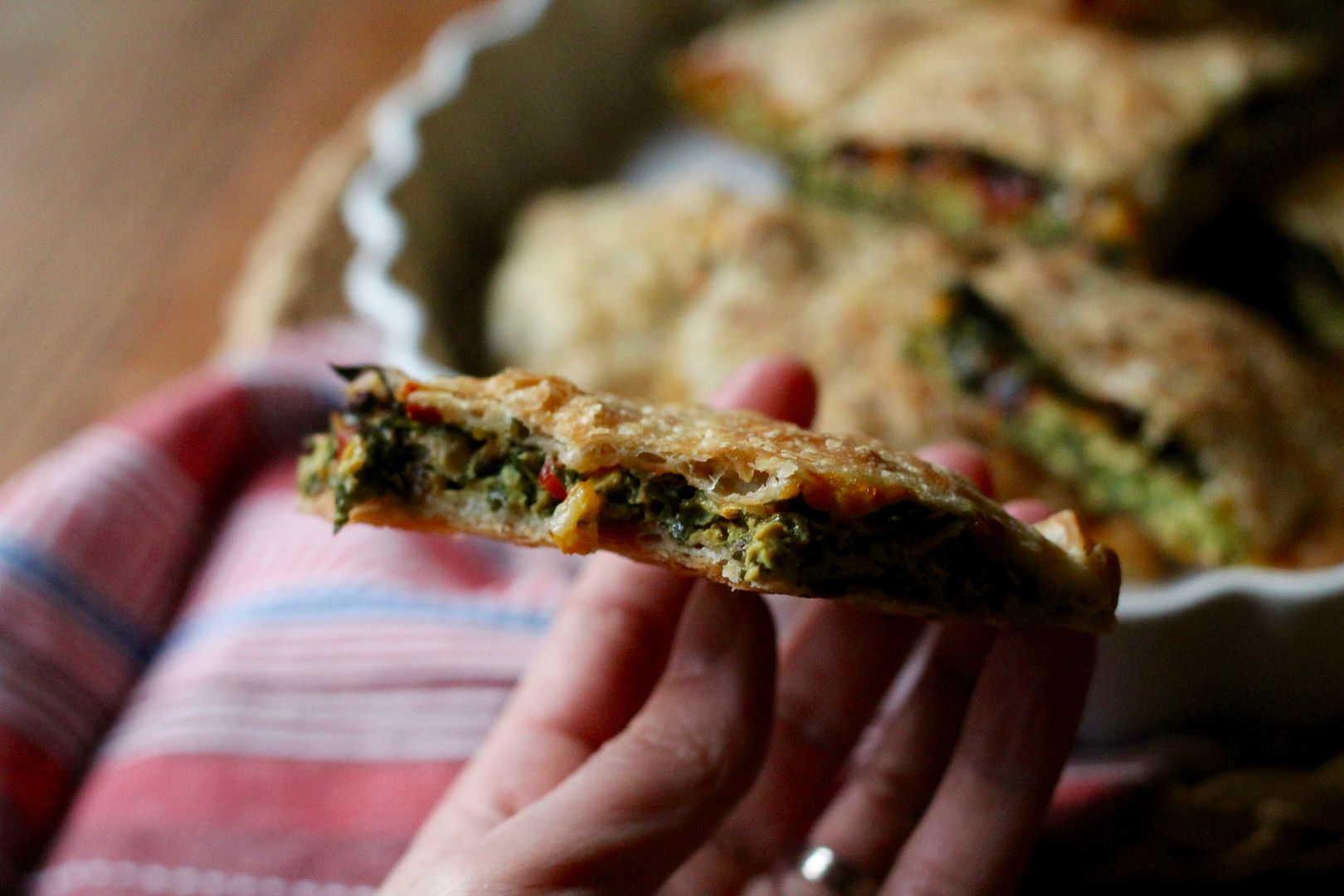 Milkica provided us with two typical katmer pie fillings: one savoury with chard and cottage cheese, and one sweet with apples (or pumpkin/squash) and cinnamon. Being totally indecisive when it comes to things like this, I ended up making both. The savoury version is very much like spanikopita, only perhaps less messy to eat, and the sweet version tastes just like apple pie. Both were delicious, but you could fill your katmer pie with whatever you like, as long as it's not too wet, as the excess moisture would just make for soggy dough instead of light, flaky layers.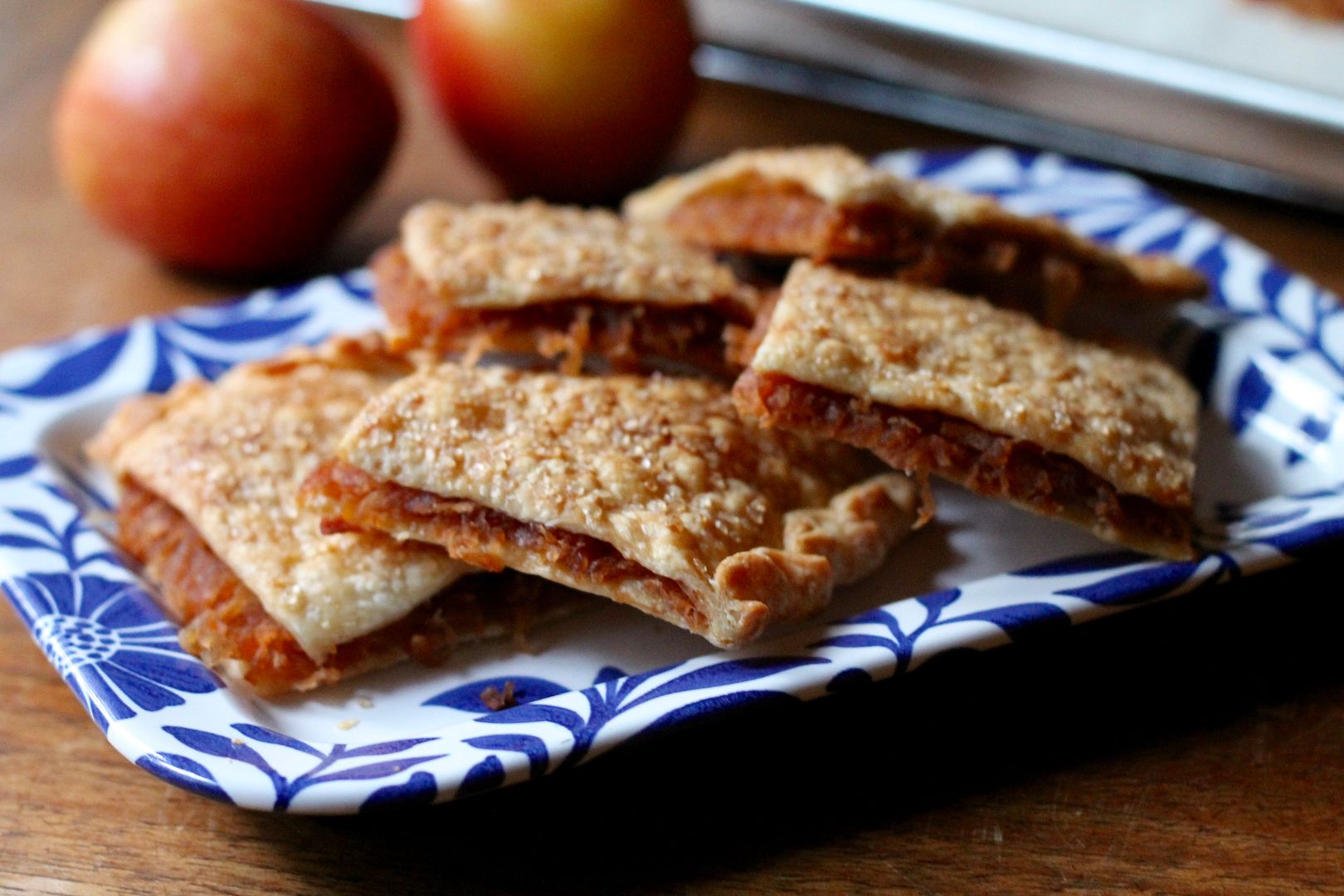 Katmer Pie
Adapted slightly from Milkica's challenge on the Daring Kitchen. Makes one 12″ x 17″ pie. I made a full batch of dough and a half-batch of each filling and made two half-sized pies.
Dough
In a large bowl, combine:
4 cups (500 g) all purpose flour
1 tsp salt
Gradually mix in 1 1/4 – 1 1/2 cups (300-350 ml) warm water, adding just enough to give you a relatively soft, workable dough.
Transfer the dough to a lightly floured surface and knead it for several minutes, adding a little extra flour as needed, until soft, smooth, and elastic.
Divide the dough into 6 equal pieces, each weighing about 140 g. Shape them into rounds and set aside to rest for 10 minutes.

Meanwhile, melt 3/4 cup unsalted butter and keep it warm so it stays liquid.
On a lightly floured surface, roll out three of the dough portions into 10″-11″ circles, about 1/8″ thick. With a pastry brush, brush one round evenly with butter. Stack a second round top top and brush it with butter. Top with the third round (do not brush with butter) and set aside. Repeat with the remaining three dough portions and let rest for about 10 minutes.

Take one triple stack of dough and roll it out until it is about 1/4″ thick. With a large sharp knife, make 8 evenly spaced cuts around the edge of the circle, each extending one third of the way across the circle, to make 8 "petals" – like so:
[petals]
Brush the entire surface with melted butter, then fold each petal into the middle. Turn the folded dough over and let it rest while you repeat with the remaining triple stack of dough, then set the dough aside while you prepare the filling.

Option 1: Chard and Cheese Filling
Makes enough for one 12″ x 17″ katmer pie.
In a large bowl, combine:
2 cups (500 g) cottage cheese or ricotta
1 lb (500 g) Swiss chard, leaves and stems sliced into thin ribbons
4 large eggs
1/2 tsp salt
ground black pepper
Mix together and set aside.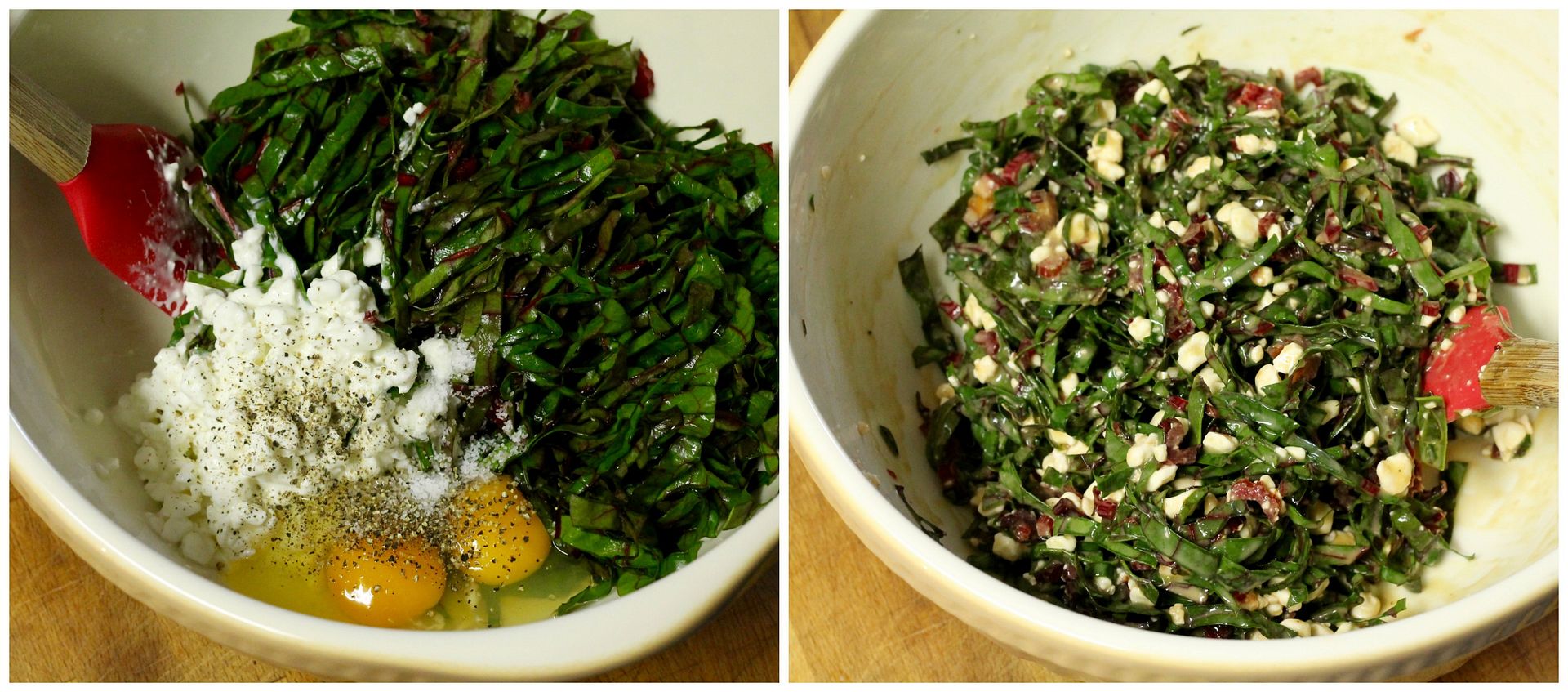 Option 2: Apple Cinnamon Filling
Makes enough for one 12″ x 17″ katmer pie. Be sure to use cooking apples (I used Pink Ladies) that won't turn to mush when cooked/baked.
Peel 6 cooking apples (1200 g) and grate into a large, shallow pan. Add:
1/2 cup (100g) brown sugar
juice of 1 lemon
1 tsp cinnamon
7 tbsp (100 ml) water
Cook, stirring occasionally, over medium heat until all the liquid evaporates. Set aside to cool completely before continuing.
Assembly
Preheat the oven to 375˚F (350˚F convection). Line a 12″ x 17″ rimmed baking sheet with parchment paper and brush the parchment lightly with melted butter. Set aside.
On a lightly floured surface, roll out one of the portions of dough into a 12″ x 17″ rectangle and place it on the buttered parchment paper-lined baking sheet. (Note: I made two half-sized katmer pies, so I cut each full-size piece of dough in half).
Top with the filling of your choice, spreading it to within 1/2″ of the edges of the dough.

Roll out the second portion of dough into a 12″ x 17″ rectangle and lay it over top of the filling. Crimp the edges of the dough to seal in the filling. Brush all over with melted butter, and if you used the apple-cinnamon filling, you can sprinkle the top with 2 tbsp coarse sugar.

Use a large sharp knife to cut the whole thing into squares (the flakiness of the pastry makes this a very messy job after the pie is baked). Bake in the preheated 375˚F (350˚F convection) oven for about 30 minutes, rotating the pan half-way through baking, until golden brown.
Re-cut the squares and serve warm or at room temperature. This will keep in a sealed container at a cool room temperature for 1-2 days, although the pastry will lose its crunch.