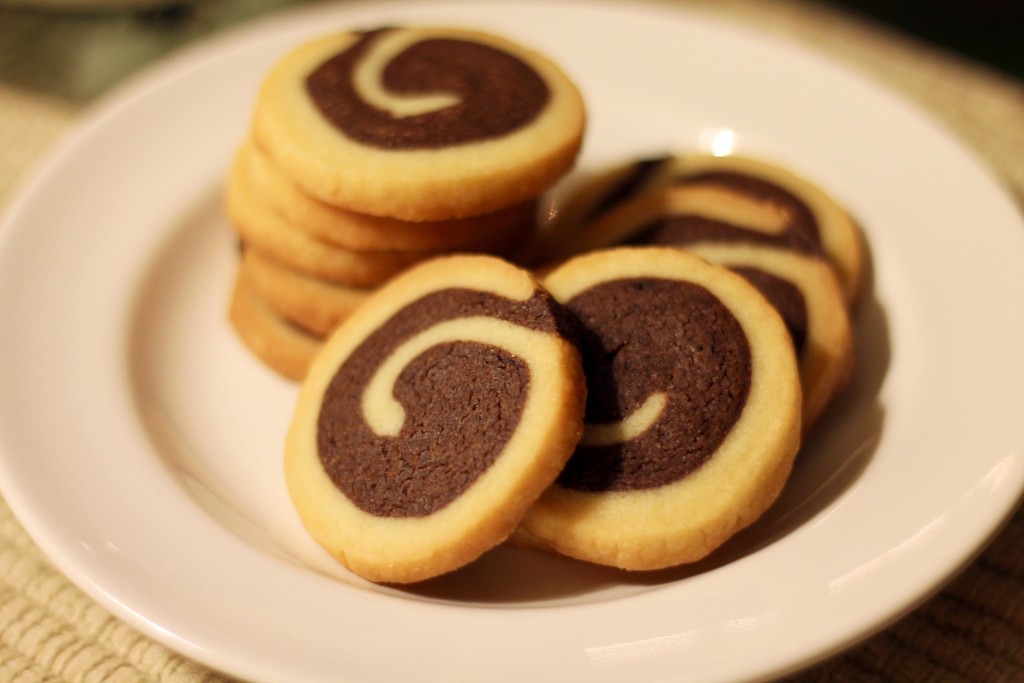 I took these photos at 8:30 pm on December 21, literally the darkest day of the year. It's awfully difficult take take natural light photos when you never see your house in the daylight during the week. Blogging is such hard work!
I plunged into the Christmas cookie madness with both feet last week and spent every evening after work baking cookies. I think I was averaging two recipes a night in preparation for our annual pre-Christmas trek to Vancouver to see family, which coincided this year with my remarkable grandfather's ninety-eighth (!!) birthday. These cookies in particular are a re-make of a childhood favourite that I remember asking my mum to make every year. Something about the spiraled layers of different coloured dough mixed with the flavour of peppermint and chocolate makes me feel all nostalgic.
For these pinwheels, I used Cooks Illustrated's exceptionally good French butter cookie recipe, a simple yet elegant formula that is everything I never knew I wanted in a butter cookie and gives the most perfect slice and bake cookies I've ever made (it can be made into other shapes too). Crisp and delicate yet not too crumbly, a little bit chocolatey and a little bit minty, they are dangerously more-ish enough to eat a whole handful without blinking. Santa would definitely appreciate a plate full of these along side a glass of milk on Christmas Eve!
Chocolate Peppermint Pinwheels
Adapted from Cook's Illustrated via Annie's Eats. Makes about 80 small cookies.
Vanilla Cookie Dough
In the bowl of an electric mixer fitted with the paddle attachment, combine:
1/2 cup + 2 tbsp unsalted butter, soft
1/3 cup + 1 tbsp granulated white sugar
1/4 tsp salt
1 tsp vanilla extract
1 cold soft boiled egg yolk, pressed through a fine sieve
Cream together until light and fluffy.
On low speed stir in 1 1/2 cups all purpose flour until just combined. Press the dough into a cohesive mass with a spatula. Remove from the bowl and divide in half.
Chocolate Peppermint Dough
Prepare the Vanilla Dough as above, but add 1 tsp peppermint extract and 1/4 cup cocoa powder into the creamed mixture and reduce the flour to 1 1/3 cups.
Assembly
On a lightly floured piece of waxed paper, shape each half of dough into a 6″ x 8″ rectangle. Stack a chocolate slab on top of each vanilla slab, then roll with a rolling pin to press them together into a 6″ x 9″ rectangle.
From one long edge and using the waxed paper to help you, roll up the dough tightly into a spiral (you want there to be no air gaps inside the cylinder). Wrap the cylinder in waxed paper and chill for at least 1 hour or for several days (wrap tightly in plastic or put in a plastic bag to prevent it from drying out at all).
When you are ready to bake, preheat the oven to 350˚F (325˚F convection). With a large chef's knife, trim the ends off the cylinder of dough, then use a ruler to mark the dough in 1/4″ increments (this might sound finicky, but evenly thick slices are key to evenly-baked cookies and this my best tip for best results). Slice into 1/4″ thick slices.
Arrange on a parchment lined baking sheet, about 1″ apart.
Bake for about 12-15 minutes, rotating halfway through baking, until lightly golden. Cool on the baking sheets for a few minutes, then transfer to a wire rack to cool completely.