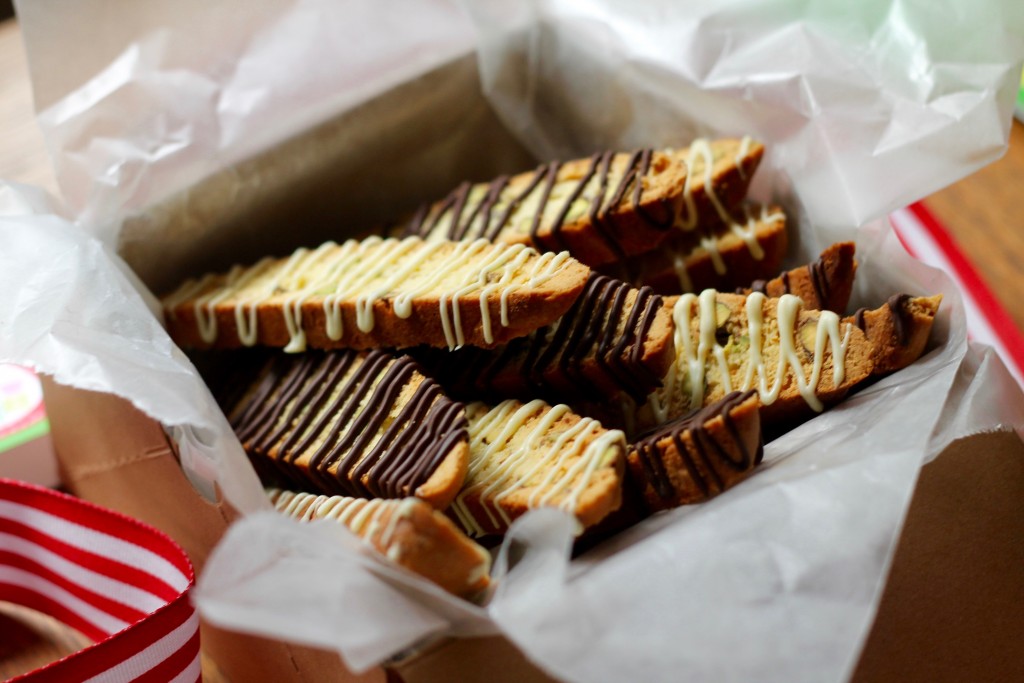 I had a jarring realization this past weekend that we were less than two weeks away from Christmas and that I hadn't started any Christmas shopping – or worse, any Christmas baking. But then I remembered that I had actually baked and sent off holiday cookies for the Great Food Blogger Cookie Swap several weeks ago, so all was not lost. I participated in the Cookie Swap in 2013, then missed the sign-up deadline last year, so I was pretty excited to be part of it again this year. Participants pay a small entrance fee to raise money for the Cookies for Kids Cancer campaign, and then are matched up with three food bloggers to send cookies to. In return, you receive cookies from three other bloggers. These are the goodies that I got in the mail:
Merry Christmas to me, indeed!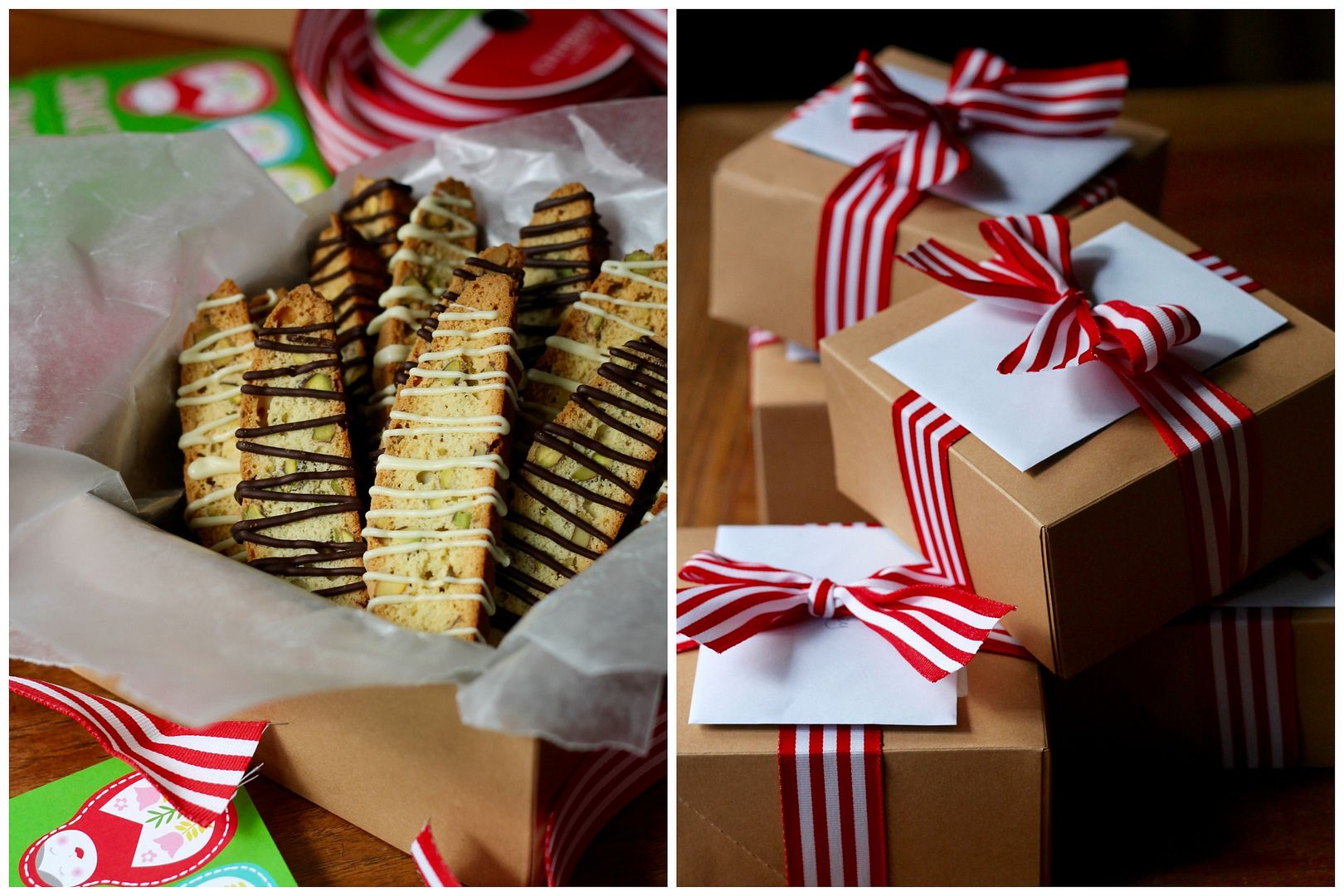 Biscotti are my "special" Christmas cookie, and I was having a moment with lemon and pistachio when deciding what to make for the Cookie Swap… so this is the chocolate-drizzled result that I sent to Elaine of Flavour and Savour (who actually lives about 10 minutes away from me), Kimberlie of The Finer Cookie, and Chrissie of The Busy Baker. The biscotti baked up perfectly light and crisp and got pretty rave reviews from everyone who tasted it. In fact, they were so good that I plan on modifying my old standard white chocolate cranberry almond biscotti to use this recipe as a base. It also makes a TON of cookies, so it's perfect for swapping or gifting. 🙂
For a round-up of all the cookie swap recipes this year, head to Love and Olive Oil and The Little Kitchen.
Lemon Pistachio Biscotti
Adapted from Canadian Living. Makes about 6 dozen cookies.
Preheat the oven to 325˚F (300˚F convection).
In the bowl of an electric mixer with the paddle attachment, mix together:
2 cups granulated white sugar
grated zest of 2 lemons
Mix until the sugar resembles damp sand (this will infuse the sugar with the oils in the lemon zest), then add:
1 cup unsalted butter, softened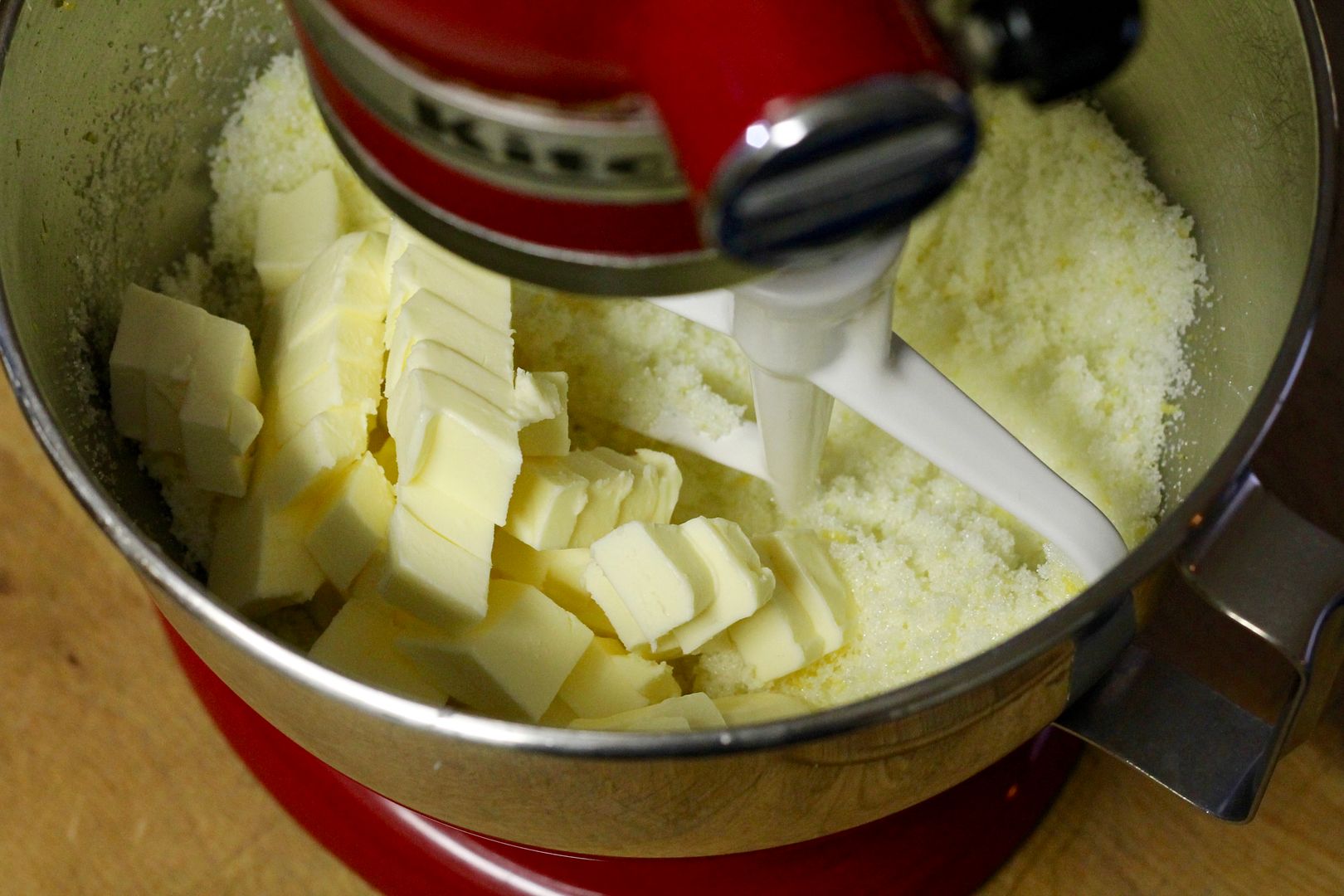 Cream together until light and fluffy, then one at a time, beat in:
6 eggs
Finally, stir in:
2 tsp vanilla
1 tbsp baking powder
1 tsp salt
The batter should be very light and loose.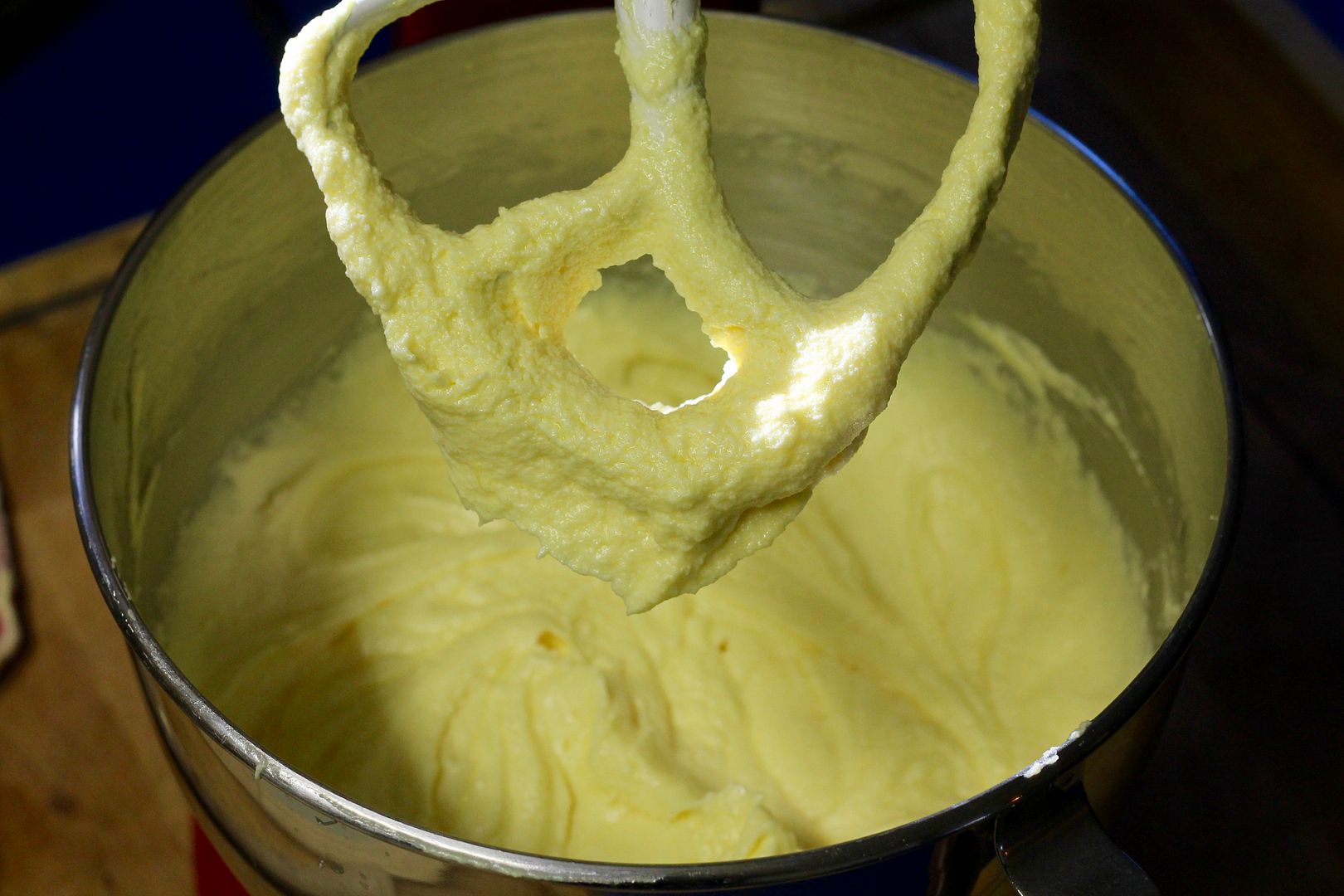 Gradually mix in 5 1/2 cups all purpose flour to make a stiff dough.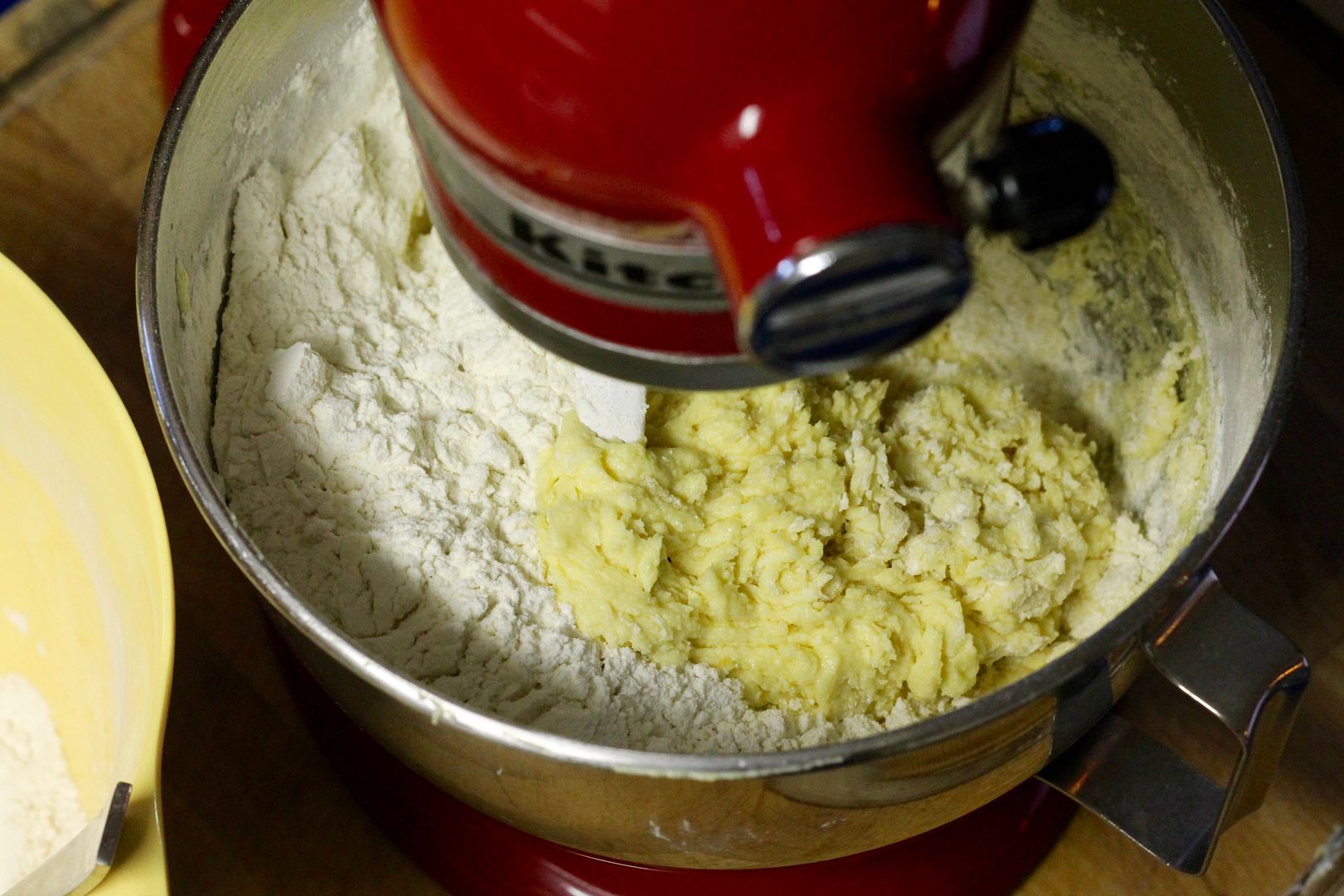 Stir in 2 cups shelled pistachios, coarsely chopped (it may be easier to do this by hand).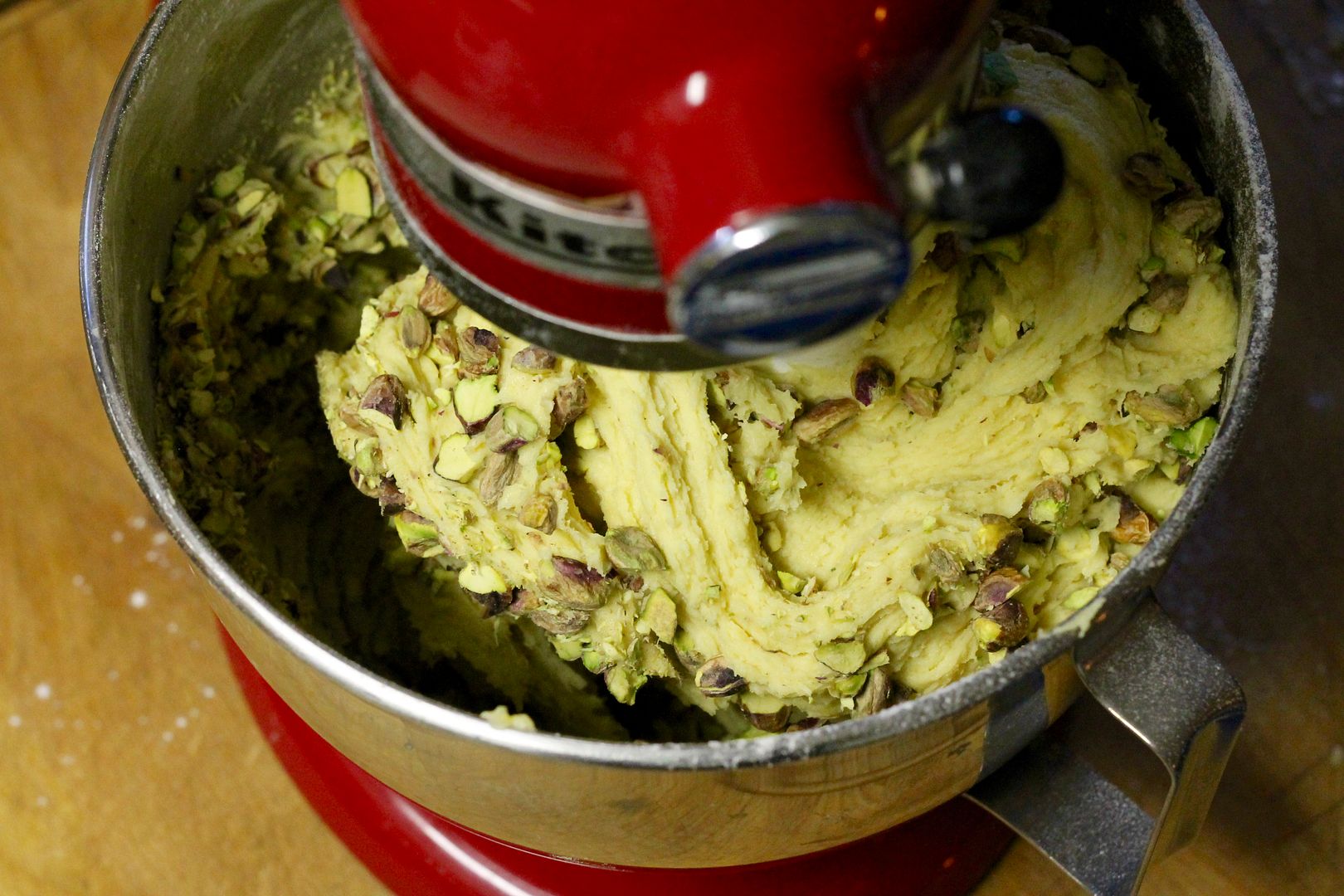 Line 2 baking sheets with parchment paper. Divide the dough into 4 equal portions and place 2 on each baking sheet. With wet hands, shape the dough into flat logs about 12 inches long and 3 inches wide.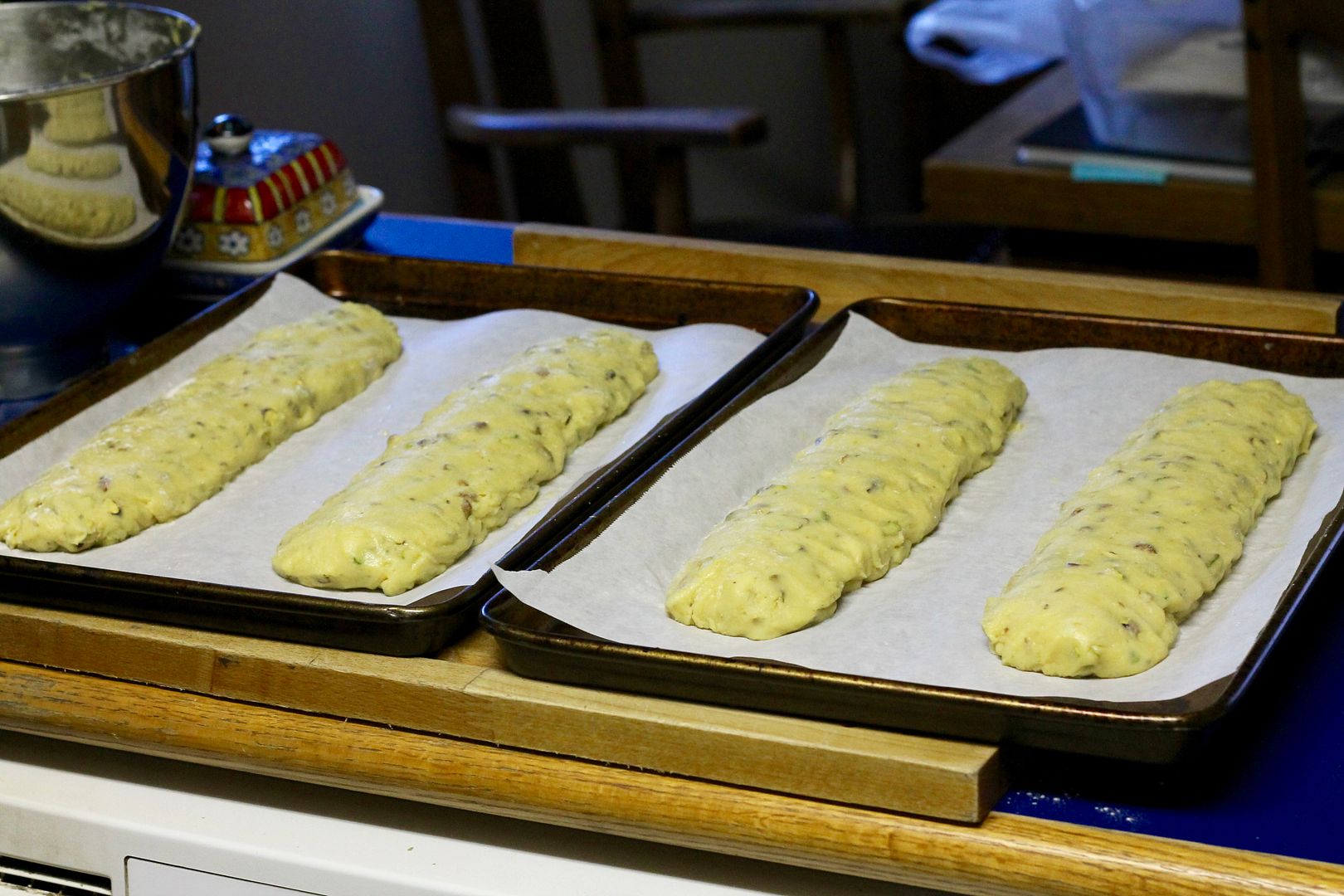 Bake in top and bottom thirds of the preheated 325˚F (300˚F convection) oven, rotating and  switching pans about half way through, for about 30 minutes or until firm in the middle and just turning golden. Remove the logs to a rack and cool for 10 minutes, until cool enough to touch.
With a serrated knife, slice each log on the diagonal into 1/2 inch slices.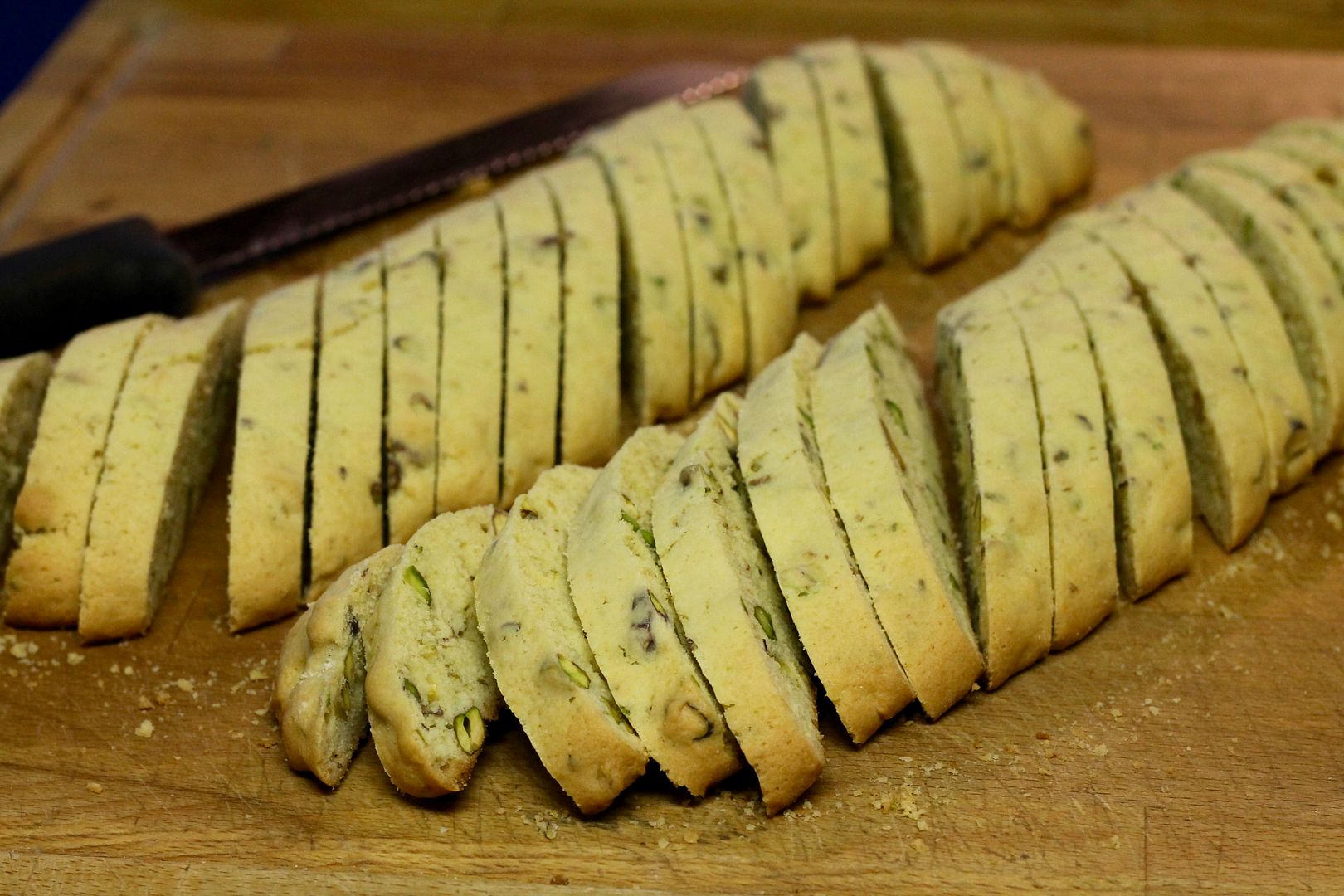 Stand the slices upright back on the parchment-lined baking pans and return to the oven 30-40 minutes, switching and rotating the pans halfway through, until the cookies are dry, crisp and lightly golden. Allow to cool completely on a rack.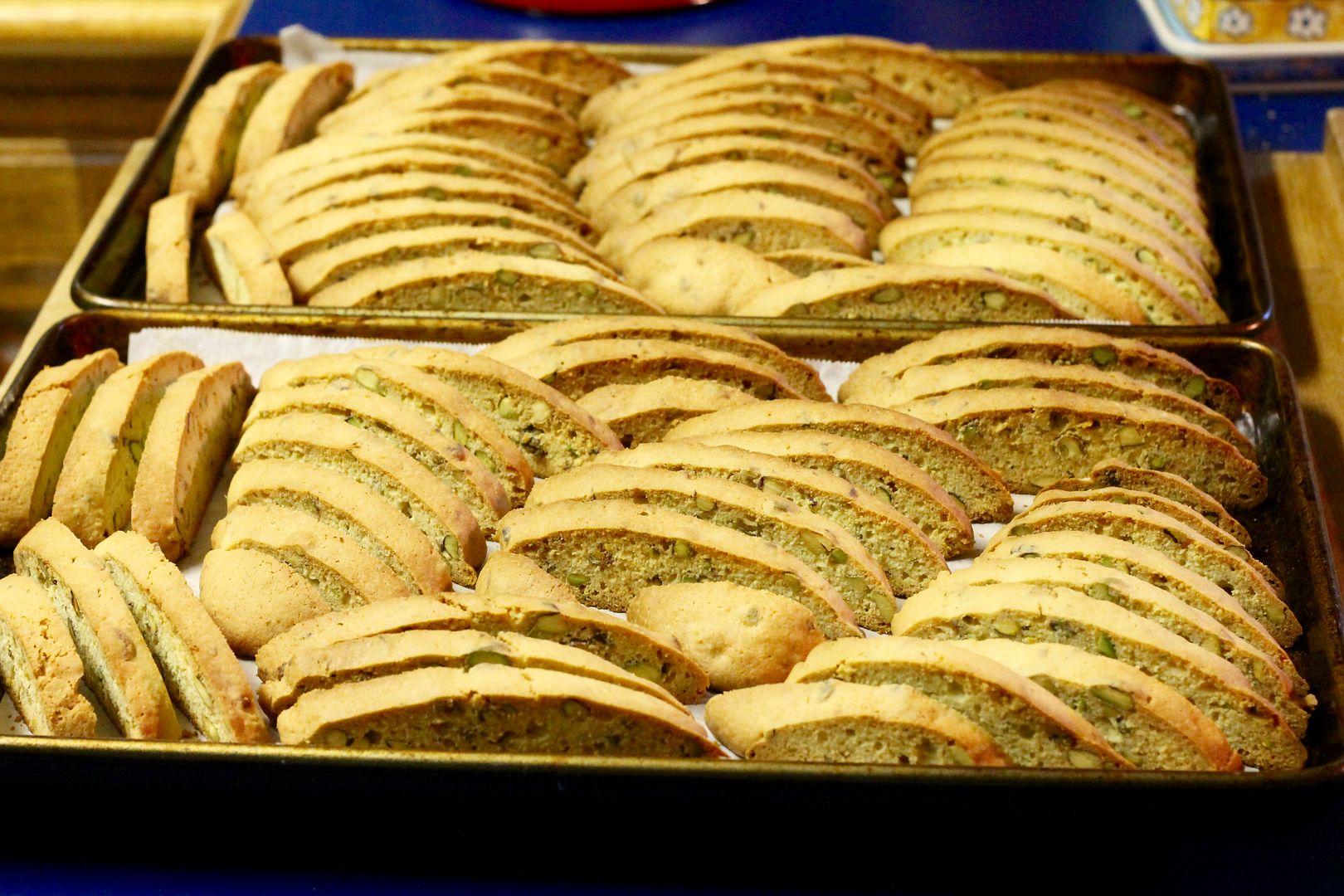 Melt about 2 cups chopped chocolate (dark or white, or half and half) and place in a piping bag. Arrange the biscotti on a rack over some waxed paper and drizzle with the chocolate. Allow to dry/set before storing in an airtight container for up to 2 weeks.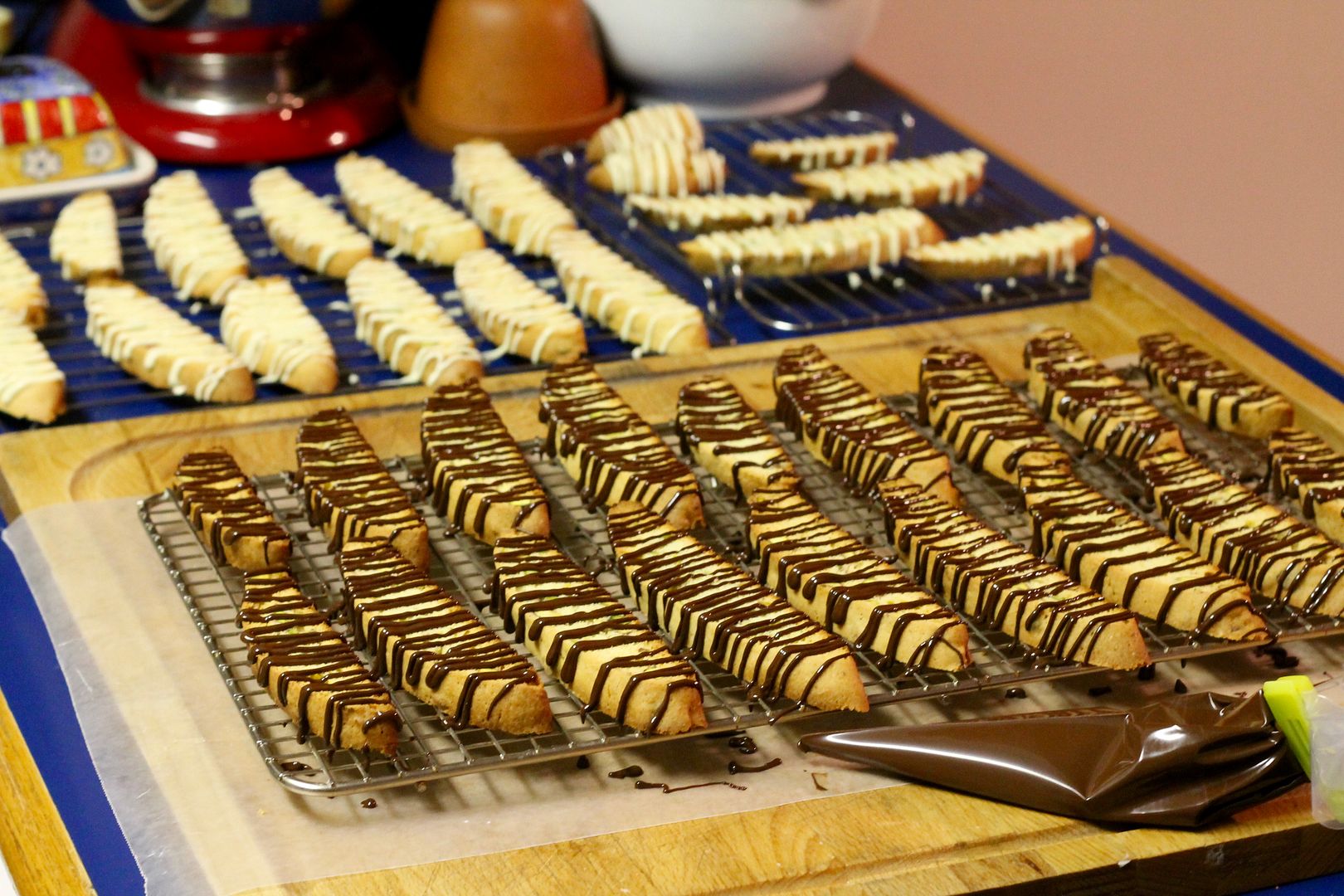 Save