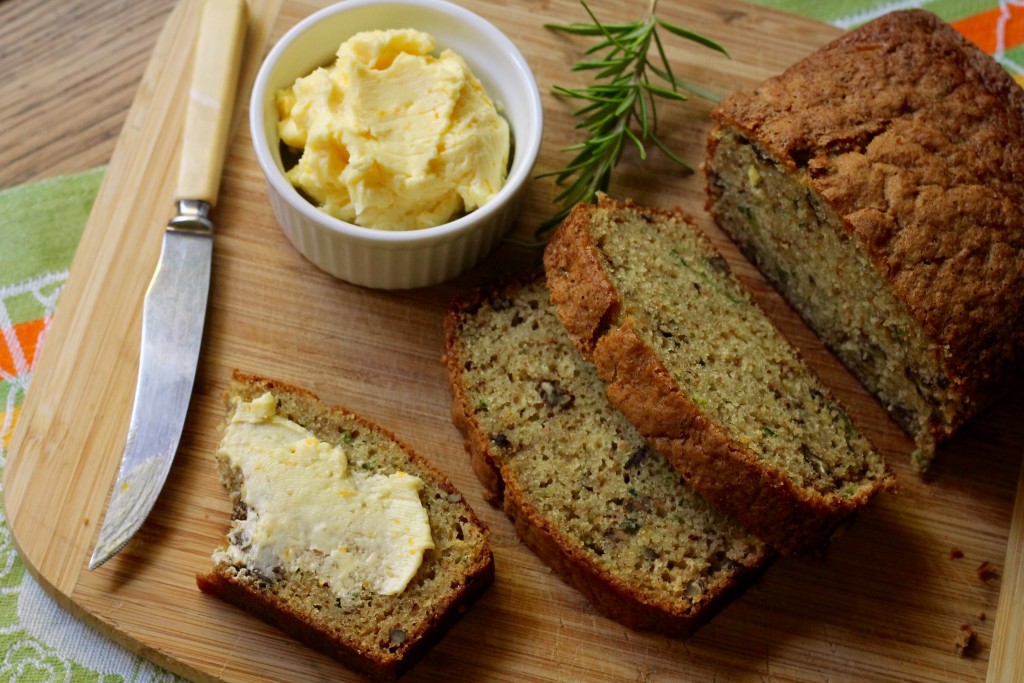 Unlike most gardens at this time of year, my garden is NOT overflowing with zucchini. All summer I've had two zucchini plants busily putting out flowers, but zucchini have both male and female flowers which need to be cross-pollinated in order for the little baby squash at the base of the female flower to grow, and my plants just couldn't seem to coordinate their schedules to have both kinds of flower blooming at the same time. My potential zukes never got past this stage before shriveling up and dying (very depressing). And now the plants are succumbing to dusty mildew, so my homegrown zucchini dreams are over for this summer. Sadness.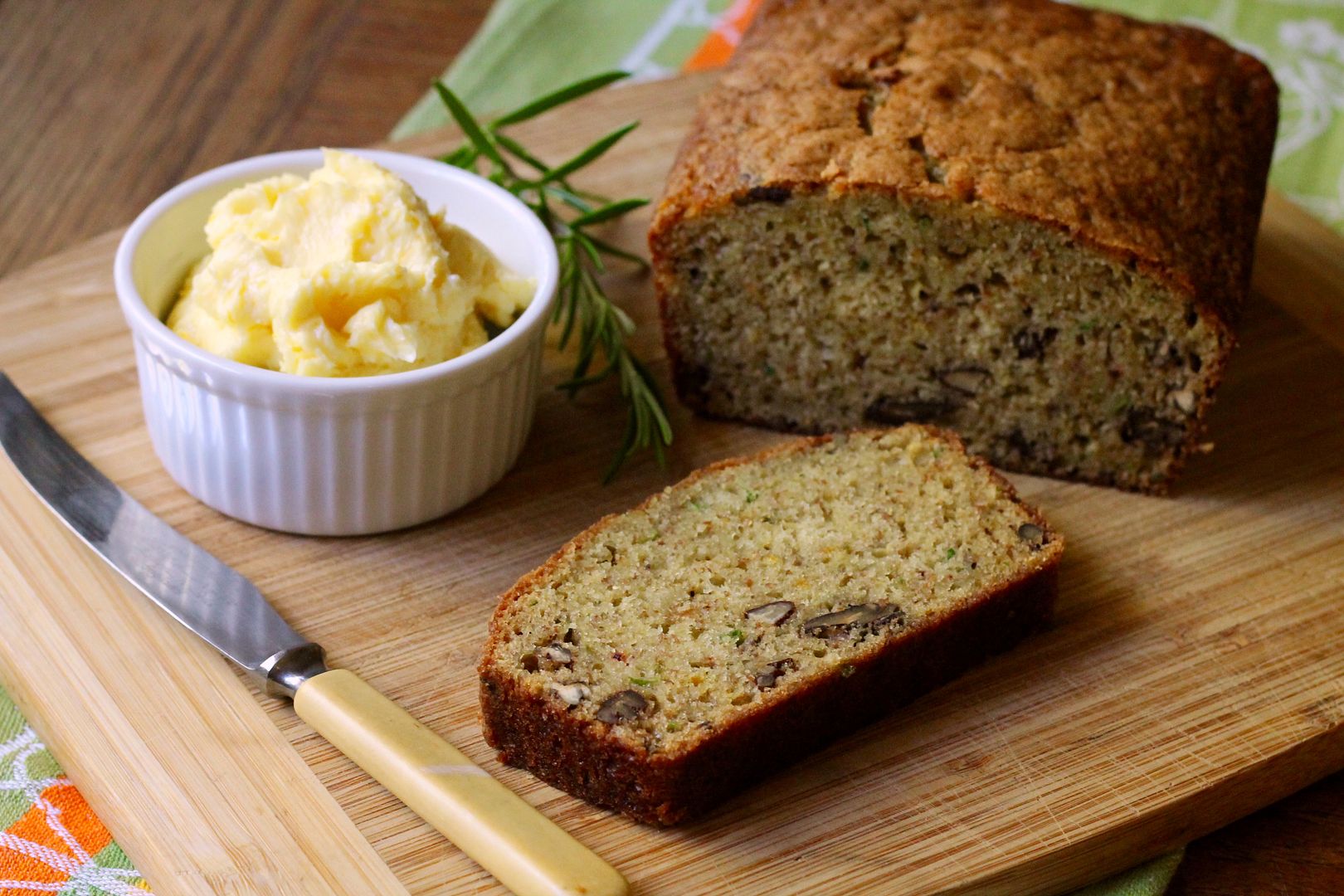 But luckily for me, my neighbour has a garden full of zucchinis the size of newborns, and she knocked on my door a few Saturday mornings ago to give me one. I love zucchini straight up, but Nate isn't a fan – it's too watery and soft – so I was going to have to disguise it somehow. Zucchini bread was the obvious choice, and I assumed I'd find a recipe with the usual spices, perhaps some raisins, and maybe a cream cheese frosting (because, let's be honest – this is cake, not bread). Then I came across a recipe that included none of the above and instead featured orange, rosemary, and pecans, and I immediately stopped looking and got to baking.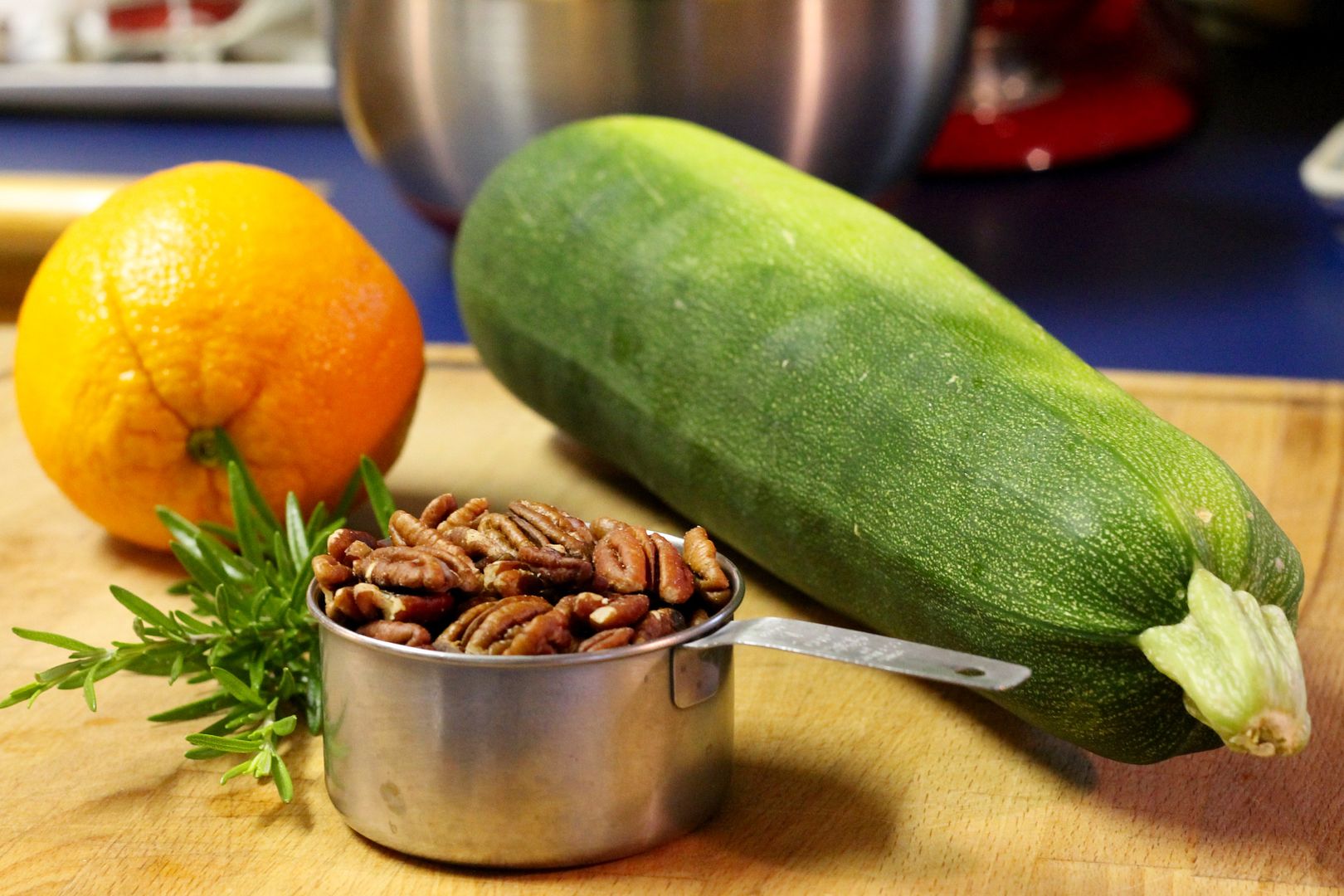 I started swooning as soon as I smelled the toasted pecans, grated orange zest, and minced rosemary together; flavours that are only made better by being baked into a moist, sweet, green-flecked loaf. And then, because I like to put butter on my bread-cake, I made an orange-honey butter to spread over each slice. I froze the second loaf of the batch the day after baking it, thinking we can't possibly eat two loaves of this before it goes bad, only to take it out again a day later because in fact, we could and we did. It's that good. The one "problem" with this loaf is that it only uses two cups of grated zucchini, which, when you are starting with a vegetable as long as your forearm and twice as thick, only accounts for about a quarter of the thing. But really, it just means you can make more of this zucchini bread*. 😉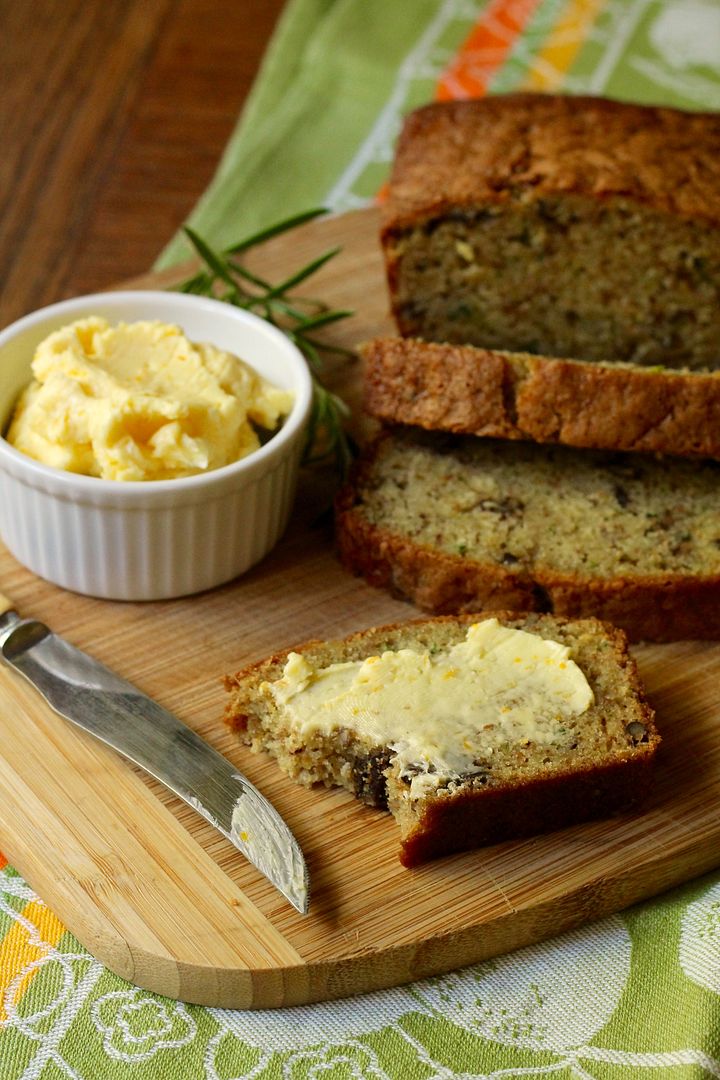 *I actually made the rest into savoury zucchini butter and enjoyed it spread on toast under a fried egg for breakfasts and on bagels with cream cheese for lunches. But now I'm wishing I had another loaf or two of this bread tucked in the freezer!
Orange Rosemary Pecan Zucchini Bread
Adapted slightly from Food52. Makes 2 loaves.
Preheat the oven to 350˚F (325˚F convection). Line two loaf pans with parchment paper and/or grease them. I used 9″ x 5″ loaf pans and ended up with loaves with a lower, flatter profile – use 8″ x 4″ pans for higher, more square loaves.
In a large bowl, whisk together:
3 large eggs
1 3/4 cups granulated white sugar
1/2 cup plain yogurt
1/2 cup olive oil
Grate 2 cups zucchini and add to the bowl along with:
2 tsp finely minced fresh rosemary
zest of 1 medium orange
juice from half the orange
Set aside.

In a smaller bowl, whisk together:
2 cups all purpose flour
1 cup whole wheat flour
1 tsp baking soda
1/2 tsp baking powder
1 tsp fine sea salt
Add the flour mixture to the zucchini mixture and fold with a spatula until just combined. Stir in 1 cup chopped, toasted pecans until combined.

Divide the batter evenly between the two prepared loaf pans and bake for about 60 minutes (check it at about 55 minutes), until a skewer inserted in the middle comes out with just a few moist crumbs. Let it cool in the pan for about 10 minutes, then remove from the pan and cool completely on a rack.

Orange-Honey Butter
In a medium, bowl, combine:
1/2 cup unsalted butter, softened to room temperature
1 generous teaspoon honey
zest of half an orange
squeeze of orange juice
pinch of salt
Beat with a wooden spoon until light and fluffy. The orange juice won't want to combine at first, but keep beating and eventually it will. Scoop into a small bowl and serve with slices of the zucchini bread.