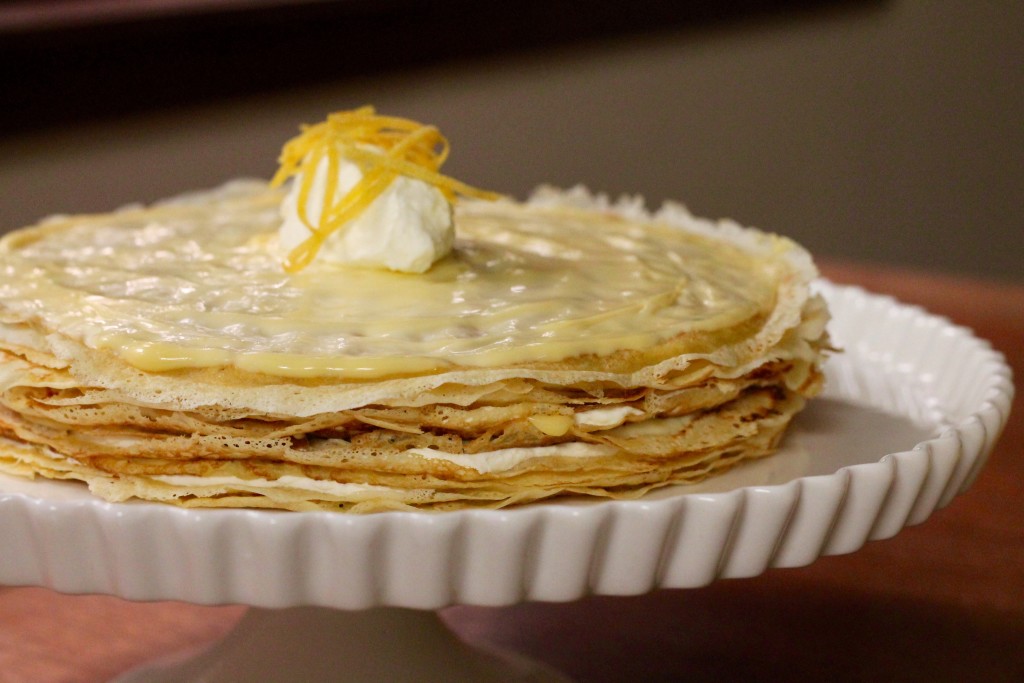 So… it's been a while. I wish I could say I've been too busy vacationing or holidaying to post anything, but I've just been working and unmotivated to blog. I actually made this cake for my birthday (32!) back in the first week of July, and it's taken me this long to get it up here. We've had an incredibly hot and dry summer so far here in BC, and as a result there are hundreds of wildfires burning throughout the province. The day I made this cake, we awoke to a hazy sky and blood red sun casting an eerie, apocalyptic, Martian filter over the world, thanks to the smoke from all those fires settling over Vancouver Island and the Lower Mainland. It was the strangest light for taking photos, so please excuse if the pictures look a little weird.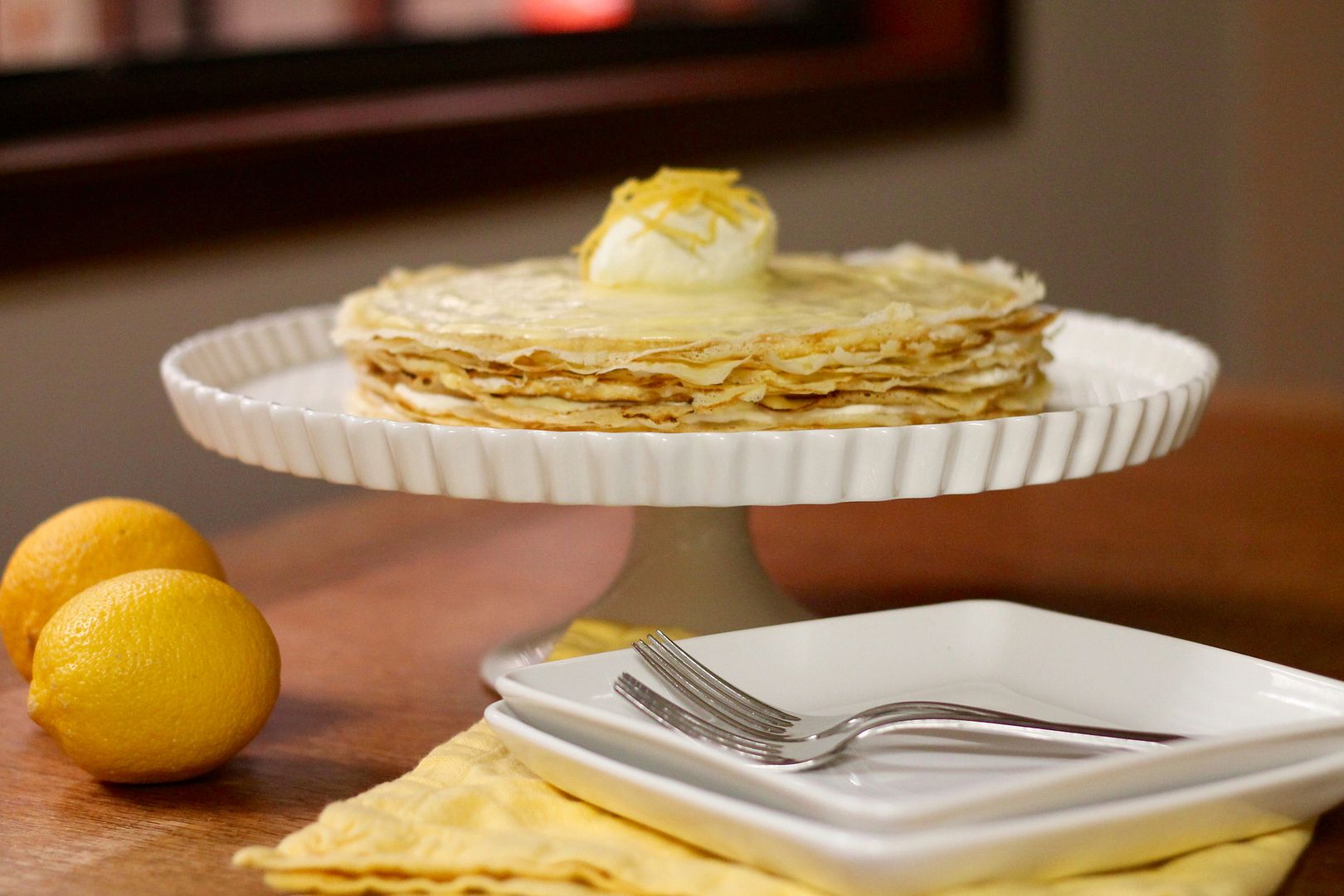 I can spend a LOT of time agonizing over what kind of birthday cake to make myself, but this year I was pretty decisive: I wanted to make a crêpe cake (aka "mille crêpes") after seeing yet another gorgeous example by Christina, and I had just read about Tartine Bakery's wonderous-sounding lemon cream, so I combined the two into a lemon crêpe cake. I figured it would be a good project for a hot summer's day because I wouldn't have to turn on the oven, but I forgot to take into consideration the close-to-60-minutes I stood near the stove stirring the lemon cream, and then again to cook the crêpes. So it was a no-bake cake, but not a no-cook cake by any means!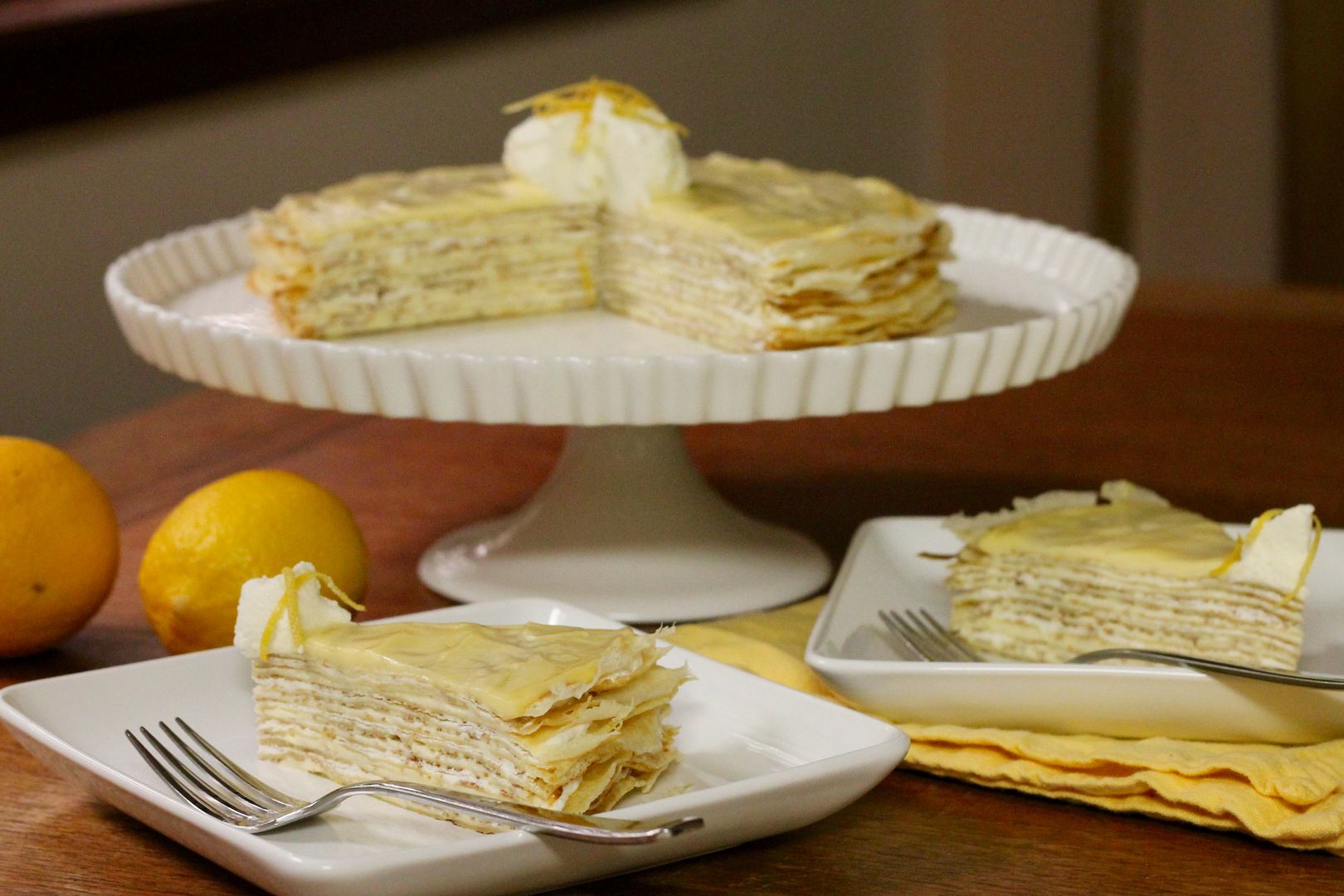 It's pretty easy to tailor a crêpe cake however you want. I used my favourite crêpe recipe to make about a dozen crêpes, which, when stacked with alternating layers of lemon cream and whipped cream, resulted in a cake about two inches high. If you want a more impressive, towering cake (or more servings), just double the crêpe batter and use more filling. As for the filling, the lemon cream is one of the best things I've ever tasted: it's a thick, tangy lemon curd enriched with a lot of butter, which is blended in at the end to emulsify into an almost-buttercream. Once it sets up in the fridge, it takes on a truffle-like texture that is perfect for spreading as a cake filling, dolloping into a tart shell, sandwiching between two macarons, or – I'm not ashamed – eating by the spoonful straight from the jar.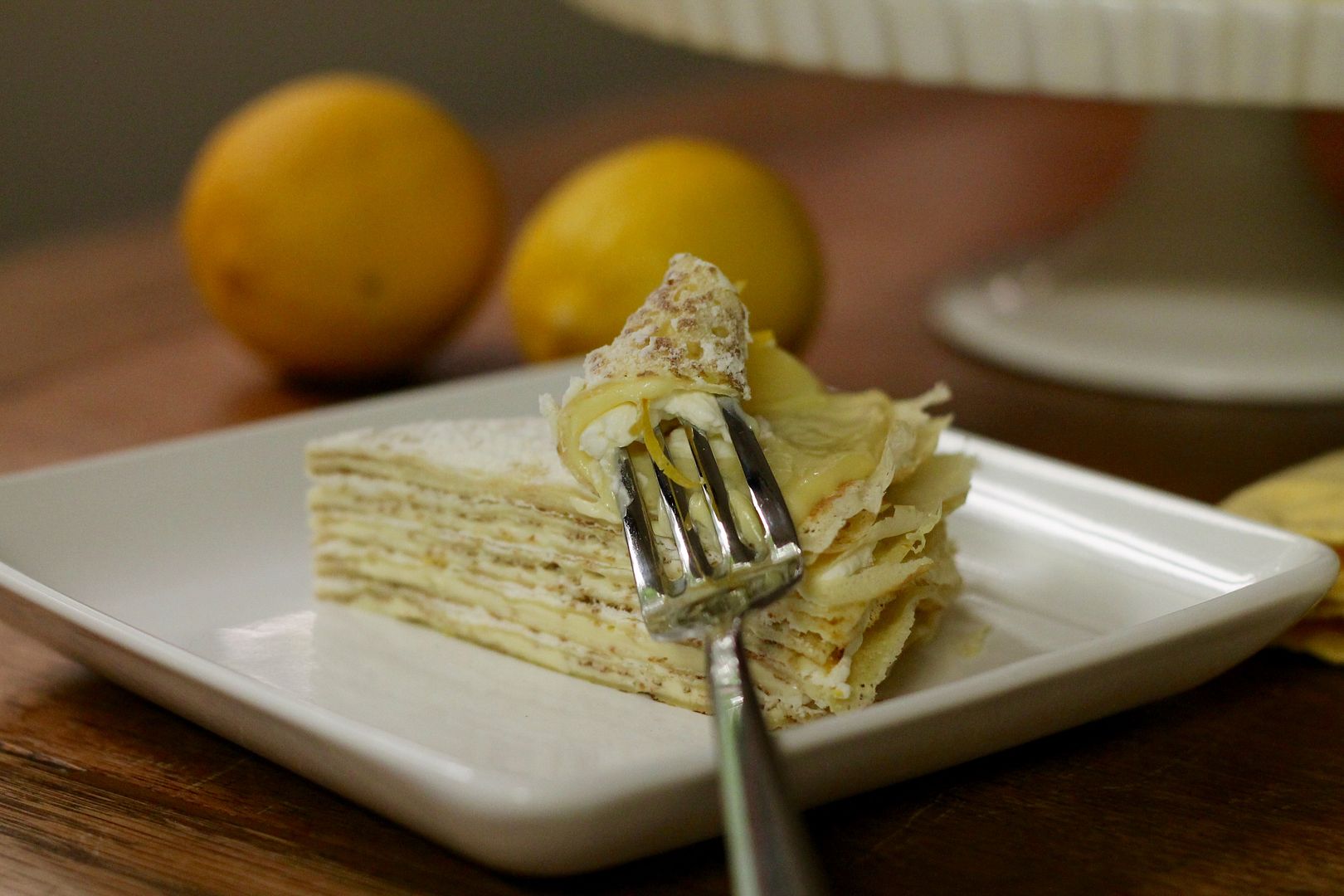 One thing I learned is the importance of cooking the lemon curd until it is very thick – otherwise you will end up with lemon and butter soup. Which is delicious, just not particularly spreadable. Another thing I learned is that you can save a soupy lemon curd (even after you've blended in all the butter!) by re-heating it and continuing to cook it until it hits the right temperature and thickness – and it will still be just as delicious once cooled with a little extra butter blended in. 😉
Lemon Crêpe Cake
Makes one short-stack, 9″ round cake (about 8 servings)
Lemon Cream
Adapted from Tartine via Food52. Makes about 2 1/2 cups, which will give you lots of extra to spread on toast or eat straight off a spoon.
In a heat-proof medium bowl, whisk together until pale yellow:
3 large eggs
1 large egg yolk
3/4 cup sugar
pinch salt
Add 1/2 cup + 2 tbsp lemon juice and whisk until combined.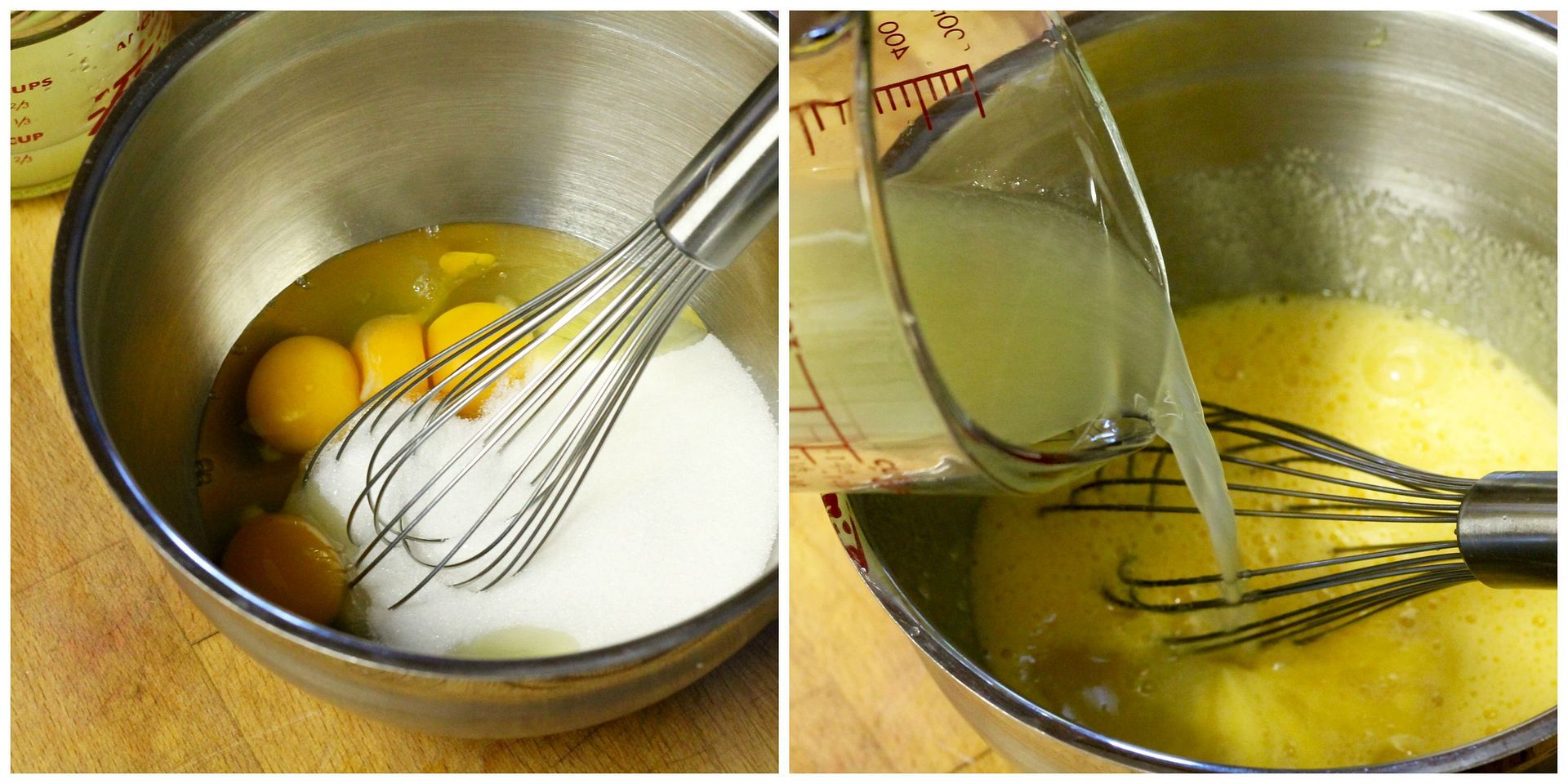 Place the bowl over a pot filled with a few inches of barely simmering water (without the bottom of the bowl touching the water) and cook, whisking, for a loooooooong time, until the mixture turns into a very thick, scoopable curd (it will be about 180˚F on an instant-read thermometer).
Remove the curd form the heat and allow it to cool for a few minutes to about 140˚F, whisking occasionally. While it cools, cut 1 cup unsalted butter into cubes (about 1 tbsp each).
Pour the lemon curd into a blender, or use an immersion blender, and begin blending the curd. Add the butter, one cube at a time, allowing each to emulsify before adding the next. The lemon curd will turn creamy, pale, and thick. If it doesn't, you may not have cooked the lemon curd enough in the first step – just place it back over a double boiler and cook until VERY thick, then blend in a few more tablespoons of butter until thick and creamy.
Scrape it into a non-reactive container, pressing a piece of plastic wrap directly to the surface to prevent a skin from forming, and refrigerate until cool. Can be kept in the fridge for up to 5 days (if it lasts that long).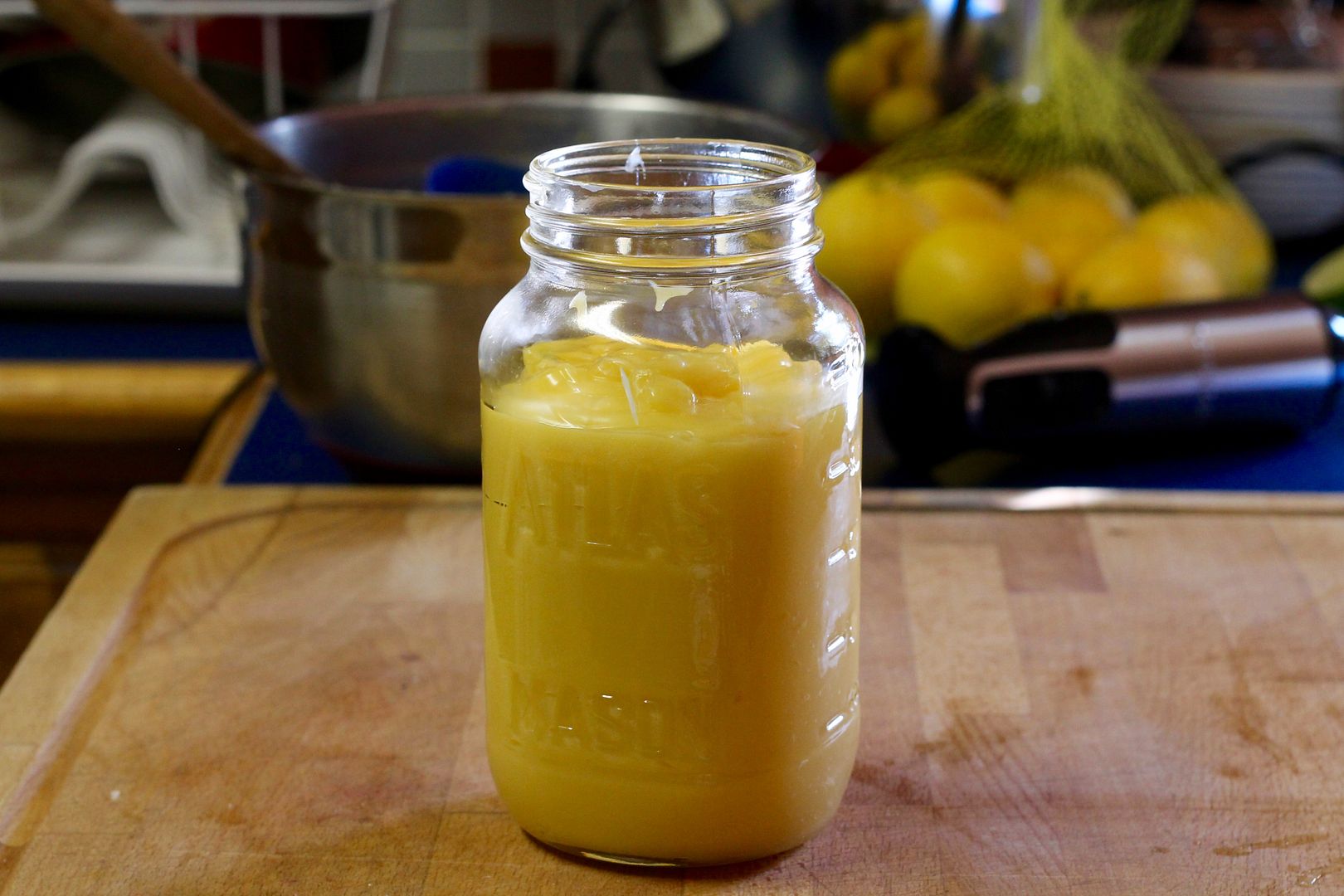 Crêpes
Adapted from Delia Smith via The Wednesday Chef. Makes about a dozen crêpes.
In a liquid measuring cup, mix together:
7 fluid oz milk
3 fluid oz water
In a medium bowl, whisk together:
4 oz all purpose flour
a pinch of salt
Crack 2 large eggs into the flour mixture. Begin whisking them gradually into the flour, adding the milk-water mixture little by little to keep the batter smooth as you mix. Add:
1 tsp lemon zest
2 oz melted unsalted butter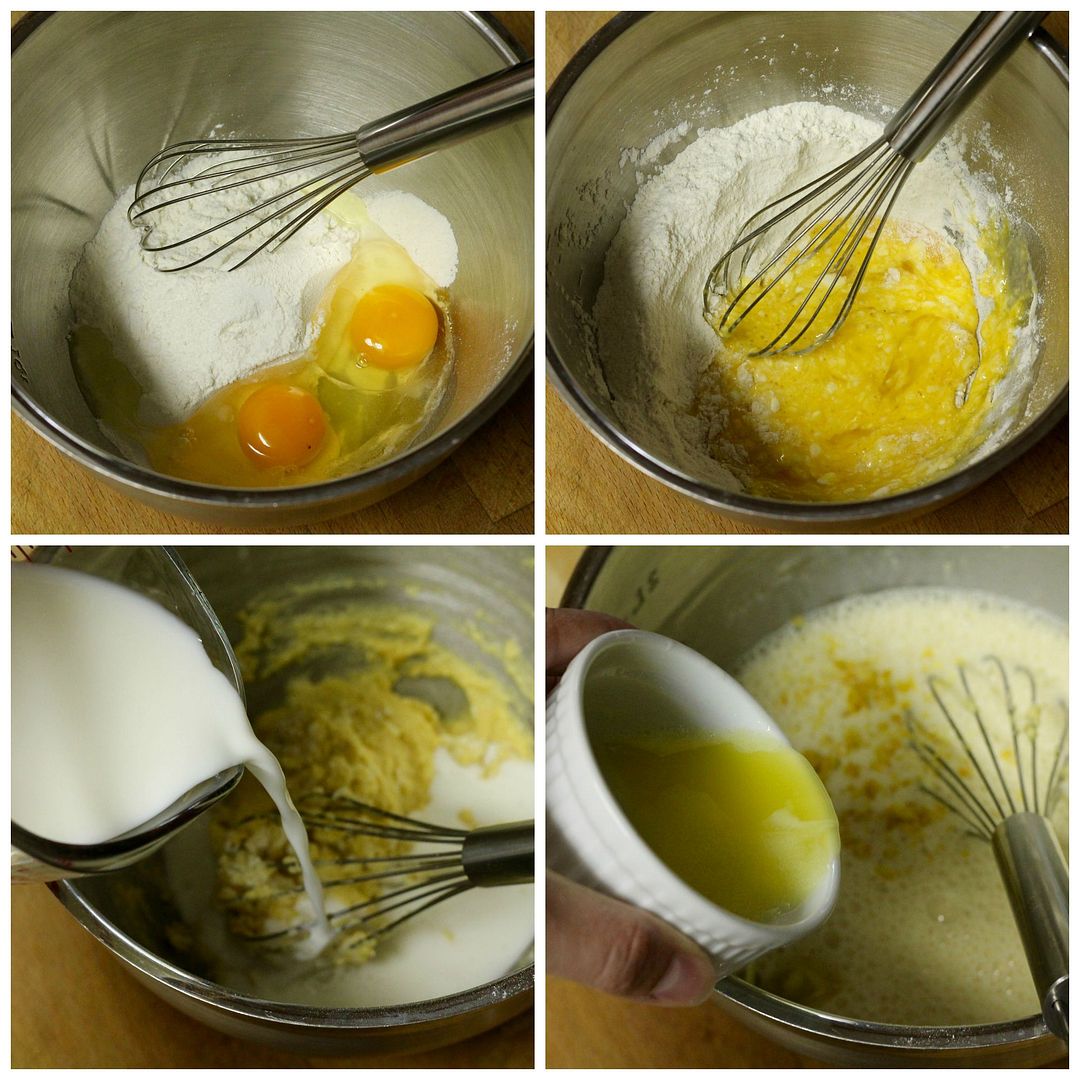 Place a 9″ frying pan (non-stick or not) over medium heat and heat until a drop of water sizzles on contact. Brush the pan with a little butter and pour in a scant 1/4 cup of batter, swirling the pan to coat the bottom evenly with the batter. Cook for about a minute, until the edges are dry, lightly golden, and start to lift away from the sides of the pan. Use a thin spatula to flip it over and cook for another 30 seconds, until golden and speckled.
Flip the crêpe out of the pan and repeat with the remaining batter. Allow the crêpes to cool before continuing.
Assembly
Whip 1 cup cream with a few spoonfuls of confectioner's sugar to stiff peaks. Take about 1 cup lemon cream out of the fridge and allow it to become spreadable at room temperature (or you can microwave it for a few seconds).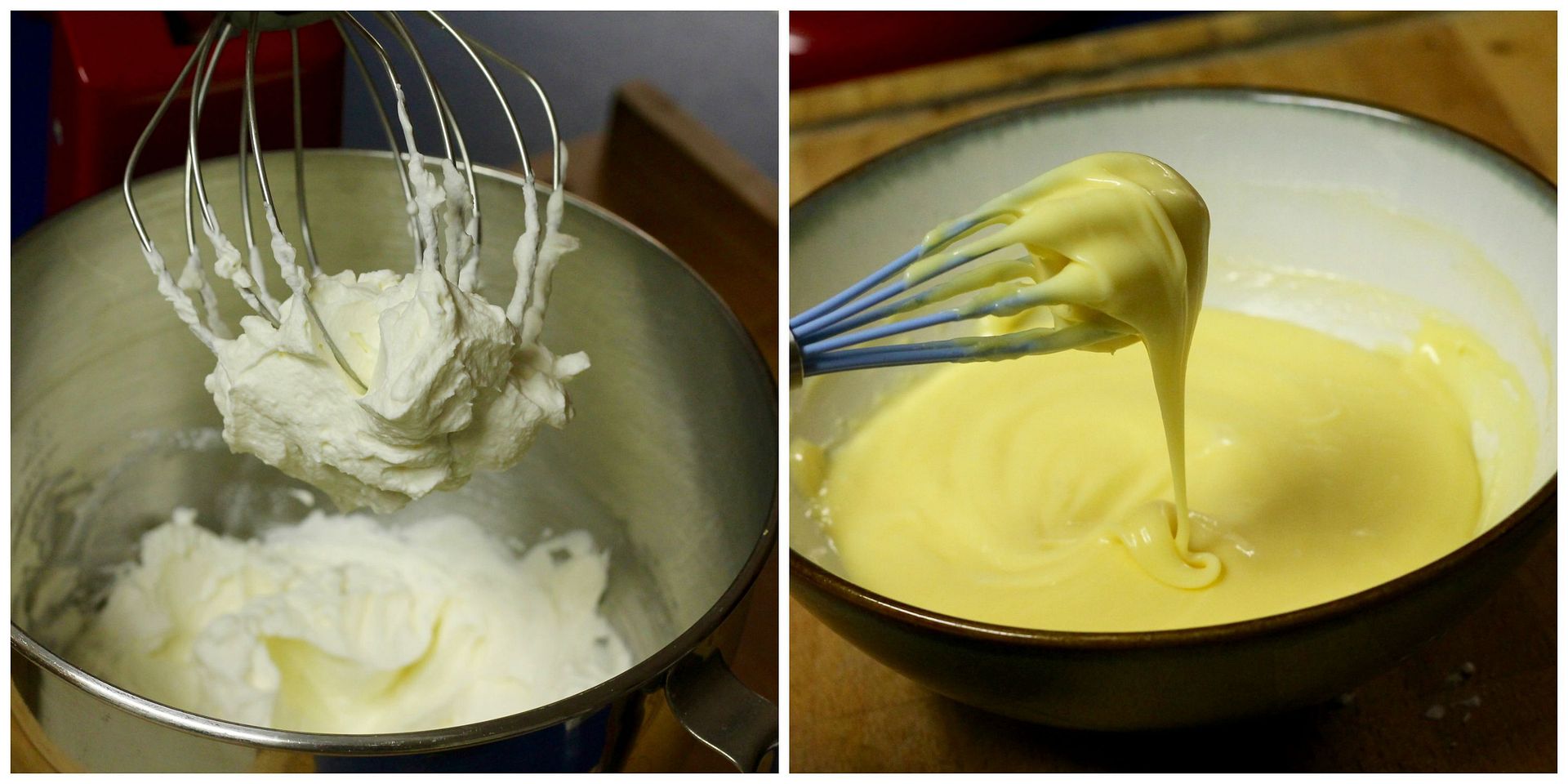 Place one crêpe in a serving platter and spread it evenly with a thin layer of lemon curd (about 2 tbsp). Place another crepe on top and spread with whipped cream. Repeat with the remaining crêpes, alternating lemon and whipped cream, ending with lemon on the top. Finish with a dollop of whipped cream and a few pieces of lemon zest (or some other more creative garnish).
Chill the cake for an hour or so before serving, then cut into wedges with a large, warm-bladed knife, wiping it clean between cuts.