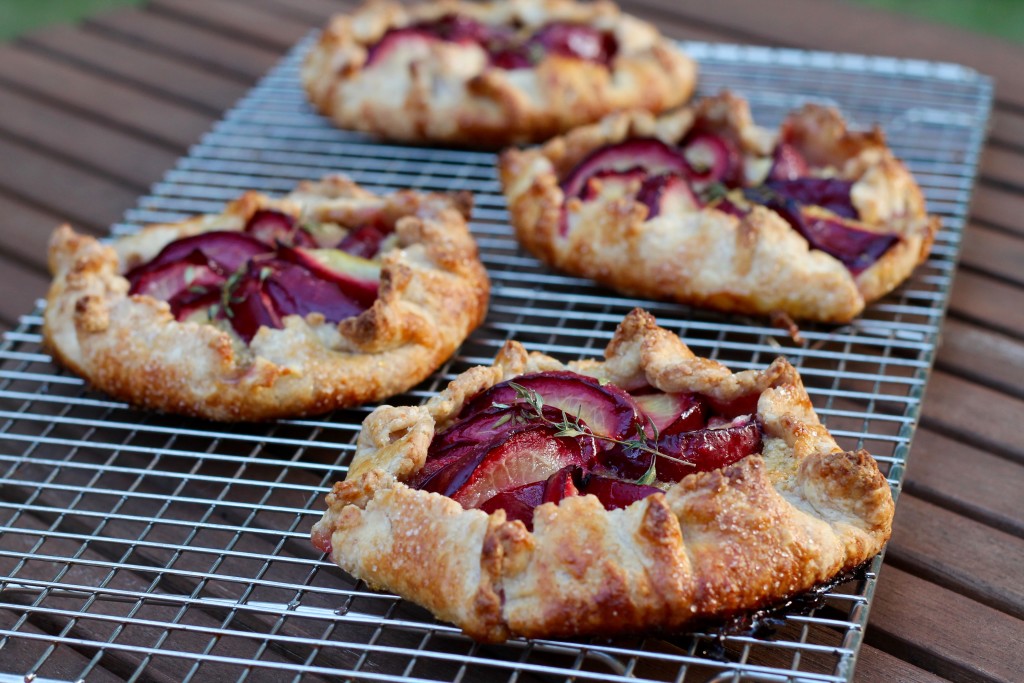 As much as I love making pies, the simplicity and ease of a galette is pretty hard to beat. No fancy equipment needed, no special skills or pastry techniques – just a good pie crust recipe and some perfectly ripe fruit. It's still pretty early in the season for local fruit around here, so I used plums from California. I absolutely love the tart, jammy flavour of cooked plums, and they are just gorgeous when baked: the gradient from yellow flesh to reddish-purple skin is so pleasing. I added a little bit of fresh thyme (plums love thyme, believe me) and some almond cream underneath the fruit, because it helps to soak up some of the fruit juices that inevitably leak out of a galette, and also, YUM.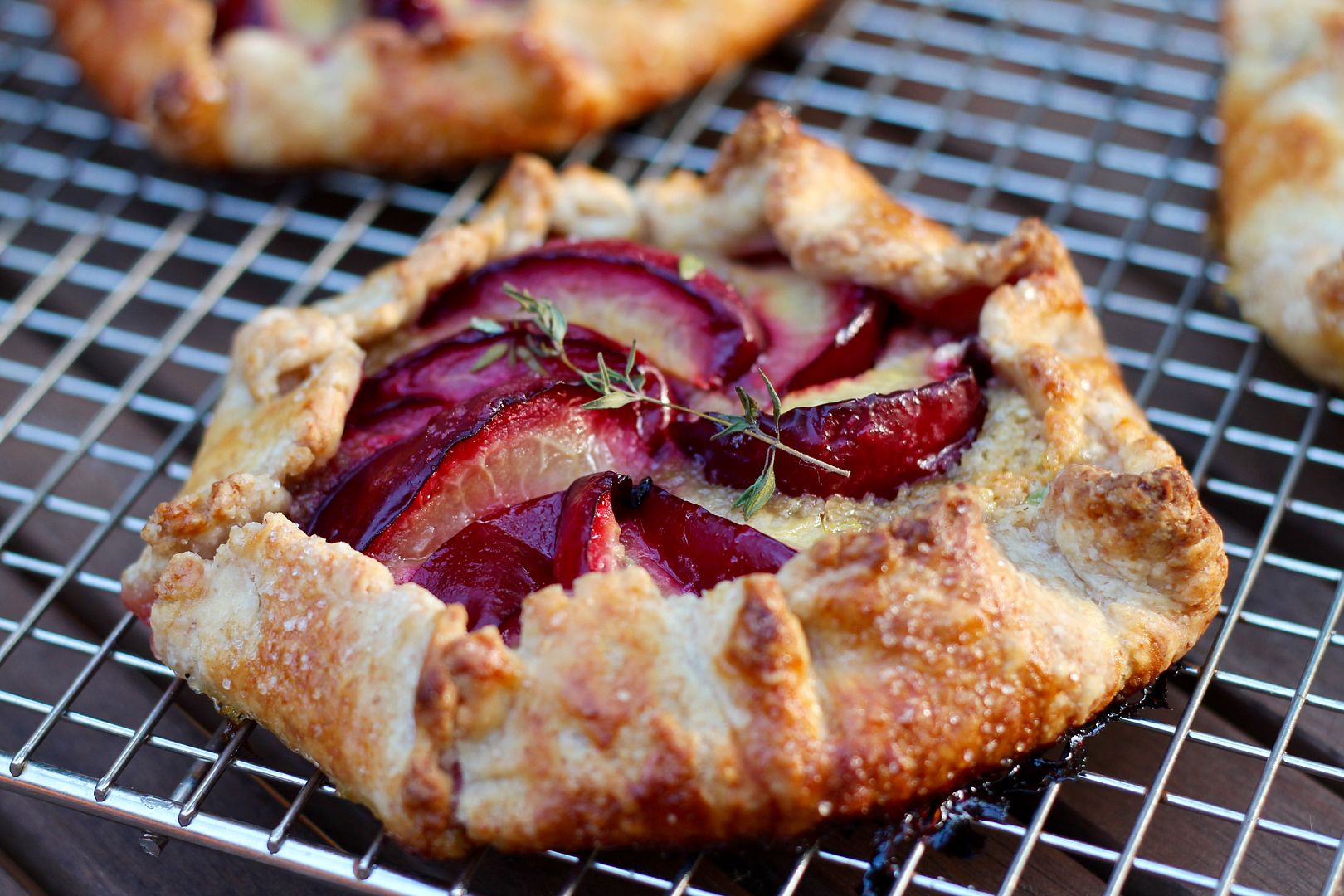 The pie crust is made with sourdough starter and some spelt flour from The Bojon Gourmet's recipe. Honestly, this is the best pastry I've made in a while: tender and flaky, with a great texture and flavour thanks to the whole spelt flour. The sourdough starter also contributes a depth of flavour to the pastry and its acidity helps to keep the crust tender. This isn't my first stab at sourdough pastry but it is certainly a good reminder of how wonderful it is!
I feel like I say this a lot, but these galettes are some of the best things to come out of my kitchen recently. The tart, jammy plums are perfect with the sweet almond cream, and the thyme adds a wonderful herbal, floral flavour. Nate admitted to swooning a little bit when he bit into one – they were that good! And considering how easy they are to make, there's really no excuse not to make them again (and again, and again!). Thanks to Sourdough Surprises for the suggestion 🙂
Sourdough Plum and Almond Cream Galettes with Thyme
Makes 4 personal-sized galettes (the pastry makes twice as much as needed but freezes well).
Sourdough Pastry
From The Bojon Gourmet. Makes enough pastry for 2 pie crusts, but you'll only need half of it for 4 galettes. The rest can be wrapped tightly and frozen for later use, or you can use it all and double the fruit and almond cream and make 8 galettes instead of only 4.
In a large bowl, combine:
1 cup all purpose flour
1 cup whole spelt or whole wheat flour
1 tsp salt
1 tbsp granulated white sugar
Add 1 cup (8 oz) very cold unsalted butter, cut into 1/2″ squares, and work it into the flour mixture with your fingers or with a pastry cutter, until it resembles coarse breadcrumbs, with some larger chunks of butter still visible.
With a spatula, gradually fold in about 1 cup (8 oz) 100% hydration mature sourdough starter. Add just enough of the starter that the dough starts to clump together.
Turn out the dough onto a lightly floured surface and frissage it by using the heel of your hand to smear the dough away from you in short strokes, creating thin layers of butter within the dough. Once it's all frissage'd flat, use a dough scraper to fold it back up into a square and repeat one more time.
Gather the dough into a ball and divide it in half. Set one half aside (you can freeze it for later use). Cut the remaining half into 4 equal pieces, roll into balls, and press into discs. Wrap in plastic wrap and chill for at least 30 minutes.
Almond Cream
In a food processor or with an electric beater, combine:
2 oz ground almonds
1 oz soft butter
1.5 oz brown sugar
pinch salt
Process/beat until combined, then add:
1 egg yolk (reserve the egg white to make an egg wash for the pastry)
1 tsp vanilla
2 tsp all purpose flour
Process/beat again until light and fluffy. Set aside.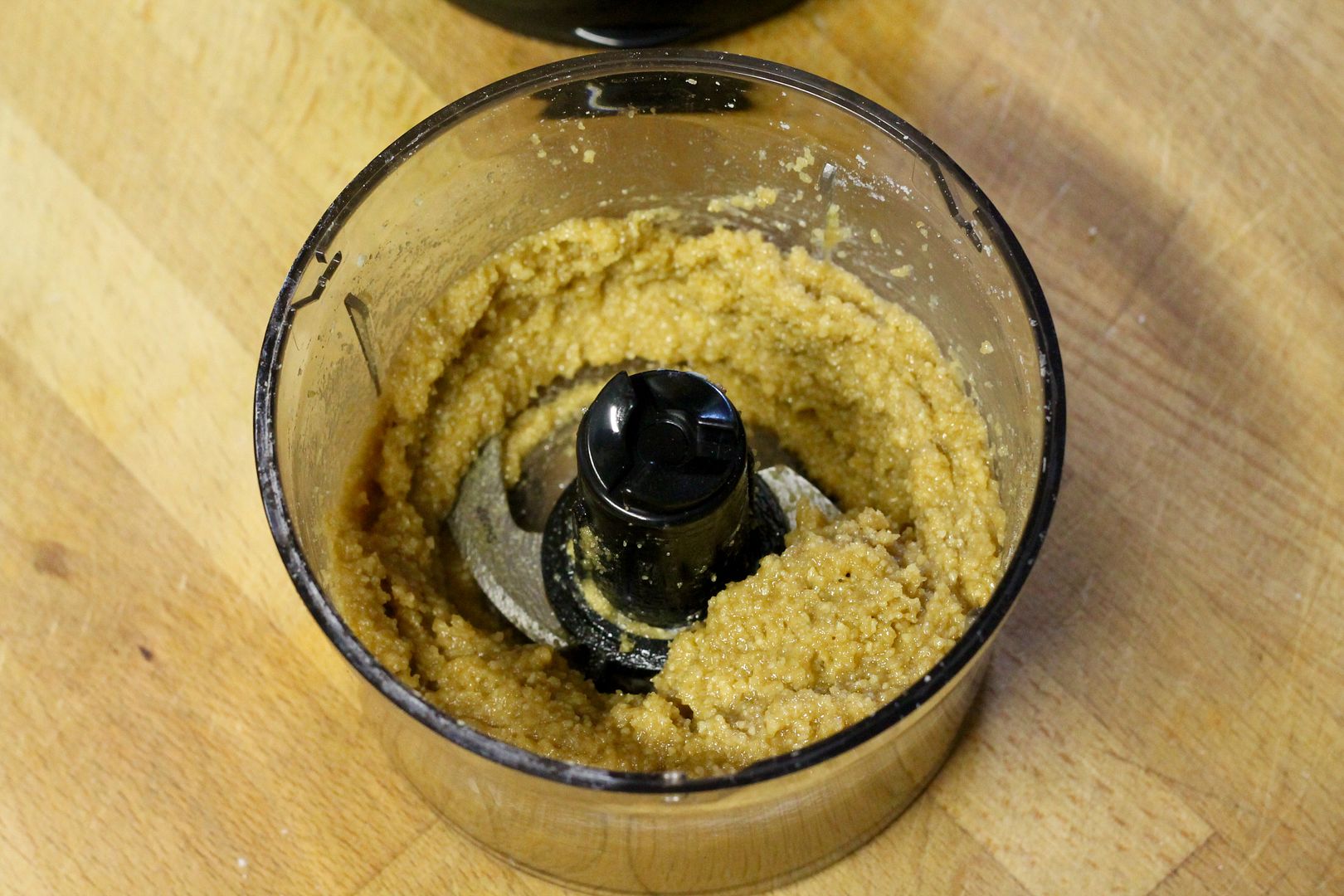 Plum Filling
Slice 4 ripe plums into 8 wedges each, discarding the stones. Place in a medium bowl and toss with:
1/4 cup granulated white sugar
1 tsp tapioca starch
pinch of fresh thyme leaves
Prepare this right before assembling the galettes – if the mixture sits too long, the sugar will pull all the juices out of the plums and you'll have a soupy mess on your hands.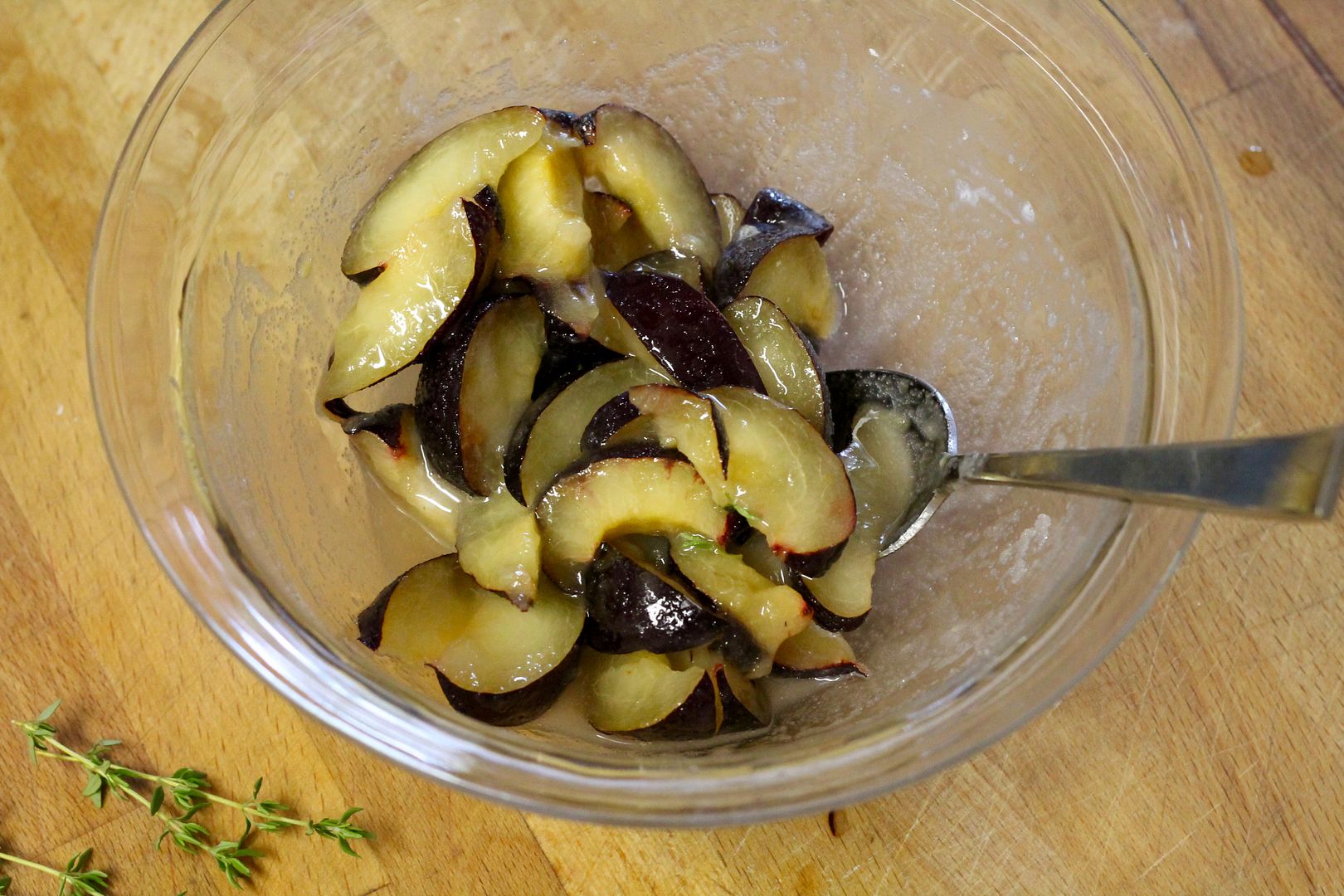 Assembly
Preheat the oven to 400˚F (375˚F convection). Roll each of the 4 small chilled pastry discs into 6″ rounds on a lightly floured surface. Place the rolled out pastry on a parchment-lined baking sheet and spread 1/4 of the almond cream in the middle of each pastry round, leaving a 1.5″ border around the edge.
Top the almond cream with a fan of 8 plum wedges, then spoon any accumulated juices and thyme leaves evenly over the plums.
Fold the edges of the pastry around the fruit, pleating and pinching to make a little nest. Place a small spring of fresh thyme on top of each galette.
Beat the reserved egg white with a spoonful of water and brush the egg wash over the pastry with a pastry brush and sprinkle the pastry with a little bit of coarse sugar.
Bake in the preheated 400˚F (375˚F) oven for about 20 minutes, rotating the pan halfway through baking, until the pastry is crisp and golden and the fruit is bubbling.
Remove to a rack to cool. The galettes are best served the day they are baked, but no one was complaining about eating them the day after, either 😉