For the May challenge Marcellina from Marcellina in Cucina dared us to make Lamingtons, an Australian delicacy that is as tasty as it is elegant.
The story goes that these little treats came about after a serving maid dropped some squares of sponge cake in chocolate icing, and her boss, Lord Lamington, Governor of Queensland, suggested that rather than throwing them out, she roll them in coconut "to avoid sticky fingers". I'm not entirely sure that this story is water-tight, however, as the Lamington is also claimed by New Zealand and is known as cupavci in Bosnia. But regardless of who came up with them, they are a good idea.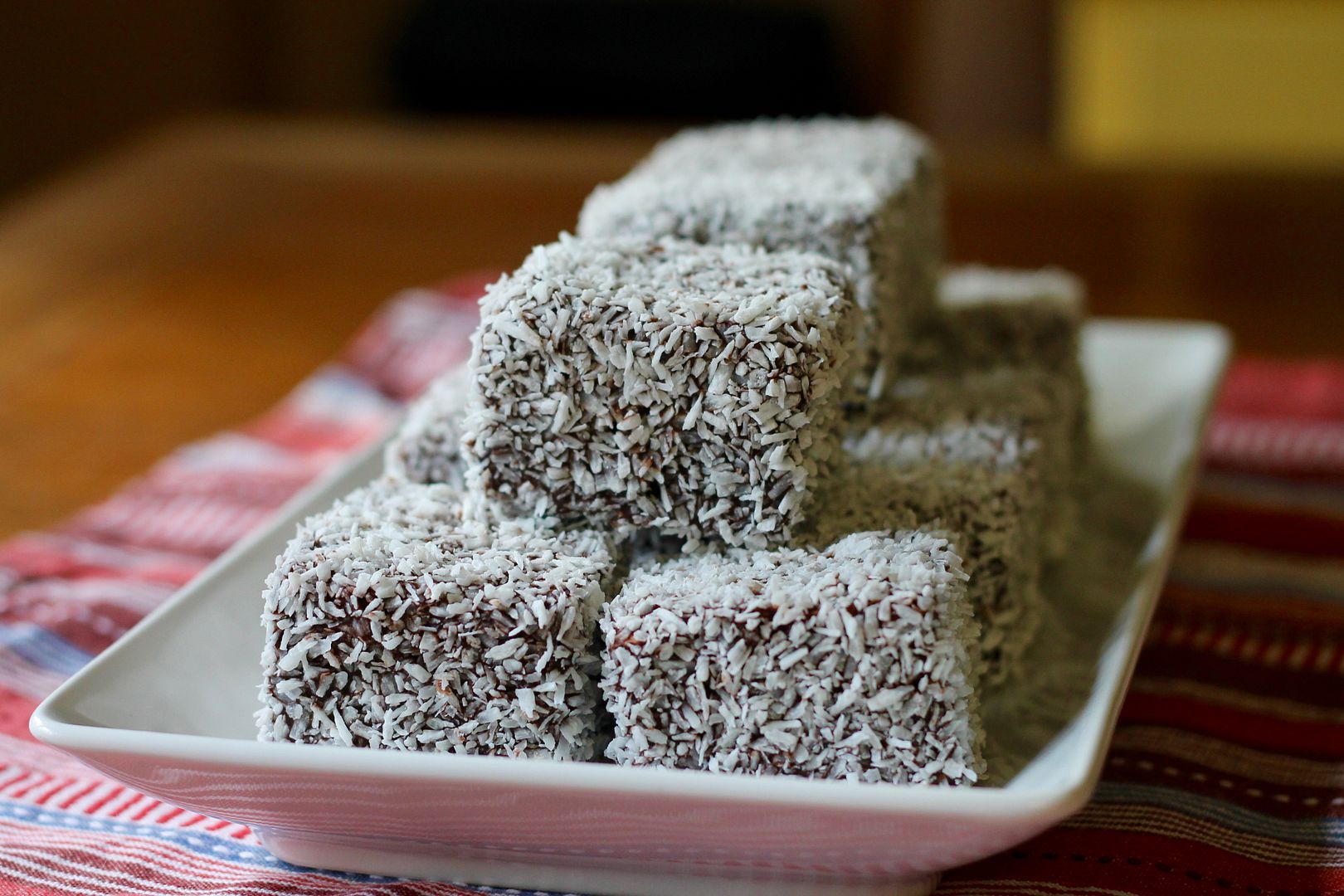 The classic Lamington is pretty straight forward – cake, chocolate icing, coconut – but can also include a smear of jam in the middle, and on special occasions, jam and a dollop of whipped cream. I made both versions, one for dessert (whipped cream) and one for taking to work (jam). The cake part of these Lamingtons is a true sponge cake, leavened with whipped eggs and made with corn starch rather than flour, which means it is super light and delicate (and gluten-free, if that's an issue for you). Next time I would dip the cakes in more of a chocolate ganache, as I found the chocolate icing to be a little too sweet with the jam and coconut, but these were very good, and even better a day or two after they were made when all the textures and flavours had a chance to meld together.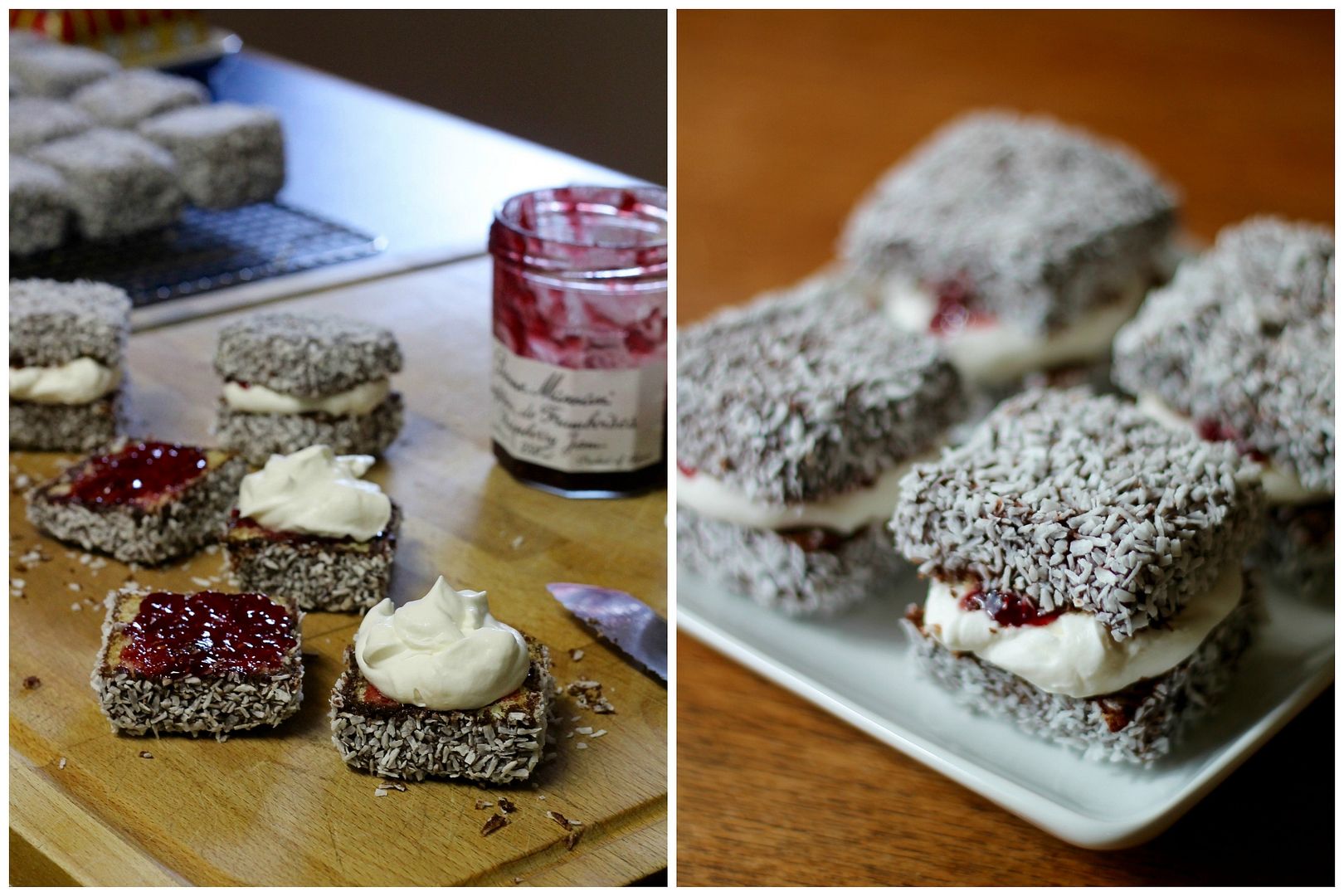 Thanks for the great recipe Marcellina!
Classic Lamingtons
Recipe by Marcellina in Cucina. Makes 2 dozen Lamingtons.
Sponge Cake
Preheat the oven to 350˚F (325˚F convection). Line the bottom and sides of a 9″ x 13″ pan with parchment paper and set aside.
In the bowl of a stand mixer with the whisk attachment, combine:
5 large eggs, at room temperature (this will allow them to whip up better)
225 g (1 cup) superfine caster sugar (this will allow it to dissolve in the eggs better)
a pinch of salt
Beat on on high speed until very pale, thick, and tripled in volume (about 10-15 minutes). The eggs should fall in thick ribbons from the whisk.
Add:
the seeds scraped from 1 vanilla bean or 1 tsp vanilla extract
Beat for a few more minutes to combine.
While the eggs are beating, sift together at least 3 times:
200 g (1 1/4 cups) corn starch
1 1/2 tsp baking powder
Sift over the whipped eggs and fold in gently with a balloon whisk, taking care not to deflate the eggs too much.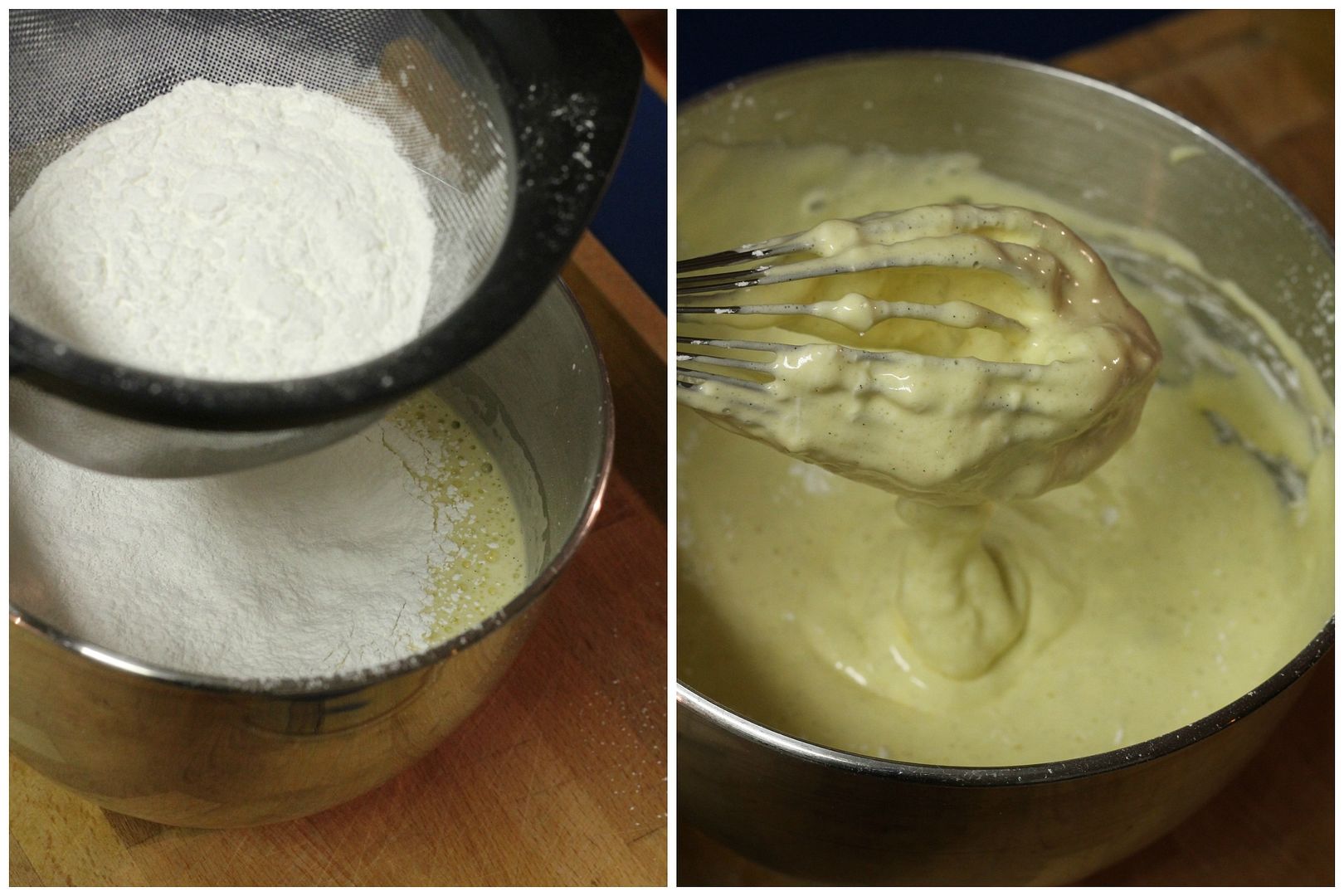 Once smooth, lightly fold in:
1 tbsp melted butter, warm (if it's too cold it will deflate the batter)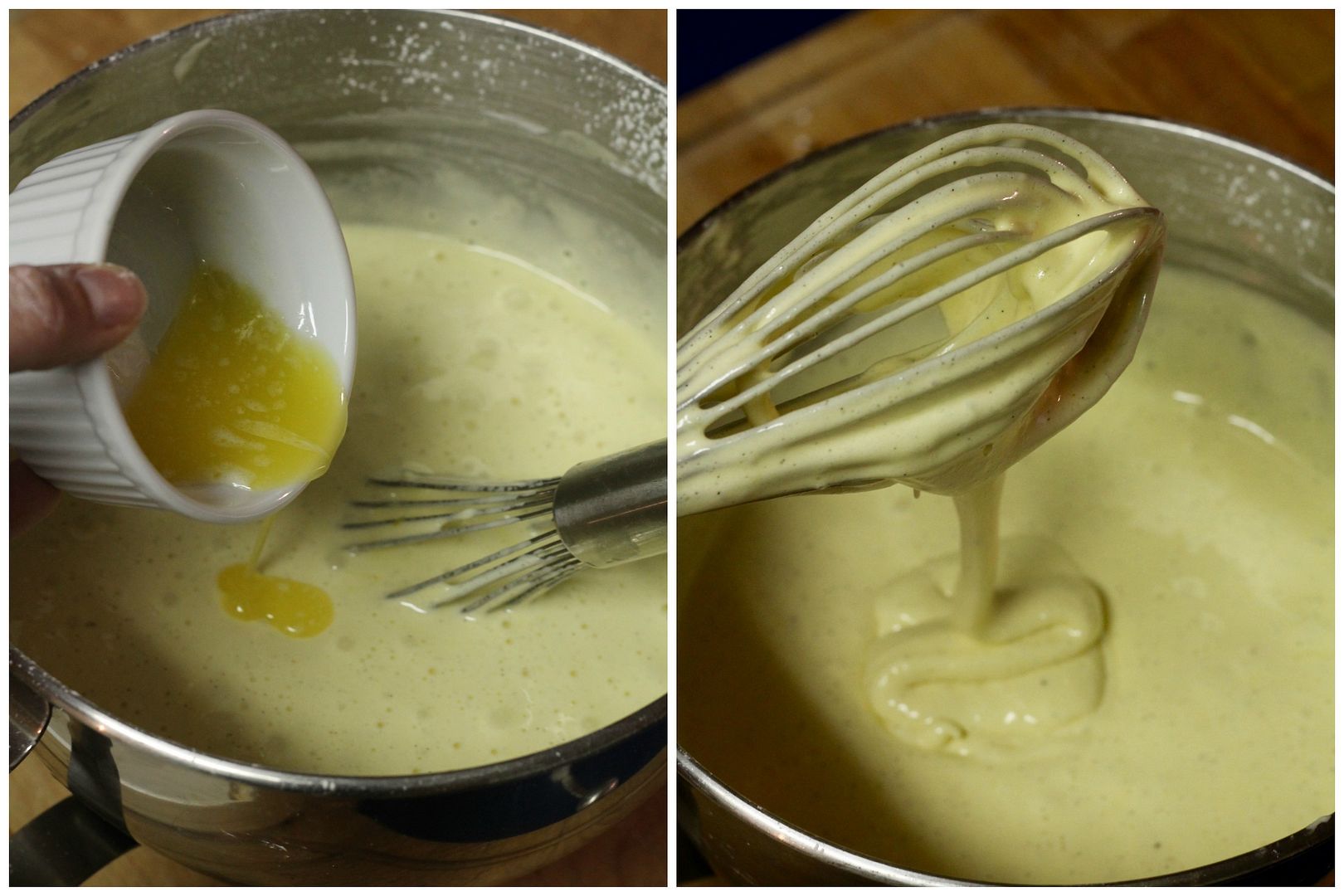 Pour the batter into the prepared pan and spread it evenly with a spatula. Bake in the preheated 350˚F (325˚F convection) oven for 22-25 minutes, until golden and puffed (try to avoid opening the oven to peek). The sponge should pull away a little from the sides of the pan and be slightly springy when pressed.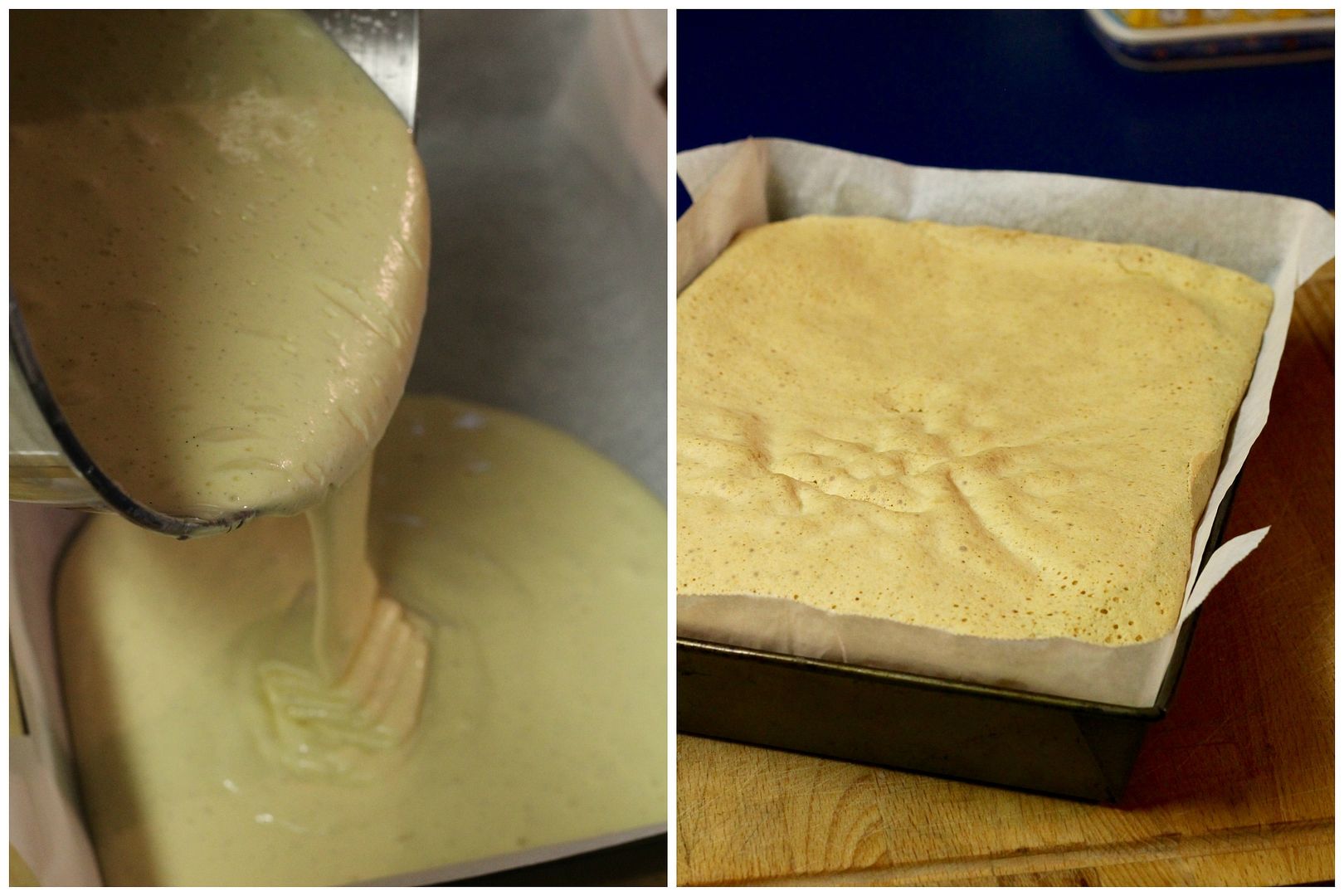 Immediately turn it out onto a rack and peel off the parchment paper. Allow the sponge cake to cool completely before continuing (it's even better if you leave it overnight).
Chocolate Icing
In a medium heatproof bowl, sift together:
400 g (3 1/4 cups) icing sugar
40 g (1/3 cup) cocoa powder
pinch salt
Stir in:
1 tbsp melted butter
1/2 cup warm milk
Add 1-2 more tbsp milk if necessary to thin out the icing to a drippy, dippable consistency. Place the bowl of icing over a pan of gently simmering water on the stove to keep it warm and thinned while you dip the sponge cake.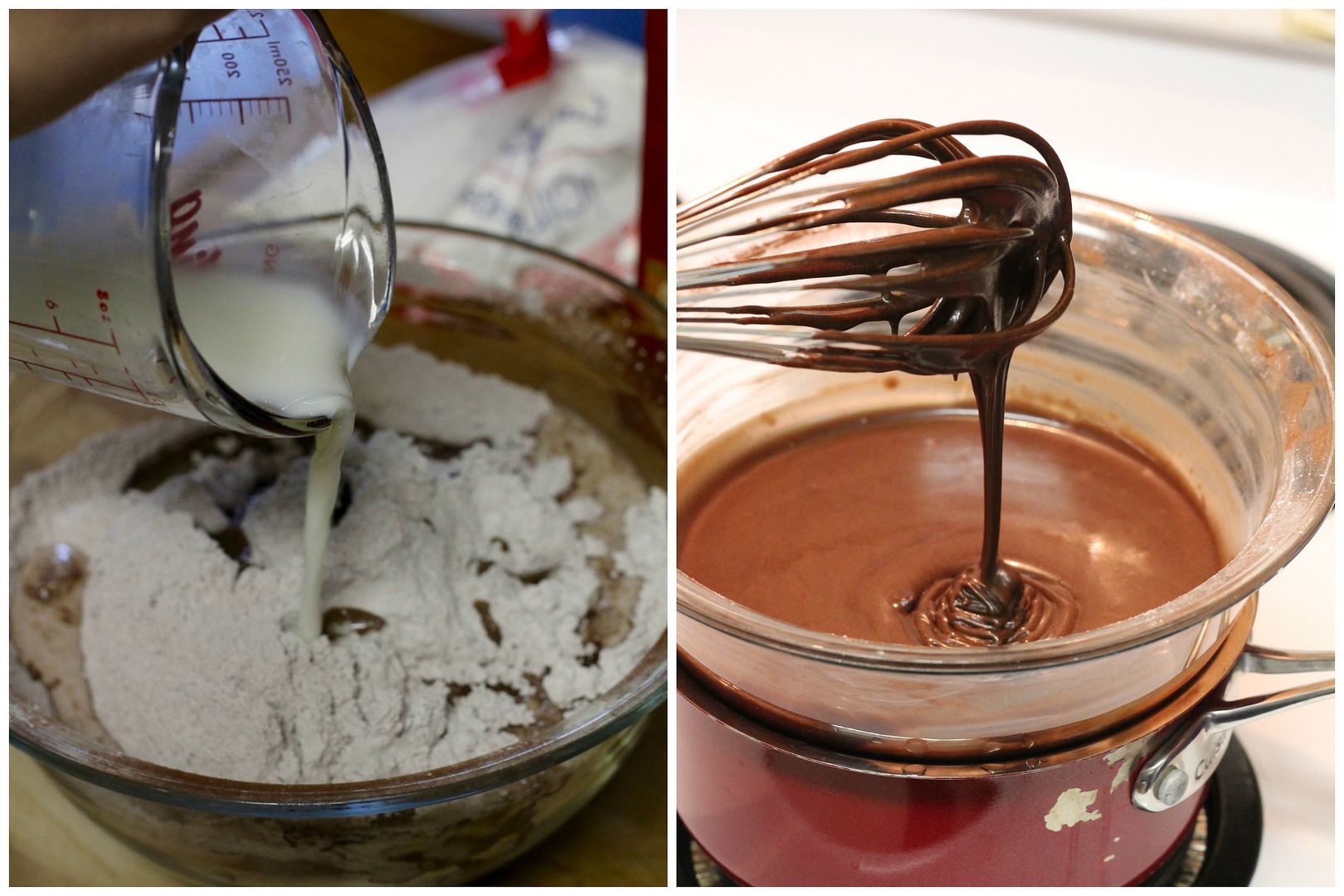 Assembly
For jam-and-cream filled Lamingtons, cut the sponge cake it into 24 squares (6 squares by 4 squares). Each square will be split and filled after it has been coated in chocolate and coconut.
For jam filled Lamingtons, split the entire sponge cake in half horizontally into two layers. Spread one layer thinly with jam and top with the second layer. Press gently to adhere, then cut the sponge into squares as above.
Place 250 g (2 3/4 cups) unsweetened dessicated coconut in a shallow bowl. Dip each square thoroughly in the chocolate icing, then allow the excess to drip off before rolling it in coconut to cover it on all sides.
If the chocolate icing starts to thicken too much while you are dipping the cake, place the pot of water back on the stove to warm it up and thin out the icing. Place the dipped and rolled cakes on a rack and allow to dry, about 2 hours.
Store the jam-filled Lamingtons in an airtight container for up to a few days (they are even better when eaten on day 2).
For jam-and-cream filled Lamingtons, split each chocolate and coconut-coated square (once dry) in half horizontally, spread each side with a little jam, and dollop with whipped cream. Sandwich the cream between the two sponge cake halves. This version is best eaten within a few hours of assembly.