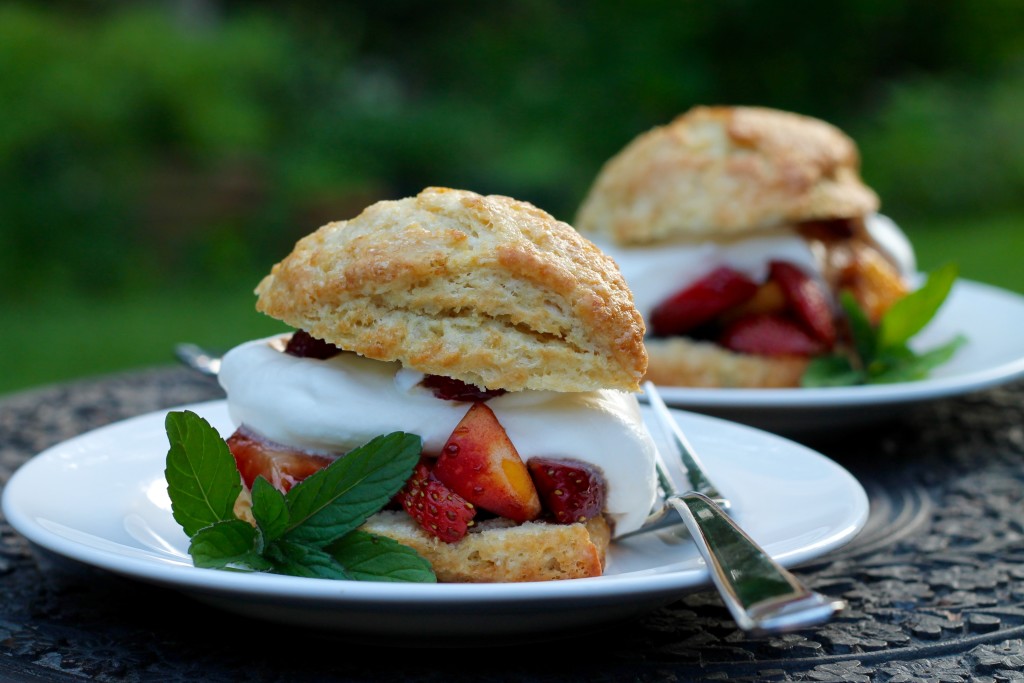 I love scones, and I love sweet baked goods made with sourdough starter. So how is it that I've only made scones with sourdough starter ONCE before? It was time, and the Sourdough Surprises challenge this month was to make sourdough biscuits (which I took to mean scones), so I had a good reason. I modified a buttermilk scones recipe to use mature/discard sourdough starter, which has a comparable acidity to buttermilk and therefor the action of the chemical leaveners is similar. These scones are tender and slightly springy on the inside and crunchy-crumbly on the outside. They'd be great served with butter, jam, and a cup of tea, but I decided to turn them into shortcakes for dessert with the addition of some fruit and whipped cream.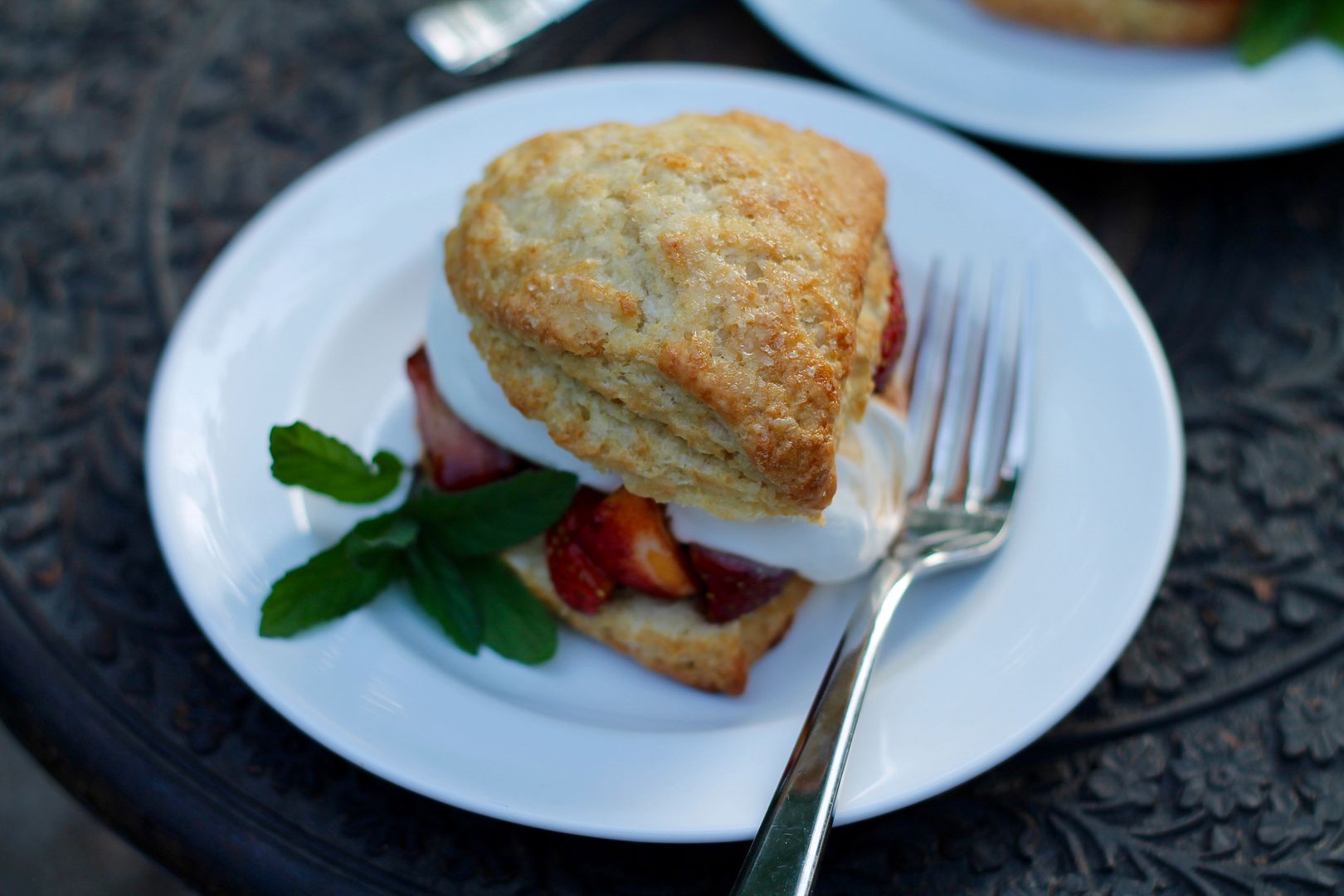 I put a little bit of a twist on the classic strawberry shortcake by dicing up a nectarine along with the berries and macerating it all with a little sugar and a spoonful of crema di balsamico (a balsamic vinegar syrup that you can purchase or make yourself by reducing balsamic vinegar with a little bit of sugar). The combination of the syrupy strawberries and nectarines, scone, and whipped cream is fantastic: just the right balance of not-too-sweet and not-too-heavy.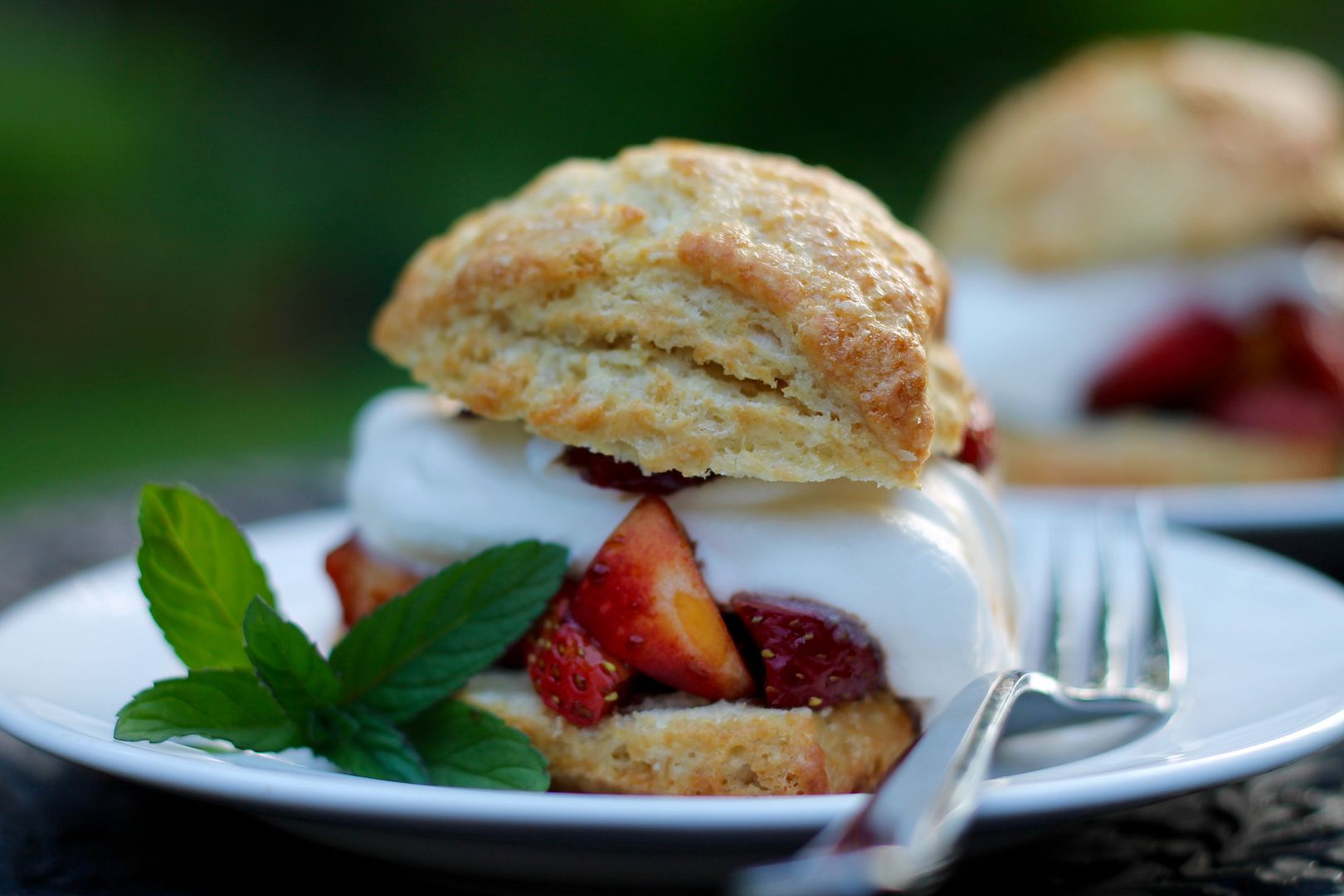 With summer approaching, this is a great dessert to have in your back pocket to showcase seasonal fruit. The only problem is that there's no real way to eat a shortcake neatly – the fruit and cream are just going to squish out and get messy when you try to cut into it with your fork – but don't let that stop you!
(Also, I won't judge if you decide to eat this for breakfast – I mean, scones are an acceptable breakfast food, and this isn't really that different than a plate of loaded waffles. Not that I'm speaking from experience or anything…)
Sourdough Scones
Makes 6 small scones.
In a medium bowl, combine:
3/4 cup + 2 tbsp all purpose flour
1 tbsp granulated white sugar
1 1/4 tsp baking powder
1/4 tsp baking soda
1/4 tsp salt
With a pastry cutter, cut in 1/4 cup cold, unsalted butter until the mixture resembles coarse bread crumbs. Set aside.

Mix together:
3/4 cup 100% hydration mature or discard sourdough starter
3 tbsp whole milk
Pour the sourdough-milk mixture into the flour mixture and toss with a form to combine into a loose, sticky ball.

Turn out onto a lightly floured surface and knead it 5-6 times to bring it together into a smooth ball. Flatten it into a 1″ thick circle, then cut into 6 wedges with a large knife. Place on a baking sheet lined with a silicone baking mat or parchment paper, brush the tops with milk or cream, and sprinkle with a little bit of sugar.

Bake in the preheated 425˚F (400˚F convection) oven for 12-14 minutes, until risen and golden brown. Remove to a rack to cool to room temperature for shortcakes, or serve warm with butter and jam.
Strawberry Nectarine Shortcakes with Balsamic Syrup
I didn't measure anything here, but the basic idea is this:
Slice/dice up some strawberries and a ripe nectarine – about 1 1/2 cups fruit total. Drizzle with a spoonful of crema di balsamico and sweeten with granulated white sugar to taste. Let the fruit sit for an hour or so to macerate and release its juices.
Whip about 1/2 cup whipping cream with a spoonful of sour cream or Greek yogurt until it thickens to soft peaks. Sweeten with powdered sugar to taste, then continue to beat to medium peaks.
To assemble, slice a scone in half. Moisten the cut surface of the top and bottom with the balsamic syrup-y fruit juice, then spoon some fruit on the bottom of the scone. Add a generous dollop of cream, a little more fruit, then place the lid of the scone on top.