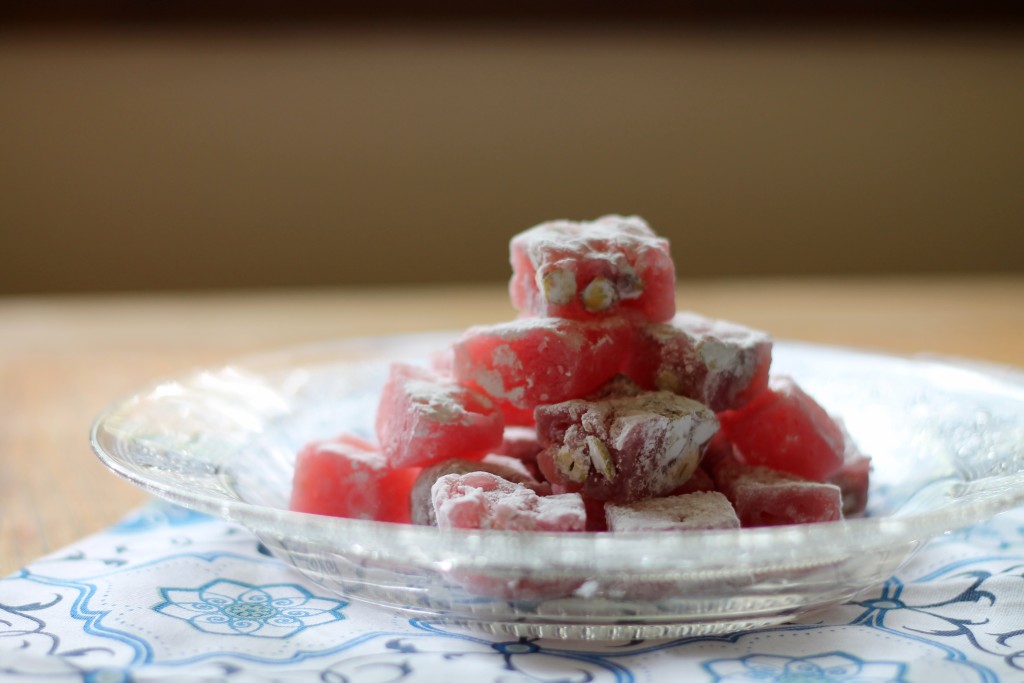 For the Month of May, Rachael from Pizzarossa challenged us to make candy but not just any candy! She challenged us to make Turkish Delight, or Lokum.
This month, I joined the Daring Cooks (counterpart to the Daring Bakers) to make Turkish Delight, the jelly-like, powdered sugar-coated squares of rose water candy. If it sounds a little weird, that's because it is. Weird, but good, and the homemade version is pretty close to the Turkish Delight I remember eating in the holiday candy boxes that my teacher parents usually received around Christmas.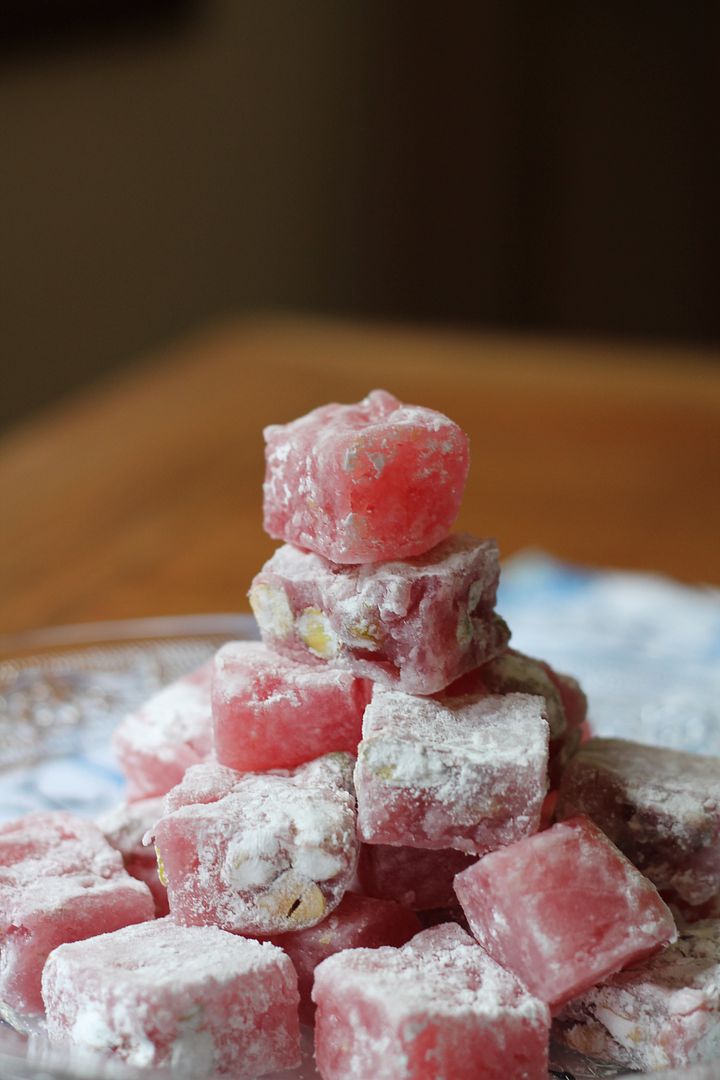 Today, May 15, is Jamie Oliver's Food Revolution Day, and it seems appropriate to share a challenge recipe on a day that's all about food education, a corollary of which is encouraging people to get into the kitchen to cook. Turkish Delight is a good candidate for this because it's rather out of the ordinary, a little science-y/magical, and yet surprisingly easy to make. The jelly-like consistency comes from a mixture of sugar syrup and cooked cornstarch roux, and while rose water is the traditional flavouring, you can use any kind of flavour extract you want to personalize it. Along with the rose water, I added pistachios to half the batch and lemon zest to the other half. My little cubes aren't perfectly square because the mixture started to set before I could spread it out evenly, but other than that, it turned out very well. Thanks for the challenge, Rachael!
Turkish Delight
Adapted from Rachael, who adapted it from here and here. Yield depends on how many squares you cut, but this isn't a very large batch so it's perfect for experimenting.
In a small, heavy-bottomed saucepan, combine:
2 cups granulated white sugar
1 tsp lemon juice
3/4 cup water
Heat over medium-low until the sugar dissolves (no need to stir), then bring to a boil over medium heat, attach a candy thermometer, and cook the sugar syrup until it reaches 260˚F (hard ball stage), about 10-15 minutes.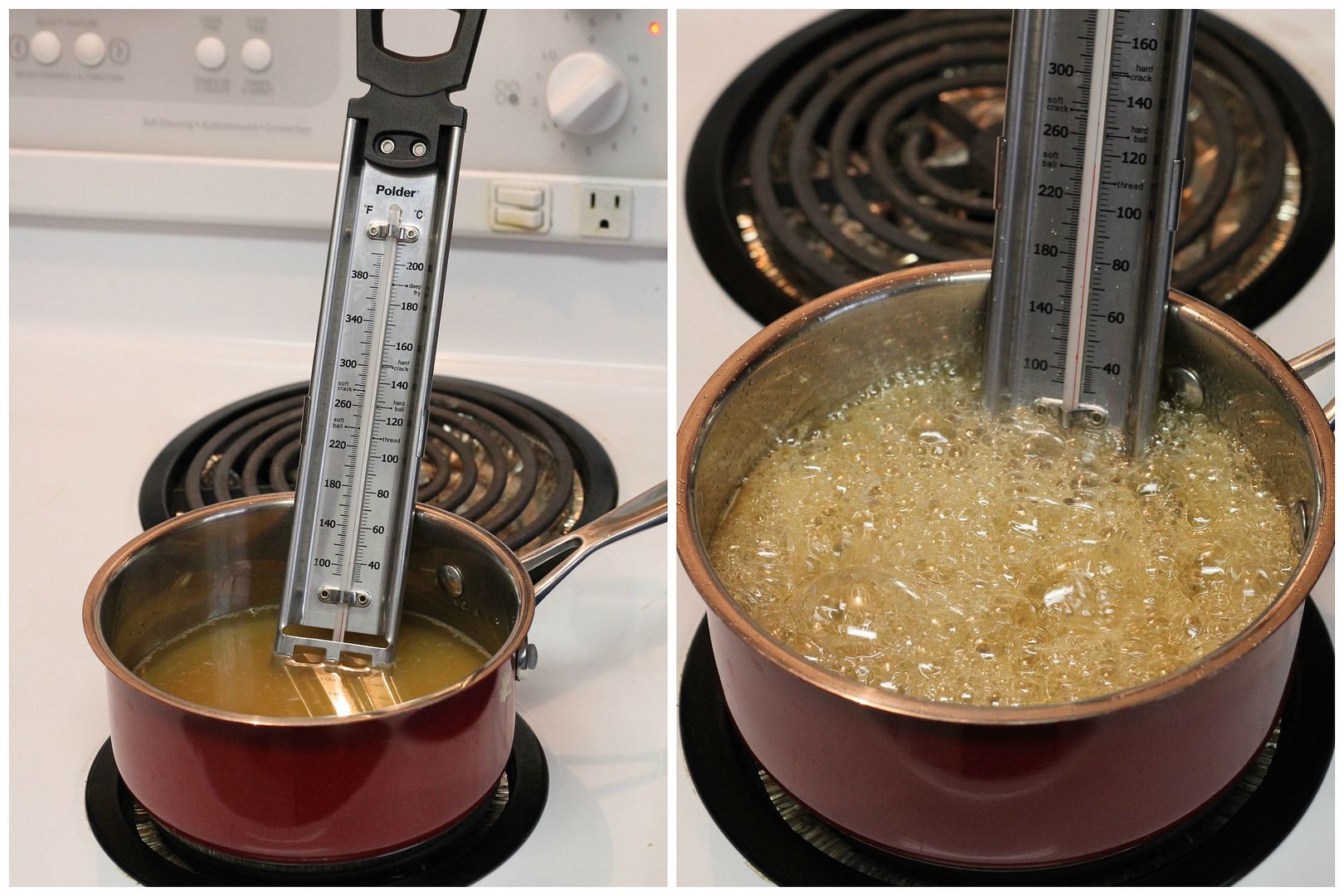 Meanwhile, in a medium-sized saucepan, whisk together until smooth:
1 1/2 cups water
1/2 cup + 2 tbsp cornstarch
1/2 tsp cream of tartar
When the sugar syrup reaches about 245˚F, bring the cornstarch mixture to a boil over medium heat, whisking constantly, until it cooks into a thick, smooth paste. Remove from the heat.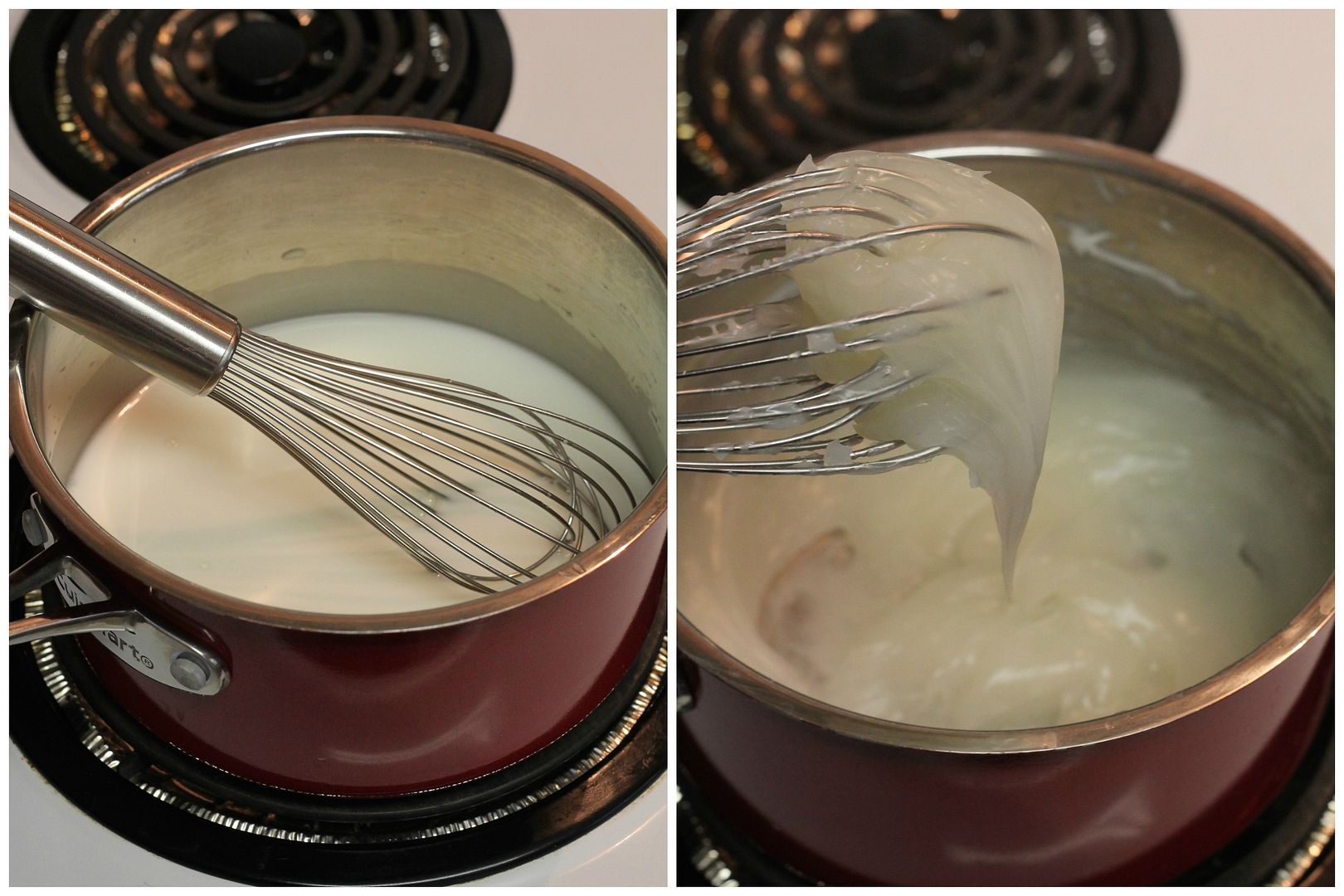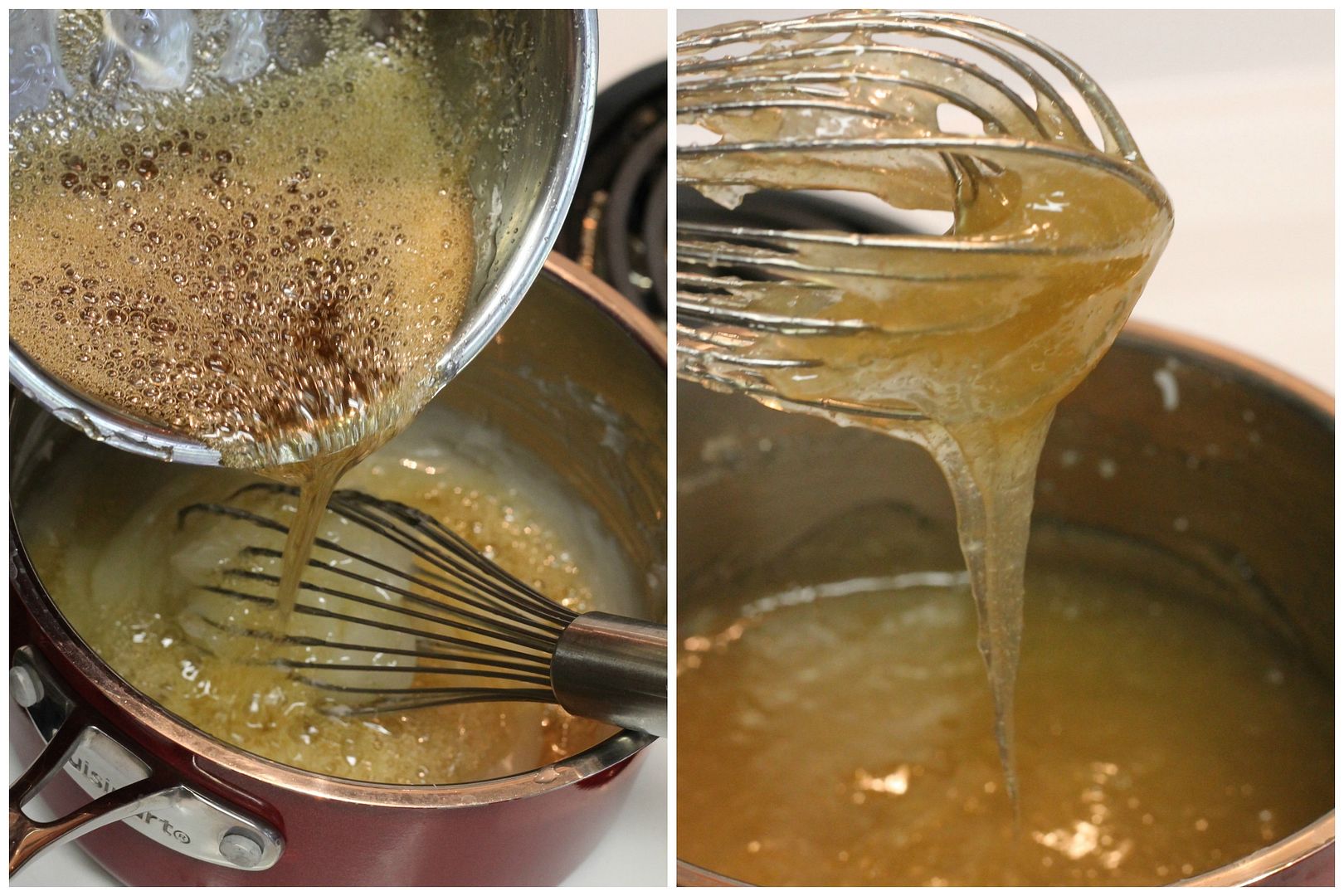 The sugar syrup should now be nearing 260˚F. When it reaches that temperature, pour it slowly and carefully into the cornstarch mixture, whisking constantly until it is smooth. Put the pot back on the stove over low heat and cook, stirring very few minutes to avoid scorching, for about 40 minutes, until the mixture is pale yellow and very thick and gluey. (I used unrefined cane sugar that already has a beige-ish tint to it, so it was a little hard to see the colour change.)
While the mixture cooks, line a 9″ x 5″ loaf pan with lightly oiled plastic wrap, leaving lots of overhang (I split the batch into two flavours, so used two 4-or-5-ish inch square containers). Once the mixture is ready, remove it from the heat and whisk in:
2 tsp rosewater (or other flavour extract)
a few drops of red (or other) food colouring (optional)
1 cup chopped nuts, dried fruit, etc. (optional)
grated citrus zest (optional)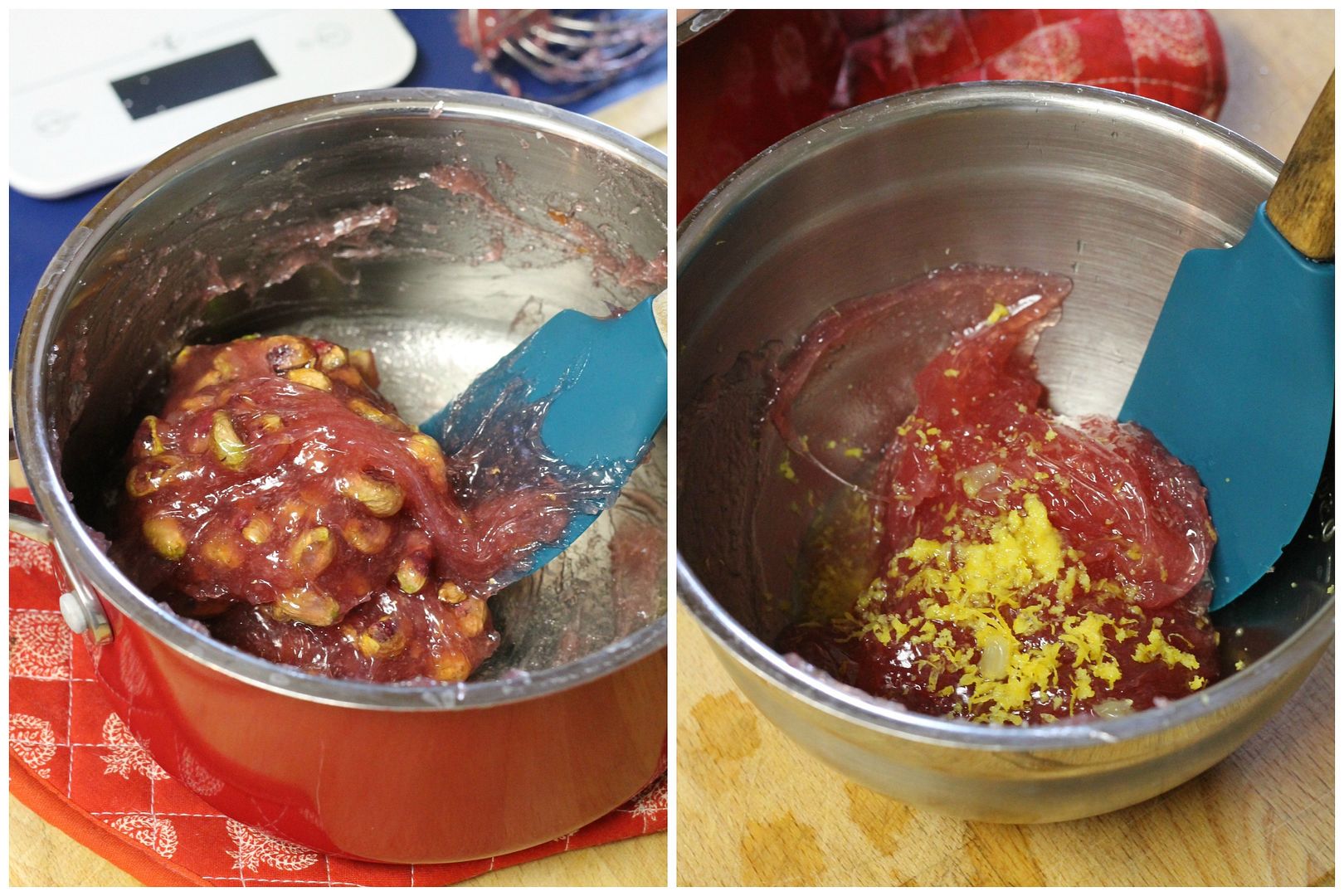 Pour the mixture into the lined loaf pan and spread it evenly with a spatula. Let it cool, then fold over the overhanging plastic wrap and let it set at room temperature for 6-8 hours or overnight.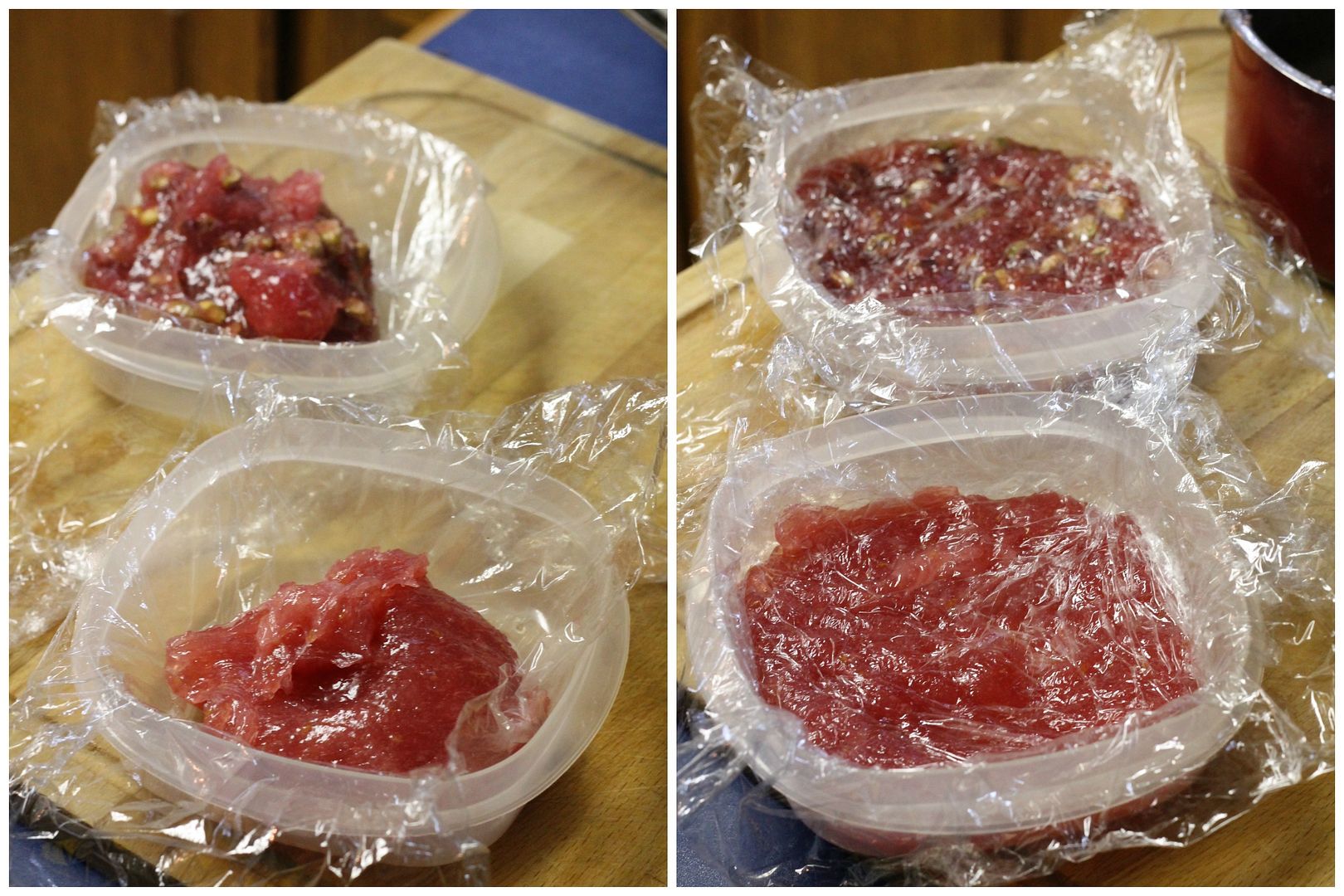 Once set, unwrap the Turkish Delight and place it on a surface that has been heavily dusted with powdered sugar. Dust the top with powdered sugar, then use a lightly oiled knife to cut it into squares. Toss the squares in more powdered sugar so all the sticky edges are covered. Store in an airtight container with extra powdered sugar. The candy will absorb the powdered sugar over time, so you may need to re-coat it before serving.