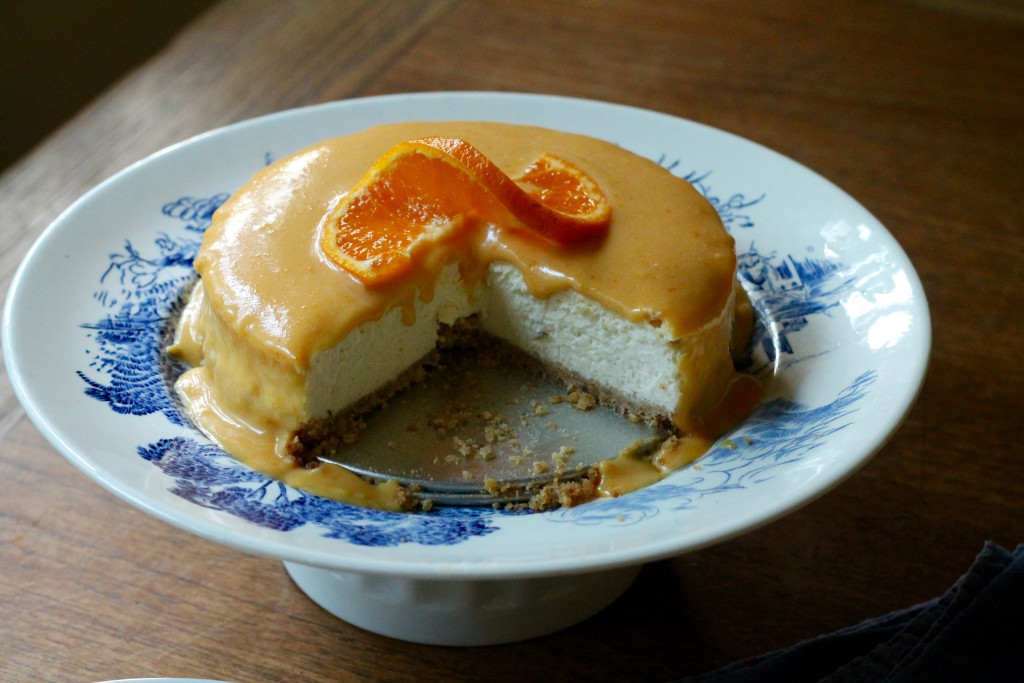 This year for his birthday, Nate requested a creamsicle cheesecake. I'll admit that the creamsicle combination of creamy vanilla ice cream with orange isn't usually my first choice – especially when there is creamy vanilla ice cream with chocolate to be had instead – but since it was his birthday, I acquiesced. Compared to the chocolate caramel bacon insanity cake from his birthday a few years ago, it was a relatively simple request.
To stay true to the orange-dipped vanilla ice cream creamsicle, I decided on a vanilla cheesecake with a topping of orange curd. I wanted a smooth, creamy, lighter textured cheesecake, and a tangy, bright orange curd. In my experience, orange curd doesn't have the same zip that lemon curd does, so I found a recipe that cooked down the orange juice to concentrate the flavour, used clementine juice to further boost the orange flavour, and added some lemon juice for zing to cut through the richness of the cheesecake. The cheesecake itself, which I baked in a tiny six-inch pan for just the two of us, has a double dose of vanilla (bean plus extract) and came out with the exact creamy-yet-light texture I was hoping for.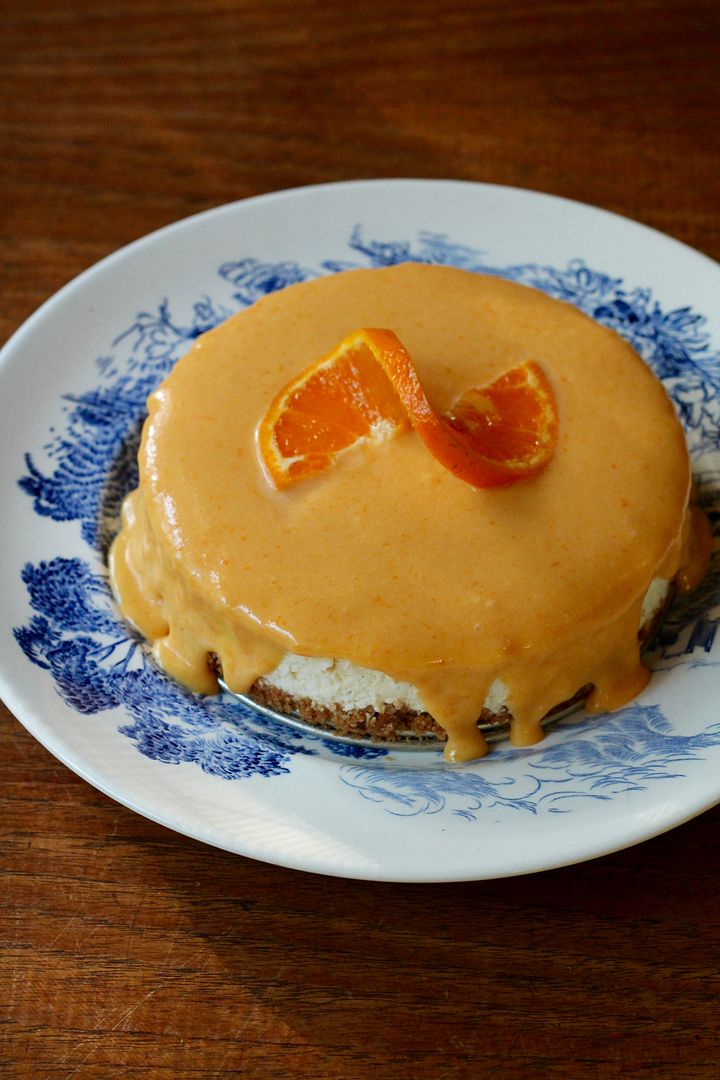 Nate concurred that it tasted just like a creamsicle, and even though there wasn't a speck of chocolate it in, I have to say that it was really good. I'm probably not going to give up my beloved chocolate-and-almond-dipped vanilla ice cream bar in favour of a creamsicle, but I will definitely say yes to a slice of this cheesecake!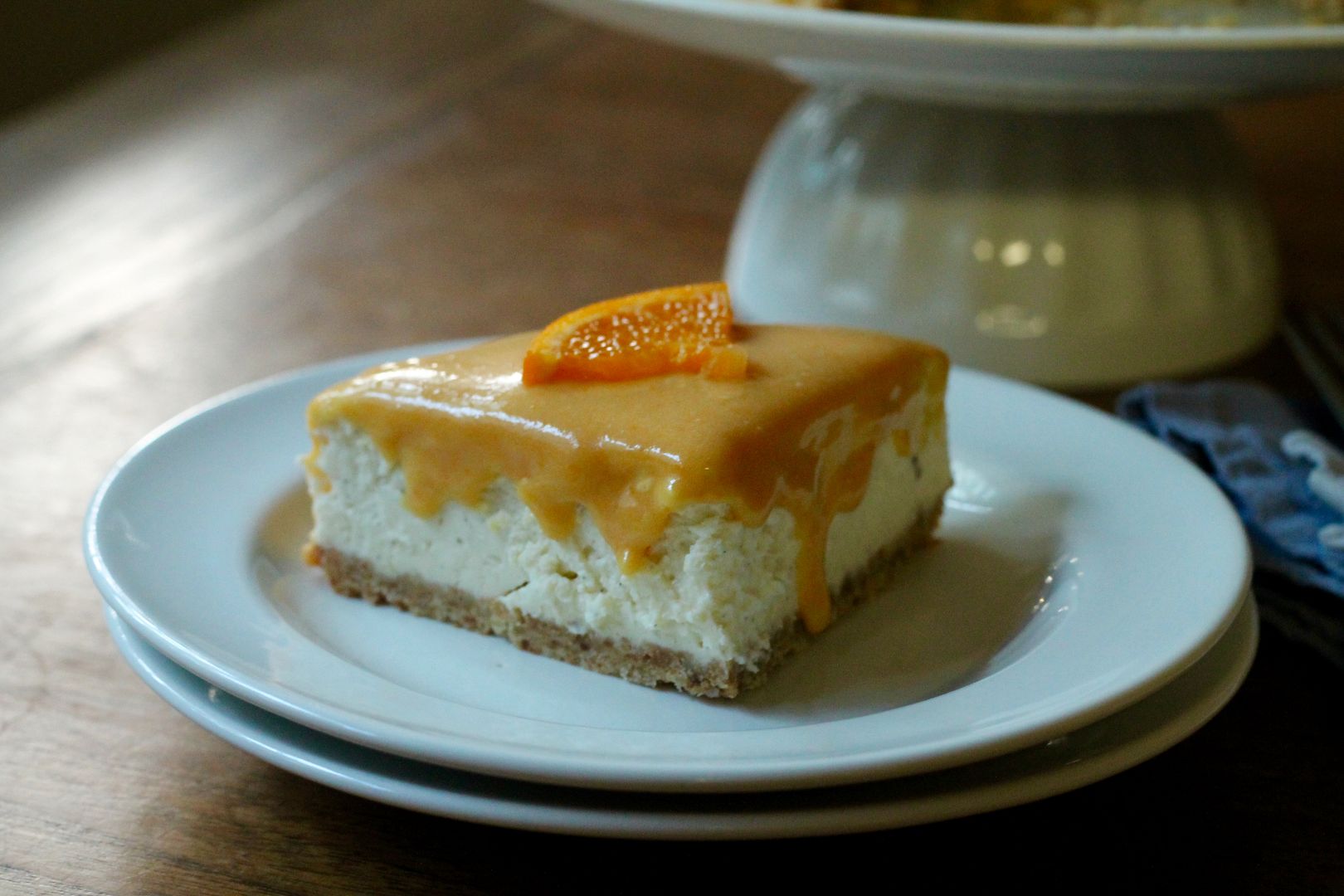 Vanilla-Orange Creamsicle Cheesecake
Makes one 6″ cheesecake, 4-5 servings. To make a full-size 9″ cheesecake, double or triple the cheesecake recipe, and use all of the orange curd to top it.
Cheesecake
To make the crust, preheat the oven to 350˚F (325˚F convection). In a small bowl, combine:
1/2 cup vanilla wafer crumbs (homemade if you're feeling adventurous)

4 tsp melted butter
pinch kosher salt
Stir with a fork until evenly moistened, then press firmly into the bottom of a 6″ springform pan. Bake in the preheated 350˚F (325˚F convection) oven for about 10 minutes, until dry in the middle and just golden around the edges. Remove from the oven and set aside. Reduce the oven temperature to 325˚F (300˚F convection).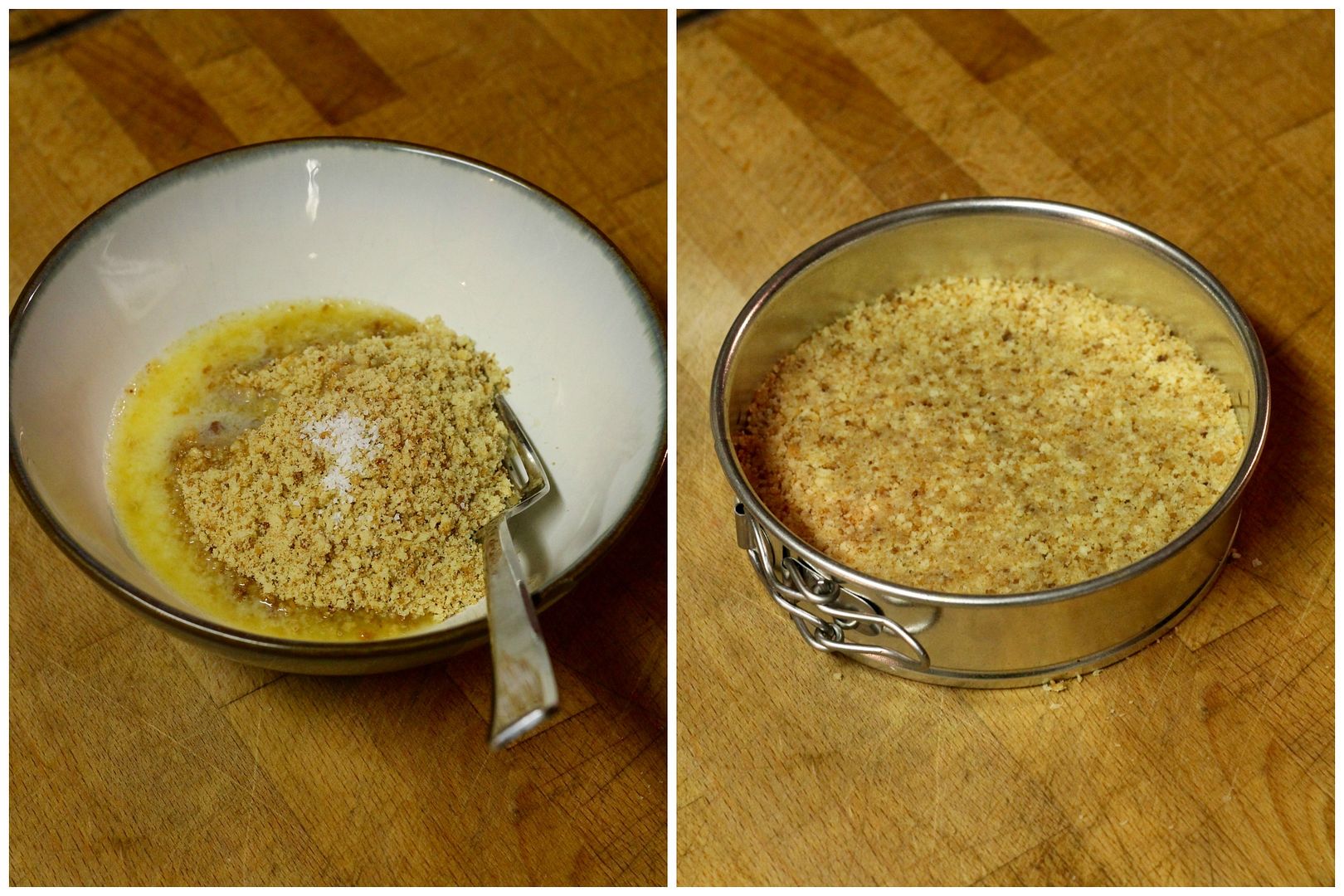 For the cheesecake batter, in the bowl of an electric mixer with the paddle attachment, combine:
1 package (250 g/8 oz) cream cheese, softened to room temperature
1/4 cup granulated white sugar
seeds scraped from 1/2 vanilla bean
Stir on medium speed until smooth, scraping down the sides of the bowl with a spatula. Once smooth, on medium speed, stir in:
1 egg
1/4 tsp vanilla extract
Scrape down the bowl, then add:
1/3 cup sour cream
pinch salt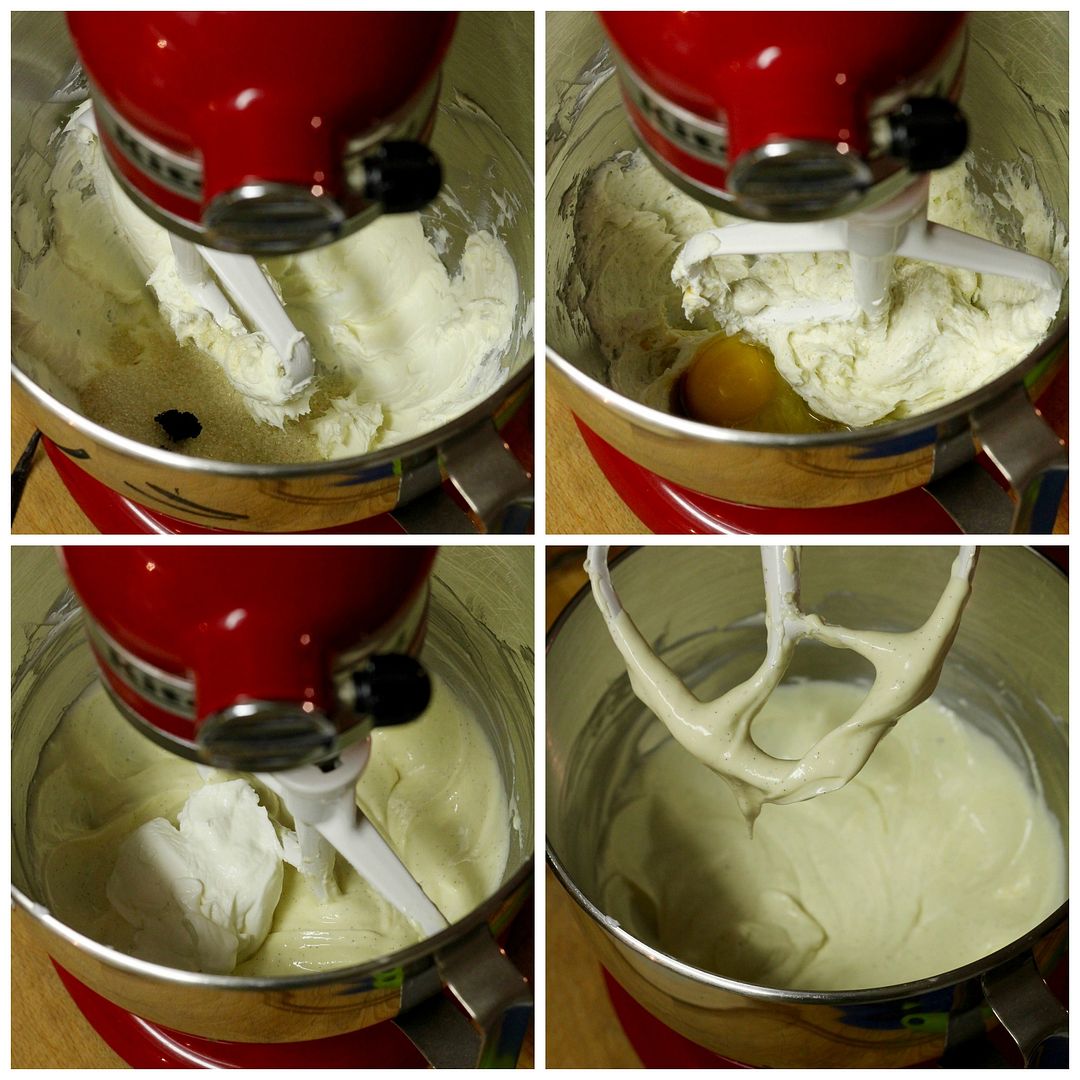 Pour the cheesecake batter into the springform pan over the prepared crust and spread it smooth (you can bang the pan on the counter a few times to dislodge any air bubbles). Place the pan in the middle of a piece of aluminum foil and fold the edges up around the sides of the pan to form a water-proof barrier.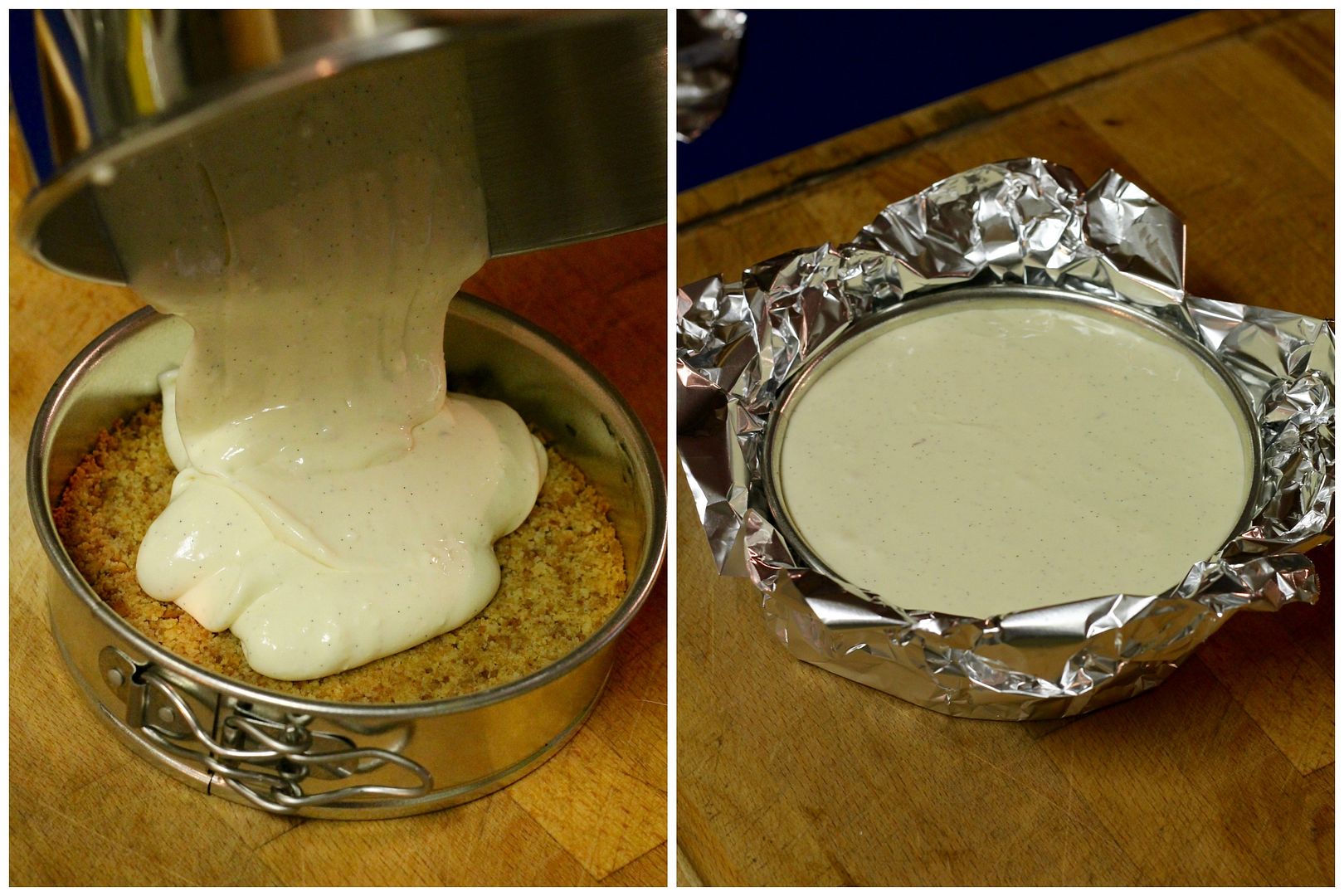 Place the foil-wrapped pan in a larger baking dish and put it in the 325˚F (300˚F convection) oven. Pour enough boiling water into the larger baking dish to come halfway up the side of the cheesecake. Bake for 45-50 minutes total, until the whole top of the cheesecake has puffed up slightly and a knife inserted in the centre comes out mostly clean. Remove from the oven and let cool in the water bath for about 25 minutes, then remove the cheesecake to a rack to cool completely. Cover with plastic wrap and refrigerate for at least 4 hours or overnight.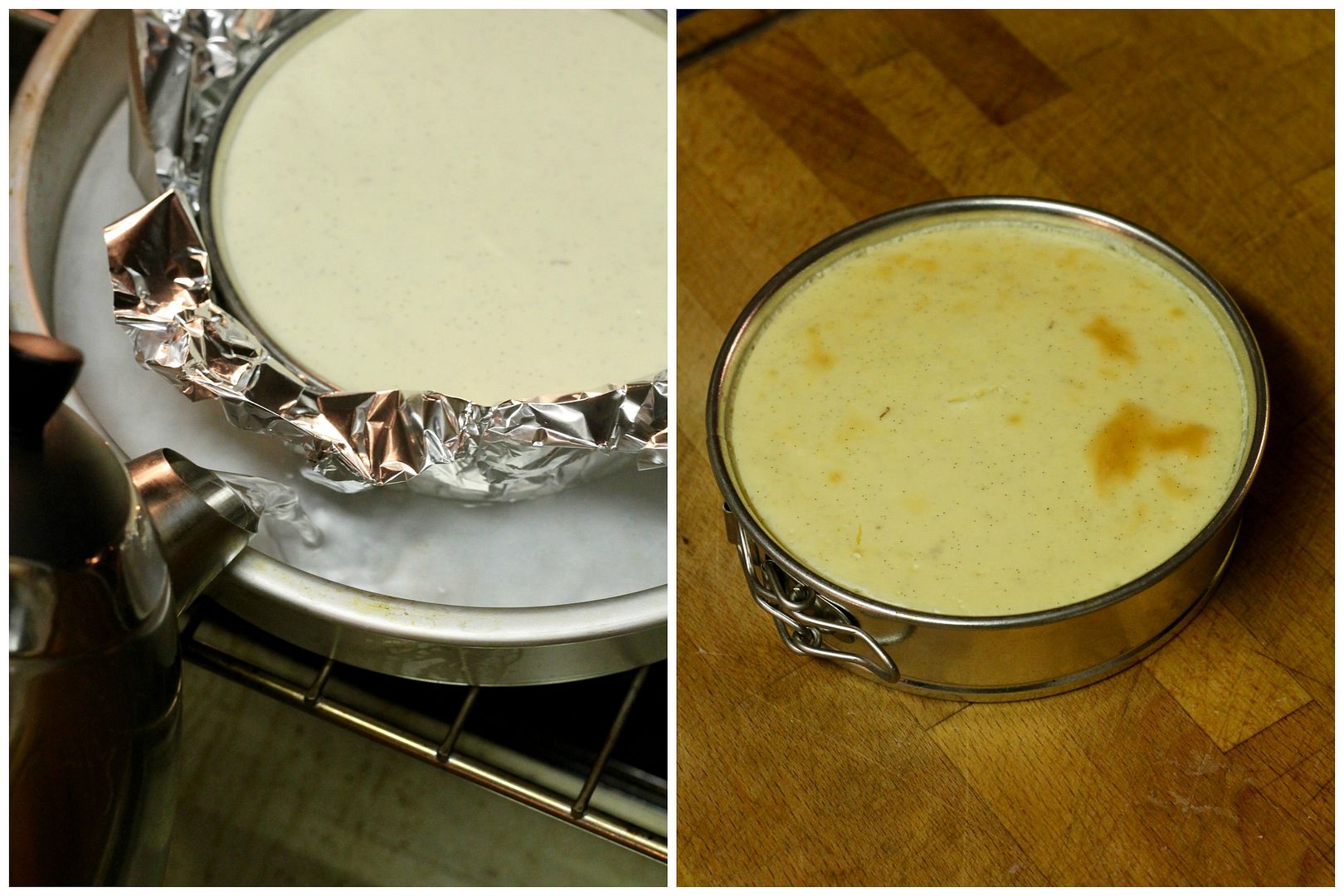 To serve the cheesecake, run a knife around the edge of the cheesecake and remove the sides of the springform pan. Place the cheesecake on a serving platter and top with a few big spoonfuls of orange curd (recipe below), spreading it just to the edge (it will spill over and drip down the sides on its own). Decorate with a slice of orange and cut into wedges with a large sharp knife, wiping off the blade after each cut.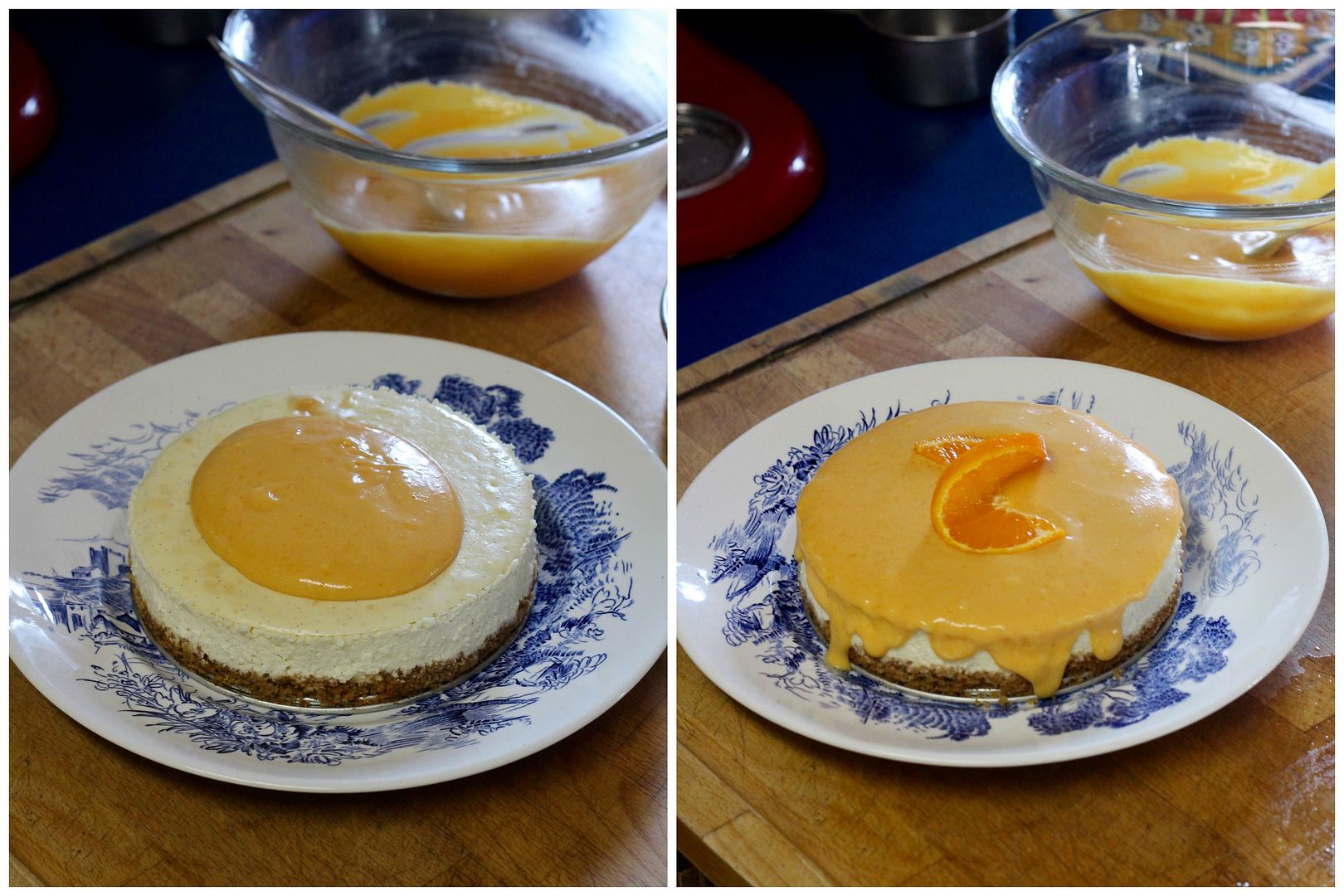 Orange Curd
Adapted from The Kitchn. Makes about 1 cup, which is more than you need for the cheesecake, but the leftovers can be kept in the fridge and spread on toast or eaten with a spoon.
Place 3/4 cup fresh squeezed orange juice (from the tangiest variety of orange you can find – clementine, tangerine, etc…) in a small saucepan over medium high heat and bring to a boil. Simmer rapidly until it is reduced to 1/4 cup, then pour it into a glass measuring cup. Stir in:
grated zest of 1 orange
1 tbsp lemon juice
Set aside to cool.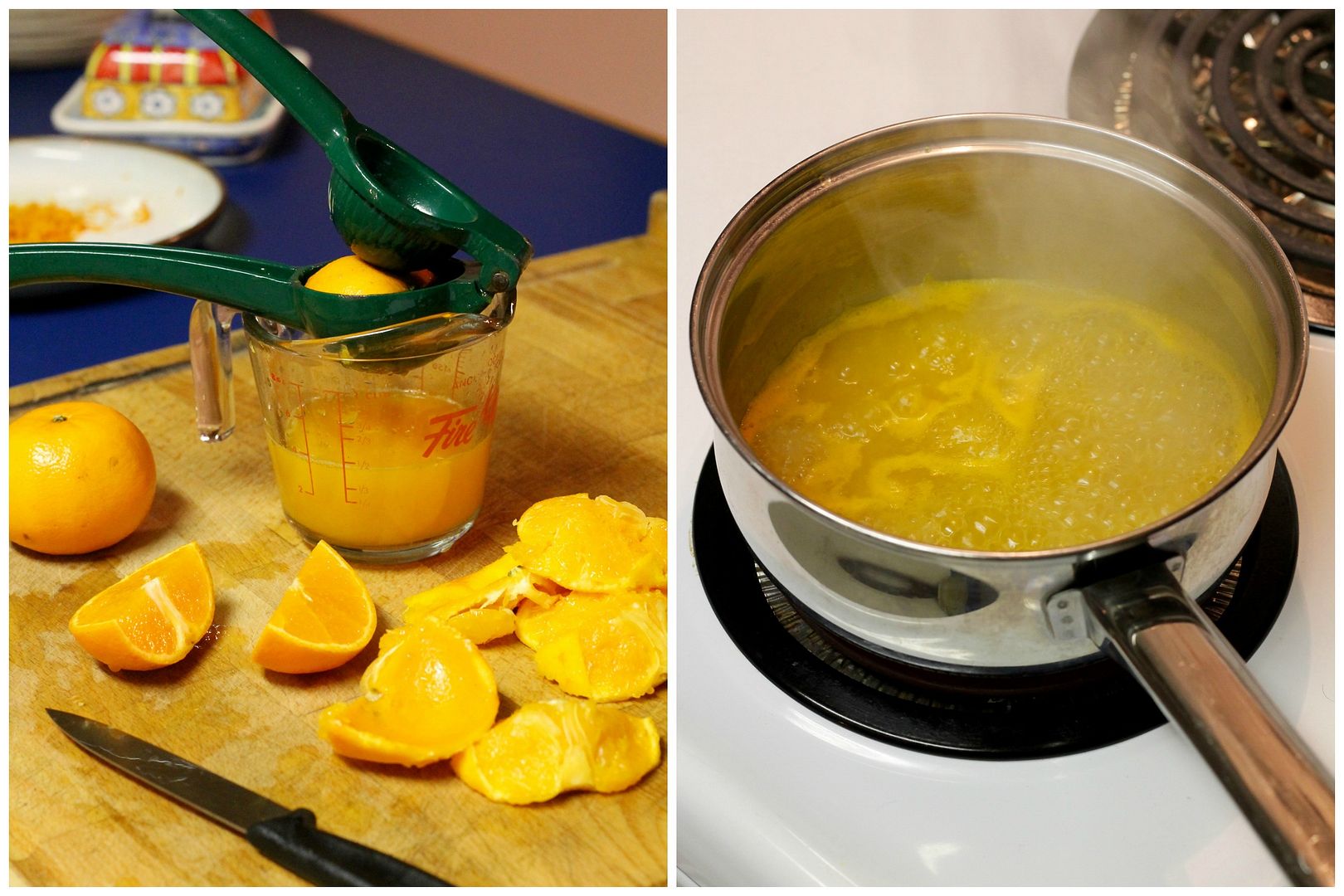 In a medium bowl, whisk together until smooth:
1 egg
2 egg yolks
1/4 cup granulated white sugar
When the orange juice has cooled to room temperature, whisk it into the egg mixture. Pour everything back into the saucepan and set over medium heat. Cook, stirring constantly with a heat-proof spatula, until it thickens like pudding (should be about 180˚F on an instant-read thermometer). Press the orange curd through a strainer  into a medium bowl to remove the orange zest and any curdled bits of cooked egg.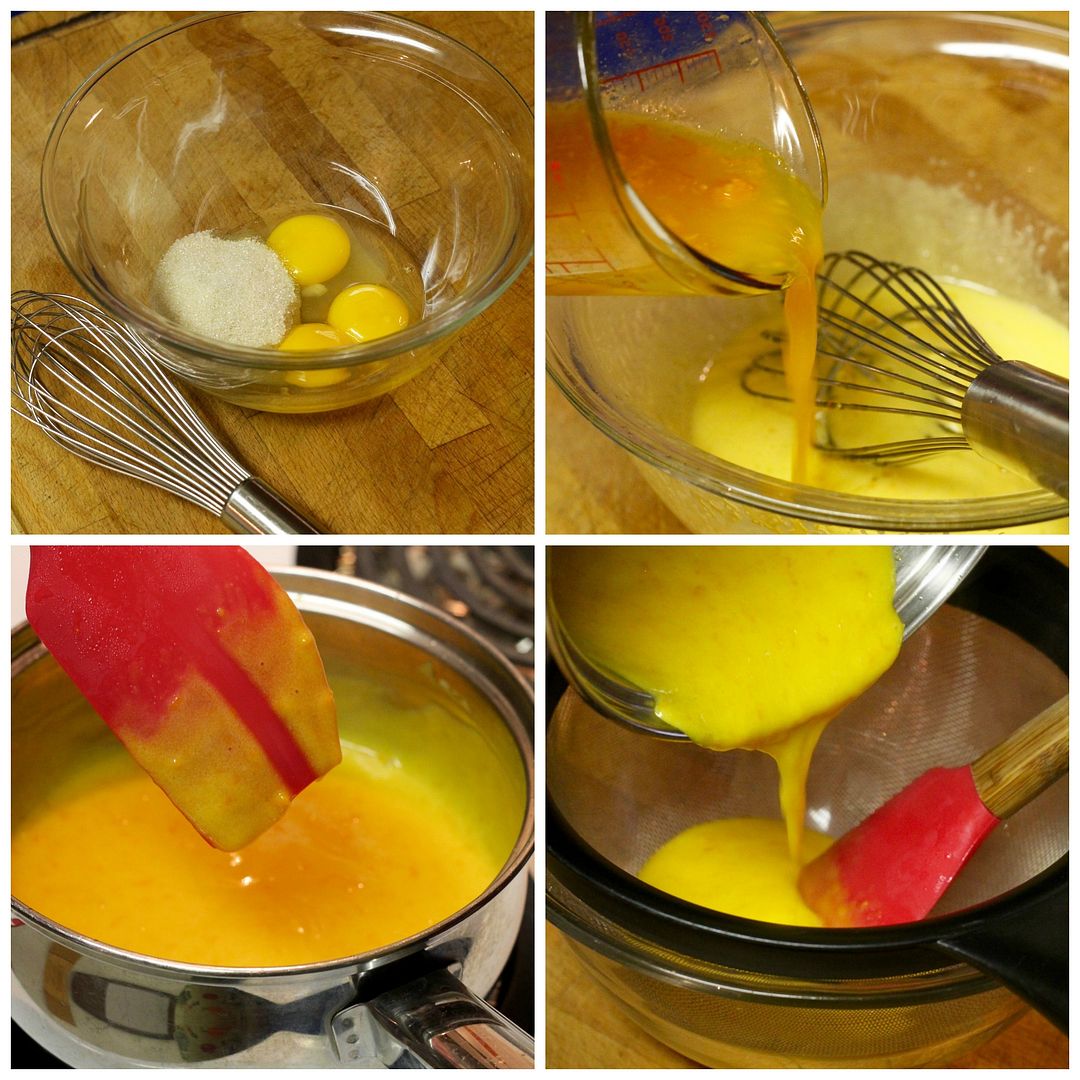 While still hot, whisk in:
pinch salt
1/4 cup butter, diced into small pieces
If desired, stir in a drop or two of red food colouring to take the curd from sunny yellow to sunny orange. Press plastic wrap to the surface of the orange curd and refrigerate for several hours or overnight, until chilled.