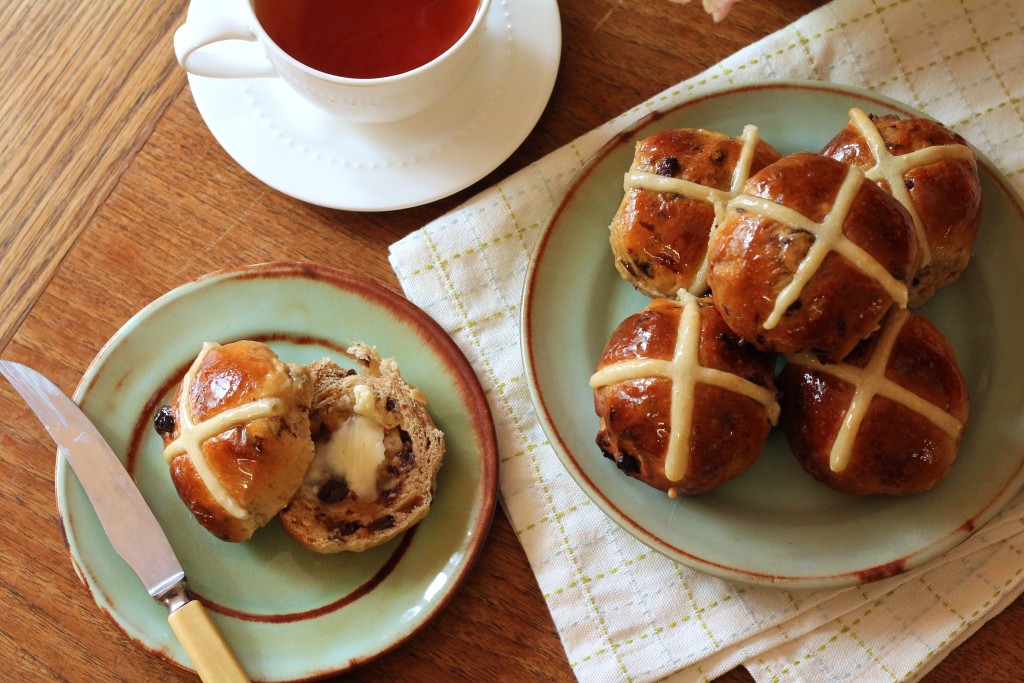 I know, I know, Easter was so two weeks ago. But seeing as I've posted about hot cross buns every year since I started this blog, I couldn't NOT post about this year's version. Just bookmark this recipe for next year and call it advance preparation.  ; )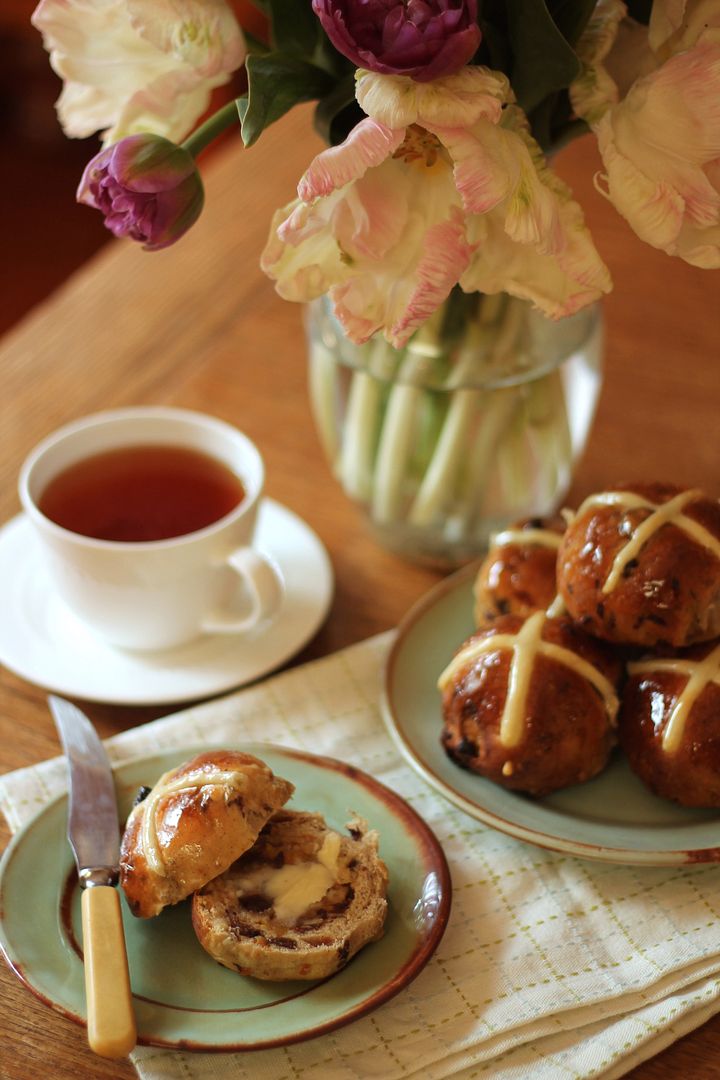 In the past I've gotten inventive with using chocolate, beer, and cider in my hot cross buns. This year, I went for a pretty classic version which includes home made candied orange and lemon peel. I candied the peel with honey instead of sugar, and used the left-over citrus-infused honey syrup to brush over top of the baked buns, giving them a shiny, sticky, delicious finish. I used currants and raisins in these, but they would also be great with dried cranberries and chopped dried apricots, or a combination of all four.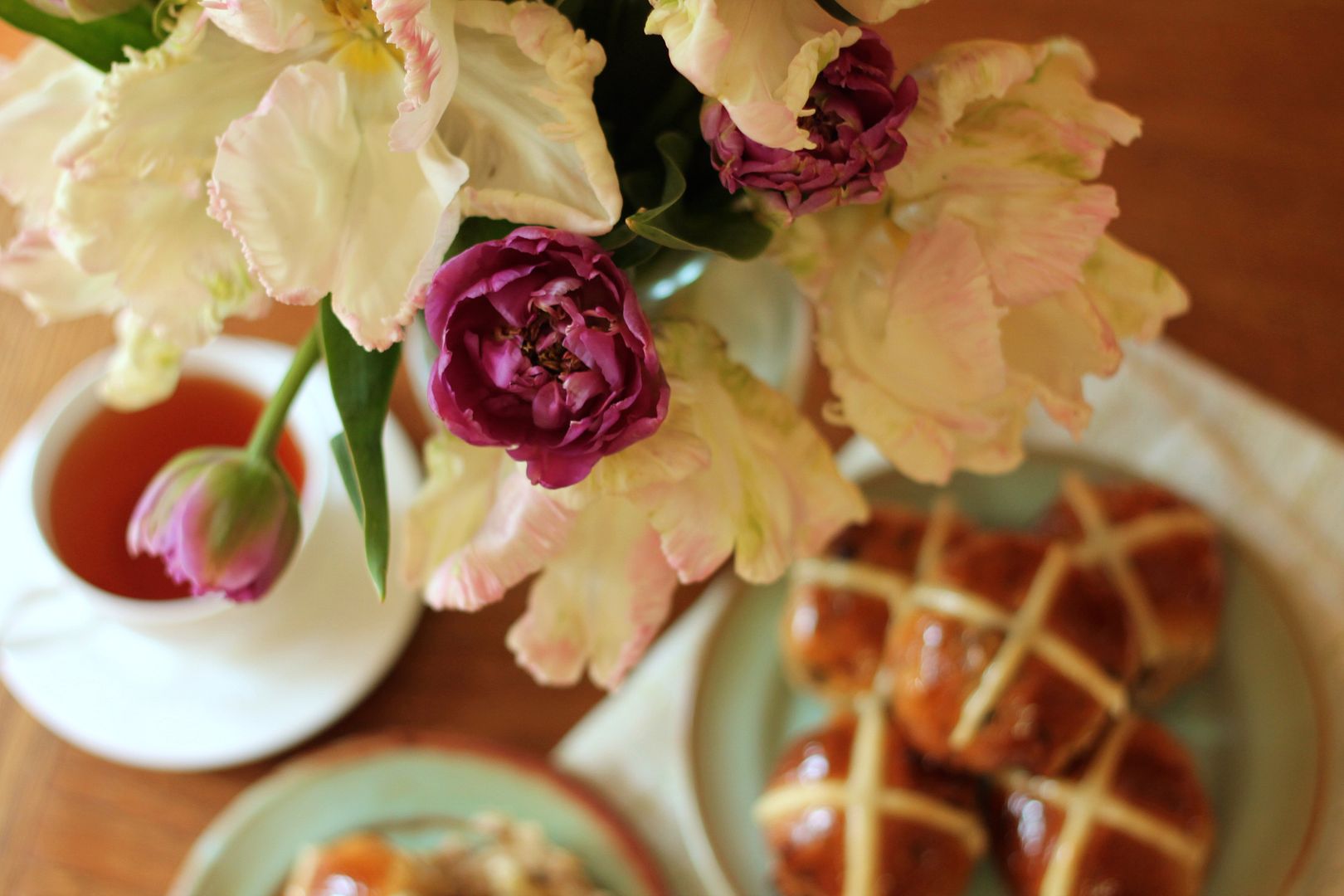 Honeyed Hot Cross Buns
Adapted from Poires au Chocolat. Makes 12 buns.
Honey-Candied Peel
Using a vegetable peeler, peel the rind off of 1 orange and 1/2 a lemon (organic is best when you are eating the peel), trying to avoid as much of the bitter white pith as you can.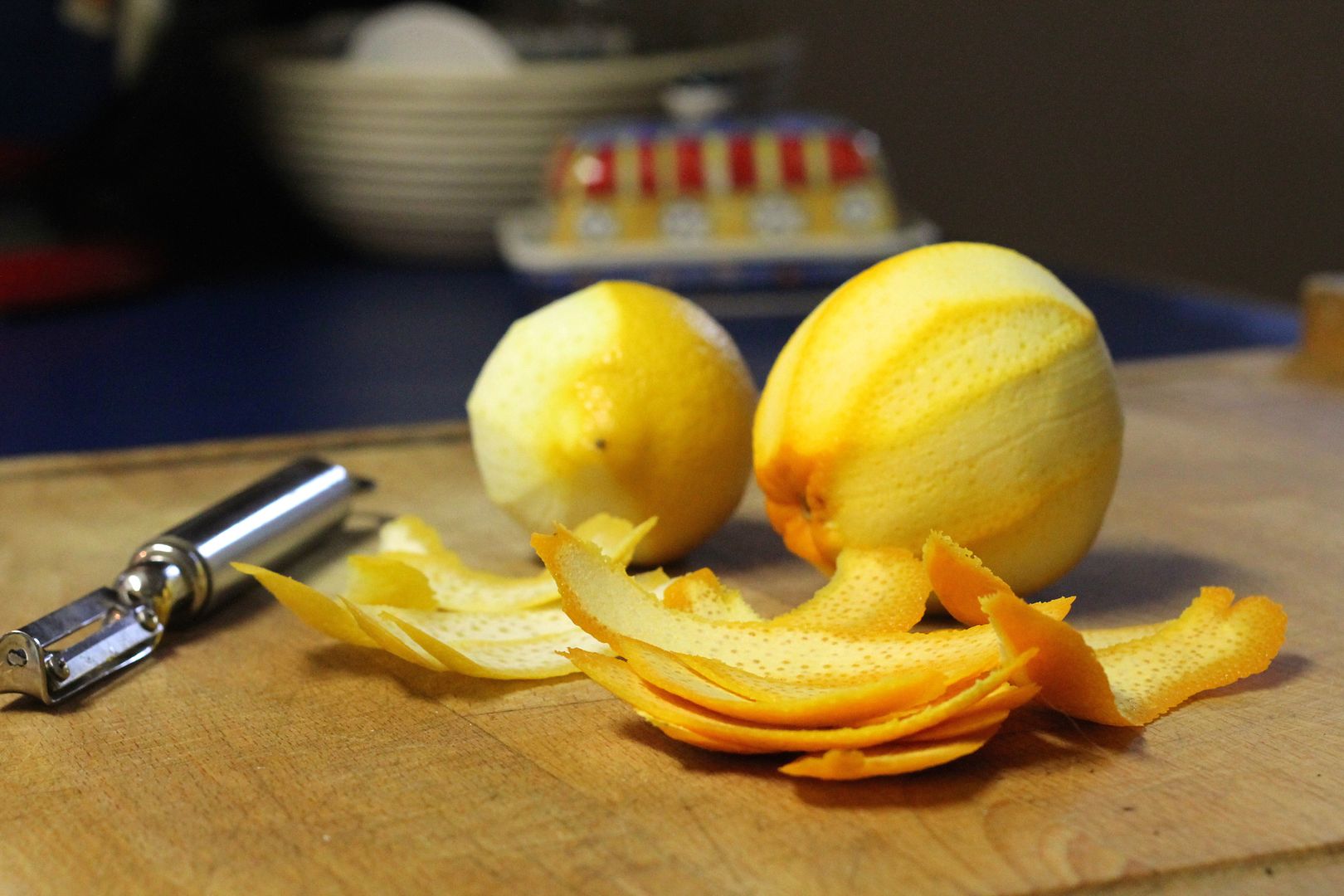 Place the peel in a small saucepan and cover it with cold water. Place it on the stove and bring it to a boil. Boil for about a minute, then drain the water and reserve the peels. Place them back in the pan, cover with more cold water, and repeat. Repeat once more for three times total. On the third time, reserve the peels in the strainer.
In the pot, combine 100 ml water and 100 g honey. Place it over medium heat and bring it to a boil, then add the blanched peel and simmer until the peel starts to look translucent and the syrups boils with very small bubbles, about 10 minutes.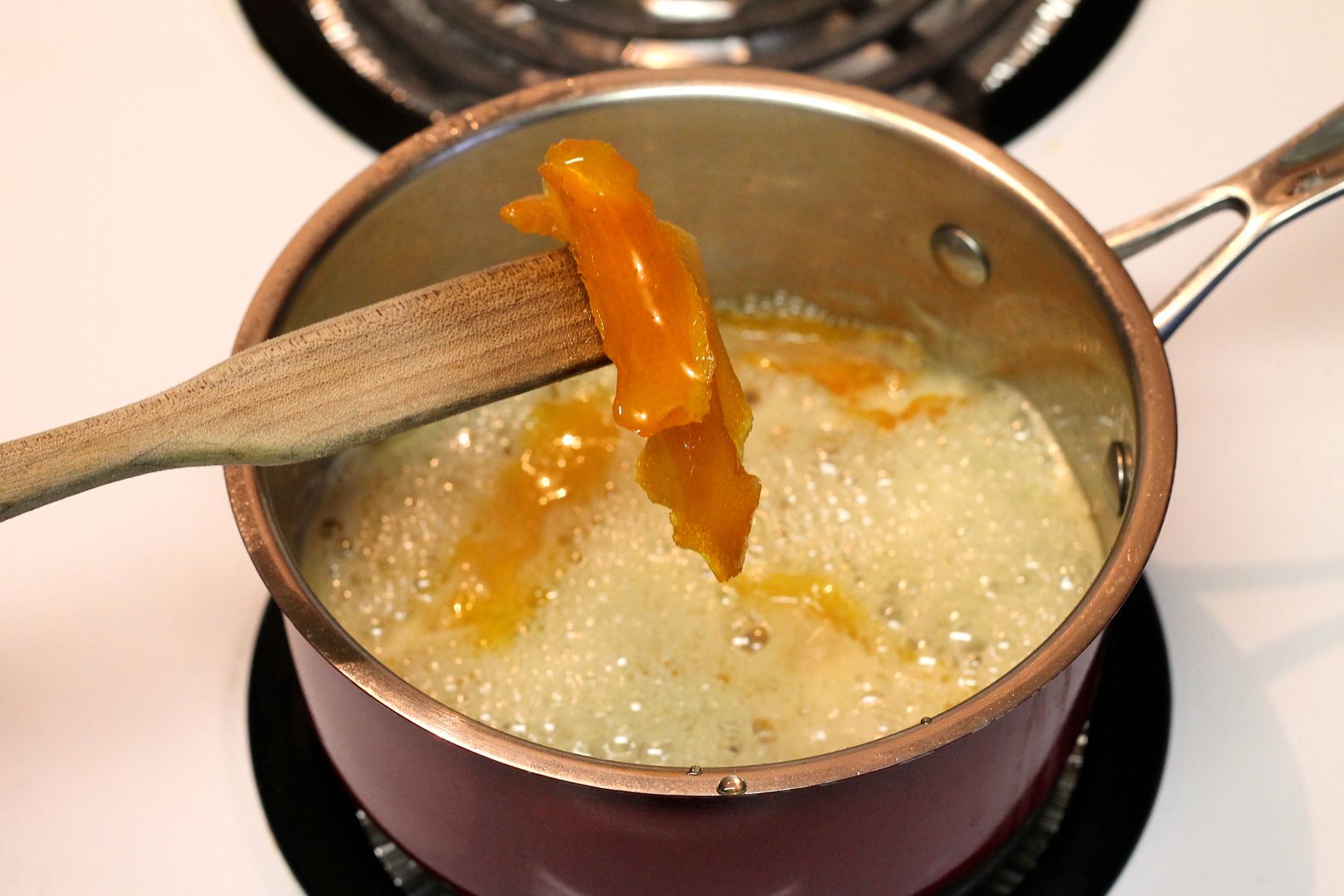 Cool for a few minutes, then remove the peel from the syrup and place on a rack to drip. Reserve the syrup.
Once the peel is cool, slice it into thin strips and then dice it into small pieces.
Hot Cross Buns
In a small pan, combine 225 ml milk and 50 g unsalted butter. Heat over low heat just until the butter melts and the milk starts to steam. Remove from the heat and set aside to cool to lukewarm.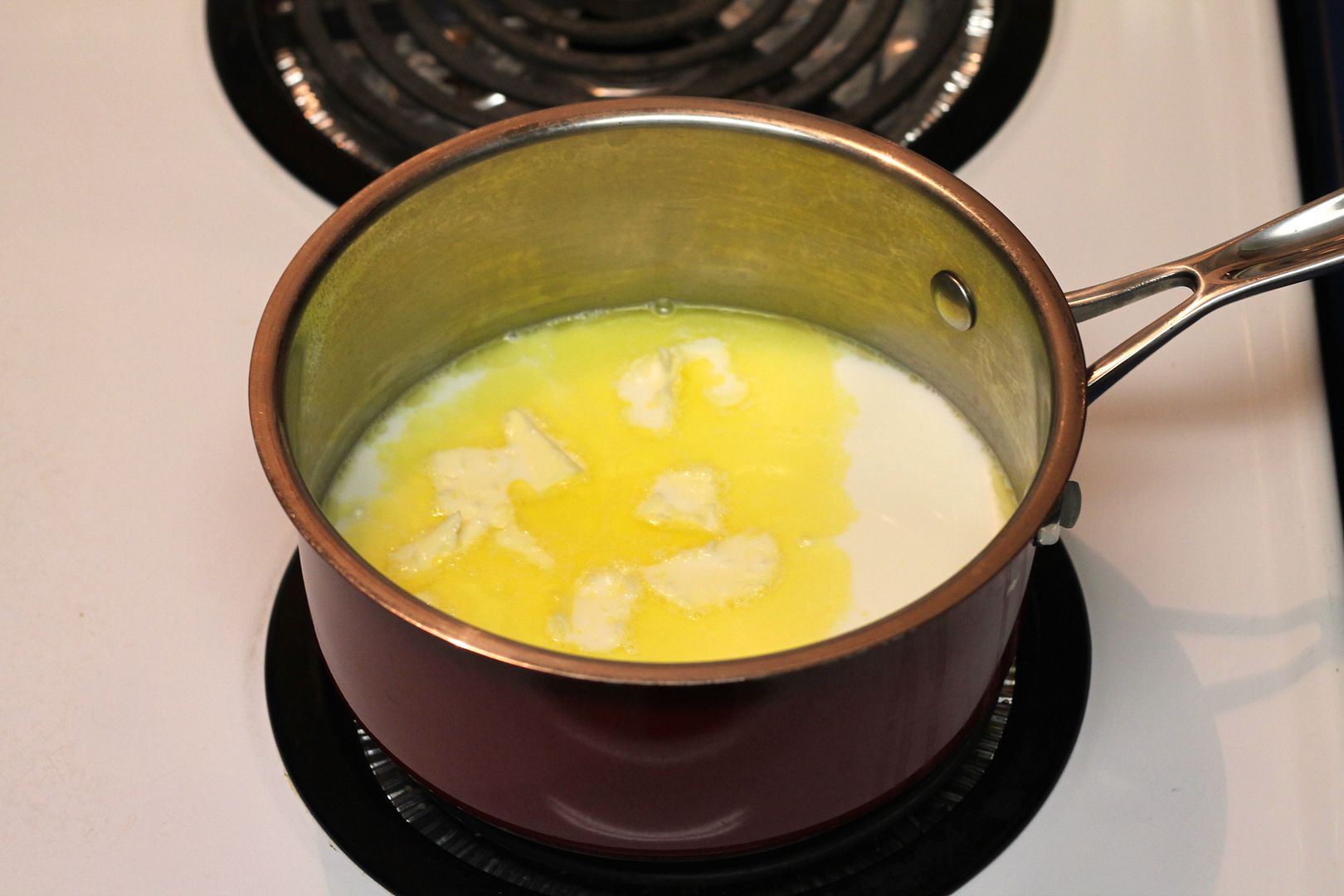 In the bowl of an electric mixer, mix together:
450 g bread flour
7 g instant yeast
1 tsp cinnamon
1/2 tsp ground ginger
1/2 tsp fine sea salt
1/4 tsp grated nutmeg
1/8 tsp ground cloves
Set aside.
Mix the lukewarm milk with:
1 egg
30 g honey
Stir in:
the chopped candied peel
100 g dried currants
100 g raisins
(This prevents the dried fruit from clumping.)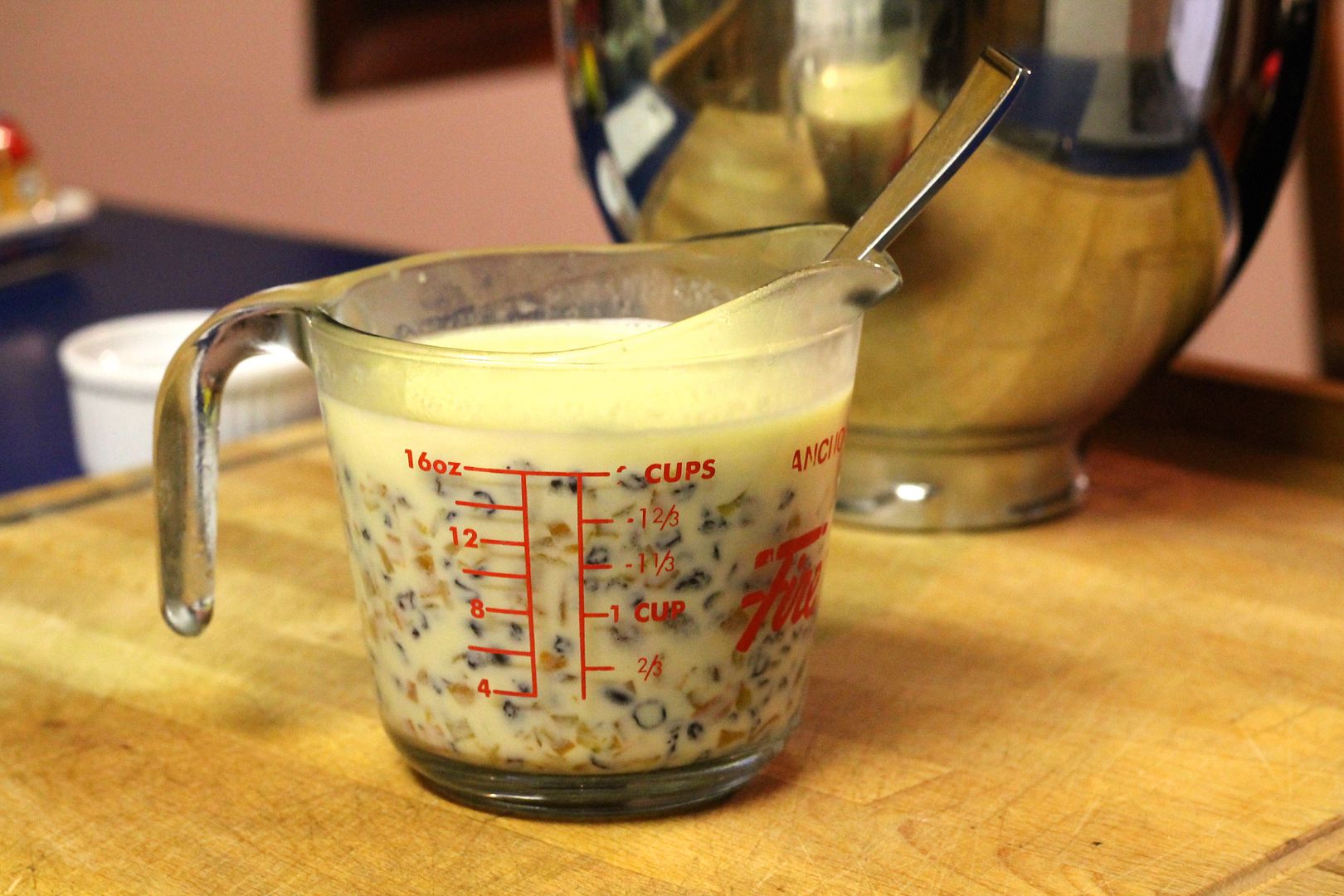 Pour the milk mixture into the flour mixture and knead with the dough hook on medium speed until the dough is smooth, elastic, and tacky, about 10 minutes. The dried fruit might seem to fall out of the dough as you knead, this is fine, just incorporate it back into the dough every few minutes, and when the dough is fully kneaded, do a few turns by hand to make sure the fruit is evenly distributed.
Shape the dough into a ball, place in the bowl, and cover with plastic wrap. Let rise until double in size (this can take place at room temperature, or overnight in the fridge).
Place the risen dough on a lightly floured surface and deflate it gently. Divide it into 12 pieces (about 87 g each) and shape each into a smooth ball by stretching the edges of the dough underneath and pinching to secure.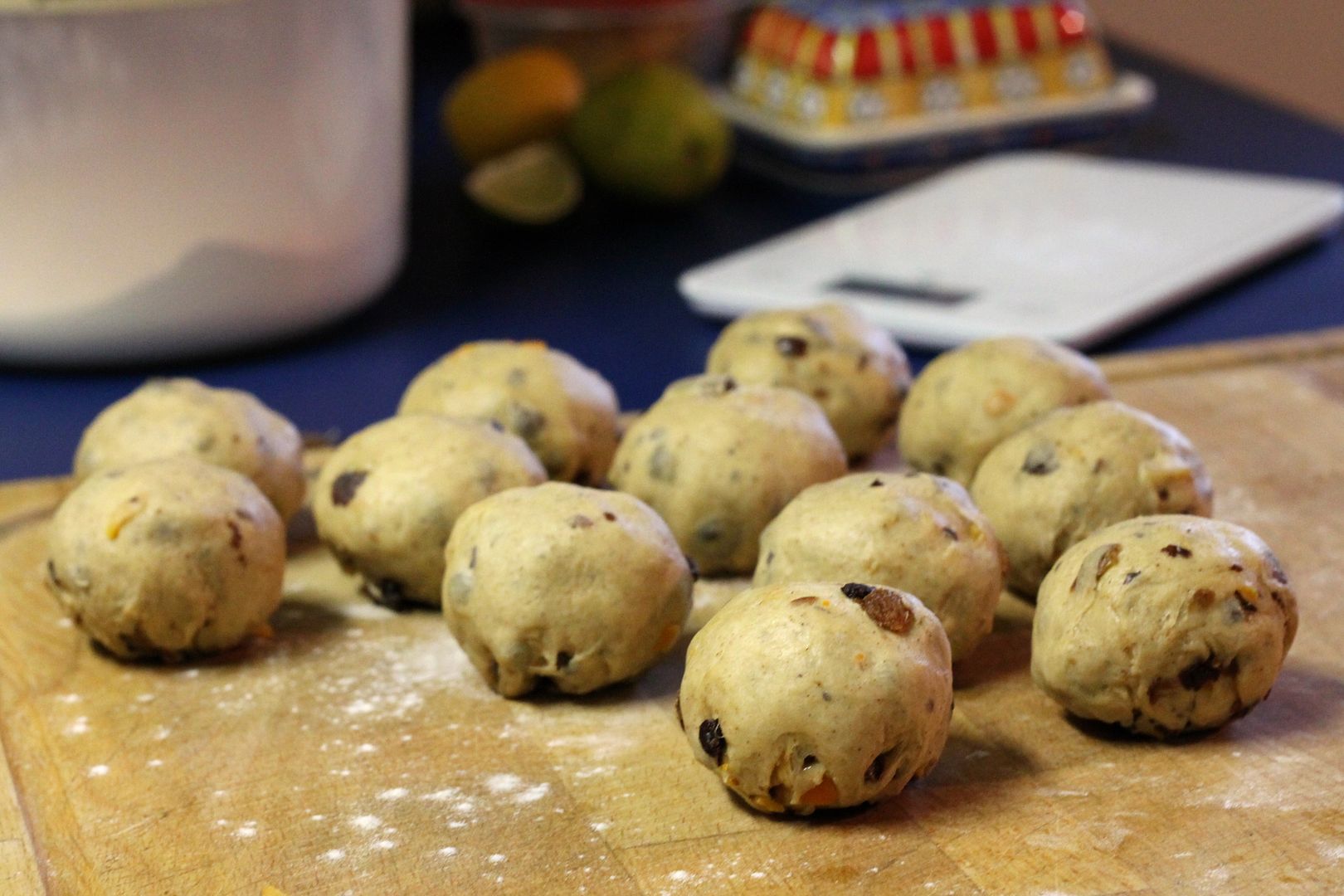 Place smooth side up on a baking sheet lined with a silicon mat or parchment paper with about 1 inch between the buns. Cover lightly with plastic wrap and let them proof somewhere warm until they are almost touching (alternatively, proof them in the fridge overnight and proceed with baking the next day to have fresh hot cross buns for breakfast).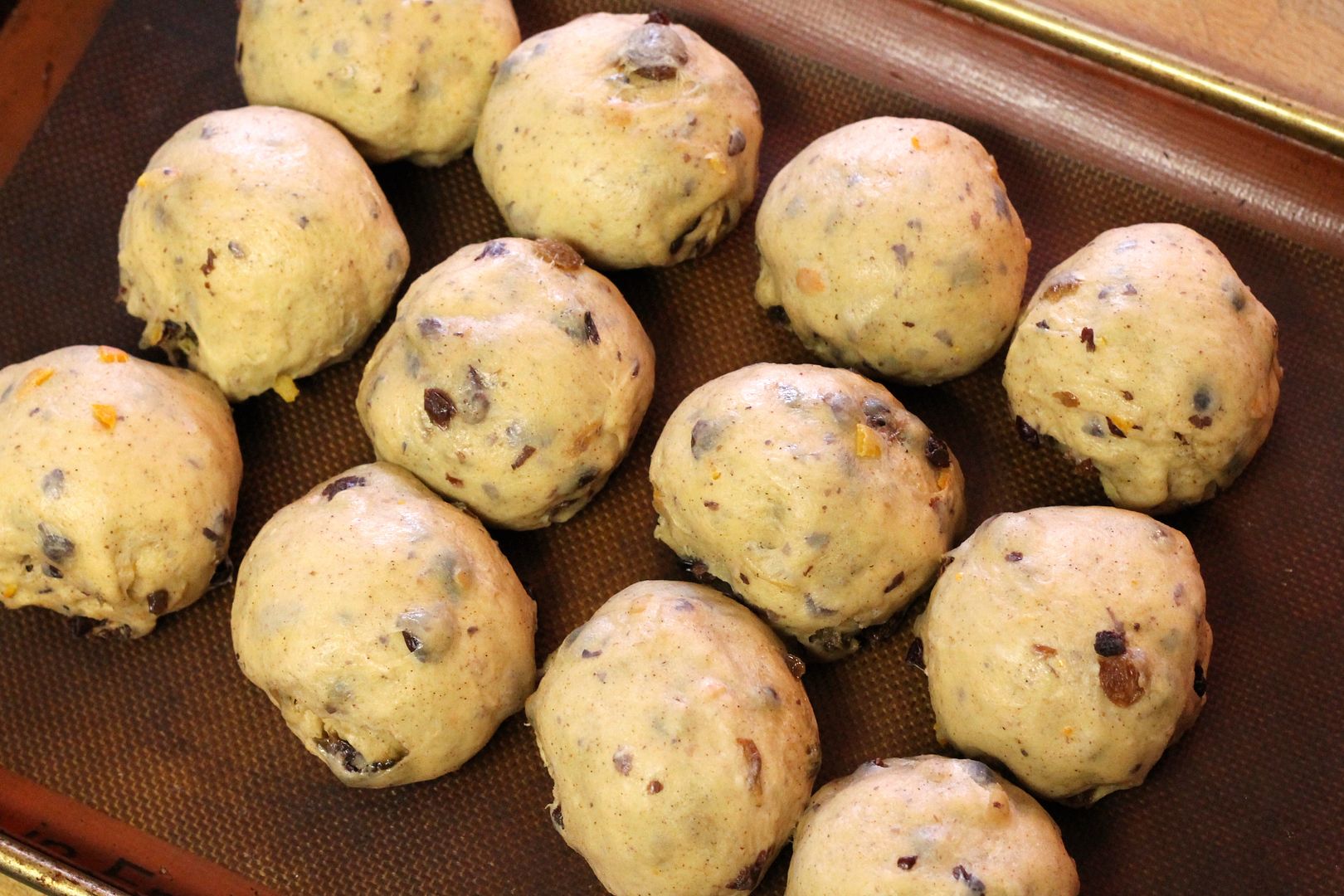 Preheat the oven to 400˚F (375˚F convection). When the buns are proofed, mix together a paste of 2 tbsp all purpose flour + ~5 tbsp water for the crosses. Add the water slowly – you want a consistency that is thin enough to pipe, but thick enough that it won't run off the buns. Place the paste in a piping bag or small ziplock bag with the corner snipped off and pipe crosses on the buns.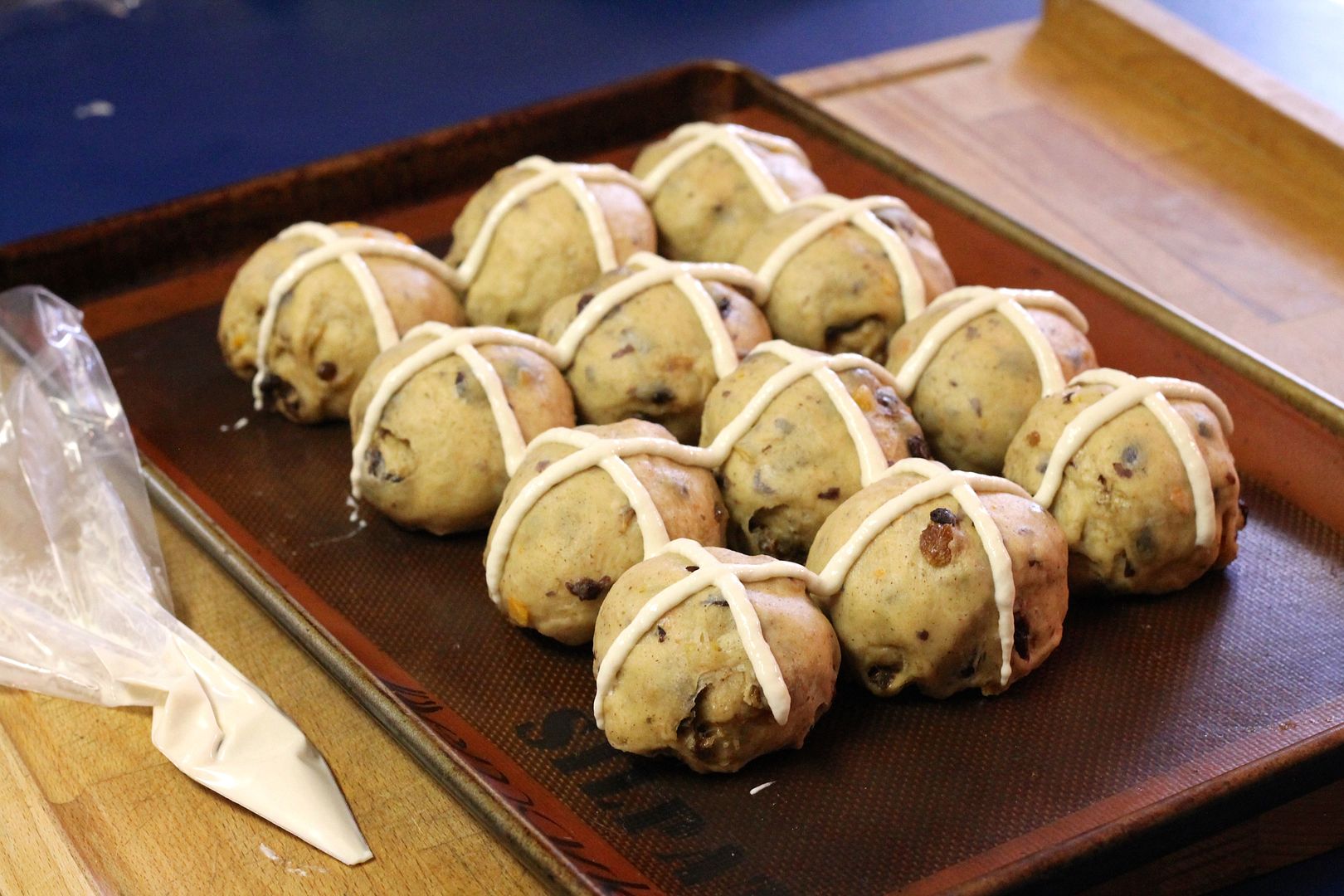 Bake the buns in the preheated 400˚F (375˚F convection) oven for 15 minutes, then reduce the heat to 325˚F (300˚F convection) and bake for 5-10 minutes more, until hollow-sounding on when tapped. While the buns are still hot, brush them with the reserved honey syrup, then remove to a cooling rack.
Serve split with butter. If you want to freeze them, split them first, then they can be thawed in the toaster.