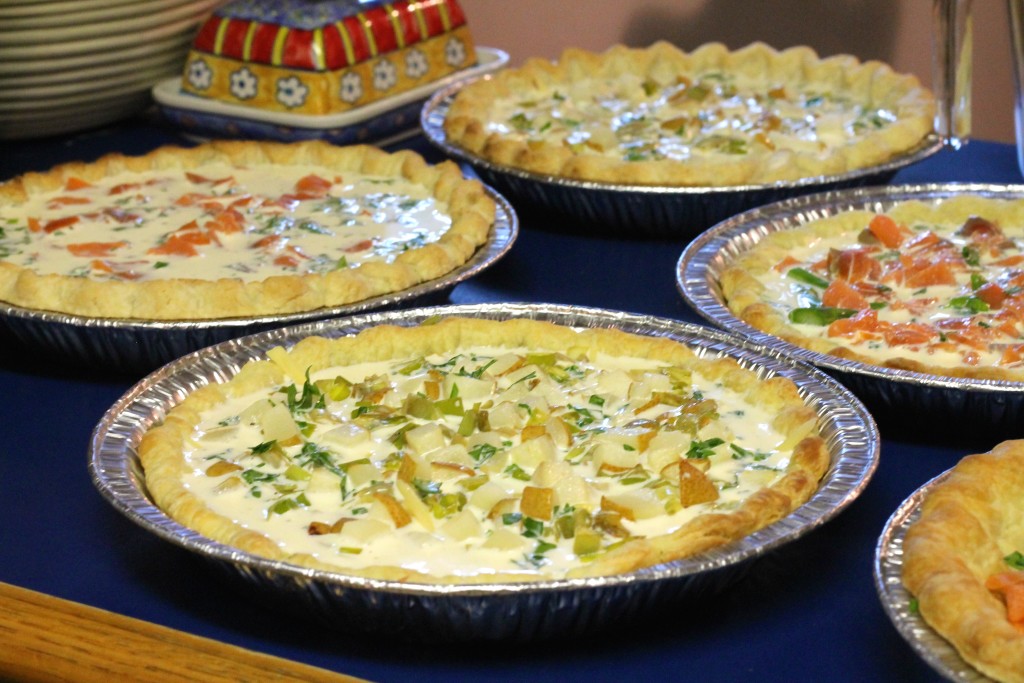 Last weekend I had the opportunity to cater a day-after-the-wedding brunch for a friend's family. I love this kind of thing because not only do I get to bake and cook to my heart's content, but I also get to do a lot of figuring out: coming up with a menu, researching recipes, scaling them up and down, and writing out list after list. Calculating exactly how many eggs I will need to make a dozen quiche plus four dozen cinnamon brioche buns is the kind of math I can get behind. I found a great resource in Ellen's Kitchen for estimating quantities for large gatherings, although it doesn't say much for my math skills when my estimates, in most cases, ended up being about twice what they should have been! But it's better to have more food than not enough, right?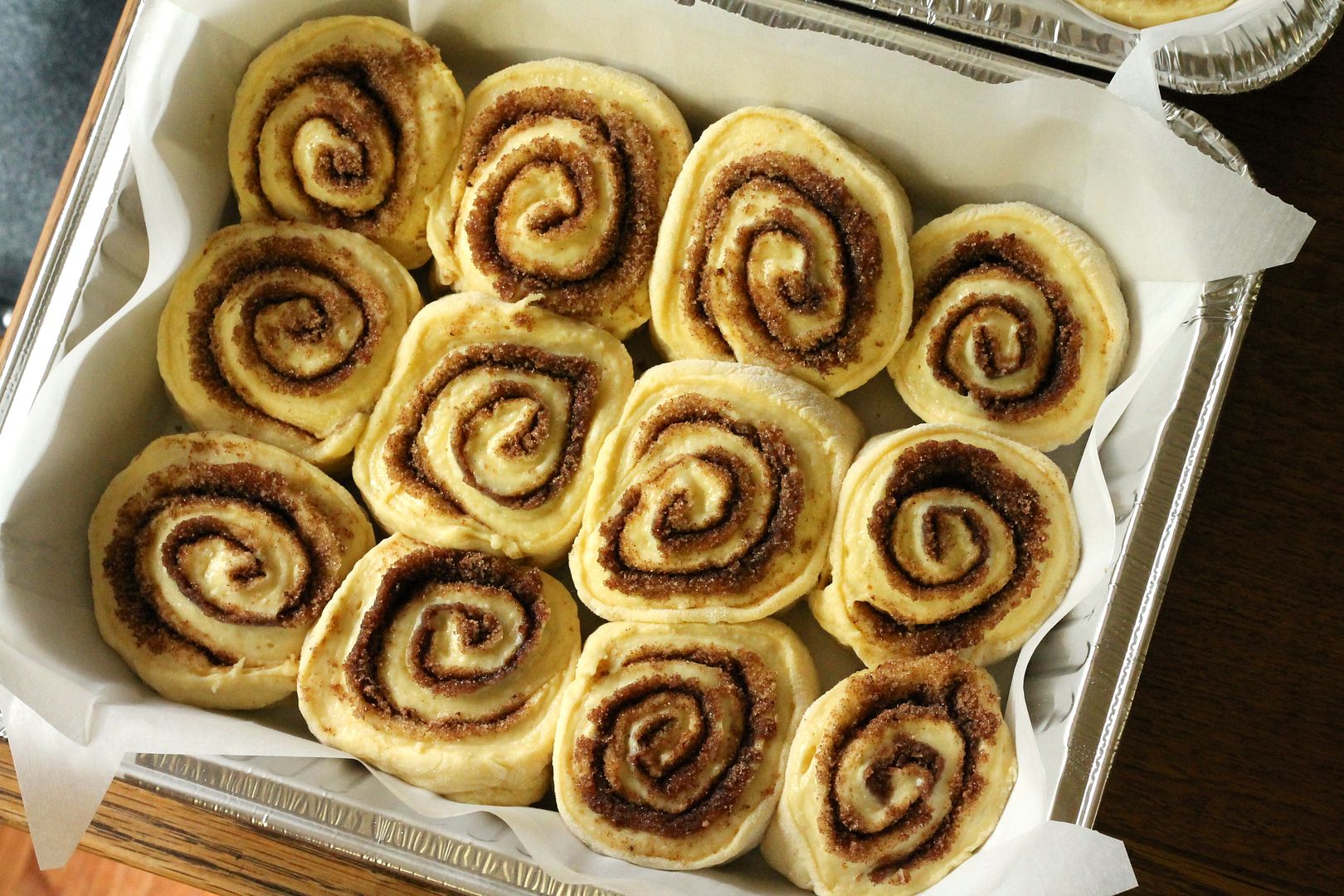 The Menu
This is what I ended up serving for forty people:
12 x 9″ quiche, cut into 6 wedges each (which turned out to be just about right. I still managed to buy twice as much eggs and cream as necessary for the filling though!)
2 dozen cinnamon brioche buns (I made 4 dozen – my co-workers took care of the extras!)
Fruit salad, made with 1 lb strawberries, half a mini water melon, half a honeydew, half a cantaloupe, 1 lb oranges (supremed), 1 bag kiwis, 1 bunch grapes, 1 pineapple, and tossed in a "dressing" of orange juice mixed with honey and chopped mint (I made about twice this amount).
Green salad with quick pickled onions, toasted pecans, strawberries, and honey-balsamic dressing, using about 16 oz of baby salad greens/spinach leaves (I bought about 3x this amount – we've been eating a loooooooot of salad this week!)
2 dozen croissants, ordered from a bakery, served with berry jam made by the host. (Funny story: due to a mix up where both myself and the host ordered croissants, we actually ended up with 7 dozen! Luckily, everyone loves croissants so lots of guests took some home as "party favours", but I am still looking for creative ways to use up the 2 dozen in my freezer… 😉 So far I've done this and plan to do this and something similar to this.)
The Recipes
Cinnamon Brioche
I used the Artisan Bread in 5 Minutes a Day brioche recipe, which, as I mentioned, is a no-knead recipe. It makes a fabulous brioche and is incredibly easy! One full batch of dough will make two dozen cinnamon buns, which I baked in two 9″ x 13″ pans. The dough recipe is here and I used the filling recipe and baking instructions here. I made a simple icing of 1 cup confectioner's sugar, a squeeze of lemon juice, a dash of vanilla, a pinch of salt, and enough milk to make it drizzly. To serve, I warmed the buns in the oven before topping them with the icing.
(I made 4 dozen, but only 2 dozen got eaten.)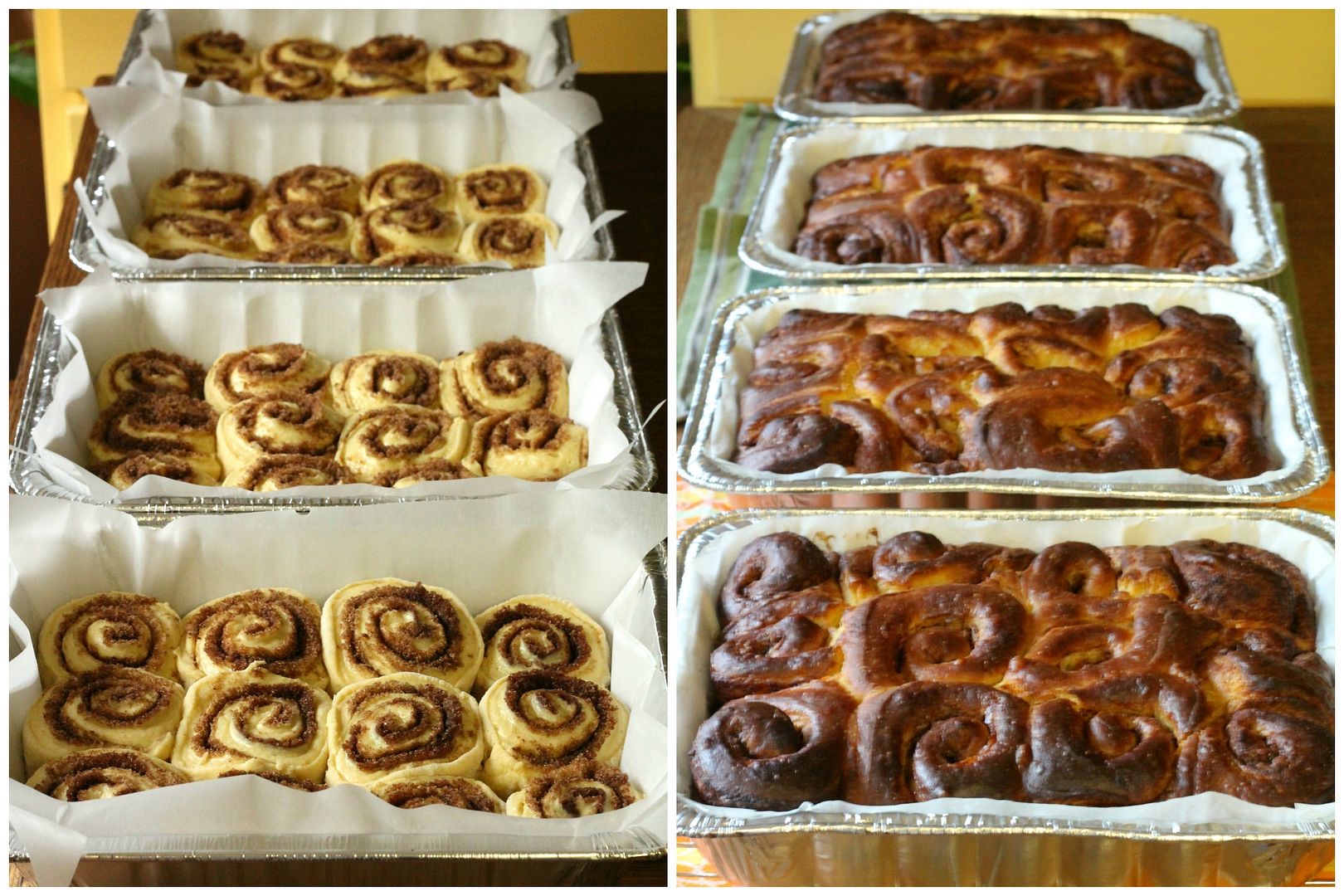 The Quiche
Pastry Shell
I used my favourite recipe (with all butter). With quiche, you must blind bake the pastry before filling it, and the best way to do this is to chill the raw pie shell thoroughly, then line it with parchment paper and fill it with weights, such as dried beans, and then par-bake it. I tried to skip the parchment paper and weights at first and just pricked the pastry all over with a fork, and it both shrank down the sides and puffed up in the middle, which is pretty much exactly the opposite of what you want to achieve with blind baking.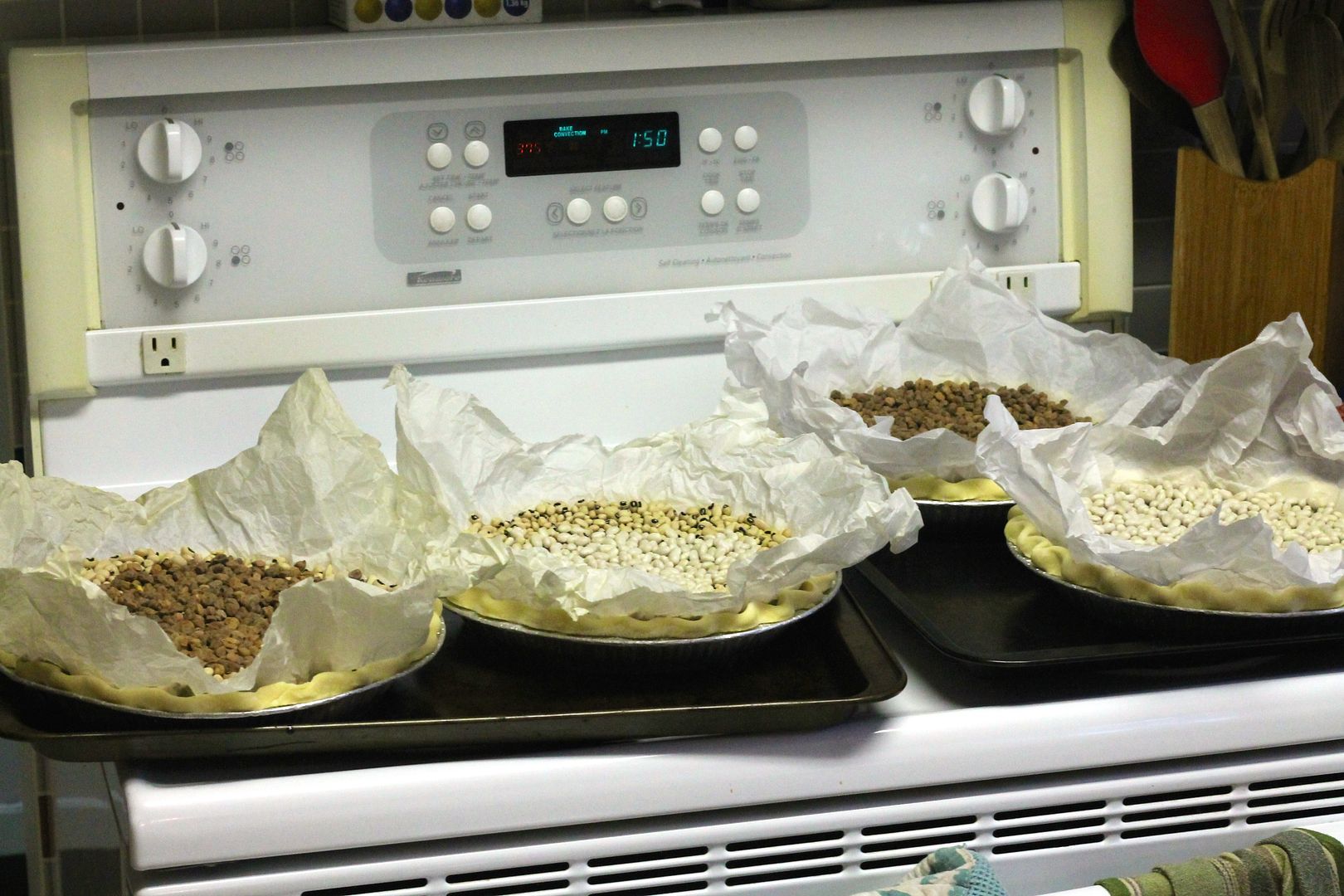 Custard
I used the ratio from Michael Ruhlman's aptly named book, Ratio, of 1/2 cup liquid (I used half-and-half cream) to 1 large egg. This results in a deliciously creamy, delicate custard. I was using standard 9″ round foil pie plates and filled them quite generously with the "loose" fillings before adding the custard. I found that I needed 4 eggs and 2 cups of half-and-half (plus a very generous pinch of salt and pepper) for every 2 quiche shells, but if you need more it's easy enough to just mix together increments of 1 egg + 1/2 cup liquid to top things up. I baked the quiche four at a time in a 325˚F (300˚F convection) oven for about 45-60 minutes, until set with just the slightest jiggle in the middle. I refrigerated the quiche overnight, then heated them up in the oven the next day before serving.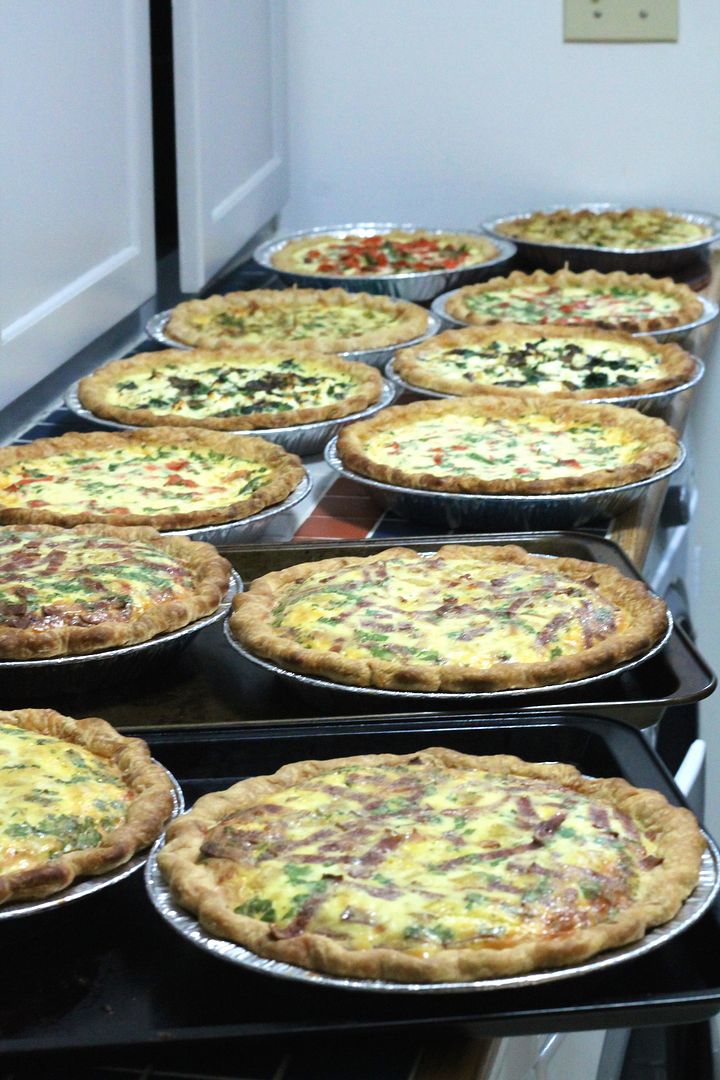 Fillings
Per quiche, these were the fillings I used, layered in the par-baked crust in the order listed:
Quiche Lorraine:
generous handful of grated Gruyère cheese
handful of sautéed onions
6 slices crisp bacon, diced (I used turkey bacon, which was actually pretty good)
Leek, Pear, and Gruyère:
generous handful of grated Gruyère cheese
1 small sautéed leek
1/2 a firm pear, diced
Lox and Asparagus:
3 oz lox or lox trim, chopped
about 6 spears of asparagus, steamed and cut into 1″ pieces
Spinach, Mushroom, and Goat Cheese:
a few tbsp sautéed onions
1 package frozen spinach, thawed, squeezed dry, and chopped
a handful of sautéed mushrooms
1/4 cup crumbled goat cheese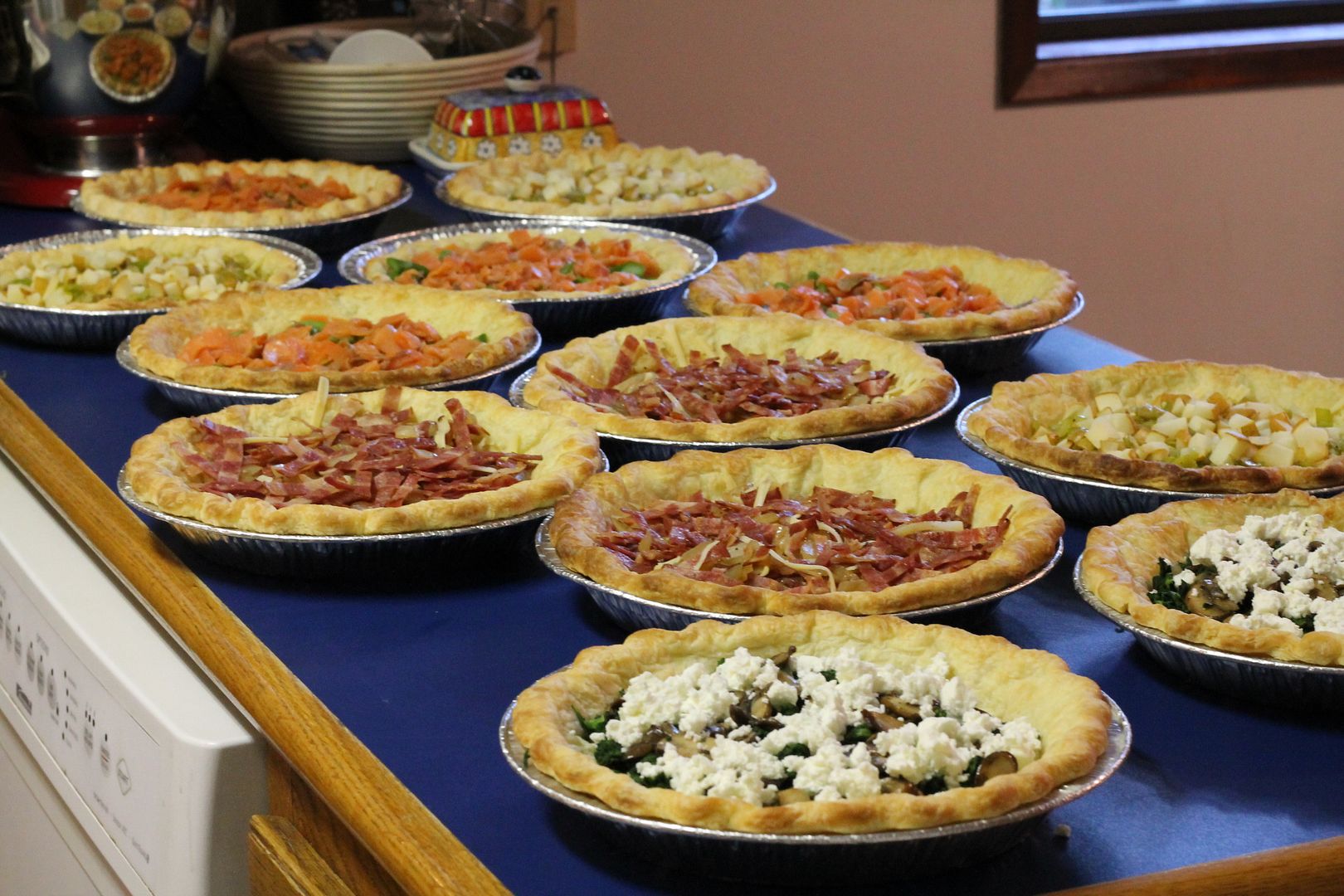 Yes, I'm Crazy.
I'd be lying if I said this wasn't a lot of work, but with some thinking ahead and advance preparation, I managed to both pull it off and enjoy it, and I offer the following tips for anyone thinking of taking on something similar:
1) Have a plan: I made tons of lists plus a schedule for grocery shopping, prepping, and cooking/baking in the lead-up to the brunch. I also made a task list for the day-of the brunch, including what needed to be assembled, what needed heating up, and how everything would be served (this was a buffet, which made that part easy).
2) Choose recipes that make your life easier: I used a pie crust that could be made in the food processor, a no-knead brioche recipe, and an easy egg-to-liquid ratio for the quiche custard, which was simple to increase or decrease if the quiche required more or less filling.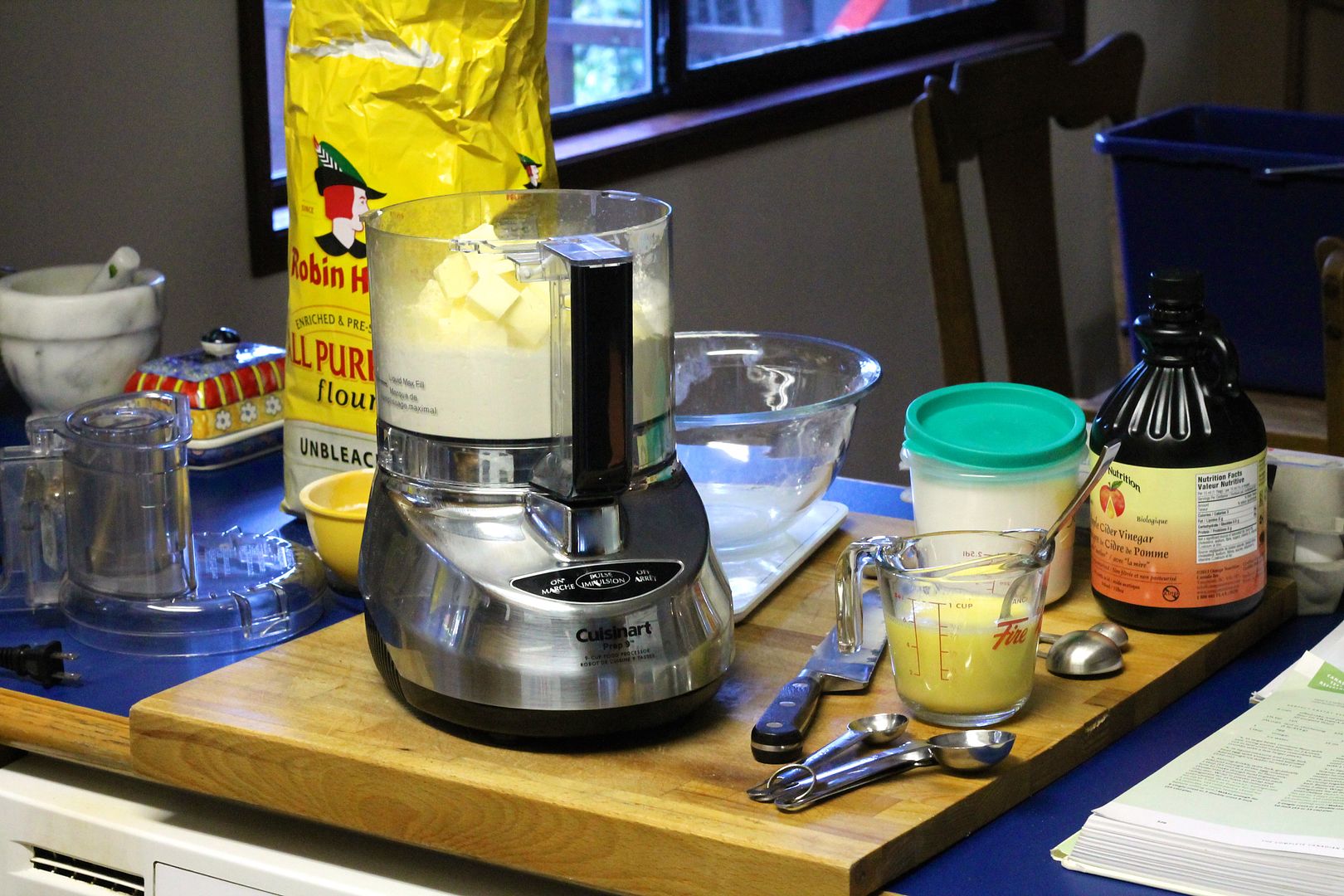 3) Make use of your deep freeze: I made all the pie crusts and brioche dough the weekend before the brunch and froze it (I actually had to borrow space in my friend's freezer), then thawed everything out overnight in the fridge before doing all the baking and cooking the day before the brunch.
4) Fridge space: I used our camping coolers and bought a block of ice so that I would have plenty of space to keep things cool.
5) Think efficiency: Making 12 quiches might seem daunting, and yes, it takes a while to roll out 12 pie crusts, but you can get into a bit of an assembly line with it and it doesn't actually take 12x longer than making just one quiche.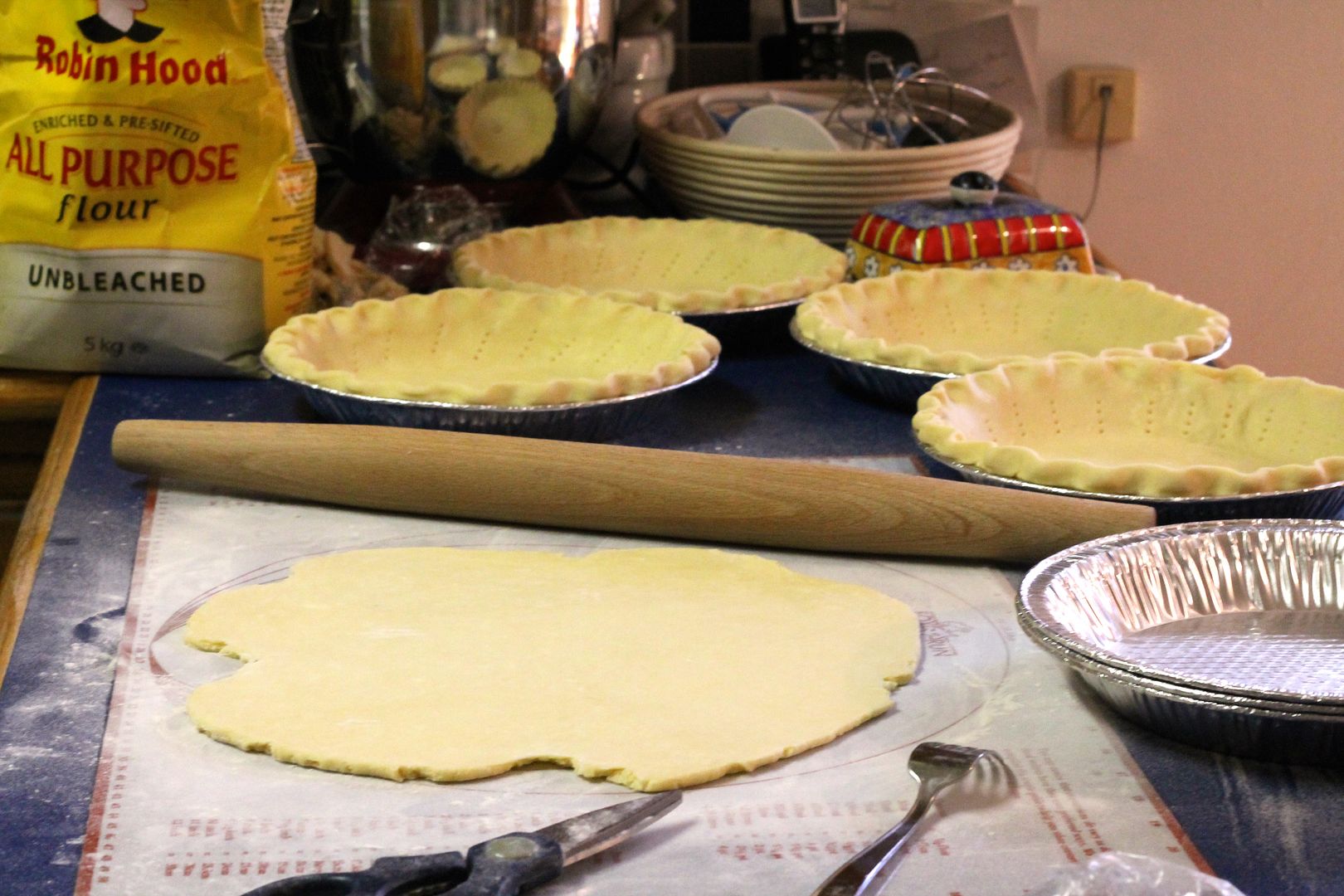 6) Plan for transportation: I have a tiny car but with the back seats folded down, everything ended up fitting quite nicely for the drive to the host's condo. However, food for 40 people takes up a lot of room, there is no doubt about it.
*               *               *
This is probably more than you ever wanted to know about this endeavour, but just know that if you ever need quiche for forty people or an over-abundance of cinnamon brioche buns, I'm your girl. 😉