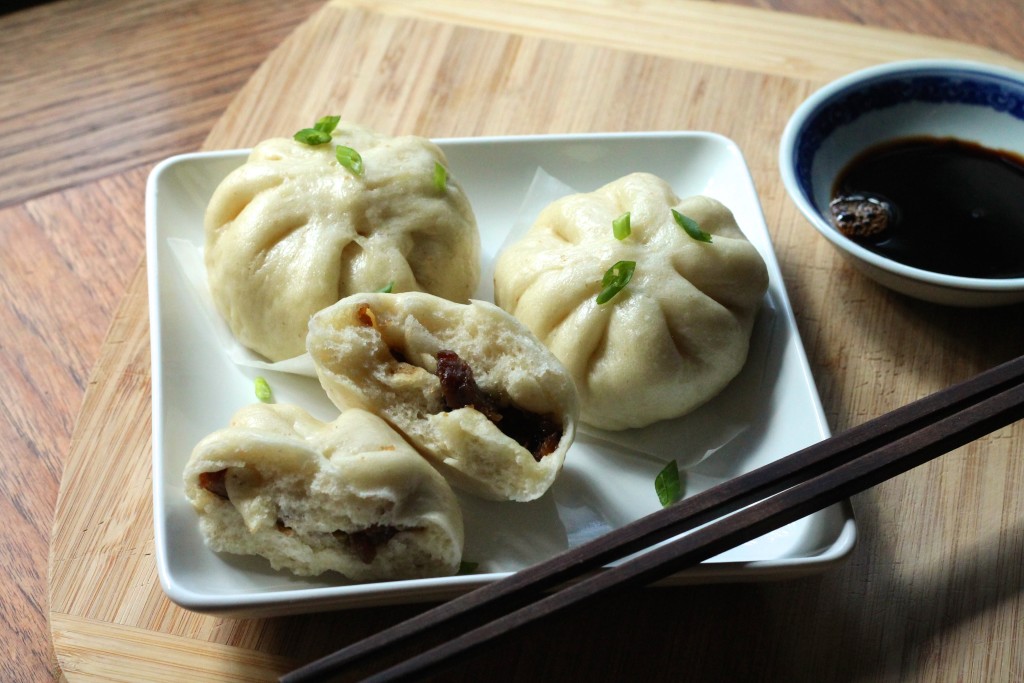 Despite the fact that I have a notification on my phone that pops up every Sunday at noon reminding me to "Feed sourdough!!!", I still manage not to do it for weeks on end and that poor little culture of yeasts ends up grey and lifeless in the back of my fridge. Luckily for me, I realized this while I still had enough time to revive it to use in this month's Sourdough Surprises project: Chinese steamed buns. Sourdough isn't a traditional ingredient in steamed buns, but many recipes incorporate "old dough", so sourdough fits right in.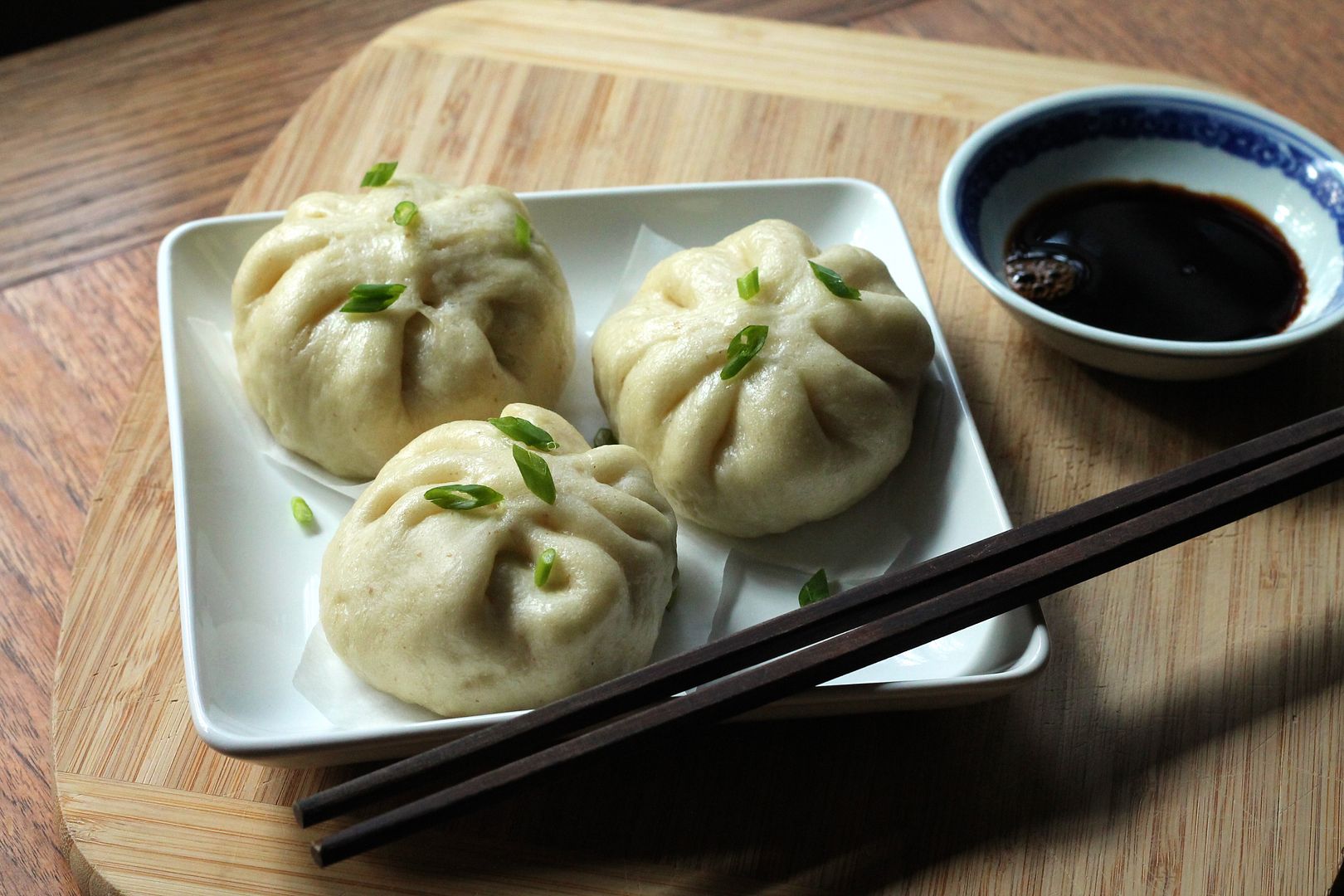 I filled the buns with homemade Chinese bbq pork, or char siu, which is very simple to make with a mixture of fairly common Asian condiments and some pork shoulder, and, as I don't have a bamboo steamer, steamed them using a metal vegetable steamer. I've never had proper dim sum, so I have nothing to base this on, but these were pretty darn good: chewy, fluffy, slightly sweet dough and deliciously savoury-sweet (and not bright red) pork filling. I would have preferred the filling to be a little bit saucier, but that's easily remedied with a little extra liquid. Definitely a day well spent in making these!
Check out the Sourdough Surprises steamed bun collection:

Chinese BBQ Pork Sourdough Steamed Buns (Char Siu Bao)
Adapted from Andrea Nguyen's Asian Dumplings, via several sources. Makes 16 buns. I suggest making the bbq pork the day before, then on the day you want buns, make the dough and while it rises, make the pork filing.
Chinese BBQ Pork (Char Siu)
Trim the fat from 2 lbs of pork shoulder, then cut into 1 1/2″ slabs (I got 2 pieces). Place in a large Ziplock bag.
In a medium bowl, combine:
3 garlic cloves, minced fine
3 tbsp granulated sugar
3/4 tsp Chinese 5 spice powder
generous 1/4 cup hoisin sauce
3 tbsp honey
2 tbsp + 1 tsp rice wine or dry sherry
1/4 cup soy sauce
1 tbsp sesame oil
Set aside about 1/3 of the marinade, then pour the rest over the pork in the Ziplock bag. Press out all the air, seal it up tight, and refrigerate for 6 hours to overnight, turning occasionally. Remove it from the fridge about 45 minutes before you are ready to cook it.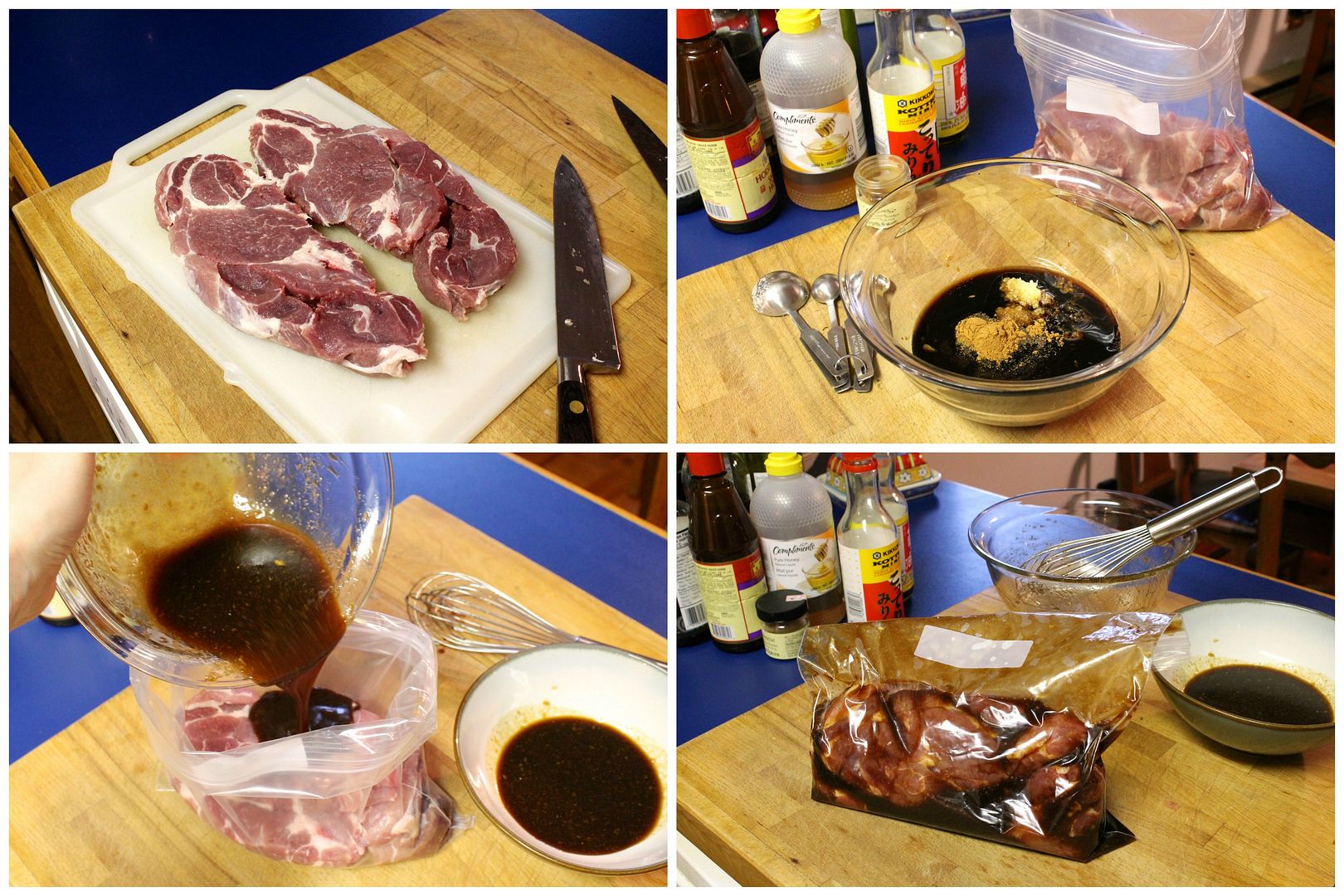 Preheat the oven to 475˚F (450˚F convection). Line a baking sheet with aluminum foil and place a roasting rack on it. Lay the marinated pork on the rack with at least 1″ between the pieces (discard the used marinate). Roast in the 475˚F (450˚F convection) oven for 30-35 minutes, turning it over and basting with the reserved marinate every 10 minutes, until glazed, slightly charred, and the internal temperature is at least 145˚F. Be prepared for smoke – the oven is hot and the marinade that drips off the pork is likely to burn as it has lots of sugar in it.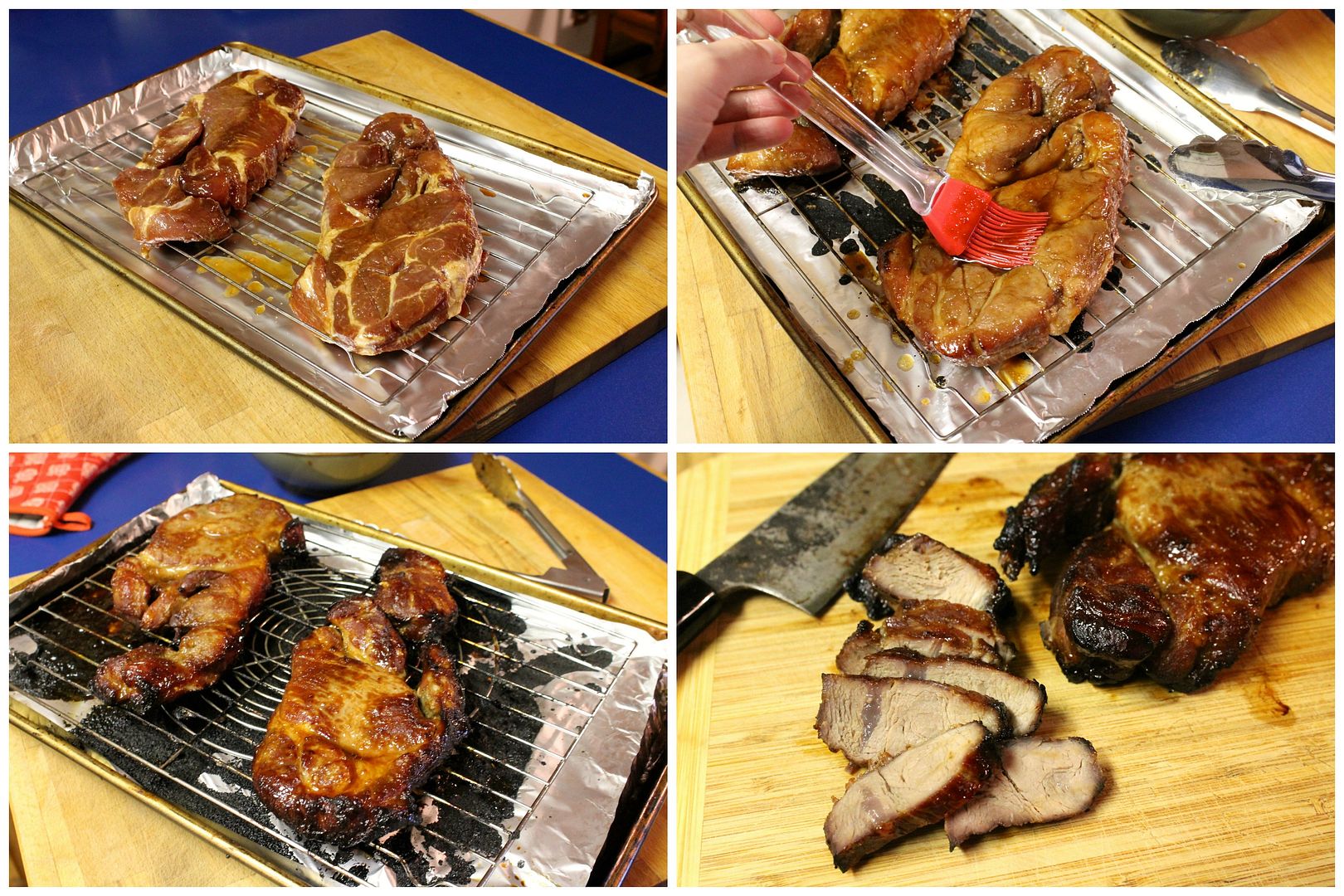 Rest the roasted pork for 10 minutes before slicing into thin slices (if serving right away). Can be wrapped tightly and refrigerated for a few days, or frozen up to 3 months.
Sourdough Famian (Dumpling) Dough
This is not a true sourdough recipe, as I also used yeast – but the starter gives the buns some nice flavour and enhances the texture, and would be a good way to use up discard starter.
In a medium bowl, mix together:
3/4 cup mature sourdough starter
1/2 cup lukewarm water
1 1/2 tsp instant yeast
2 tbsp canola oil
Set aside.
In the bowl of a food processor (fitted with a dough blade if you have one), pulse together:
2 1/2 cups all purpose flour
2 tbsp granulated sugar
2 tsp baking powder
With the motor running, pour the sourdough mixture in through the feed tube and process until the dough clumps together in a ball, about 1 minute.
Place the dough in a lightly oiled bowl, cover with plastic, and let rise in a warm place for about 30-45 minutes, until doubled.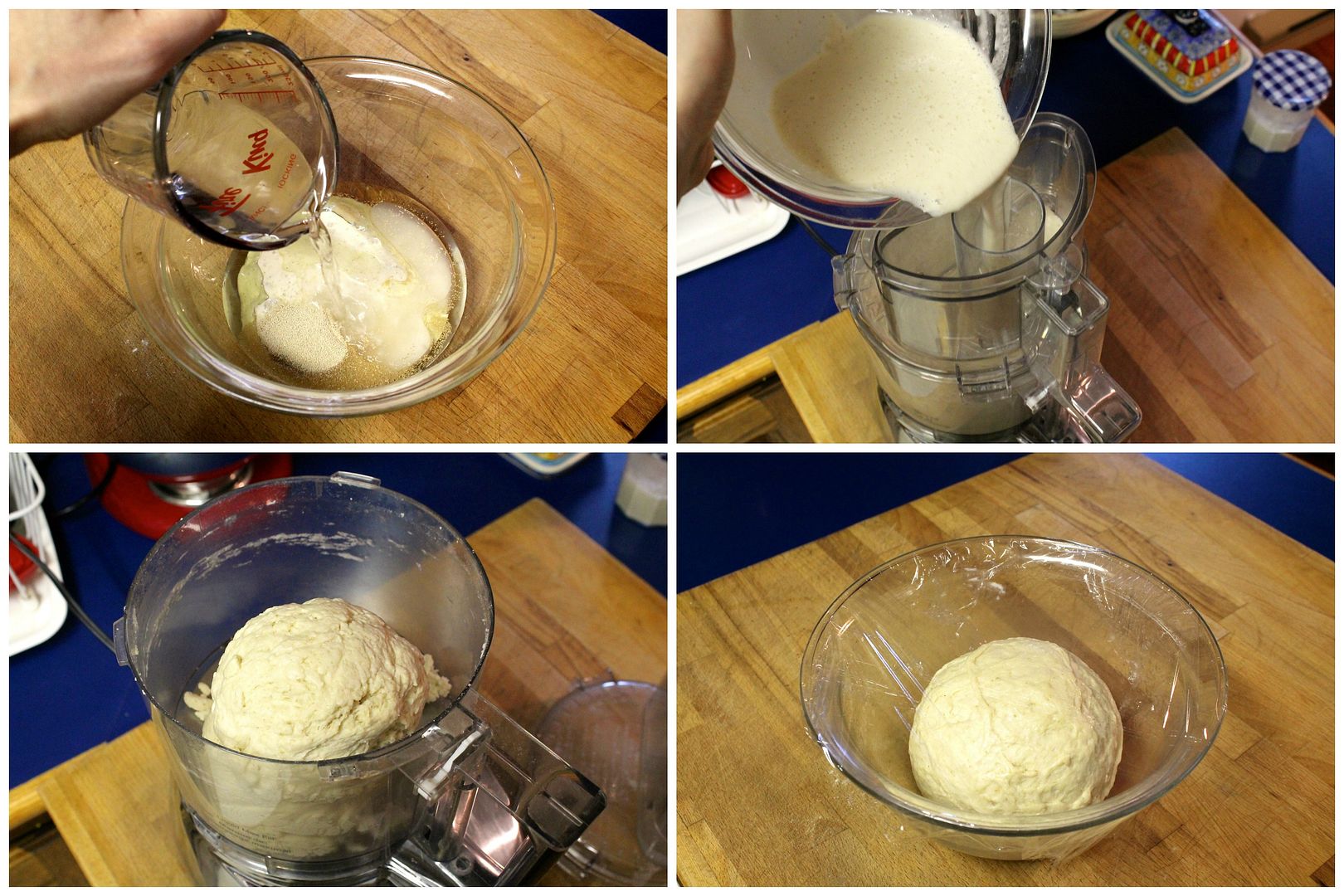 BBQ Pork Filling
In a small bowl, mix together:
1 tbsp granulated sugar
1 pinch salt
1 pinch ground white pepper
1 tbsp soy sauce
2 tsp oyster sauce
1 tbsp water
Stir to dissolve the sugar and set aside.
In a medium skillet, heat 2 tsp canola oil over medium heat. Add 2 chopped green onions and sauté for about 30 seconds, until fragrant. Add 1/2 lb Chinese bbq pork, diced small, and stir to combine. Pour in the sauce mixture and cook for about 2 minutes, until the pork is heated through.
In a small bowl, mix together:
1 1/2 tbsp cornstarch
1 tbsp Chinese rice wine or dry sherry
2 tbsp water
Add to the mixture in the skillet and stir until thickened enough to mound together, adding a few more tablespoons of water if it becomes too thick and gloopy. Set aside to cool to room temperature.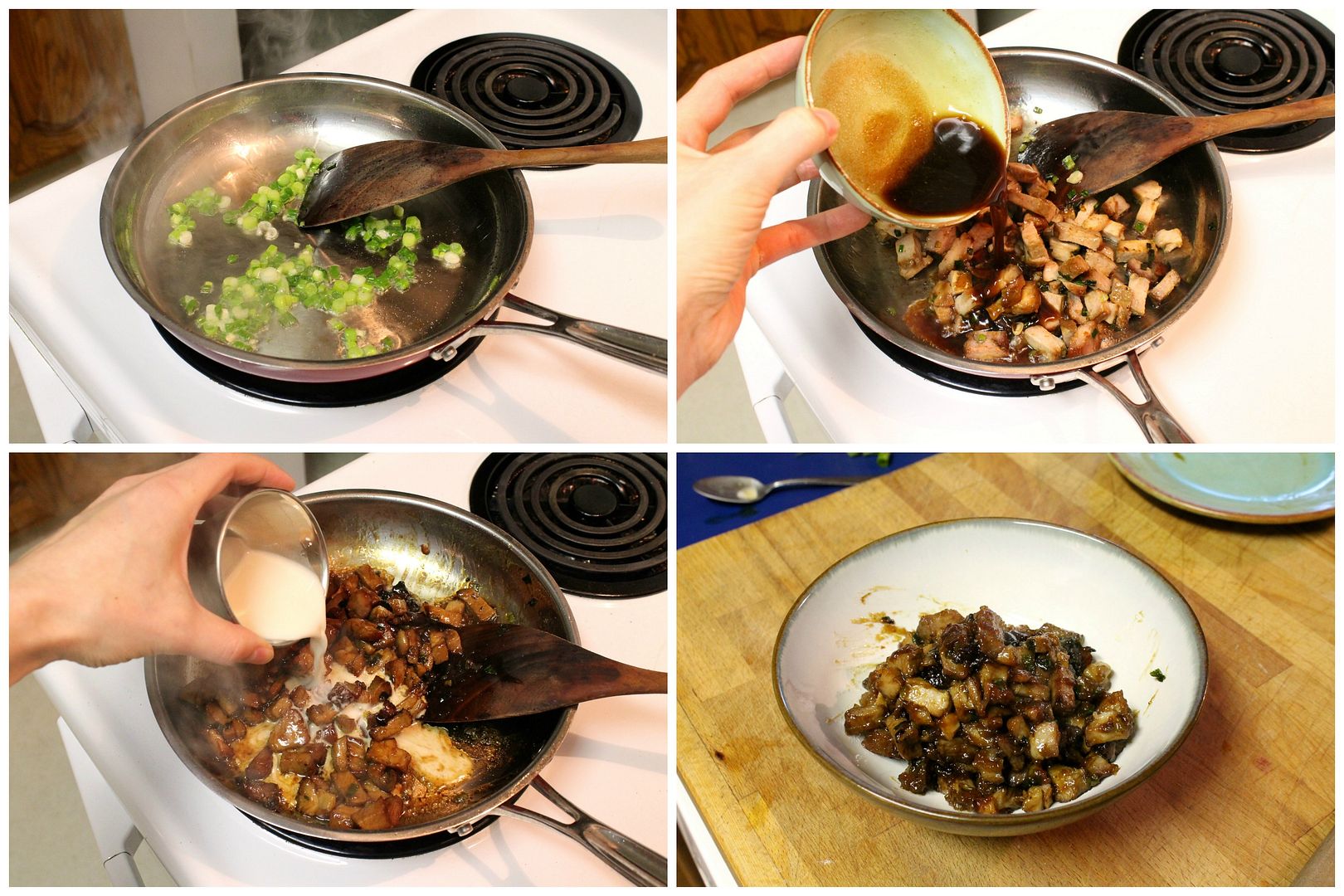 Assembly
Turn the risen dough out onto a lightly floured work surface and divide it in half. Cover one half to keep it from drying out, and cut the remaining half into 8 equal pieces. Form each piece into a ball and flatten with your palm into a 1/4″ thick disc. With your fingers, pinch the dough around the edges to form a circle a little larger than 3″ across, with thin edges and a thicker part in the middle (about a 1″ circle). This thick bit in the middle is the "belly" and will keep the bottom of the dumpling from breaking. If you have one, you can use a small Asian rolling pin to roll out the edges – a standard rolling pin is probably too large to do this.
I'm right handed, so this is how I pleated the dumplings: hold the prepared dough in your left hand and scoop 1 heaping tablespoon bbq pork filling in the middle of the dough on the thicker belly. With your right hand, fold and stretch one side of the dough over the filling into the middle. Hold the dough in place with your left thumb. With your right hand, fold and stretch the dough just beside where you made that first fold in towards the middle to make a pleat, and hold it in place with your left thumb. Continue like this, stretching the dough to cover the filling (it is quite stretchy and forgiving) and holding the pleats in place with your thumb, until you have a neat little package. Pinch/press the pleats to seal, and place the dumpling on a 3″ square of parchment paper (you'll need 16 squares total). Place the formed dumpling on a baking sheet covered with a tea towel and continue with the remaining dough and filling to make 16 buns. Set the formed buns in a warm place to rise until puffy, 10-30 minutes depending on the temperature of your kitchen.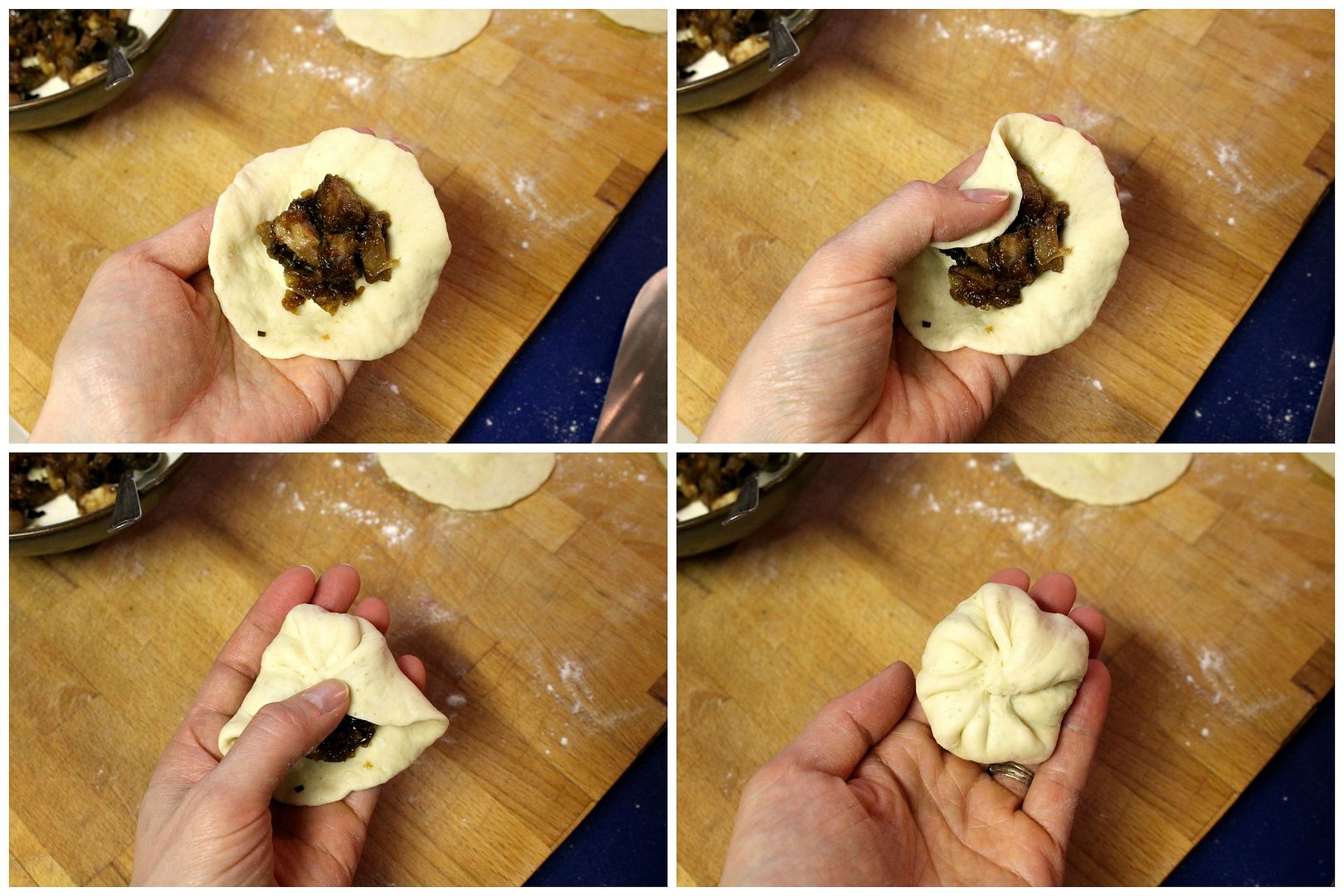 When the buns have risen, prepare your steaming apparatus by bringing a few inches of water to a gentle simmer in a pot. Place the buns in the bottom of the steamer insert, leaving about 1″ between them and the sides of the steamer. Place over the simmering water, cover, and steam for about 15 minutes, until puffed, shiny, and cooked through. Let cool for at least 5 minutes before serving hot or at room temperature. Re-steam leftover buns for about 5 minutes.