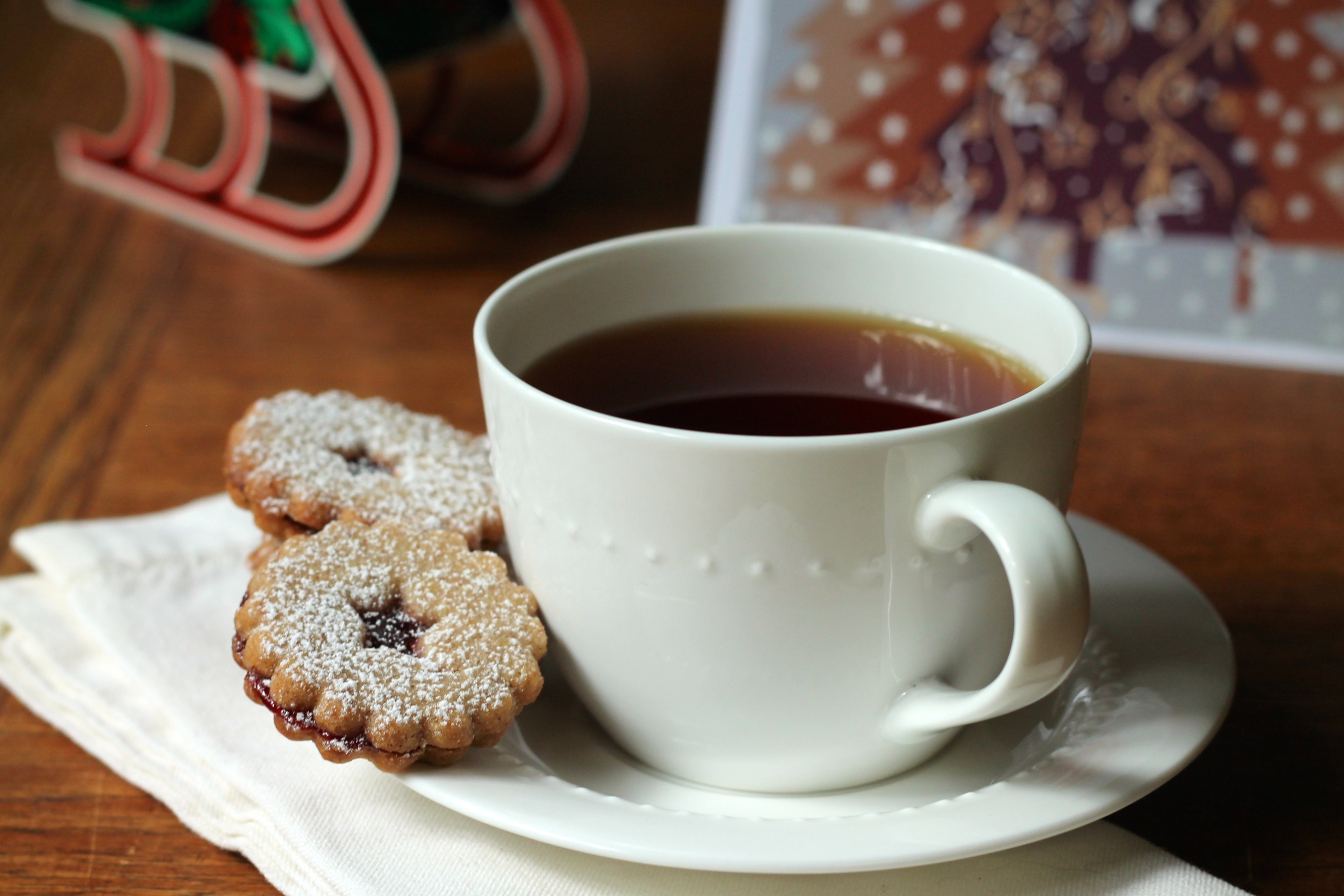 If you're looking for the perfect Christmas cookie, I think I may have found it: the Linzer cookie. Last year I made a Linzer torte – rich walnut pastry spiced with cinnamon, cloves, and lemon zest filled with raspberry jam – that ended up being my favourite item on the Christmas Baking List, and I couldn't wait to try it in cookie form. They have that traditional Old World Christmas feel thanks to their Austrian roots, and are just fussy enough (rolling the dough, cutting out the cookies, assembling them, etc) to fall into the "special occasion" category.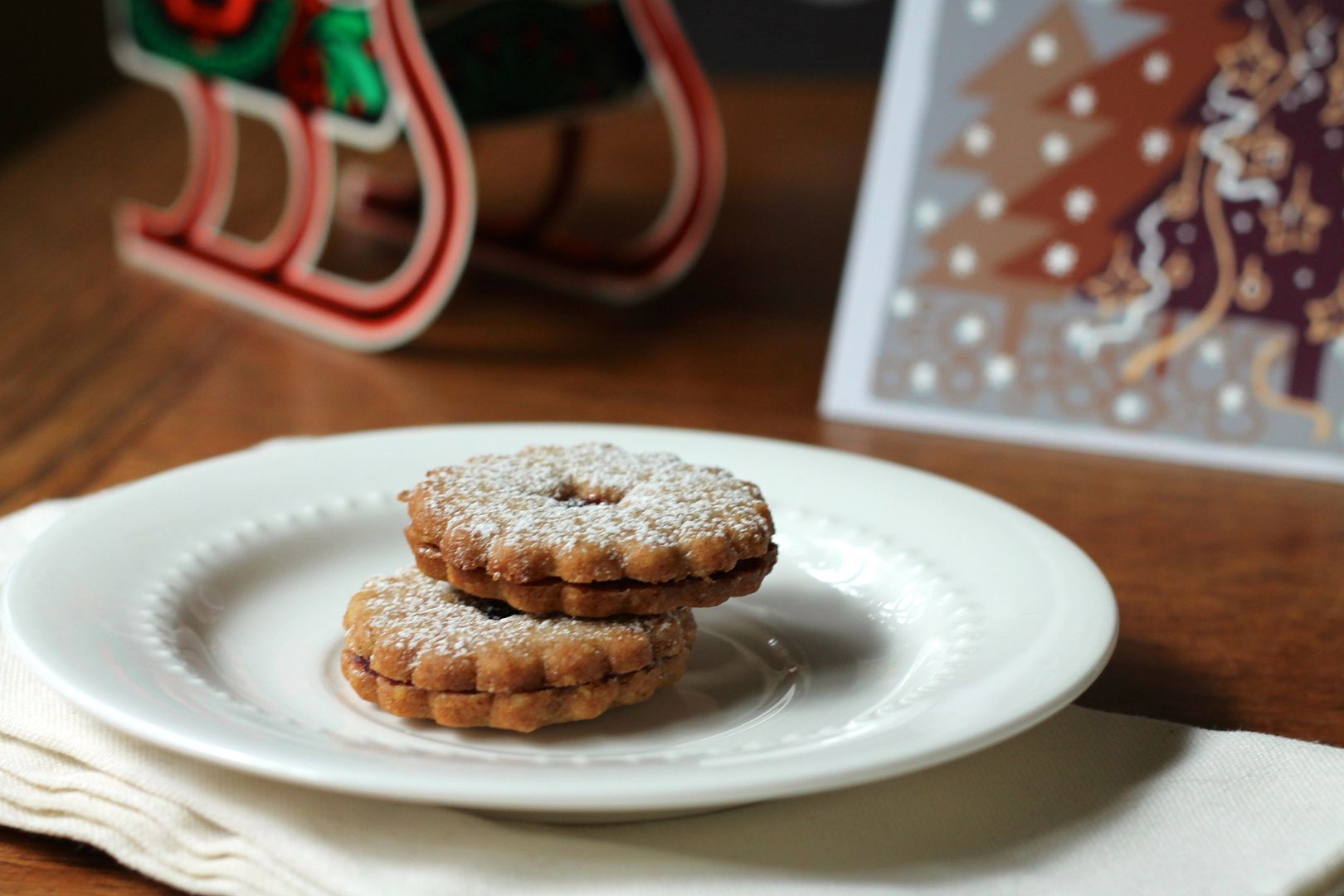 Two nutty, fragrantly-spiced cookies sandwich a smear of sweet-tart raspberry jam, which changes the texture of the cookies from crisp and snappy to tender and soft. It's hard to eat just one Linzer cookie, and luckily for you, there is still time to bake these before Christmas. In fact, I'm quite positive that Santa would appreciate a few of these left with a glass of milk (or a beer, which my Dad told me that Santa prefers) beside the chimney on Christmas eve!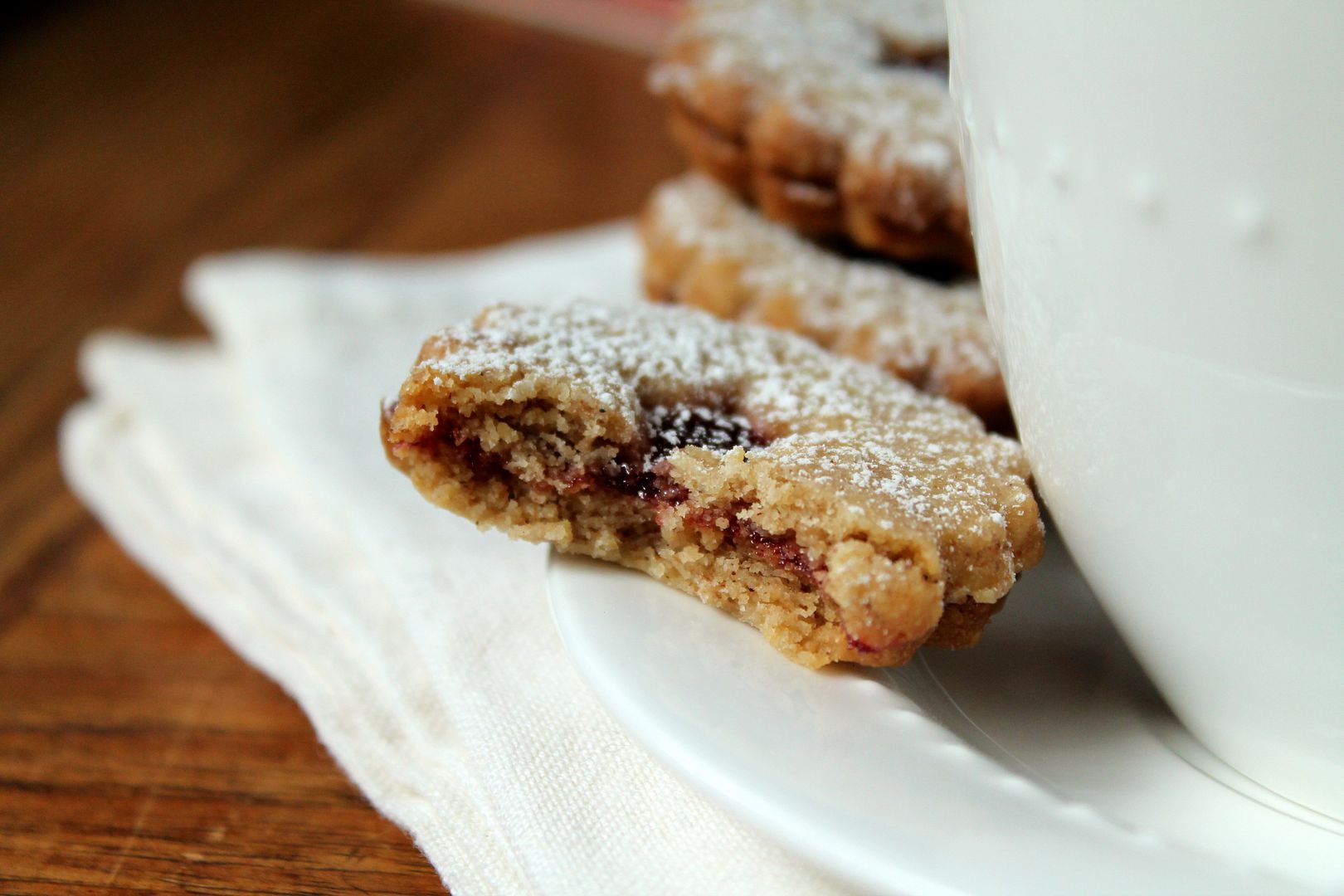 Linzer Cookies
Adapted from Canadian Living. Makes lots – the yield will depend on the size of your cookie cutter.
Place 1 1/2 cups walnut halves on a baking sheet and toast in a 350˚F (325˚F convection) oven until browned and fragrant, about 8 minutes.
Tip the toasted walnuts into the bowl of a food processor and pulse until finely ground.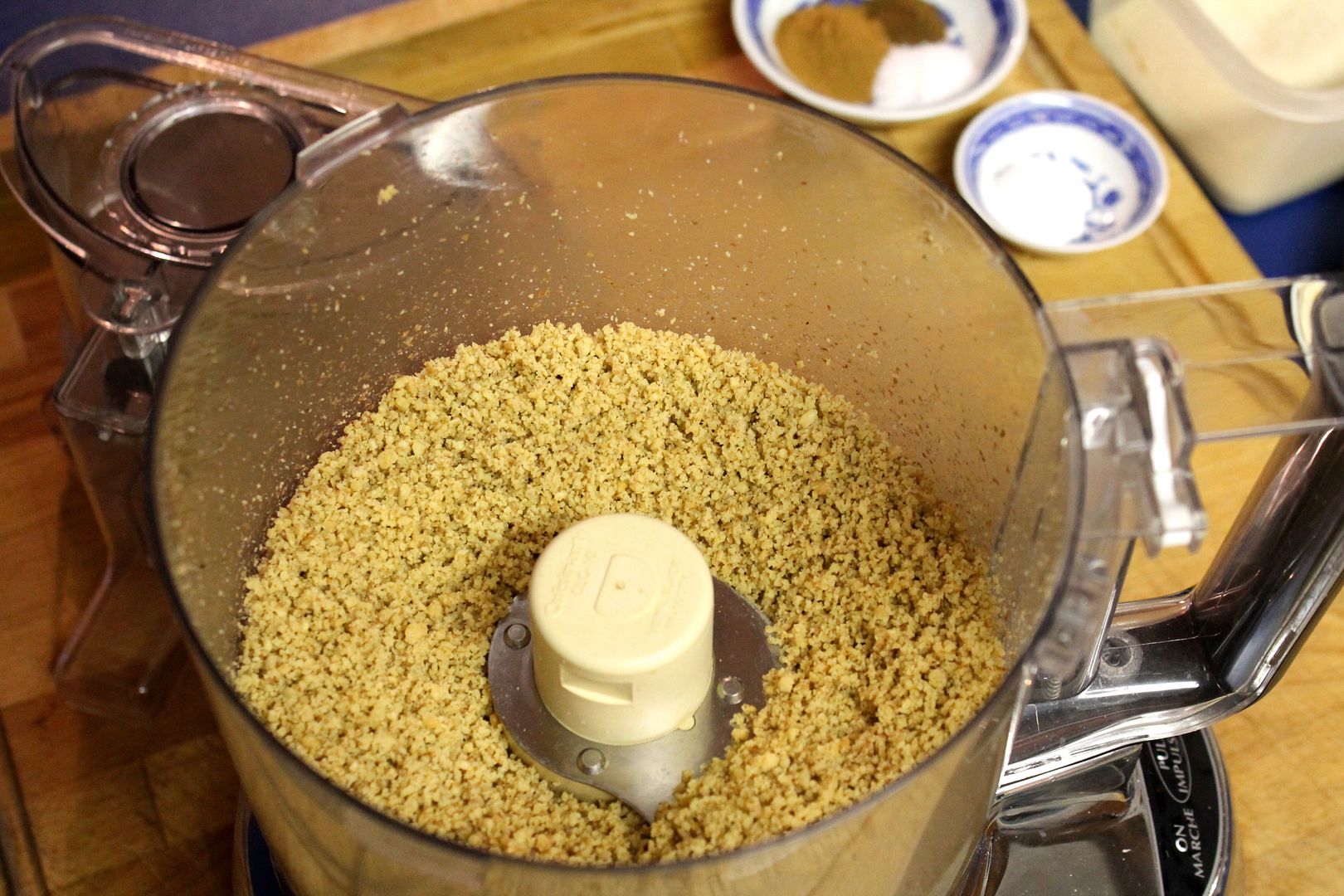 Add:
2 cups all purpose flour
1 1/2 tsp cinnamon
1 tsp baking powder
1 tsp grated lemon rind
1/4 tsp ground cloves
1/4 tsp fine sea salt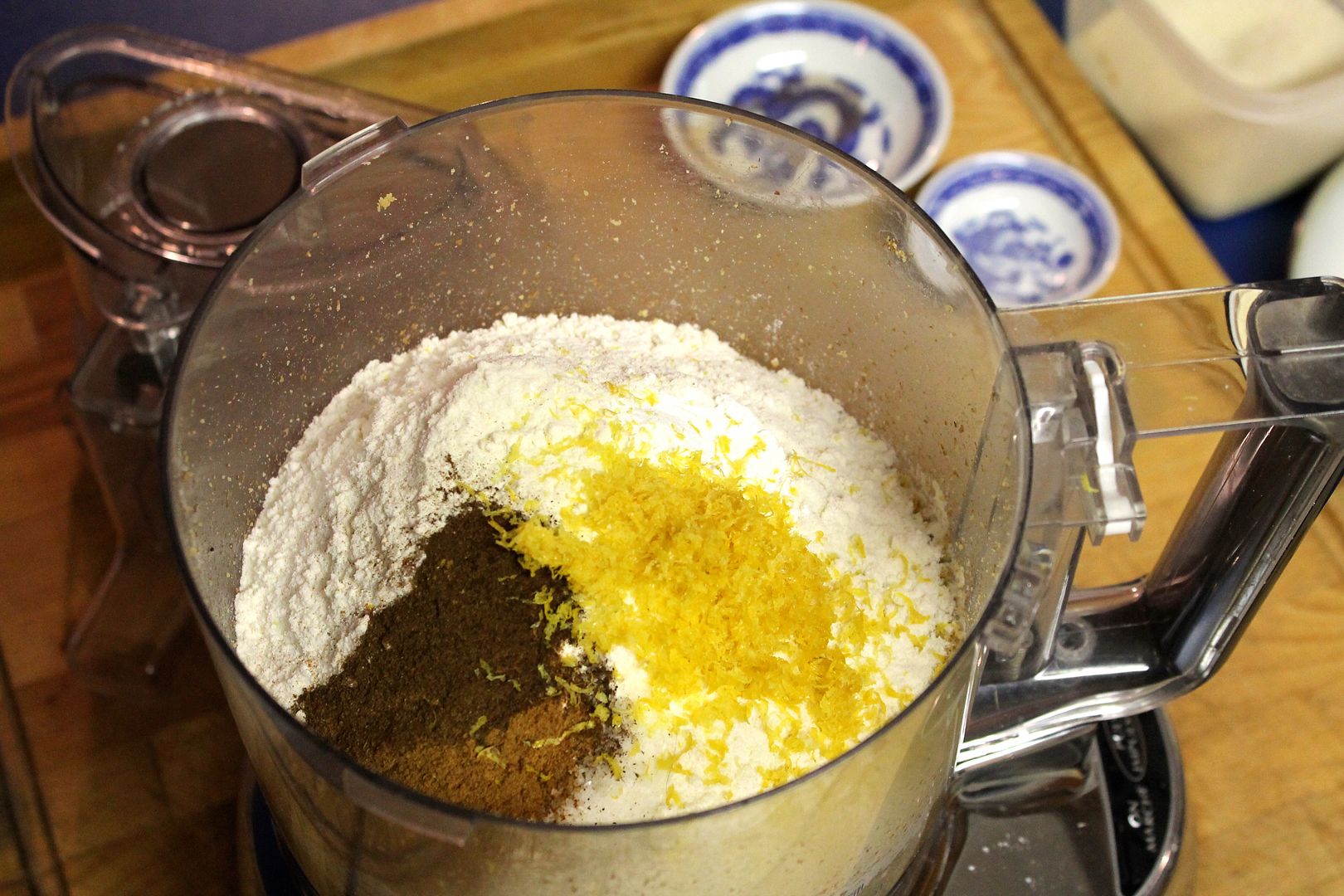 Process until combined, then set aside.
Cream together:
1 1/4 cups unsalted soft butter
3/4 cup granulated white sugar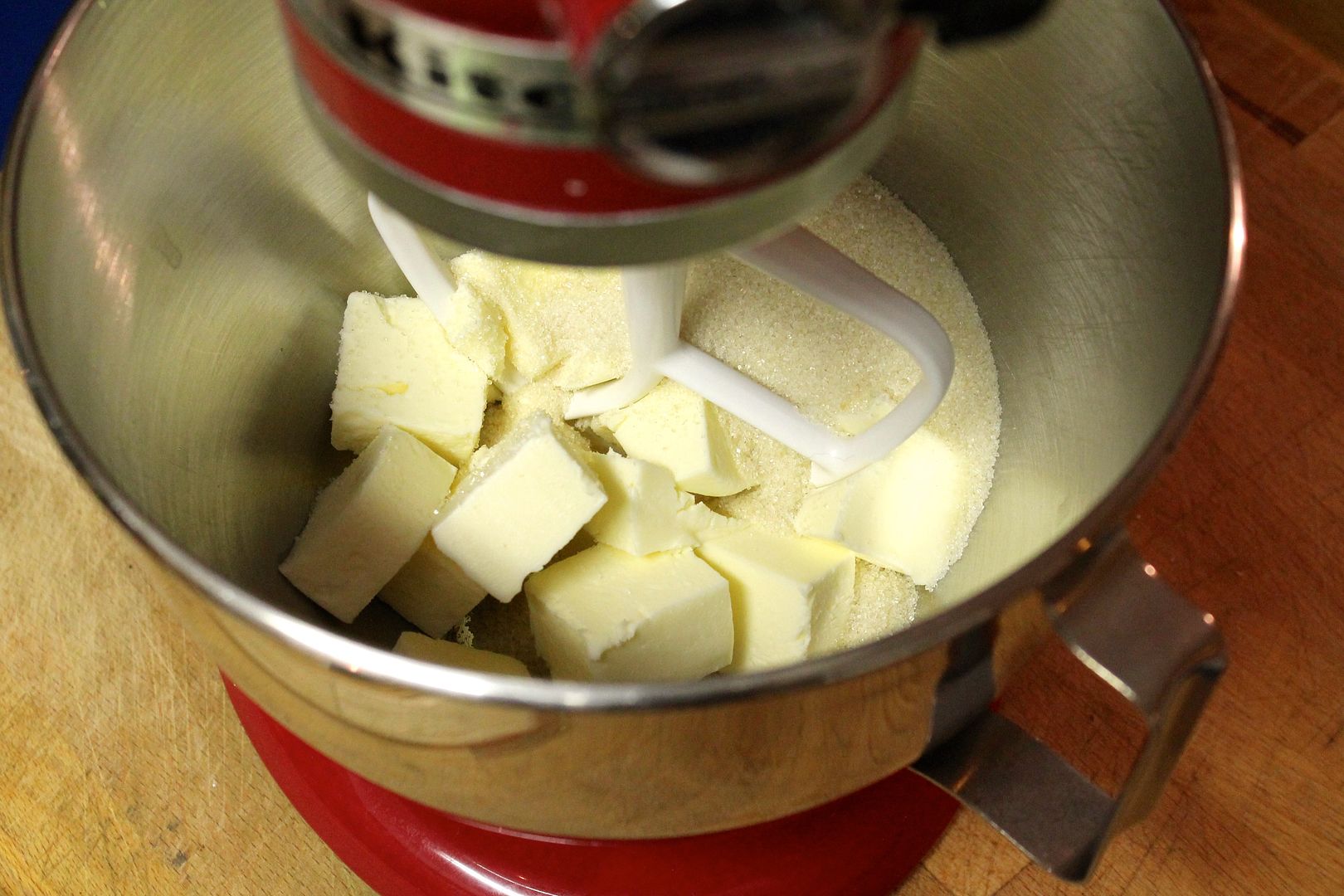 When light and fluffy, beat in one at a time:
1 egg
1 egg yolk
1 tsp vanilla
Beat again until light and fluffy.
Mix in the flour-nut mixture in 2 additions, scraping the bowl after each addition.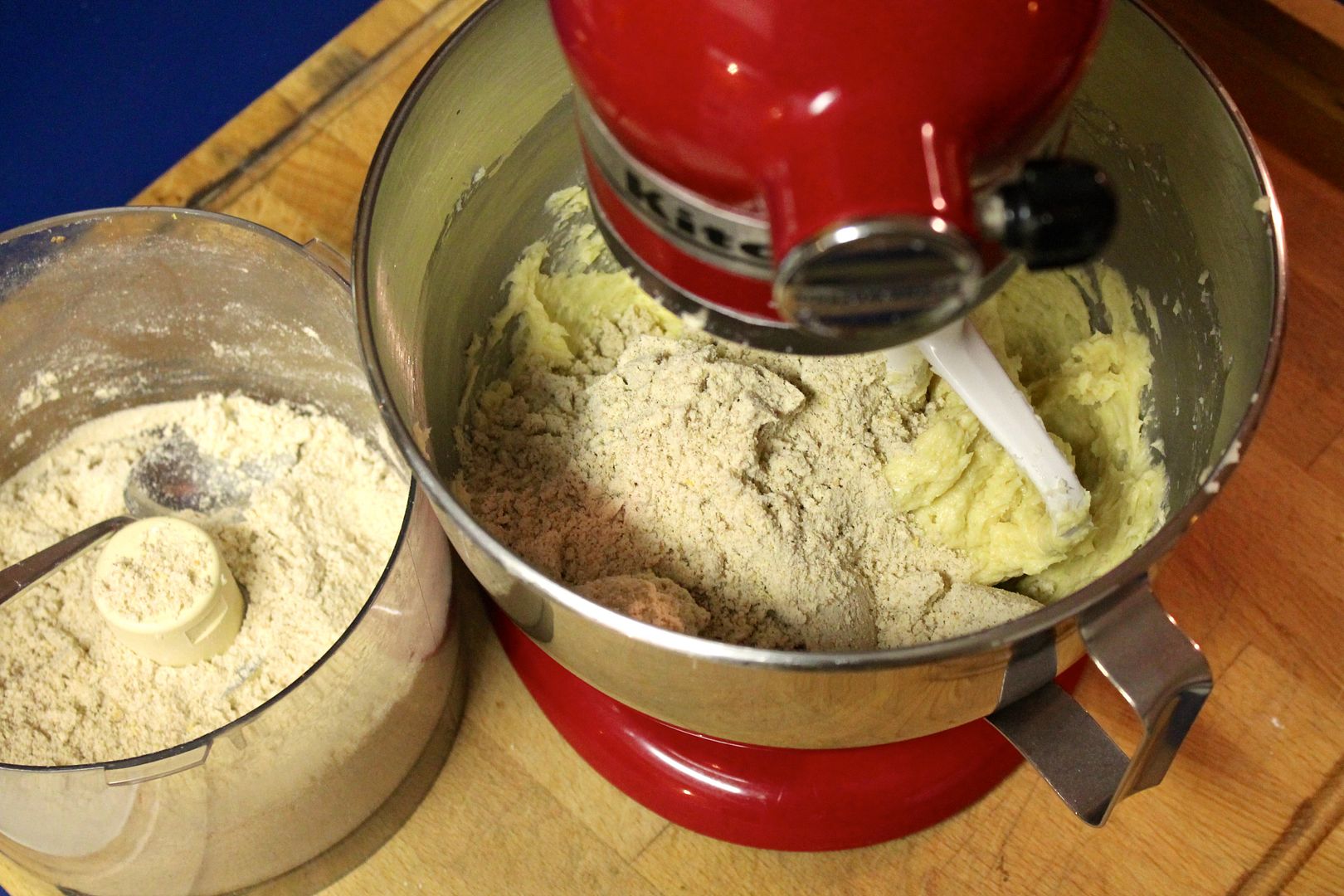 The dough will be quite soft and sticky, so divide it into 2 portions, wrap each in plastic, press into discs, and chill for at least 1 hour.
On a lightly floured surface, roll out each portion of dough into a scant 1/4″ thick slab (if the dough is too stiff to roll, try whacking it a few times with your rolling pin – this will soften the butter without warming it up).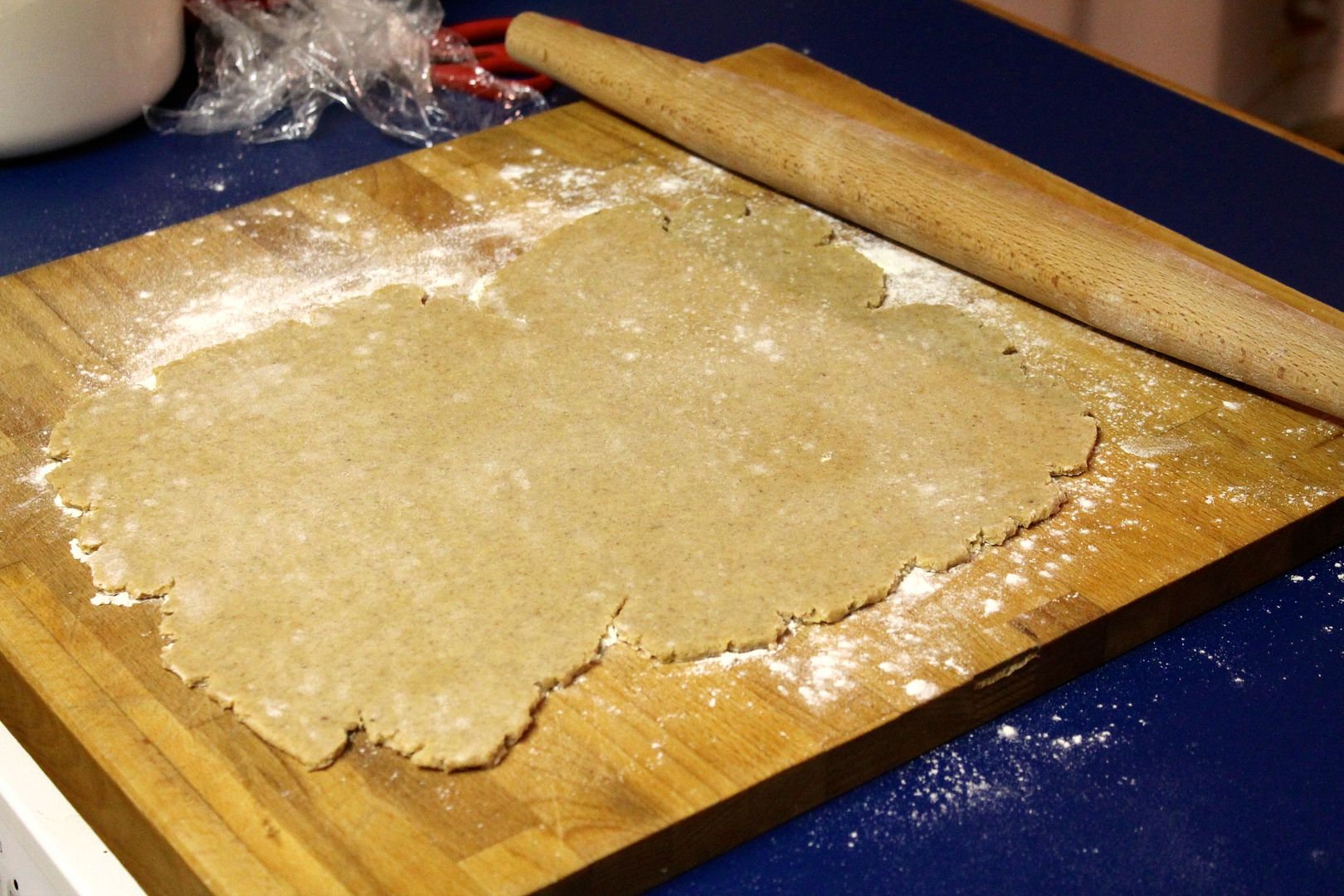 Cut out rounds with a fluted cookie cutter (I used a 1 3/4″ round cutter to make smaller cookies, but anything around 2″ is good), then use a small star cutter (mine comes from an aspic cutter set) to punch a star in the middle of half the rounds.
Place the cookies on a parchment paper-lined baking sheet and freeze for about 5 minutes, until firm (this will keep the cookies from spreading and preserve your frilly edges and central star). Bake in the preheated 350˚F (325˚F convection) oven for about 10-11 minutes, rotating the pans halfway through baking, until golden brown. Cool the cookies on a rack.
Once cool, match up the whole cookie bottoms with the star cut-out cookie tops. Spread each bottom with a smear of raspberry jam (you'll need about 1 cup total / 1 tsp-ish per cookie, depending on size).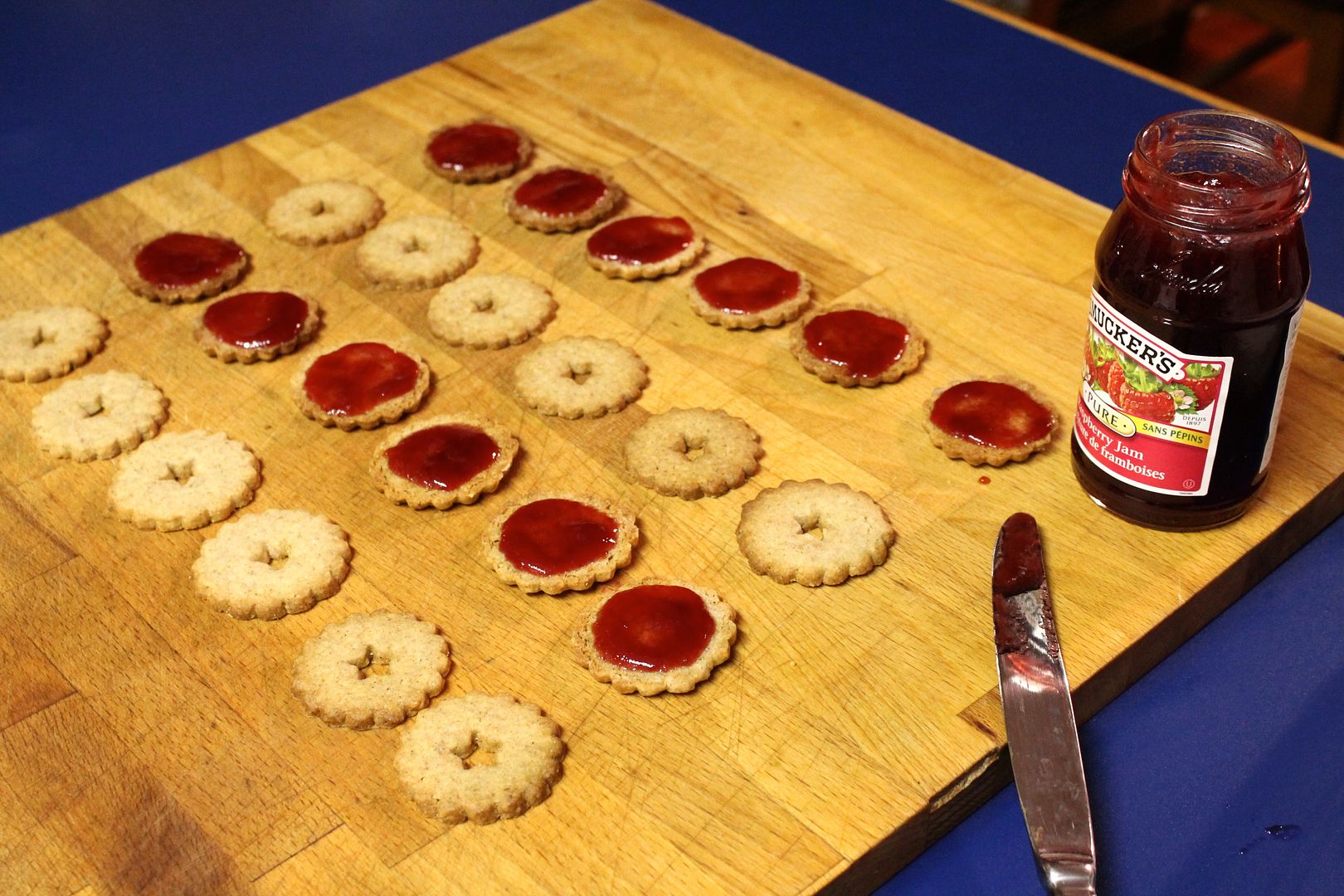 Sandwich with the top cookie, dust with icing sugar, and let sit for about a day in an airtight container so that they become soft and chewy and delicious. Dust again with icing sugar before serving.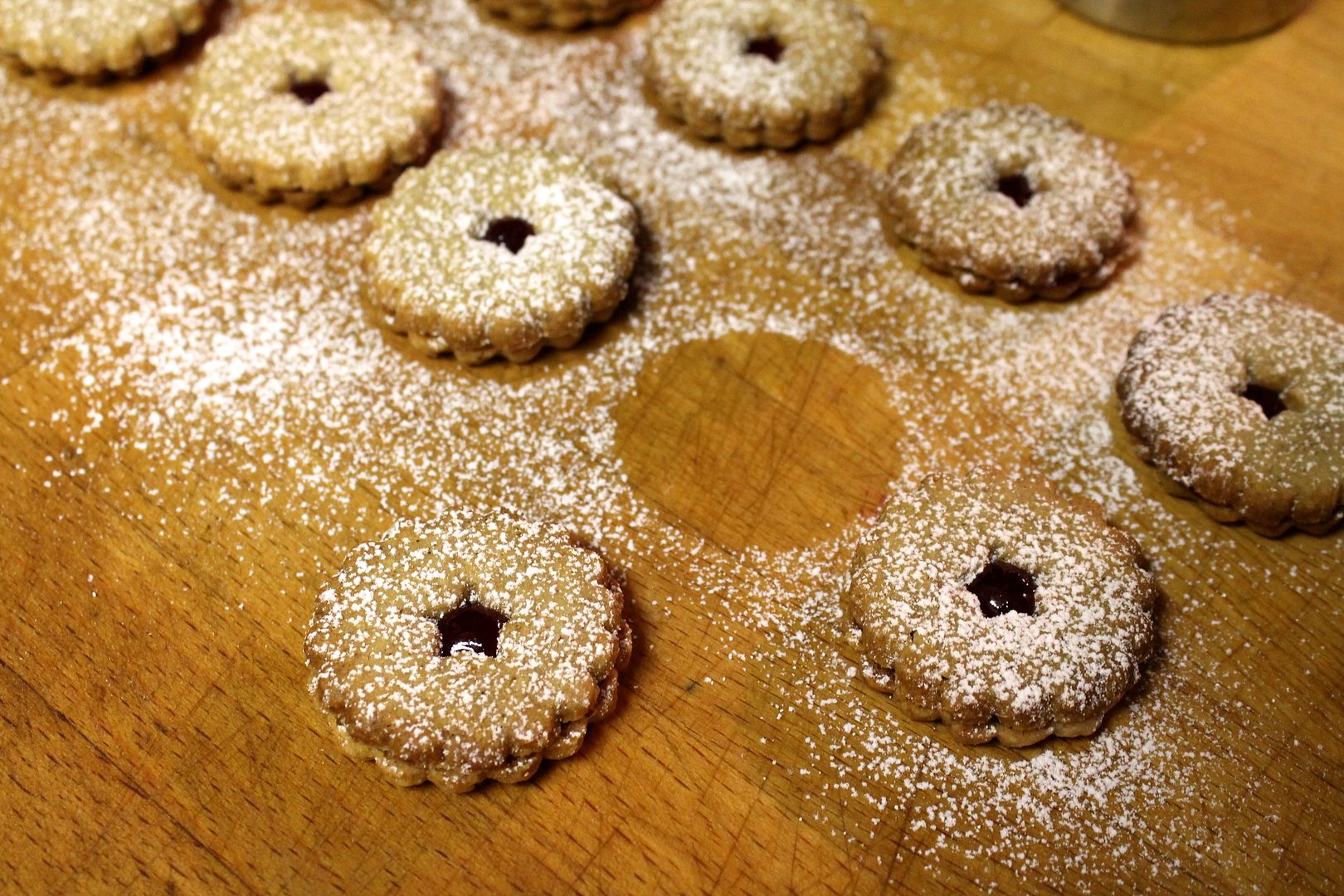 Merry Christmas!