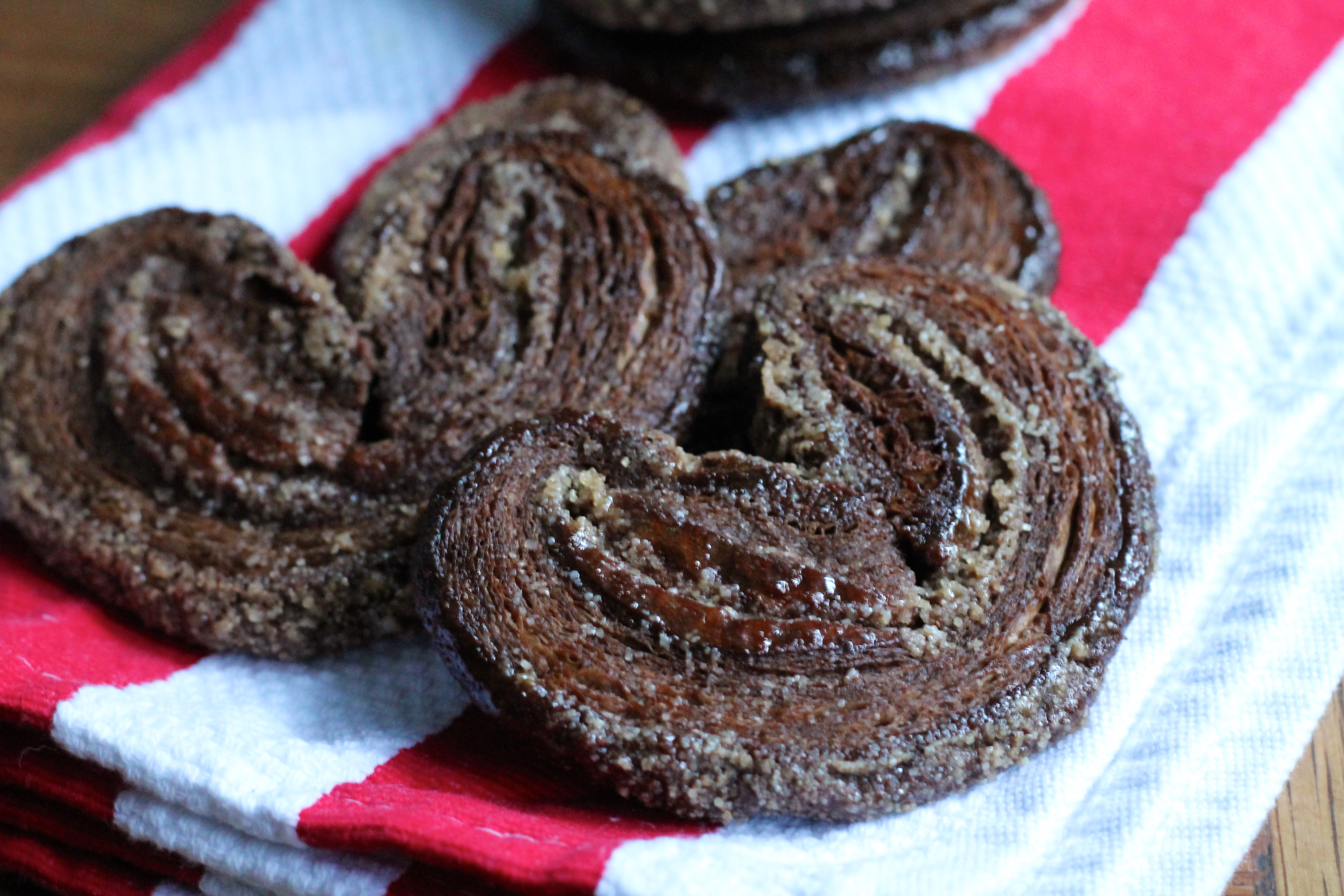 As the foodie in my family and circle of friends, over the years I have received a good amount of useful, useless, awesome and/or strange kitchen gadgets for Christmas. And while I always appreciate a gift and the fact that someone thought of me when they saw those silicon pot holders or these teeny tiny tongs or this decorative cheese knife or that Slap Chop (OK, so maybe the Slap Chop ended up at the thrift store…), there's only so much room in my kitchen. In my case, the kitchen gadgetry gifts are combined with being "the one who likes cats", which explains how I came to own not one but TWO cat-shaped ceramic creamers.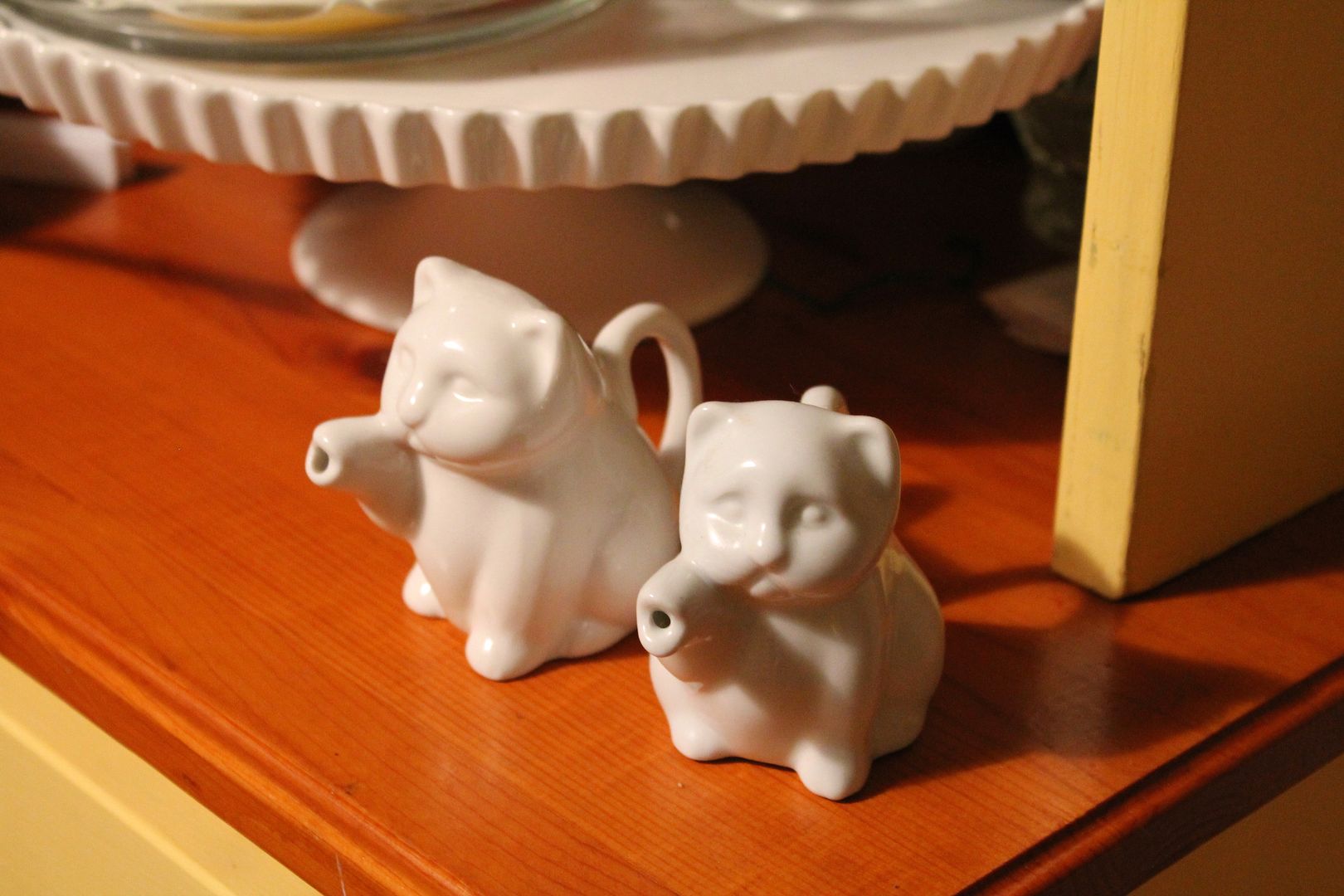 My kitchen cupboards may be overflowing with cat creamers and the like, but one foodie gift I'll always find room for is gourmet baking ingredients, so I was completely on board when Ten Thousand Villages offered to send me a bundle of some of their sweet food products to bake with and review. Ten Thousand Villages is a non-profit Canadian company that sells fair-trade products from around the world – among them high quality organic spices, chocolate, cane sugar, dried fruit, nuts, tea, and coffee. Pretty much a baker's dream!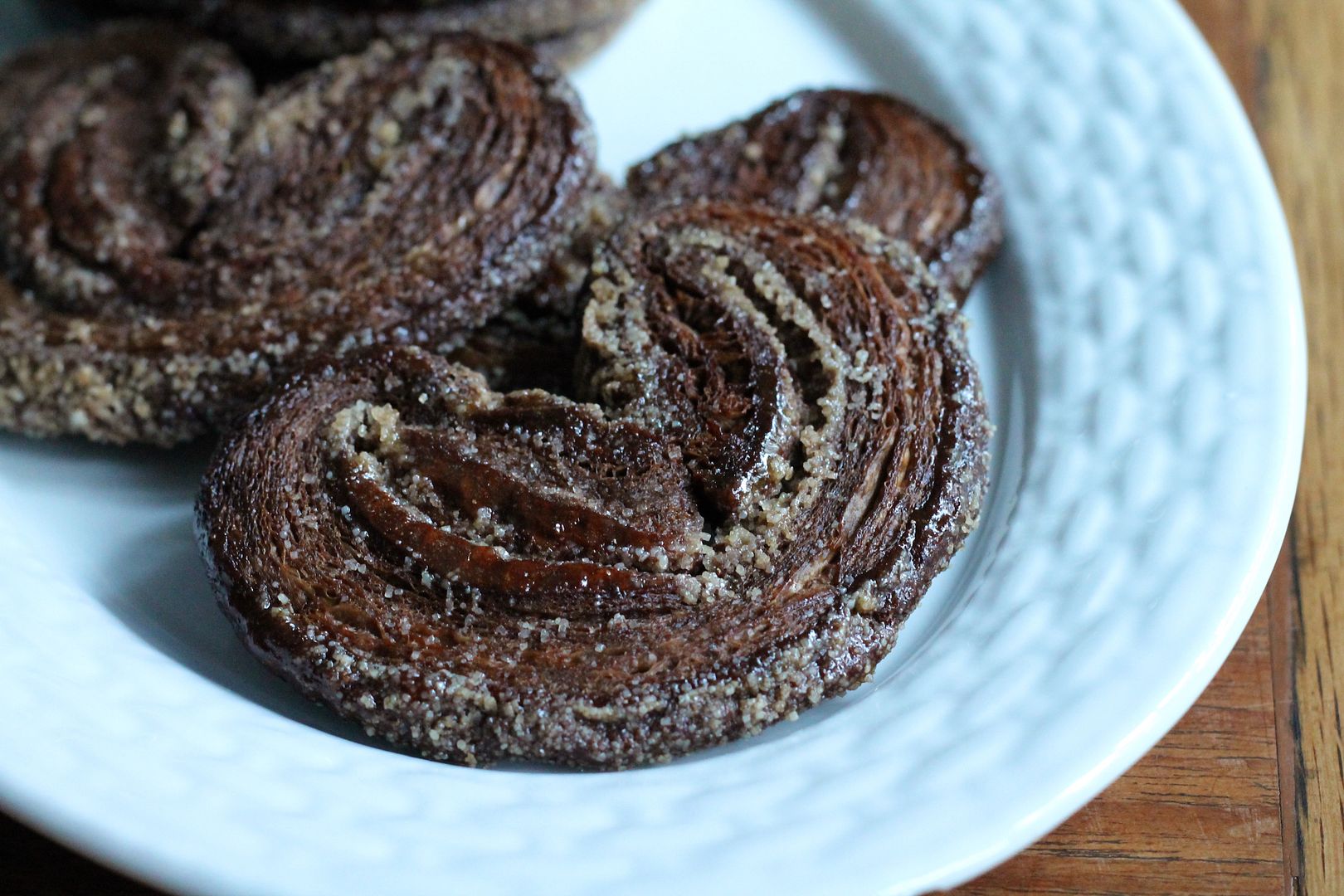 My bundle of sweets included:
True Cinnamon quills. This is the real deal Ceylon cinnamon, as opposed to the cassia that is sold as cinnamon in most of North America. The bark is thinner and more papery than thick cassia bark, and you can easily grind it to a powder using a spice grinder or coffee grinder. The taste is sweeter and more floral than cassia cinnamon.
Cuisine Camino organic golden cane sugar (aka turbinado). Regular old white sugar doesn't smell like much, but cane sugar, made from evaporated sugar cane juice, is wonderfully fragrant and actually tastes like something other than just sweet. It is a great addition to any baked good.
Cuisine Camino organic cocoa powder. Deep, dark, and so flavourful, cocoa powder is one of my favourite ingredients to bake with: I now have four different varieties in my pantry because it imparts such a wonderful chocolatey punch. This stuff is no exception.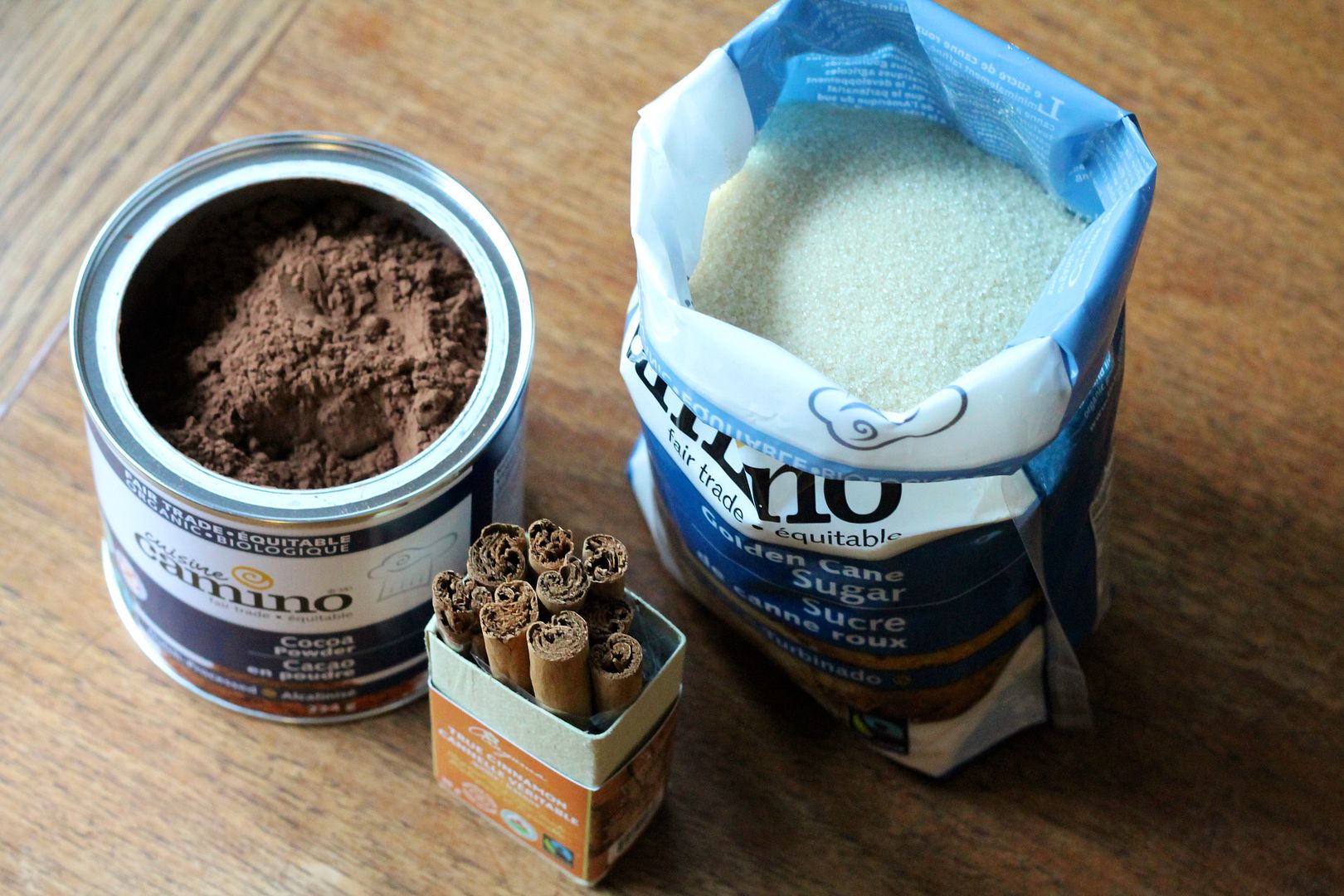 In addition to the baking ingredients, there were a few other goodies too:
A Happiness Cinnamon Box. I don't mean a box for holding cinnamon – I mean a box made of cinnamon! I assume it's made from a branch of the cinnamon tree or something. It smells absolutely incredible – I just want to walk around with my nose in it all day. I'm not sure what I'm going to store inside it, but whatever it is will smell amazing.
The Busy Bee Sugar Saver. These are little terracotta bees that, once soaked in water, are meant to keep brown sugar from drying out (apparently they also keep marshmallows soft). I almost always have half a bag of rock hard brown sugar in my pantry, not to mention the petrified marshmallows from that one time we decided we wanted s'mores six months ago. I haven't tried the bees out yet, but I can tell you they are extremely cute, which I figure is worth extra points.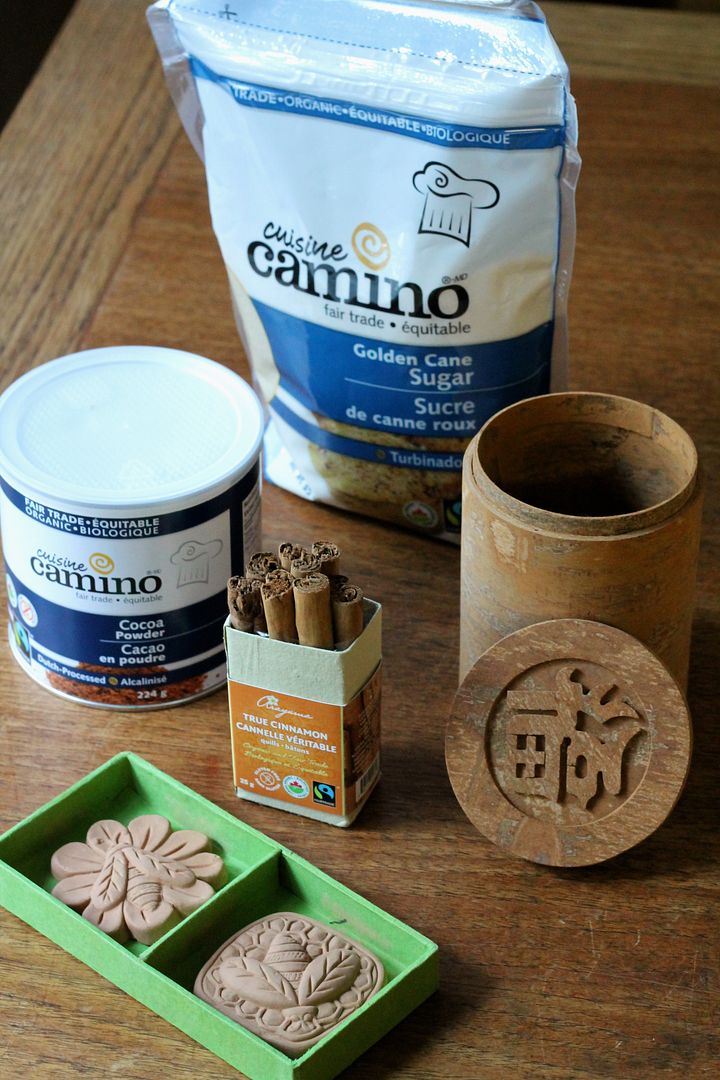 With my fancy baking ingredients, I decided to make some fancy Christmas cookies, and nothing is fancier than the French palmier: a cookie of puff pastry and caramelized sugar. Making the puff pastry from scratch is a little fussy, but I figure that's OK for Christmas cookies. I used the cocoa powder to make the most outrageous chocolate puff pastry, and coated each cookie in a mixture of ground true cinnamon and cane sugar that caramelized beautifully in the oven. The cinnamon is quite subtle so you might want to use more, but like a good shortbread cookie, the flavour seems to deepen after a few days  (there's definitely enough butter in these to follow the same shortbread aging principle!). These cookies are deceptively light, super crisp and flaky, and very very moreish. Definitely a fun addition to the Christmas cookie roster, especially when made with love and good ingredients.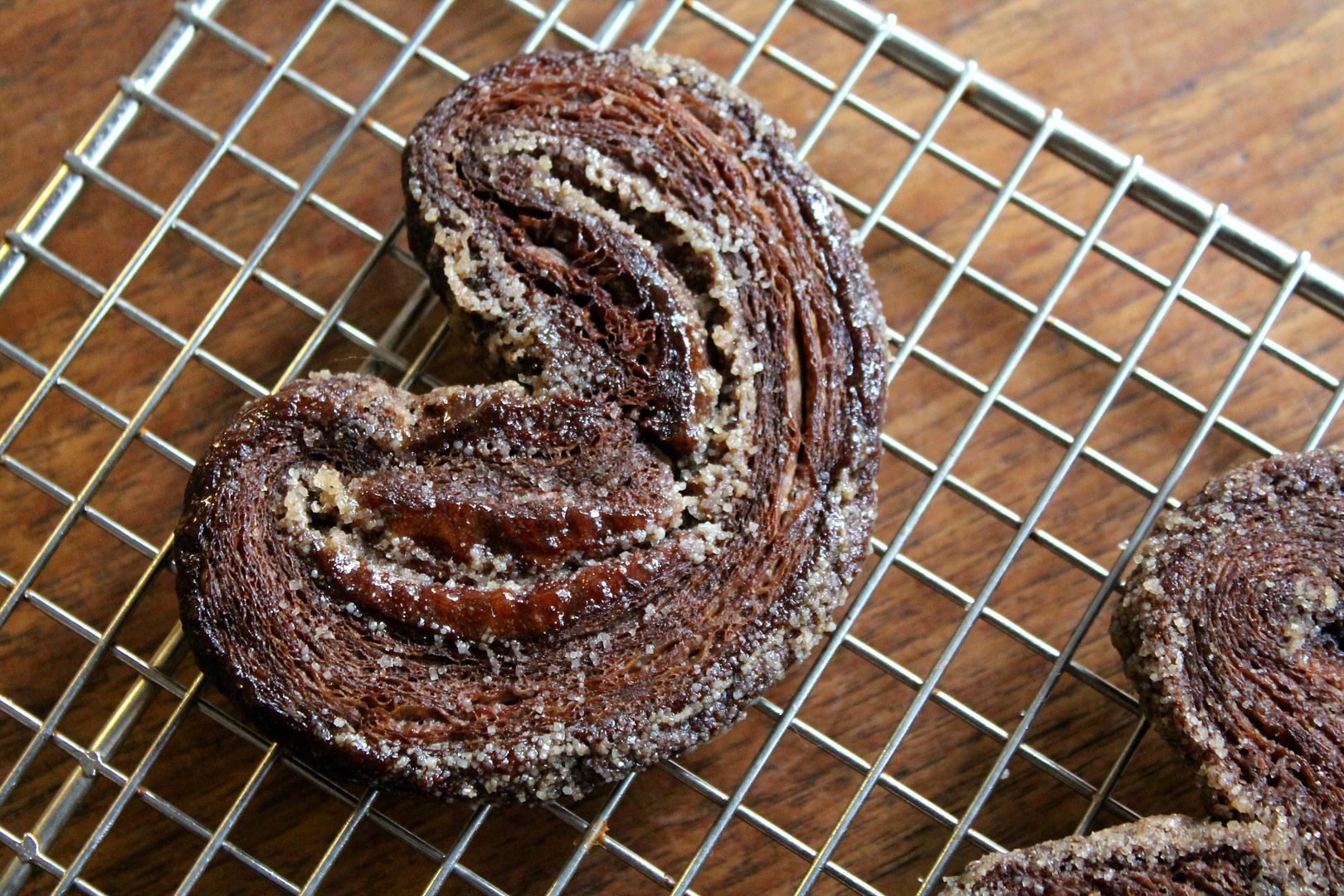 So, friends, stop the cat creamer kitchen gadget madness: this holiday season, get the foodie on your list some gourmet ingredients instead. I recommend checking out Ten Thousand Villages for some ideas!
Cocoa Cinnamon Palmiers
Adapted from Canelle et Vanille. Makes about 4 dozen cookies.
Dissolve 2 tsp salt in 185 grams cold water. Place 420 grams all purpose flour in a medium bowl, make a well in the center, and pour in the salted water. Starting in the center and working out, stir the water into the flour with a fork, slowly incorporating more flour. Once you have a shaggy mass of flour and water, add 70 grams unsalted butter, melted and cooled. Stir to combine as best you can, then turn the dough out onto the counter and knead it all together until it is more or less cohesive, about 5 minutes. It won't be super smooth at this point, but you are going to be working it more with all the rolling and folding to come. Shape the dough into a 3″ x 6″ rectangle, wrap it in plastic wrap, and chill until firm (at least a few hours or overnight).
In the bowl of an electric mixer, cream 425 grams slightly soft unsalted butter until smooth. Add 50 grams cocoa powder, sifted, and stir in until evenly incorporated. Scrape the chocolate butter out onto a sheet of plastic wrap and shape it into a 3″ x 6″ rectangle. Wrap completely in plastic wrap and chill until firm (at least a few hours or overnight).

When the dough and butter are chilled and firm, remove them both from the fridge. With a rolling pin, pound the butter between two sheets of plastic wrap into a 5″ x 7″ rectangle to soften it slightly. On a lightly floured surface, roll the dough out to a 11″ x 15″ rectangle. Place the butter rectangle on one half of the dough and fold the other half over to cover it, crimping the edges to seal the butter in completely.
Roll the dough-butter package into a 10″ x 20″ rectangle and perform a double book fold by folding each of the short ends in to the middle, then folding the whole thing in half.

Repeat this 3 more times for a total of 4 double book folds, chilling the dough for 20-30 minutes between each fold if necessary – ie, if it resists rolling or starts to melt. My kitchen was pretty cool so I could do at least 2 folds at a time. Your dough will look more and more chocolatey with each fold-and-roll. (You can wrap the dough in plastic wrap and chill overnight after any of the folds, if you wish.)

After the final fold, chill for several hours. Cut the dough in half (and admire all those chocolatey butter layers!) before proceeding.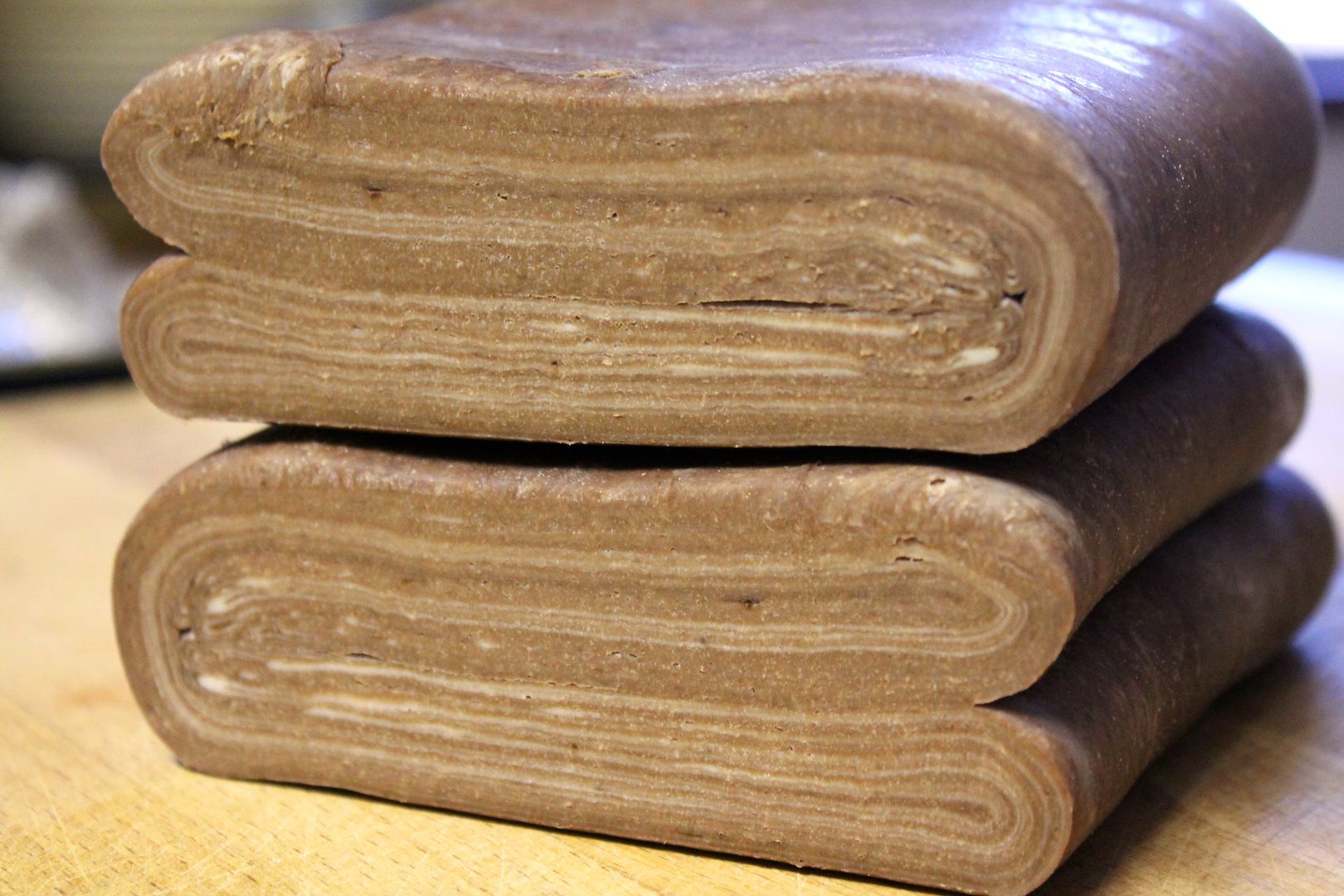 In a bowl, mix together 400 grams golden cane sugar and 9 grams (2 tbsp or 3 sticks) ground true cinnamon. Sprinkle some of the cinnamon sugar on your work surface and roll out half the dough on the sugar into a 12″ x 16″ rectangle. Trim the edges so they are square, then sprinkle the dough with cinnamon sugar and lightly roll over it with the rolling pin to make the sugar stick.

Fold the longer sides of the rectangle in towards the middle, leaving about a 1″ gap between them. Sprinkle with more cinnamon sugar, then fold the long edges in towards the middle again. Finally fold the whole thing in half on the long axis and press firmly to make it stay. Wrap tightly in plastic wrap and chill until firm, at least 1 hour and up to a few days (see note* below). Repeat with the remaining dough.
Preheat the oven to 400˚F (375˚F convection). Cut the chilled dough into 1/2″ thick slices and press the slices on both sides in the remaining cinnamon sugar. Place on a parchment-lined baking sheet with plenty of space between each cookie.

Bake in the preheated 400˚F (375˚F convection) oven for about 8 minutes, until the layers have puffed. Flip each cookie over with a spatula and re-shape them if they have unfolded. Return to the oven and bake for another 8 minutes, until the pastry is fully baked and dry and the sugar starts to caramelize and look shiny. Remove to a rack to cool and repeat with remaining cookies, using fresh parchment paper for each batch (otherwise the left-over caramelized sugar will burn). Store in an airtight container for up to 5 days (if they last that long!).

Note on leaving the chilled dough in the fridge for a few days: most recipes caution against doing this, and the reason is that all the sugar coating the dough will soak up the moisture and turn to syrup. This was a surprise when it happened to me, but I went ahead and sliced the cookies anyway (which was a bit messy), coated them in more cinnamon sugar, and baked them. I actually found that the sugar caramelized better but was more prone to burning, so if you go this route, try baking the cookies for 6-7 minutes per side and watch them carefully. You might need to turn the oven down a bit if the sugar burns before the pastry is fully baked.
Disclosure: Ten Thousand Villages provided me with these products to review for free, but my words and opinions are my own.