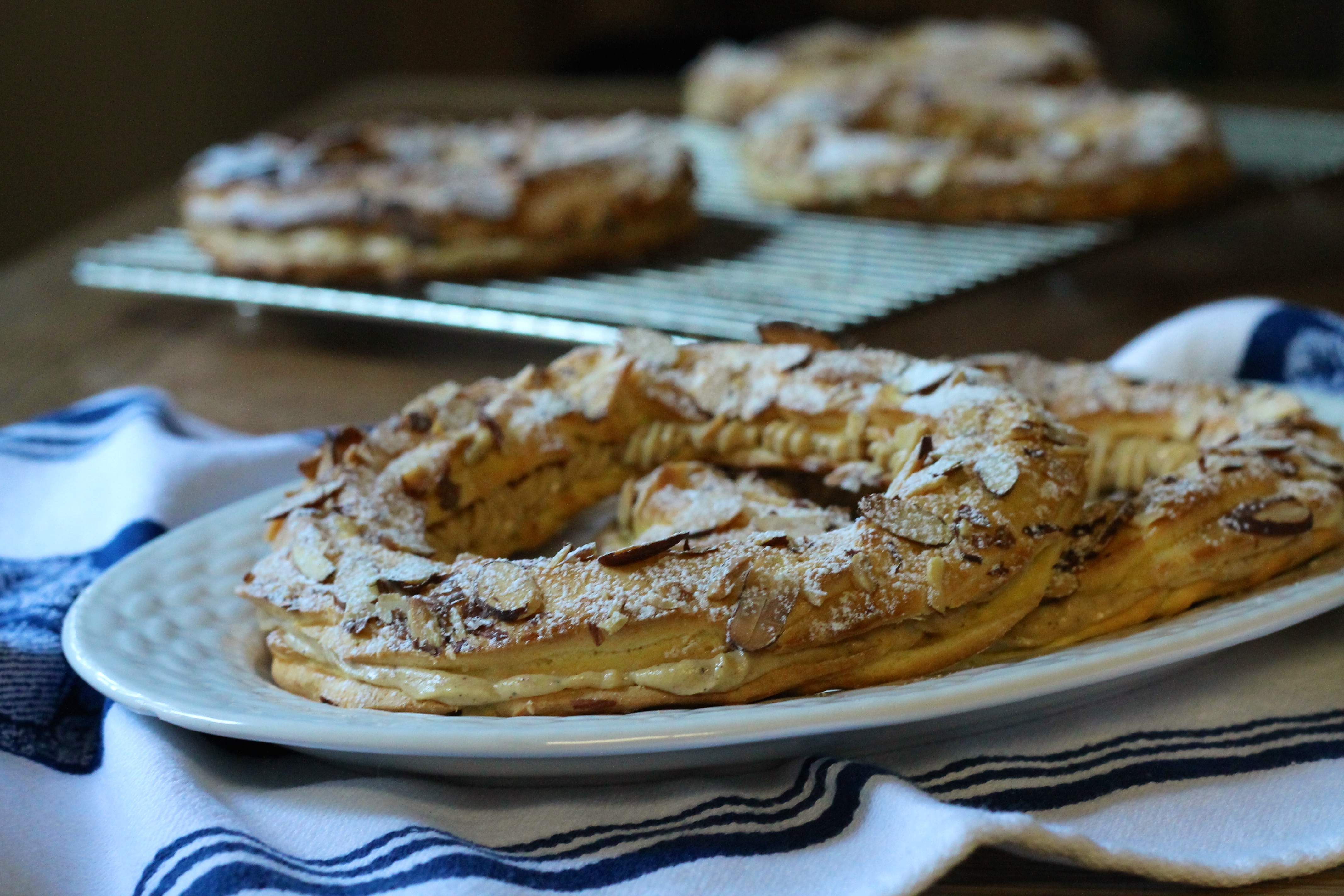 The November Daring Baker's challenge took us for a ride! Luisa from Rise of the Sourdough Preacher challenged us to make Paris-Brest, a beautiful pastry celebrating the Paris-Brest bicycle race.
My favourite Daring Bakers challenges are the ones where I get to pretend to be a fancy-pants pastry chef, so despite being several days late with this post, I was actually pretty excited about this month's challenge: a very French pastry called the Paris-Brest. This pastry, which is a ring of choux pastry filled with praline crème mousseline, commemorates the famous bicycle race between Paris and Brest, and its circular shape is supposed to represent a wheel. Apparently it was created because the riders needed a high calorie snack to refuel them after their 1,200 kilometer race – the early 20th century equivalent of a PowerBar!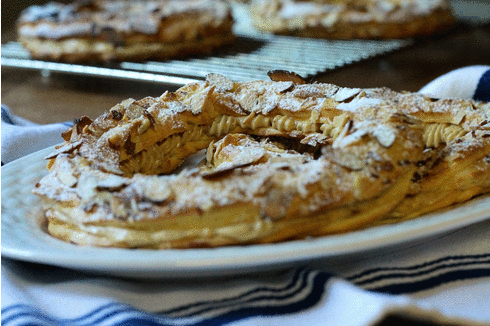 This dessert was fun to make – there were lots of different components all coming together in the finished product – but I feel like the execution got away from me a bit in the end: I piped my rings too large and the choux paste didn't puff up as much as I was expecting, and my crème mousseline was too soft. However, I enjoyed the fact that I finally got to make praliné paste, which is essentially candied hazelnut and almond butter (and it is every bit as delicious as it sounds), and when it was all said and done, the pastries were eaten and enjoyed, which is the most important part.
Thanks for a delicious challenge, Luisa! Check out the Daring Kitchen for more delicious versions of the Paris-Brest by the Daring Bakers. 🙂
Paris-Brest
Makes 6 individual pastries
Pâté à choux
Recipe from BperBiscotto
Preheat the oven to 350˚F (325˚F convection). In a small saucepan over medium heat, combine:
1/3 cup (80 ml) water
6 tbsp + 2 tsp (100 ml) whole milk
1/3 cup (75 g) unsalted butter, cubed
1/4 tsp salt
1 tsp granulated white sugar
Bring to a boil, then remove from the heat and immediately stir in 3/4 cup + 2 tsp (100 g) cake flour, sifted. Stir until the dough forms a ball, then return the pot to the heat and continue stirring for a few minutes to dry out the dough slightly – it should leave a hazy film on the bottom of the pot.

Transfer the cooked dough to the bowl of an electric mixer fitted with the paddle attachment. Stir on low speed for a few minutes to cool the dough down a bit.
In a measuring cup,  beat 3 large eggs. Measure out about 2 tbsp of the beaten egg and set aside to use for the egg wash.
With the mixer on medium speed, pour in about 1/3 of the beaten eggs. The mixture will look curdled and weird at first but keep stirring until the egg is incorporated. Scrape down the sides of the bowl and repeat with another 1/3 of the beaten egg. Add the last 1/3 little by little, letting it mix into the dough before adding more. The mixture should be soft enough to pipe yet thick enough to hold peaks – you might not need all the egg, which is why you must add the last of it slowly. Beat the mixture on high speed for about 30 seconds, then scrape it into a piping bag with a large star tip.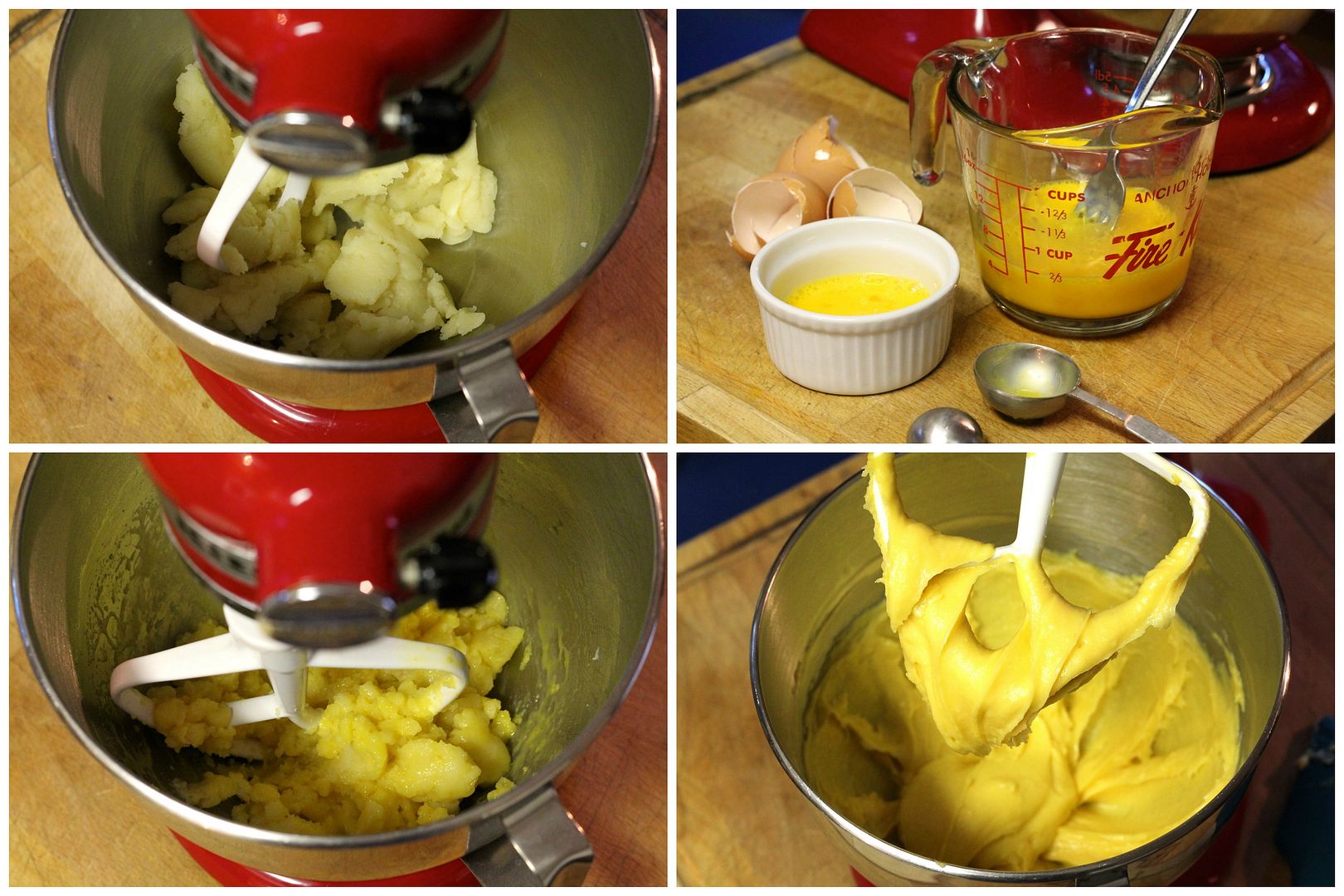 Trace 6 circles, about 8 cm in diameter, on parchment paper. Turn the paper over and place on a baking sheet(s) and pipe 6 choux paste rings using the circles as a guide.
Beat the reserved 2 tbsp beaten egg with 1 tbsp water and use to egg wash the choux paste rings, then sprinkle with flaked almonds. Bake in the preheated 350˚F (325˚F convection) oven for 20-25 minutes until puffed and golden brown. Remove from the oven and cool completely on a rack.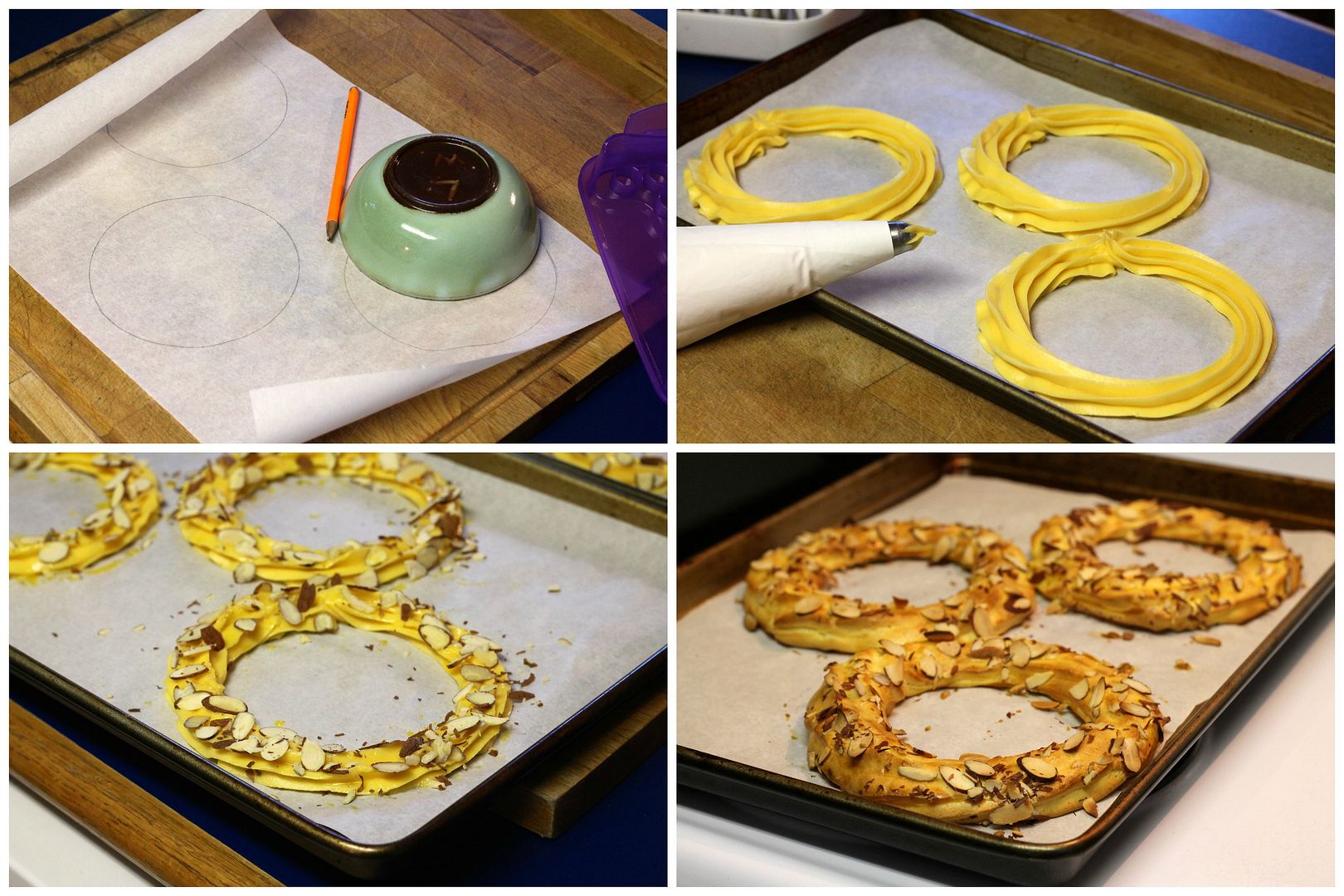 Praliné paste
Adapted from La Cuisine de Bernard
In a small saucepan, combine:
6 tbsp (80 g) granulated white sugar
1 tbsp water
Place over medium heat and bring to a boil without stirring. Let it boil undisturbed for 30 seconds to 1 minute, then stir in:
1/3 cup (60 g) whole hazelnuts
1/3 cup (60 g) whole almonds
The sugar will harden and crystallize, but this is OK. Decrease the heat to low and continue to cook, stirring, until the sugar melts again and caramelizes into a copper colour. Scrape the caramelized nuts and sugar onto a silicon mat (or greased foil) and let cool.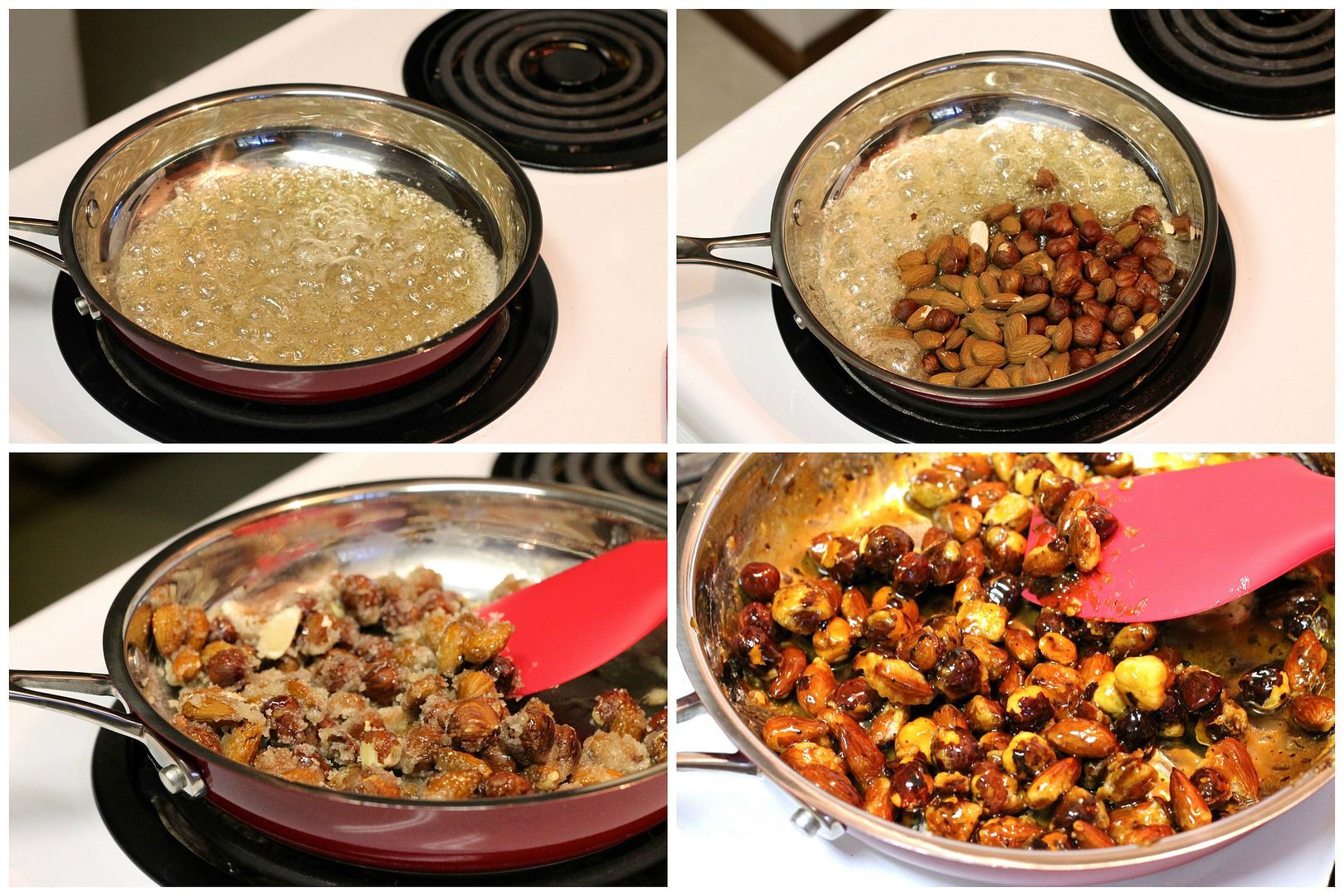 Once cool, break into pieces and place in a food processor. Grind into a smooth paste, aka candied hazelnut and almond butter. You will only need 80 g of the praliné paste for the crème mousseline – the rest can be kept in a jar in the fridge and eaten on toast or straight from a spoon.

Crème mousseline
Adapted from Oh la vache!
First, make crème patissière. In a small pot, combine:
1 cup (250 ml) whole milk
1 vanilla bean, split and scraped
Heat over medium heat until it just comes to a boil, then set aside to cool slightly.
Meanwhile, in a medium bowl beat until thick and pale:
2 egg yolks
1/4 cup (55 g) granulated white sugar
3 tbsp (20 g) cake flour, sifted
Remove the vanilla bean pod from the hot milk, then gradually pour about half the milk into the egg yolk mixture, whisking constantly. Once it is combined, whisk in the remaining milk, then return the mixture to the pot.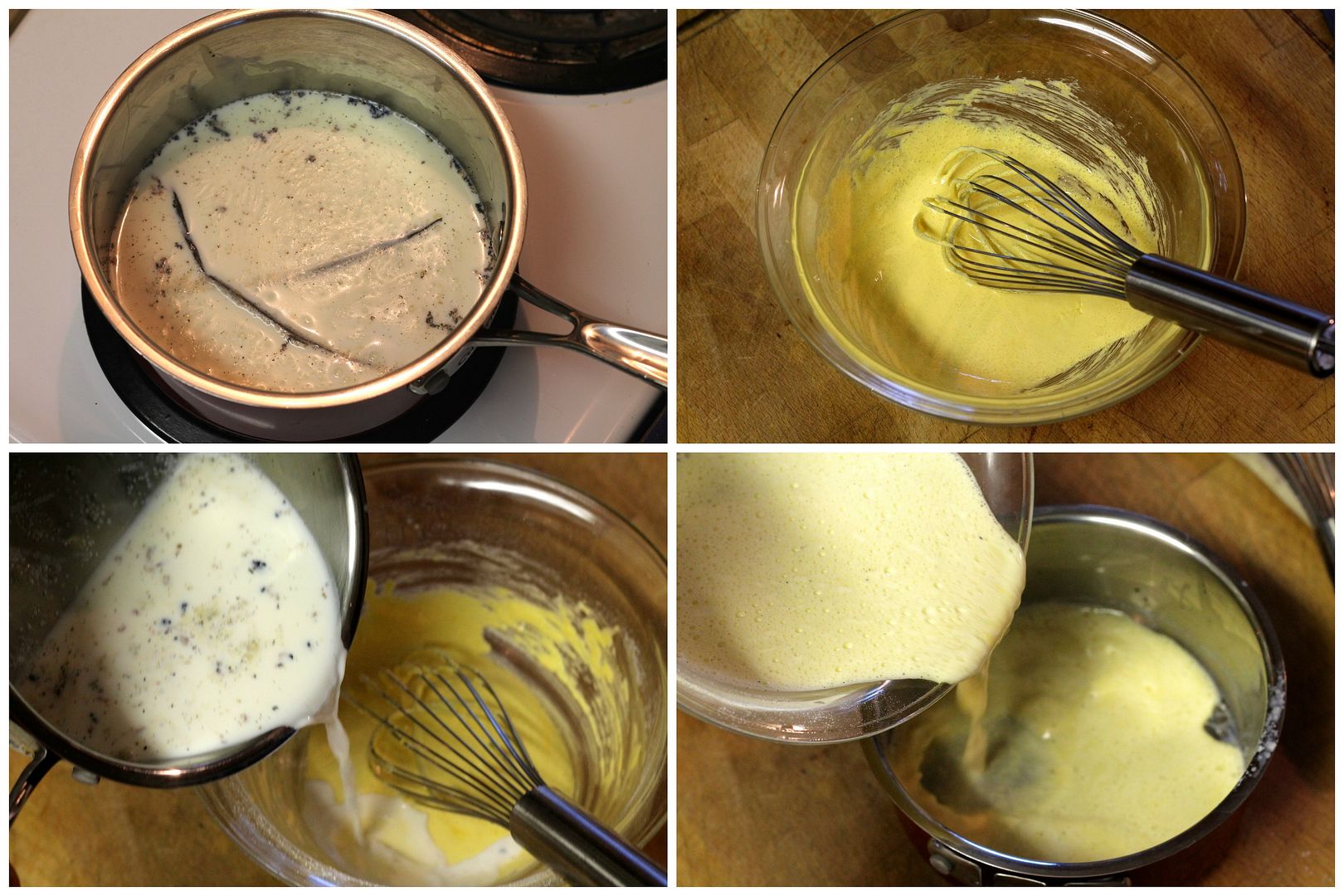 Cook over medium heat, whisking constantly, until the mixture thickens and just comes to a boil (this ensure that the flour is fully cooked). Scrape into a bowl, press plastic wrap directly onto the surface, and let cool to room temperature. You can speed this up by putting it in the fridge, but don't let it get too much colder than room temperature.

Cream 1/2 cup + 1 tbsp (125 g) room temperature unsalted butter until soft and fluffy, then beat in 80 g praliné paste. Gradually beat in the cooled crème patissière until fluffy.
To assemble the pastries, use a serrated knife to split the cooled choux rings horizontally. Scrape the crème mousseline into a piping bag with a star tip and pipe in swirls on the bottom half of the pastries. Top with the lid and dust with icing sugar to finish.