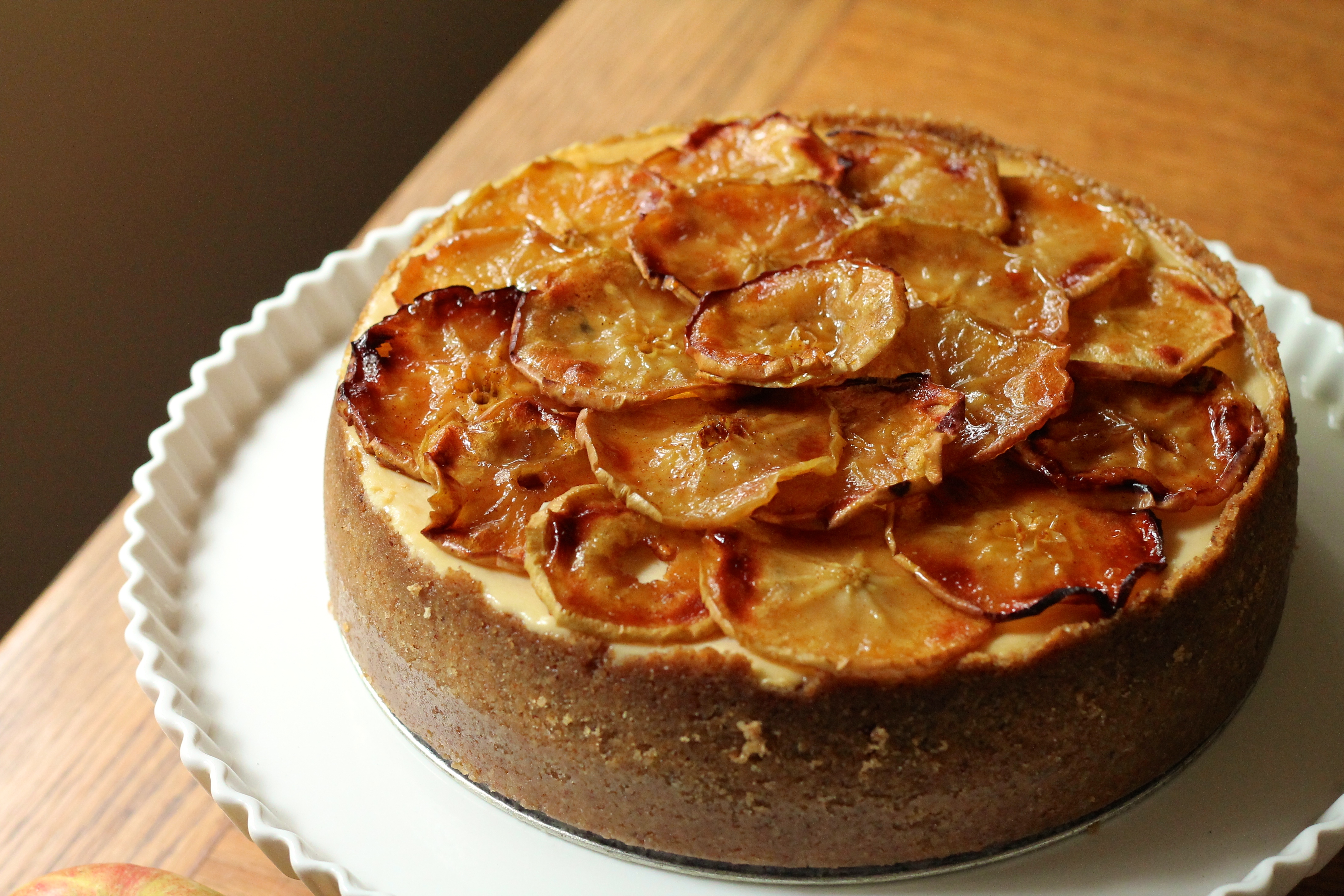 Now that fall is here, 'tis the season for everything pumpkin-pie-flavoured – but I have a confession to make: I don't actually like pumpkin pie all that much. I make it every year for Thanksgiving because tradition, yo, but it's probably my least favourite kind of pie. I'd much rather eat cheesecake, so this year for Thanksgiving (which in Canada was back in October), we ate both. I made this maple-flavoured beauty and topped it with thin slices of maple-cinnamon roasted apples. It was a big hit at our family dinner, and judging by how quickly the leftovers were eaten versus how long the remaining pumpkin pie languished in the fridge, it was the clear winner of that dessert battle.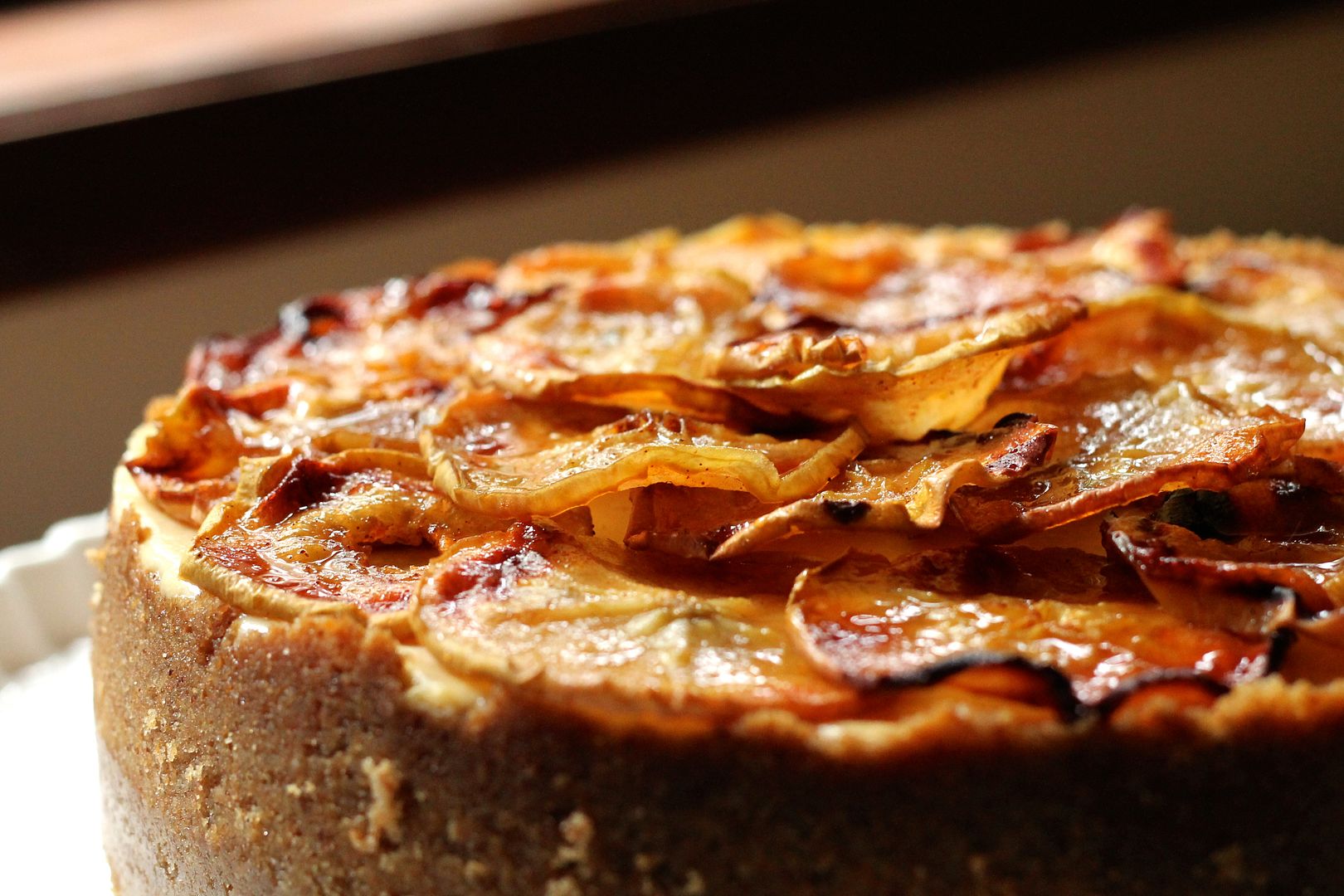 Like most things made with maple syrup, the flavour in this cheesecake is quite subtle. I tried to amp it up by using both maple syrup and maple sugar, which I suspect might not be readily available to most people, so I would recommend getting your hands on some maple extract, which would not only boost the maple flavour here but also allow you to make maple-flavoured everything, which in my mind is superior to pumpkin-pie-flavoured everything.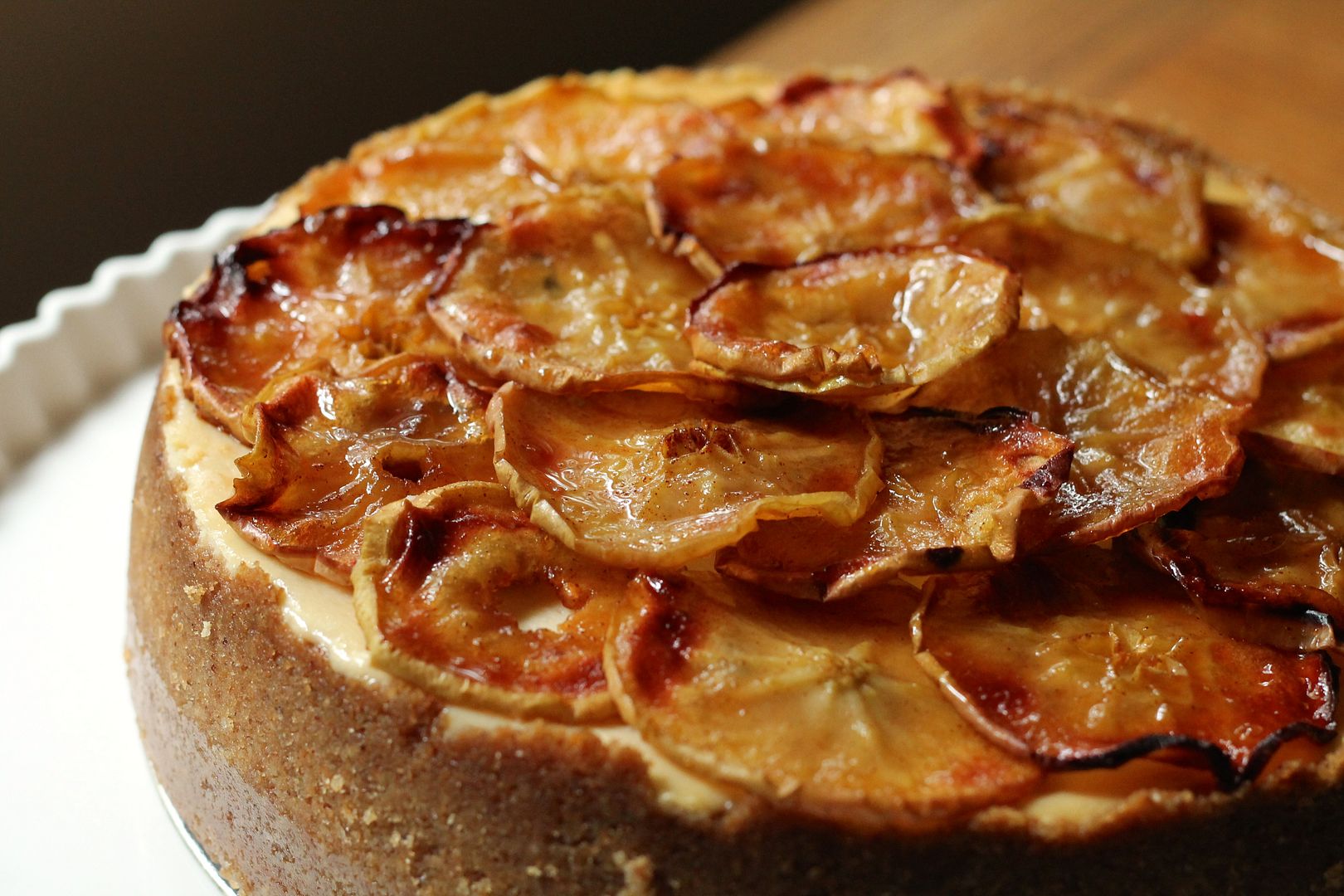 This is the first cheesecake I've made with a crust all the way up the sides, and I have the following tip for you: press those crumbs firmly. I had to make the crust twice because I didn't press it into the pan hard enough the first time and after par-baking, the sides crumbled in on themselves like a water-compromised sandcastle. The second time I pressed it in with all my might and it worked out beautifully. The failed crust did, however, make a delicious snack while I was waiting for the cheesecake to bake, so it wasn't a total bust.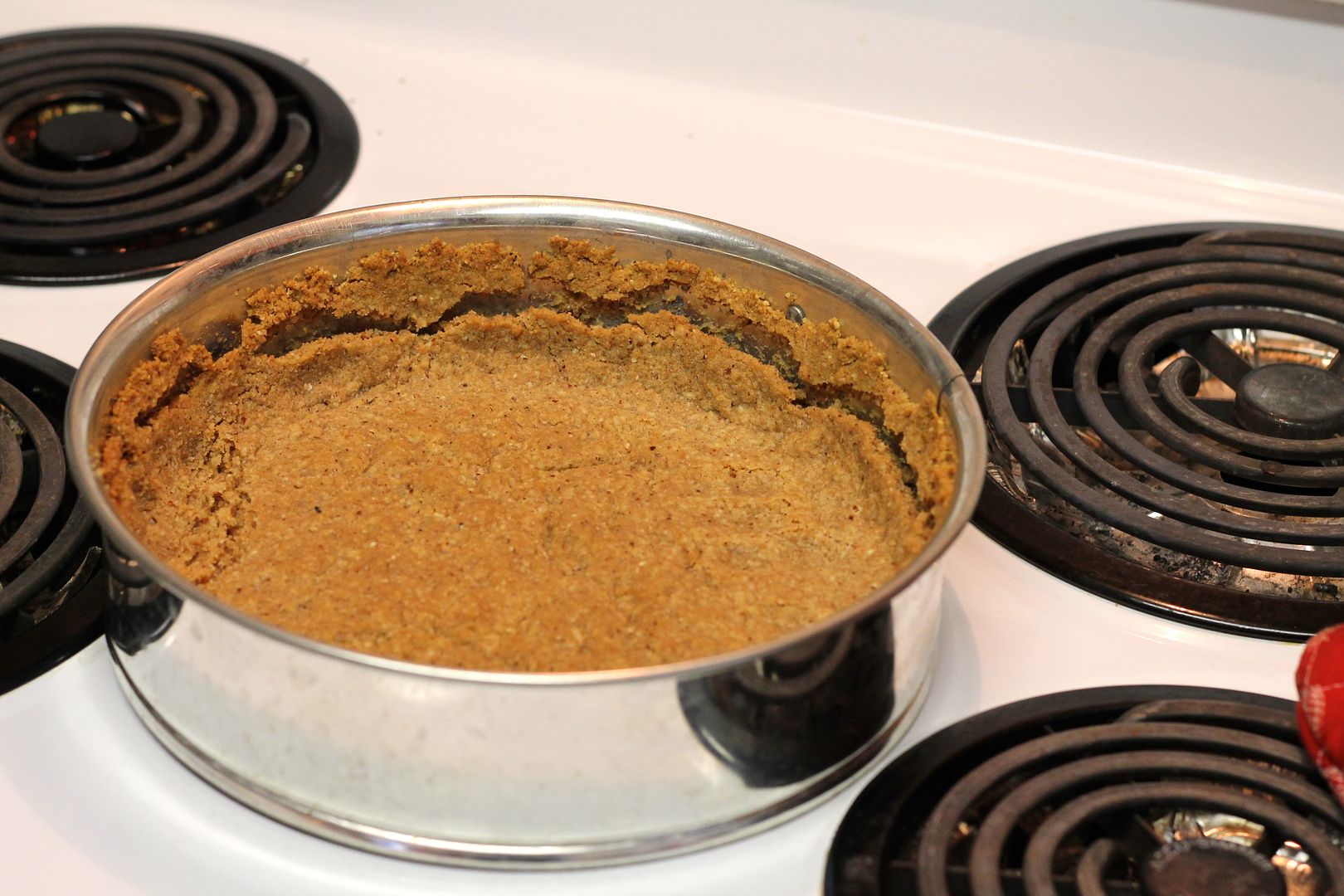 If you, too, have grown weary of the same old pumpkin pie at Thanksgiving, change things up with cheesecake. I don't think anyone will mind.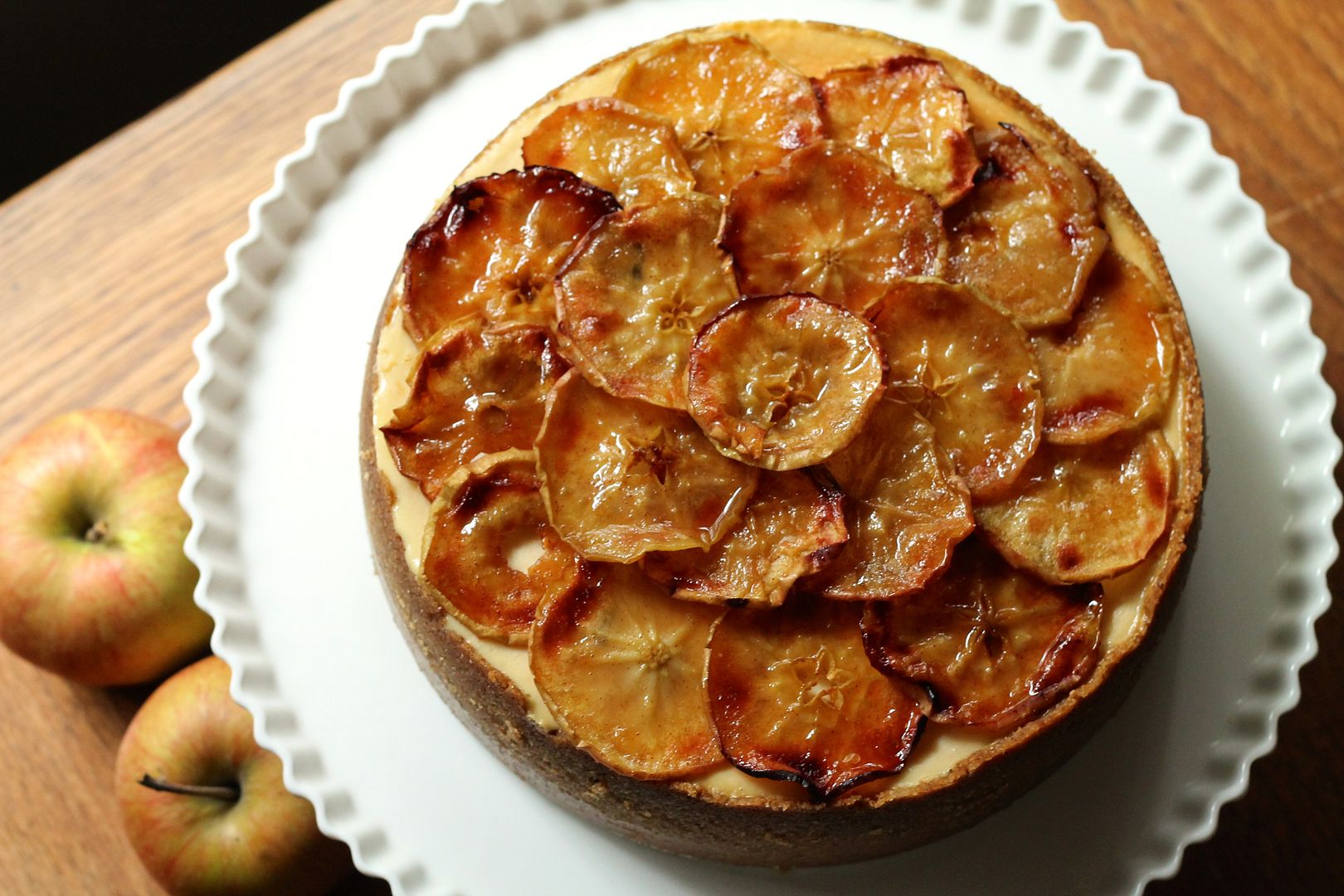 Maple Cheesecake with Roasted Apples
Inspired by Martha Stewart. Makes one 9″ round cheesecake, 10-12 servings.
Crust
Adapted from Martha Stewart
Preheat the oven to 350˚F (325˚F convection). In a food processor, pulverize 6 oz / 170 g vanilla wafers until in crumbs. Add 1/2 cup pecans and pulse until they are finely ground with the cookie crumbs.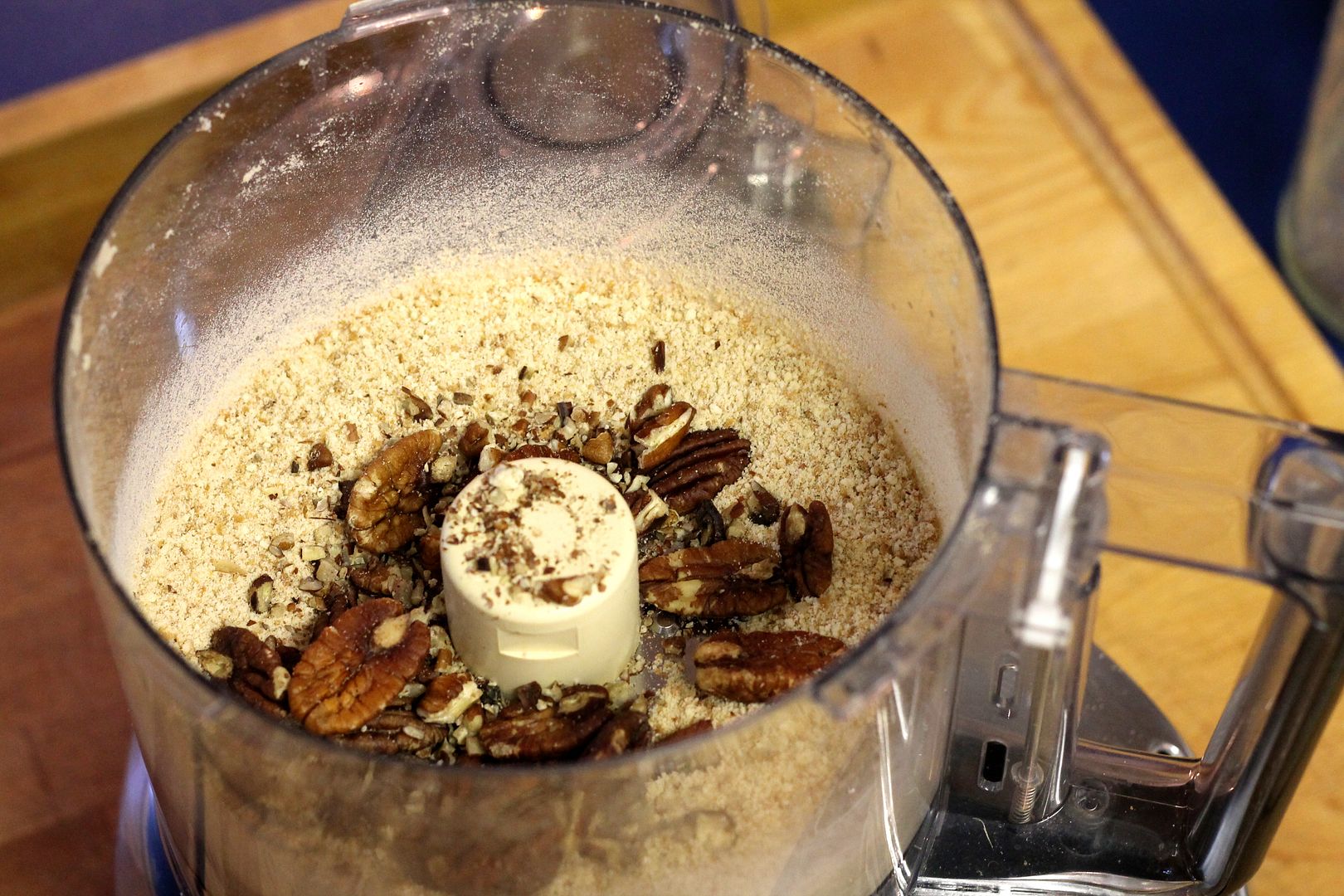 Add:
3 tbsp granulated white sugar
4 1/2 tbsp melted unsalted butter
1/4 tsp coarse salt
Pulse until the mixture resembles damp sand and clumps together when pressed.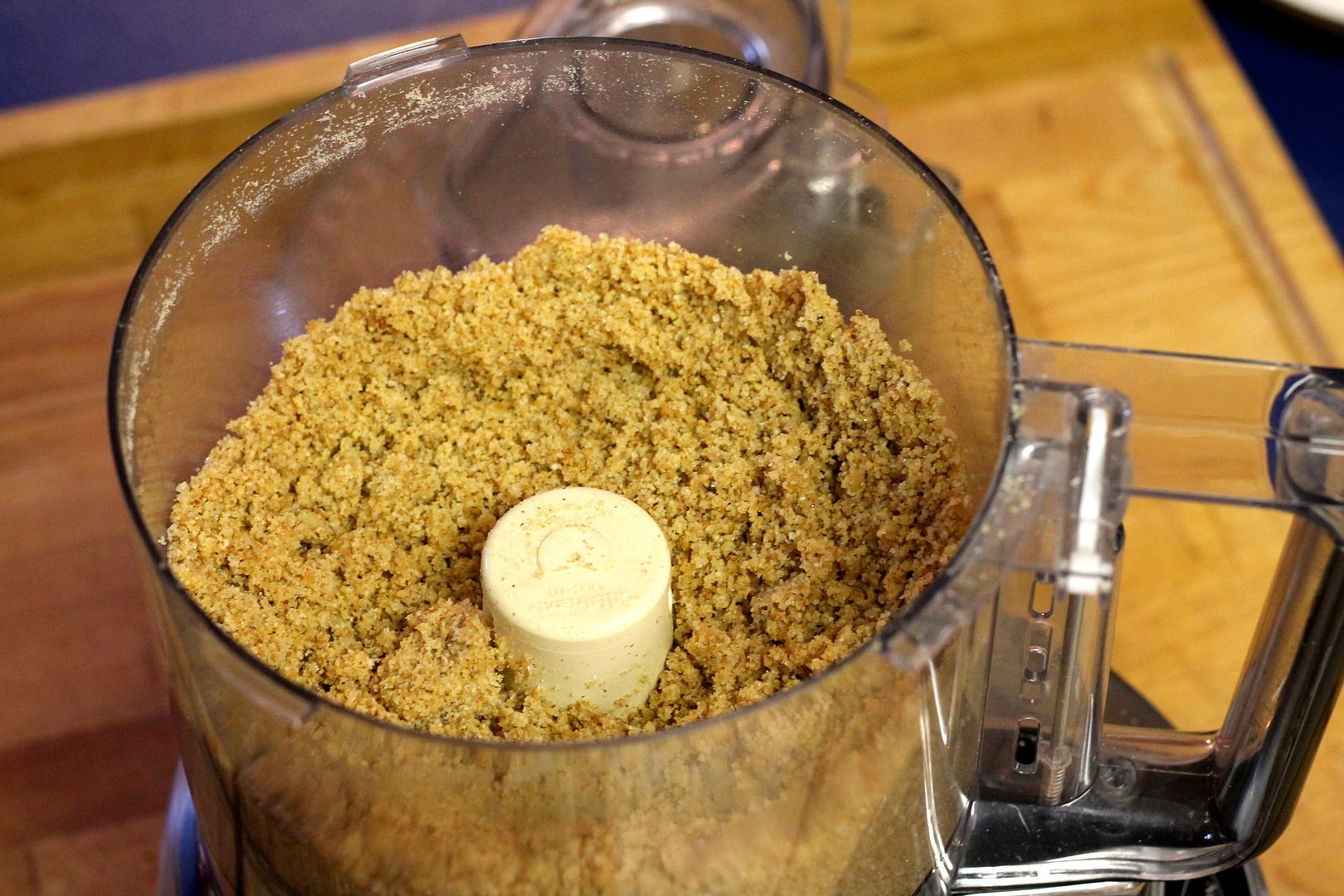 Pour it into a 9″ round springform pan and press it with your fingers in an even layer over the bottom and all the way up the sides of the pan. Use a flat-bottomed, straight-edges drinking glass to very firmly press the crust against the bottom and sides of the pan.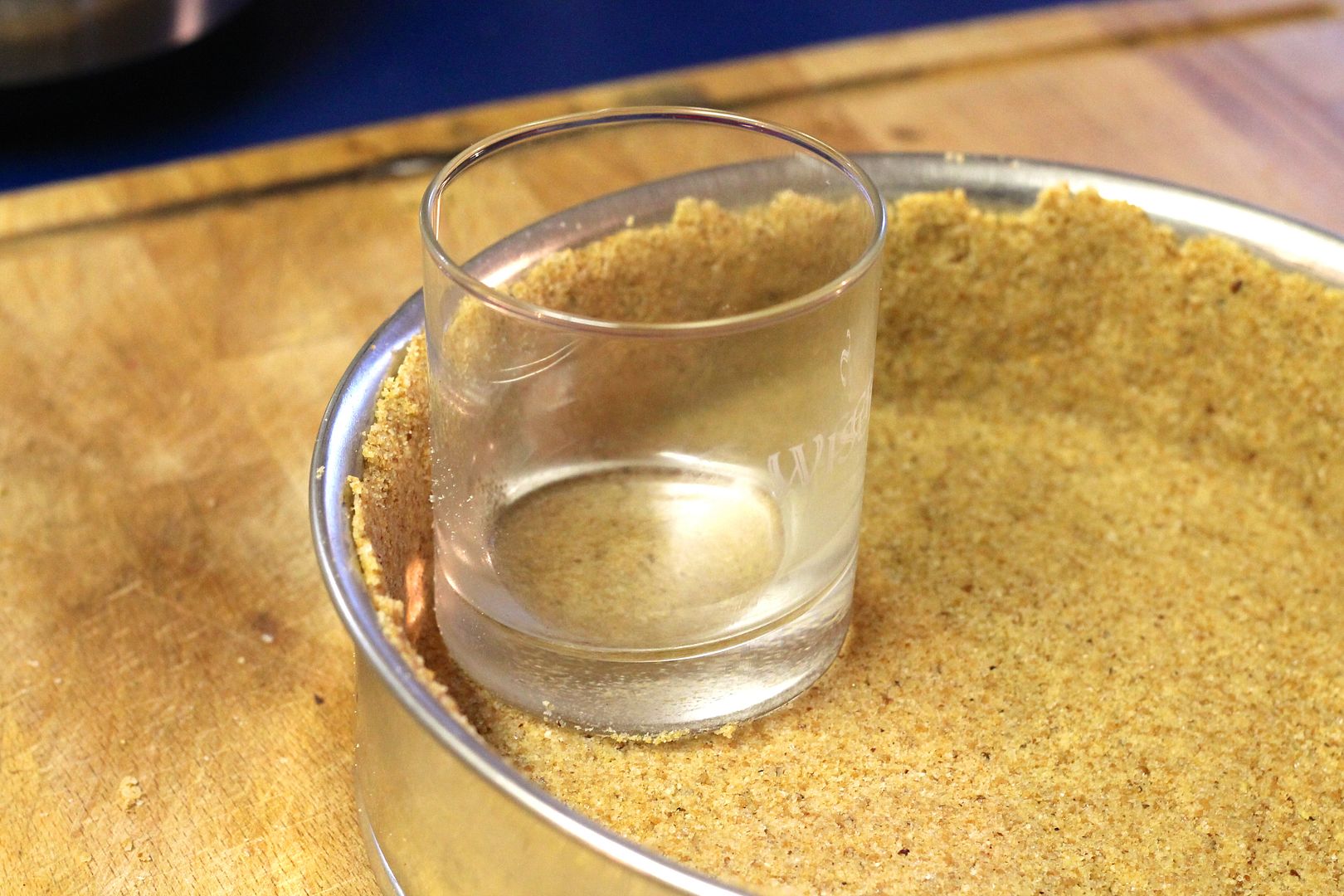 Bake in the preheated 350˚F (325˚F convection) oven for 8-10 minutes, until the crust is dry and just golden at the edges. Set aside to cool.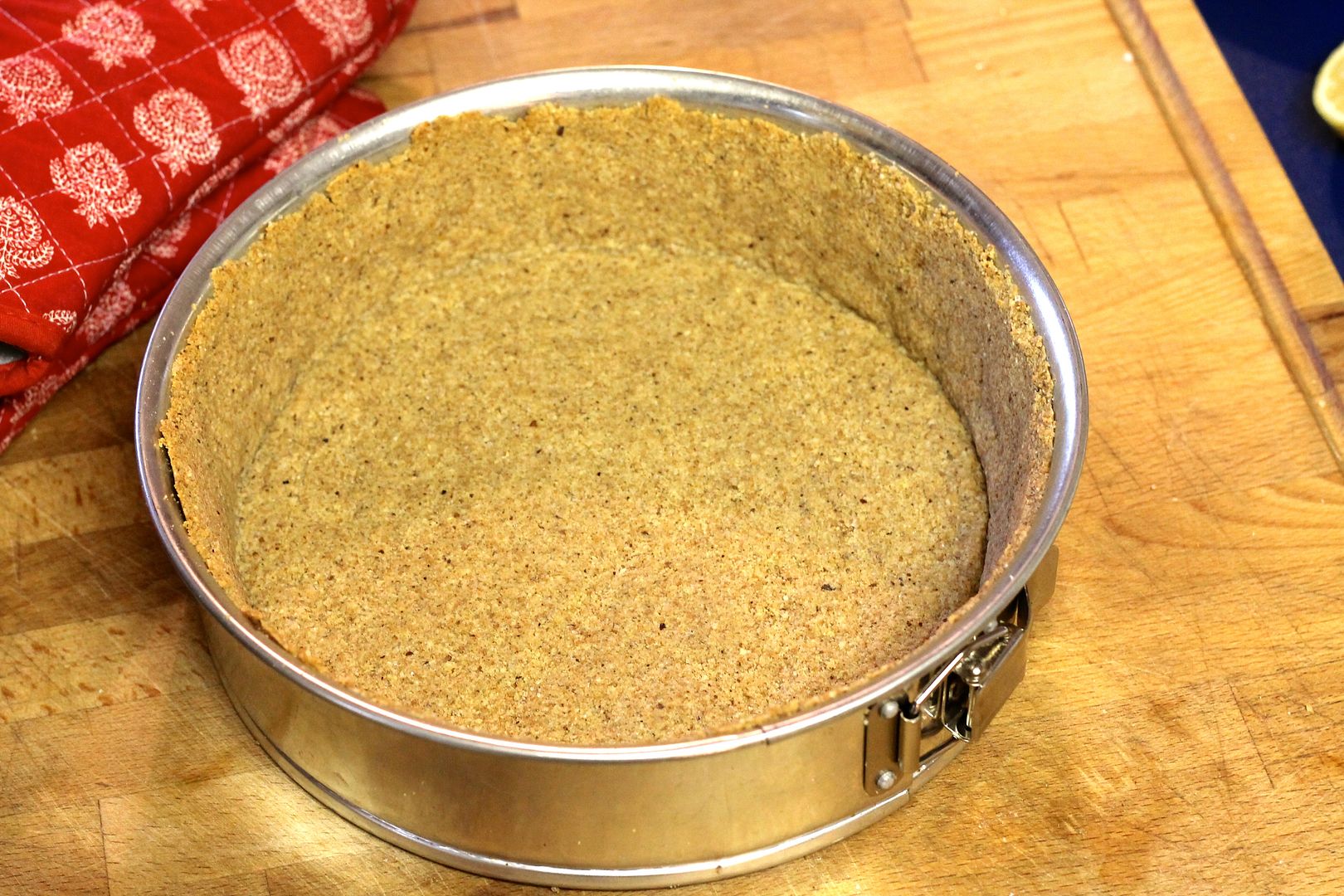 Filling
Adapted from Canadian Living
Reduce the oven temperature to 325˚F (300˚F convection). In the bowl of a mixer fitted with the paddle attachment, beat on medium-low speed until smooth:
3 x 8 oz /227 g packages cream cheese, at room temperature (1 1/2 lbs / 681 g total)
1/2 cup granulated white sugar
1/4 cup maple sugar (or granulated white sugar)
One at a time, beat in 4 eggs until smooth, scraping down the sides of the bowl with a spatula after each egg.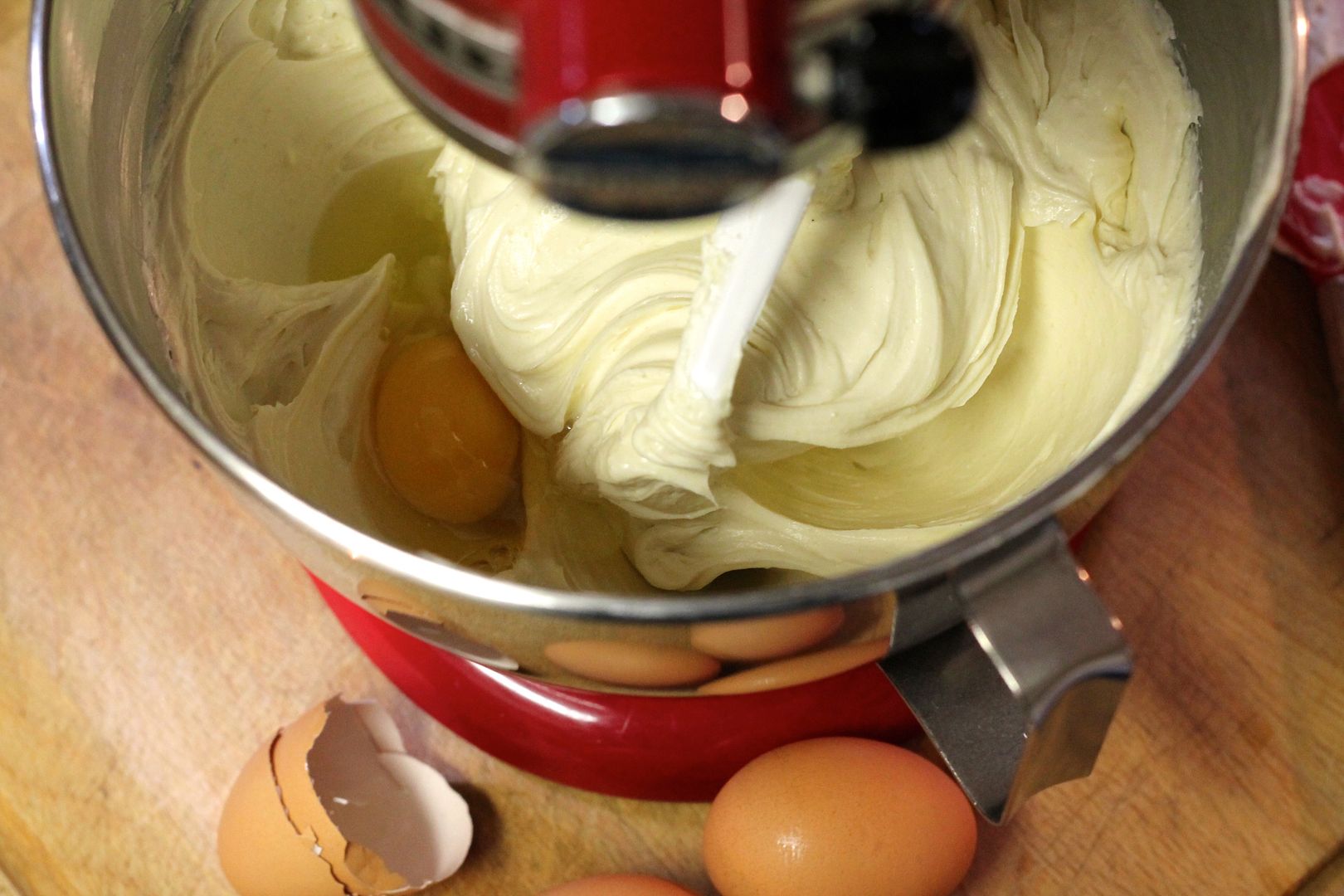 Stir in:
2 tbsp all purpose flour
1 cup sour cream
1/4 cup dark maple syrup
1 tsp maple extract (if you have it)
a pinch of fine salt
a squeeze of lemon juice
Mix until silky-smooth.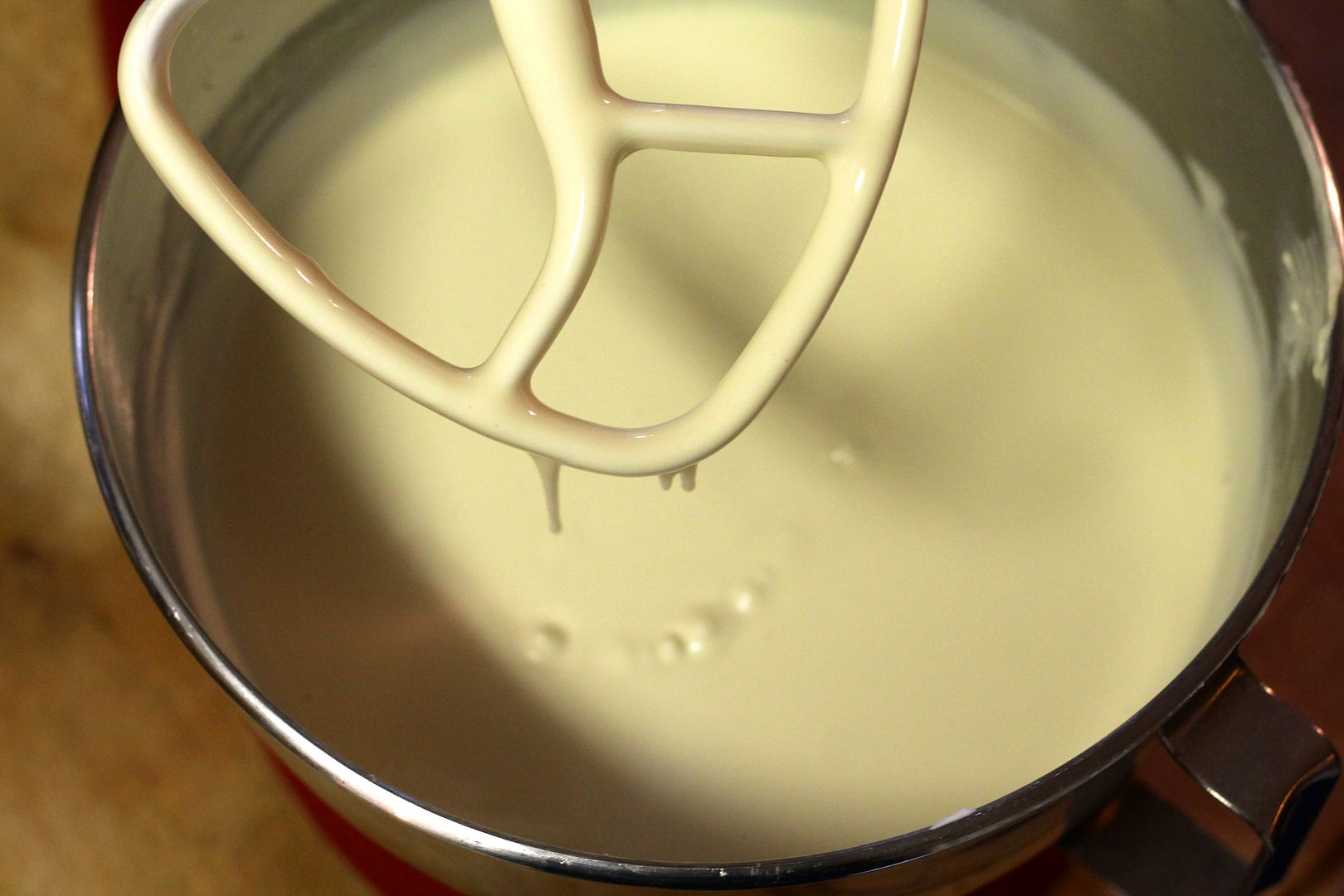 Pour the cream cheese mixture into the par-baked crust. Wrap the outside of the pan (bottom and sides) in a large piece of heavy duty aluminum foil (often sold as bbq foil) and place it in a large roasting pan. Put it in the oven, then fill the roasting pan with enough boiling water to come halfway up the sides of the cheesecake.
Bake for 55-65 minutes, until just set in the middle and no longer shiny. Remove from the oven and let the cheesecake cool on a rack to room temperature.
Cover with plastic and refrigerate for at least 4 hours or overnight.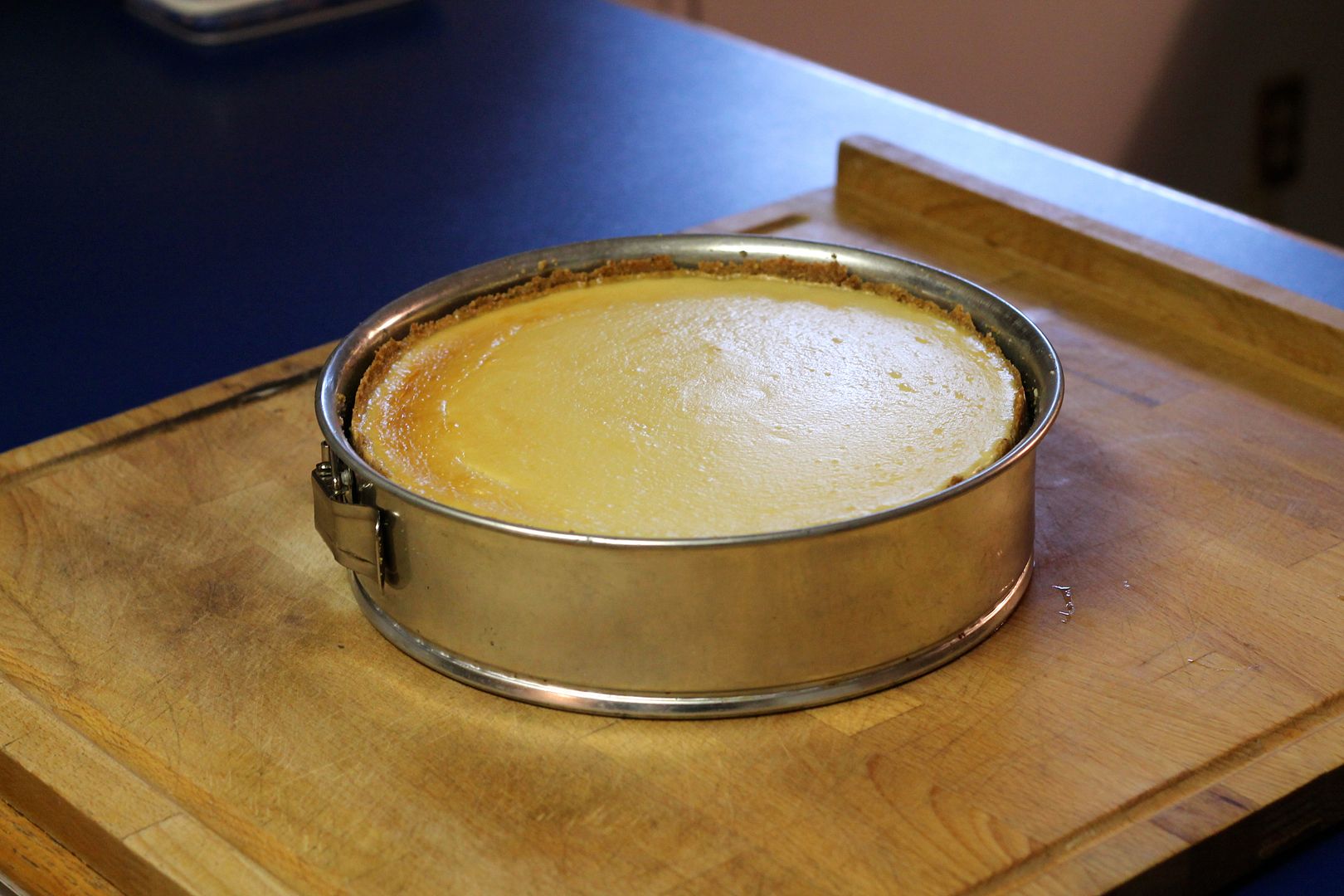 Roasted Apples
Adapted from Martha Stewart
Preheat the oven to 450˚F (425˚F convection). Slice 3 apples* horizontally into 1/8″ thick slices (don't worry about coring them – I like the star pattern that the core makes in the middle). Arrange them in a single layer on a foil-lined baking sheet(s).
In a small bowl, mix together:
1/4 cup dark maple syrup
1/4 tsp cinnamon
Brush half the maple syrup mixture over the apple slices.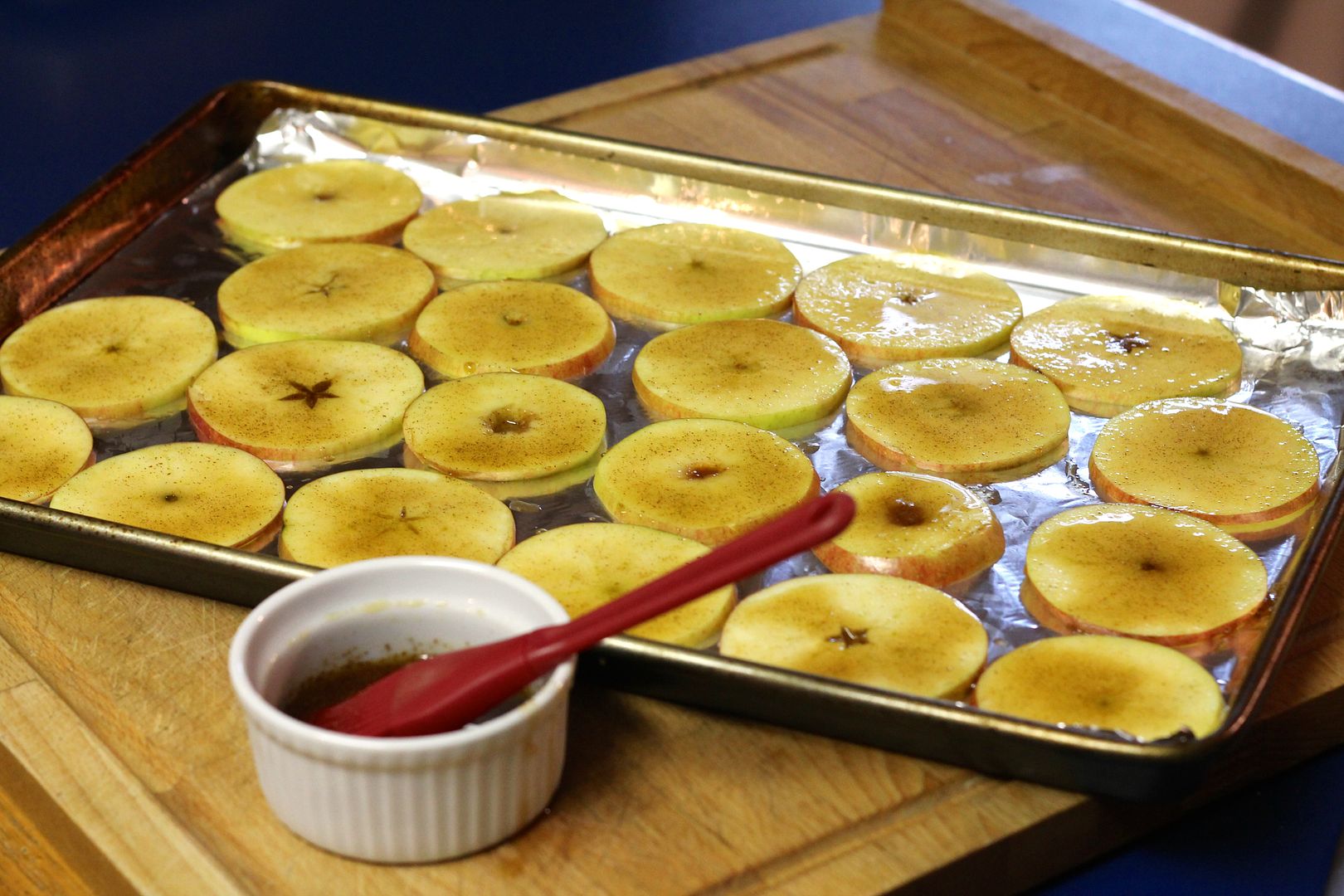 Roast the apples in the preheated 450˚F (425˚F convection) oven for about 10 minutes, until soft and golden. Turn them over and brush with the remaining maple syrup mixture.
Turn the oven to broil and return the apples to the oven (rack in middle position). Broil for 2-4 minutes, watching carefully and rotating as necessary, until the apples are browned and caramelized in spots. Immediately remove the apple slices to a piece of parchment paper to cool.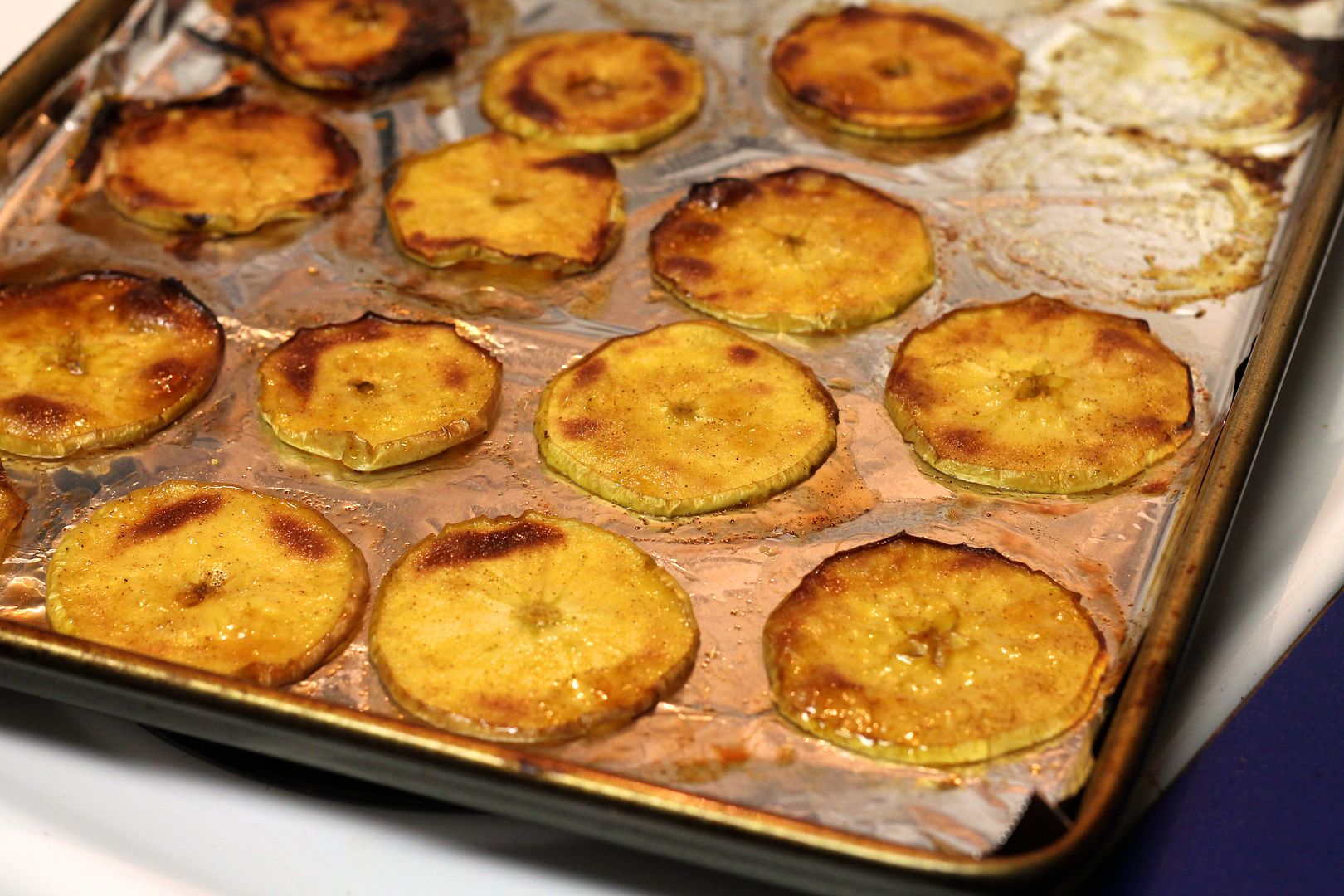 Once cool, arrange the apple slices in overlapping, concentric circles on top of the chilled cheesecake. The whole thing can be covered and refrigerated until ready to serve. Cut the cheesecake into wedges to serve.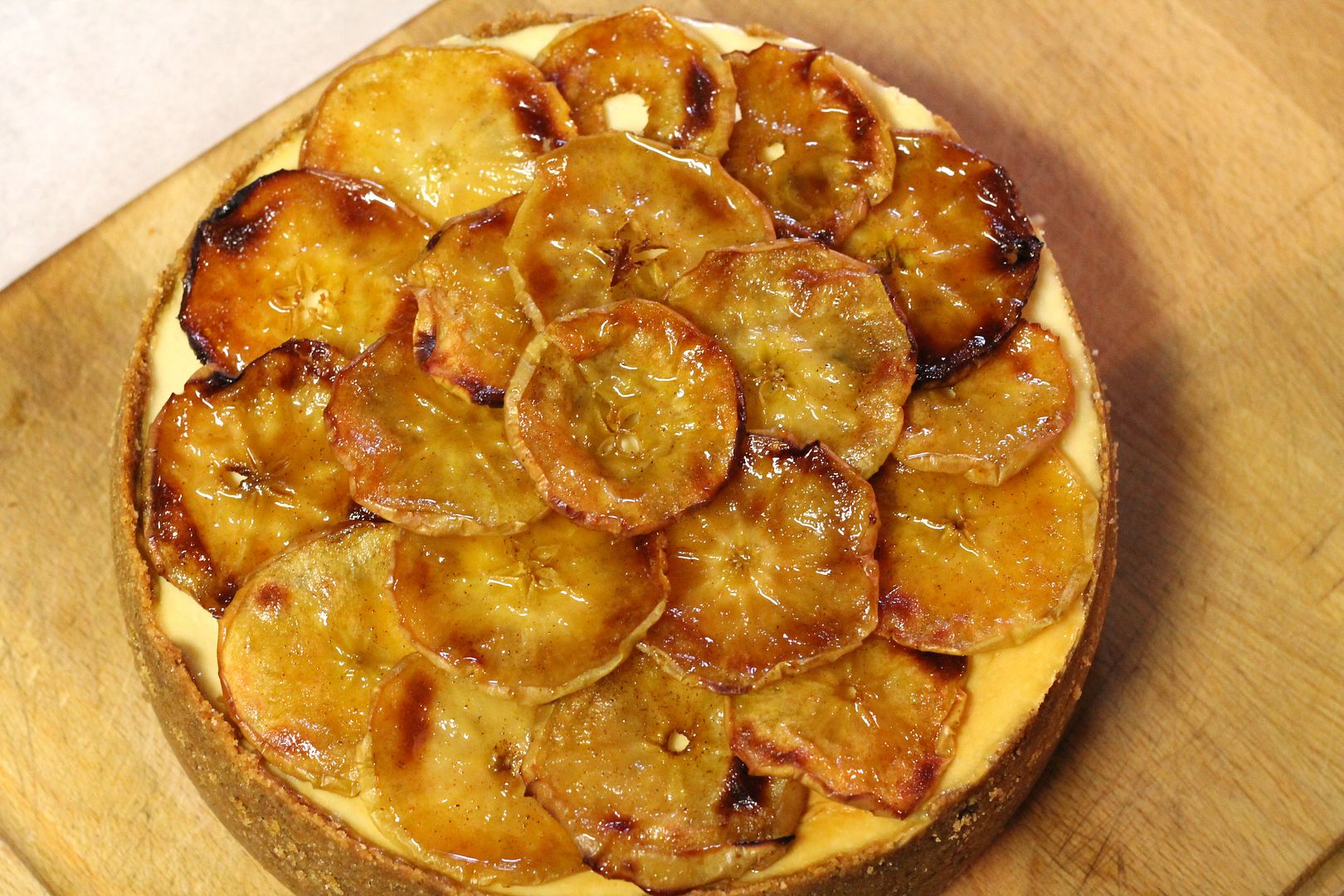 *You will probably only need 2 apples-worth of slices to top the cheesecake, but inevitably a few slices will burn so this way you have extras just in case!