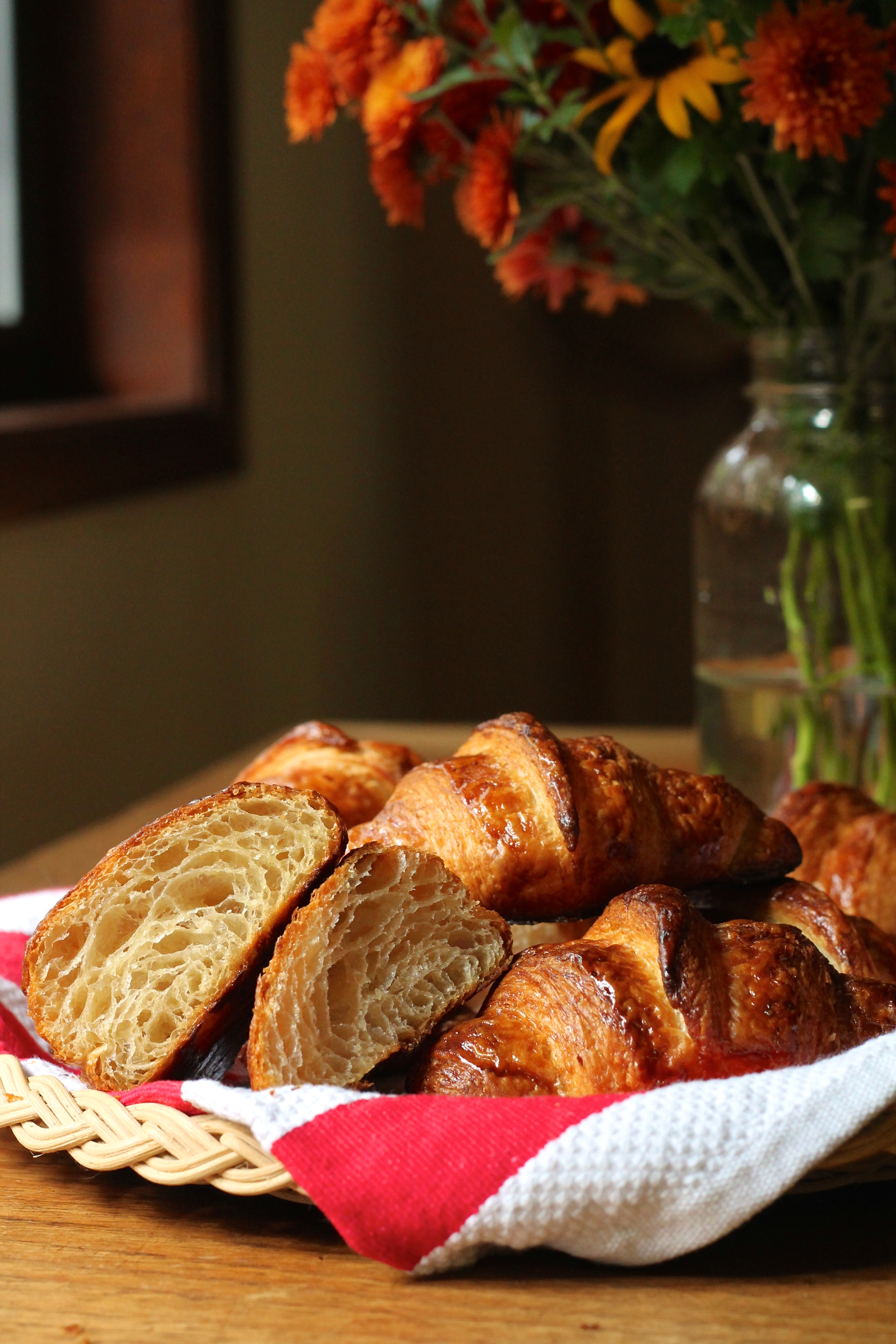 Almost a year ago exactly, David Lebovitz posted a recipe for whole wheat croissants on his blog. I have been meaning to make them ever since, and I finally found an excuse to do it for this month's Sourdough Surprises project. I haven't baked with the group for a few months and my poor, poor starter has definitely been suffering because of it: when I pulled it out of the fridge at the beginning of the month, knowing that I'd need to revive it after not feeding it for a very long time, the top had actually turned grey. My heart sank because I thought I'd killed for real, but upon closer inspection it smelled fine and I was able to scrape off the grey layer (which was just discolouration and not anything more sinister). A few aggressive discards and feeds later, it was back to its happy, bubbling self. Moral of the story: despite appearances, a well-established sourdough starter is actually really really hard to kill!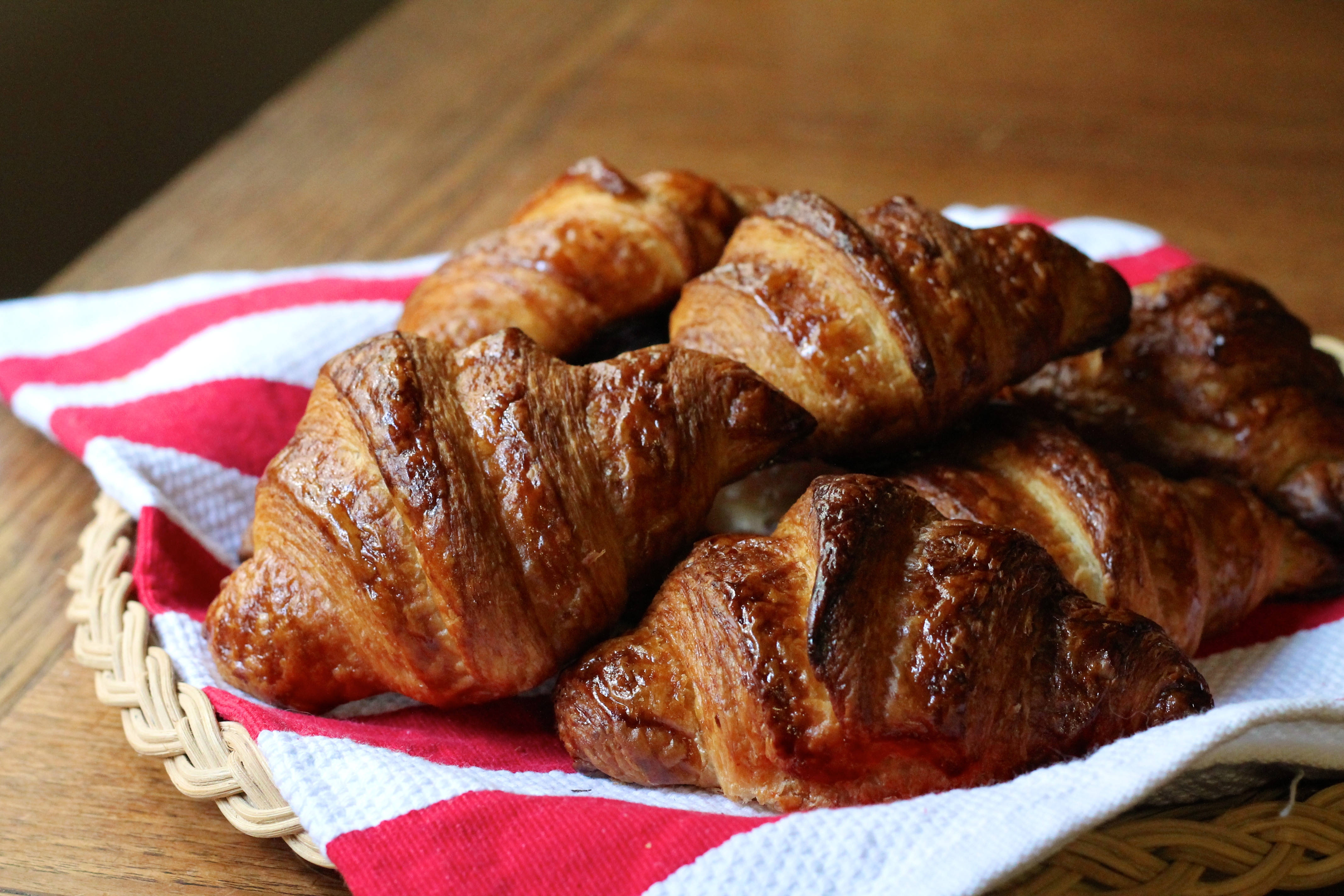 Even though I wanted to use David's recipe, I turned to txfarmer on The Fresh Loaf for advice, because she is both a sourdough connoisseur and the Croissant Queen of the internet. I combined her sourdough croissant formula with David's whole wheat croissant formula, and what I ended up with is very tasty indeed: flavourful and rich, with a flaky-crisp crust and soft, buttery inside. I proofed the croissants in an overly-warm spot, where they leaked a little bit of butter and expanded out rather than up so they don't have that perfectly round cross-section, but they came out of the oven looking much better than I expected. Not to mention, they are delicious and made my whole house smell like a bakery (and also somehow like dark chocolate, even though they don't contain a speck of it. Speaking of which, this recipe would make a mean pain au chocolat!).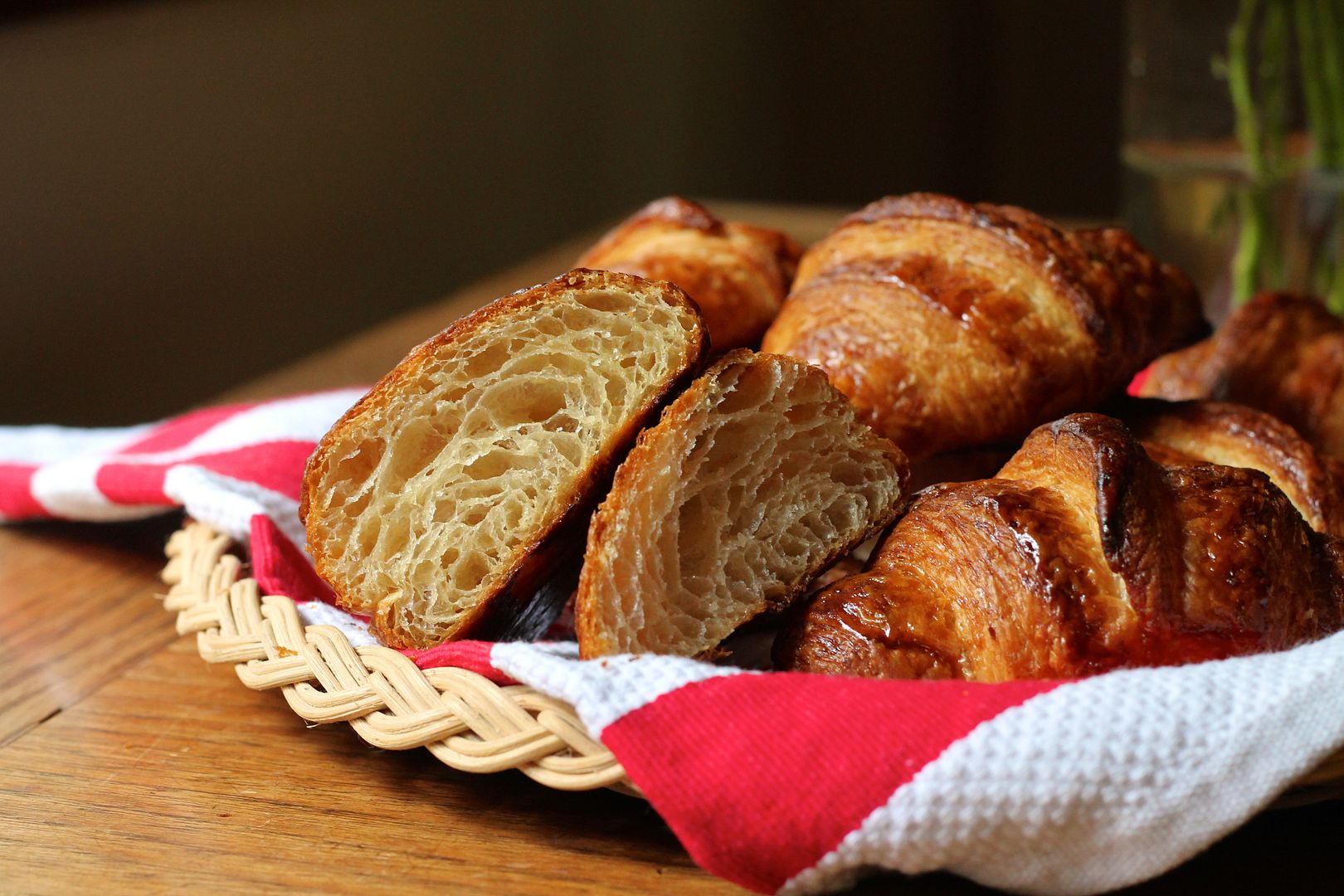 In this formula, the sourdough is more for flavour than anything else, with the addition of a bit of commercial yeast in the dough to make sure things actually keep moving on schedule. This is important because the activity of the sourdough starter slows down considerably with all the chilling and resting of the dough that is necessary to keep the butter within it from melting. In most cases when making bread, slower activity = more time = more flavour, but here you run the risk of too much time, resulting in over-fermentation where the sourdough goes from extra flavourful to extra sour – not exactly welcome in a delicious breakfast pastry. I did all the mixing, folding, and shaping one day, then kept the croissants in the fridge overnight to proof and bake the next day, and not only was the schedule convenient, but the flavour was pretty much perfect.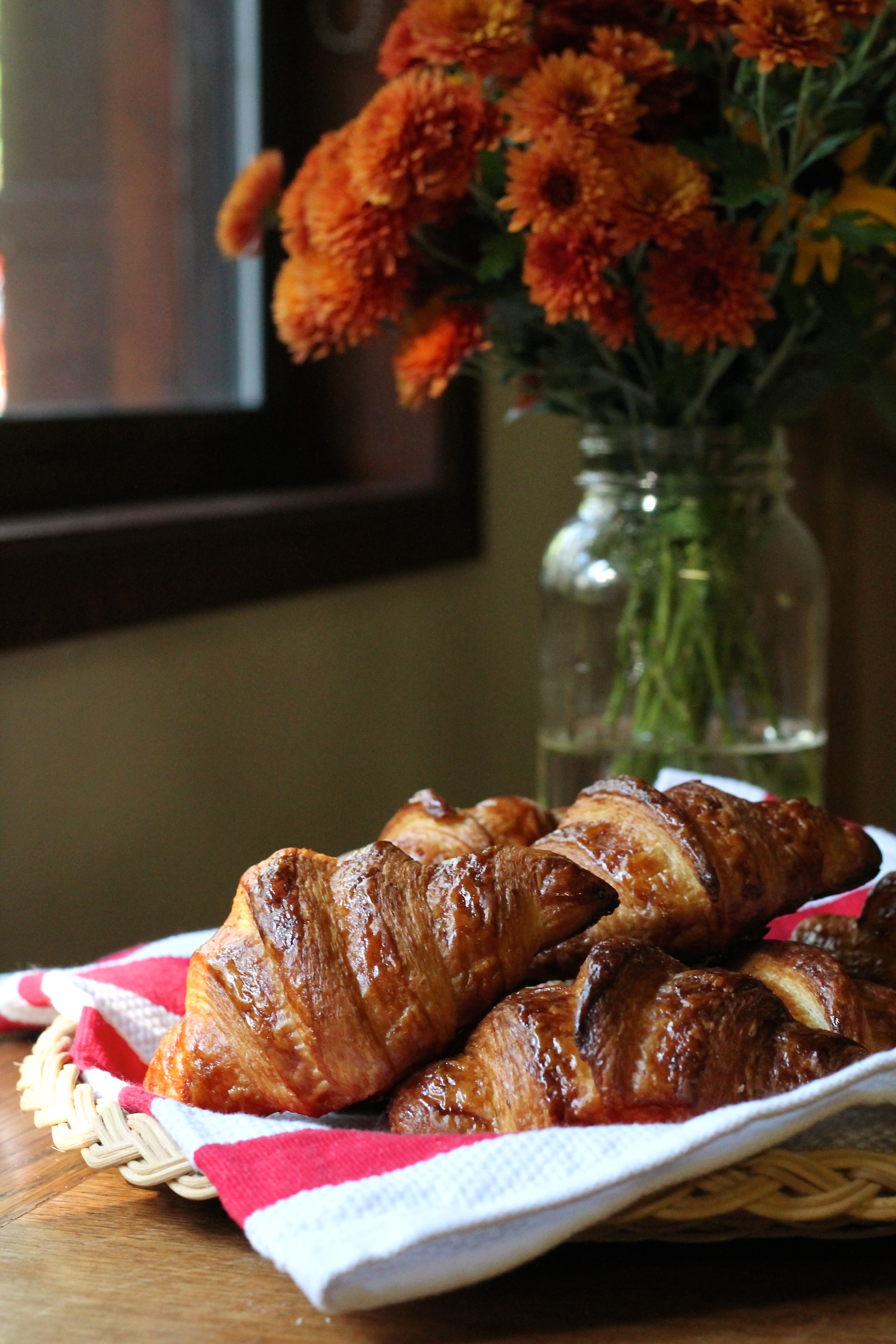 Click the link to see all the croissants made this month by the Sourdough Surprises group!

Whole Wheat Sourdough Croissants
Adapted from David Lebovitz and txfarmer. Makes 16 small croissants – you could easily make 12 larger ones instead.
In the bowl of an electric mixer, combine:
320 g recently fed, active starter, 100% hydration
137 g whole milk, at room temperature
67 g granulated white sugar
10 g salt
3.55 g (1 1/8 tsp) instant yeast
22 g very soft unsalted butter
166 g strong bread flour
196 g whole wheat flour
Mix together to form a shaggy dough, then knead with the dough hook on medium-slow speed until the dough comes together and starts to become elastic. Don't over-knead at this stage – all the rolling and folding you are going to do will develop the dough as well, and too much kneading early-on will make it much harder to roll out. Pat the dough flat, cover with plastic, and refrigerate for at least 2 hours.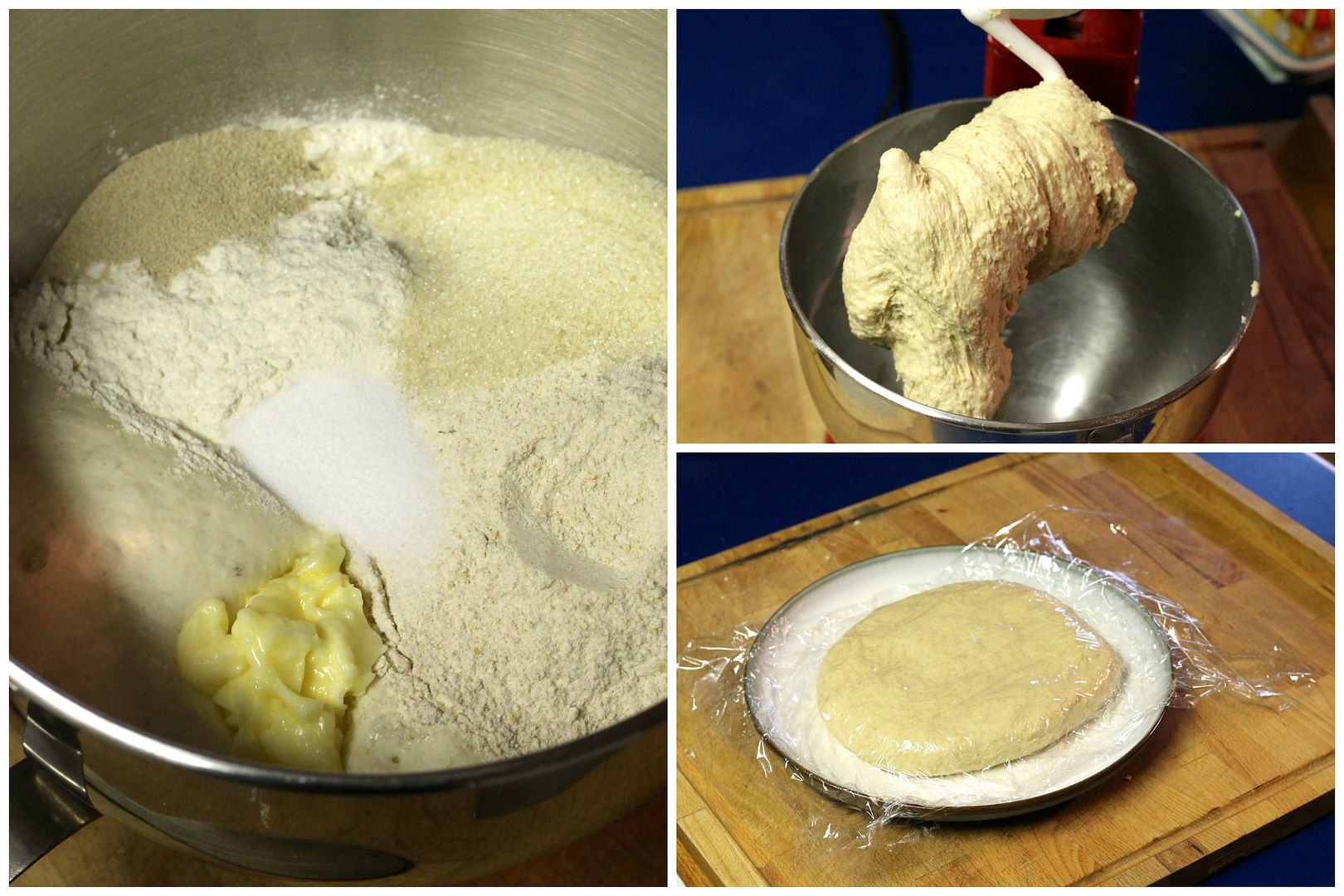 While the dough rests, prepare the butter. Place 287 g cold unsalted butter between two sheets of waxed paper. With a rolling pin, pound on the butter to flatten it into a square (eventually you're aiming for about 7 inches square). This will help make the butter pliable without melting it. Once the butter is a bit flatter and more malleable, fold the waxed paper into a 7 inch square envelope enclosing the butter, and roll the butter like cookie dough out to the edges and corners of the envelope to make a perfectly-sized square.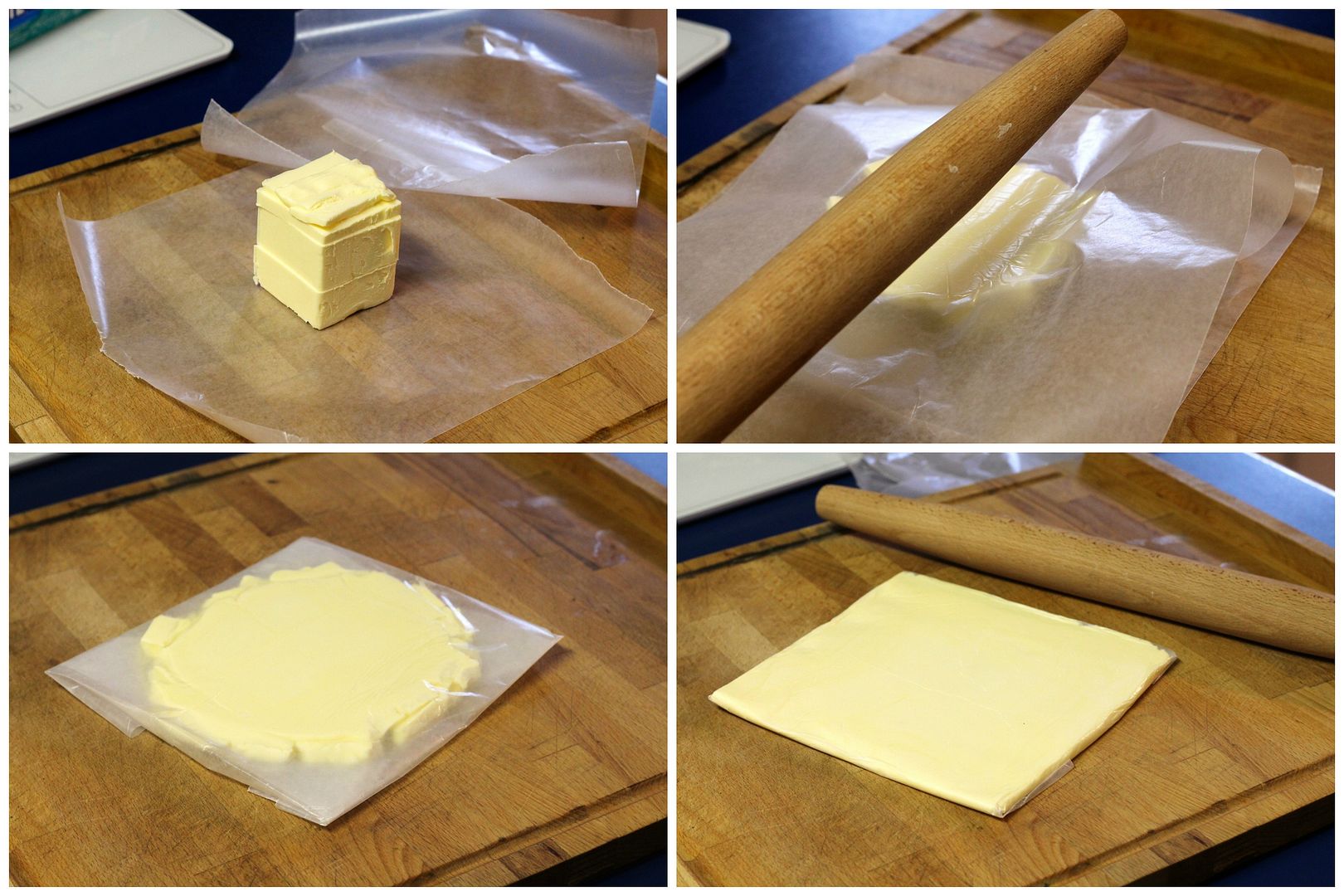 Check the consistency of both the refrigerated dough and beaten butter – you want them to be about the same, so chill/rest at room temperature either one as required before continuing.
Place the dough on a lightly floured surface and roll/stretch it into an 11 inch square – it should be large enough to fit the butter block in the middle. Fold the corners of the dough over the butter and seal the seams tightly to completely enclose the butter. With a rolling pin, roll the dough into an 8 x 24 inch rectangle.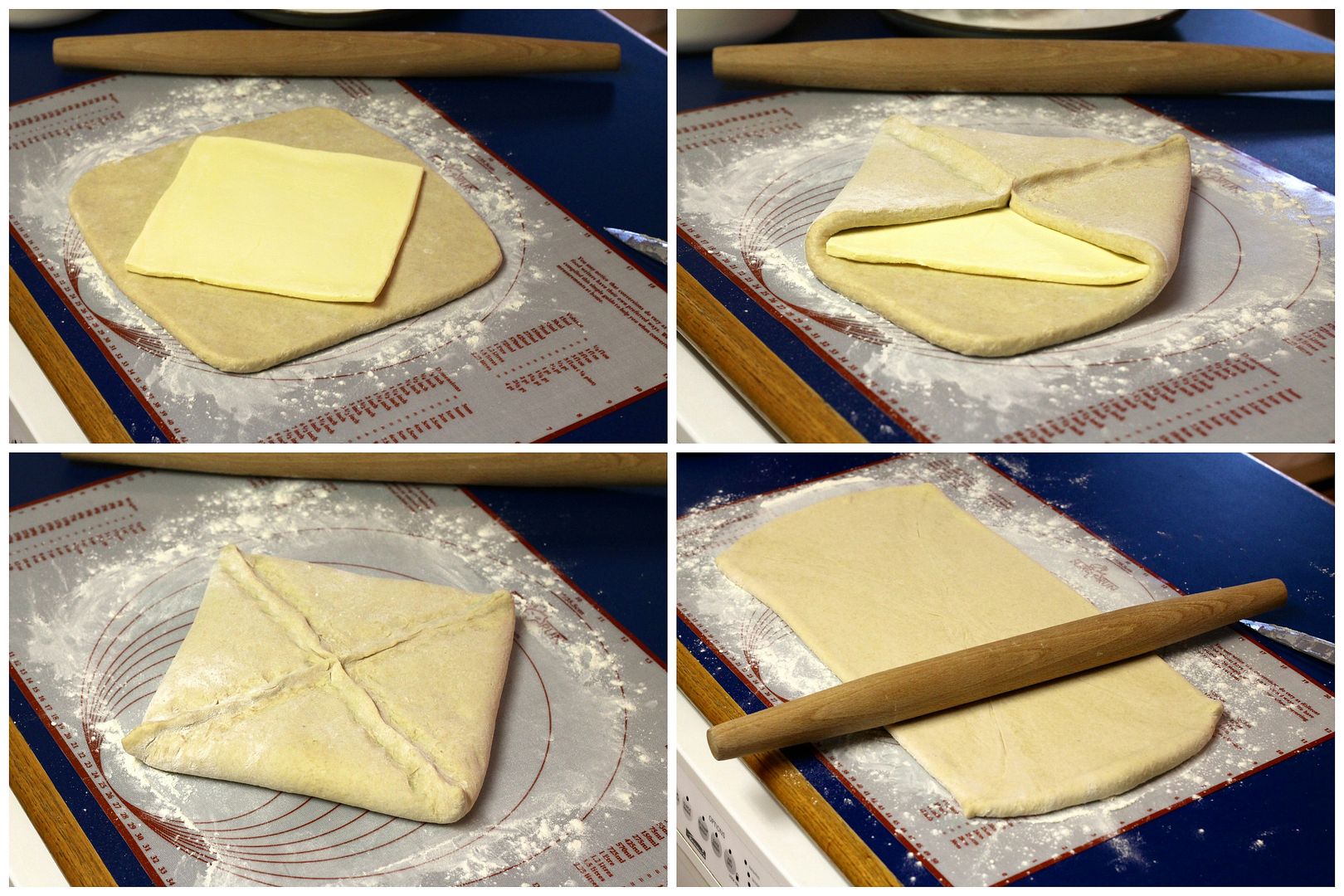 With a knife, trim the short ends of the dough to expose the butter – this will help make your layers more distinct, with no "trapped dough" in the final product. Fold the dough into thirds, like a letter, then wrap in plastic and chill for about an hour.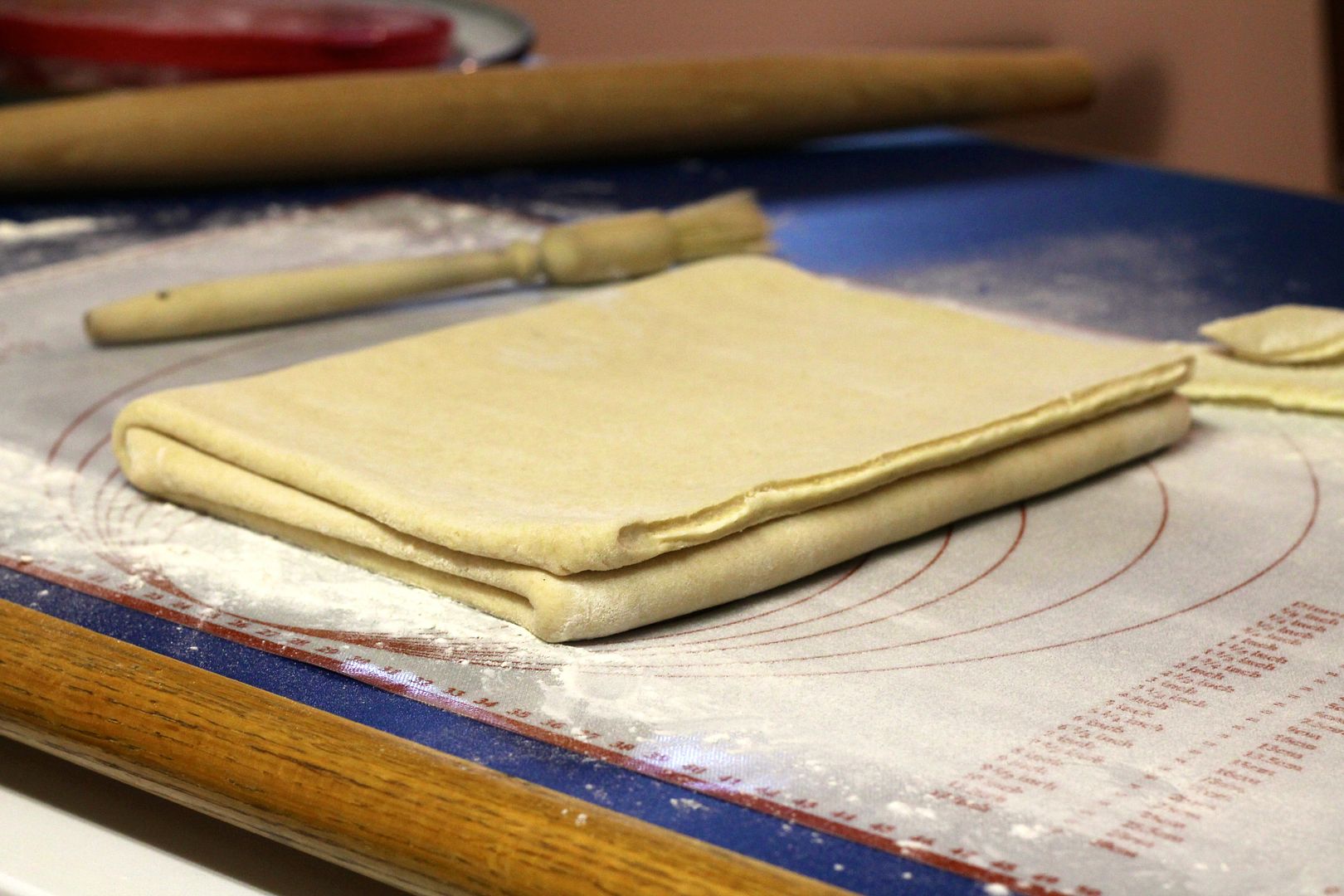 Repeat the rolling, trimming, and folding 2 more times, for 3 folds total. When rolling, make sure you roll from the center out towards the short ends to evenly distribute the butter inside the dough, and use a pastry brush to brush away any extra flour on the dough when folding. By the third fold you should see lots of lovely layers of butter and dough in the cut edge.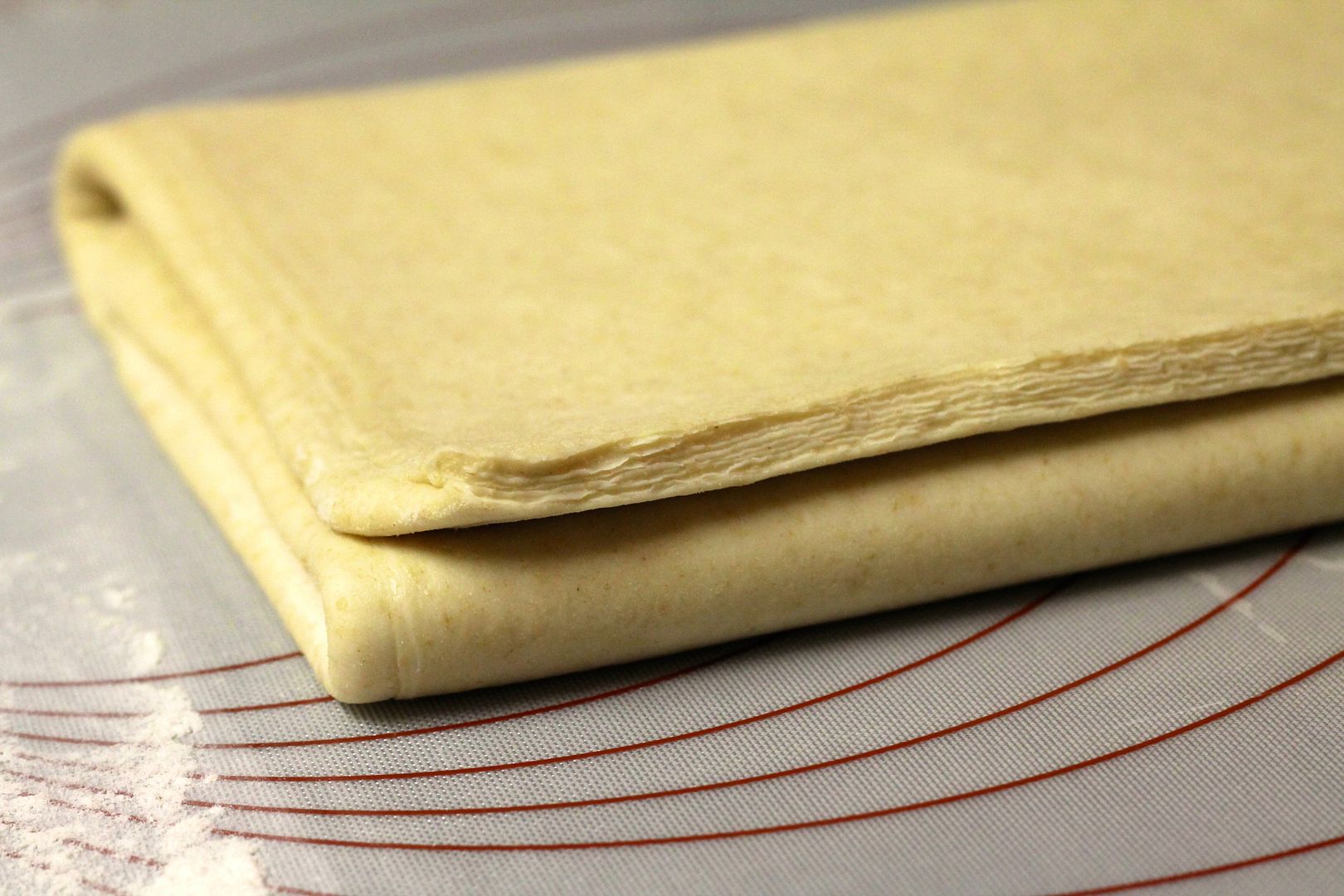 After the third fold and rest, you are ready to shape the dough. Roll it into a 9 x 36 inch rectangle or split the dough in half and roll each into a 9 x 18 inch rectangle (this is what I did). Carefully trim all 4 edges to expose the butter layers. Cut the dough into 8 rectangles total (4 1/2 x 9 inch), then cut diagonally across each rectangle to make 16 right-angle triangles total (if you're working with a half batch, that's 4 rectangles and 8 triangles). Stretch the shorter side of the triangle to make the two longer sides more equal, then roll it up from the base into a croissant.
(If you want slightly larger croissants, cut the dough into 6 rectangles total/12 triangles.)
Ideally, you want 7 little steps: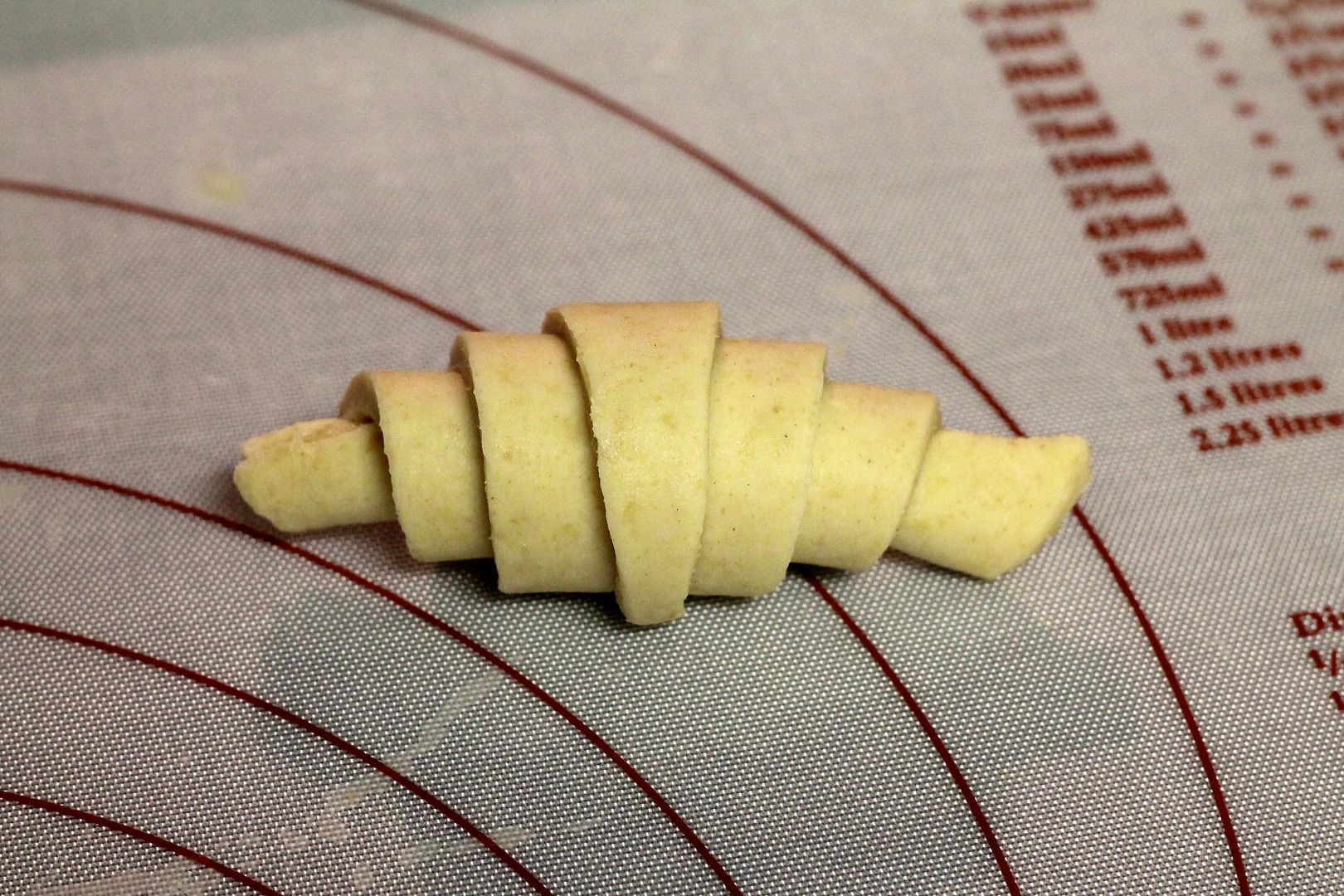 Place the croissants on a baking sheet lined with a silicon mat or parchment paper. At this point, you can cover and refrigerate overnight, or you can go ahead an proof them to bake. Brush the croissants with an egg wash of 1 egg beaten with 1 tbsp water. Cover the croissants lightly with plastic wrap and proof them at room temperature until they are very puffy and jiggly, with obvious visible butter layers in the cut edges (this might be 3 hours or more, depending on temperature).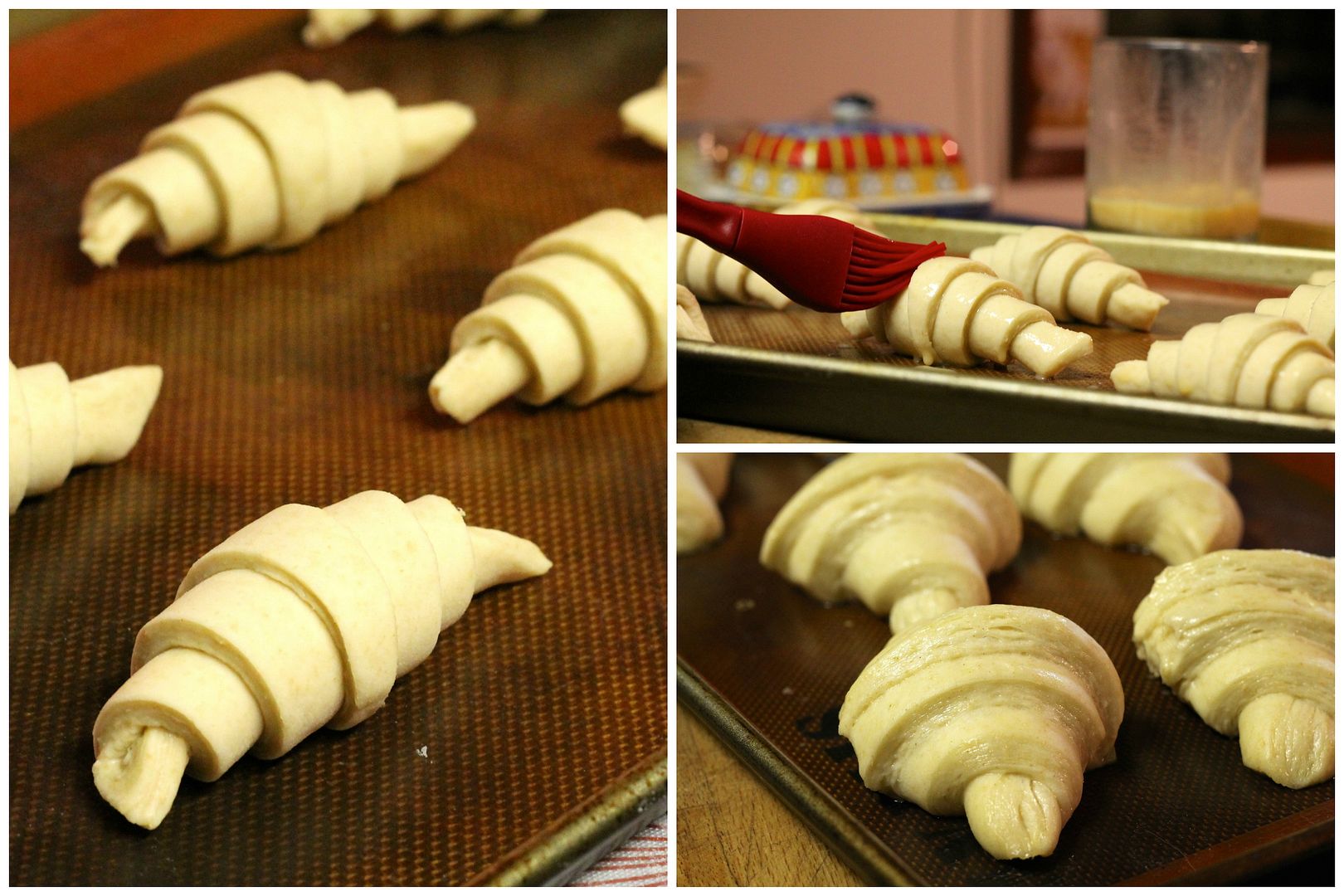 Brush them once more with egg wash and bake in a preheated 425˚F (400˚F convection) oven for 10 minutes, then reduce the heat to 350˚F (325˚F convection) and bake for 15 more minutes, until they are a deep, glossy, mahogany brown. Cool slightly on a rack and eat them while they are still warm.