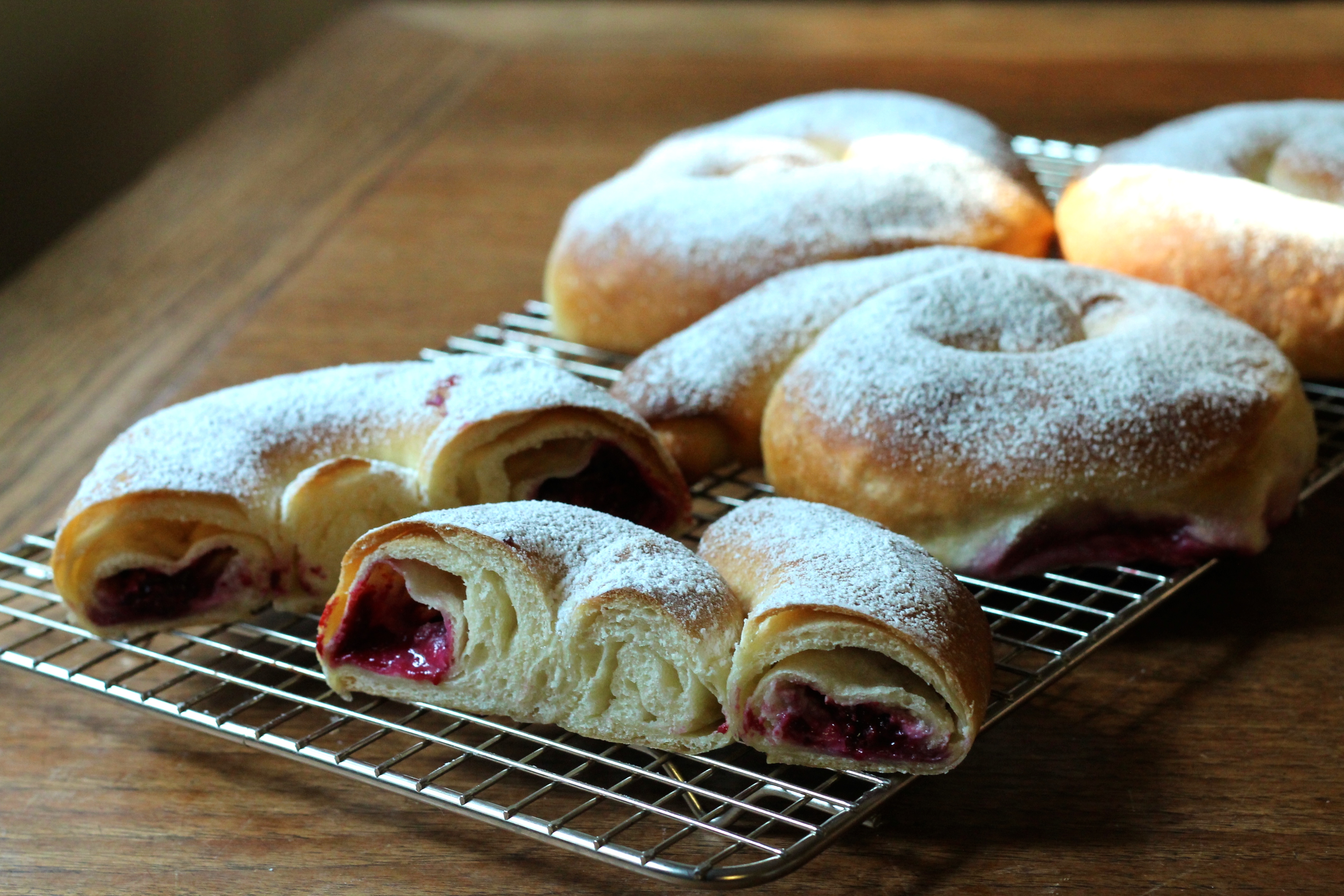 Ensaimadas, a coiled Spanish pastry of enriched yeasted dough, were the second half of August's Daring Bakers Challenge, and I'm happy to share that these blackberry and cream cheese filled babies are probably the best thing I've made in a long time. Thank you Swathi for this recipe!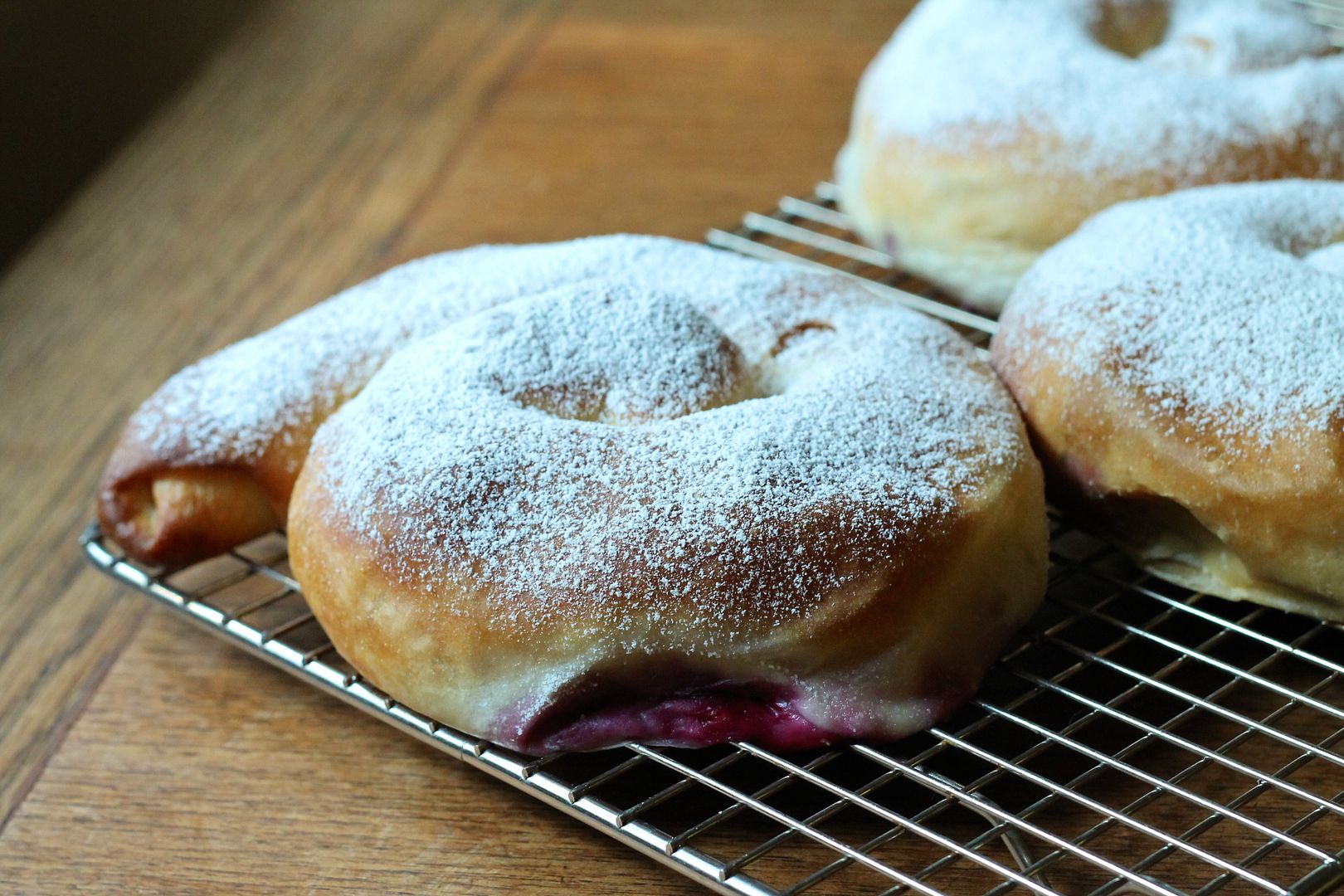 The name "ensaimada" comes from the Spanish word for lard ("saim"), which is the traditional ingredient in these pastries. The dough is stretched out super thin, slathered with lard, and then rolled up into a log and coiled into a snail shape. Similar to a croissant or puff pastry, the layers of fat and dough bake into a beautiful laminated masterpiece with a pretty rad cross-section. I used butter rather than lard (I have nothing against lard – I'm just not a huge fan of the scary preservatives in the commercial stuff you buy at the store and wasn't ready to render my own) and subbed in freshly picked blackberries and cream cheese for the customary filling of candied pumpkin.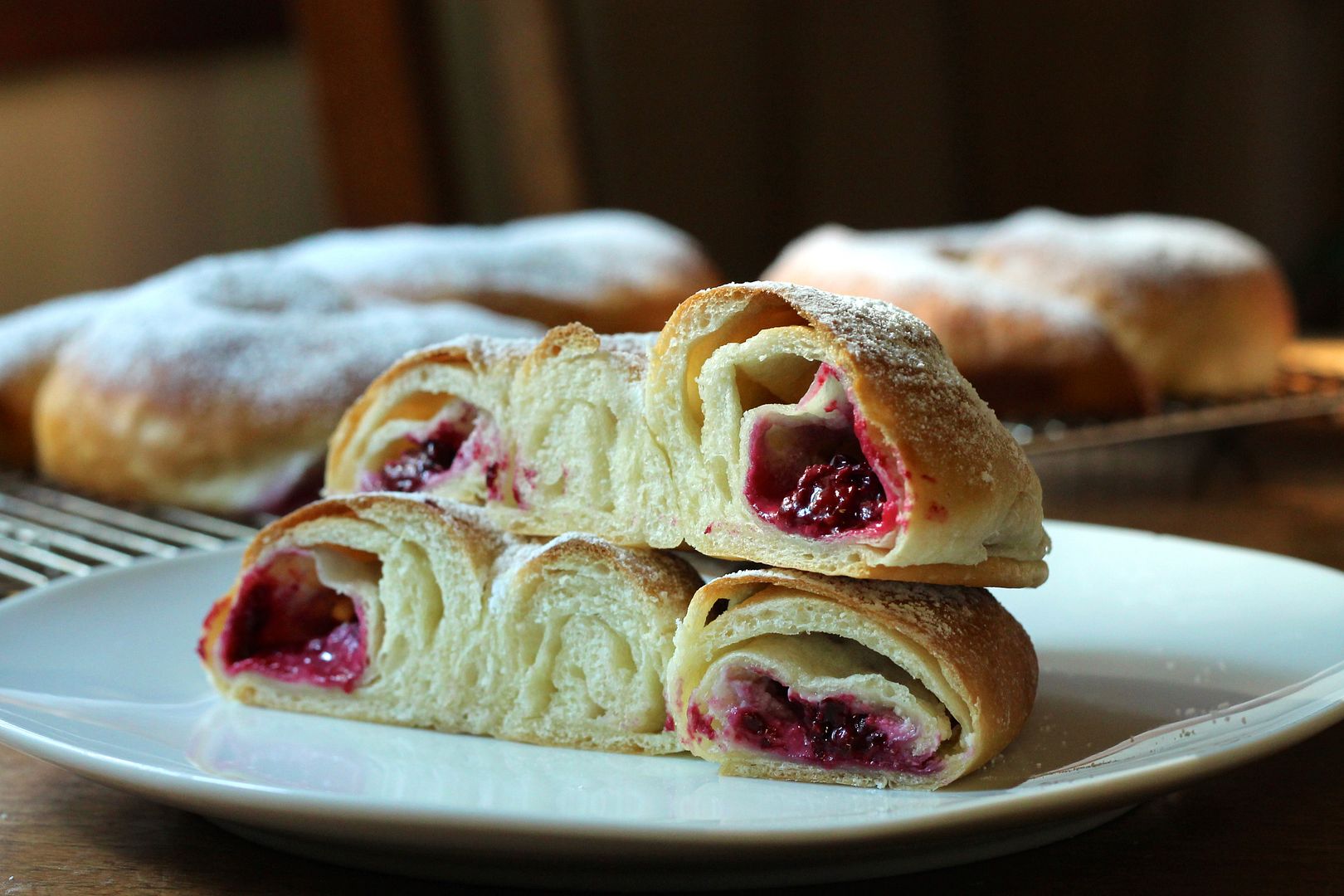 I modified the dough recipe slightly to include less yeast plus an overnight rise in the fridge for more flavour, and the final result was pretty fantastic: the bread itself is lightly sweet with a soft, slightly chewy interior and an almost crisp exterior. I think the key is working the rather sticky dough enough to really develop the gluten so that you can stretch it out super thin to make lots of butter-dough layers – otherwise you just end up with a puffy brioche. Not that there's anything wrong with that, but if you're going to the trouble to make ensaimadas, it's nice if that's actually what you end up with!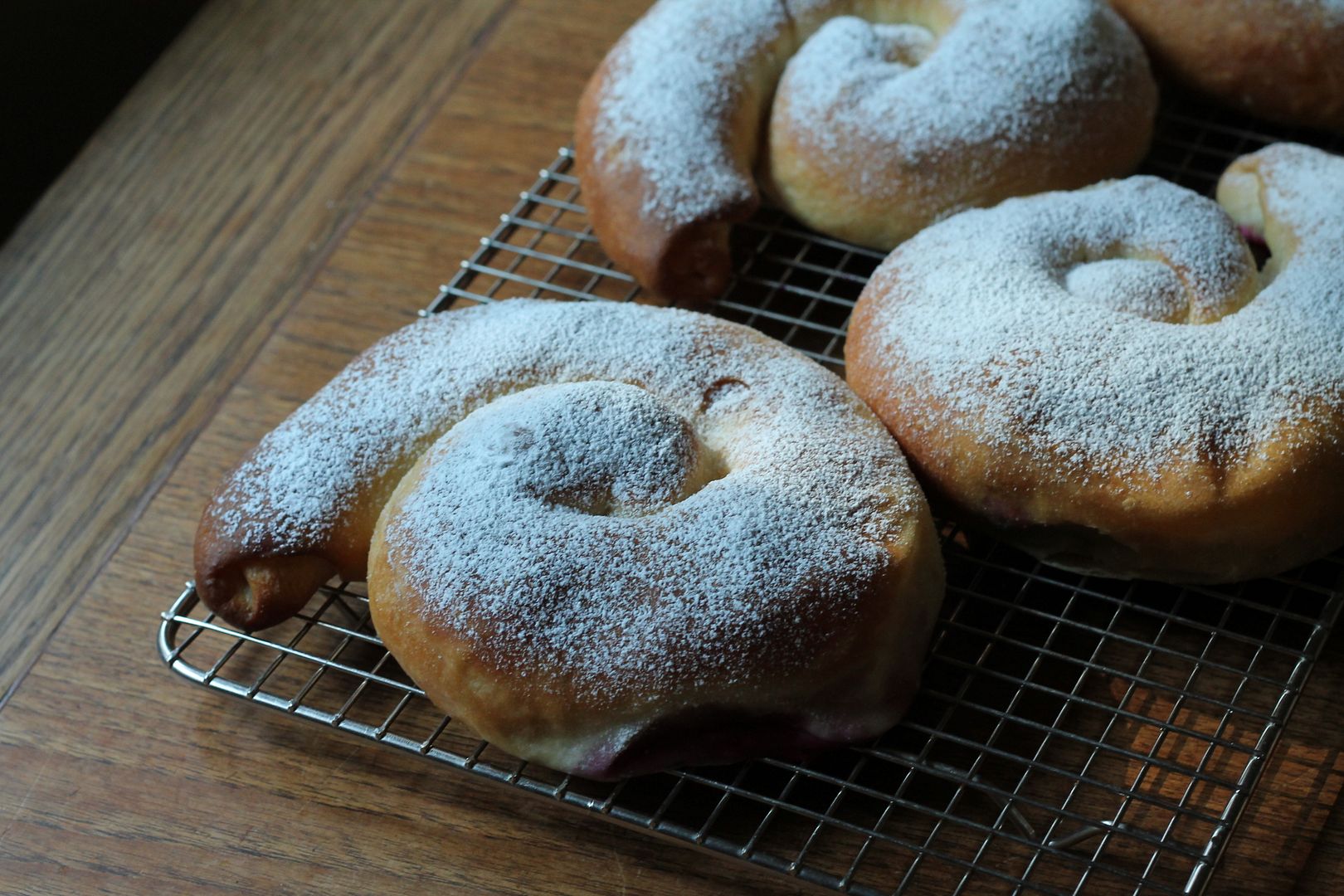 Ensaimadas can also be made into one giant swirl and cut into wedges to serve, which would look pretty impressive, but I imagine it would get kind of unwieldy to deal with – you might have to get out the bedsheet, povitica-style, to help stretch and roll up the dough. Either way, this pastry would be perfect with a cup of coffee for a leisurely breakfast or brunch. It is definitely going on the "make again" list!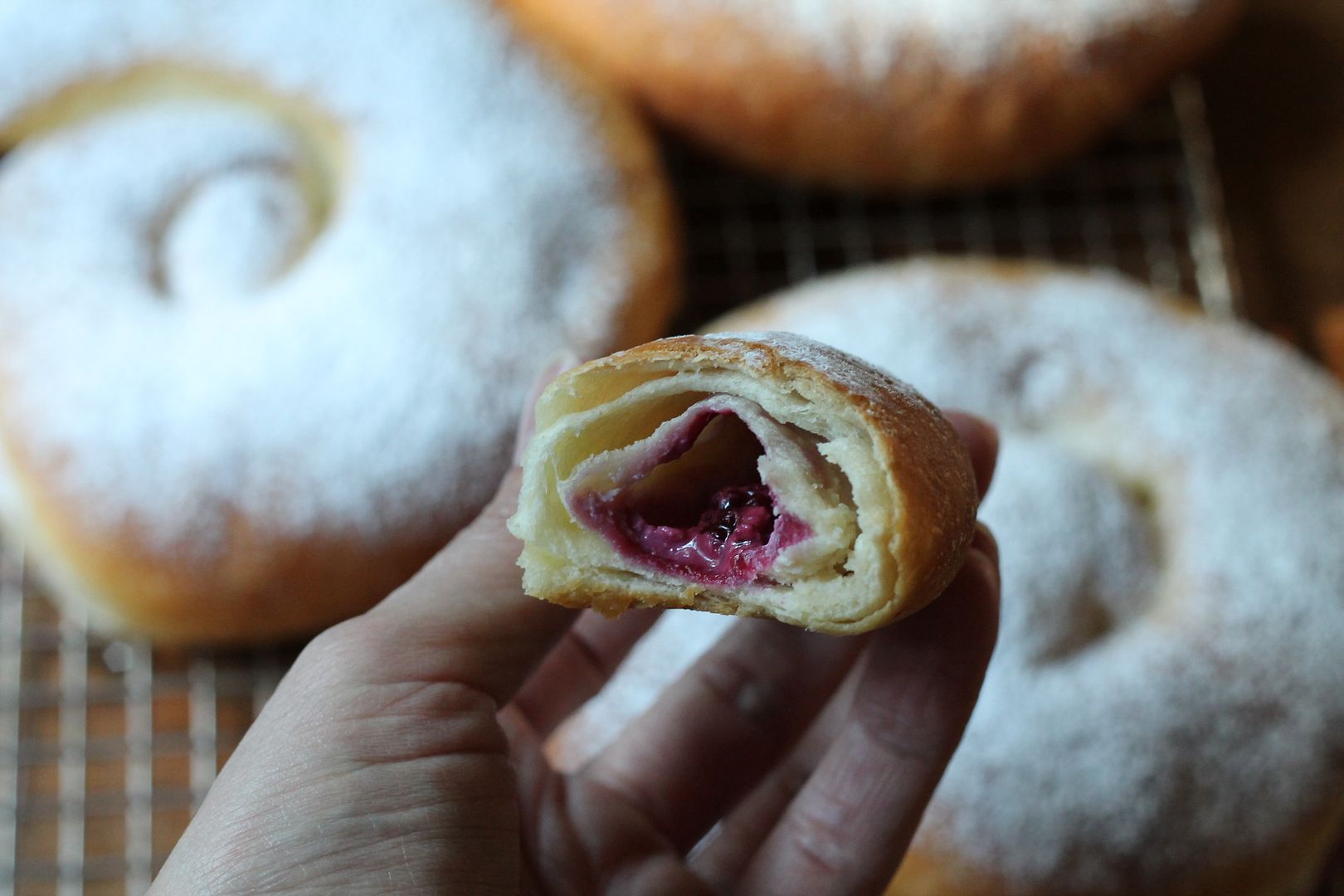 Blackberry Cream Cheese Ensaimada
Adapted from La popotte de Manue. Makes 4 large individual ensaimadas, each serving 1-2 people, depending on their appetites!
In the bowl of an electric mixer, combine:
300 g (2 1/2 cups) all purpose flour
1 tsp instant yeast
1/2 tsp salt
60 g (1/4 cup) granulated white sugar
To the flour mixture, add:
1 egg
28 g (2 tbsp) olive oil
118 g (1/2 cup) warm water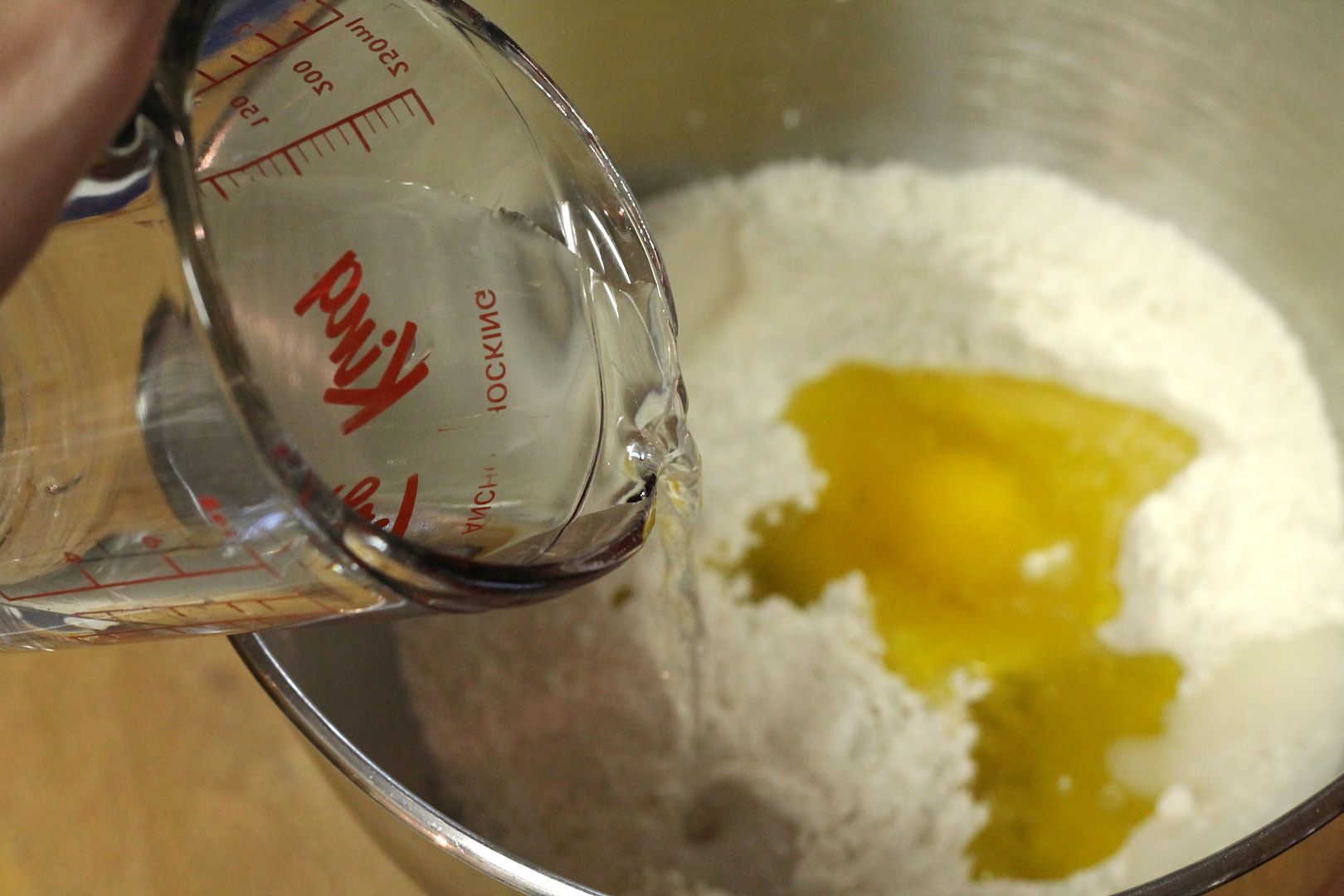 Stir with a spoon to form a rough dough, then knead the dough with the dough hook for about 10 minutes, until it is smooth and elastic. It should be tacky but not sticky, and will pull away from the sides of the bowl.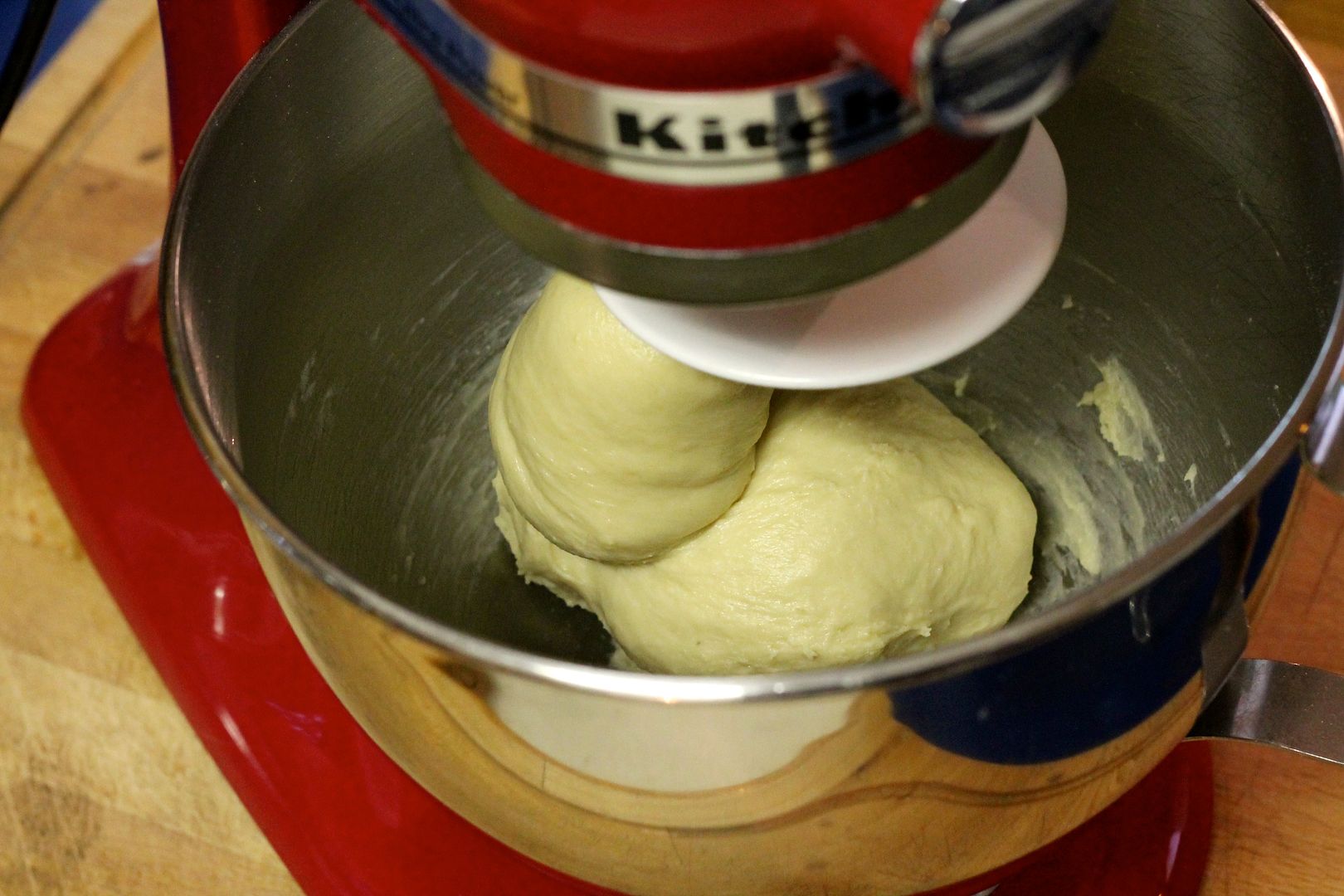 Cover with plastic wrap and let it sit at room temperature about 30 minutes to let the yeast start working, then refrigerate overnight or at least 8 hours, during which time it should rise to about double in volume. Let the dough come to room temperature (and finish rising, if it hasn't already doubled) before continuing.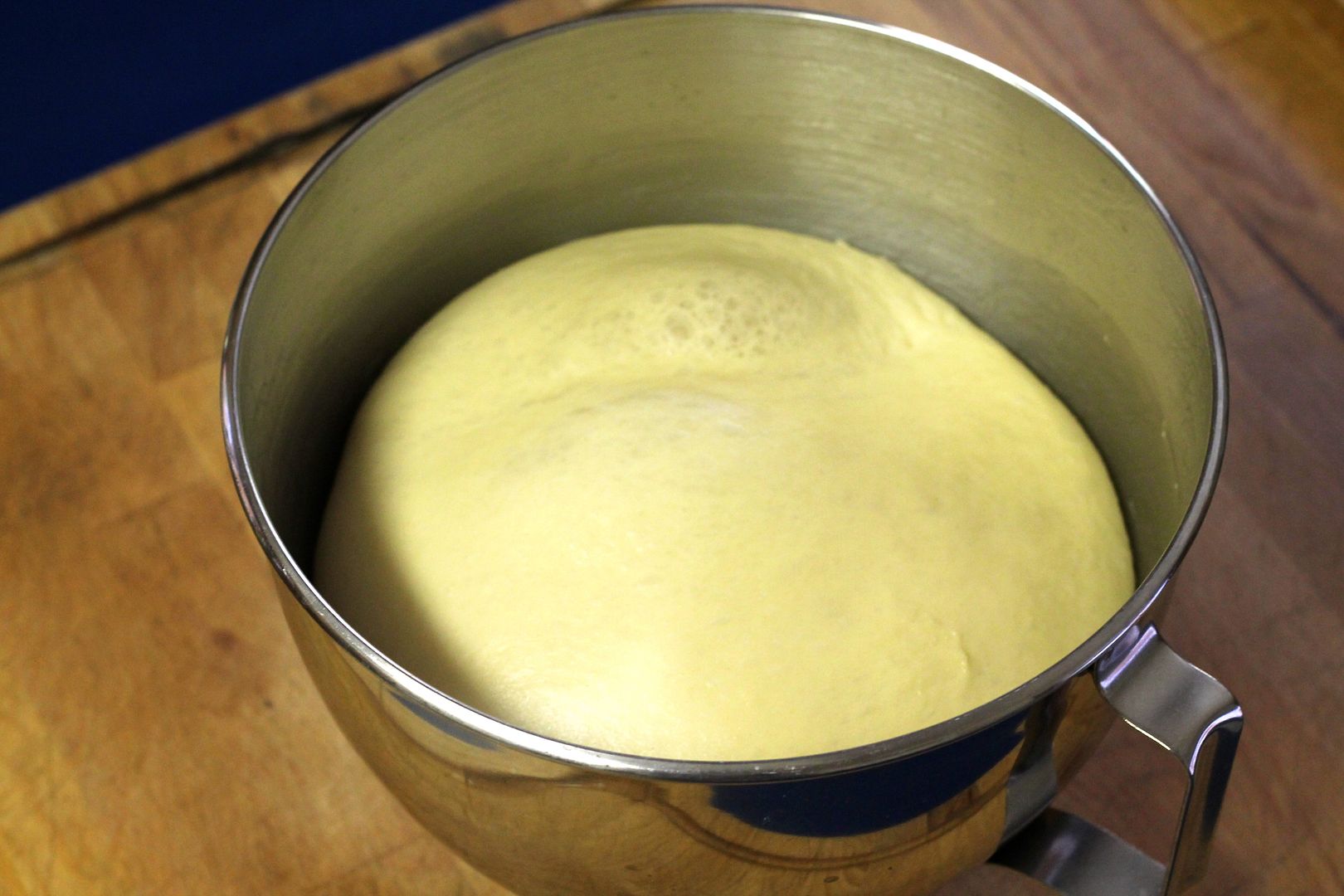 Meanwhile, prepare the cream cheese filling. In a small bowl, combine:
115 g (1/2 cup) cream cheese
24 g (3 tbsp) icing sugar
dash of vanilla
pinch of salt
Mix until smooth and set aside.
Divide the risen dough into 4 equal pieces and shape them into balls. Cover so the dough doesn't dry out. Have ready 125 g (1/2 cup) very soft unsalted butter.
Lightly grease your work surface with a little butter. Take one portion of dough and smear it with a little butter on both sides. With buttered hands, gently stretch the dough from the middle outwards into a rectangle roughly 18″ x 9″. It should be very thin and transparent.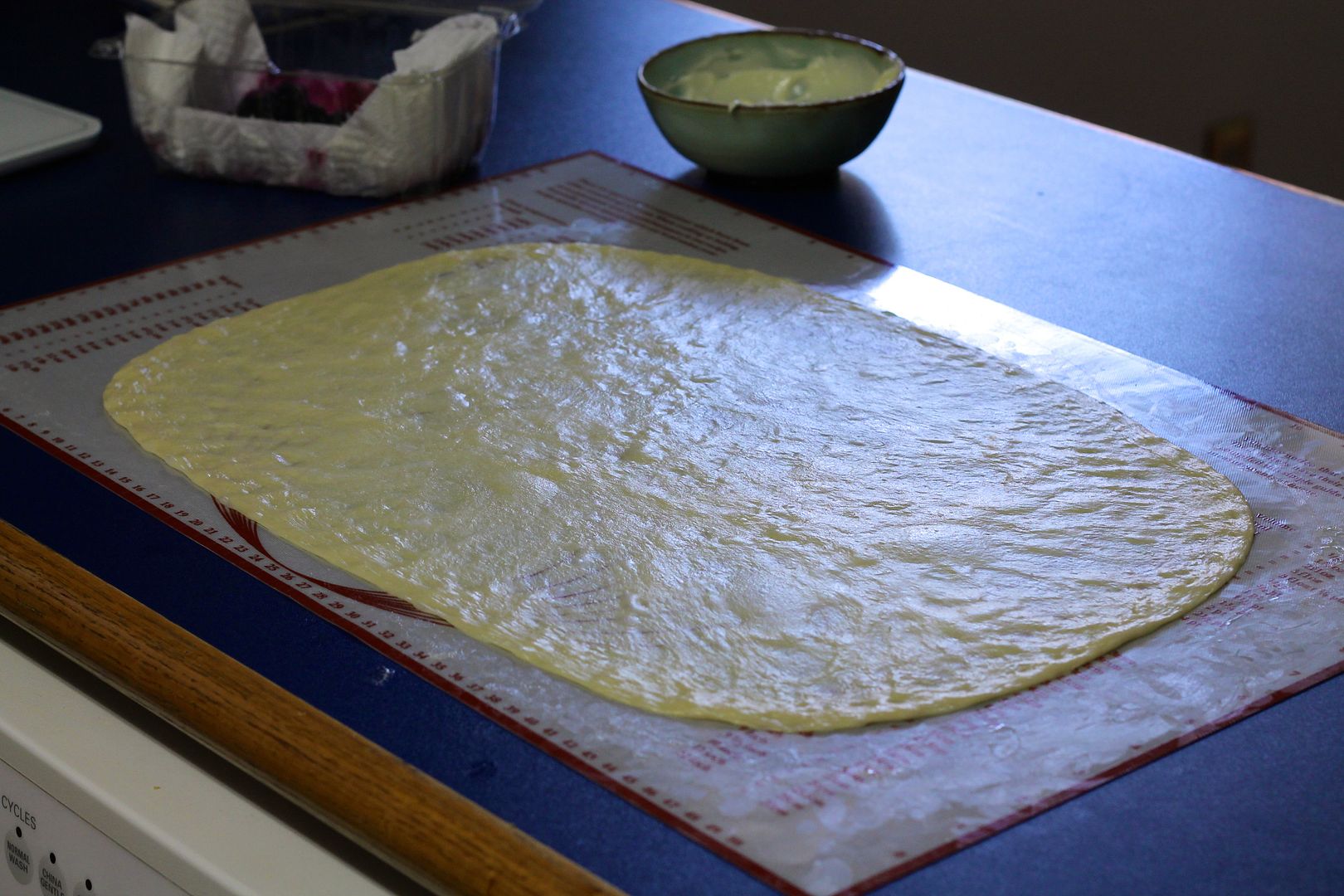 Slather the surface of the dough with a thin layer of butter. Spread 1/4 of the cream cheese mixture along one long edge of the dough and top it with a line of blackberries.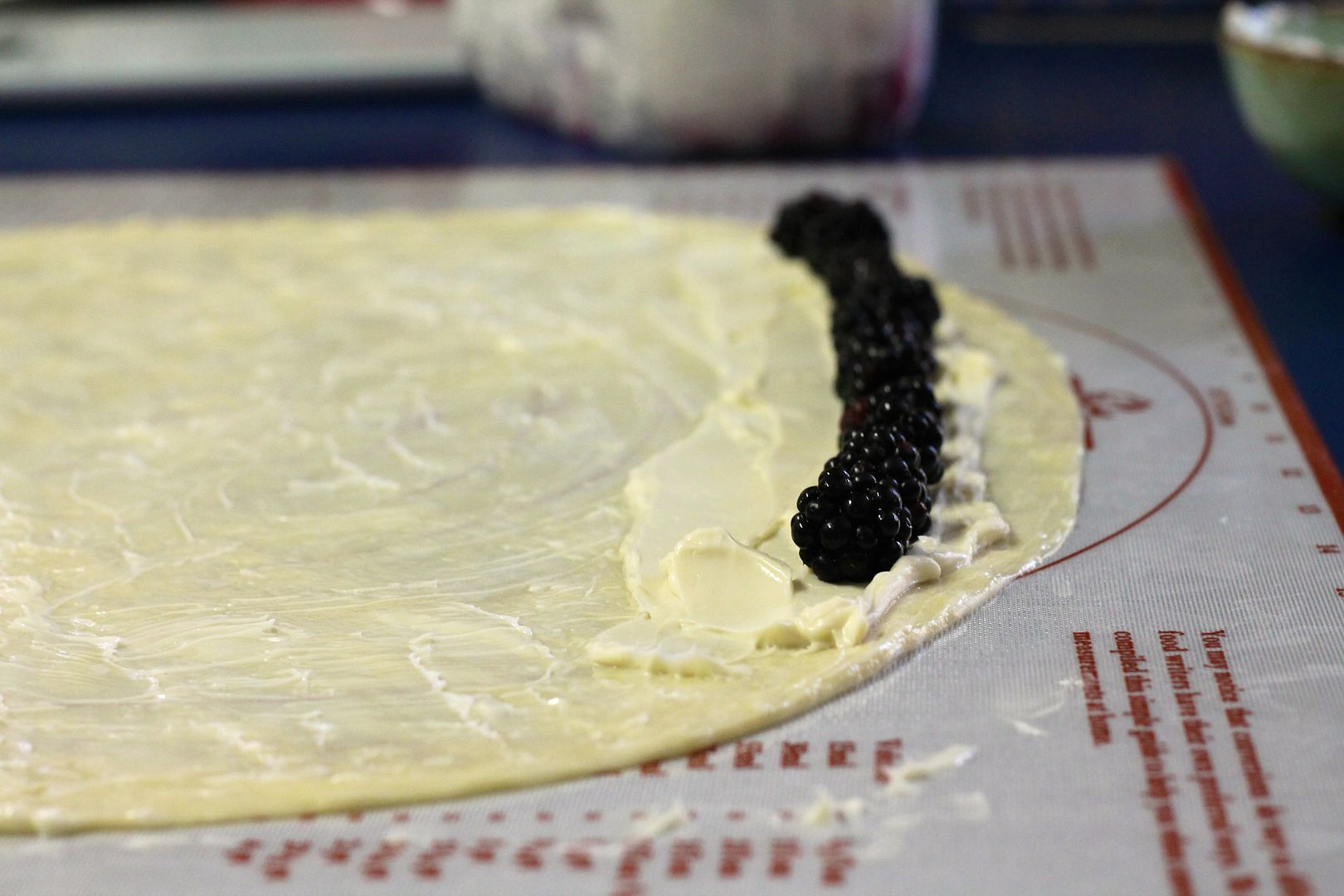 Tightly roll up the dough into a log to enclose the filling.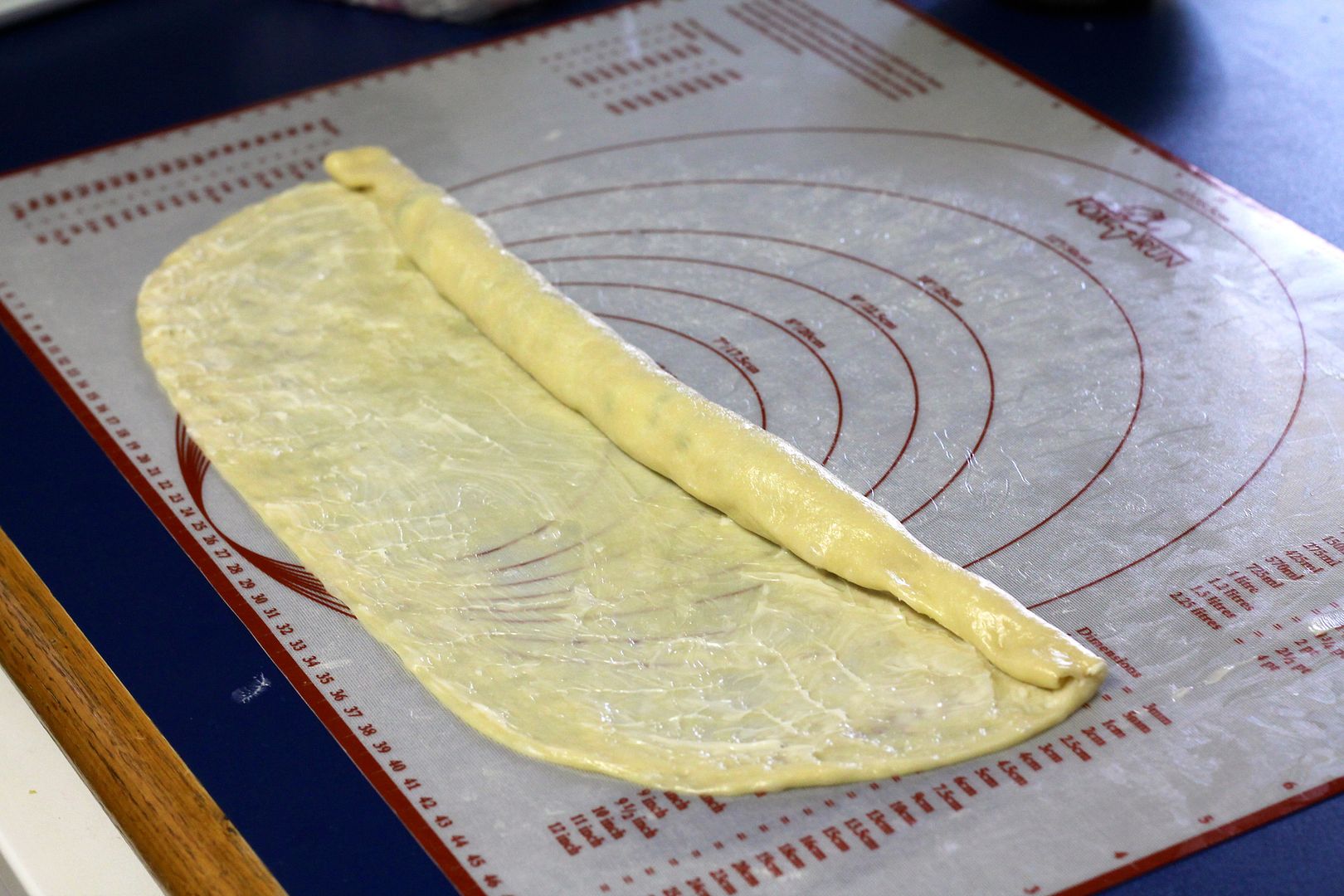 Shape the log into a loose snail-shaped coil (not too tight or it will prevent it from rising properly) and place on a baking sheet lined with parchment or a silicon mat. Repeat with the remaining dough, butter, and filling.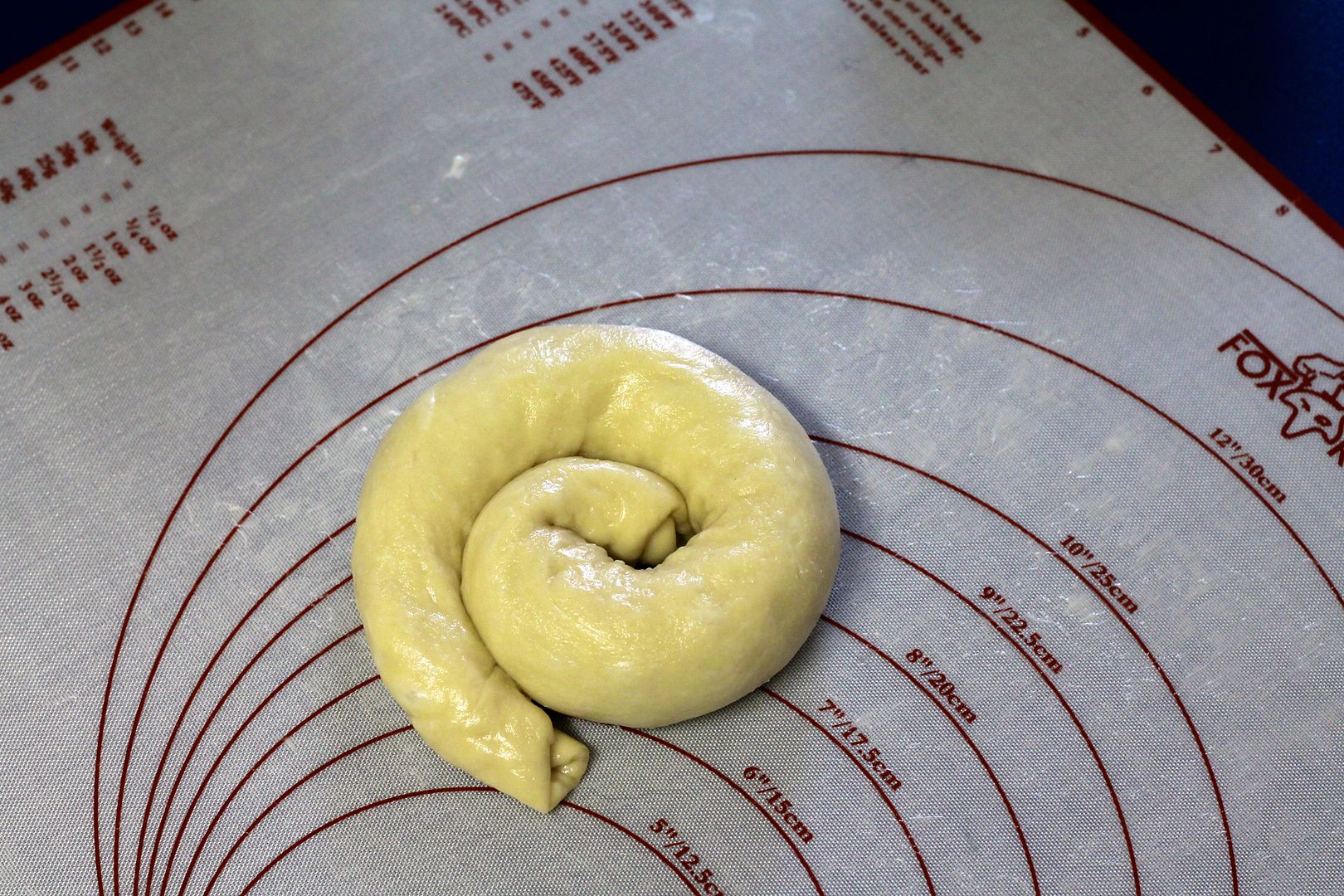 Smear any remaining butter on the shaped dough, cover loosely with plastic wrap, and allow to proof for about 30 minutes, until puffy. While the ensaimadas proof, preheat the oven to 350˚F (325˚F convection).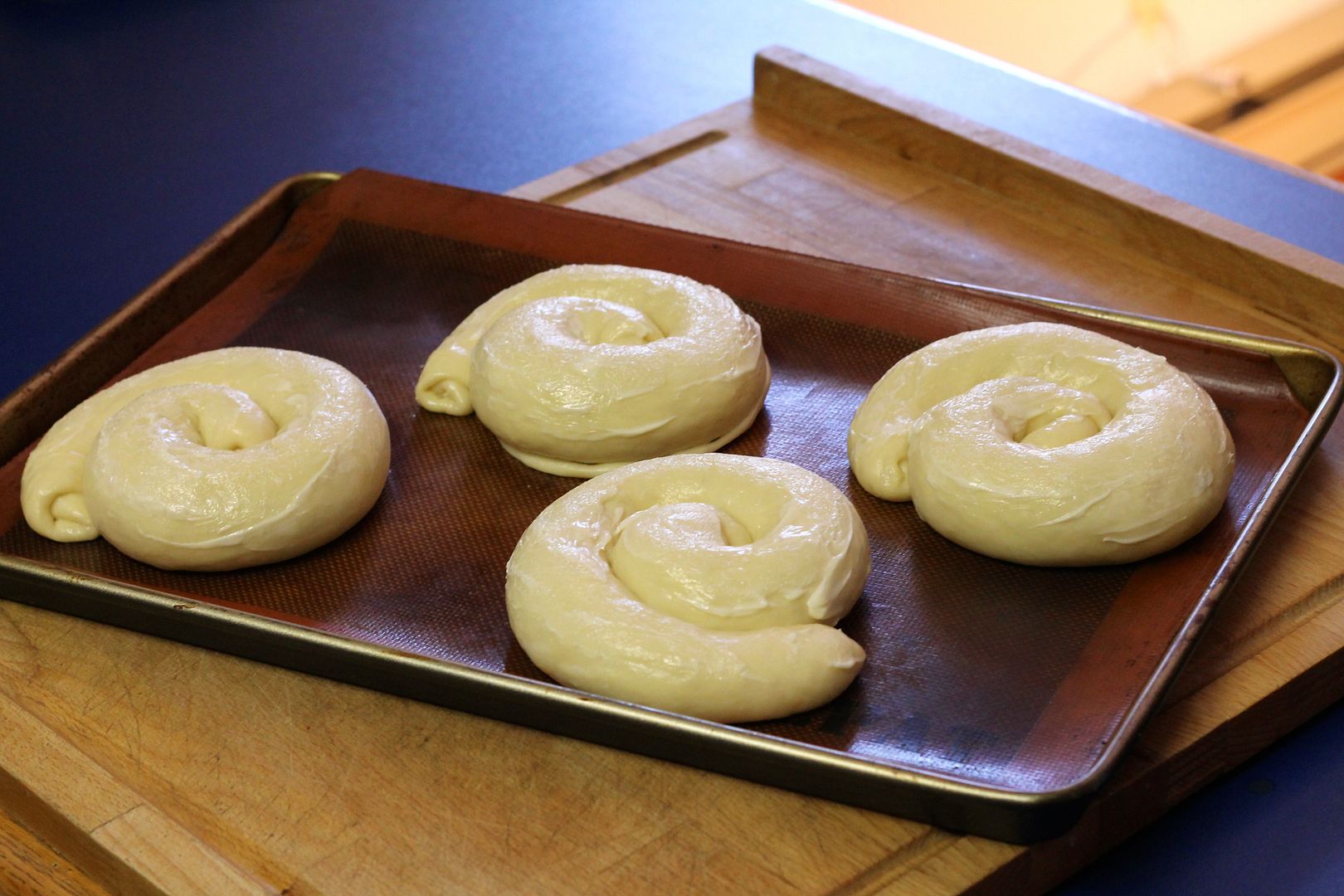 Bake the proofed pastries in the preheated 350˚F (325˚F convection) oven for about 20 minutes, until golden brown and baked all the way through (lift them up with a spatula to check that the bottoms and middles are done).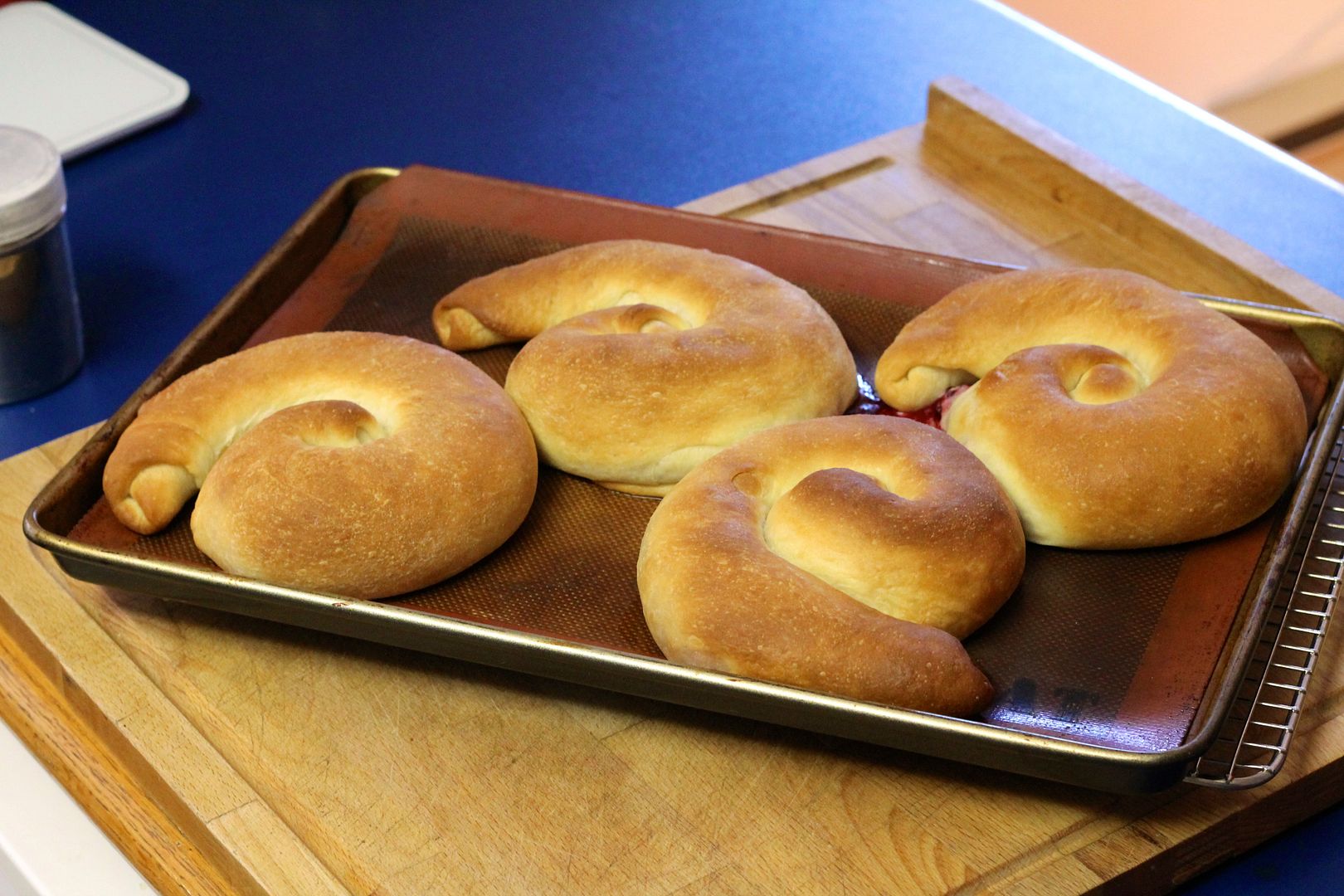 Immediately dust with icing sugar and place on a rack to cool. Serve warm or at room temperature. They will keep for up to 1 day in an airtight container at room temperature.