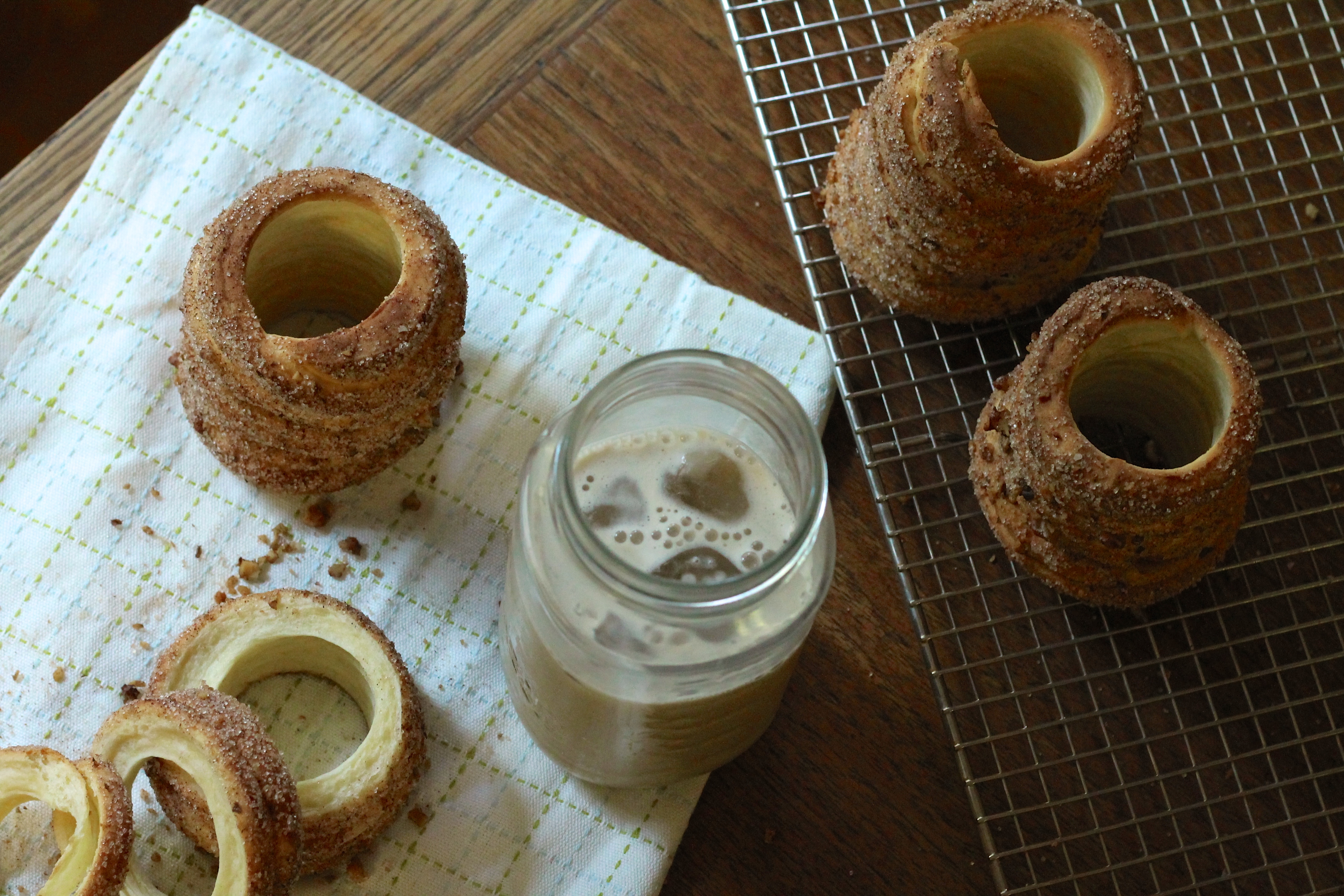 The August Daring Bakers' Challenge took us for a spin! Swathi of Zesty South Indian Kitchen taught us to make rolled pastries inspired by Kürtőskalács, a traditional Hungarian wedding pastry. These tasty yeasted delights gave us lots to celebrate!
Once again, the Daring Bakers have introduced me to a pastry I probably never would have come across myself, and given me a history lesson in the progress. Kürtőskalács or "chimney cakes" are a traditional yeasted pastry from Szeklerland, which is an ethnic Hungarian enclave in the Transylvanian region of present day Romania. The pastry is now common in many Hungarian-speaking regions as well as the Czech Republic.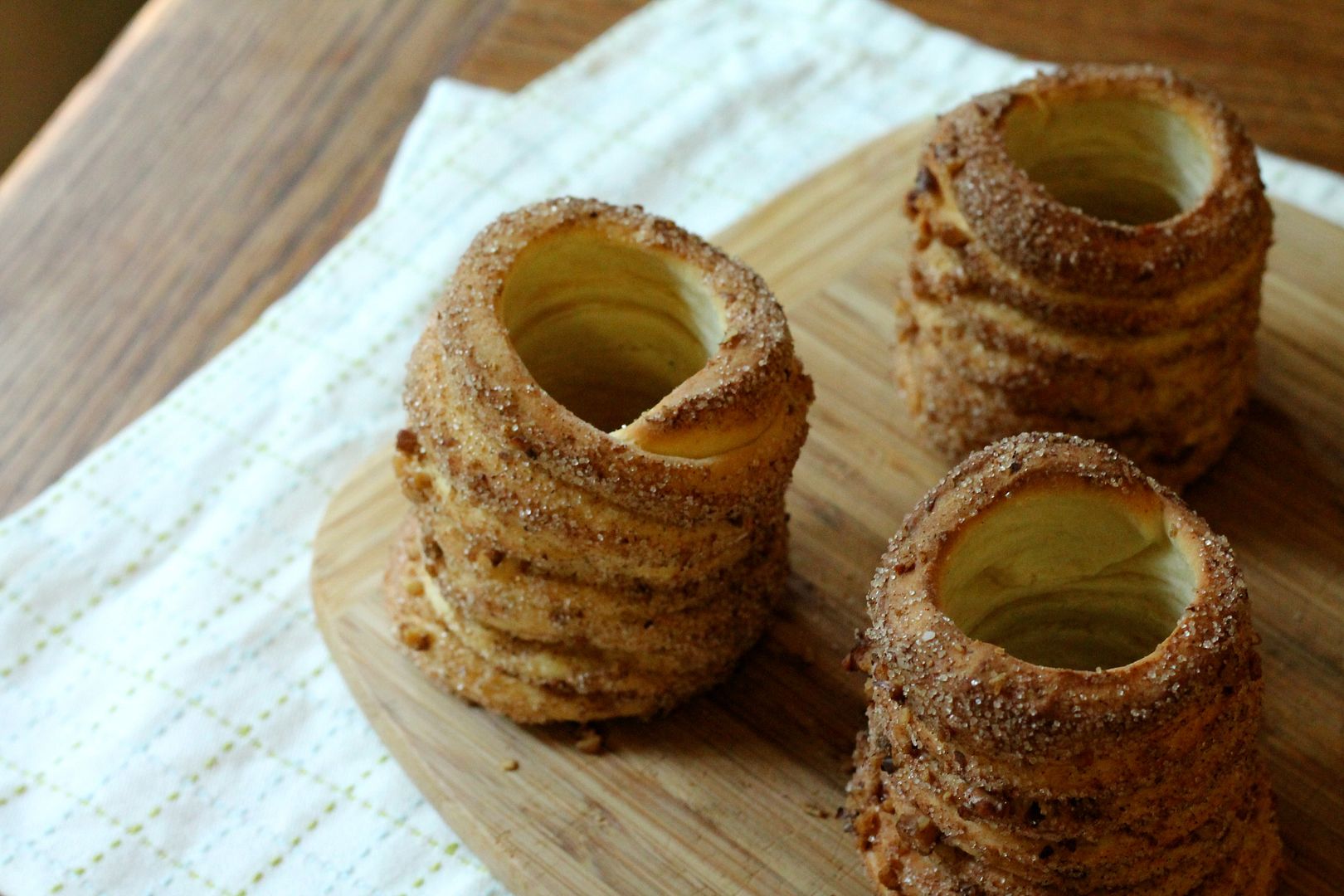 Like the related German baumkuchen, traditional Kürtőskalács is baked on a spit over an open flame. The enriched yeasted dough is cut into strips, wrapped tightly around a spit, and brushed with melted butter and sprinkled with sugar. When cooked over a fire, the sugar caramelizes and turns the crust a deep bronze colour while the dough bakes inside, creating a unique and delicious spiral treat. Most home bakers don't have a spit over an open flame readily available, so luckily for us there are a few other ways to make this treat: you can wrap the dough around a foil-covered wooden rolling pin and bake it in the oven, or, as I did, use foil-wrapped toilet paper rolls to make smaller, individual spits baked upright in the oven. This produces a tasty, brioche-like pastry with a fun shape, but I definitely think that it would be that much better baked the traditional way. If it weren't for the current fire ban in our area, I would have liked to try it wrapped around a stick and cooked over a campfire. Maybe for our next camping trip!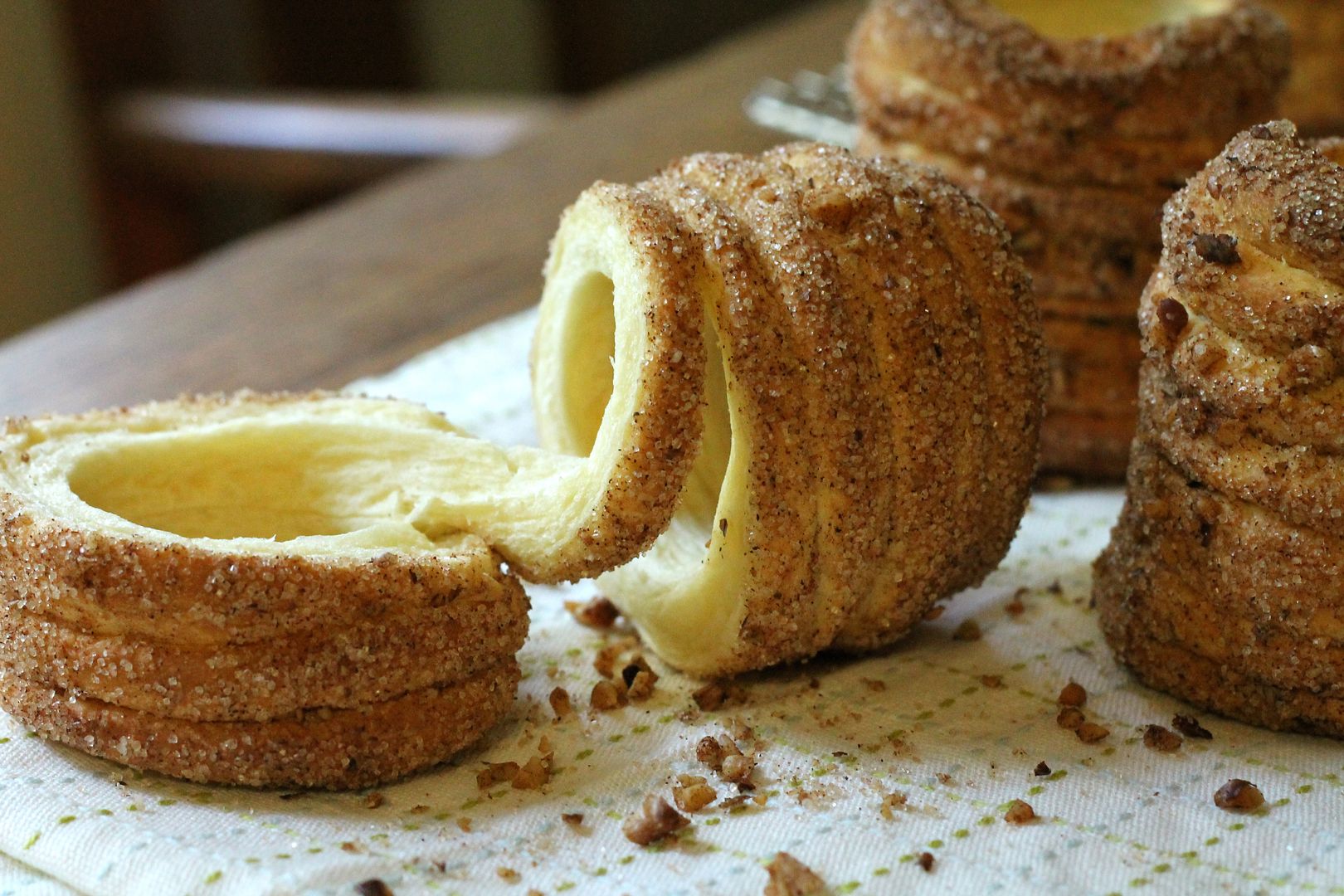 Despite the unorthodox cooking method, this recipe was very quick and easy to make. Next time, however, I would use less yeast and allow the dough to rise overnight in the fridge to improve the flavour, which I have reflected in the recipe below. I chose to roll the dough in a mixture of sugar, cinnamon, and finely chopped walnuts before baking, and the resulting pastry tasted sort of like something you'd find at the fair along with mini doughnuts – ie, delicious. It is best eaten warm, when the pastry is stretchy and elastic and fun to pull apart into rings, and it goes extremely well with coffee (iced, if you happen to bake this on a scorching hot summer day like I did!).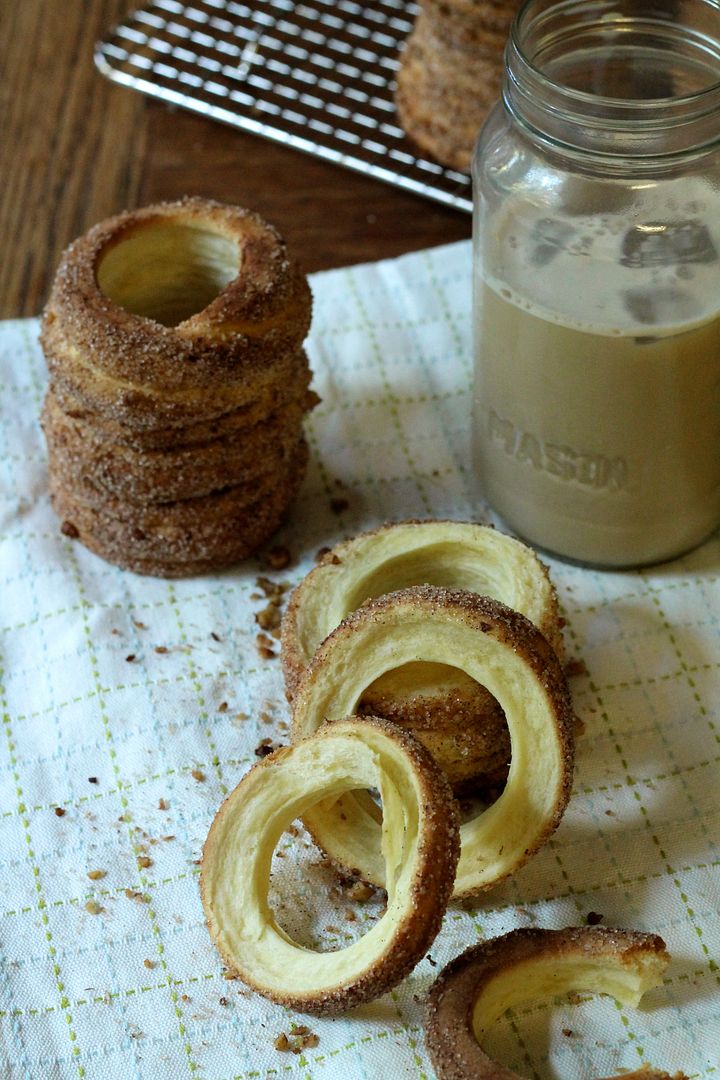 Thanks for this interesting baking project, Swathi!
Kürtőskalács / Chimney Cakes
Dough recipe adapted from Joe Pastry, baking method from Pearls of Baking. Makes 6 individual cakes.
Dough
In the bowl of an electric mixer, combine:
240 g (1 3/4 cups) all purpose flour
1 tsp instant yeast
30 g (2 tbsp) granulated white sugar
1/8 tsp salt
Add:
1 large egg
45 g (3 tbsp) melted unsalted butter
117 g (1/2 cup) warm milk
Stir with a spoon to combine into a rough, sticky dough, then knead with a dough hook for about 5 minutes until smooth and elastic.
Cover the bowl with plastic and let it sit at room temperature for about 30 minutes to activate the yeast and start rising. After 30 minutes, put it in the fridge overnight or for at least 8 hours.
The next day, take the dough out of the fridge and let it come to room temperature and double in volume, if it hasn't already.
Assembly
You will need:
6 toilet paper tubes
aluminum foil
50 g melted unsalted butter (also used for the topping)
Preheat the oven to 375˚F (350˚F convection). To make the spits, wrap each toilet paper tube with aluminum foil. Brush each with some of the melted butter and set aside.

Punch down the dough and divide it into 6 equal pieces. Form each into a ball and roll out into a 6″ circle about 1/4″ thick. With a paring knife or pastry cutter, cut the dough into a spiral strip about 1/2″ wide.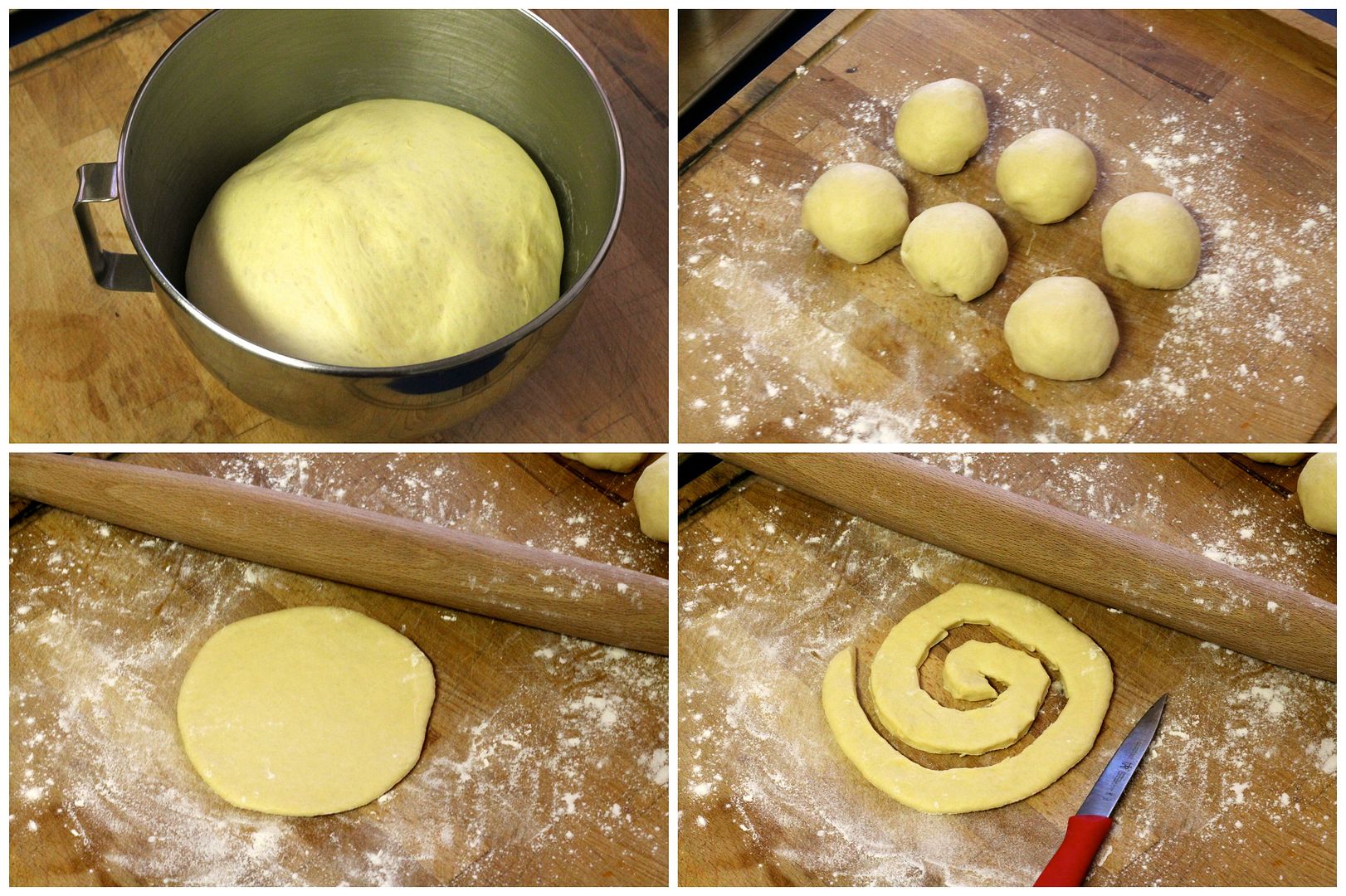 Wrap the strip of dough tightly around one of the foiled, buttered tubes, overlapping the dough slightly and tucking the ends underneath to prevent them from coming loose. Gently roll the wrapped spit on your work surface to adhere the dough. Repeat with the remaining dough and spits.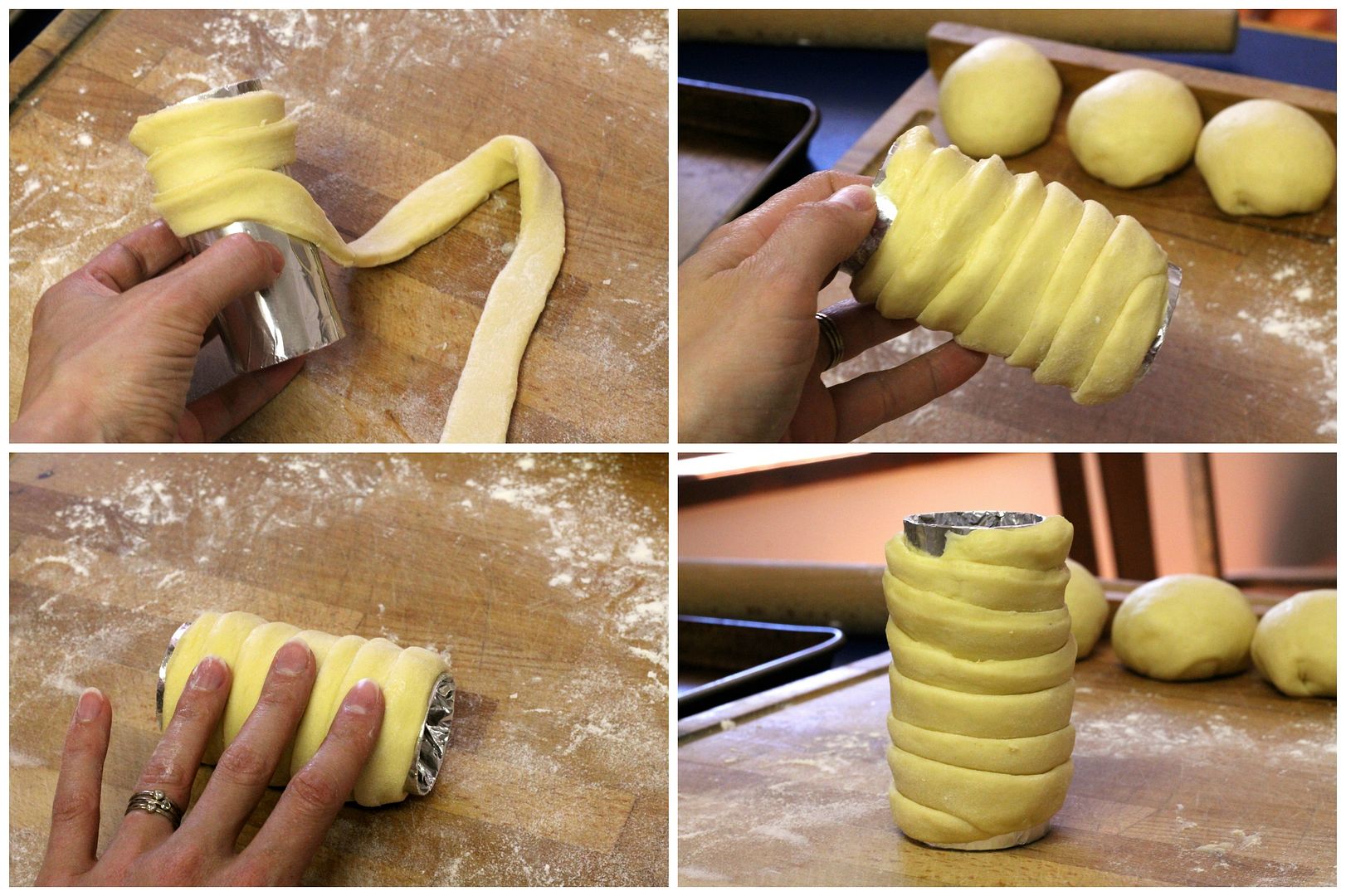 Brush each unbaked chimney cake with the remaining melted butter and roll it in a mixture of:
125 g (1/2 cup) granulated white sugar
60 g (about 1/2 cup) very finely chopped walnuts
2 tsp cinnamon
Place the chimney cakes upright on their spits on a baking sheet and let them proof at room temperature until puffy, about 20-30 minutes. Bake in the preheated 375˚F (350˚F convection) oven for about 20 minutes, until golden brown. If necessary, flip them upside down halfway through the baking time if the tops appear to be cooking faster than the bottoms.
Transfer the baked chimney cakes to a cooling rack and remove the spits. Cool slightly and serve warm.