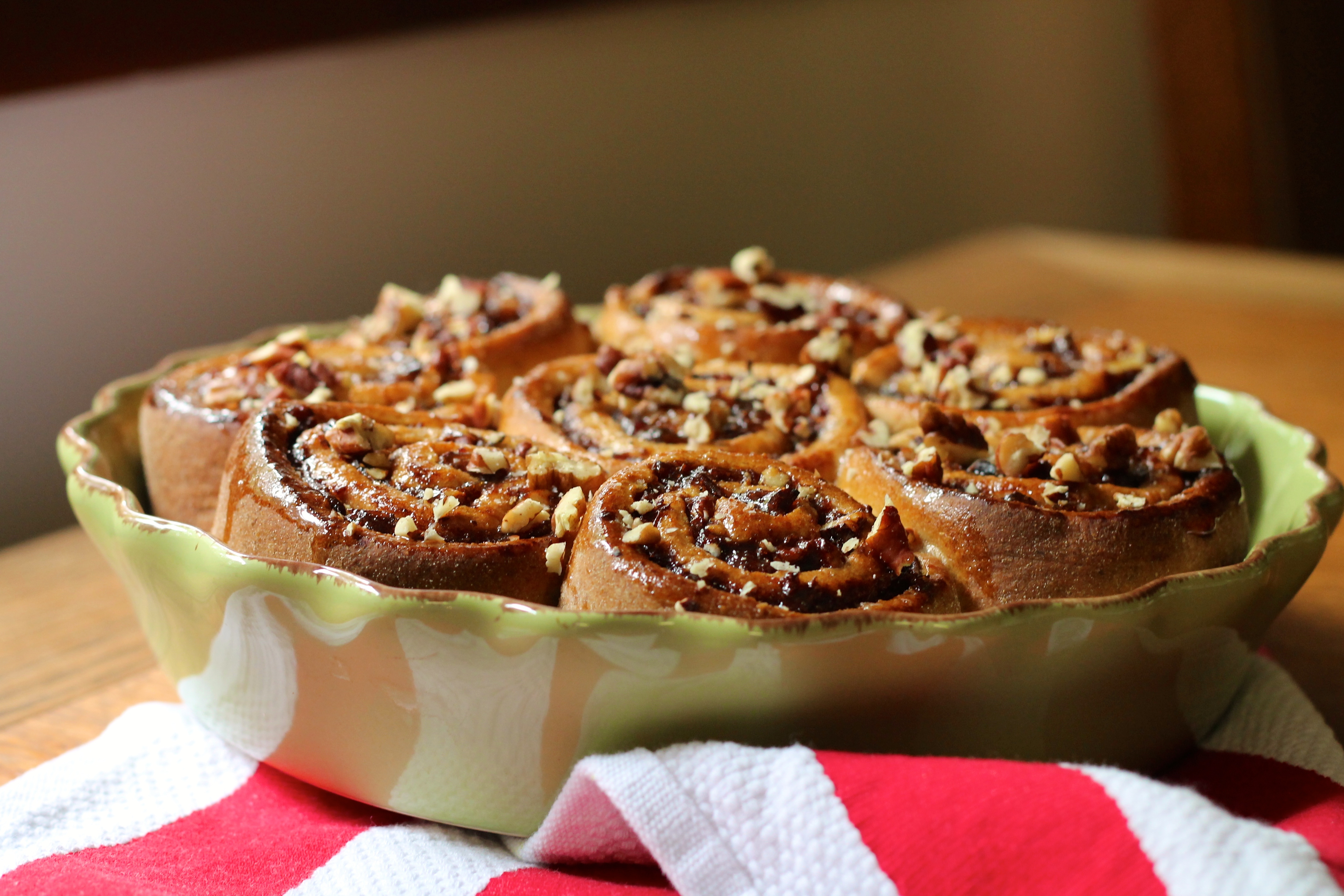 This month the Daring Bakers kept our creativity rolling with cinnamon bun inspired treats. Shelley from C Mom Cook dared us to create our own dough and fill it with any filling we wanted to craft tasty rolled treats, cinnamon not required!
Tell me, where has this month gone? How did it get to be the end of June all of a sudden? I swear, the last time I checked, it was the beginning of May, I was starting a new job (yay!), and this had just happened: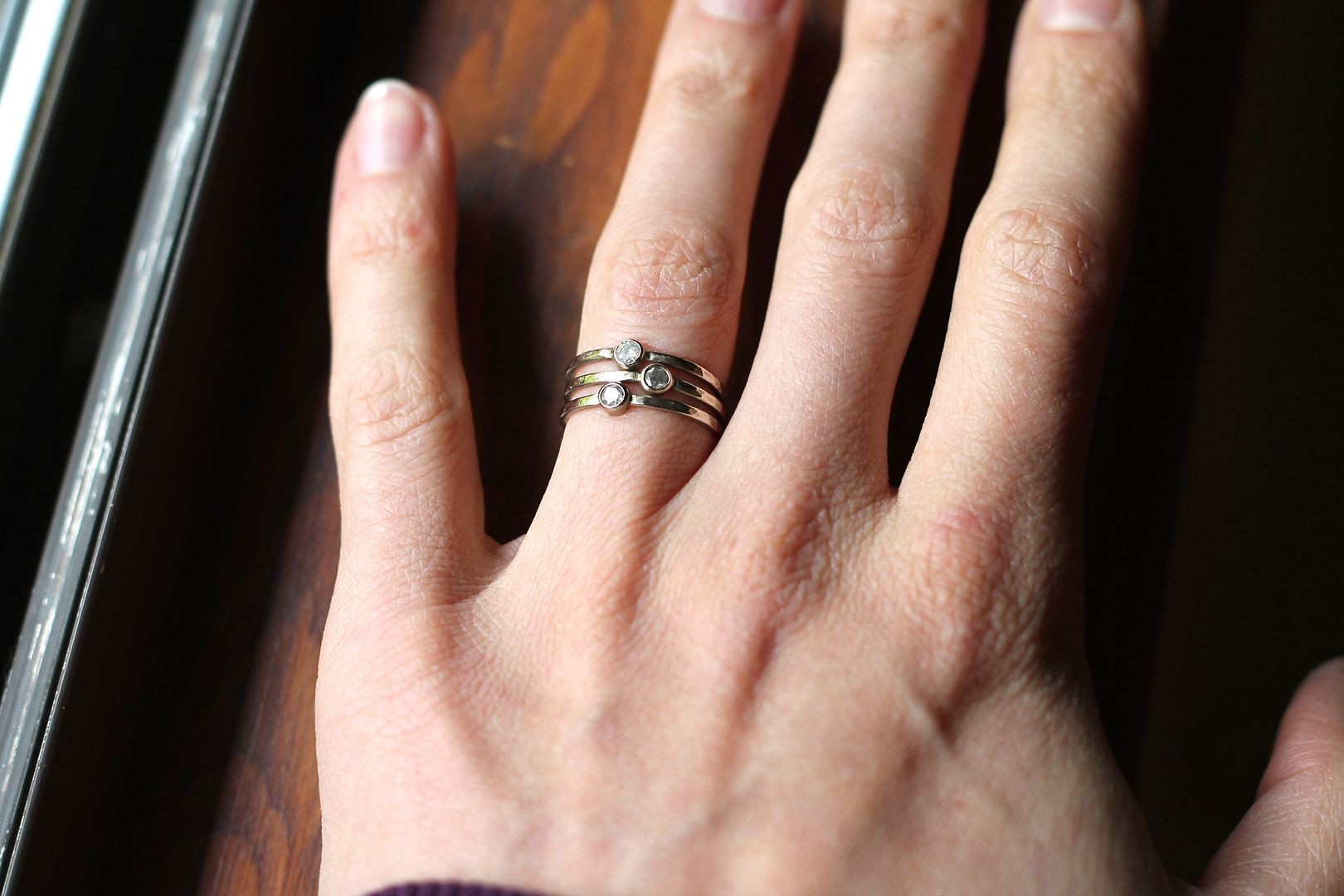 Surprise! That's an engagement ring (made by Alexis Russell Design – I love love love her stuff), so my boyfriend Nate is now officially my fiancé Nate. I don't particularly like that label because I think it sounds so temporary, whereas the decision to be married to a person is anything but. Semantics aside, however, we are thinking about next spring/summer for our wedding, and I'm already trying to figure out how I can make most of the food myself (at least the cake!) without turning into a raving lunatic/bridezilla. We'll see how that goes…
Honestly though, the past two months have felt more hectic than usual. I've been baking up a storm (so much cake – birthdays, baby showers, friend's weddings, oh my!) but don't have a lot to show for it in the way of blog posts, so when I saw that my friend Shelley was hosting this month's Daring Bakers Challenge and that we were making cinnamon buns, I made the effort to actually document the project start to finish. When I made these, I was feeling extremely over-sugared and like I needed to subsist on nothing but brown rice and kale for a bit, so I decided on a "healthy" version of cinnamon buns. This recipe, made with spelt flour and without refined sugar, eggs, or dairy (if you don't count the Greek yogurt "icing") is a testament to the fact that you can still make a decadent treat that won't put you into a diabetic coma. These were the best of both worlds: my inner crunchy granola hippie was really pleased about eating "healthy", but my inner pastry snob was also totally satisfied.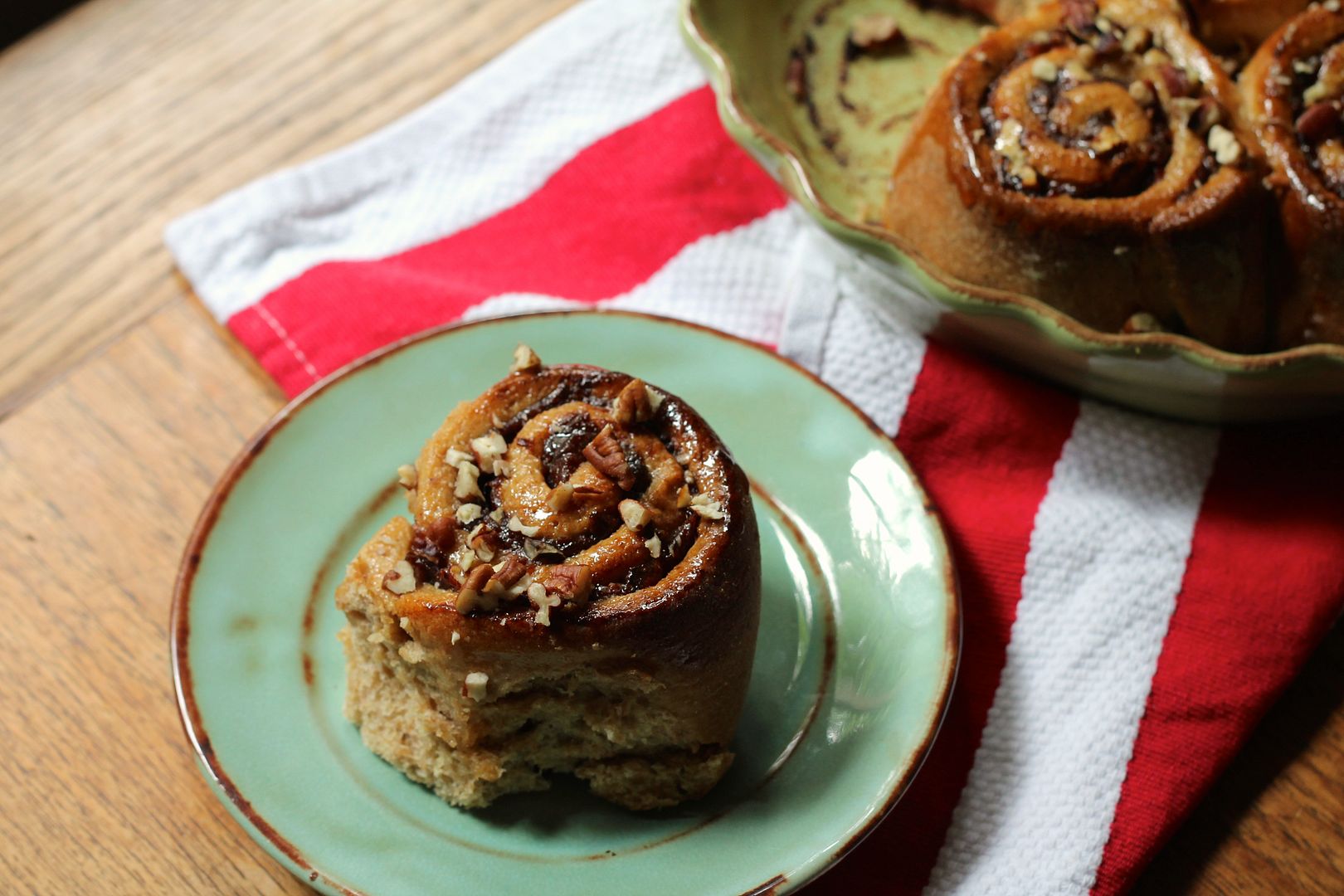 The yeasted dough made with whole spelt flour, apple sauce, and coconut oil is probably one of the nicest spelt doughs I've ever come across: soft, not dense, and it rose well. The date-cinnamon filling is the real revelation though. One of my beefs with regular cinnamon buns filled butter, cinnamon, and sugar is that the filling just disappears into the dough. Here, you make a spreadable paste (such an unappetizing word) of dates and cinnamon – no extra sweetener needed – and roll it up within the dough. Once baked, the filling stays moist and gooey, almost like thick caramel but not as sticky, and it remains distinct from the surrounding dough. The "icing" in this case is thick Greek yogurt sweetened with a little bit of maple syrup and more cinnamon. Considering the amount of sugar that these buns DON'T contain, they were the perfect sweetness and I really, really enjoyed them. They certainly aren't a replacement for, say, these caramel pecan sticky buns, but there's definitely a place for them in my recipe book!
For more cinnamon buns and sweet rolls than you can shake a stick at (including some very creative flavours and shapes), check out the Daring Kitchen. Thanks for the challenge Shelley, you rock!
Spelt, Date & Pecan Cinnamon Buns
Adapted from My New Roots. Makes 8 buns.
Dough
In a large bowl, mix together:
2 cups whole spelt flour (I used 1 cup whole spelt and 1 cup sifted spelt)
1 tbsp instant yeast
2 tbsp coconut sugar (or brown sugar)
1 tsp sea salt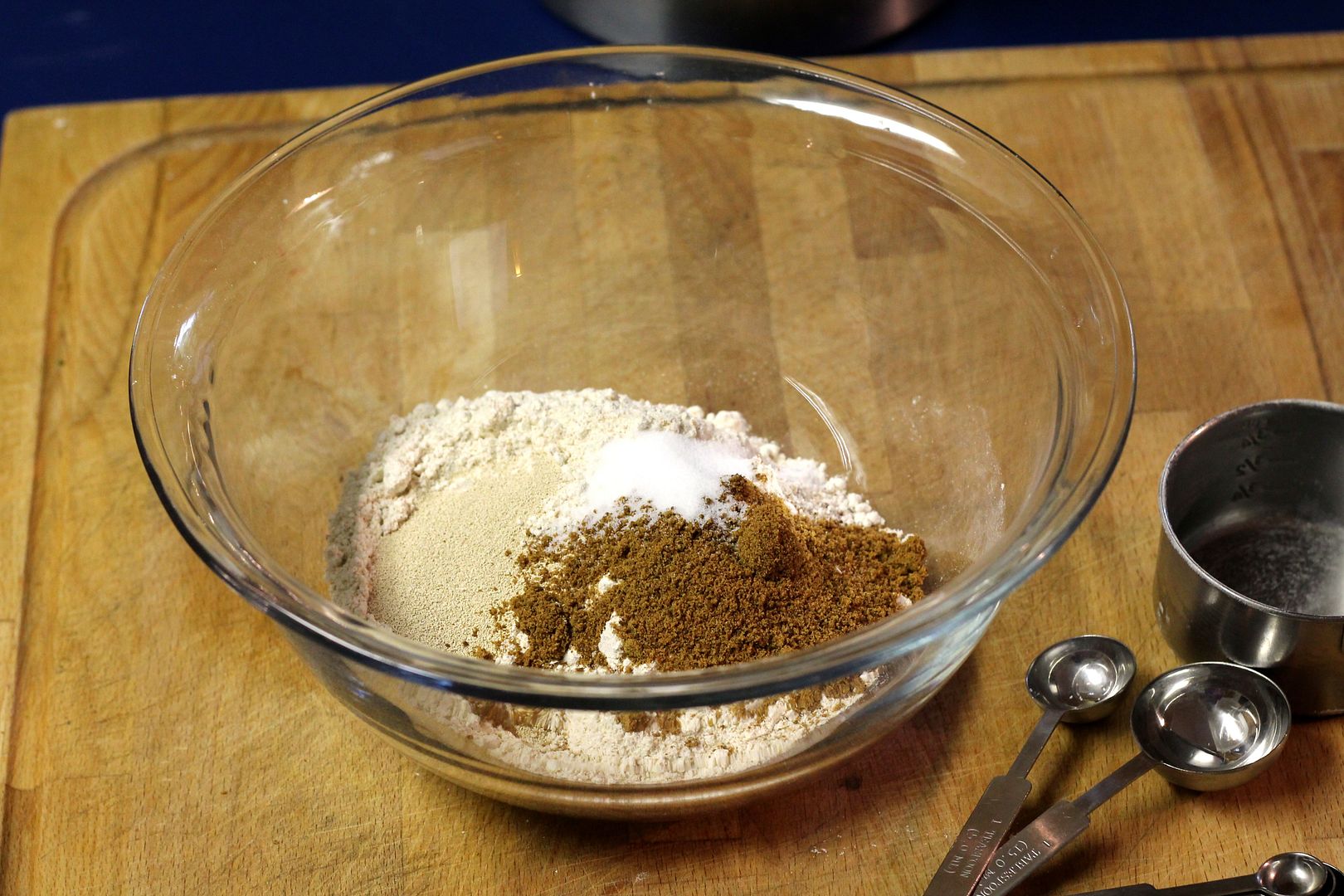 In a saucepan, combine:
3/4 cup + 1 tbsp unsweetened applesauce
3 tbsp coconut oil (or butter)
Heat over low heat until the coconut oil is just melted – you don't want it too hot or it will kill the yeast when you add it to the flour mixture.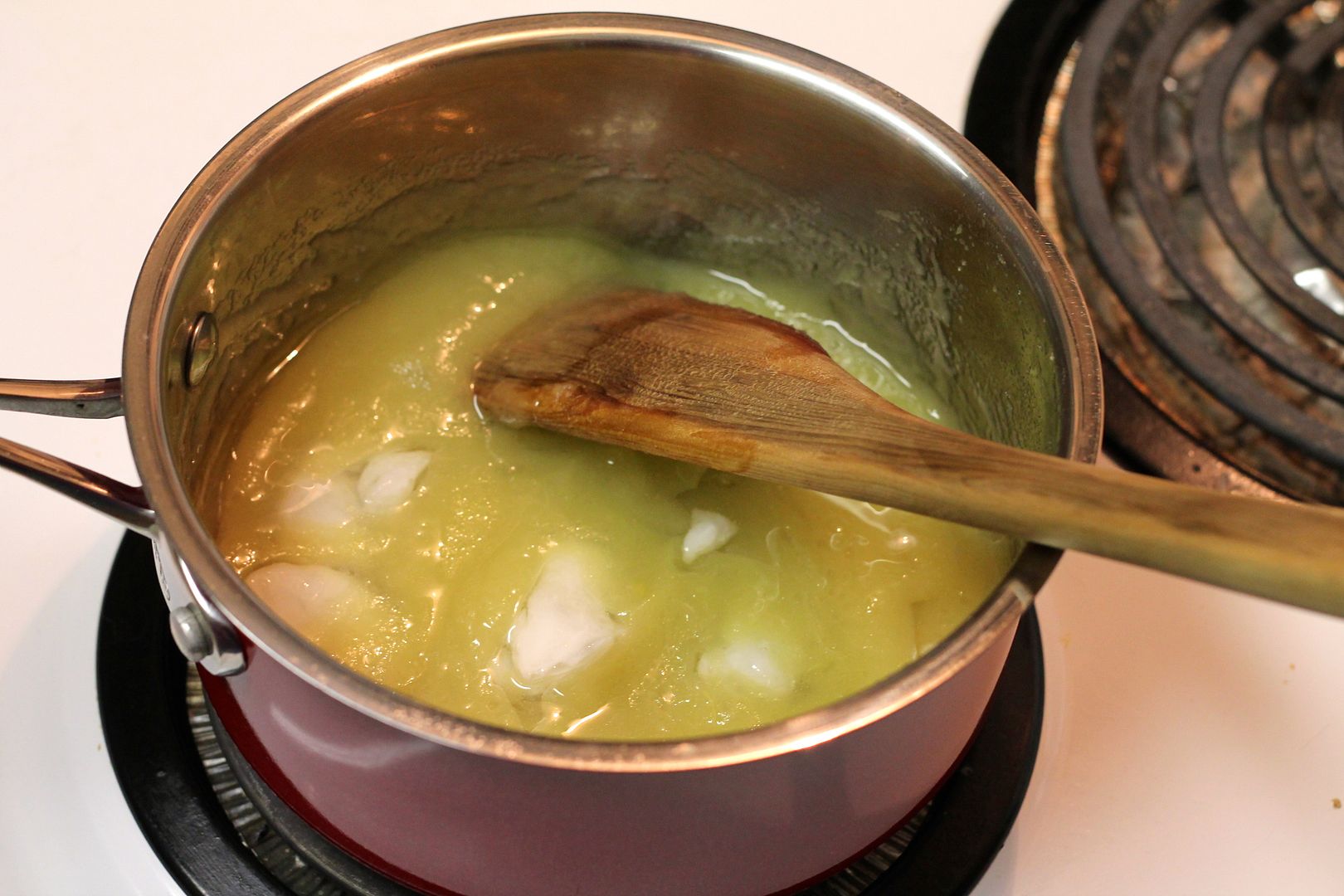 Add the applesauce mixture to the flour mixture and stir with a wooden spoon to combine into a shaggy dough.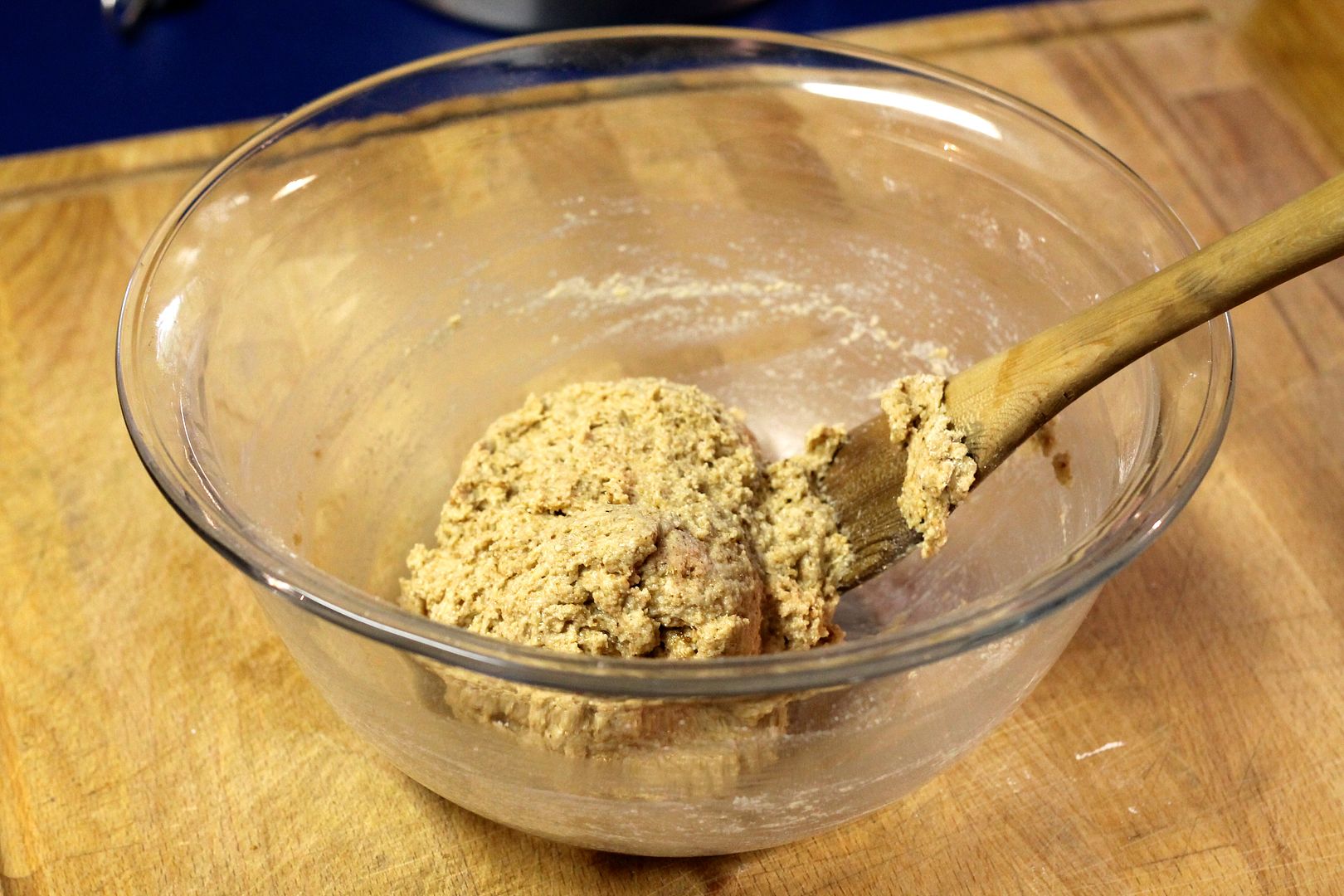 Turn out onto a spelt floured surface and knead for about 10 minutes, until the dough is moderately soft and elastic. Add more flour as necessary – the amount will vary depending on how thick or watery your applesauce was. I added between 1/2 – 1 cup extra spelt flour to get a soft yet workable dough.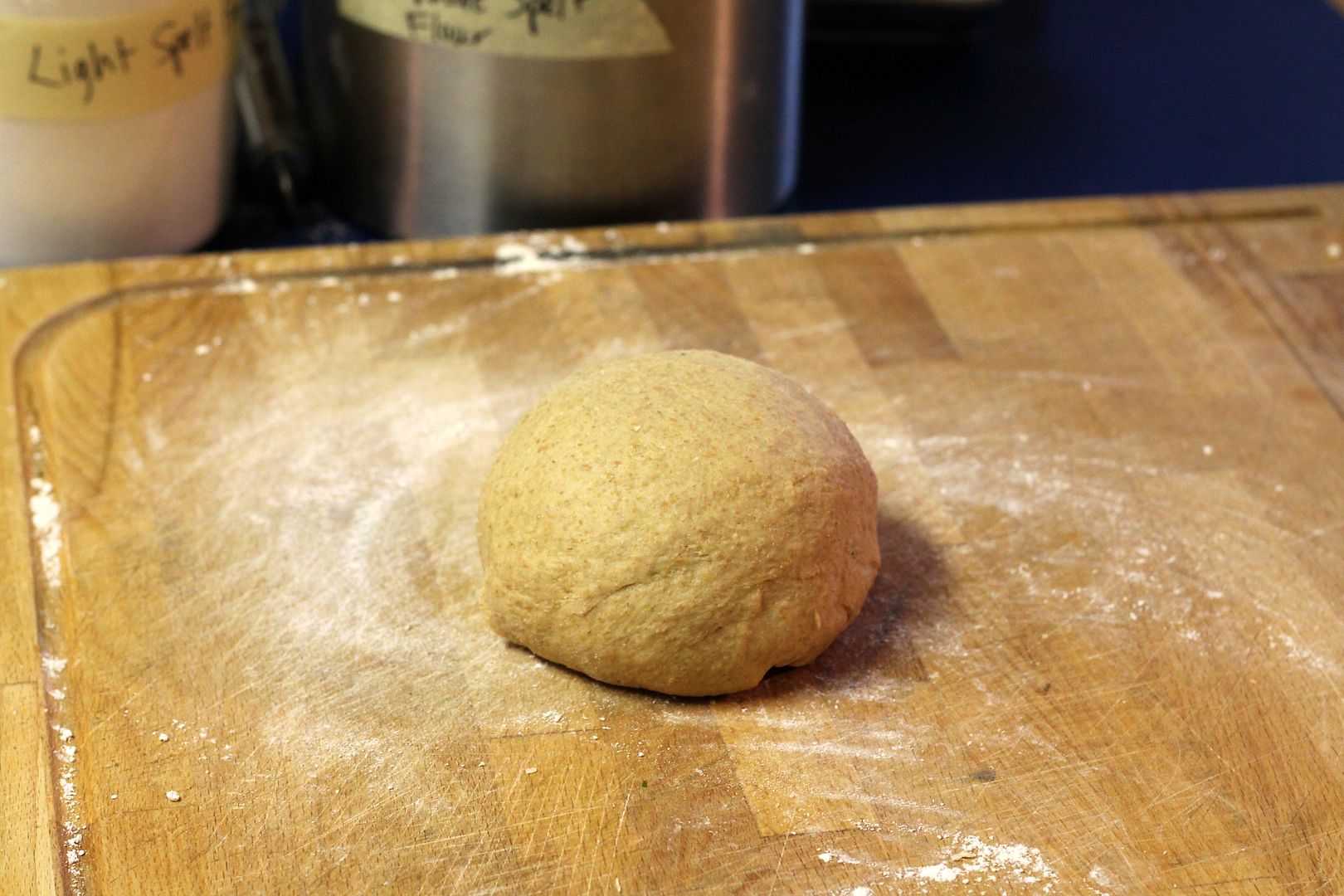 Lightly grease a bowl with coconut oil, place the kneaded dough in it, and turn to coat with oil. Cover with plastic wrap and put it in a warm place (like the oven with just the light turned on) until doubled in size, about an hour.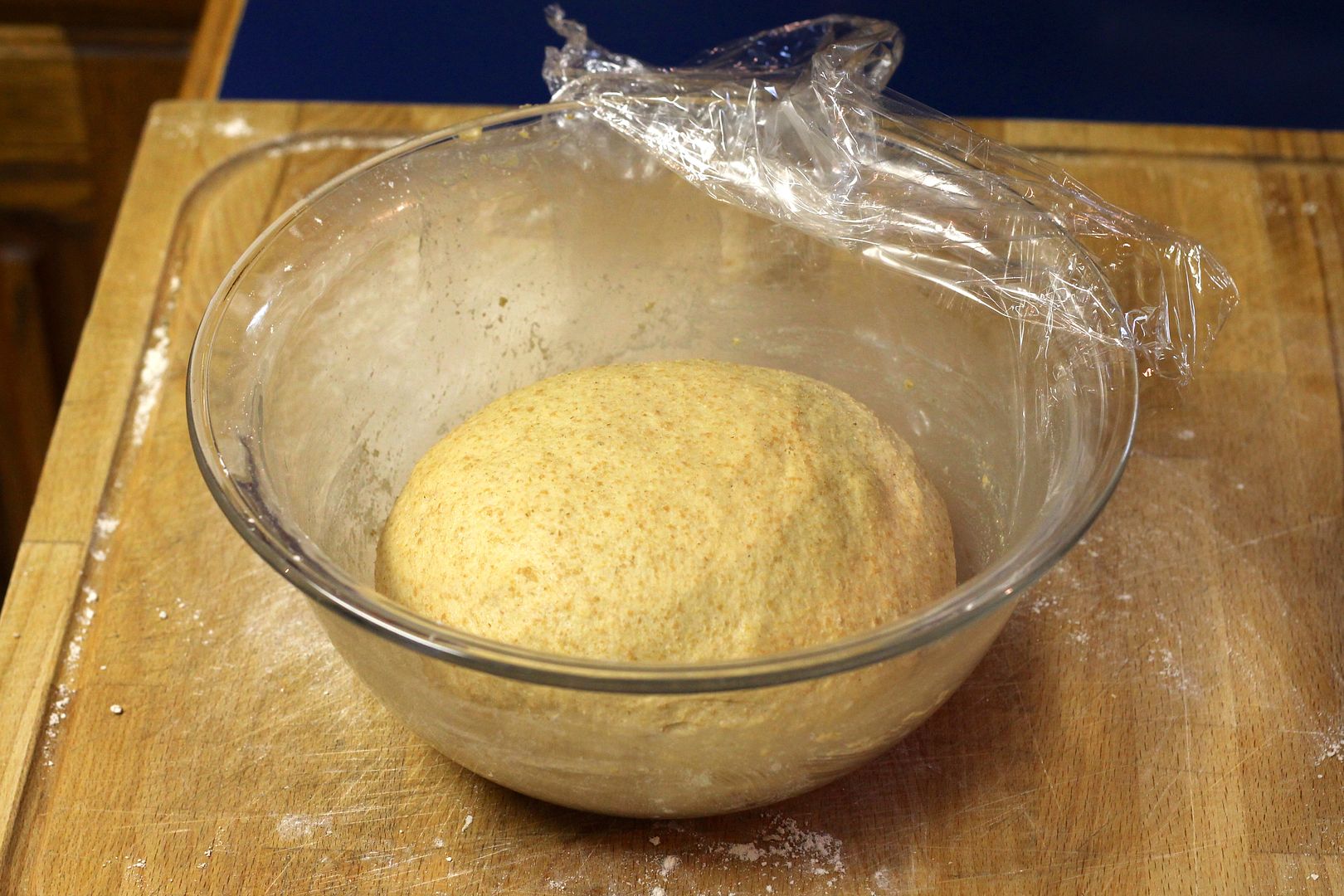 While the dough rises, make the filling.
Filling
In a medium saucepan, combine:
1 1/2 cup coarsely chopped dates
1/2 cup water
Bring to a simmer over medium heat, stirring to break up the dates and form a spreadable paste. Add up to 1/4 cup more water if necessary.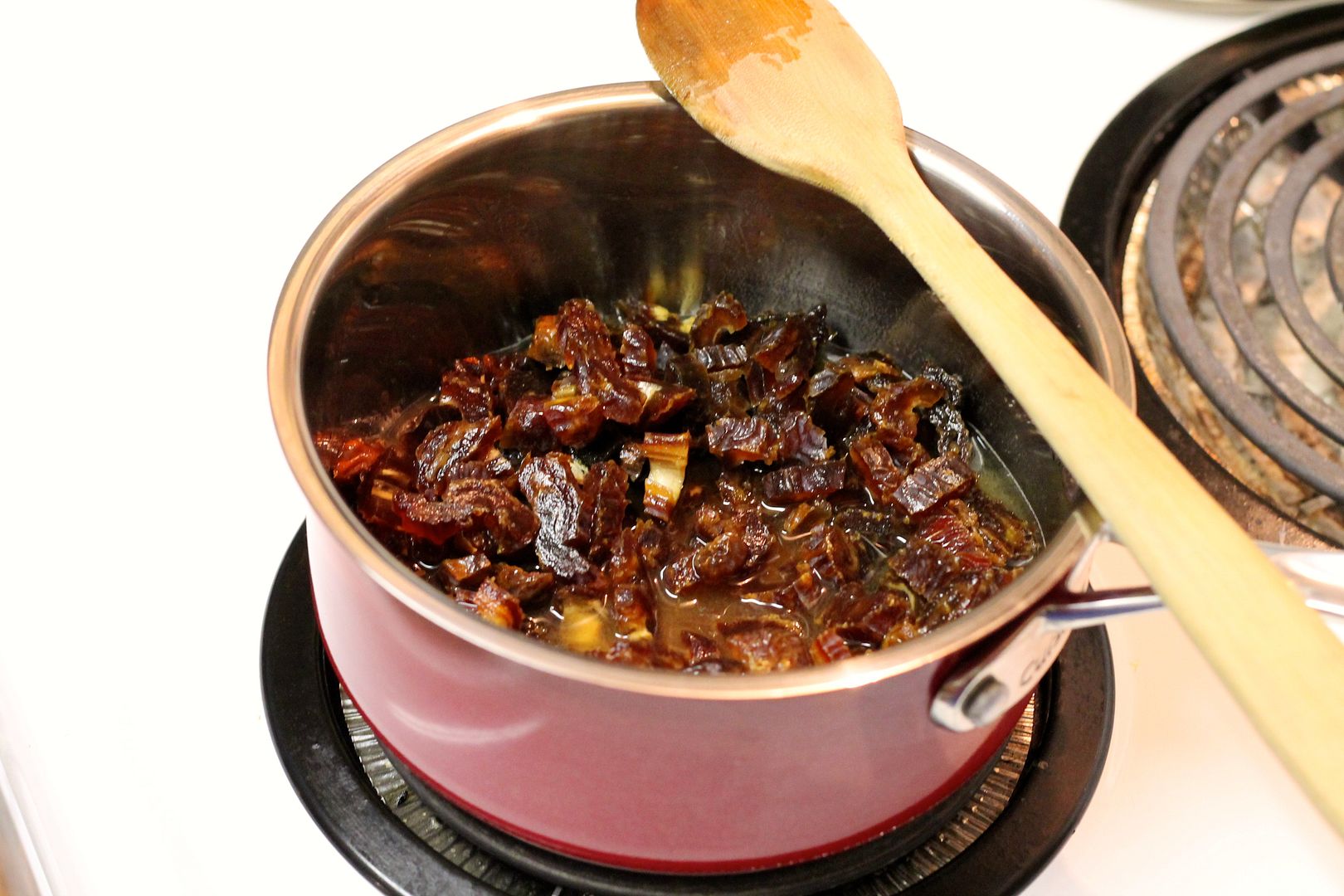 Stir in:
2 tsp cinnamon
1/4 tsp cardamom
1/4 tsp sea salt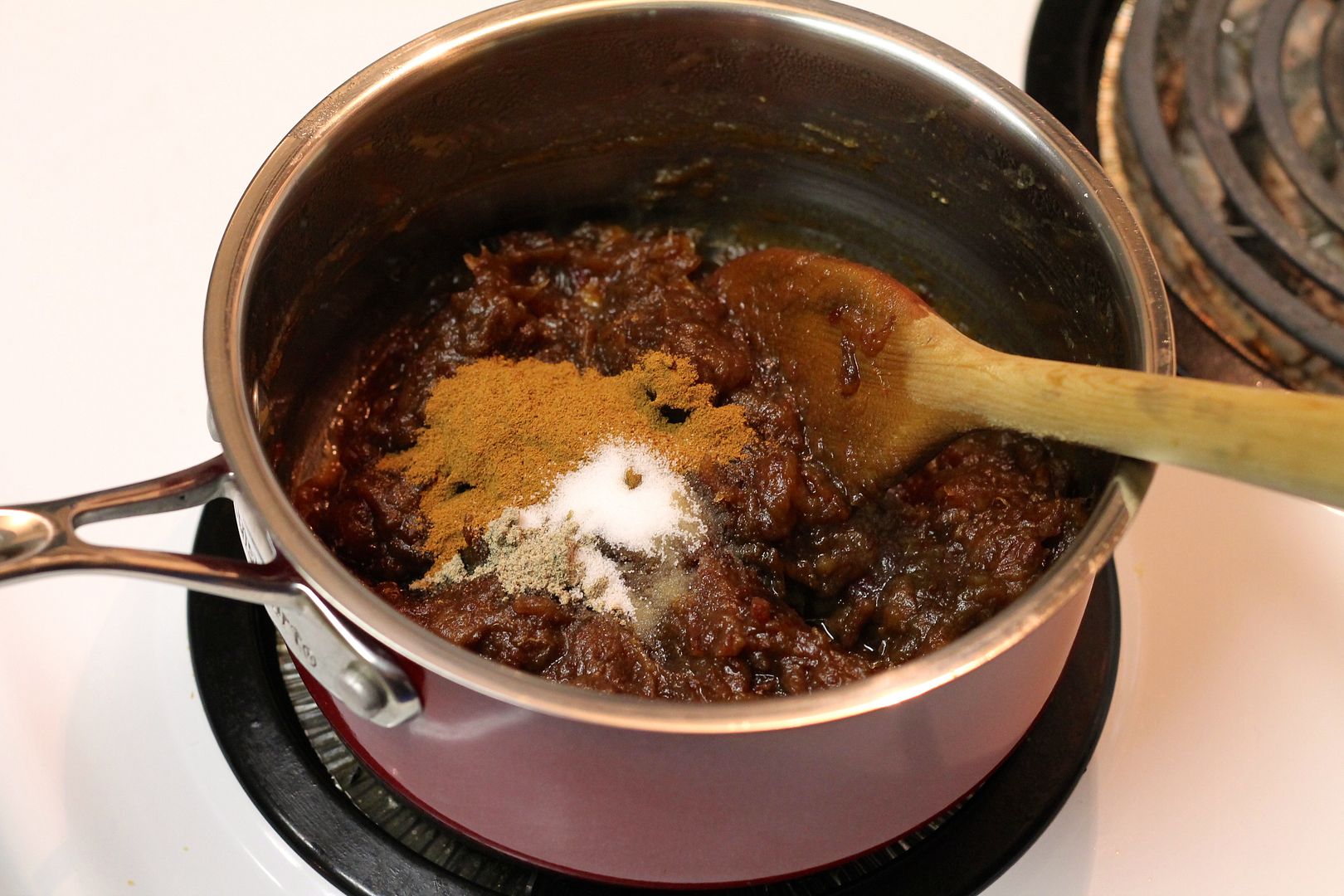 Set the filling aside to cool.
Assembly
Turn the risen dough out onto a spelt floured surface and gently pat and stretch it into a rectangle. With a rolling pin, roll it out into a 9″ x 18″ rectangle. Spread the date-cinnamon filling evenly over the dough, right to the edges, and sprinkle it with 3/4 cup chopped pecans.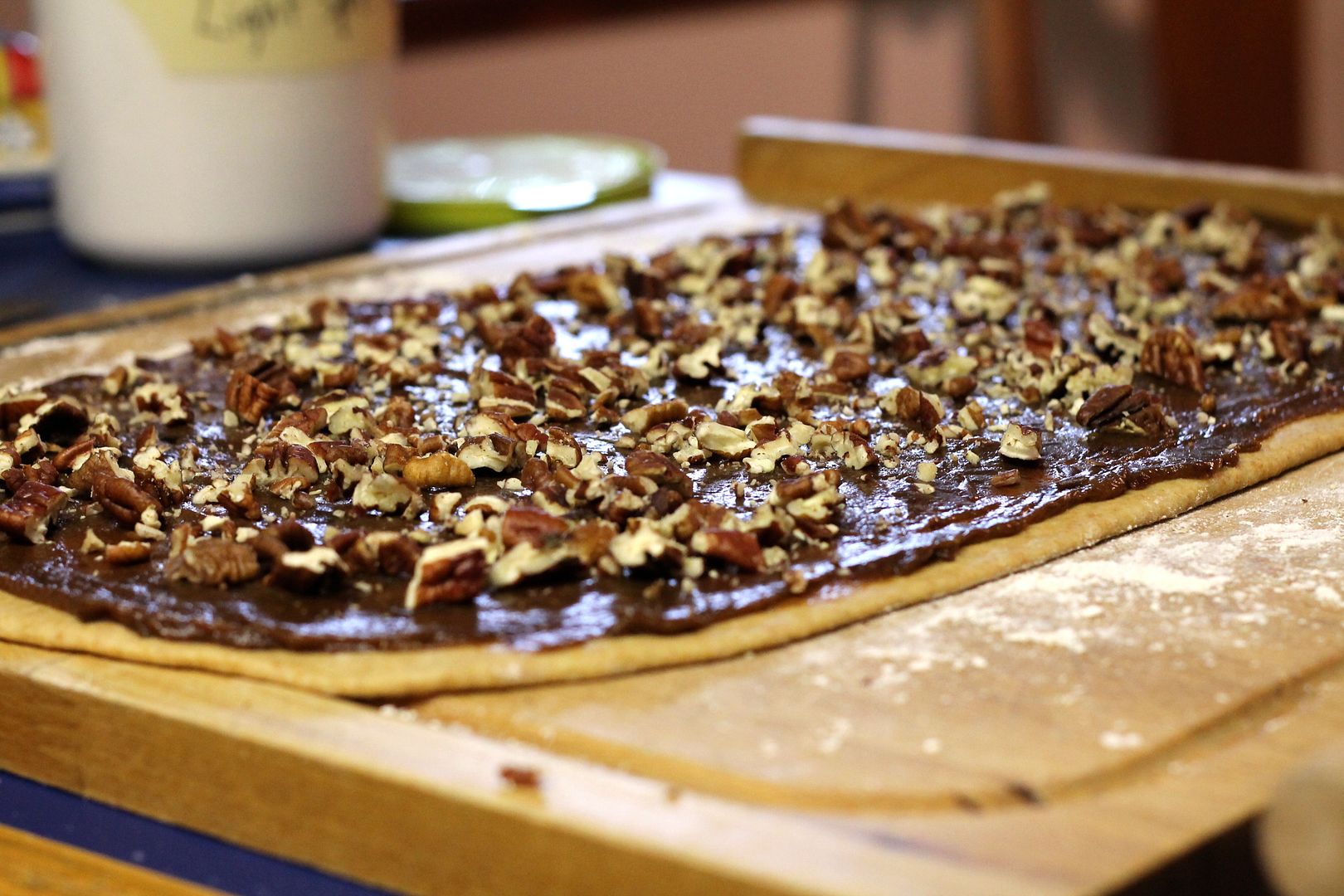 Starting at one long edge, roll up the dough into a tight cylinder to enclose the filling. Slice the cylinder into 8 pieces with a serrated knife.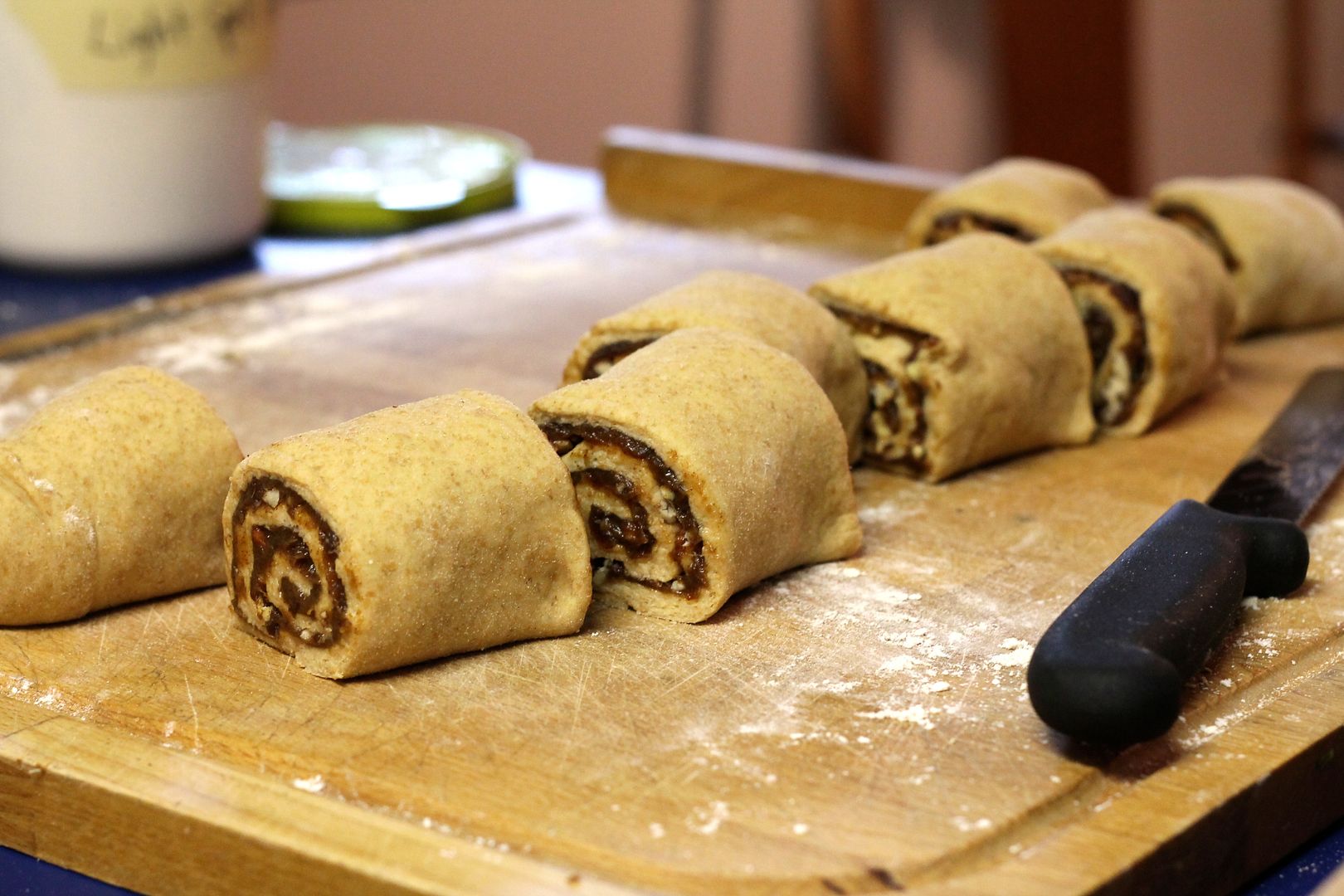 Transfer the pieces, cut sides up, to a 9″ round baking pan (a pie pan is perfect). Cover lightly with plastic wrap and put somewhere warm to rise for about 30 minutes, until indent pushes back very slowly when you poke the dough. Preheat the oven to 375˚F (350˚F convection).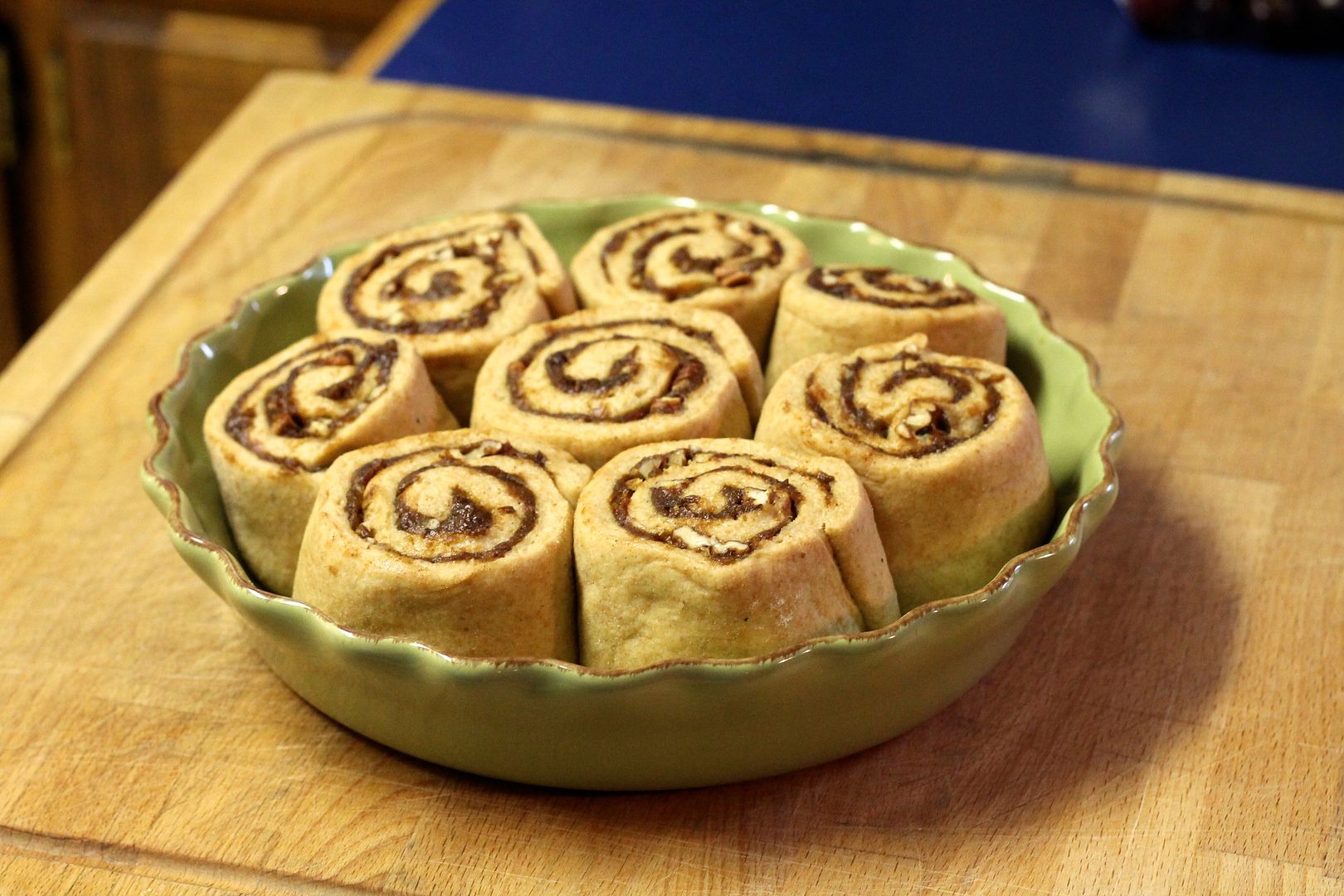 Bake the risen buns in the 375˚F (350˚F convection) oven for 30-35 minutes, until golden brow. Cover with foil if they brown too quickly. Remove from the oven and let sit for 5 minutes before glazing with 3 tbsp maple syrup and sprinkling with an additional 2 tbsp chopped pecans.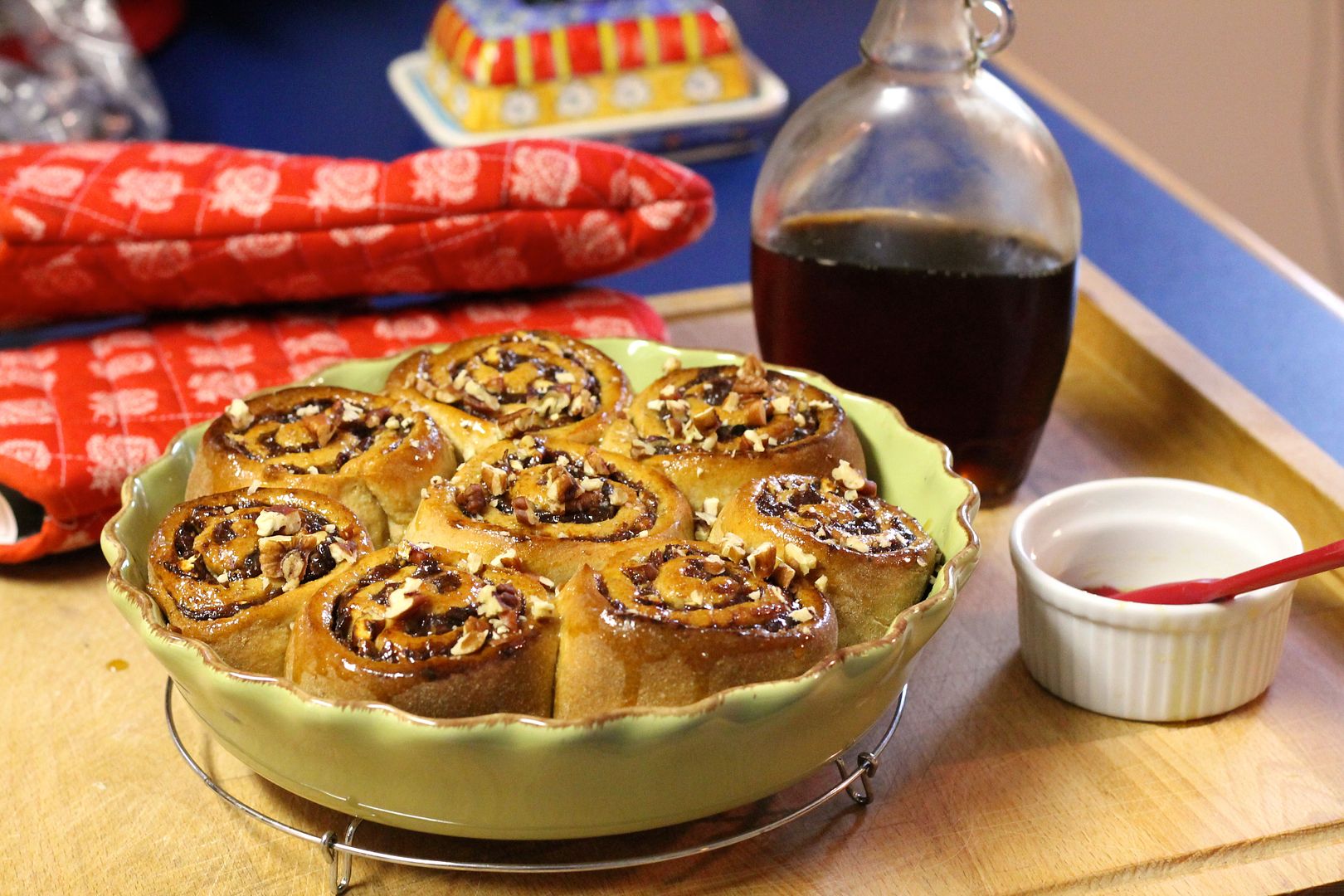 "Icing"
In a small bowl, mix together:
1/2 cup thick Greek yogurt
2 tbsp maple syrup
pinch cinnamon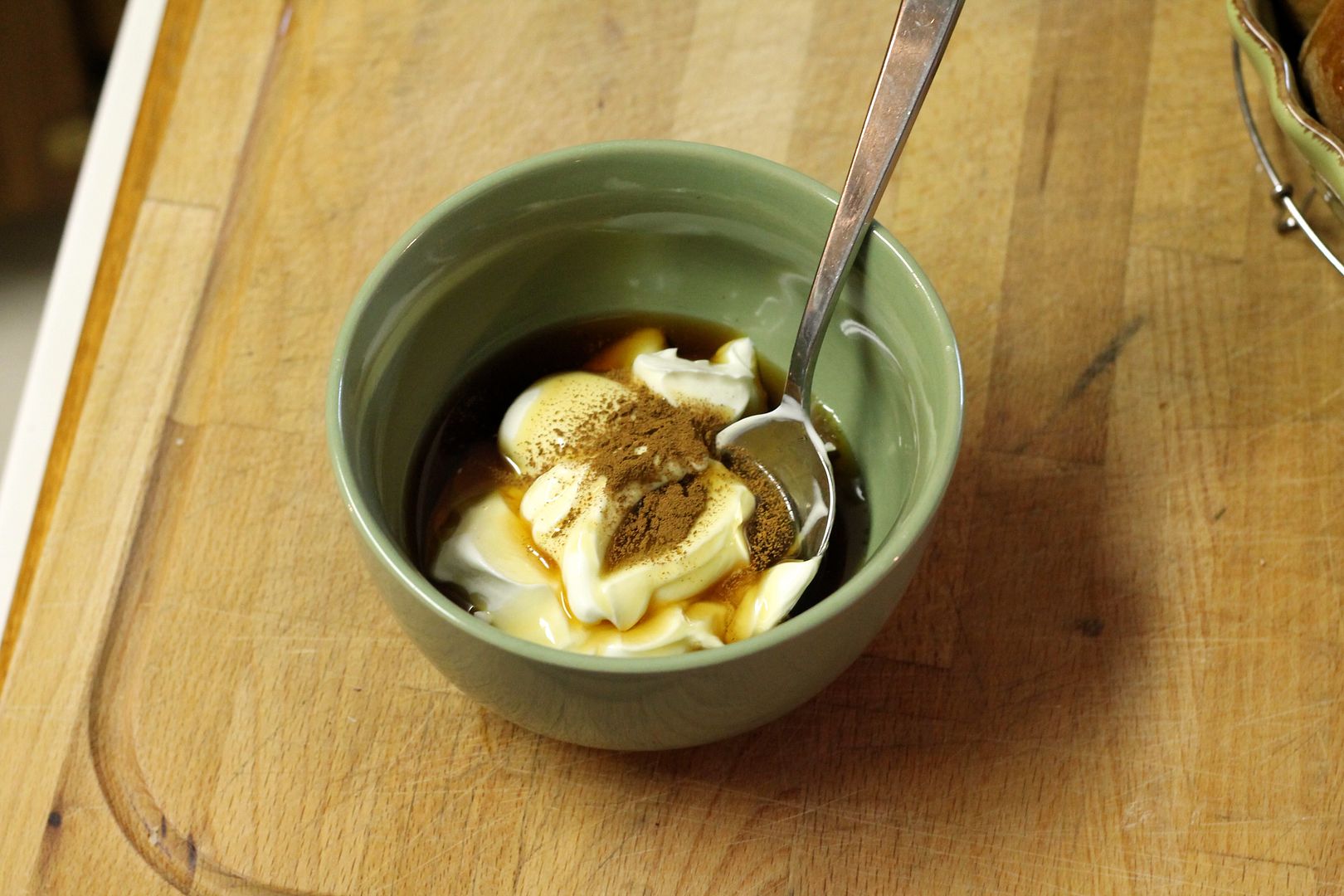 Rather than spreading the icing over the whole pan of cinnamon rolls, spoon a dollop of icing on each individual bun as you serve them. Store any leftover buns and icing separately.